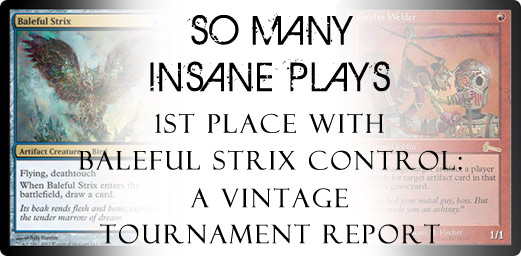 I've played a ton of Magic lately, surprising given how crazy busy my professional life has been recently, and the ideas have been flowing as if by divine inspiration. Perhaps that's a consequence of playing Doomsday over and over again in both Vintage and Legacy: my neural pathways have been taxed to the limit, and I'm creating new Magical branches in my brain.
When Kevin Cron and I podcasted So Many Insane Plays #15 – Doomsday Scenarios recently, our goal was to cover the Bazaar of Moxen results and to present some Vintage and Legacy Doomsday scenarios. Yet, in covering Planechase 2012, I was struck by how insane Baleful Strix seemed, especially in light of the metagame we had just covered from the Bazaar of Moxen 2012 Vintage tournament.
The second place deck was MUD. Baleful Strix is pretty much exactly what you want against Workshops: it's an artifact creature, which means it can be played under Lodestone Golem and Thorn of Amethyst without any problem, and trades with a Lodestone Golem while also netting you a card in the process. In other words, it's a 2-for-1 there. With Goblin Welder, it's almost impossible to deal with, and things can quickly spiral out of control for the opponent.