(Editor's Note: This former Downloadable Product has now been made free to all customers. Enjoy!)
I. Introduction
Welcome dear Eternal player. It's great to have you back as we dig into the final set from Innistrad block, and the last major set for 2012 until the fall. This is a huge set, with a bunch of playables, design innovations, and a fascinating, game warping mechanic. In this set review, I will take a look at every single new printing for Vintage (and in some important cases, Legacy) applications. Moreover, I will present you with a plethora of decklists that provide a context for each application. I have a decklist for every playable Vintage card in this set, and then some.

The enigmatic title implies a return to the place or revival of something known as "Avacyn." Yet, this set feels very much in line with the path opened by Innistrad, to push and advance the development of creature-oriented strategies in the Vintage format. Delver of Secrets, Snapcaster Mage, and Grafdigger's Case were each major printings aiding that trajectory. It seems that Avacyn Restored is giving one last push in that direction. The central figure in that effort is obviously Cavern of Souls, which is discussed prominently in this set review.
Perhaps more disturbingly, this set completes a trend towards library manipulation as tactical necessity. Delver of Secrets transforms when the right set of cards surface to the top of the library at the right time. The innovative and ironically named "Miracle" mechanic push this trend to new heights.
The designers of this set were not intimidated to push dangerously into broken territory by aggressively costing spells cast featuring Miracle. Temporal Mastery may prove to be a mistake, especially in Legacy. The Miracle mechanic is remarkably attractive in Eternal formats because of the wide range of options for library manipulation. Sensei's Divining Top, Preordain, Brainstorm, Ponder, Jace, the Mind Sculptor, and Sylvan Library each see ample play in Legacy or Vintage.
In some circles, these cards are undesirable for the kinds of play experiences they generate. While I am loathe to see cards banned, Sensei's Divining Top can suck time off the clock faster than Facebook. These cards incentivize the use and abuse of these time wasters to new levels.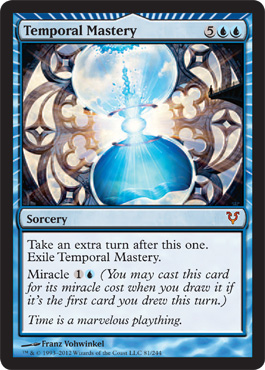 Consider a simple sequence:
Turn One:
Land. Delver of Secrets.
Turn Two:
Land. End of turn, cast Brainstorm.
Turn Three:
Draw Temporal Mastery, and play it.
This sequence overcomes the obvious problem of what happens when you draw the Miracle spell.
Given the swath of library manipulation available, the Miracle mechanic will be anything but. Don't get me wrong, there will be plenty of times where the Miracle spell is naturally drawn and used, and the timing helps swing the game back into your favor. However, more often, it will be manipulated to the top of your library to be drawn at just the right time. The Miracle mechanic – and especially Temporal Mastery – may lead to unfair, uninteractive, and degenerate Eternal games. For this reason, Temporal Mastery will receive the royal treatment in this article.
The other mechanic introduced in this set is far less exciting. In fact, it suffers many of the same problems of the other mechanics from this block. Soulbound relies on having more than one creature in play at the right time – this is hardly a recipe for Vintage, although it may have some applications in Legacy. Soulbound will have limited applications for Vintage play. However, the Miracle mechanic opens new vistas for library manipulation and deck design. It raises questions about ratios, math, and cost/benefit analysis.
II. Dark Ascension Recap
As always, before we turn to the goodies in Avacyn Restored, let's review Dark Ascension. Here were the cards I felt would be likely to appear in Vintage Top 8s from Dark Ascension (although I added the caveat the next 3-6 months):
1 Elbrus, the Binding Blade // Withengar Unbound
4 Ghoultree
4 Grafdigger's Cage
4 Gravecrawler
3 Thalia, Guardian of Thraben
4 Torch Fiend
3-4 Thraben Heretic
Let's see how my predictions fared:
• Elbrus, the Binding Blade // Withengar Unbound appeared in zero top 8 decks.
• Ghoultree appeared in zero top 8 decks.
• Grafdigger's Cage appeared in 101 different top 8 decks, but about 80% appeared in sideboards.
• Gravecrawler appeared in zero top 8 decks.
• Thalia, Guardian of Thraben appeared in 8 top 8 decks.
• Torch Fiend appeared in 1 top 8 deck.
• Thraben Heretic appeared in zero top 8 decks.
So far, only three of the seven cards I concluded were Vintage playable have actually appeared in a Vintage Top 8. However, at least one of the other four has a good chance of appearing by the end of GenCon this summer. January to March is typically a quiet time in Vintage. People may be relying on proven cards rather than try something new. That said, I'd rather err on the side of being over-inclusive than miss or overlook something playable.
What's perhaps most remarkable is that despite the hype, Grafdigger's Cage exceeded even the wildest predictions. As a point of comparison, there were only 70 decks with Snapcaster Mage that appeared in Vintage Top 8's from the release of Innistrad until Dark Ascension. Grafdigger's Cage saw substantially more play. In recent time, only Phyrexian Metamorph is a card that saw more print after its original set until Innistrad, although it had more time to make its mark.
III. Avacyn Restored Set Review
There are 244 cards in Avacyn Restored, with 27 reprints, including the 15 basic lands. As was the case with my Mirrodin Besieged, Innistrad, and Dark Ascension Vintage set reviews, I will categorize every new card in the set according to playability. Expanding my classification scheme a bit, I've divided each new printing into one of four categories:
• Definitely Playable
• Possibly Playable
• Unlikely But Remotely Playable
• Unplayable
In the past 3 of my past 4 set reviews, I've taken a comprehensive approach by analyzing every single card in the set and by carefully explaining why a card – even the most obvious – would not be Vintage playable. In the case of each card I have deemed unplayable, I have sought out a card that is either strictly or practically superior to the card in question. This effort has taken me deep into the bowels of Gatherer for hours on end. After attempting this approach for Mirrodin Besieged, I abandoned it in my New Phyrexia set review, which I felt led to omission of Slash Panther. Hence, why I resumed that approach with Innistrad.
While the search for comparables may more clearly demarcate the boundaries of playability and illustrate a card's value – or lack thereof – it is extremely time consuming for very little benefit. In most case, it results in about 10 pages of citation to obscure examples in the Gatherer database for cards that 99% of you didn't think playable anyway. Consequently, I will be not be undertaking the same degree of effort or explanation for unplayable cards in this set review.
A card is deemed unplayable for one or more of the following reasons:
1) It is a modern variant or iteration of a card type that is not and has never been Vintage playable (e.g. the latest Giant Spider variant or Hill Giant reprint)
2) It is different, but comparable in the mix of characteristics to previous printings that have never seen Vintage play (e.g. Nephalia Seakite to Pendrell Drake)
3) It is different, but not quite as strong as a card that already exists
4) A whole class of cards that are forever rendered unplayable by the printing of cards like Tarmogoyf, Baneslayer Angel, and the other most efficient creatures ever printed
5) Related to the previous category, creatures that do not disrupt the opponent or generate card advantage, yet are not as efficient as other beatdown options in the card pool
6) the casting cost is so prohibitive that no card at that casting cost is currently playable in Vintage, and the benefits of the card are not significant enough to justify 'cheating' the card into other play via unconventional means (i.e. Show and Tell or Oath of Druids).
Generally speaking, Green, Red, and White cards that cost 5 or more mana are not Vintage playable unless they can be cheated into play. Blue, Black, and Artifact cards at those casting costs can see play because of Mana Drain, Dark Ritual, and Mishra's Workshop. However, they have to be good enough to be played off of those cards.
If I deem a card unplayable, it will largely be on account of one of those reasons. However, in the case of novel effects or unique printings, a more detailed explanation will be provided. Thus, my approach will be more practical and hopefully readable than having to wade through 10 pages of commons that have no hope of play in Vintage, with paragraph length explanations.
Cards that fall into the 'Unlikely, but Remotely Playable' category aren't likely to see play in Vintage, nor do I expect them to either in the near term or the future. They may offer advantages that are only slightly or marginally better in corner cases to marginally playable Vintage cards. Some remotely playable cards offer abilities or present characteristics that are unique, novel, or without clear precedent in the card pool, and are not sufficiently powerful to conclude that they will see play. Alternatively, while the functions or effects offered by these cards may have precedent, they are presented in packages that are unique, and difficult to evaluate. Consequently, they cannot be written off as Vintage unplayable. None of these cards are likely to see play, but under the right circumstances and in the proper environment, they may find a home. Cards in this category are given more descriptive analysis than was offered for cards that were evaluated to be unplayable.
The Remote Playables, generally speaking, are cards I don't expect to see play, but offer such novel effects or in such novel combinations that I do not feel comfortable slating them as completely unplayable. In my Innistrad set review, I caught Delver of Secrets in that category. I dedicated several paragraphs to Delver, but I concluded that:
"With some modest library manipulation, this is a 3/2 flyer for 1 mana. There aren't many one mana creatures with three power in the format, and all are conditional in some way. This is probably the least conditional given the amount of library manipulation in the format. I just don't know whether it will see play in Vintage because of the inherent lack of small creatures in the format."
In my Innistrad set review, I distinguished between cards that I felt were definitely playable and cards that might be playable. As I explained there, the difference between the two categories was my degree of confidence that these cards would see play. When I evaluated my Innistrad set review as part of my Dark Ascension set review, a number of the cards I labeled "Possible Playables" appeared in Vintage top 8s, and the distinction seemed somewhat unclear. For that reason, I collapsed the two categories for Dark Ascension. The result was a few cards I categorized as playable from that set, but did not appear in any Vintage Top 8s. Had I distinguished between Definitely Playables and Possible Playables, Ghoultree, Gravecrawler, and Thraben Heretic would have fallen into the latter category. I believe these cards have the characteristics to see Vintage play, but I did not necessarily expect them to appear in Vintage Top 8s. For that reason, I'm once again making that distinction.
However, let me attempt to clarify what this distinction means. Cards I label as Definite Playables are cards that I believe are not only clearly Vintage playable, but I expect to appear in a Vintage Top 8 by the time of my next set review. I have a high degree of confidence that the card in question not only has the features to make it in the Vintage card pool, but that the metagame is receptive to such a printing. Cards I label as Possible Playables are cards that have the features to see play in Vintage, but I do not necessarily expect them to appear in a Vintage Top 8 in the next 3-4 months. In other words, I wouldn't be surprised if they don't appear in a Vintage Top 8 by the time of my next set review, even though I think they have the qualities to make it.
Cards that I determine to be Vintage playable may fall into one of several categories. The card in question may be superior or comparable to an existing Vintage playable (e.g. Lodestone Golem or Stony Silence). The card may generate a unique or novel effect that may used to combat or improve established strategies (e.g. Grafdigger's Cage or Laboratory Maniac). Playable cards might also create new tactical or strategic possibilities that seem interface synergistically with the metagame or card pool (e.g. Ad Nauseam or Tezzeret the Seeker).
A. Definitely Playable
Temporal Mastery – In the introduction of this article I began to sketch out the reasons for which this card will see Eternal play. First, the miracle cost is well within the bounds of playability in both formats. Moreover, both formats feature abundant library manipulation. This library manipulation – whether it come in the form of tutoring or efficient blue draw or otherwise – is a structural feature and staple of both formats. Granted, different forms of library manipulation are emphasized in each format. That is largely a result of the Banned and Restricted lists for the respective formats. Let me start with Legacy.
In Legacy, both Brainstorm and Ponder are unrestricted, and Brainstorm has long been dominant. Brainstorm is featured in almost every Blue strategy in the format (Merfolk being a notable exception). As a result, Brainstorm isn't just a common play, it's omnipresent. It's ubiquitous. It's everywhere. It's played in extreme abundance. It's as natural as playing a Misty Rainforest and as common as basic Island, if not more so. In a format where Brainstorm is so common, so available, and so abundant, positioning Temporal Mastery for Miracle activation will be as easy and common as playing a land.
Brainstorm will not only assist setting up Temporal Mastery, but it will allow a player to put a naturally drawn Temporal Mastery onto the top of the library at precisely the right moment. In short, Brainstorm perfectly solves both 'problems' that Temporal Mastery might pose: it allows you to properly position the Miracle spell, and minimizes the drawback of having drawn Temporal Mastery at the wrong time, such as your opening hand.
Ponder may not address the latter problem, but it certainly helps with the former. In that respect, Ponder is also an effective and productive way to abuse Temporal Mastery. Should you see Temporal Mastery in your top three cards, you can rearrange the top of your library, positioning the Temporal Mastery for the position for which you will be able to abuse it. So, for example, suppose you play turn one Ponder and see: Temporal Mastery, Island, and Force of Will. You can rearrange the cards so to set up a turn three (naturally drawn) Temporal Mastery by setting the top of your library like this:
|| Top of Library ||
Force of Will
Island
Temporal Mastery
Force Will pop into your hand, and you will draw Island on turn two, and Temporal Mastery, naturally, on turn three. Perfect.
The presence of Brainstorm and Ponder in Legacy in high quantities makes Temporal Mastery an easy and natural play. It's truly as simple as Brainstorm + fetchland. However, what makes me concerned isn't just how natural and easy Temporal Mastery is to pull off in Legacy, but how easy it will be to trigger multiple copies of Temporal Mastery per game.
Time Walk effects are not just abusive, they are annoying. There is nothing – by definition – less interactive than Time Walk. Taking multiple turns in a row is a recipe for not just abuse, but truly pissing off your opponent. It's profoundly unfun. In fact, it's the definition of unfun.
Brainstorms and Ponders should permit and set up multiple Temporal Mastery's per game. That is the concern. Sensei's Divining Top? The same.
The critics of this card contend that it's not a problem because it will be too difficult to setup recurring Time Walks. That's not the problem. The problem with this is that in Legacy, the format usually lasts about 7 turns per player per game on average, or thereabouts. If a player takes just two more turns than their opponent, that should result in a won game, regardless of the circumstances. In other words, if one player gets to their 7th or 8th turn when the opponent has only has 4 or 5 turns, there is very little chance that they will lose. It is the equivalent of landing a turn one Trinisphere in Vintage. It's going to be a non-interactive blowout.
So, for example, suppose Player 1 won the roll, and elected to go first. Suppose that player activates a Temporal Mastery on turn 3, taking an additional turn. And then activates another Temporal Mastery on their fifth turn. They haven't taken 3 turns in a row, but if they win by turn 7, they will have taken 3 more turns that game than their opponent! That's why this card is broken.
Blue based tempo decks tend to dominate Legacy. Temporal Mastery is a natural fit into UG base decks with Delver of Secrets and Tarmogoyf. Temporal Mastery is a natural fit into these shells. Consider this:
UGW Legacy Delver Mastery, by Stephen Menendian
A deck like that has a great plan: in the early game, you can drop a Delver or Tarmogoyf, and then just tempo the opponent out. Temporal Mastery helps you accelerate into a Jace in the late game to finish the opponent off or generate overwhelming card advantage. Snapcaster will help you replay Brainstorms and Ponders for additional Mastery (or buy back Swords to Plowshares if need be).
In testing this deck, Temporal Mastery worked just as expected. Setting up a Temporal Mastery on turn three, four, or five is easy as pie, and requires no unusual effort. If you have even a modest board advantage, Temporal Mastery can help generate tremendous tempo, and create a board state where your opponent has their back against the wall. If you have a losing or disadvantage board state, Temporal Mastery is a bit like running on a treadmill: no loss of position, and only potential gain.
In the late game, I was able to play multiple Temporal Mastery, setting them up with Jaces, and Jace-storming multiple times. In the late game, I was even in a position more than once to hard cast Temporal Mastery, which really surprised me. However, I was always able to set it up with a Brainstorm, Jace, or Ponder.
I was never disappointed to draw a Temporal Mastery. Not once. None of the criticisms I've read of this card resonated in my playtesting. If I had Temporal Mastery in my opening hand, I actually was quite pleased. It meant I was going to be able to Time Walk in the very near future once I drew a Brainstorm. Every other time, I just pitched it to Force of Will (although reluctantly in every case!). Temporal Mastery is a beast.
This deck performed well, but had some difficult matchups, notably Maverick. It was difficult for me to establish a superior board position unless I was able to land an early Delver and keep it alive. Any challenges this deck has cannot be blamed on Temporal Mastery, but rather my somewhat conservative approach.
While I prefer a deck like that, I think Temporal Mastery may be most potent in a tempo deck, such as UR Delver or RUG Delver. Over and over again, Delver followed by turn three Temporal Mastery proved to be a potent play, and often lead to further Masteries. I think RUG and UR Delver, which play other one drops like Goblin Guide or Nimble Mongoose, can help take advantage of further Temporal Mastery, which is functionally a blue Lightning Bolt that cantrips, at a minimum!
Moreover, I think Vexing Devil may be a very natural fit for a Temporal Mastery deck. At worst, it's a Chain Lightning that deals 4 damage. At best, they let it resolve, and are punished when you cast Temporal Mastery for an additional swing.
RUG Legacy Delver Mastery, by Stephen Menendian
However, I'm not even sure Tarmogoyf is needed. Snapcaster Mage often provides more tempo. Here's an even more aggressive possibility:
UR Legacy Delver Mastery, by Stephen Menendian
Temporal Mastery is a natural fit in a deck like this. Setting aside the obvious synergy of Vexing Devil, Goblin Guide is truly a beating with Temporal Mastery.
Follow this sequence:
Turn 1:
Land, Goblin Guide, Attack.
Turn 2:
Land, Delver, Brainstorm.
Attack with Goblin Guide.
Turn 3:
Reveal Mastery to flip Delver.
Reveal Mastery and play it.
Attack for 5.
Turn 3A:
Attack for 5.
At this point, your opponent is at 6 life. Low enough to Bolt + Snapcaster Mage for the win, and low enough that you will nearly always have inevitability in these scenarios.
The fast one-drops offer the best and most broken synergy with Temporal Mastery. My decks here, or variants of them, will be winning SCG Legacy Opens very soon.
Another possibility is cramming Temporal Mastery into Doomsday, a deck I've been working on for 7 months now in Legacy (in addition to Vintage). You can tutor up four Temporal Mastery to take multiple turns in a row. The problem, of course, is that you have to pass the turn at least once after resolving Doomsday before you can begin taking additional turns.
Notice that Preordain is actually not effective with Temporal Mastery. The problem is simple, but perhaps not easy to visualize. If you Preordain and see a Temporal Mastery in your top 2, you either have to keep both cards on top, or 'bottom' Temporal Mastery. If there is a card you'd rather not draw, then the Temporal Mastery is hamstringing you into keeping a bad card to activate a conditional spell. This is a main reason why, although I think Temporal Mastery is broken in Legacy, it should have more limited applications in Vintage.
In Vintage, decks will have more difficulty and less ease setting up and abusing Temporal Mastery. While I think Temporal Mastery will be everywhere in Legacy, it will just be another playable spell in Vintage. And while there is plenty of library manipulation in Vintage, it's more specialized and less prevalent than in Legacy. It will routinely require more work to setup and execute. It's not really worth investing a top deck tutor in this card, when you could tutor up the actual Time Walk instead. That said, there will be situations where Time Walk has already been played, and you may tutor this up to take one additional turn.
If this card is going to be abused in Vintage, it's going to have to played in conjunction with the forms of library manipulation extant and popular in the format already: Jace, Top, and the restricted tutors and cantrips. I do believe that Temporal Mastery can be abused in that manner. I'm just less convinced it's a 4-of. And, it's it not a 4-of, it will be less valuable to play a bunch of Tops to abuse.
If there is a heavy Top deck in Vintage, which I define as a deck with at least 2 Tops, that is a very natural position for this card. Such a deck could easily play multiple Temporal Mastery, and then boost it with Jaces. In Vintage, the potential reward from using this card is just as great, if not greater, than in Legacy. The average number of turns per player is around 5.5 per game on average. Taking an additional turn goes a long way toward victory. It's a measurable step toward winning.
Where might Temporal Mastery be abused in Vintage? First, it could go a long way toward accelerating into planeswalkers. A turn one Top can spin into a turn two Temporal Mastery with just a Mox and a land. That's ripe for potential abuse. Consider:
Vintage Mastery, by Stephen Menendian
A deck like that could not only abuse Temporal Mastery, but theoretically hard cast it with Mana Drain or Academy or Voltaic Key + Mana Vault/Sol Ring. Then, a deck like this could get the most out of the acceleration by playing a big Planeswalker to win the game.
The potential benefits of this card are so great that it may be worth testing out less conventional library manipulation. One need not go to the lengths of Personal Tutor or Ancestral Knowledge to derive these benefits, but experience suggests that additional turns are worth extra work. After all, that's the lesson of Vintage in the last few years. Infinite turns is worth a lot of work, as Time Vault has proven. Additional turns is worth some fraction of that work. Exactly how much and to what degree will remain to be seen, but this card is Vintage playable, and will see Vintage play.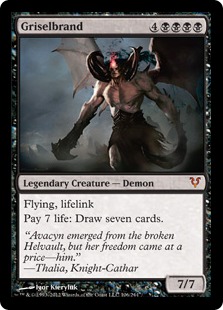 Griselbrand – There is perhaps nothing more desirable in the Vintage format than finding ways to generate card advantage. And, I can say with little doubt, that there are few ways more broken than trading life for cards, especially if that trade is 1-for-1. Thus, cards like Greed see no play, but a large part of that is the mana activation cost. If it simply said: pay 2 life draw a card, I am certain it would have seen plenty of play. In comparison, Necropotence is arguably one of the best cards of all time, and Yawgmoth's Bargain is restricted in Vintage and banned in Legacy. Ad Nauseam, a more recent variant, would also be restricted in Vintage if Force of Will could be played with it.
Referred to some as the Bargain Demon, he does not quite live up that billing. Bargain – with a modest Ritual or two – is a natural castable spell. While Griselbrand certainly is the closest analog to Bargain in terms of his ability, at eight mana, and the egregious requirement of BBBB, this monster is not a naturally castable spell. You'd have to have a truly efficient set of mana production, perhaps Culling the Weak, in order to try to power this fiend into play.
The horizon of possibilities for accelerating or naturally playing this hellion seems limited. On the other hand, it is precisely freakish monsters like this that are ideal targets for cheating creatures into play.
Here is a partial list:
Tinker
Oath of Druids
Reanimate/Exhume/Animate Dead/etc.
Show and Tell
Sneak Attack
Eureka
Hypergenesis
Flash
Quicksilver Amulet
Stronghold Gambit
Summoning Trap
Gamekeeper
Polymorph
Jhoria of the Ghitu
Survival of the Fittest + Loyal Retainer
Shelldock Isle
Spinerock Knoll
Windbrisk Heights
Mosswort Bridge
Howltooth Hollow
To be honest, this creature offers such a tremendous upside that I wouldn't be surprised to see more marginal spells such as Sneak Attack be attempted. That said, the most promising options are both Show and Tell and Oath of Druids.
Mark Hornung identified the following creatures as the current Oath creatures of choice:
Blazing Archon
Blightsteel Colossus
Emrakul, the Aeons Torn
Inkwell Leviathan
Iona, Shield of Emeria
Rune-Scarred Demon
Terastodon
Tidespout Tyrant
These are the monsters that virtually every Oath deck selects from. The two most popular options right now are Rune-Scarred Demon and Emrakul. Here is a recent version of the former that recently Top 8'ed a Vintage tournament in the LCV series in Spain:
Demon Oath, by Guillem Ragull
Matt Elias and Mark Hornung have each written about this Oath variant before, so I won't reiterate their points except to explain that the Demon is not used in a single narrow way, but as a versatile effect that searches for situational needs.
The popularity – and success – of Demon Oath belies the strength of this approach. It wins games. It's also viewed as better than any other version for sealing the game or moving fastest towards victory after a single Oath activation.
The holy grail of the Oath deck is a creature that wins the turn you first activate Oath. While some creatures are capable of achieving this end (i.e. Tidespout Tyrant under certain conditions or Iona when your opponent is mono-colored), Rune-Scarred Demon is the creature that seems to get the closest. In some situations, he just wins the game by tutoring up the other part of the Time Vault combo or by finding Time Walk or Yawgmoth's Will. In other situations, he finds a critical counterspell, and then the next one wins the game.
Let me now make the case for Griselbrand. I believe that Griselbrand is, if not better than Rune-Scarred Demon, in direct competition for his job. If the Demon isn't simply used for in a narrow or singular way, but truly is deployed flexibly and situationally as its advocates claim, then I think Griselbrand should replace the Demon.
Let me offer a bit of insight that will help put this in context. I am probably one of the few experts on old style Vintage combo decks left in the format: decks like Burning Long, Death Long, and Grim Long, decks that played Wheel of Fortune with Dark Ritual, and Timetwister. Today, draw-7 effects are no longer played for one simple reason: the symmetry is too dangerous. Giving your opponent a full grip in which they might draw not just Forces, but Spell Pierces, Mental Missteps, and Mindbreak Traps is not good enough. Draw-7's are few and far between in this era. The gross efficiency of countermagic and punishingly compact win conditions nowadays makes draw-7's a dangerous proposition.
But even as people used draw-7's, there was too little understanding of what they were. Draw-7's were essentially gross tutors. They didn't tutor for specific cards, but for a mixture of cards: for a certain amount of land, acceleration, and other abilities. Once you've played 100 Wheel of Fortunes, you'd know exactly what I mean. The draw-7's weren't included because you know you'd draw Yawgmoth's Will, for example, but because you knew you'd – on average – draw the mana and perhaps draw or further tutoring to find and play a Yawgmoth's Will. You'd probably draw a Mox, a Ritual, a land, and hopefully, a Wish. And, if you preceded the draw-7 with any other acceleration, such as a Ritual, then you'd have enough mana to win on the spot.
That's the limitation of Jin-Gitaxias, Core Augur. You draw the cards in your main phase, so you can take immediate advantage of that card advantage. This card kicks Jin's butt.
I say all of this for one simple fact: When Griselbrand hits the table, you can pay 7 life and draw 7 cards immediately. Twice.
In my estimation, that is more than enough to win immediately. By "win" I don't necessarily mean reduce the opponent's life to 0. But I do mean create a game state that is, in Chess parlance, "won." One of a few things is going to happen:
1) You are going to arm yourself with such overwhelming card advantage that your opponent won't be able to fight through your counter wall.
2) You are going to draw both parts of the Time Vault combo and take infinite turns, or draw enough tutors to assemble it there.
3) You are going to draw Time Walk or a tutor for Time Walk, which will give you more life to do 1 or 2.
4) You are going to go off with Yawgmoth's Will to take infinite or near infinite turns.
In short, this creature is the closest thing there is – and may ever be – to the holy grail of Oath creatures.
Let me take a stab at designing what I think is the proper direction for Griselbrand Oath.
Griselbrand Oath, by Stephen Menendian
I have added Lotus Petal because I think this deck will be adept at Yawg Willing frequently for the win. In addition, I have added Imperial Seal for a simple and obvious reason. Suppose your game goes like this:
Turn 1:
Mox, Orchard, Oath.
Turn 2:
Oath up Griselbrand. Draw 7 cards, going to 12 life. Play Imperial Seal, going to 10. Draw 7 more cards, going to 3 life.
The Imperial Seal will help you find whatever it is you need there: Time Walk, Lotus, Yawg Will, etc.
The Griselbrand skeptics, to the extent that they might exist, will underestimate the power of a one sided draw-7 for finding the right mixture of cards you will need on average. In time, they will come around.
Oh, and this card may also be a good finisher in Dredge.
Another exciting possibility is Show and Tell. Show and Telling this guy into play in either Legacy or Vintage is essentially a 3 mana Yawgmoth's Bargain. This is perhaps the most broken possibility of all. If so, you may need 4 Griselbrand.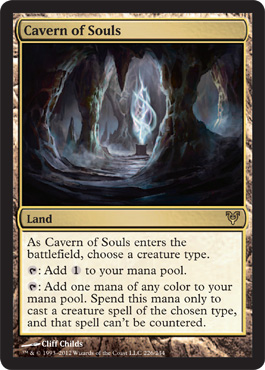 Cavern of Souls – If this turns out to be the signature Vintage card from the set, it will complete the push in the direction of creature based strategies. Before sketching out possible decklists, let me first go over the basics of this card, and we will start with the advantages.
First, It is a five color or "rainbow" land. This allows us to play virtually any creature in the entire Vintage card pool. More importantly, it allows us to more aggressively mix and match colors, potentially going to even 4 or 5 color decks.
Second, it makes our creatures uncounterable. This means three things. First, we can rely less on disruption designed to protect and resolve our creatures. Second, it means we can play our creatures more aggressively, and have to worry less about sequencing to resolve a critical creature (a topic that is discussed in great detail in my Guide to Aggro in Vintage published in February.
Third, it means that we can play less efficient creatures without worrying about the tempo loss of having a creature countered. This fact is perhaps the most subtle. Some of the borderline creatures in the format, like Aven Mindcensor, struggle because of their vulnerability at critical moments to countermagic, making it difficult to play more expensive creatures. If you could play this at the critical moment knowing that it will resolve because it is uncounterable, it's value skyrockets.
The second consequence of being uncounterable, that you have to worry less about sequencing, is also critical. It means you can be more aggressive earlier on! You need not sequence a spell such to resolve the real threat, or bait with a weaker spell, and risk losing tempo! This makes all of your potential plays that much more efficient.
One other thing I didn't mention is that being uncounterable means that you can ignore Chalice of the Void as well (in addition to other less obvious effects like Nether Void or Counterbalance).
The upsides are tremendous, as I've just sketched them out. But there are real downsides as well that must be accounted for.
First, this land cannot be used to play vital and common disruptive spells like Swords to Plowshares or Spell Pierce. You can't use this to cast Red Elemental Blast, Thoughtseize, Nature's Claim, or the White part of Stony Silence. This is a key limitation. It is a saving grace that this land generates colorless, so that we can at least play Null Rod or Grafdigger's Cage (although they won't be uncounterable).
Second, it can only cast creatures from a single tribe when playing it for colored mana. Unfortunately, the best creatures in Vintage aren't usually sorted by tribe, but by color (see my Guide to Aggro). Forcing a player to choose among tribes or creature types or classes of creatures means that you won't necessarily be able to combine the best creatures in the format into the same deck, and reliably use this land.
Finally, this land is a non-basic, which means it is inevitably susceptible to Wasteland. Many of these Aggro decks or Aggro Control decks are built on mana bases with basics, and being Wastelanded means hurting your ability to play other spells in a timely fashion.
The upsides have the obvious potential to outweigh the drawbacks, provided a list can be devised that takes advantage of the tribal/race/class limitation.
Let's organize critical creatures by tribe/race/class first (so you don't have to!):
Ape
Gorilla Shaman
Artificer
Goblin Welder
Stoneforge Mystic
Beast
Trygon Predator
Bird
Aven Mindcensor
Cat
Leonin Arbiter
Leonin Relic-Warder
Qasali Pridemage
Cleric
Fiend Hunter
Glowrider
Leonin Arbiter
Leonin Relic-Warder
True Believer
Druid
Noble Hierarch
Elemental
Ingot Chewer
Wispmare
Faerie
Spellstutter Sprite
Sower of Temptation
Vendilion Clique
Fox
Samurai of the Pale Curtain
Goblin
Earwig Squad
Gempalm Incinerator
Goblin Lackey
Goblin Matron
Goblin Piledriver
Goblin Recruiter
Goblin Ringleader
Goblin Sharpshooter
Goblin Vandal
Goblin Welder
Goblin Warchief
Siege-Gang Commander
Human
Auriok Salvagers
Dark Confidant
Ethersworn Canonist
Fiend Hunter
Glowrider
Grim Lavamancer
Noble Hierarch
Magus of the Moon
Meddling Mage
Snapcaster Mage
Thalia, Guardian of Thraben
Trinket Mage
True Believer
Voidmage Prodigy
Kithkin
Gaddock Teeg
Kor
Stoneforge Mystic
Lhurgoyf
Tarmogoyf
Merfolk
Cold-Eyed Selkie
Cursecatcher
Ooze
Necrotic Ooze
Scavenging Ooze
Rogue
Cold-Eyed Selkie
Edric, Spymaster of Trent
Samurai
Samurai of the Pale Curtain
Shaman
Gorilla Shaman
Soldier
Auriok Salvagers
Jotun Grunt
Thalia, Guardian of Thraben
Spirit
Kataki, War's Wage
Wizard
Aven Mindcensor
Cursecatcher
Dark Confidant
Ethersworn Canonist
Grim Lavamancer
Magus of the Moon
Meddling Mage
Qasali Pridemage
Snapcaster Mage
Sower of Temptation
Spellstutter Sprite
Stormscape Apprentice
Trinket Mage
Vendilion Clique
Voidmage Prodigy
Yixlid Jailer
Zombie
Tidehollow Sculler
Yixlid Jailer
What can be concluded from this list?
First, there are certainly enough creatures to compose either a Human or a Wizard list built around Cavern of Souls.
Second, there are obvious limitations on any possible list. See Three and Four.
Third, the lack of ability to easy use either Tarmogoyf or Stoneforge Mystic, two of the most important beatdown options.
Fourth, the inability to use Trygon Predator efficiently, the best anti-Workshop tactic. You can always simply name Beast against Workshop, but this doesn't make for great synergy with the rest of whatever deck you put Predator in.
Let me attempt to build both a Wizards and a Humans deck.
Cavern of Wizards, by Stephen Menendian
I tried to make the most of what Cavern of Souls offers, without skimping too much on defense.
Cavern of Humans, by Stephen Menendian
The potential problem with a Humans list is that you may not have enough tools. With Humans you have Dark Confidant, Thalia, Snapcaster Mage, and Meddling Mage as a core, but then you are just a bad Wizards deck with Thalia. A Human deck may need to hybridize with either Cats or Clerics to work. True, some marginal creatures, like Fiend Hunter, might be playable if it is uncounterable, but that is a fact that remains to be seen.
After this exercise, it occurs to me that the strongest home for Cavern of Souls is probably Aggro-Control rather than Beatdown, where it can really shine. And I don't mean Combo-Aggro, like Goblins or Elves, which Caverns certainly helps with, but Aggro decks like those I covered in my Guide to Aggro in Vintage. I'll leave it to other designers to try to find a way to make an Aggro deck with Cavern. I've done most of the legwork here. But before I leave, here's a possible Goblins list:
Cavern of Goblins, by Stephen Menendian
B. Possibly Playable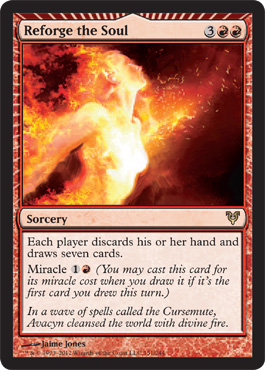 Reforge the Soul – A five mana Wheel of Fortune or a 2 mana Wheel of Fortune if you can cast it as Miracle. There are basically no 5 casting cost Red spells that see play in Vintage outside of Ingot Chewer (which is usually just cast for 1 Red), but that cannot be the end of the inquiry for a card like this given the unique effect. There are very few true draw-7's that cost 5 or less, and almost all are Restricted. The notable exceptions are Diminishing Returns and Magus of the Jar, which both have steep drawbacks.
The first question is, assuming playability, where might it see play? To answer that question, I think we should look at the card that is technically closest to this besides Wheel of Fortune: Memory Jar. Memory Jar is the format's only other 5 casting cost draw-7 that can be used immediately upon playing. Memory Jar, historically, was cheated into play with Tinker. However, it was also Ritualed into play in Storm combo decks and often just hard cast. Memory Jar also sometimes sees play in mono-Red Workshop decks with Goblin Welder.
But perhaps the most productive home for Memory Jar has been Vintage Goblin Belcher decks. These decks are able to generate plenty of mana (since they have no lands or very, very few!), and, quite importantly, they have Red rituals: Elvish and Simian Spirit Guide, Rite of Flame, Desperate Ritual, Pyretic Ritual, Seething Song, Tinder Wall, etc. Or, they can translate Dark Ritual or other forms of acceleration into Red with Manamorphose.
It is Belcher decks, in both Vintage and Legacy, where I feel this card has not just the most potential, but actual Vintage playability. The problem with Vintage Belcher is that the archetype has basically disappeared: it's defunct in recent years. I think the efficiency of modern countermagic has contributed to its decline. It is the rarity of Vintage Belcher that is the only reason I am not categorizing this as "playable."
Moreover, I think this card opens the door to "Belcherless" Belcher decks, which has, in itself, many advantages. Once you cut Belcher, you can then play lands maindeck, without fear of losing. Consider this example.
Vintage Empty Combo, by Stephen Menendian
With some time, a list could be designed that utilizes more colors.
One potentially exciting aspect of a deck like this is the potential to be able to play turn one Reforge the Soul in the draw step, by using Spirit Guides and instant speed Rituals.
While I think this card has clear potential in Vintage Belcher, it is perhaps Legacy where this card will have the larger impact, given the fact that Belcher continues to be an established and played deck in that format. Here's how I might retrofit Belcher in Legacy with Reforge the Soul.
Legacy Empty Combo, by Stephen Menendian
Notice I added a Past in Flames to the sideboard as a Burning Wish target post-Reforge the Soul. After watching Matt Hazard lose the Legacy Champs a few years back solely because he had a land in his deck, I'm not a huge fan of the Taiga, but it can stay until you've tuned an efficient alternative.
You'll noticed that in both cases I cut the Belchers and focused the deck on simply playing Empty. Reforge does nothing more than tutor up mana and either an Empty or a Burning Wish to find Empty. I believe that's enough to win most Legacy games.
With Belcher absent, I added slightly more lands. Even more can be played in sideboard if need be.
Devout Chaplain – Given the exercise I undertook in categorizing the various playable Vintage creatures by class and race, this creature looks like a playable fit for a Human deck. It's Cavern of Souls making this card uncounterable which might make it playable. It could be a very effective anti-Shop solution in a human deck. I wouldn't be surprised if this saw play.
I deem this creature playable, but it remains to be seen if it will ever see play.
Tandem Lookout – There is a density of 3 casting cost creatures that draw you cards in combat. Ophidian is the progenitor, but we've seen a proliferation of interesting creatures at this casting with Cold-Eyed Selkie, Edric, Spymaster of Trest, and now Tandem Lookout. Each of these creatures offers advantages and disadvantages. Tandem Lookout is arguably the most castable of the trio, but it has some critical limitations. It has to be the second creature in play. Edric does not have that limitation. Three or more creatures can also attack under Edric's watch to draw creatures. On the other hand, Edric requires Green mana to cast.
I see this as roughly the same value as Edric, which has seen a surprising amount of Vintage play. I suppose that leads me to conclude that this card is Vintage playable.
Desolate Lighthouse – There are very few lands that draw cards, and most see Eternal play: Library of Alexandria, Bazaar of Baghdad, and Mikokoro stand out. This card is asymmetrical, which is a key advantage over Mikokoro. It's not conditional, which is an advantage over Library. And it doesn't require you to discard more than you draw, unlike Bazaar. In other words, it is not strictly worse than any of those lands.
This card won't compete with Bazaar in any deck because part of Bazaars value is as a large discard outlet. This card only lets you discard one card.
Is this better than Library? Does that matter? Library of Alexandria sees very limited play in modern Vintage, but it does see some play. The key trade off is obvious: Library allows you to draw cards in the early game. This card allows you to draw cards in the late game, perhaps more easily than Library. Which is more important is hard to say.
One thing I really like about this card is that it's an outlet to discard Blightsteel Colossus in the late game, while generate card advantage. It's also a way to discard Miracles that you aren't playing any time soon. It could also work very well with Goblin Welder in a reconstituted Slaver deck. The colors are also appropriate for that.
I think this is a playable card, but whether it will see play or not is another matter. It's a crime that art this beautiful is printed on cards so small.
C. Remotely Playable
Ghostly Flicker – This is a novel effect. Although the Blink effect is not original, the application here is in at least three respects. Not only is this in Blue, but it targets two permanents, and permanents of types that we have not seen this effect on: lands (except for Ruin Ghost) and artifacts!
How might you gain value from this spell?
There are several possibilities:
• You generate advantages from blinking out cards that have Comes Into Play abilities that can generate card advantage or disrupt the opponent.
• Blink out high generating mana producers.
• Blink out creatures that are blocking.
• Blink out to reset counters, etc.
• Blink out to prevent from destruction.
There are other advantages that can be derived, but these are the main ones. For example, you could blink out a Smokestack to reset it after wiping your opponents board. Unfortunately, Workshop decks with Smokestack can't afford to play a three casting cost Blue spell.
And I don't think there are enough CIP artifacts in Vintage to make this worthwhile (think Jester's Scepter).
But perhaps the most promising application is to blink out lands like Tolarian Academy. In fact, I think the most specific application I can foresee is Legacy. This card can generate mana by blinking out a Candelabra of Tawnos and an Island after you have played High Tide. This could see play in Legacy, but I doubt it will see play in Vintage.
Terminus – I have serious reservations about this card, but there are potential applications. This card could be top deck tutored to function like a Balance or mass removal effect. In a deck like Parfait, it could be placed there quite deliberately with Scroll Rack. It could also prove quite remarkable with Top in a UW control deck, hosing not just Aggro decks, but Workshop decks as well. I wouldn't rule this card out from having any Vintage applications.
Human Frailty – This card hits a wide range of creatures, wide enough that it could see play as an answer to pesky Human decks.
Ulvenwald Tracker – Like many cards I reviewed in previous sets, this card could have some utility in the Beats mirror, especially allowing your Goyfs to pick off other creatures.
Treacherous Pit-Dweller – Sufficiently better than Flesh Reaver that it merits mention as a remote playable. Functionally speaking, this a 2 mana 4 power creature. The main reason it is better than Flesh Reaver is that you can play it with cards like Dark Confidant and Necropotence.
That puts it in the conversation with cards like Jotun Grunt and Tarmogoyf. The drawback? Marginal in Vintage. If a blocker, like a Goyf, is in play, you won't attack. This creature will rarely come into play on your opponent's battlefield. More serious though is the fact that it can't trade with a Lodestone Golem or a Slash Panther.
The question, then, is whether a 4 power 2 mana creature is good enough, for, say, a black Aggro deck. The absence of Flesh Reaver would suggest not, but this lacks that drawback. I'd say it's an open question. Therefore, I can't rule this card out as Vintage unplayable, but I wouldn't hold out hope.
Vexing Devil – Legacy playable. Seems like a natural fit into Legacy Burn decks, but I thought the same about Searing Blaze. However, I think it may also have a home with Temporal Mastery in UR and URx Delver.
As for Vintage, this card is without precedent: it's a 1cc creature that can deal 4 damage either immediately or in the attack step. I wonder if it might be a threat in Mono Red Workshop.
Alchemist's Refuge – While an obvious first pick in Type 4, the question is whether this card is playable in Vintage. This card puts into focus the value of being able to play sorceries and permanents at instant speed at times other than your main phase. Vedalken Orrery sees no play in Vintage, but it's a vulnerable and pricy target. So the absence of that card in Vintage cannot lead to the conclusion that Refuge will see no play.
Simply put, this card basically adds three mana to a spell to allow you to play it on another player's turn, such as their end step. I say three mana, since this land has to tap to activate, at the opportunity cost of another land drop or tapping this for mana.
The mana requirements limit this land to decks that run sufficient quantities of both Blue and Green mana to reliably use this land. In my view, that seems to restrict this cards potential to Aggro Control decks, like Noble Fish. While it might be neat to be able to instant speed Mystic Remora or Tarmogoyf, I don't really see enough value from doing that on your opponent's end step to justify this spell. On the other hand, Fish decks have enough permanents that they could gain advantage from this. And they can support it with cards like Noble Hierarch. They also gain value from being able to add a key creature to the stack at the right time, like Leonin-Relic Warder or Meddling Mage. Those decks could include this land as a one-of to gain some marginal and situational value. That's the probable home for Refuge, if there is one in Vintage.
Conjuring Cabinet – This card could be really broken in a Workshop deck with heavy amounts of Duplicant and Triskelion. Still, it would a very marginal possibility. Every turn you can Duplicant a new creature or rejuvenate Triskelion.
D. Unplayable
Everything else too numerous to mention.
IV. Avacyn Restored Summary & Checklist
The following cards from Avacyn Restored are Vintage playable, and are likely appear in Vintage Top 8's over the next 3-6 months:
4 Temporal Mastery
4 Griselbrand
4 Cavern of Souls
I've also identified these cards as playable, although I'm less confidant that they will appear in Vintage Top 8s in the next 3-6 months, although I think they could:
3 Devout Champion
2 Tandem Lookout
2 Desolate Lighthouse
4 Reforge the Soul
I would encourage you to pick up those cards for your Vintage collection. There are a few other cards, like Reforge the Soul, that I think could see play in Vintage, and will almost certainly see play in Legacy.
Until Next Time,
Stephen Menendian