Vintage in 2011 was simply amazing. Each new printing, deck, and idea – each new development – formed a chain of dominoes that led to one incredible story after another. I feel sorry for you if you missed it. The good news is that I'll tell you all about it. For those of you who played Vintage in 2011, you can relive it again. It's all too easy to get caught up in the moment. The year's end is a time for perspective, to reflect on events and to find meaning in them.

For Vintage, 2009 was the Year of the Monster. 2010 was the Year of Worldwake, Vintage defined by the competing forces of Jace and Lodestone Golem. What about 2011? 2011 was a year of many storylines: the re-emergence of Gush at the Vintage Championship, the rise of Landstill, the printing of Snapcaster Mage, and the return of creature decks. But the biggest story of 2011 was the emergence of Dredge as a tier one deck, capped off by winning the Vintage Championship. The performance of Dredge was not only unprecedented, it was precipitated by a dare – a gauntlet thrown down by one of Vintage's most prominent voices.
January – MUD Dominant
At the close of 2010, Mishra's Workshop fueled artifact MUD decks – which had dominated since the printing of Lodestone Golem – retooled and re-emerged following Scars of Mirrodin, a new artifact block, which gave MUD decks more toys, answers, and monsters than ever before.
In early January, MUD re-asserted its dominance once more, this time staking a claim to 2011. Sam Berse won a 90 player tournament at Brother's Grimm in New York just outside the first week of the year.
MUD, by Sam Berse
This deck fuels one monster beater after another while locking you out of the game. The biggest monster of all is Steel Hellkite, which can answer Trygon Predator and Oath of Druids. Sam smashed a star-studded field of players from Boston to Washington DC.
February – Mirrodin is Besieged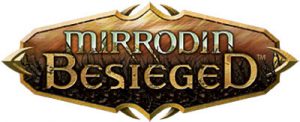 Like nanotech machines, Mirrodin Besieged crawled out of boosters and infiltrated Vintage decks everywhere at the beginning of February. Mirrodin Besieged contributed a bunch of Vintage playables such as Steel Sabotage, Leonin Relic-Warder, Phyrexian Revoker, and perhaps none more devastating or format defining than the reviled Blightsteel Colossus.
But the solution to the MUD metagame would not come from Mirrodin Besieged. Instead, it would come from players pushing the envelope with a notable Shards of Alara bomb, Tezzeret the Seeker. Developed seemingly independently in different corners of the world, the TurboTezz archetype was born, focusing on pushing out Tezzeret at turbo speeds on the back of tons of fast artifact mana and multiple Voltaic Keys. While Gregoire Vienne and Omar Rohner were perfecting their builds in Europe, John Jones took the eastern US by storm with his own innovations.
Within the space of two weeks, John Jones won a 44 man tournament and then a 45 player tournament with this deck:
Turbo Tezz, by John Jones
Why was this deck such a brilliant metagame innovation? With Mishra's Workshop decks ruling the format, this was a strategy that could easily defeat them. By maxing out on artifact acceleration – even lesser played artifacts such as Mox Opal and Grim Monolith, the deck could play right through a Lodestone Golem, and accelerate out a game-winning Tezzeret. The Tezzeret tutors up Time Vault, which can either by immediately activated with Voltaic Key, or next turn with Tezzeret. There is almost nothing the MUD player can do about it.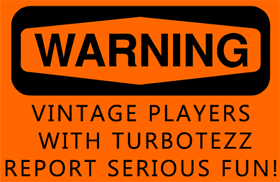 This archetype runs more than the usual singleton Voltaic Key, which synergizes with both Grim Monolith and Sensei's Divining Top. The deck also has enough card advantage and Blue disruption to compete on the stack. The suite of counterspells are often enough to protect a game-winning Tezzeret against most opponents.
This was an ingenious innovation, and an unexpected one. It illustrates the point that often solutions to the metagame come from the existing card pool, rather than new printings.
March – An Ancient Grudge
In mid-March, 182 players gathered in Florence, Italy for the annual Italian sponsored "Doomsday" tournament. The top 8 can be viewed here. The event was featured a diverse Top 8, including two Dredge decks in the top 4, one of which was the ascending Fatesticher build.
In the United States, the rise of MUD and Turbo Tezzeret to the top of the metagame opened the door for a tactic that Brian Demars would heavily promote (although was not the first to suggest): Ancient Grudge as a maindeck tactic.
Ancient Grudge was a metagame silver bullet that punished the bloated MUD deck's emphasis on the big monster and Turbo Tezzeret's hard crutch of Time Vault. As Brian explained Ancient Grudge's position in Vintage as follows:
"I know that I probably sound like a broken record continuing to harp on how amazing Ancient Grudge is—but there is a reason, and that reason is that it's probably the best positioned card in the current Vintage metagame that for some reason nobody wants to play with.
For starters, I don't know what prayer Jones' artifact blue deck has of defeating another blue deck that draws the card Ancient Grudge—let alone if two? Oh, my.
Secondly, against a MUD deck, there isn't actually a better card to have at one's disposal than Ancient Grudge; it is Vindicate with flashback."
Brian's observation would swing open the metagame door for a new threat…
April – Foreshadowing
…And that new threat would shape Vintage the rest of the year. One of the larger tournaments of April was a 58 player tournament in Spain. But what was notable about this tournament was that Dredge won! A perennial top 8 contender, Dredge would rarely close the deal in the elimination rounds – a trend that would begin to change here.
Sun Titan/Fatestitcher Dredge, by Victor Rodriguez
Victor ditched the disruptive Chalice of the Void package for a faster kill with Fatestitcher, fueled by maximum Blue mana acceleration, and the Sun Titan combo. This version of Dredge is much faster than the more disruptive variants, and also contains more mana maindeck to support post-board answers. Notably, Victor bested a revised version of Turbo Tezzeret piloted by Ricardo Sanz in the finals, sporting both Tezzeret the Seeker and Tezzeret, Agent of Bolas.
May – New Phyrexia Arrives
The popularity of TurboTezz would reach a crescendo in May at the annual Bazaar of Moxen, the largest Vintage tournaments in the world, held in Annecy, France.
Two different TurboTezz variants would meet in the finals of the largest Vintage tournamnent of the year, when 383 players came to battle in Vintage at the Bazaar of Moxen (BoM) 2011. Omar Rohner's streamlined TurboTezz build below bested Lorenzo Fedeli's 6 Tezzeret build in a pseudo-mirror match.
TurboTezz, by Omar Rohner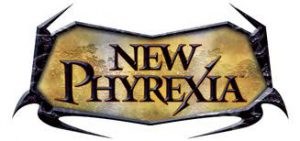 After being coy, Wizards finally released the final set of Scars of Mirrodin block in the second week of May, and revealed its name: New Phyrexia. With it came a new way to play spells for free: Phyrexian mana. Phyrexian mana is the best mana you can play for Vintage. Phyrexian mana gave us such Vintage hits as Mental Misstep, Phyrexian Metamorph, Gitaxian Probe, Dismember, Surgical Extraction, and the late blooming Slash Panther.
Phyrexian Metamorph, like its Mirrodin Besieged predecessor, Phyrexian Revoker, was swiftly plugged into existing MUD decks. Revoker was like a 2/2 Stone Rain, taking out a Mox or turning off Time Vault. But Metamorph is a versatile, all-purpose answer. It may replicate an opposing Blightsteel Colossus, your own turn one Lodestone Golem, or merely double down on Sphere of Resistance or Tangle Wire. As a powerful and versatile upgrade to Sculpting Steel, it saw immediate play.
June – So Many Insane Plays
Bazaar of Moxen champion Omar Rohner was the first to win a Vintage tournament abusing 4 Mental Misstep. Creating what is arguably the coolest deck of the year, I present to you Omar Rohner's Show and Oath:
Show and Oath, by Omar Rohner
Omar's deck has three ways to get Emrakul onto the battlefield: he can do what is done in Legacy, and cast Show and Tell, but he can also use Oath of Druids to summon it into play, or, more intriguingly, cast Channel! While this deck falls into the "Danger of Doing Cool Things" category, it is undeniably lethal.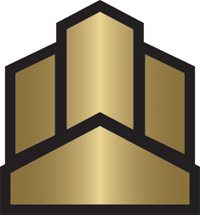 In other news, Wizards of the Coast released five 100-card singleton decks for the EDH/Commander format, featuring 51 new cards. In our inaugural So Many Insane Plays Podcast, Kevin Cron and I gush over the printing of Flusterstorm in Commander, and hail it as a Vintage staple.
July – East Coast Wins
In the United States, a new archetype was breaking through. For the first half of the year, the most successful Blue deck in the United States was the traditional Bob/Jace Control, very much like the ones that had won the Vintage Championship the year before.
Shawn Anthony and his cohorts were generating steam with a renovated Gush shell, merging Gush and Jace, the Mind Sculptor into a conventional control shell. What was innovative, however, about this deck, was the presence of so many new tempo counters. Shawn Anthony Top 8'ed six Vintage tournaments from June through July with versions of this deck:
East Coast Wins, by Shawn Anthony
Shawn's deck uses Gush to fuel and protect Jace, and then creates overwhelming card advantage with which to combo out using Time Vault or Tinker or Yawgmoth's Will. He borrowed the Demarsian technology of Ancient Grudge to protect himself from Workshops, and then utilized Mental Misstep to win tempo battles. Gush had finally surfaced from behind the shadow of Dark Confidant/Jace decks.
Meanwhile, Kevin Cron and I were intrigued by the attempts to fit Slash Panther into Workshop Aggro decks. However, we felt that those lists were not well tuned, and in the 4th episode of the So Many Insane Plays Podcast, we created this version of Cat Stax, which was smashing all of our Blue decks:
Cat Stax, by Stephen Menendian
Slash Panther was the emerging Workshop solution to Jace (in addition to Revoker), which, by now, had dominated both wings of the blue metagame. Cat Stax was featured in this vignette on the Wizards homepage.
August – Challenge Accepted: The Vintage Championship
The biggest North American Vintage event of the year, and the largest crowd since the 2004 Vintage Championship, signed up to compete for this original painting, a Time Walk redux: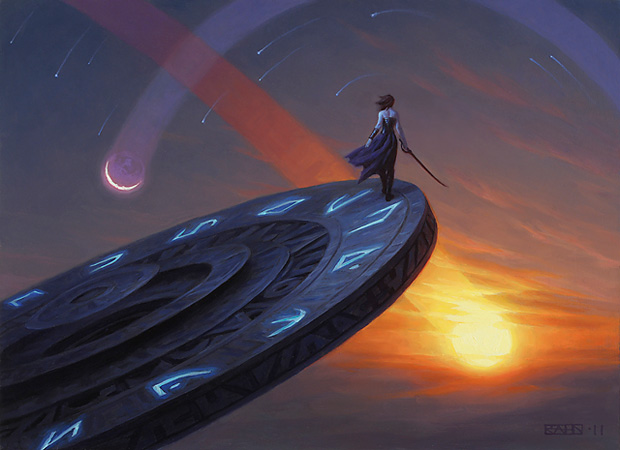 151 players registered to compete, and after 8 rounds of Swiss and the Top 8 playoffs, a winner was declared. For the first time, a Bazaar of Baghdad deck – Dredge – had conquered the Vintage Championship!
Sun Titan/Fatestitcher Dredge, by Mark Hornung
Dredge's victory at this event was historic, but what made it so dramatic was the story behind the victory. In his Vintage Championship Player's Guide, Brian DeMars proclaimed that Dredge would never win the Vintage Championship. Brian wrote:
"Of all the major Vintage archetypes that exist and have existed for a significant period of time, Oath of Druids is basically the only one that has never won Vintage Championships and never will (the other being Dredge, which will never win either).
Neither one of these decks is actually capable of beating three good decks, piloted by three good players, in three consecutive rounds of Magic.
Since neither of these decks can possibly win I am sure this won't actually matter, but in the near-impossible event that Oath or Dredge does win, I reserve the right to cite extreme variance."
Brian's hyperbolic prediction partly motivated Mark to play Dredge at the Vintage Champs. You can read Mark's tournament report here.
But perhaps the biggest innovation coming out of the tournament was my Team Meandeck's successful fusion of Dark Confidant and Gush into the same shell. Wizards profiled my deck here in their GenCon coverage. The Confidant/Gush deck put myself and Paul Mastriano into the Top 3. Unfortunately, Paul beat me in the semifinals, and then lost to Mark Hornung in an exciting showdown in the finals.
You can follow Wizards' coverage of the Vintage Championship (including Top 8 decklists) here, and watch all of the archived video coverage right here on Eternal Central.
The finals was one of the most dramatic in the history of the event, and it's well worth watching (as are the others), if you haven't already, or if you just want the view it once more for entertainment value or posterity. You can find video from the finals below and check the rest of them out here!
Like the Dredge victory, the Confidant/Gush mold was created, and then revealed that day, and would impact the Vintage scene in the weeks and months to come. Just weeks later, Chris Pikula won the 82 player Top Deck Games Summer Open tournament with a revised (and updated) version of Confidant-Gush sporting the natural inclusion of Jace. But Chris' deck wasn't the only Confidant-Gush deck in the room that day, as a whopping 13 out of 82 players (15.85% of the field) would pick up some version of the deck and play it that day!
However, Paul and I had already decided on a different Gush shell. Dark Confidant offered a potent secondary draw engine with Gush, but severely constrained the array of spells that could be included in the deck. We decided that a Lotus Cobra deck would compensate the loss of Dark Confidant by generating virtual card advantage (mini-Lotus Petals), and by allowing the pilot to include overwhelming bombs (like Necropotence and Yawgmoth's Bargain). I won a tournament in Sandusky with Cobra Gush just a few weeks after the Vintage Championship. You can read my 40 page Cobra Gush primer and tournament report here.
September – Innistrad Invades
After weeks of spoilers, Wizards of the Coast finally released Innistrad in late September, a 264 card gothic horror themed expansion that was uniquely designed "top-down," meaning that the set design proceeded to link mechanics and card design to the horror theme. Cards "transformed" by flipping over when certain conditions were satisfied, much in the way that a werewolves transform from ordinary humans in horror films.
Innistrad introduced many noteworthy playables into Vintage. Some spells were transformations/reprints of older effects (like Stony Silence from Null Rod, or Witchbane Orb from Ivory Mask). But the most impressive new printings were three Blue creatures, each of which would see play over the next few months. Innistrad would shake up the Vintage metagame, and set it on a new course for the rest of the year.
Also in September, after much cajoling, the DCI finally unrestricted Fact or Fiction.
After a ten year stay on the Restricted List, Fact or Fiction has returned to Vintage as a potential Blue draw engine. The DCI explained its decision in the interest of promoting metagame diversity. Would Fact or Fiction have an impact?
October – The Waterbury, OvinoGeddon, and Eternal Weekend
Aside from the Vintage Championship, the semi-annual "Waterbury" (aka TheManaDrain.com Open) is the most prestigious Vintage tournament in North America. Known for abundant prizes and considerable community support, the Waterbury typically draws the largest crowds, but also the fiercest competition. Held early in October, Anthony Scalzo did his best Mark Hornung impression by winning the second marquis Vintage event in North America with Sun Titan/Fatestitcher Dredge. The entire Top 8 can be found here.
Dredge winning major back to back Vintage tournaments was not the only story of the tournament, however. Two Blue creatures from Innistrad had an immediate impact.
Utilizing Laboratory Maniac, I designed a Doomsday combo deck with unparalleled resilience. Historically, the Doomsday stack was vulnerable to the slightest disruption. With Laboratory Maniac, far more stable and lethal Doomsday piles can be constructed. Doomsday serves both to tutor for the Maniac, but also to set up the conditions for winning the game.
With Laboratory Maniac and Gush in hand, you can set up a Doomsday pile that wins the game immediately: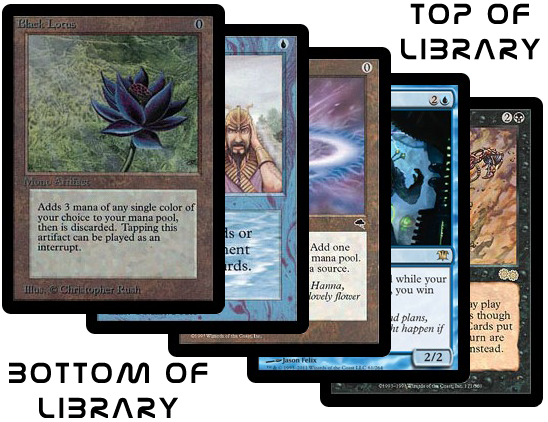 Gush into Black Lotus and Ancestral Recall, and then cast Ancestral to draw Lotus Petal, Laboratory Maniac, and Yawgmoth's Will. You then cast Yawgmoth's Will to replay the Lotuses, then cast Maniac and Ancestral Recall targeting yourself to win the game.
Otherwise, you can construct the simple but lethal Doomsday pile of: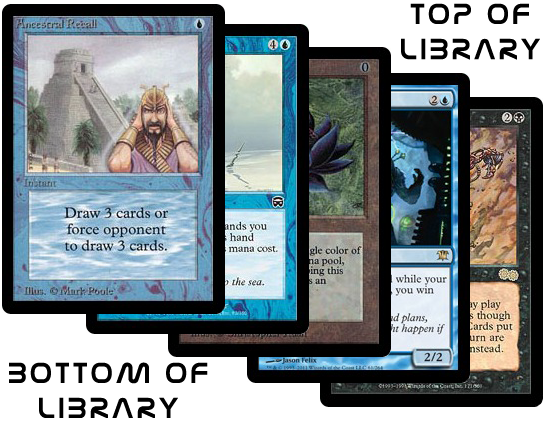 You Ancestral Recall into Gush, Black Lotus, and Laboratory Maniac. You can then cast Lotus into Maniac, and Gush for the win. If you have been disrupted for some reason, Yawgmoth's Will is your insurance card.
With this powerful combo in hand, I Top 8'ed the Waterbury. Both my primer on Doomsday and my Top 8 Report with revised decklist and changes can be purchased together here.
The other Blue creature from Innistrad to make a splash at the Waterbury was Tiago Chan's Invitational card, Snapcaster Mage. Arguably the best Blue creature ever printed, Snapcaster Mage proved that it is not only Vintage playable, but a top tier staple. Kevin Cron piloted a Snapcaster list to the Top 8 that has proven the basis for an enduring Snapcaster shell.
Snapcaster Control, by Kevin Cron
I would be negligent if I didn't mention the fact that just as Dredge had won two major Vintage tournaments in the US, Kuldotha-MUD had won two of the largest annual European Vintage tournaments (as well as placing 4th at Bazaar of Moxen), including the annual Italian OvinoGeddon tournament, which featured over two hundred players competing.
Kuldotha MUD, by Iuri Piazzalunga
The biggest tournament of the year in Spain also took place in early October, called Eternal Weekend. Complete coverage of the event can be found here courtesy of our friends at Mana Infinito, and the Top 8 decklists can be found here. Eternal Weekend was also won by a Kuldotha MUD deck, this time piloted by Israel Muñoz.
November – Landstill
By winning the Blue Bell tournament in late October, Josh Potucek had won three consecutive Vintage tournaments with this:
Landstill UR, by Josh Potucek
Landstill turned out to be a metagame solution to the field, and caught on like wildfire. Landstill was won multiple Vintage tournaments worldwide in November, certifying the deck as a top tier deck rather than a fluke. A crushingly slow Control deck, Landstill would reconfigure the Vintage metagame as Winter approached.
In the wake of the Waterbury, Brian Demars jolted the Vintage community by asserting that Vintage had become "too fast." My commentary and rebuttal to his assertion can be found here. Perhaps he came to his own conclusions too quickly, because no sooner had his article seen print than the glacially slow Landstill began its quick ascent to the top of the metagame.
December – Delver Beatings
With Landstill now firmly entrenched in the top tier, after winning a slate of Vintage tournaments from continent to continent, the question became: what could defeat Landstill? Various answers began to surface, but almost all of them involved Tarmogoyf.
My Remora Gush deck or Matt Elias/Paul Mastriano's Remora Tarmogoyf decks looked increasingly attractive for battling both Landstill on the one hand, and the rest of the metagame on the other. Rich Shay had another solution in mind.
Rich designed a deck that Jimmy McCarthy would pilot to victory at the December 2011 Team Serious Open in Sandusky (Ohio, USA), featuring Delver of Secrets, the third Blue creature from Innistrad to make a splash (and a creature that I talked about extensively in my Innistrad Set Review. Here's what Jimmy played:
Delver Tempo, by Jimmy McCarthy
Shay's Delver decklist is tempo oriented and disruptive, and trumps not only the popular Landstill deck, but also my and others attempt to utilize Mystic Remora as a metagame anchor and draw engine. Snapcaster Mage and company have made creatures a force to be reckoned with in Vintage. Landstill accelerated this trend, opening the door for creature decks everywhere.
Conclusion
Vintage has come a long way since MUD was lighting up tournaments in January. As we close the books on 2011, we can look back on a year in Vintage that has traveled far and wide, reaching new heights. New printings pushed Vintage into new terrain. But the natural rhythms of the metagame produced their own evolutionary shifts. The new archetypes that surfaced in 2011, such as Turbo Tezzeret, Show and Tell/Oath, Kuldotha MUD, Bob/Gush, Maniac-Doomsday, Snapcaster Control, Delver Grow, and the old archetypes renovated for the future, like Fatestitcher Dredge, Landstill, (Remora) Grow, are not simply evidence of a dynamic format, but an incredibly fun format.
Who wouldn't want to play a format this interesting? One can only hope that 2012 offers the same degree of Vintage dynamism.
Until Next Time,
Stephen Menendian
Appendix
If you are interested in reading more about Vintage history, be sure to read these Year in Review articles:
2004 Vintage Year in Review
2005 Vintage Year in Review, Part 1
2005 Vintage Year in Review, Part 2
2006 Vintage Year in Review, Part 1
2006 Vintage Year in Review, Part 2
2007 Vintage Year in Review
2008 Vintage Year in Review
2009 Vintage Year in Review
2010 Vintage Year in Review