The Vintage Championship is the one of the few Vintage "majors," tournaments of higher level competition and prestige. The most famous European major is the Bazaar of Moxen, renowned for its extraordinary prize payout. Although the Vintage Championship does not have the best prize payout of the Vintage majors, like the Italian OvinoGeddon or the American Waterbury, it does have a prize that is perhaps more coveted: a piece of original alternate artwork of one of the 'Power Nine' cards, framed as a trophy.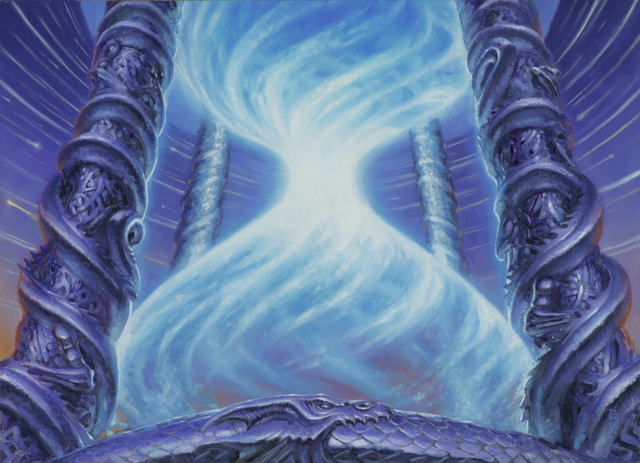 The metagame coming into the Vintage Championship had been increasingly well defined leading up to the tournament. In the Midwest, Mike Solymossy had been tearing up local tournaments with his iteration of Vintage RUG Delver, repeatedly winning tournaments with variations of this list.
Vintage RUG Delver, by Mike Solymossy
On the east coast, the legendary Chris Pikula recently won a 65 player tournament with the revived UR Landstill deck, based on Josh Potucek's work
UR Landstill, by Chris Pikula
RUG Delver and Landstill marked the polar boundaries of blue strategies in Vintage this summer, and any player hoping to win the Vintage championship would have be able to contend with both. In addition, Workshop decks with Lodestone Golem and Dredge decks were also performing well, and could be expected to appear in big numbers. Any deck with bad matchups against either Dredge or Workshop would be a poor choice.
That ruled out my favorite deck in the format: Doomsday. Doomsday might be the most powerful deck in the format in the abstract, but Doomsday has tenuous matchups against Landstill, Workshop, and RUG Delver. Doomsday's worst matchup is Workshop, largely on account of the fact that Doomsday lacks full mana acceleration, and needs to resolve a 3cc black spell to win the game. Landstill is a better matchup, but the intense amount of countermagic can make it a challenge. RUG Delver, on the other hand, can be a nightmare. Not only can it kill you after you play Doomsday, but without Rituals, you probably can't reliably race them and protect your combo. Lightning Bolt frustrate the Maniac kill, and Snapcaster Mage does the same.
To try to bridge some of these difficulties, I designed a Doomsday list with Lotus Cobra. Lotus Cobra should help with the Workshop matchup, and allow me to accelerate out Doomsday with just a fetchland. After a minimal amount of testing, and after discussing my ideas with teammate Kevin Cron, I felt that I had a good shell, but the weakest part of the deck was the Doomsday combo itself. After some brewing and a bit of testing, here is what I ended up with:
Cobra Gush, by Stephen Menendian
The game plan for this deck is simple: accelerate into a broken spell, with Cobra if possible. An ideal sequence without relying on any particular restricted card is Turn 1 Mox, Land, Cobra, followed by Turn 2 fetchland, Jace with Flusterstorm protection. From here, you should have generated the card advantage to proceed to either the Time Vault or Tinker for Blightsteel finish.
Jace is one of the lynchpins in the format, and this was the first time I had taken that idea seriously by maxing out on Jaces. This deck can also accelerate out Jace faster than any other blue deck in the format.
Necropotence allows this deck to have another broken play that can overwhelm the control mirror, and is a big reason to pay this deck. Interestingly, with 4 Jace, you need not worry about Necro locking yourself at 1 life. The entire purpose of Necro in this deck is to assemble the Key/Vault combo, and usually win with Jace.
Trygon Predator is another means of insurance against Workshops, and an easy turn two play after Cobra.
Gush plays multiple roles in this deck. First, it is a combo engine with Fastbond and Yawgmoth's Will. Second, it fuels Jace by hitting additional land drops and maximizing Jace-storms. Third, it combos with Cobra to fuel additional mana production. Note, however, that I dropped Preordain entirely, so this deck emphasizes the GushBond engine less than previous Cobra Gush iterations I've played before.
It was my view that this was the best Gush deck I could build for the Vintage championship. Cobra and maximum mana artifact acceleration gave me strong game against Workshops, and Cobra helps fuels fast hard cast Leyline of the Void against Dredge if need be. Cobra is also a strong early tactic against Landstill to overcome mana denial and discourage them from dropping Standstill.
Most importantly, however, this deck was dominating RUG Delver. The simple reason is that I am able to make a broken play, like assembling Time Vault combo, before they can win. Cobra resolving and surviving for more than a turn usually meant that I won the game.
For the 2011 Vintage Championship, I played Confidant-Gush control to a 3rd place finish. The next tournament, a Team Sandusky Open, I won the tournament with Lotus Cobra. Cobra and Confidant perform similar functions. They both generate mana and card advantage. Confidant's card advantage translates into mana advantage. Cobra's mana advantage translates into card advantage. Cobra, however, allows you to make faster and more broken starts and better synergizes with Gush. That's why I chose to play Cobra Gush for the Vintage Championships this year.
The Vintage Championship Prelim Tournament
Every year I try to play in at least one of the prelim tournaments, not only to earn byes, but to tune and hone my deck for the main event. I've found that I usually make 1-2 card tweaks following each prelim event. Last year's prelims set me up for a much stronger main event showing. If my deck performed very badly in the prelim event (which has never happened, fortunately), I would then be able to switch to a different deck the next day for the main event.
Round 1 vs. Workshops
Game 1:
My opening hand was:
Force of Will
Force of Will
Merchant Scroll
Lotus Cobra
Island
Mox Pearl
Black Lotus
My opponent won the roll, and elected to play first. I decided to keep my opening hand. My opponent led with Wasteland, Mox, Mox, Sphere of Resistance. I thought about it for a moment, but decided to let that resolve. I could play a turn one Cobra if I wanted. I played Island, Mox Pearl, and passed the turn, simply because if I played Lotus or Lotus into Cobra, I wouldn't be able to Force his next play. On his turn, he played a Thorn of Amethyst, which I also let resolve. I drew a Gush. On his third turn, he played another Thorn, which I Forced this time, pitching Gush. I drew another non-land card. On his fourth turn, he played Lodestone Golem, which I Forced, pitching Scroll. Now I was utterly spent. His next threat resolved and ultimately killed me.
I regretted not Forcing his first turn Sphere, since I could play Cobra and Ancestral Recall on the first turn. More critically however was the fact that I never drew a second land that game. Had I drawn another land, I would have been fine.
Game 2:
I sideboarded in 3 Ingot Chewer, 2 Lightning Bolt, and 1 Mountain. My opening hand was:
Underground Sea
Land
Ponder
Force of Will
Jace, the Mind Sculptor
Gush
Trygon Predator
I played turn one Underground Sea, Ponder, seeing a fetchland, Tropical Island, and Blightsteel Colossus. I put the Tropical Island into my hand, and the fetchland on top. He played turn one Trinisphere, which I decided to Force, pitching Gush. Then he played Chalice for 0, which was fine. I played turn two fetchland, and passed. He played a Thorn of Amethyst on his second turn, which was fine with me. I played turn three Trygon Predator. He then played a Kuldotha Forgemaster, and on my turn I immediately attacked to kill it. However, he then drew and played Phyrexian Metamorph copying my Trygon Predator. I played Lotus Cobra and was able to attack him with both creatures every turn for the rest of the game until he was dead. He had to block my Trygon with his Trygon, and so Cobra dealt 2 damage a turn. He had already suffered great damage from his Ancient Tomb, and I won the game in short order.
Game 3:
My opening hand was:
Fetchland
Mana Crypt
Imperial Seal
Ingot Chewer
Force of Will
Jace, the Mind Sculptor
Fastbond
I was concerned about the lack of land in this hand, but felt that this was too strong to throw back. If I draw a land I can cast turn two Jace or turn one Fastbond. Since he was on the play, he played Academy and then his own Mana Crypt. I decided that it was worth it to Force it, since that would deny him three mana. I hoped that he only kept this hand because of Academy + Mana Crypt for mana. Unfortunately, he then played a Mox and cast Sphere of Resistance. I played Fetchland for Volcanic Island, and played Mana Crypt. He drew and then Wastelanded my Volcanic Island before passing back the turn. On my next turn, I drew Mox Sapphire and I played it. He couldn't play any of his spells and did nothing, and passed back. I drew Time Walk, and cast it, taking another turn and drawing another fetchland. I played it and then Imperial Seal for Tinker, which I knew could be played almost regardless of what he did. He played another Sphere, but I had five mana now to cast Tinker for Blighsteel, which won the game.
Games 2-1, Matches 1-0
Round 2 vs. Workshops
Game 1:
I won the roll, and elected to play. My opening hand had:
Mana Crypt
Lotus Petal
Fetchland
Lotus Cobra
Ancestral Recall
Yawgmoth's Will
Flusterstorm
I played Petal, Mana Crypt, Cobra. I then played fetchland, floating a blue. I cast Ancestral Recall drawing Mystical Tutor, Brainstorm and Jace. Here, I could play Yawgmoth's Will to replay the Petal to recast Ancestral, but decided against it. I felt it would be stronger to set up a game winning and lethal Yawgmoth's Will. Keeping the fetchland in play would allow me to Mystical and Brainstorm if I needed to, and I passed the turn. My opponent opened with Land, Mox, Sphere of Resistance on his first turn, which I responded to with Brainstorm and Mystical Tutor. The Brainstorm saw Time Vault and a fetchland, so I used the Mystical to find Demonic Tutor. I untapped and easily won the game by assembling Key-Vault.
Game 2:
We both mulliganed to 6, and my opening hand was:
Land
Land
Land
Ancestral Recall
Time Walk
Trygon Predator
I steamrolled him with turn one Ancestral, turn two Time Walk, and then Trygon Predator. I ended the game with both Lightning Bolt and Ingot Chewer in hand.
Games 4-1, Matches 2-0
Round 3 vs. John Jones with Workshops
Game 1:
My opening hand was:
Force of Will
Force of Will
Ponder
Land
Land
Land
Time Vault
I played Turn one Ponder seeing Tropical Island, Trygon, and Jace. I put Trygon into my hand and Jace on top. This turned out to be a mistake. I had to Force of Will his turn one Lodestone Golem, and had to pitch my second Force to do so. I resolved a Trygon Predator, and greedily decided to kill his Mox Pearl instead of his Sphere. When he played a Metamorph the next turn, and copied my Trygon, I was one mana away from playing a Jace for the rest of the game (which could have bounced his Metamorph and allowed my Predator to roam freely). I drew two more Jaces, and lost the game.
Game 2:
This was the best game I played all weekend. An early Lodestone Golem from John took me down to 5 life. I managed to resolve Fastbond the turn before I was sent to 5 life. My only hope was to be able to do something with the Yawgmoth's Will in hand. The problem is that Will cost 4 mana, and his Chalice for 0 prevented me from replaying my Black Lotus. I had a Nature's Claim and Ingot Chewer in my graveyard, and a few fetchlands and just one Gush. I played a land from my graveyard, and cast Gush, returning two lands to hand. I drew another Gush with it. I replayed three lands (one of which was a fetchland), going to 1 life by the time I used it. I then evoked Ingot Chewer on his Lodestone Golem. With my last mana, I cast Nature's Claim on one of my tapped Moxes, going back up to 5 life. I Gushed again, drawing a 3rd Gush. I then cast Lotus Cobra, then replayed a land, Gushed, and cast Demonic Tutor for Time Vault to win the game at 1 life. Brian Demars watched this game, and applauded my play, which felt great.
Game 3:
My opening hand was:
Trygon Predator
Trygon Predator
Force of Will
Land
Land
Gush
Gush
I Forced his first turn threat, and muscled two Trygon Predators into play very quickly. I Bolted his second threat, and the game ended within a few minutes.
Games 6-2, Matches 3-0
Round 4 vs. Griselbrand Oath
One of the things that concerned me going into Vintage Championships playing a Cobra deck was Oath of Druids. I did testing with a very nice guy from the Bay against Griselbrand Oath and was solidly dominating it, surprisingly.
Game 1:
My opening hand was:
Land
Land
Flusterstorm
Trygon Predator
Force of Will
Gush
Jace, the Mind Sculptor
I had total control this entire game, and Jace and Trygon took over for a grindy, but solid win.
Game 2:
My opening hand contained:
Flusterstorm
Force of Will
Lotus Cobra
Nature's Claim
Land
Land
Land
My opponent opened with Underground Sea, Mox Emerald, Oath. I drew a blue spell and played a fetchland and passed the turn. My opponent played a Forbidden Orchard, and passed. On my turn, I cast Nature's Claim with Force and Flusterstorm protection, and destroyed the Oath. My opponent played another Oath, which I Forced. From here on out I drew an inordinate number of lands, and had difficulty keeping up. My opponent played a third Oath, and I had to use my Yawgmoth's Will to replay Nature's Claim. But then my opponent's own Yawgmoth's Will ended the game.
Game 3:
I played turn one, Land, Mana Crypt, Tinker, and won the game with Blightsteel Colossus the next turn.
Games 8-3, Matches 4-0
Rounds 5 & 6: ID Into Top 8
Games 8-3, Matches 4-0-2
The Top 8 featured myself on Cobra Gush, Josh Butker on my Doomsday deck, Josh Potucek on Landstill, Hiromichi Ito on RUG Delver, James Searless on Griselbrand Ritual Oath, William Stevens on Workshops, John Jones on Workshops, and my opponent William Rosa.
Top 8 Quarterfinals vs. William Rosa with Confidant Jace Control
My opponent was playing a UB heavy blue artifact deck with big mana plays, and some interesting choices like 2 Dark Confidant and 2 Remand (which can easily be cast on the first turn with a Mox, and cantrips).
Game 1:
I had the higher seed, and so chose to play first. My opening hand was:
Imperial Seal
Force of Will
Lotus Cobra
Land
Land
Land
Land
This is an iffy keep, but potentially busted if I have a few turns to do something. I didn't have a few turns, and I should have mulliganed this hand. My opponent played a Turn 1 Mox Opal, Lotus Petal, Tolarian Academy, Tinker for Blightsteel Colossus, and easily won the next turn.
Game 2:
My opening hand had Mana Crypt, Lotus, and Sapphire, and my turn one Jace led to a turn two Tinker protected by multiple counterspells. I handily won.
Game 3:
My opening hand was:
Mox Pearl
Tropical Island
Fastbond
Flusterstorm
Blightsteel Colossus
Ponder
Gush
He opened with Academy Ruins, Mox Sapphire, and Mana Vault. I drew Merchant Scroll, and played Ponder, and saw Cobra, Cobra, Land, and put the land on top. Next turn was going to be very fun. However, his next turn was much better (and worse for me). He played Gifts Ungiven for Time Vault, Voltaic Key, Black Lotus, and Tolarian Academy. I tanked for a while. There are basically two options here. I can give him one of the Key-Vault pieces, and will lose when he uses Academy Ruins to draw the other part next turn, giving me just one turn to win the game. Or, I can give him Academy and Lotus, and pray he doesn't have Yawgmoth's Will. If he doesn't, he'll need two turns to draw both pieces with Academy Ruins. I decided to do the latter, and he had Yawgmoth's Will in hand, and I lost.
I regret that, since my hand was strong enough that I could go nuts next turn and try to win the game myself. I just wasn't convinced I had enough gasoline to do so. I was very disappointed to lose this match because I felt that this Top 8 was particularly soft to my deck, but I was happy with my deck choice for the main event. I entertained the idea of playing a URB Control deck with a pair of Goblin Welders and 4 Dark Confidants and 4 Jaces, similar to my Strix Control deck, but decided that Cobra Gush was still my best bet to bring home a painting.
The Main Event: 2012 Vintage Championship
I made two minor changes to my decklist the night before. First, I decided to cut the Mox Pearl for a 15th Land (a second Polluted Delta). My reasoning was simple: I felt there were too many times in which I drew only one land hands, and I wanted to more reliably make land drops. The second change I made was cutting the 4th Lotus Cobra for a Misdirection, which I thought would help me in the blue matchups some more by protecting my Jaces and Necros and also stealing Ancestral Recalls.
Round 1 vs. Dredge
Game 1:
My opening hand was:
Misdirection
Gush
Flusterstorm
Land
Land
Mox
Yawgmoth's Will
I felt great about this tournament, since the first two cards I drew were two of my favorites. When he played Bazaar of Baghdad, however, I knew that we would be shuffling up for game 2 soon. I was stomped, and I sideboarded in both Jailers and all four Leylines.
Game 2:
My opening hand was:
Force of Will
Flusterstorm
Misdirection
Ponder
Land
Land
Yixlid Jailer
I didn't even play turn one Ponder because I wanted to be able to protect my Jailer with two counters. I played turn two and turn three Jailer, and my opponent couldn't find anything to do about it.
Game 3:
My opening hand was:
Leyline of the Void
Flusterstorm
Island
Voltaic Key
Gush
Gush
Yawgmoth's Will
I was nervous about keeping this hand because there was only one land. I decided I couldn't throw it back. My turn zero Leyline was met with a turn two Chain of Vapor, which I Flusterstormed. I fortunately drew a second land on my second turn. He Cabal Therapied me and whiffed. I Gushed into protection, and he never was able to remove the Leyline, allowing me to lock up the game and match.
Games 2-1, Matches 1-0
Round 2 vs. Blaine Christensen with Workshops
Game 1:
My opening hand was something like:
Black Lotus
Land
Land
Lotus Cobra
Lotus Cobra
Fastbond
Flusterstorm
I didn't know what Blaine was playing, and his turn one Lodestone Golem ended up winning the game. I remember Ratchet Bomb took out two Moxen, which I drew in subsequent turns.
Game 2:
My opening hand was terrible, so I mulliganed into:
Land
Land
Land
Imperial Seal
Lotus Cobra
Gush
I played turn one Imperial Seal for Ancestral Recall, and he played turn one Lodestone Golem. I played turn two Ancestral, and then never played another spell again. I wish I had gotten Fastbond instead, as I would have had a chance in this game to play more spells.
Games 3-3, Matches 1-1
Round 3 vs. Noble Fish
Game 1:
I played turn one Imperial Seal for Black Lotus, so I could play turn two Necropotence with Flusterstorm and Force of Will protection. I ended up Necroing to 1 life, which allowed me to assemble the Key-Vault combo, and win with Trygon Predator despite being Necrolocked. The reason I couldn't win with Tinker or Yawgmoth's Will earlier was because my opponent landed a turn 1 Grafdigger's Cage.
Game 2:
He got too far ahead of me with a pair of quick Tarmogoyfs, and his turn 1 Cage prevented me from winning with Tinker or Will. His Meddling Mage on Gush was crushing, and my Jaces couldn't do enough to save me.
Game 3:
My opening hand was:
Fetchland
Time Vault
Voltaic Key
Gush
Gush
Blightsteel Colossus
Imperial Seal
I played turn one Imperial Seal for Black Lotus, to set up turn two Key-Vault. My opponent played turn one Mox Pearl, Land, Stony Silence, and my jaw dropped. I drew the Lotus, and passed the turn. He played a Noble Hierarch and I drew a land, which I played. On the following turn I Gushed drawing Tinker. I excitedly played Tinker on my Black Lotus, which resolved. Only then did I realize that the Blightsteel Colossus was in my hand! What a costly blunder! I was able to recover, however, when I found Fastbond and cast Yawgmoth's Will. Unfortunately, we were out of time. I couldn't get Blightsteel into play and attack in turns, and the game ended a draw. Had I not blundered with Tinker too early, I would have easily won this game.
Games 4-4-1, Matches 1-1-1
Round 4 vs. Landstill
Game 1:
My opening hand featured Gush and Lotus Cobra, but he countered all of my non-Cobra threats, and eventually stabilized to beat me. This game was very close.
Game 2:
I go broken early and easily win.
Game 3:
He has a turn one Black Lotus plus Land into Jace, while I kept this hand:
Merchant Scroll
Time Vault
Trygon Predator
Mox Emerald
Land
Land
Land
That hand does not beat a turn one Jace. Nonetheless, I gave it a hard fight. I cast three Jaces during the course of this game, and none of them stuck, and I eventually lost.
Games 5-6-1, Matches 1-2-1, DROP
Where I Went Wrong
My play mistakes definitely cost me games, especially my mulligan decisions and my poor usage of Imperial Seal. But I think there were some other problems with my deck. I thought I was clever for playing 4 Jace and no Hurkyl's Recall, trying to reduce the amount of relatively dead cards in favor of cards that are always good. I thought that could actually be fine. And despite going 3-0 against Workshops with this premise in the prelim event, I now think this deck needs a Hurkyl's maindeck.
I think cutting the Cobra also hurt me, although I wouldn't mind having a Misdirection maindeck. Going forward, I would cut Imperial Seal for Hurkyl's Recall, but I'm not sure about the other changes. This deck probably needs and wants that Mox Pearl, which can be sideboarded out against Control decks.
I still think this is probably the best GushBond deck in the format at the moment. I was positioning myself very similarly to how the eventual tournament winner did, by being strong against Workshops, RUG Delver, and Dredge, with max mana acceleration. The GushBond, max Jace, and Necro elements give you very strong game against Control. It's possible – although I'm not sure how big of a factor this was – that playing this in the prelims hurt me because some people knew what I was playing.
The deck I was considering playing instead of this deck was a URB Control deck. The main reason I didn't play it was because I couldn't figure out how to get it to beat Delver. It had many interesting, innovative elements, but what Marc Lanigra figured out that I didn't was that Snapcaster Mage + multiple Bolts and 3 Mental Misstep is the way slow Control can beat Delver.
The problem, to be completely frank, is that I've not really played much with Snapcaster Mage in this format because of my adoration for Gush. That blind spot prevented me from seeing something very important.
Ultimately, I don't regret my deck choice. I played the best Gush deck in the format for that day, although I think my last minute changes were for the worse rather than improvements. If I were to play Cobra Gush in the near future, here is what I would play:

Cobra Gush (Post-GenCon), by Stephen Menendian
This list is well positioned going forward to handle the current metagame for the second half of 2012. It just might not be quite as efficient at doing that as a big mana URB Control deck with Confidant and Snapcaster. Testing will soon reveal more…
Until next time,
Stephen Menendian