(Editor's Note: This former Downloadable Product has now been made free to all customers. It has also been retitled from the previous title 'So Many Insane Plays – Remora Gush: The Final Evolution of Gush in 2011.' Enjoy!)
The Vintage metagame is deep and rich. There are more options than ever for the Vintage player. Blue pilots can choose between Confidant/Jace decks, Snapcaster Control, Gush decks at the top tier, and a myriad of other choices such as Standstill, Oath, Painter, or Fact or Fiction-based decks. Combo pilots can choose among Confidant TPS, Worldgorger Dragon Combo, and now Doomsday. Workshop players can choose among aggressive builds, like Slash Panther, controlling builds, like Nick Detwiler's Espresso Stax, and more combo oriented builds, like the Kuldotha Forgemaster decks that are rampant in Europe.

Gush Evolution
For the Gush pilot, the options are just as diverse. In fact, despite the card's popularity, there is a remarkable lack of consensus on how to build a Gush deck. Rich Shay and Shawn Anthony's stock Gush Control list has seen much success here and overseas (link to the TMD Invitational thread for lists here). The Conidant Gush deck I designed for the 2011 Vintage Champs at GenCon has seen a smattering of play. While the tandem of Dark Confidant and Gush may have been counter-intuitive, it has proven powerful and effective. You can read more about the deck in my primer on that archetype, Understanding Confidant Gush.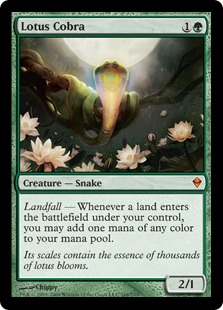 While Dark Confidant generates card advantage, Lotus Cobra generates virtual card advantage. Every land drop generates virtual Lotus Petals, or greater. Fetchlands generate two from the Lotus Cobra triggers alone, and the mana from the land you fetch makes each fetchland drop a possible Black Lotus essentially, when you have Lotus Cobra in play. One of the purposes of Dark Confidant is to help you make land drops and develop your mana base. Lotus Cobra does that just as well, and provides an avenue to outmana even the opposing Confidant pilot. In many respects, Lotus Cobra is a better fit than Dark Confidant in a Gush shell. Lotus Cobra allows you to more aggressively use your Gushes. A turn two Gush is normally a poor play, but because Cobra helps you generate additional mana with every land drop, turn two Gush is an acceptable play. More importantly, Cobra allows you to play a larger array of spells without bending your mana curve downward to avoid multiple high-casting cost flips to Dark Confidant. That's one of the reasons I played Vendilion Clique rather than Jace, the Mind Sculptor in my Vintage Championship. My Lotus Cobra deck could afford to play Necropotence, multiple Jaces, and Yawgmoth's Bargain! My primer on Cobra Gush can be found here.
One of the most exciting possibilities for the Gush pilot is Doomsday. Doomsday is a quick, compact, and extremely potent combo with Laboratory Maniac. Gush has amazing synergy with the Doomsday combo, enabling it, setting it up, and executing it. The Gush engine helps establish the card and mana advantage to combo out with sufficient protection, and provides a healthy Plan B to Doomsday, by facilitating the Yawgmoth's Will with Fastbond plan into Tendrils of Agony (i.e. the GushBond engine). You can read my primer on the deck here, my tournament report and changes going forward here, or you can find them both together in the Vintage Maniac Doomsday Combo Platter.
Each of these iterations of Gush offers particular advantages and disadvantages. The Confidant Gush lists have more draw power than the standard Gush Control lists, and is possibly the most effective Tinker strategy. However, a mid to late-game Dark Confidant is not a terribly effective play. The Cobra Gush lists are capable of making more broken plays, without being constrained by the presence of Dark Confidant, and generate virtual card and mana advantage. One of the best advantages of the Cobra list is the ability to comfortably run main deck Red Elemental Blasts, since each land drop can generate Red mana (or any color) with a Cobra in play. However, neither the Cobra nor Bob lists have as much permission as the standard Gush control lists. The Doomsday lists are the most disruptive and powerful against all of the Blue decks, but much weaker than other Gush decks in the Workshop matchup.
Is there a Gush list that can cut across all these strategies, without weakening the Workshop matchup? Is there a Gush strategy that converges all of the current metagame advantages into one shell and minimizes the disadvantages? I believe there is.
The Rise of Mental Misstep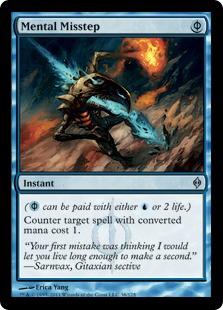 Perhaps the most important recent trend in Vintage has been the slow rise of Mental Misstep. Mental Misstep is not the most impressive card to see print for Vintage. It can only target a narrow range of spells, few of them truly vital. While Ancestral Recall, and to a lesser extent, Fastbond, are valuable and important counter-targets, few other cards at that casting cost are important to counter. Hitting a Preordain with Mental Misstep trades 1-for-1 for uncertain value. It's unlikely you would use a Spell Pierce in the same way. However, as more Blue players include Mental Misstep, it becomes more important for other Blue players to run them as well as a way to combat them. Why, then, is Mental Misstep so important?
It turns out that trading 1-for-1 on spells like Preordain is worth it when you have the ability to pay no mana to do so (with Misstep). The tempo advantage is a fair trade, and countering better spells like Brainstorm or Sol Ring are certainly worth the trade. The presence of Mental Misstep has also diminished the value of traditional counterspells like Spell Pierce or Red Elemental Blast – trumping them on the stack — in favor of narrower, but more resilient answers like Flusterstorm. The printing of Snapcaster Mage has heightened the value of Mental Misstep, since a Snapcaster Mage can flashback Mental Misstep, which can then be cast for no mana again (paying the 2 life for the 'Phyrexian' mana).
Mental Misstep is excellent at protecting your Leyline of the Voids and Yixlid Jailers against Dredge, because all of their answers such as Chain of Vapor, Darkblast, and Nature's Claim all cost one mana. But Misstep is virtually useless in the Workshop matchup, where most Workshop decks are trending towards mono-brown, and run roughly one or two 1 casting cost spells in their entire deck (Sol Ring and Mana Vault). Mental Misstep is therefore the equivalent of running main deck Red Elemental Blast or Flusterstorm: virtually useless against Workshops (they can hit Metamorphs, I suppose), but quite useful and even more effective in the Blue matchup. The irony, of course, is that Mental Misstep can trump Red Elemental Blasts. Red Elemental Blasts may be better at hitting Gushes, Jaces, and Forces, but Mental Misstep protects those spells against Red Elemental Blast.
How Vintage Decks Are Designed Today
The elevation of Mental Misstep as a critical tactic in the contemporary Vintage metagame has also occurred on a similar path with Flusterstorm. Flusterstorm was a powerful card since its printing, but faced skepticism because of its narrow range. Just as Mental Misstep overcame those initial doubts, so too has Flusterstorm. The result is that Vintage is far more tactically complex than it was before the printing of those spells. In order to win counterwars in Blue matchups, one must use these spells. Reliance on Mana Drains, Spell Pierces, and Red Elemental Blasts with Force of Will is insufficient.
The Vintage metagame has evolved such that the Blue decks are experiencing an arms race, ratcheting up the firepower to compete on the stack, drawing upon more potent, but narrower, tools that are less valuable in the Workshop matchup, strengthening the hand of Workshops. The Maniac Doomsday deck may be the epitome of these concerns:
MeanDeck Doomsday v5.0, by Stephen Menendian
The result of these dynamics is that decks are evolving dual plans: they are sectioning off large parts of themselves for the Blue mirror, and other parts of themselves for the Workshop matchup. Then, there is a third part, usually reserved in the sideboard, for the Dredge matchup. Typically, you may see 7-8 cards in a main deck that are almost entirely for the Blue mirror, 2-4 cards in the main deck that is largely for the Workshop matchup, with 6+ more in the sideboard, and then 6+ cards in the sideboard entirely for the Dredge matchup.

This is not a critique: this is how decks should evolve in a dynamic metagame. As certain strategies apply pressure to the field and are more successful, decks need to respond with effective antibodies to those threats – built-in solutions that address them. The victor or most successful strategy is the one that can balance these threats most effectively with careful cost/benefit analysis for every card slot in a full 75 card deck. The difficulty arises because of the incredible diversity of strategies. The Workshop and Dredge matchups are so different from the Blue matchup, that they require a totally different card pool to interact with. The Blue arms race will and must play out to its logical conclusion, even if that means a fight among Blue decks within a larger rock-paper-scissors, Blue-Workshop-Dredge metagame. The various Blue decks position themselves to win counterwars using tempo plays, power out big threats, and play a more controlling game, yet become weaker to Workshops.
This is a good thing that prevents homogeneity in the format, and a self correcting mechanism that will prevent Blue decks from further ratcheting up the arms race once a happy medium is reached, and as players in their respective metagames adapt. Dredge and Workshop provide a necessary limit to the extent Blue decks can devote themselves to simply focusing on each other.
From Dark Confidant to Mystic Remora
Dark Confidant is a card I chose for my Vintage Championship list because of its inherent strength against a range of matchups. Gush is a powerful card, but it's most powerful in the Blue mirror, and is weakest against Workshops. Dark Confidant is a board presence against Fish or Beats decks, it's a source of recurring card advantage against Workshops as well as a blocker, and it's an Ophidian draw mechanism in the Blue mirror (which just happens to protect Jace, the Mind Sculptor!). Lotus Cobra performs similar functions. However, both Dark Confidant and Lotus Cobra decks, while generating powerful card advantage and mana advantage, may nonetheless be less effective on the stack in a Mental Misstep metagame.
In the Blue arms race, the deck that can run Flusterstorms and Mental Missteps on top of the traditional disruption suite is going to win counterwars. This is where Mystic Remora comes in. As the Blue arms race accelerates, Mystic Remora becomes arguably the most attractive Blue tactic in Vintage.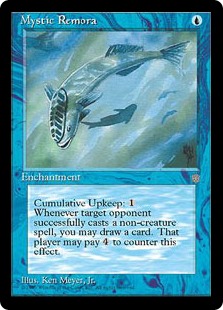 Mystic Remora is a card that would have totally transformed the 2007-8 Gush era, had more people played it. Gush decks in that time period were fast and brutal. They could accelerate out the GushBond engine with amazing speed and consistency because of the presence of so many available solid cantrips, as well as unrestricted Merchant Scroll. Opposing decks utilizing Mystic Remora could have used this tactic to combat the GushBond engine. The GushBond player must resolve a bunch of spells as it chains cantrips and Gushes. Mystic Remora could draw a dozen cards against a Gush player in single turn in those days. Even on a boring turn, multiple cantrips were being played. Remora would have been an effective answer.
Today, Mystic Remora is positioned as the ultimate trump for the Blue arms race. When Mental Missteps and Flusterstorms are being slung around with wild abandon, what card is better to have in play than Mystic Remora? Mystic Remora is arguably the best unrestricted spell in the format from which to use Mental Misstep proactively and abusively. When I play Mystic Remora, and counter your Mental Misstep with my Mental Misstep, you are down a card and at a distinct disadvantage for the remainder of the game. Mystic Remora, importantly, also fuels and synergizes with one of the best solutions to this arms race: Mindbreak Trap, the best answer to the Doomsday deck, and the only free answer to Flusterstorm.
Mystic Remora remains potent against Gush players, but the introduction of Snapcaster Mage and the rise of the Mental Misstep/Flusterstorm arms race is another reason to run Mystic Remora. Snapcaster Mage will trigger Mystic Remora almost every time, even though he doesn't do so directly. In short, Mystic Remora is positioned to do well against two of the most popular strategies in Vintage: Snapcaster Control and Gush. It may be weaker against Confidant/Jace decks, but it will still help you win counterwars. It also performs a similar function to Dark Confidant against Workshops: drawing cards to make more land drops and expand your mana base.
Remora Gush Control
In my book Understanding Gush: Strategy and Tactics, I discuss Mystic Remora as a tactical option for the Gush pilot. Here is what I wrote there:
"Mystic Remora
Ostensibly, Mystic Remora draws cards, lots of them. Vintage decks naturally play many spells during the course of a game, which is condensed into fewer turns by the standards of other formats. Also, the vast majority of spells in Vintage are noncreature spells. However, Mystic Remora deters opponents from playing spells, since opponents will play draw-go hoping to outlast Remora. Consequently, it does many things a Gush deck wants: it slows the game down, protects Gush, since opponent's won't try to counter your free draw spell with Remora in play, and is very efficient at one mana.
A turn one Remora supports the eventual play of turn three Gush, illustrated here:
Turn One:
Land, Mystic Remora
Turn Two:
Pay for Remora. Play a land.
Turn Three:
Pay for Remora. Gush. Replay a land.
At this point, if your opponent has played any non-creature spell in the preceding two turns, Remora has paid for itself. It is also protecting your turn three Gush. Gush allows you to replay lands even after they've been tapped to pay for Remora.
Mystic Remora is a powerful anti-Gush tactic that is particularly strong in more controlling Gush lists. Remora is even better if you have Repeals because you can reset it when the cumulative upkeep becomes prohibitive. If you play Mystic Remora, you'll want a full complement of Moxen to pay for its upkeep.
Remora is also good against Workshop Control, which attempts to play as many permanents as it can every turn. Remora will generate resources for you. Since it is already on the board, you can ignore Sphere effects and simply play more mana to feed Remora. Note that the printed card and Oracle text are different; while Remora previously required the opponent's spell to resolve, it now needs an opponent to merely cast a spell, which gives you an opportunity to draw a counterspell."
Although I felt that Remora was a strong possible Gush tactic, as I described in my book, I had not yet tried it out in a Gush deck, nor played it in a tournament. After piloting Doomsday at Waterbury, it occurred to me that Mystic Remora would be the next step in the evolution of Gush. The list I brewed up on the ride home from Waterbury is almost exactly what I ran at the MeanDeck Open just two weeks later:
Remora Gush Control 1.0, by Stephen Menendian
The Idea: The basic strategy here is to utilize a dual threat draw engine, much as my Vintage Championship deck did. Instead of using Dark Confidant, this deck uses Mystic Remora. It is also positioned itself to trump the Blue mirror with Mystic Remora and Mindbreak Trap, and help combat the Mental Misstep/Flusterstorm metagame.
Card Explanations
Mystic Remora – The secondary draw engine. Mystic Remora is at peak power in contemporary Vintage. There have never been so many free counterspells being used in mainstream control decks, and your ability to abuse them better with Remora in play is a major metagame advantage.
Gush and Mystic Remora, counter-intuitively, have tremendous synergy. I have already explained this synergy above, but the basic idea is that Mystic Remora shields Gush, much as Duress does. If I play turn three Gush with Remora in play, the opponent is that much less likely to counter it. Gush also facilitates further land drops, extending Remora's life under certain circumstances.
Mystic Remora also serves other important functions. I've already highlighted how powerful turn one Mystic Remora is when followed by a Mental Misstep battle. But think about how the game plays out when you play a turn two topdeck tutor for Ancestral Recall or Fastbond.
Example:
T1: Land, Mystic Remora
T2: Pay for Mystic Remora. Land, Imperial Seal for Fastbond.
T3: Pay for Mystic Remora. Gush. Fastbond. Replay your other land.
What is your opponent to do? If they fight over your Gush or Fastbond, they will be drawing you cards, and walking into a battlefield of your choice. Should they engage in a lengthy battle, it will be particularly brutal for them, as your Mindbreak Traps will come online. If they choose to fight over any of those spells, there is a good chance you can just combo out with GushBond that turn. If they don't, you are making plays undisrupted, strengthening your overall hand, and building a long term advantage.
The T2 play illustrated in the example above could be Ancestral Recall, Tinker, or any number of powerful and efficient plays that warrant a typical or necessary response. The principle is the same.
In most game states, opponents will play a spell into your Remora at least once, making it card neutral (replacing itself). For example, on the play, opponents will want to play a Mox or a cantrip. If they don't, they will be discarding cards unless they can make sequential land drops. Either way, the advantage is yours. They aren't making the developmental plays they need, and you are free to do whatever you want.
The main weakness of Remora is creatures, which are at a historical low point. Fish is at its lowest ebb, and although various Faerie strategies have arisen, none seem to have caught on. Even in Fish or Beats decks, Remora should draw plenty of cards as you exchange spells.
Mental Misstep – As I said earlier, "Mystic Remora is arguably the best unrestricted spell in the format from which to use Mental Misstep proactively and abusively. When I play Mystic Remora, and counter your Mental Misstep with my Mental Misstep, you are down a card and at a distinct disadvantage for the remainder of the game."
Mental Misstep is at peak strength when it is protecting your threats rather than countering opposing threats. The main function of spells like Mental Misstep or Force of Will is usually to counter opposing threats. But if these cards can be coerced into protecting your own threats, you gain all of the mana and tempo advantage of countering your opponent's threats, but the strategic advantage of being closer to victory. Countering an opponent's threat merely prevents them from winning. But countering their answer to your threat makes you one step closer to winning, and them losing.
Countering your opponent's Ancestral Recall with Mental Misstep is great, but countering their Mental Misstep to resolve your Ancestral Recall is even better. Protecting your Mystic Remora by countering their Mental Misstep, Spell Pierce, or Red Elemental Blast will resolve your Mystic Remora, which is one your deck's major draw engines. From there, your opponent's will be recalcitrant to do much, giving you free reign to resolve bigger threats and more Gushes.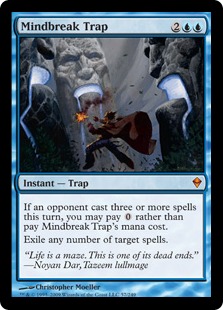 Mindbreak Trap – The function of Mindbreak Trap is to serve as a manaless counterspell with Mystic Remora in play, and to win counterspell wars in which multiple spells are on the stack.
One of the biggest handicaps to Mystic Remora is overextending. An opponent can build a powerful position, and then try to combo out in a single turn. This is where Mindbreak Trap comes in, providing such an efficient answer to opposing threats, that it will prevent the opponent from trying to trump your Remora with the one-big turn play. It fortified a Remora board position. Mindbreak Trap also stops broken Lotus starts or a turn one Tinker, much of the time.
The main question for my deck was not whether to play Mindbreak Trap, but where? I started out with 2 Flusterstorms. Were Mindbreak Traps better?
In preparing for a tournament, I didn't know how much to value Mindbreak Trap. Obviously, Mindbreak Trap had proven utility with Mystic Remora, but was it better than Flusterstorm? Both Flusterstorm and Mindbreak Trap can answer opposing Flusterstorms. With a Remora in play, much of my mana would be consumed by paying for the Remora. That gave Mindbreak Trap an edge. But Flusterstorm was so efficient, costing only a modest U mana.
In testing, Flusterstorm seemed much stronger at protecting my threats, since Mindbreak Trap was slightly more conditional. On the other hand, Mindbreak Trap could be played on the draw on turn one. How much did that one mana matter? How much did the turn one, on the draw sequence matter? How much did exiling spells matter?
After playing in the Meandeck Open (tournament report below), I could answer these questions with greater certainty. Yes, exiling spells matters. Yes, being free (instead of U) matters. Yes, being on the draw on turn one with Mindbreak Trap matters. Mindbreak Trap was my all-star, and was repeatedly stronger than Flusterstorm.
Flusterstorm – The merits of Flusterstorm in the format are now well known. It's a highly effective counterspell, and very strong in a deck like this because it can be used to protect a spell you cast under a Remora. It's also enormously powerful in general, potentially countering multiple spells at once. I cut both Flusterstorms from my deck for 2 Mindbreak Traps. But I knew I still wanted at least one Flusterstorm. After hours of agonizing, I decided to shave off the 4th Preordain for 1 Flusterstorm.
Jace, the Mind Sculptor – After much testing, I decided that Jace was the next best draw spell after Gush and Remora in this shell. Jace has tremendous synergy with Gush, which I have highlighted in other articles, and no drawbacks in a deck like this. It's versatile – answering Blightsteel Colossus or bouncing other creatures – and it's a win condition. I knew I wanted at least two.
Time Vault + Voltaic Key – I ultimately elected not to run this combo. This is probably the best two card combo in the format, and one would think that it would be excellent with Remora. In almost every deck I've played this year, I started out not running Key/Vault, and eventually included it.
This is the one deck where the opposite was true. I started out with Key/Vault, and then cut it. Because Remora is great at shielding threats, one would think that Key/Vault would be a natural and powerful inclusion. After a great deal of testing, it proved to be wildly inconsistent, and actually cost me games having dead combo parts that would have better served as other threats. Remora decks don't need or want Key/Vault. There are enough more singularly powerful cards, like Fastbond, Tinker, and Yawgmoth's Will, that Key/Vault is redundant and unnecessary.
Imperial Seal – I would run this card if I could figure out what to cut for it. I'm extremely reluctant to cut a 3rd Preordain, although, once I cut one, then cutting another makes some sense.
Trygon Predator – A nod to Workshops. I did a bunch of testing against Workshops, and determined what I needed to compete against Workshops pre and post-board. I also decided that I needed a meaningful chance to defeat Workshops game 1, which necessitated the inclusion of some number of tactical cards like Trygon Predators.
Believe me, I would love to run a pair of Flusterstorms in that spot, but that's too greedy. Players need to be prepared to play Workshops, and you need to have a non-trivial chance of winning game 1, unless you want to put all your eggs in the win game 3 basket, which is a gigantic risk.
Mana Sources – Because I would be playing Mystic Remora, I knew I'd want to run maximum mana acceleration – Sol Ring, Mana Crypt, and all five Moxen. This is a bit more mana than is typically run in a Gush deck, which derives so much of its value from a light mana base. This additional mana acceleration would be a boon in the Workshop matchup, and necessary to pay for Remora. Playing turn one Mox, Land, Remora is an excellent opening play, and you want to maximize your chances to set up that kind of sequence.
However, once I built my deck, I had, as usual, too many cards. I wondered if I could cut down to 13 lands. I always run at least 14 lands in each of my Gush decks, and have found that to be the sweet spot. But with all of the additional mana acceleration, could I cheat? Testing suggested that I could.
The Workshop Plan
The game plan against Shops is simple: find, resolve, protect, and shield Trygon Predators.
My testing revealed some counter-intuitive insights. First of all, Mystic Remora was actually good against Shops. It was about as strong as a Dark Confidant on average, drawing roughly the same number of cards over the same turn sequence. There are two points here of note. First, your Workshop opponent will play into Mystic Remora by necessity, or have nothing on the board. While obviously threats like Lodestone Golem don't trigger Remora, your opponent will need to play their Spheres. The alternative is to hold them in hand until some later point, allowing you to function uninhibited. These draws will help you find the mana you need to continue to pursue your Trygon Predator game plan. The second thing of note is that Mystic Remora is often better than Gush. Remora is efficient, like Dark Confidant, and draws you more mana to facilitate your game plan. I was surprised to discover that Remora supported a strong post-board plan.
I also re-discovered how bad Nature's Claim was against Shops compared to Ingot Chewer. I thought I could get away without Red, until I did post-board testing against Workshops. Nature's Claim is not only hosed by Chalice of the Void set to 1, but it's also slowed by Thorn of Amethyst. Ingot Chewer is affected by neither. I aver this fact: the benefits of running Red are more than worth it. You simply need red to combat Shops.
Ingot Chewer facilitates the best Shop plan of resolving and protecting Trygon Predator. Nature's Claim provides for a simpler, arguably more stable mana base, but it's better to have a 4c mana base with Ingot Chewer than a 3c mana base without it, and it's not even close.
I also realized that I just need more lands. Thus, the plan I've sketched below, is the plan based upon my Workshop testing.
Sideboarding Plans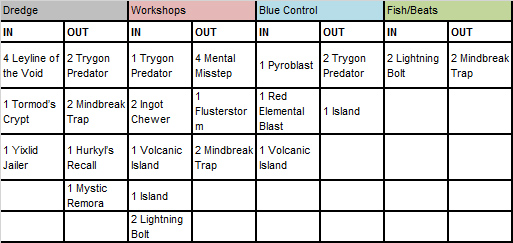 This grid covers the sideboard plan against most major matchups. But, as you will see below, the plan against Landstill is a bit different.
Tournament Report – October 23, 2011
We had a smaller than usual turnout for the Meandeck Open on October 23, just under the number for 5 rounds of Swiss. However, the field was dense, with one quarter of the Waterbury Top 8 in attendance. 15 players meant 4 rounds of Swiss and a cut to Top 4.
Round 1 vs. Theo Limber with Snapcaster Control
Theo is a playtest partner, and finished 12th at the Waterbury (after suffering a defeat in the Swiss rounds at my hands). I won the die roll and elected to play first.
Game 1:
My opening hand was:


This hand is strong. It features a healthy balance of mana, mana acceleration, disruption, and business. The ideal sequence is to resolve turn one Mystic Remora and use the Remora to shield turn two Merchant Scroll for Ancestral Recall (and play it).
I opened with Land, Mystic Remora. Theo wasted no time playing Force of Will. He then played a land and a Mox of his own. I resolved turn two Merchant Scroll into Ancestral Recall, and leveraged that card advantage into an overwhelming board position. I resolved a turn three Jace, and after Jace-storming a few a turns, Tinkered into Blightsteel Colossus to finish him off.
Game 2:
I sideboard as follows:
+ 1 Red Elemental Blast
+ 1 Pyroblast
+ 1 Volcanic Island
– 2 Trygon Predator
– 1 Island
Unfortunately, I did not take good notes for each match, and my recollection of this game is somewhat sketchy. What I remember is that it was a blow out, in my favor. I quickly overwhelmed Theo in card advantage, and ended the game with multiple counterspells in hand.
Round 2 vs. John Knight with Landstill
Here is what John played:
Landstill UR, by John Knight
Game 1:
I won the die roll, and elected to play. My opening hand was:

I thought I overheard John talking about how he was playing Brian DeMars' Snapcaster Control list. Consequently, I had no qualms about keeping this hand. I was mistaken. This was a gentle reminder about making assumptions regarding your opponent's deck when deciding whether to keep a hand.
Not only is my Ponder countered by Mental Misstep, but my Underground Sea is immediately Wastelanded. It is several turns before I see another land. And when I do, despite Preordaining and Brainstorming, I can't find another. John resolves a Standstill, and I'm forced to break it to stay in the game, and he stoically assaults me with two Mishra's Factories until I'm dead.
In this game, I make a mental note of the Red Elemental Blasts and Spell Pierces on his side of the board.
Game 2:
I sideboard as follows:
+1 Red Elemental Blast
+1 Pyroblast
+1 Volcanic Island
+1 Island
-2 Trygon Predator
-1 Hurkyl's Recall
-1 Jace, the Mind Sculptor
The rationale here is to increase my mana stability. Since he's playing Landstill, I assume he does not have Tinker for Blightsteel Colossus.
My opening hand has Mystic Remora, which I surprisingly resolves on turn one. His attempt at Red Blasting it is met with Mental Misstep, while replacing itself. The Mystic Remora takes over the game, and allows me to resolve multiple threats. It only takes one additional counterspell to win a counter battle. The Remora keeps me one spell ahead of John. I use the Remora to resolve Gush, Ancestral Recall, and eventually, a broken Yawgmoth's Will into Tinker + Time Walk.
Game 3:
I decide to stick with the same plan, and it nearly pans out. My opening hand has Force of Will, Gush, and Mindbreak Trap. It also has several mana sources. I deploy an array of lands, mixing colors and fetchlands, to ensure access to any needed color. I set out the lands in a manner to bait John into Wastelanding me, so that I can respond with Gush. John declined to take the bait. In order to maximize my counterspell capacity, I play a Mana Crypt. This turns out to be a tactical error.
My life falls from 19 to 7 life after losing several consecutive Mana Crypt flips, and taking some hits from a Ninja of Deep Hours that he put into play on turn three after casting a dead weight, do nothing Snapcaster Mage on turn two. The Mana Crypt (on top of the pressure of Ninja beats) puts me into the awkward position of having to act or lose the game. I attempted to fire off a major strategic objective – I believe an Ancestral Recall – and this triggered a massive counterspell war.
John played a Mental Misstep, which I Mental Misstepped. He played another Mental Misstep, which I also Mental Misstepped. He then played a Force of Will, and I responded with Gush. When he played Mindbreak Trap, this put me in the most awkward position. I played a Force of Will on his Mindbreak Trap, but he responded with yet another Mindbreak Trap. In retrospect, I came to realize the error of putting Gush onto the stack at a time like that, exposing all of my counters and my draw spell to Mindbreak Trap. Having played both Mental Missteps for free, my life fell to 3, and I lost the game on my next Mana Crypt flip.
I wished John the best of luck, and told him that I hoped to face him again in the elimination rounds.
Round 3 vs. Kevin Cron with Snapcaster Control
Hot off a Waterbury Top 8, Kevin brought the same weapon to this tournament.
Game 1:
My opening hand was:


In this hand, Fastbond is mostly a bait spell. It's not likely that Fastbond will produce an early game victory with this limited amount of draw and search. Nonetheless, this hand is keepable. It has a nice mixture of mana and business.
Kevin won the roll, and elected to play first.
Turn 1:
Kevin opened with Underground Sea, pass.
I drew Mystic Remora on my turn. Now I had to decide: do I lead with Mystic Remora or Fastbond? Which would you play?
If I resolve Fastbond, then I can play Mystic Remora this turn. However, if I don't resolve Fastbond, then I can't resolve Mystic Remora this turn. I decide that I have the mana to pay for Remora, so I'll lead with Remora.
I play Mystic Remora, and a Mox Ruby, and pass the turn.
Turn 2:
Kevin plays Scalding Tarn and, to my surprise, Voltaic Key (drawing me into a Demonic Tutor).
I untap, pay for the Remora, draw a Mental Misstep for the turn, and play a fetchland. I break the fetchland for Tropical Island, and cast Fastbond, which resolves. I float a blue mana, and cast Gush, which resolves and draws Gush and Tinker. I replay the lands, and Gush again. I cast Tinker for Blightsteel Colossus, Demonic Tutor for Force of Will, and play a second Remora. I end the turn with two lands, Fastbond, Blightsteel Colossus, and two Mystic Remoras in play.
Turn 3:
Kevin plays Brainstorm, triggering both Remoras. I play Mental Misstep, and he scoops.
Game 2:
I sideboard as follows:
+1 Red Elemental Blast
+1 Pyroblast
+1 Volcanic Island
-2 Trygon Predator
-1 Island
My opening hand this game was:


Turn 1:
Kevin played Black Lotus, Mox, Land, Sol Ring, go.
In my mind, this sequence telegraphed a very controlling hand. Kevin is establishing the mana to play, perhaps, Drain + Force or Drain + Snapcaster Mage.
My hand was equally mana heavy. The trick here would be to somehow sculpt a better hand. I decided to lead with Mox Sapphire, and cast Brainstorm. He let it resolves, and I drew three cards, putting two lands on top of my deck. I played a fetchland, shuffled, and then cast Black Lotus. I broke the Black Lotus for UUU, and cast another Preordain, then Ponder, then Demonic Tutor. At the end of this sequence, my hand was Force of Will, Merchant Scroll, Gush, Mindbreak Trap, and Yawgmoth's Will. Whew! Did we get there?
Turn 2:
On my end step, Kevin played Vampiric Tutor. On his turn, he cast Ancestral Recall. I Forced his Ancestral, pitching Gush. He cast Snapcaster Mage, and flashbacked Ancestral. I hit it with Mindbreak Trap, this time.
I played Yawgmoth's Will on my turn, recurring Lotus and my three blue cantrips in succession, and filling my hand from my graveyard.
Turn 3:
Kevin played nothing relevant, attacked me for 2, and I played Mystical Tutor on my upkeep for Tinker. Kevin obnoxiously responded by Nature's Claiming my Mox in my draw step. I was hesitant to make this move, but I decided to Force of Will it, ensuring that I could Tinker now. That left me unprotected for a turn, but Kevin drew nothing relevant on his fourth turn, and Blightsteel murdered him.
Round 4 vs. Gilberto Rivera with Maniac Oath
Gilberto was running a very innovative – and highly disruptive – Oath of Druids list featuring Laboratory Maniac as the win condition. His list had 3 Mana Drains, 3 Mental Missteps, 3 Thoughtseizes, 3 Flusterstorms, and 4 Force of Wills.
Game 1:
Gilberto managed to leverage his heavy disruption suite into resolving an Oath of Druids. However, he could not find a Forbidden Orchard, and I was forced to use Mental Missteps to counter a subsequent Preordain and Brainstorm. By exchanging blows, we whittled our hands down to 1-2 cards each in the mid-game. I had Mindbreak Trap and Trygon Predator in hand. He had two cards in hand. With his Oath on the table, Gilberto cast Laboratory Maniac, which surprised me. With 5 mana on the table, I could hard cast Mindbreak Trap – but should I?
I tried to reason through the situation. If Maniac is his only win condition, I probably win this game. However, if he has a backup plan or a second win condition, it's a waste of my counterspell. Moreover, with his Maniac in play, I can cast Trygon Predator, and then attack the Oath of Druids without fear of him Oathing. Alternatively, I could just Oath up my Trygon Predator or Blightsteel Colossus for the same effect. I'm torn. It seems like there is an excellent chance I just win the game by exiling the Maniac. But if I don't, I will have lost precious ground, and the ability to remove the Oath with Trygon. I reluctantly decide to let the Maniac resolve.
I untap, and cast Trygon Predator. I'm shocked to discover that his last card is Yawgmoth's Will, from which he plays Time Walk and finds and plays an Orchard. He then untaps, Oaths, and decks to win the game.
I kick myself for not countering his Maniac, but I discover that he had Tendrils of Agony and a Memory's Journey as a backup plan.
Game 2:
How should I sideboard? The main question is whether he will stick with Laboratory Maniac. If he does, then I will want all of my Red Blasts and possibly even Lightning Bolts. However, I don't think he will. I engage in some banter designed to see what he might be up to, and he implies that he simply sideboards in more protection for the Maniac.
I don't buy it. I sideboard out my Hurkyl's Recall, and bring in the third Trygon Predator, leaving every single one of the Red spells in my sideboard.
My opening hand is ridiculous. I resolve turn one Fastbond, Gush, Gush, and Jace. My lead in card advantage is virtually insurmountable, and the execution of this game is little more than milking my advantage to an inevitable conclusion. I eventually discover that Gilberto had indeed swapped Maniac for Emrakul.
Game 3:
My opening hand is strong, featuring turn one Mystic Remora and plenty of mana acceleration. I use the cover of Remora to Vamp for Ancestral, which resolves. From here, I can beeline for Yawgmoth's Will. However, I become exceptionally greedy and overextend.
I develop a mana base with multiple Moxen and Black Lotus. I resolve a Gush, and continue to build my advantage. I replace one Remora with another, and then decide to Yawgmoth's Will. However, while Willing, I am only able to generate 6 post-Will mana – insufficient to Vampiric Tutor, cantrip, Tinker, and Time Walk. Instead, I decide to Vampiric Tutor for Fastbond in the hopes of getting there indirectly, Gushing my way to victory. I fail.
By the end of my Yawgmoth's Will turn, all I have done is draw 9+ cards, and cast Jace and Time Walk. Critically, I end the turn with Mana Crypt in play and just 7 life. My hand is an egregious mix of Force of Wills, Mental Missteps, Flusterstorm, and a Mindbreak Trap. For the next two turns, Gilberto can do little but helplessly draw, go, and hope that I lose Mana Crypt rolls. It comes to pass.
I untap, lose a Mana Crypt roll, falling to 4, Jacestorm into three counterspells, and pass. Gilberto plays draw, go.
I untap, win the Mana Crypt roll, and Jacestorm again into counterspells. Gilberto plays draw, go.
I untap, lose the Mana Crypt roll, falling to 1 life, and Jacestorm again. This time, Tinker is the final card I see. A wash of relief falls over me, and I Tinker without regard to whether it will actually resolve. I simply want the Mana Crypt in my graveyard. It in fact does resolve after a minor counterspell skirmish, and I win the game the following turn.
I did not feel as if I deserved to win that game, but it taught me a very important lesson. I would not overextend with Mana Crypt from a virtually won position again.
Top 4 vs. Jon Johnson with Maniac Doomsday
The Top 4 is interested in splitting, but I am more interested in testing my deck out against the best decks in this field, including seeing whether I can win a tough matchup against a very strong anti-Blue deck, and the Landstill nemesis, should I face it again. I decline a split, and request that we play out.
Jon is playing the Doomsday list I created for the Waterbury. However, he's playing the updated build that I published in my Waterbury tournament report.
Game 1:
I was relieved to win the die roll. My opening hand, however, has just one land. On the other hand, it compensates for this disadvantage with tons of countermagic and action:
Misty Rainforest
Mystic Remora
Force of Will
Mental Misstep
Preordain
Merchant Scroll
Gush
Would you keep this hand? Is there really a choice? Is a hand of 6 likely to be any stronger, on average?
Turn 1:
I lead with Misty Rainforest into Underground Sea, and cast Preordain. I chuck the top two non-land cards without regard for what they are, and draw another Preordain.
My opponent plays land, Mox Sapphire, and passes the turn.
Turn 2:
I play a turn two Preordain, and, again, see no lands. I chuck the top two cards, and then draw another Remora.
Jon plays turn two Underground Sea, and passes the turn.
Turn 3:
On my third turn, I still see no lands, but decide to play Mystic Remora here. It was a wise choice.
On his turn, Jon floats BB and plays Gush (drawing me a card), which I let resolve. He then attempts to cast Doomsday, which draws me another card. I Force of Will it. He Forces my Force, drawing me a card. Remora hit a Mindbreak Trap, which I cast, targeting his Force and Doomsday. His Doomsday is exiled. He replays a land, and passes the turn.
Turn 4:
I pay for the Remora, and in drawing all of these cards I have still not yet seen a Mox nor another land.
Jon plays a land, and passes.
Turn 5:
I have to let the Remora die, and play another. He attempts to counter it with Mental Misstep, and I Misstep his Misstep. His Flusterstorm ends that sequence in his favor.
Jon plays a land, and casts another Doomsday. This time, I can't stop it.
I fail to draw a land on my 6th turn, and he easily wins the next turn. However, I inspect his library, and observe that he has the upgrades described in my tournament report.
Game 2:
I sideboard as follows:
+1 Red Elemental Blast
+1 Pyroblast
+1 Volcanic Island
+2 Lightning Bolt
-2 Trygon Predator
-1 Island
-1 Hurkyl's Recall
-1 Jace, the Mind Sculptor
The Lightning Bolts were as much for Maniac as they were for Xantid Swarms, which I expected to face.
Jon opened game 1 with land, Preordain. I opened with land, Mystic Remora. On turn two, Jon played fetchland into Tropical Island, and Xantid Swarm. Swarm doesn't trigger Remora, and shuts down my entire hand. It was met with a Mental Misstep. My hand was full of countermagic – Red Blast, Force, and Mindbreak Trap. I couldn't allow that spell to resolve.
I paid for the Remora for the next few turns, and on turn three, I played Gush, extending the life of my Remora further. I then replaced that Remora with another and a Jace, and solidified my standing in the game. My hand was full of countermagic that he couldn't overcome, so I finished him off with a Tinkered up Blightsteel Colossus.
Game 3:
My opening hand had Force of Will, Mindbreak Trap, and Mental Misstep, and he was forced to mulligan to 6. When he eventually went to play Doomsday, I decided to actually let it resolve. My hand had two lands, Red Elemental Blast, Lightning Bolt, Mindbreak Trap, and a Force of Will, with a Mystic Remora in play. It actually seemed like a quicker route to victory – to simply let him deck – than to have to actually find and protect one of my own win conditions. Jon had set up a Tendrils pile, but he was unable to beat my Mindbreak Trap.
The Finals vs. John Knight with Landstill
Ahhhh…my rematch! I want revenge, but more than that, I want to win this tournament. I've had too many non-first place finishes this season, and I want another victory notch on my belt.
John wins the die roll, and elects to play.
Game 1:
I am really disappointed to have to mulligan to 6. Matters are made worse because he has turn two Standstill, which I'm forced to break. I am never in this game, which ends up being a blow out.
I peer into my sideboard and formulate a plan.
Mystic Remora seemed strong for me in the Swiss game I won, and it's especially strong on the play. On the draw, it's susceptible to both his Red Blasts and Spell Pierce. However, on the play, it's hard for him to stop. I look at my Trygon Predators and wonder how much value I can eek from them. Trygon Predator seems like a strategic trump, if I can protect it. He can't win with Mishra's Factories or Snapcaster Mages.
My plan is to sideboard out Trygons for game 2, and sideboard them back in for game 3, replacing them with Remoras.
I sideboard for Game 2 as follows:
+1 Volcanic Island
+1 Island
+1 Red Elemental Blast
+1 Pyroblast
-2 Trygon Predator
-1 Hurkyl's Recall
-1 Mana Crypt
I remembered from the first match how badly Mana Crypt hurt me. My match against Gilberto reinforced that concern. I sideboarded it out to ensure that I wouldn't be caught in that position again.
Game 2:
My opening hand has Ancestral Recall and a Force of Will. I was surprised that my turn one Ancestral, on his upkeep, is uncontested. He seems to be lacking countermagic, although he does attempt to counter my turn three Gush. An early Mystic Remora takes control of the game, and never lets up. I am pretty much able to resolve each of my spells at will. When I finally take control, I resolve Tinker, and that's all she wrote. His desperation Jace is met by my Red Elemental Blast.
Game 3:
Following my plan described above, I sideboard from my game 2 position as follows:
+3 Trygon Predator
-3 Mystic Remora
My opening hand is:


Immediately, I regret my plan. If Trygon Predator is Mystic Remora, I see myself winning this game. However, as it is, I can't afford to simply throw Ancestral Recall out there.
Turn 1:
John plays a land, and passes.
On my turn, I play Land, Mox, pass.
Turn 2:
John plays another land, then Merchant Scrolls for Force of Will. Ugh.
I draw another land, and pass.
Turn 3:
John plays a Mishra's Factory, and passes. On his end step, I fire off the Ancestral, and he Forces it.
I draw a card and pass.
Turn 4:
John plays another Factory and passes the turn.
I draw Mystical Tutor, and play Gush, which resolves. I then cast Trygon Predator, and he Red Blasts it.
Turn 5:
On his turn, he Tinkers away a Mishra's Factory to get Blightsteel Colossus. I am shocked. I sideboarded out most of my answers to that threat because I didn't think he ran it. All I can do is Mystical Tutor for my own Tinker, but he has a Force of Will for that as well, and his Blightsteel finishes me off the following turn.
I can't say that I would have won this game had I kept in Mystic Remoras, but it seems like I would have had a much better chance.
Landstill wins the game through virtual card advantage. Just about every card in the deck is either a mana source, a counterspell, or a draw spell. Factories are not only win conditions, but mana sources that can fuel Standstills, and can serve as blockers. The main advantage the deck has is overwhelming countermagic and must-counter Standstills, which serve like Ancestral Recall 2-5. John ran 15 main deck counterspells, and then another one in the sideboard.
How could I beat that? My decks main advantage is the Gush and Mystic Remora draw engines. Gush is a free draw spell that generates additional land drops, and can help me avoid getting Wastelanded. As important as that is, it's obvious that Mystic Remora is even more important. Remora is like a Standstill, except that I am free to play threats. Remora and Gush help me keep up and even win counterbattles. It is Remora, perhaps even more than Gush, which serves this function. But they serve these functions together. Remora shields Gush, and even makes it more likely that Gush will protect my mana base from Wasteland. Remora is the card that allows me to win counterwars.
Consider this stack:


This kind of sequence may be common when facing Landstill. But what can make you win counterwars is Mystic Remora. It only takes one more free or cheap counterspell than your opponent to win a counterwar. Thus, Remora can help you do just that – find just one more counter near the top of your library.
I valued Trygon Predator highly because I didn't realize how much John had changed his build from Josh Potucek's tournament winning build, which uses Null Rod and Crucible of Worlds. In any case, Mystic Remora is still very important. Remora is triggered by Standstill, Null Rod, and Crucible, and it shields your best possible plan: GushBonding into Yawgmoth's Will. It's this thought that makes me want to include an Imperial Seal in the Flusterstorm slot, and I will likely be testing that change in the near future.
Conclusion
In the Conclusion of my book, Understanding Gush, first published almost one year ago, I wrote "This is not the end, but the beginning. A new Gush era is upon us. This is the final chapter of this book, but the beginning of our journey." This article brings me full circle.
2011 began as a quiet year for the Gush pilot. Workshop-based strategies were ascendant, and Gush decks may have seemed like marginal options in a field of Dark Confidant and Jace Control decks. It was for that reason that I recommended, in the Winter of 2011, to play Tyrant Oath – the only Gush deck I could consistently defeat Workshops with. However, the metagame shifted, and the Vintage Championship was a breakout party for Gush decks, with the traditional Gush Control deck piloted by Rich Shay and Shawn Anthony getting excellent press, as was the Bob/Gush deck I created and piloted with Paul Mastriano.
In my subsequent article, Understanding Confidant Gush, I wrote:
"While Bob Gush, as an unexpected innovative combination, may appear to some as a pinnacle in the evolution of Gush decks this year. It combines the two most potent draw engines in the format into one monster deck. If history is any guide, this is merely the next stage in the evolution of Gush decks, and not the final step. There are many possible directions for exploiting the ever-evolving metagame, and I plan to uncover them."
And uncover, I did. Since then, I've explored a number of other Gush-based options: Cobra Gush, Maniac Doomsday Gush, and now, Remora Gush. It's not that Lotus Cobra and Gush or Mystic Remora and Gush had never been attempted, but I think the lists I developed were unique in some respects: they each reflected my spin on how to position these archetypes in the post-Vintage Champs metagame.
I offer Remora Gush not as yet another possibly ephemeral Gush iteration, like Confidant Gush, Cobra Gush, Doomsday or even Tyrant Oath; rather, I offer it as a major and perhaps lasting stop in the evolution of Gush in the modern Vintage metagame. I see the Flusterstorm/Mental Misstep metagame as one that is going to be here for a while. In this environment, I can't imagine a better Gush variant than Remora Gush Control.
Remora Gush Control is, in my view, the final evolution of Gush for 2011. It is the one that maximizes all of the synergies around Mental Misstep and the strength of Mindbreak Trap in the field. It's also going to be strongest in a field in which Snapcaster Mage is seeing play. In a sense, it's similar to the Confidant Gush lists from mid-year, but without the drawbacks and constrained spell selection. Remora is just a better and more efficient Dark Confidant in a metagame that looks like this one. You want to be able to play Mindbreak Trap these days.
As the metagame shifts, this deck may lose some of its advantages, but for the cold – and often slow – waning winter months of 2011, Remora Gush is the best Gush weapon you can have; it's where you want to be. Let's prove it.
Until next time,
Stephen Menendian