(Editor's Note: This former Downloadable Product has now been made free to all customers. Enjoy!)
I. Introduction
Grafdigger's Cage is midwife to a new era of Vintage. It is not the sole cause of this new era, but it signals its birth and will forever be associated with it. Cage corrals many of the most potent strategic threats in the Vintage format, from Tinker to Dredge, and Yawgmoth's Will to Oath of Druids. In so doing, it raises the status of finishers that aren't restricted spells or mana cheats. It elevates the most efficient creature finishers in the game as serious win conditions, as opposed to secondary or even tertiary threats.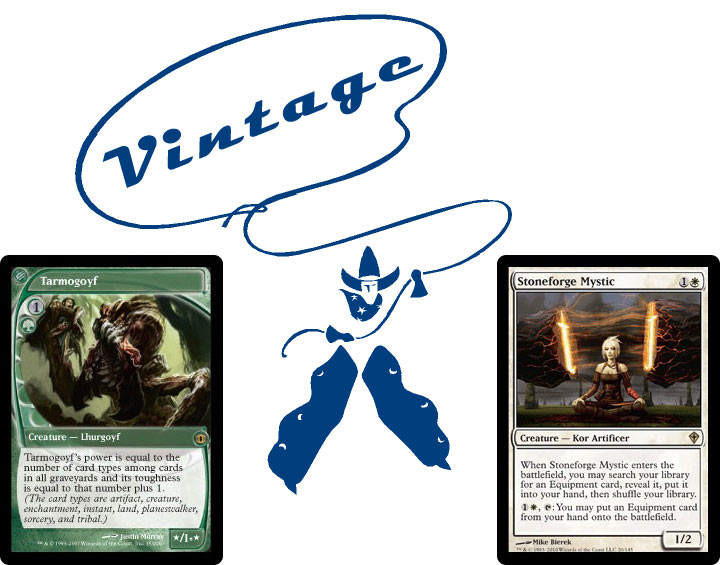 A common, and potent, board state of the new Vintage will be something like that: a board state with either Stoneforge Mystic or Tarmogoyf in play, and Cage keeping the opponent in line.
Tarmogoyf has long been a real Vintage threat, a staple in most Beats and Fish strategies, and a favorite of Blue decks who want a meaningful attacker for two mana, like the "Grow" archetype. What's new is Stoneforge Mystic. Stoneforge Mystic, since the printing of Batterskull in New Phyrexia, has been a Tarmogoyf-level threat in Legacy for well over a year now. Its time has finally arrived in Vintage.
In this article, I want to take a comprehensive look at Aggro in Vintage. A few years ago, I began a series on StarCityGames, that was initially an attempt to develop competitive budget decks. Beginning with Suicide Black, and turning to R/G beats, my effort led me to believe that oft-marginalized Aggro decks could actually compete and be viable in Vintage. To that end, I created a G/W Beats deck and a G/B/W beats deck, the former of which Jon Donovan used to top 8 the Vintage Championship! In an environment where lethal dangers (Tinker, Yawgmoth's Will, Time Vault, and Oath, among others) lurk around every corner, there is a real ceiling on the performance potential for those decks. It's not to say that Beats decks in 2009 couldn't compete or make top 8, but it required perfect play, and had lucky draw outs for dire situations.
While I wouldn't say that Beats decks in the contemporary Vintage are favored strategies, the space for them to meaningfully compete with a much higher potential ceiling is now realizable. The recent printings are merely the capstone. Cards like Phyrexian Revoker and Leonin Relic-Warder all add to a growing list of tools and tactics. Until Cage, I wouldn't be convinced that any number of disruptive bears would be good enough to compete with Big Blue decks, but now I'm convinced they can.
In this article, I want to comprehensively canvass all of the options available to the Vintage player for playing non-Blue Aggro decks. In other words: I want to explore the options for not playing Blue in Vintage, aside from Workshops.
Non-Vintage players may be surprised by some of my terminology or card choices. This article is about Vintage Aggro decks, yet Bears may not seem very aggressive. Vintage is such a fast format that playing creatures to merely attack and win the game hasn't been a viable strategy in a decade. Even Workshop decks rarely use creatures that just attack. Juggernaut has been replaced by Lodestone Golem because Golem costs the same, and slows the opponent down at the same time. The only exception is Slash Panther, which is included because it effectively doubles as planeswalker (ie. Jace, the Mind Sculptor) removal.
In Vintage, with the exception of creatures that are cheated into play or the absolute most efficient beaters in the format (think Tarmogoyf level power), creatures are only playable if they generate card advantage, mana advantage or disrupt the opponent. Some creatures do both at the same time, like Snapcaster Mage. While there are a few exceptions to this rule, it is best to keep this rule in mind. I will survey those exceptions throughout this article, but the rule is broadly applicable, and will help keep you on the right track.
My goal in this article is to build for you what I believe to be the absolute strongest configurations of each possible Beats permutation. I will also attempt to discern which variants are strongest, and which variants may shine in particular kinds of metagames.
This article will also try to explain how to play these decks, providing principles of play, such as what to name with Revoker, how to sequence your spells, and set up the best defense and offense. This article is not meant to be a weekly article, but something more enduring. Part II will canvass the range of available tools and tactics available to the Beatdown player. Part III will present 12 different Beatdown options, based on each possible (non-Blue) color permutation. Part IV will explain how to play these decks. Part V will conclude with parting advice.
I intend to update decklists if I discover clear errors or obvious improvements. I also hope to revise this article at some future date, much as I have done with my Gush book, when future technology becomes available.
II. Tools & Tactics
The first step is to identify your options. I will explain the function of each, but first let me lay the most relevant options out for you.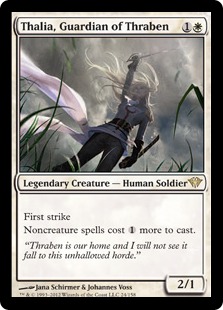 White Creatures
Aven Mindcensor
Devout Witness
Ethersworn Canonist
Gaddock Teeg
Glowrider
Grand Abolisher
Jotun Grunt
Kataki, War's Wage
Leonin Arbiter
Leonin Relic-Warder
Preacher
Qasali Pridemage
Stoneforge Mystic
Thalia, Guardian of Thraben
Thraben Heretic
Tidehollow Sculler
True Believer
Green Creatures
Burning Tree Shaman
Cold-Eyed Selkie
Elvish Spirit Guide
Gaddock Teeg
Heartwood Storyteller
Ohran Viper
Noble Hierarch
Qasali Pridemage
Scavenging Ooze
Tarmogoyf
Thornweald Archer
Vexing Shusher
Red Creatures
Burning Tree Shaman
Goblin Welder
(other Goblins in general, as a strategy)
Gorilla Shaman
Grim Lavamancer
Ingot Chewer
Jagged Poppet
Magus of the Moon
Manic Vandal
Markov Blademaster
Simian Spirit Guide
Stingscourger
Tin-Street Hooligan
Torch Fiend
Vexing Shusher
Viashino Heretic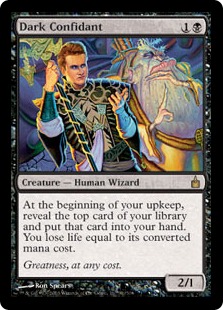 Black Creatures
Bitterblossom
Dark Confidant
Faerie Macabre
Jagged Poppet
Tidehollow Sculler
Vampire Hexmage
Withered Wretch
Yixlid Jailer
Artifact Creatures
Hex Parasite
Phyrexian Metamorph
Phyrexian Revoker
From these lists of viable creature candidates, it should be evidently clear why White is such a favored color. The main thing holding back White has been Tarmogoyf. Now that Stoneforge Mystic has reared its head, White can compete against Tarmogoyf.
Each color also has its signature or leading beats creature: Green has Tarmogoyf, Red has Magus of the Moon, and Black has Dark Confidant. Each of those creatures is the primary reason to play each of those colors.
Additionally, two of the strongest creatures in the creature card pool are G/W, making that color combination an especially attractive option.
In the next part, I will begin by building a deck for each.
Non-Creature Spells
Abolish
AEther Vial
Ancient Grudge
Artifact Blast
Cabal Therapy
Chalice of the Void
Chaos Warp
Choke
Crash
Dead//Gone
Diabolic Edict
Dismember
Duress
Dust to Dust
Grafdigger's Cage
Krosan Grip
Leyline of the Void
Lightning Bolt
Mental Misstep
Mindbreak Trap
Null Rod
Pillage
Pithing Needle
Planar Void
Pyroblast
Pyrokinesis
Pyrostatic Pillar
Pulverize
Rack and Ruin
Ravenous Trap
Red Elemental Blast
Root Maze
Seal of Cleansing
Seal of Primordium
Serenity
Shattering Spree
Smash to Smithereens
Snuff Out
Stony Silence
Surgical Extraction
Swords to Plowshares
Sylvan Library
Tariff
Thorn of Amethyst
Thoughtseize
The first design question to answer is whether you intend to run Aether Vial. Aether Vial is a fundamental question because it affects all of the other decisions you must make. If you run Aether Vial, you cannot support Stony Silence or Null Rod, and you are pushed into running Chalice as a weaker alternative mana hoser.
Aether Vial offers several upsides. It allows you to run a multi-color beats list with far more reliability. It supports comes-into-play (aka "187") creatures or double casting cost creatures like Leonin-Relic Warder, and it evades countermagic. It's also tremendously useful against Workshop decks. Aether Vial is often a bit too slow for Vintage, although Cage helps rebalance that issue somewhat.
Nonetheless, I still believe that Aggro decks in Vintage are better equipped with Null Rod and especially Stony Silence, and that the benefits provided by Aether Vial, especially the countermagic combating element, are partially offered by the disruptive threats.
Therefore, this article begins with the assumption that we are building non-Aether Vial Aggro lists. For that reason, most of the decks in this article begin with:
3 Gradigger's Cage
3 Stony Silence or Null Rod
As a basic rubric, most of the decks in this article follow this deck design scheme:
1) 26-28 Mana, including 4 Wasteland, 1 Strip Mine, on-color Moxen, and Black Lotus
2) At least 3 Grafdigger's Cage
3) At least 3 Stony Silence or 3 Null Rod
4) At least 3 Phyrexian Revoker
5) At least 3-4 Mental Misstep, Thoughtseize, or Pyroblast/Red Elemental Blast
I've already explained the reasons for Null Rod/Stony Silence, and the Cage, but the other inclusions merit some discussion.
Phyrexian Revoker is one of the all purpose disruptive bears that can fit into any color deck in this archetype. In the early game, it serves as a basic Stone Rain by neutralizing a Mox or other mana accelerant. But it also has vital strategic functions in turning off Time Vault and planeswalkers. It's also important for shutting off cards like Triskelion, Steel Hellkite, and Karn, Silver Golem in the Workshop matchup.
While Thoughtseize and Pyroblast may be obvious or intuitive inclusions for their respective colors, Mental Misstep is a vital inclusion for decks not in Black or Red. Misstep not only prevents the opponent from going broke with Ancestral Recall or Fastbond on turn one, but it protects an early Cage from opposing Missteps and Nature's Claim.
III. Building a Better Beats Deck
In this part of the article, I have designed a Beats deck in each non-Blue color permutation. Not all of these lists are viable tournament lists (yet), but many are, as you will see. And, with a few additional printings, others could be.
A. Mono White Beats aka "White Trash"
White Trash 2012, by Stephen Menendian
Explanations:
I built this deck, as I with each beats deck, by including the best cards first, and then filling it out. Thalia is not just the newest printing, but one of the best possible creatures in White. It's your best turn one play for a creature. Cage and Stony Silence are also both important, but weak in multiples. That's why I've only included 3 of each. Also, Mental Misstep is going to be vital for combating opposing Mental Missteps on Cage, and for creating tempo, so I've included 3, but not 4, since it's almost dead in the Workshop matchup.
Phyrexian Revoker will become even more important in the upcoming environment, given the role it will play in combating Time Vault combo and defeating opposing planeswalkers. I think 4 are warranted.
Stoneforge Mystic is your best beater, and key in finding the two equipment. You definitely want two equipment options. I'm not sure if Elbrus is the best second option, but it is one of the most menacing. Note that neither of these equipment will function with Stony Silence in play, but that's simply a sacrifice you need to be willing to make. However, Stone can't work with Arbiter in play, nor can you activate it with Stony Silence in play. That's why I only have 3 here. Stoneforge Mystic is usually the last creature you play.
Swords to Plowshares is arguably the best White spell in the game right now. Four are automatic inclusions.
Kataki is extremely powerful, and especially useful in general, but you have many artifacts, and it's bad in multiples. It's a 2-of, and primarily an anti-Workshop tactic.
Relic-Warder is insanely good, but at WW, it's not easy to cast, and not quite a 4-of. It's one of your best creatures though. Also, Leonin Arbiter earns a spot, even though it slows you, because it makes Ghost Quarter a huge threat.
Ghost Quarter is a Strip Mine in the Workshop matchup, but much less effective elsewhere. 13 Plains may be greedy, but there are enough 1W creatures and spells that I think you can make it work. Notice the absence of Fetchlands: that's because of Arbiter.
Mono White is the version that makes the absolute best use of Arbiter. Two or three color decks will need fetchlands to reliably generate the mana base. If there is a reason to play mono White, it is Arbiter. It could be that you want 4 Arbiter and 4 Ghost Quarter in any mono-White versions.
In testing, Arbiter proved to be a total menace against a range of decks, which is why I upped the count to 4. I'd like to play more Ghost Quarter, but the basic Plains are important to support Abolish post board. Abolish is important because you need to defeat Chalice at 2.
In testing, Mental Misstep proved also important, although you could run just 3. If you shave a Mental Misstep off, you probably turn that into a Ghost Quarter.
Sideboarding:
Vs. Dredge:
+1 Grafdigger's Cage
+3 Tormod's Crypt
+2 Ethersworn Canonist
+2 Thraben Heretic
-3 Stony Silence
-2 Leonin Relic Warder
-2 Kataki, War's Wage
-1 Phyrexian Revoker
Vs. Workshops:
+4 Abolish
+1 Kataki
+2 Serenity
-4 Mental Misstep
-3 Grafdigger's Cage
Vs. Blue:
+ 1 Grafdigger's Cage, unless they play Gush or Storm finishers, and then you bring in 2 Ethersworn Canonist as well. What you cut varies from matchup to matchup.
B. WG Beats
WG Beats 2012, by Stephen Menendian
Explanations:
With W/G, you lose Leonin Arbiter, but you gain Gaddock Teeg and Qasali Pridemage. These cards are unbelievable.
Gaddock Teeg, when I used to play with it in the past, was so good that it's worth playing 4-of, despite its Legendary status. I can't confirm that I feel the same way today, so I'm only playing 3. However, Teeg is better than ever. Teeg not only stops Force of Will, but it stops Gush, Tendrils of Agony, and Jace. The card is simply incredible. It also stops Chalice of the Void (it stops all X spells). With Teeg, I don't feel you need Canonist in the sideboard anymore.
Arbiter is possible, but I am not sure of its worth in a list that needs so many fetchlands. I'd rather play Teeg and Pridemage. Kataki is really powerful, so I included it, but I also included an Ooze.
Scavenging Ooze takes up the role of Thraben Heretic in the sideboard. Nature's Claim can replace Abolish in the sideboard. Elvish Spirit Guide provides a great mana accelerant in the early game, and another threat later in the game.
I haven't tested Guttural Response out of the sideboard, but if it doesn't work well with Thalia, then consider a pair of Chokes or a Teeg and a Choke.
You can read my original article about GW Beats here for more information on card choices and roles.
Sideboarding:
Vs. Dredge:
+1 Grafdigger's Cage
+3 Tormod's Crypt
+2 Scavenging Ooze
-2 Kataki, War's Wage
-3 Stony Silence
-1 Phyrexian Revoker
Vs. Workshops:
+3 Nature's Claim
+1 Kataki, War's Wage
+1 Plains
+2 Umezawa's Jitte
-3 Cage
-3 Mental Misstep
-1 Gaddock Teeg
Vs. Blue:
+1 Cage
+2 Guttural Response
-3 (Varies by Matchup)
C. WGB Beats aka 'Meandeck Beats'
Meandeck Beats 2012, by Stephen Menendian
Explanations:
This is largely just GW Beats with Black additions, although some subtle.
Dark Confidant is the best Black creature. Yixlid Jailer is one of the best, and earns a sideboard position. With Dark Confidant, there is no need for other sources of card advantage. Thoughtseize also becomes your best piece of disruption, over Mental Misstep. Demonic Consultation is the best tutor, although Vampiric Tutor can definitely be included as well. Demonic Tutor is too expensive.
Read my SCG article on Meandeck Beats here for more information on how to play this deck, and additional lines of play. Also, you can read my testing notes against Hiromichi Itou's 2009 Vintage Champs Key-Vault list here for even more information!
Sideboarding:
Vs. Dredge:
+1 Grafdigger's Cage
+3 Yixlid Jailer
+2 Planar Void
-3 Stony Silence
-3 Phyrexian Revoker
Vs. Workshops:
+3 Nature's Claim
+2 Kataki, War's Wage
+1 Swords to Plowshares
-3 Grafdigger's Cage
-3 Gaddock Teeg
Vs. Blue:
+1 Grafdigger's Cage
-1 (Varies by Matchup)
D. RG Beats aka 'Christmas Beatings'
RB Beats 2012, by Stephen Menendian
Explanations:
I discussed this archetype in my set review. What I overlooked was Revoker.
This archetype hasn't been this potent in 15 years. Look at the options. Tarmogoyf is the most efficient 2-drop of all time, and it's only more useful with Cage. Torch Fiend is an auto include, and powered up even more by Magus. Revoker and Magus are important tactics, and you support them with Red Blasts. Ooze and Stingscourger serve as backup plays to Cage, dealing with Yawgmoth's Will and Tinker respectively. G/R doesn't have a Plow effect, so Stingscourger needs to be included. Spirit Guides provide on color acceleration and late game bears.
This deck is capable of beating anything.
The mana base is tilted toward finding a basic Forest on account of the presence of Magus. You want to be able to deploy Magus aggressively. It could theoretically even cut another fetchland for another Forest, although I'm a bit wary then of having reliably Red.
For more information and background you can read my initial article on this archetype here, and then check out Troy Costisick's primer here for more.
Sideboarding:
Vs. Dredge:
+1 Grafdigger's Cage
+4 Tormod's Crypt
+1 Scavenging Ooze
+2 Red Elemental Blast
-3 Null Rod
-2 Stingscourger
-1 Phyrexian Revoker
Vs. Workshops:
+2 Ingot Chewer
+1 Ancient Grudge
+1 Tin Street Hooligan
+3 Lightning Bolt
-4 Pyroblast/REB
-3 Grafdigger's Cage
Vs. Blue:
+1 Cage
+2 Red Elemental Blast
-3 (Varies By Matchup)
E. WR Beats aka 'Haterater'
WR Beats 2012, by Stephen Menendian
Explanations:
Of the various Beats options that seem most viable (that is, all of the one's I've canvassed so far), this is the one that potentially stands to make the most relative gains out of Dark Ascension. Before, this color combination seemed improbable at best. With Torch Fiend, Thalia, and Cage, this archetype gets three huge printings.
Magus is the best Red creature, so it's an automatic 4-of. The problem is massaging the mana base to support it, and to get sufficient sources of White. Playing Magus pretty much excludes the possibility of playing any WW creature, like Relic Warder.
Red gives you awesome post-board options, like Red Blasts and Ingot Chewers. The weakness of R/W is that you have the most inferior anti-Dredge options, since Green and Black give you the best.
Jitte is for the Fish/Beats mirror.
Sideboarding:
Vs. Dredge:
+1 Grafdigger's Cage
+3 Tormod's Crypt
+2 Thraben Heretic
-3 Grafdigger's Cage
-1 Kataki, War's Wage
– 2 Phyrexian Revoker
Vs. Workshops:
+1 Shattering Spree
+3 Ingot Chewer
-2 Pyroblast
-2 Red Elemental Blast
F. WB Beats aka 'Deadguy Ale'
WB Beats 2012, by Stephen Menendian
Explanations:
Black and White is an oddly potent combination. While W/B doesn't give you a card on the power level of Gaddock Teeg or Qasali Pridemage, Tidehollow Sculler is a playable card. Dark Confidant is extremely attractive, but the advantage of Black over red is that you can support cards like Relic-Warder more reliably.
Because you have White, you want Thalia and Kataki, Swords and Stoneforge Mystic. These are all automatic inclusions. Relic-Warder may not be a reliable play, but it's sufficiently good against a range of matchups to justify including. Black gives you Thoughtseize for disruption, and white gives you Stony Silence over Null Rod.
Tidehollow Sculler is here to take advantage of the colors, but is only a 2 of. It's a good turn two play, especially if turn one was Dark Confidant or Thalia. Demonic Consultation is the best tutor, although a case could be made for Vamp.
Sideboarding:
Vs. Dredge
+4 Yixlid Jailer
+1 Grafdigger's Cage
+2 Umezawa's Jitte
+2 Duress
-3 Stony Silence
-4 Phyrexian Revoker
-2 Kataki
Vs. Workshops:
+2 Dismember
+2 Serenity
+1 Seal of Cleansing
+1 Plains
+1 Kataki
-3 Grafdigger's Cage
-2 Tidehollow Sculler
-2 Thoughtseize
Vs. Blue:
+2 Duress
-2 (Varies by Matchup)
G. WGR Beats aka 'Vintage Naya'
WGR Beats 2012, by Stephen Menendian
Explanations:
The trick in building a Vintage Naya deck is really the mana base. The G/W threats are mana intensive, and Magus will cut you off of playing spells. You can't really plan to draw the relevant lands, however, so you need to really use the fetchlands wisely. Because of this issue, I've chosen Torch Fiend over Qasali Pridemage/Relic Warder. Thalia is an auto include, as is Kataki. I'd like a single Bolt over a fourth Swords, for slightly more versatility and an additional option against Jace and a play off of Simian Spirit Guide, but I need room for Pyroblast effects. The rest of the deck should be understandable based upon what you've seen so far in this article. To be honest, I don't think there is much reason to play this over W/R. The Green gets squeezed out, since the White and Red options are so strong. Gaddock Teeg and Tarmogoyf are the only Green cards pretty much left in the deck at the end of the day, and I've really had to cut into their numbers to make room for other cards.
Sideboarding:
Vs. Dredge:
+3 Tormod's Crypt
+1 Scavenging Ooze
+ Grafdigger's Cage
-2 Kataki, War's Wage
-3 Phyrexian Revoker
Vs. Workshops:
+3 Ingot Chewer
+1 Plains
+2 Lightning Bolt
+1 Tarmogoyf
-3 Pyroblast
-3 Grafdigger's Cage
-1 (Varies by Matchup)
Vs. Blue:
+3 REB/Pyroblast
-3 (Varies By Matchup)
H. GRB Beats aka 'Vintage Jund'
GRB Beats 2012, by Stephen Menendian
Explanations:
As with most of the decks we've seen so far, the core is the most disruptive dyad of the three colors: B/R. Green provides the beatdown element, and a few sideboard options. Again, because of the density of card options, cards that appeared in G/R have had to be cut. In particular, I've shaved off a few Pyroblasts, and the Stingscourger and Ooze have been cut or moved to the sideboard.
Magus and Torch Fiend are automatic 4-ofs, so they have been maxed out. The mana base is constructed to find basic Swamp or Forest first (preferably a Swamp), then a turn two Red dual land, likely Taiga. That's why there are four Catacombs, and only a few of the other duals. Your best turn one plays are Thoughtseize or Dark Confidant, and the Simian Spirit Guides not only accelerate them out, but support them by casting cards like Pyroblast or Lightning Bolt.
Sideboarding:
Vs. Dredge:
+4 Yixlid Jailer
+1 Grafdigger's Cage
+1 Tormod's Crypt
+1 Duress
-3 Null Rod
-2 Lightning Bolt
-2 Phyrexian Revoker
Vs. Workshops:
+2 Ingot Chewer
+2 Nature's Claim
+1 Lightning Bolt
+1 Dismember
-3 Grafdigger's Cage
-2 Pyroblast
-1 Magus of the Moon
Vs. Blue:
+2 Pyroblast
+1 Duress
-2 Tarmogoyf
-1 Torch Fiend
I. RB Beats
RB Beats 2012, by Stephen Menendian
Explanations:
RB Beats presents some really intriguing options. You get lots of disruption out of Red Blast and Duress effects, and a nice mix of utility creatures from Dark Confidant to Torch Fiend. This is the first list where I've preferred Gorilla Shaman! The reason for that is because White gives you Kataki, and any deck with White I'd be playing that instead, and in RG there is just no room because I want to run Scavenging Ooze.
This decks biggest weakness is actually combat, where this deck lacks of power. That is why it needs a mix of Bolts, Edicts, and probably Jitte. I'd like to run Dismember here, but I think that overlaps too much with Bolt and doesn't do what Edict needs to do, namely deal with Tinker targets. The more you become a heavy red deck, the more attracting Crash becomes. I also like Crash in this deck, the first deck for which I'd run it. Obviously, Crash is powered up by Magus, and like Ingot Chewer, evades Chalice at 1 or 2. Both Ingot Chewer and Crash are pricey and painful Bob flips, but worth it.
Jagged Poppet is a tempting inclusion, but I don't think is quite good enough. Also, you want to be holding answers like Red Blasts, so getting Hellbent won't be simple.
I've seen some versions of this color combination use the Painter's Servant combo, and that is a worthwhile attempt, but I think the more consistent and reliable approach is this one.
Sideboarding:
Vs. Dredge:
+1 Grafdigger's Cage
+3 Yixlid Jailer
+2 Ingot Chewer
+2 Red Blast/Pyroblast
-3 Null Rod
-3 Lightning Bolt
-2 Phyrexian Revoker
Vs. Workshops:
+3 Diabolic Edict
+2 Ingot Chewer
+2 Crash
-3 Grafdigger's Cage
-3 Red Elemental Blast/Pyroblast
-1 Thoughtseize
-1 Magus of the Moon
(and possibly Jittes for more Thoughtseize)
Vs. Blue:
+2 REB/Pyroblast
+3 Diabolic Edict
-3 Lightning Bolt
-3 Torch Fiend
J. Mono Red Beats aka 'The Mountains Win Again'
The Mountains Win Again 2012, by Stephen Menendian
Explanations:
As you can tell, this is no Sligh, and it is closer to Red Deck Wins. Mono Red hate decks like this have a history in modern Vintage. Known as "The Mountains Win Again," there is an 11+ page thread on The Mana Drain you can read about this archetype here (performing version of this list for one of his recent articles here).
Grafdigger's Cage and Torch Fiend provide significant upgrades for this archetype, and I intend to fully exploit them here. Markov Blademaster is also your best beater, which is a significant improvement upon previous beater options. This deck should be better than ever.
The big weakness of a deck like this will be cards like Goyf and Stoneforge Mystic. That is all the more reason to play with Markov Blademaster, which can defeat either creature on a second swing. I'm a bit uncertain about some of the configuration, but with further testing, I'm sure it can be determined.
With this deck, as with many of the decks I've designed for this article, there will be a temptation to cut disruptive cards for more aggressive ones. I believe that is a mistake. A deck like this succeeds, if at all, because of its maximal disruption.
If you prefer a more aggressive mono-red deck, you should consider Goblins, such as this one.
Sideboarding:
Vs. Dredge:
+1 Grafdigger's Cage
+4 Leyline of the Void
+2 Pyroblast
-3 Null Rod
-3 Lightning Bolt
Vs. Workshops:
+2 Crash
+2 Ingot Chewer
+3 Shattering Spree
+1 Null Rod
-3 Grafdigger's Cage
-2 Pyroblast
-2 Red Elemental Blast
-1 Blood Moon
Vs. Blue:
+1 Grafdigger's Cage
+1 Null Rod
+2 Pyroblast
-3 Markov Blademaster
-1 Torch Fiend
K. Mono Green Beats aka 'The Forests Win Again'
The Forests Win Again, by Stephen Menendian
Explanations:
To my knowledge, no one has tried this archetype before. There have been Stompy decks in Vintage history, and they have, from time to time, been at least playable. Stompy can win quite quickly with a triple Rancored and Berserked Vine Dryad. But such a deck can't reliably compete in modern Vintage.
The other mono-green option is Elves. Matt Elias has been a proponent of combo Elves, and I suggest you read his work on the Vintage Elves archetype here. The deck I've designed is different entirely.
Cage needs to pull extra weight here, and I almost ran 4 maindeck, but I wanted to have manageable sideboard plans. I've skipped a bit on Null Rod because I settled on 4 Revoker, which picks up a bit of the slack. Goyf is an auto-include, and so I run 4.
I considered maindeck Guttural Responses, but I ultimately put those in the sideboard, and settled instead on Mental Misstep since it is slightly broader in applicable, and it is better against Dredge. This is the deck where Guttural Response is at maximum value.
Oddly enough, there aren't really creatures you have to protect, so that's why I ultimately decided not to put Leyline of Lifeforce anywhere. This is also a reason to question the inclusion of cards like Dosan the Falling Leaf, City of Solitude, or even Vexing Shusher. However, I think Shusher may prove to be the best of the bunch because it doesn't turn off Mental Misstep and Guttural Response, and can even help you win counter wars with both.
Thornweald Archer is a great answer to Trygon Predator and many of the nasty artifact creatures, but I'm not sure there is room. Uktabi Orangutan gets auto included and is being run over Scavenger Folk or Nature's Claims. I decided to run Ohran Viper over Heartwood Storyteller for similar effects at similar casting costs because Ohran Viper has deathtouch.
Beast Within is just nutty, and although I'm a bit wary of its effect, the direct effect is simply too good to omit. It's the best Ice Storm ever printed, and it hits artifacts, enchantments, creatures, and planeswalkers alike.
I'm actually shocked what I was able to do with a limited card pool. I canvassed the formats 254 or so 3cc green creatures, and the roughly equal number of 4cc green creatures, and found shockingly little that could help. I also looked at those casting costs enchantments, and saw little there as well. I've mentioned many of the cards I've considered, but I will touch on a few. The only 4cc creature that intrigued me was Oracle of Mul Daya, but I don't think it's worth it.
The reason for fetchlands is the possibility of sideboard Crucible of Worlds. If Crucible were to be moved to the maindeck, which is an eminently sensible decision, you could add a Crop Rotation or two, and even play cards like the new Haunted Fengraf or Ghost Quarter as well.
The maindeck is strong, and is probably within 6-8 cards of being perfect, if that. There is some inherent awkwardness of needing double Green or lots of Green and also supporting Ancient Tomb, which powers out turn one Null Rod, Revoker, or turn two Choke/Orangutan/Beast Within.
Cards I didn't include also include the stellar Green Sun's Zenith, which could easily be played and is great with Ancient Tomb, except that Zenith is neutered by Cage. I had included, but cut, Sylvan Library, because of all of the damage dealing sources in this list, from Ancient Tomb to Mental Misstep.
Sideboarding:
Vs. Dredge:
+3 Tormod's Crypt
+1 Grafdigger's Cage
+1 Scavenging Ooze
-3 Null Rod
-2 Choke
Vs. Workshops:
+2 Crucible of Worlds
+3 Nature's Claim
+1 Scavenging Ooze
-1 Grafdigger's Cage
-4 Mental Misstep
-2 Choke
Vs. Blue:
+1 Grafdigger's Cage
+4 Guttural Response
+1 Choke
-3 Uktabi Orangutan
-2 Scavenging Ooze
L. Mono Black Beats aka 'Dark Times'
Dark Times 2012, by Stephen Menendian
Explanations:
This list I derived from Brienne Pope's most recent Dark Times list, she being the primary advocate of this archetype.
A few years ago, I published an article on SCG revising and updating Suicide Black for modern Vintage. At the time, there were far fewer tools available to the Vintage player. Today, we not only have Cage, but there is Liliana, Revoker, and much more. This is the only list in this article that breaks with the Cage formula, and it does so because it abuses Yawgmoth's Will, combats Tinker very well, and because it is already so strong against Dredge with maindeck Leylines. That said, this deck will have Cage in the sideboard.
I believe I have made a few critical improvements on traditional Dark Times lists. First, Phyrexian Revoker is simply better than Hex Parasite and Pithing Needle. Second, Bitterblossom should be a silver bullet in the Workshop matchup. Finally, Cage gives you an answer to Oath.
Sideboarding:
Vs. Dredge:
+4 Grafdigger's Cage
+1 Yixlid Jailer
-3 Diabolic Edict
-2 Phyrexian Revoker
Vs. Workshops:
+1 Diabolic Edict
+2 Dismember
+2 Crucible of Worlds
+3 Bitterblossom
-4 Leyline of the Void
-1 Helm of Obedience
-3 Duress
Vs. Blue:
(Depends on matchup)
IV. Playing Aggro in Vintage
Sequencing Spells
The most important skill you must learn is sequencing your threats. I'll quote myself here: "You can play anything in Vintage, but first you must learn to survive." This axiom is 100% applicable. Virtually every threat in these beats decks doubles as a defensive or disruptive measure.
The reason we don't just run Tarmogoyfs is that just attacking with creatures is no more a viable strategy in Vintage than just playing burn spells. The reason is the same. Disrupting the opponent is essential to success. To experienced Vintage players, the reason for this is known: undisrupted, most Vintage decks can win before you can possibly deal enough damage to kill them.
Since disrupting the opponent is essential, the task is one of disrupting the opponent is one that must be perfected. Almost every creature listed in Part II that is viable in Vintage is viable because it disrupts the opponent or generates card or mana advantage. The few exceptions are the Tarmogoyfs.
The array of creatures that are listed are disruptive, but not uniformly so. Some creatures are more disruptive than others, and the degree of disruption or interference they run depends largely on the matchup. Ethersworn Canonist is extremely disruptive against Storm combo, but virtually irrelevant against Workshops. Similarly, Kataki or Viashino Heretic can be extremely disruptive against Workshops, but just a mere blocker against Dredge.
The point is simple: the disruptive value of your threats varies from matchup to matchup. Therefore, it is incumbent upon the pilot to learn the relative strength of each threat from matchup to matchup. You will need to know or intuit which threats are most potent from matchup to match. This is because, as a general rule, you want to deploy your most disruptive threats first. [Set this general rule in the margin] This is the general rule of sequencing.
But there is a caveat to this rule. It is not simply that your threats vary in disruptive utility from matchup to matchup, but even from turn to turn and situation to situation. This is easy to illustrate with a few examples.
A turn one Thalia on the play is much more disruptive than a turn one Thalia on the draw. That is because, on the play, your opponent will not have had an opportunity to deploy Moxen or play other spells. Similarly, it follows that a turn one Thalia is much more disruptive than a turn seven Thalia for the same reasons.
In contrast, cards like Leonin Relic-Warder or Phyrexian Revoker may be more potent as later threats rather than early threats. That's because you will have more options and more specific disruption targets for these effects.
In sequencing threats, you will also need to calculate how your spells might disrupt you. Thus, if you play turn one Cage, you will need to figure out how a turn two Kataki might force you to commit resources to keeping the Cage or other Moxen in play as the game progresses. It might be better to play a turn two Stoneforge Mystic or Leonin Arbiter and then play Kataki the following turn. In that respect, playing threats is not as simple as just ordering your spells from most to least disruptive. You also need to make sure your sequence is efficient.
Two other caveats need to be mentioned. First, you need to position yourself to play cards you may draw off the top of your deck. Thus, you should not put yourself in a position from which you can't play further threats unless you intend to win with what you already have.
Second, you can break the general rule if you hope to bait out counters to resolve the most disruptive or important threat. So, for example, you may wish to play turn one Thalia to resolve turn two Dark Confidant, should you judge the latter more important than the former. But, in order to make effective bait, you need to be able to distinguish the bait from the threat.
This brings me back to the point: the most important skill of a Beatdown player in Vintage is knowing which threats are the most important from matchup to matchup. This varies from matchup to matchup, and must be learned and intuited. If you keep your focus on survival, you will be able to bring this question into focus. Just ask yourself: what do I need to do survive another turn? Or, what card gives me the best chance of surviving another turn?
Manipulating Your Mana
Even if most of you can crack the sequencing code, this is the area where the remainder of you will fall short. I can't emphasize this enough: this is the second most important skill of a Vintage Beatdown player, but it is the most difficult. The real complexity comes from not simply learning how to sequence or manipulate your mana base properly, but from learning how to interface it with the sequencing skills described in the previous section of this part of the article. I will run through some examples that illustrate my point.
In mono colored decks, the key mana base questions are going to look like this:
1) Can I keep this hand, based on the mana?
2) Which land do I play first? (basic land, fetchland, Wasteland/Strip Mine, or Ghost Quarter?)
3) Which land do I play second? (basic land, fetchland, Wasteland/Strip Mine, or Ghost Quarter?)
4) Which land do I play third? (basic land, fetchland, Wasteland/Strip Mine, or Ghost Quarter?)
5) Do I play an artifact accelerant on turn one? Turn two? Turn three or later?
6) Do I use a Spirit Guide or other accelerant? If so, when?
As you can see, even with mono color decks, there a host of mana base questions that are far from simple to resolve.
Example 1:
Suppose it is turn one, and your opponent has played a dual land on turn one (say, an Underground Sea). If you have two Plains and a Wasteland in hand, what do you do: play a Plains or the Wasteland?
There may be good reasons for either play. If you have a bunch of WW casting cost creatures in hand, like Relic Warder or Grand Abolisher, you may want to get those down as quickly as possible, depending on what your opponent is doing. On the other hand, if you don't Wasteland them now, you may not get a chance. What if they are playing Gush? Or, what if they play turn two Tinker?
Unfortunately, there is no clear cut rule or way to answer these questions. Judgment is called for. Experience in similar situations will also guide your play.
Example 2:
Suppose it is turn three. You played turn one Wasteland, and sacrificed it to destroy your opponent's dual land. You played a turn two Plains and cast Cage. Now it is turn three and you need to decide whether to play a second Plains or a Ghost Quarter. What do you do?
The answer may be far from clear. If your opponent has a basic land in play, but only one basic land in their deck, the Ghost Quarter may cripple them. However, if they have a second basic land in their deck, you will have lost precious tempo by not playing a threat here. You need to make a cost/benefit decision: the value of the threat versus the chance of stripping away their only basic land.
Example 3:
Suppose your opening hand has 1 Plains, 2 Ghost Quarter, and 4 creatures: Phyrexian Revoker, Leonin Relic-Warder, Grand Abolisher, and Gaddock Teeg. Do you keep this hand? This is another mana base question. The Ghost Quarters can produce a Plains or a Forest if you Ghost Quarter your other Ghost Quarter. The decision of whether to mulligan this hand depends on how you feel about manipulating your mana.
When you move from one to two colors, you dramatically increase the number of questions because then you also have to decide:
1) Which fetchlands or dual lands to play & when.
2) When to crack fetchlands?
3) What to get with fetchlands?
When you move from 2 to 3 colors, the last question becomes not just important, but absolutely critical.
Example 4:
Suppose your opening hand has:
Marsh Flats
Wooded Foothills
Savannah
Dark Confidant
Gaddock Teeg
Tarmogoyf
Leonin Arbiter
A hand like may pose almost every single possible issue. Which land do you play first? Which land do you play second? What do you fetch with each fetchland?
If you play a dual land first, you expose yourself to Wasteland, and may not be able to fetch out a land on turn three if you resolve Arbiter. Also, you don't want to cut yourself off from turn two Teeg or Dark Confidant, but you also want to get basic lands if possible.
There are so many possibilities for error in manipulating the mana base, that you should take great care in doing so. You should examine your options thoroughly, and be very wary about glossing over them or playing your mana haphazardly or quickly.
There are two general rules that you should use to guide your decision matrix:
1) Develop and deploy the mana resources you will need to play your threats in hand.
2) Deploy your mana resources in a way that makes them resilient to getting Wastelanded.
Applying the first rule to the last example above, you will need to have Green, White, and Black mana in play to cast all of your threats. Applying the second rule, you'll want to lead with fetchlands or basic lands if possible.
As you can see, sequencing your threats and properly manipulating your mana base is by far the most critical combined skill for the Beatdown player, and it's enormously challenging. These decisions are as skill intensive as anything in Vintage, and it is essential that you make these decisions carefully.
Example 5:
Suppose your hand is:
Swamp
Thoughtseize
Gaddock Teeg
Marsh Flats
Mox Pearl
Elvish Spirit Guide
Leonin Arbiter
Kataki, War's Wage
How do you sequence these spells? The answer may be quite difficult. First, this hand forces you decide among various turn one threats. A turn one Gaddock Teeg, Leonin Arbiter, Kataki or Thoughtseize are all possibilities. Second, this hand forces you to make a decision about whether to lead with Swamp or fetchland, and each of the first turn plays has consequences for your second turn plays.
What would you do? Suppose you don't know what your opponent is playing. What if they are playing Workshops?
Other Skills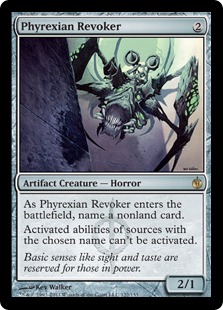 1) Naming Cards with Phyrexian Revoker
Whether you plan to play Revoker on turn one, turn two, or turn ten, playing it presents choices. Winning the game will often turn on making the best choice among your various options. Here are the two principles you should follow: 1) Name Jace or Time Vault if your opponent has either in play. 2) If they have neither in play, name an artifact accelerant they have in play.
If they don't have any artifacts or planeswalkers in play, then you have to make a more difficult decision. If, say, it is turn one, you may wish to make a decision based upon what you fear most. If you are forced into playing turn one Revoker, you may wish to name something like Black Lotus, Sol Ring, or their best on-color Mox. Any one of those would be a good play. If, however, you have cards like Cage in hand, you may wish to be more strategic and less tactical, and name Jace or Time Vault. If you have Null Rod or Stony Silence also in hand, I encourage you to take the latter approach.
Example:
Your opening hand is:
Ancient Tomb
Mountain
Gorilla Shaman
Magus of the Moon
Phyrexian Revoker
Pyroblast
Lightning Bolt
With this hand, I would probably play turn one Revoker and name Time Vault or Jace. The Shaman can clean up any Moxen they might play.
Example 2:
Suppose your opponent has played Mox Sapphire, Underground Sea, and Sensei's Divining Top on turn one.
Your opening hand is:
Mox Jet
Plains
Savannah
Wasteland
Phyrexian Revoker
Gaddock Teeg
Tarmogoyf
What is your turn one sequence?
You have already been presented with two excellent Revoker targets. Both targets have merit. There is also the alternative line of play of simply using Wasteland on their dual land. I believe the correct turn one play here is probably Revoker.
Here's what I would do: I would announce Revoker, and see what they do. At that point, the opponent can activate either one of Top's abilities, and they likely will use one. I would wait to see what they do, and then probably name Mox Sapphire. That is because I have Wasteland in hand, and can continue to deny them mana.
Using Revoker isn't always going to be easy, and often it will be guesswork. But if you make educated guess, it will pay off in the long run.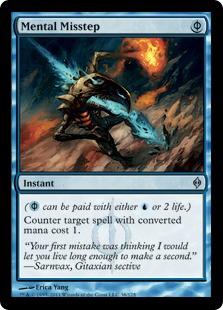 2) Using Mental Misstep
Mental Misstep is an important situational answer. What should you counter with Mental Misstep and how aggressively should you play it? Cards you should always counter with Misstep include Ancestral Recall, Brainstorm, Sol Ring, and Fastbond. Cards you should almost always counter with Mental Misstep are opposing Mental Missteps, Swords to Plowshares or Lightning Bolts on your creatures, and Nature's Claims on Cage or Null Rod/Stony Silence. Cards you should rarely counter with Misstep include Mystic Remora.
The tricky question is what to do about topdeck tutors or Preordains. I tend to counter the latter, but not the former, unless I know that the former is going to cause me direct problems, such as finding Tinker. Countering a Preordain one-for-one is often a tempo gain for you, and you should almost always do it if you have more cards in hand or mana and board advantage, unless you know they are using it as bait to resolve an Ancestral or Fastbond type card.
V. Conclusion
I hope you have enjoyed this article. If this is your first foray into Vintage, I suggest you read my 2011 Vintage Year in Review, which doubles as a brief primer on the format – it will show you every major archetype.
If you are familiar with the format, and you've been dying to play a beatdown deck, I suggest you try the list that you think seems most intriguing to you. I have to be honest that I find many of these lists to be potent options. But the lists that I'm most intrigued with are the G/W core. Teeg is such a monster at the moment, and Thalia is also a beating. However, that is far from the only deck I would consider playing in a tournament, if I felt that Beats was a strong strategic choice.
Given that I believe a metagame window has opened for Aggro decks, it remains to be seen what counter tactics will emerge to combat them. Reviewing the lists in this article, Pyroclasm and Perish both seem like potent answers, although Tarmogoyf survives the former and Stoneforge & Co. survive the latter. It is important when choosing a deck to be cognizant of what you expect to face and not to over commit to the board. One of the important skills I did not discuss, but may in a future edition of this article, is deciding how much pressure to put onto the table, and how much to hold back.
I hope you have enjoyed this article. I have endeavored to be comprehensive, but I cannot predict the future, nor can I anticipate new printings. I intend periodically update this article from time to time, but as the metagame evolves it will be up to you to tweak and tune your deck. Don't just take what I gave you, but see what works best for you and tune from there. I will be happy to answer your questions at @SMenendian on Twitter. So, build your deck, test it against some friends, and fire away!
Until next time,
Stephen Menendian