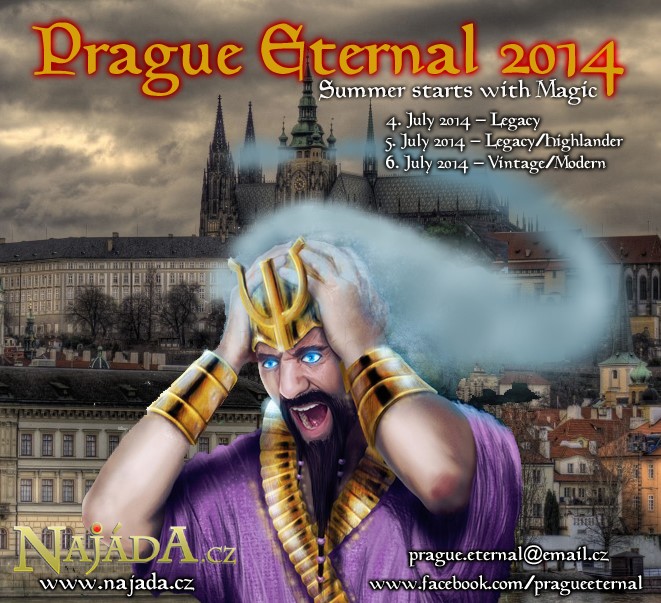 (Editor's Note: the following message is from a longtime reader and supporter of Eternal Central, who also is now organizing tournaments in Europe. Please check out this special announcement of a brand new large scale European tournament. Support Vintage everywhere!)
My name is Jan "ZUZY" Zuskac, and I am from Czech Republic. I have been playing Magic for about 14 years now. I started with Extended, and at that time I bought my first Japanese cards. Since that time I have been "pimping" my decks, and as the cards gets older they move into the realm of Vintage. I love Vintage, but it is not played as often as I would like, so I also play Legacy.
After I bought my first Power 9 cards I disappointingly found out that there were no Vintage tournaments in all of Czech Republic! That was about 7 years ago, but now there is the Czech Vintage and Legacy Series – 6 tournaments in Prague, Brno, and Pribram.
Europeans are blessed to have such great Vintage tournaments, so let's take a moment to thank them. The promoter and organizer of the annual Ovino tournaments in Italy, Stinfo, stands out in particular. His passion for Vintage is always visible, and he is the main tournament organizer that has taken tournament promotion to the next level with his annual PIMP Vintage tournaments, which celebrate the glory of PIMP decks. You should SEE all of the cards in person – it is quite an amazing site to see, with all of the Altered, Alpha and Beta everything, Signed everything, Foreign Foil everything. Another great tournament organizer is Lois and those who help organize and promote the annual Bazaar of Moxen series. I have been there 7 times so far, and there is nothing like it in terms of sheer awesomeness and the number of Vintage players in once place. Finally, I would be remiss if I did not mention Jens, who organizes the usual Vintage tournaments in Hanau. Just a few hour drive across scenic Europe and you are playing serious Vintage with some of the best in the world! Unfortunately the tournaments between Christmas and New Years are not the best ones, because our wives and girlfriends hate us for it. : P
(more…)