Editor's Note: We are happy to host this guest tournament report, authored by upstart tournament organizer and fellow Old School baller Dave Gura, who recently ran the first annual Midwest Thrash Bash.
On October 8, 2022 in South Bend, Indiana, 28 mages descended upon Tippecanoe Place (the Studebaker Mansion) for the first annual Midwest Old School Thrash Bash Tournament. Players represented several regional Old School clubs, including Lords of the Pit, Cleveland Rocs, The Ebon Hand (Cincinnati), Columbus Kobolds, Water Elementals, and Indy Djinns, as well as several unaffiliated hessians who came to thrash.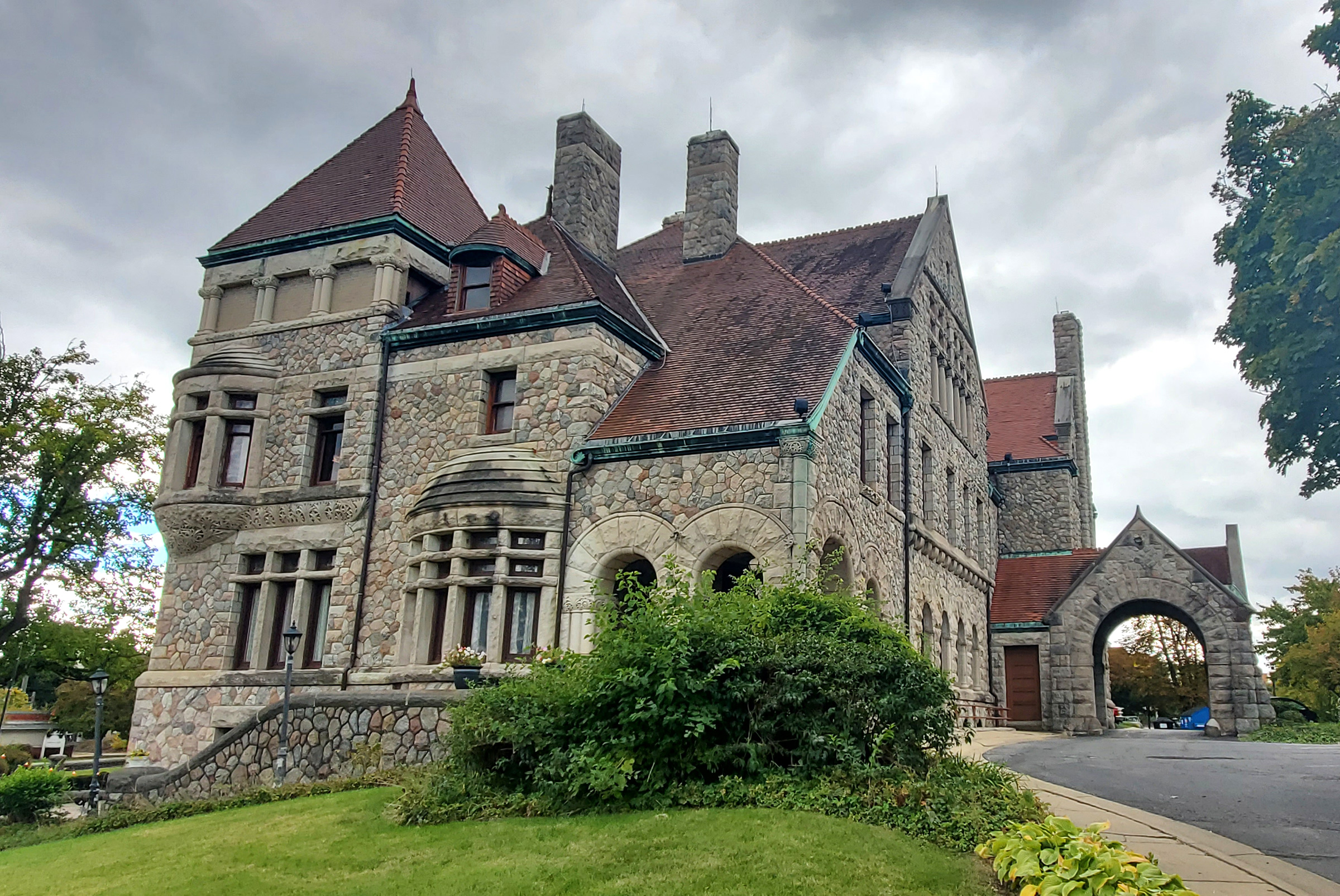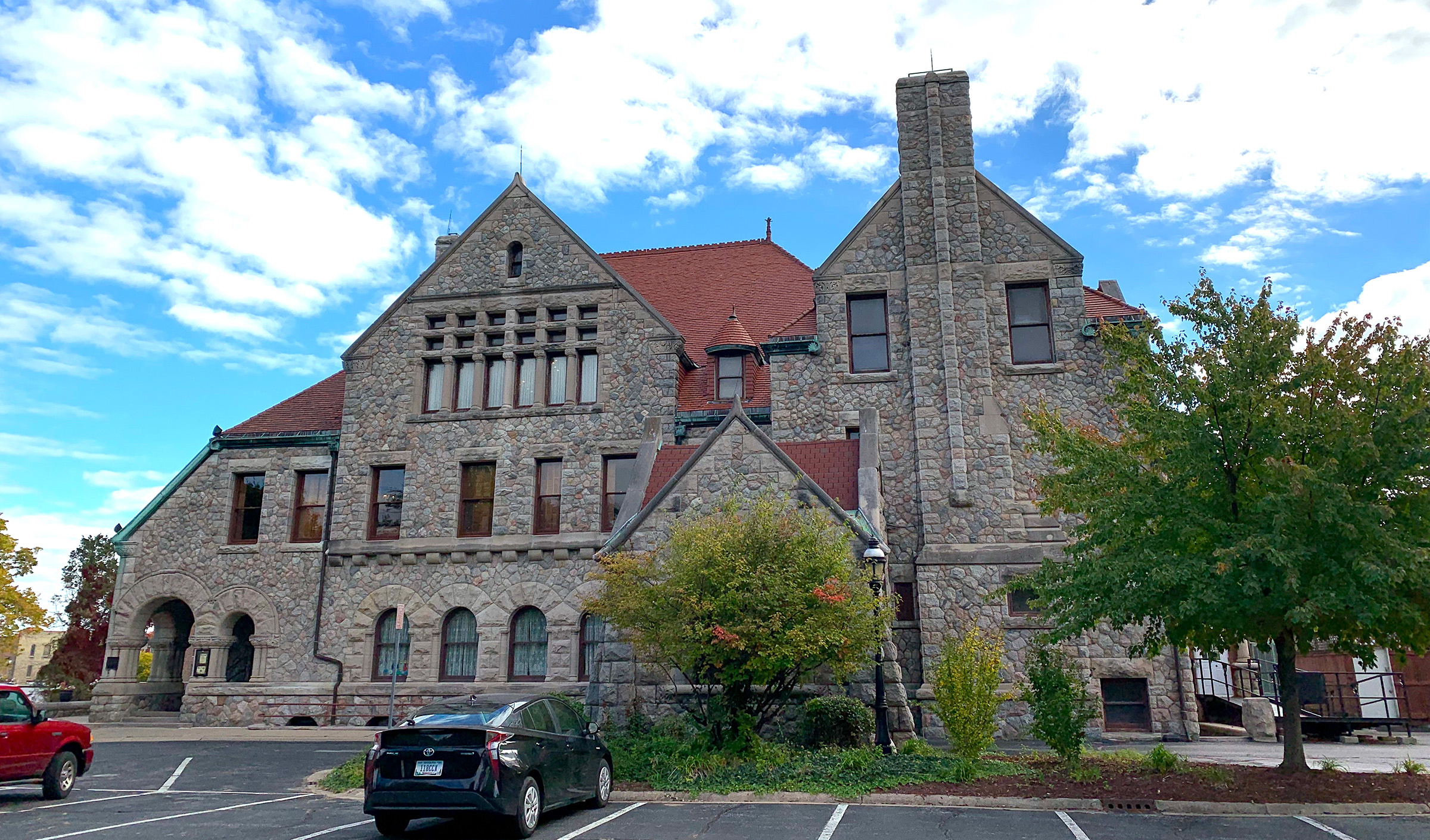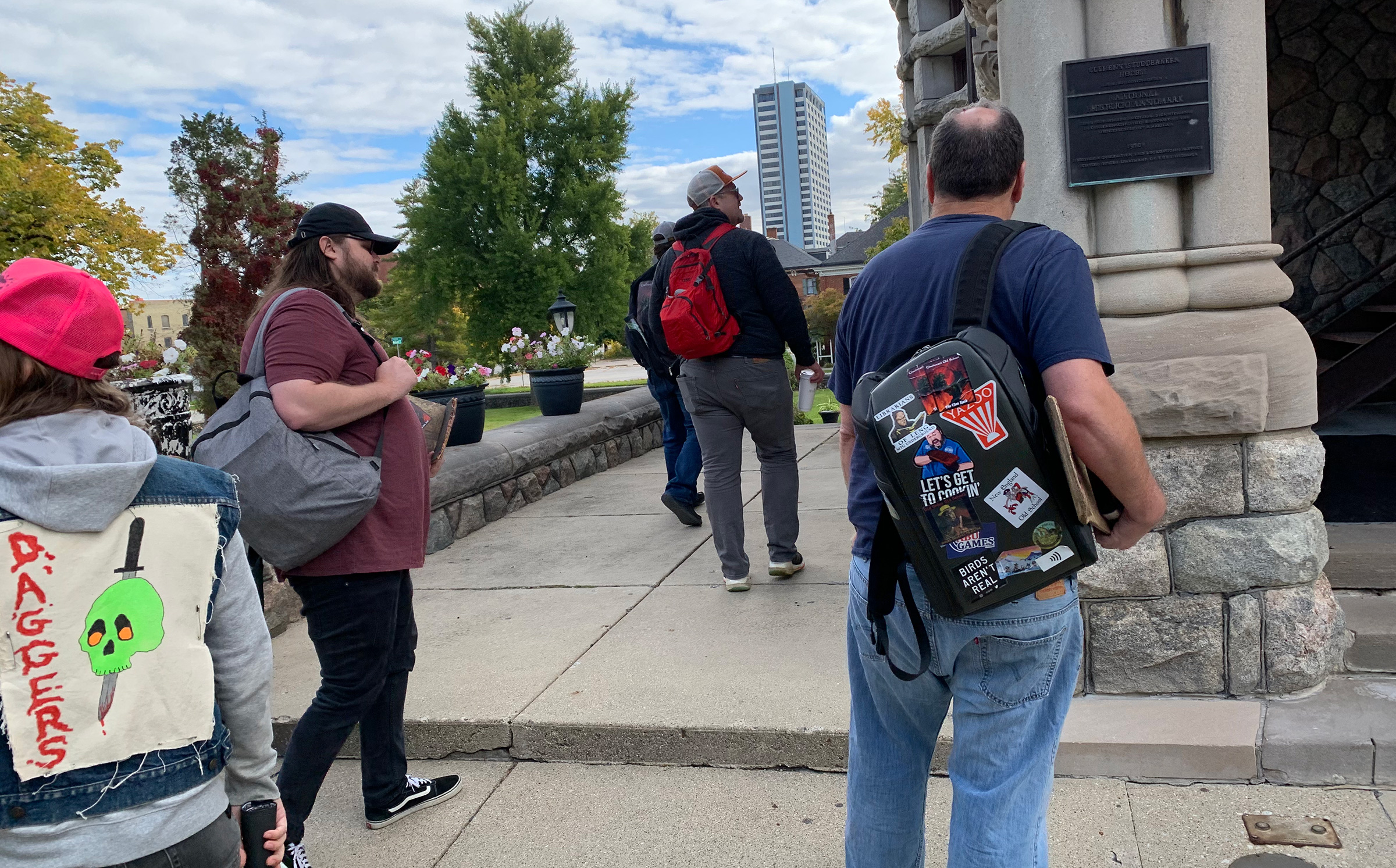 Tournament Structure and Prizing
Hessians vied for dominance in 5 rounds of Swiss using Eternal Central 94 rules throughout the day. Each participant received a stamped Hymn to Tourach to collect signatures, and several prizes and alters were donated by the community. Special alters were awarded for First Registered (K. Wells), First Blood (K. Wells), Winner (J. Stacko) + Top 4 Swiss (D. Gura, M. Folk, K. Ballantine), and the Most Hesh Deck (B. Limbacher). Two special Hymns were signed and mailed to the two St. Louis Rivermen who were struck by Covid prior to the event and had to withdraw. Thrash Bash participants also had access to a custom food menu and Tippe's fully stocked bar.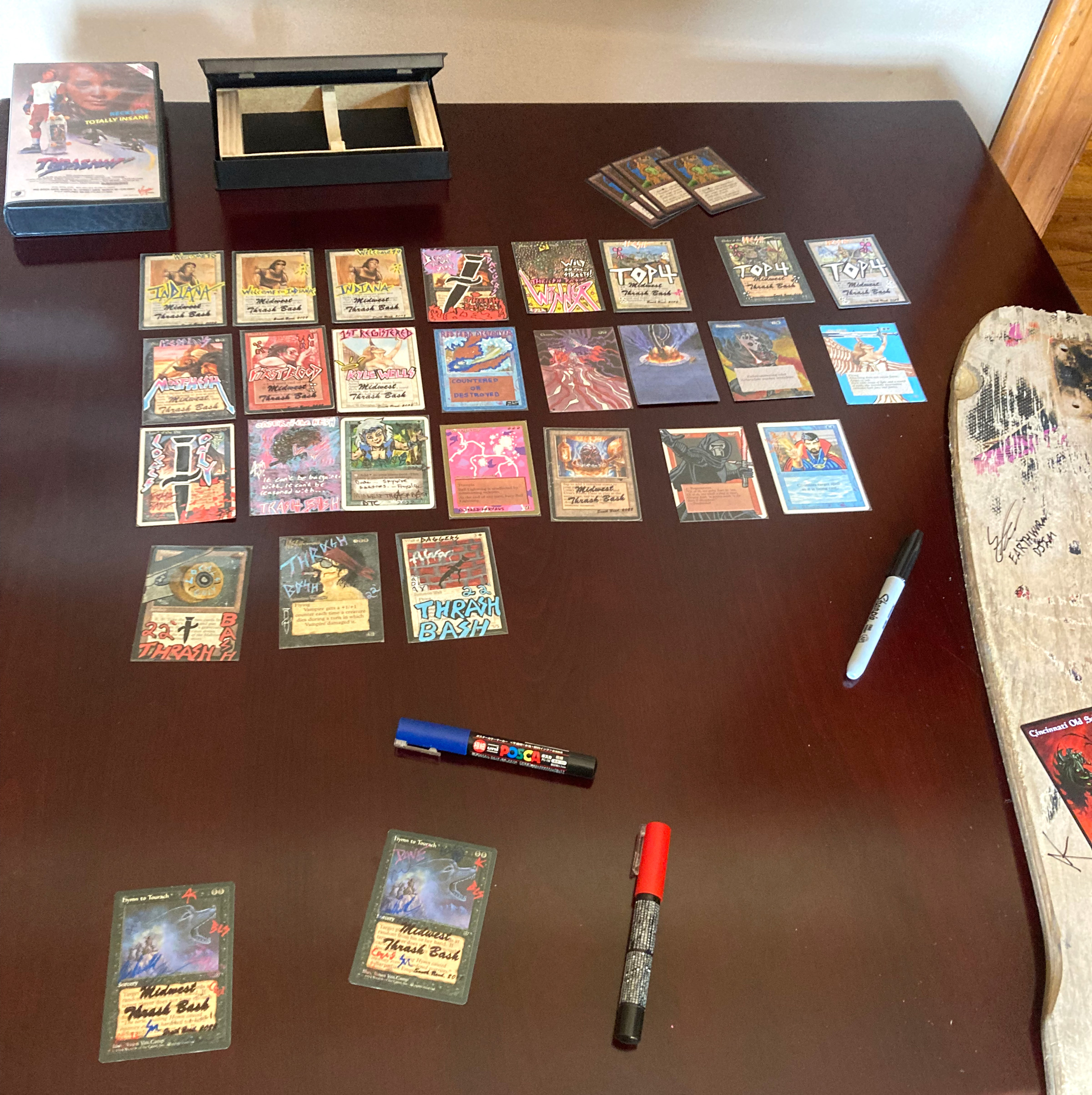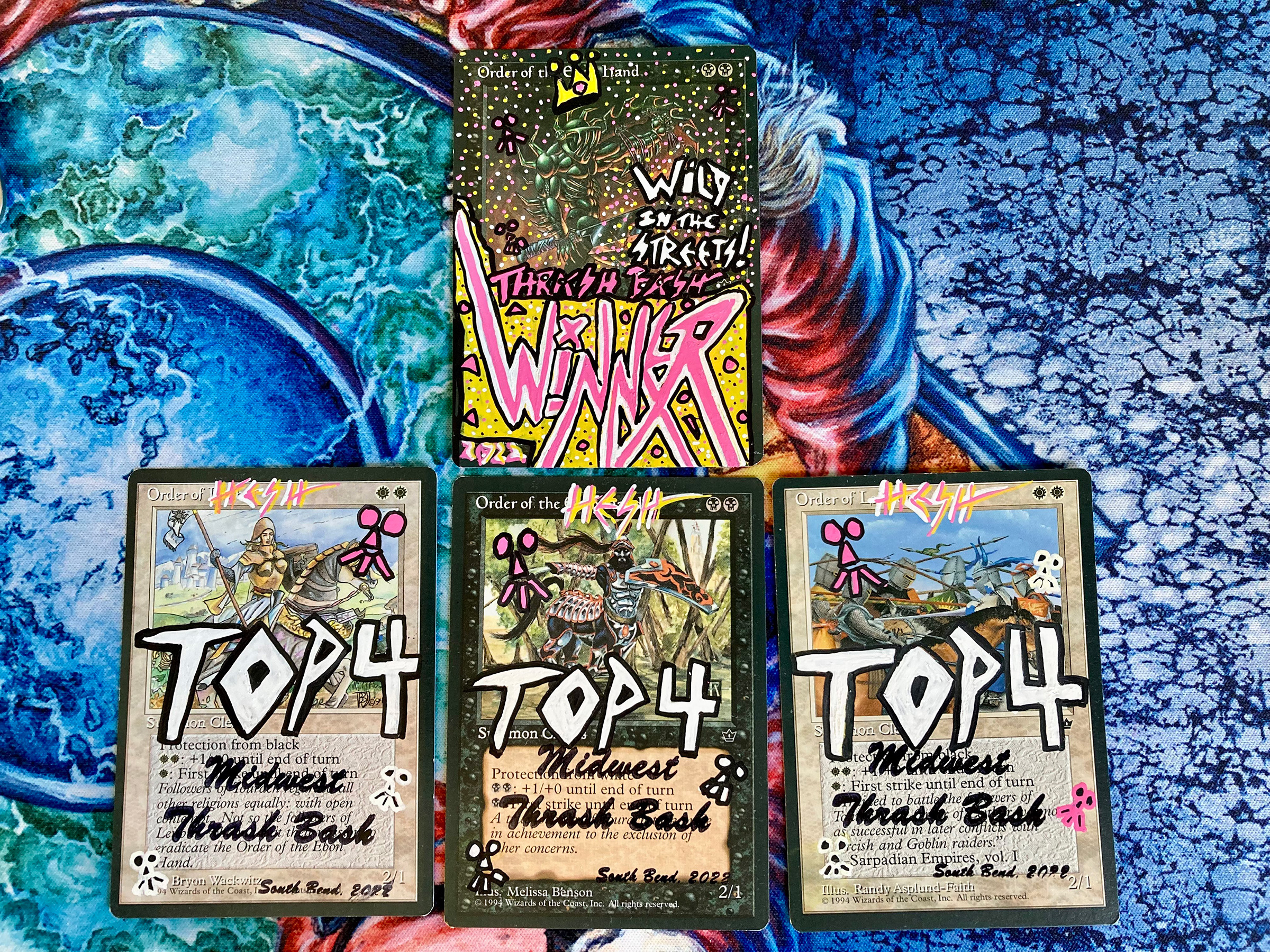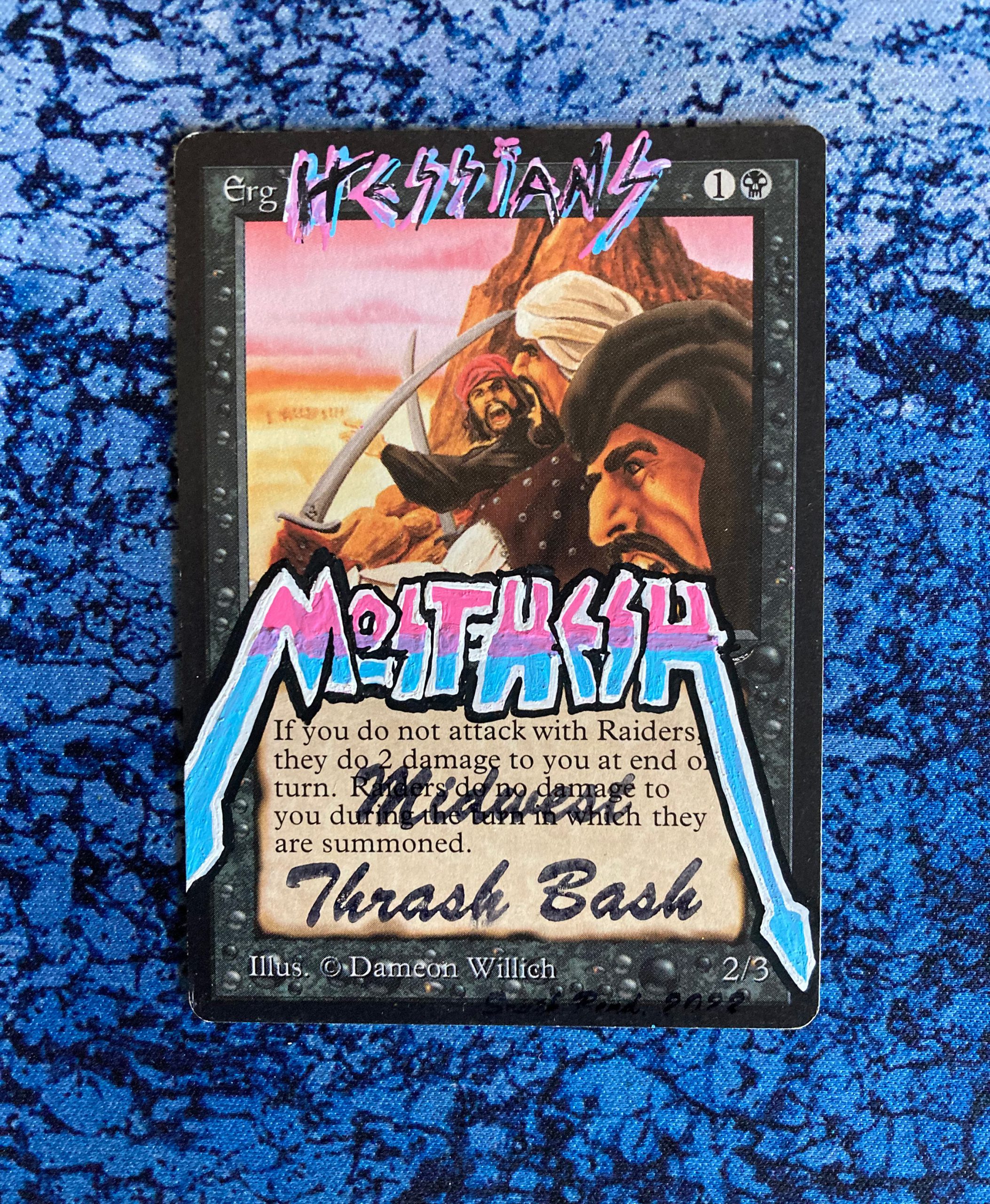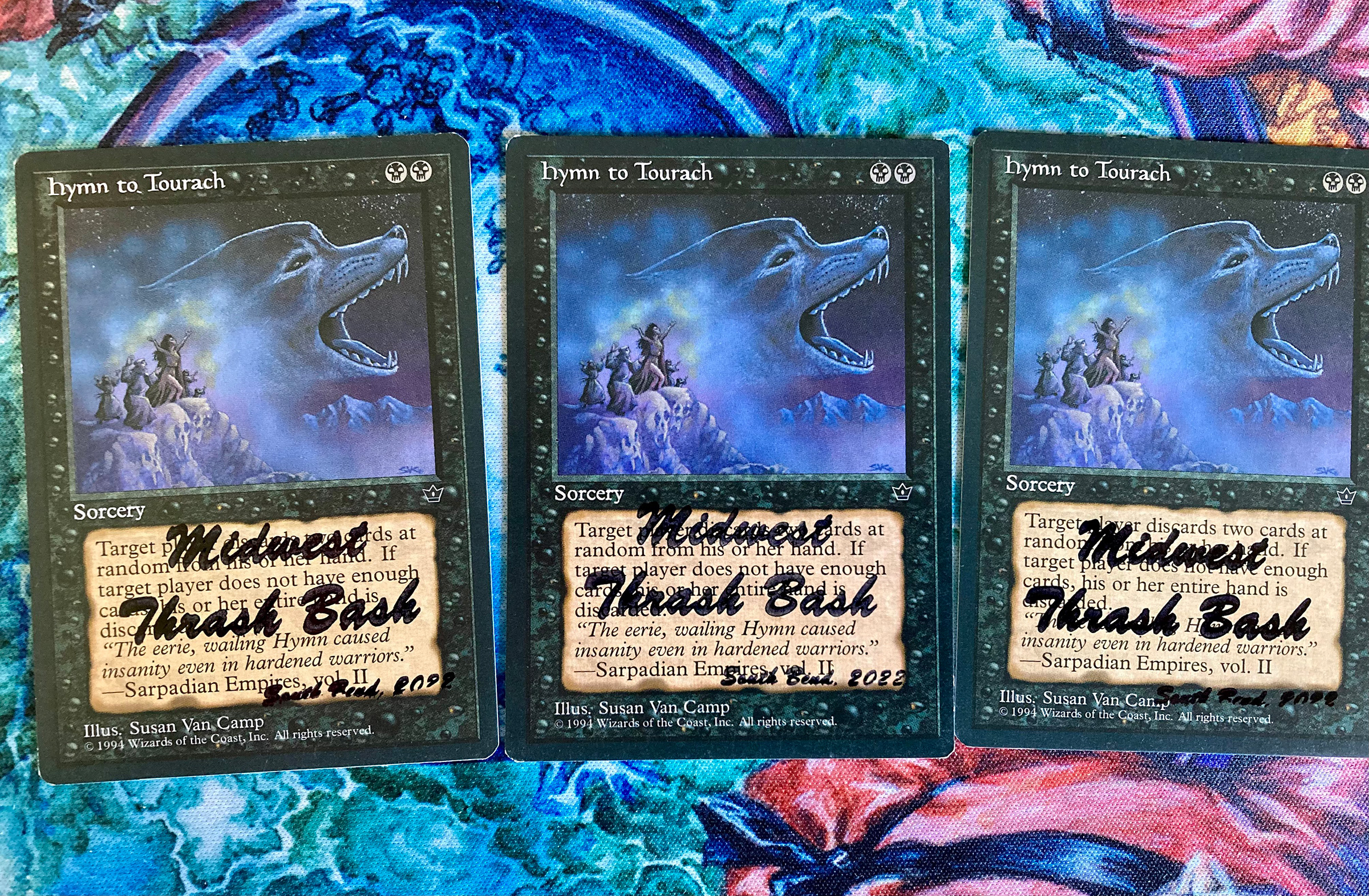 Final Standings After Swiss
In the end, Joe Stacko won 1st Place with a gnarly, quadruple-sleeved Shops brew, taking home the signed Thrash Bash Trophy donated by Brian Limabacher and signed by all participants. Congratulations Joe!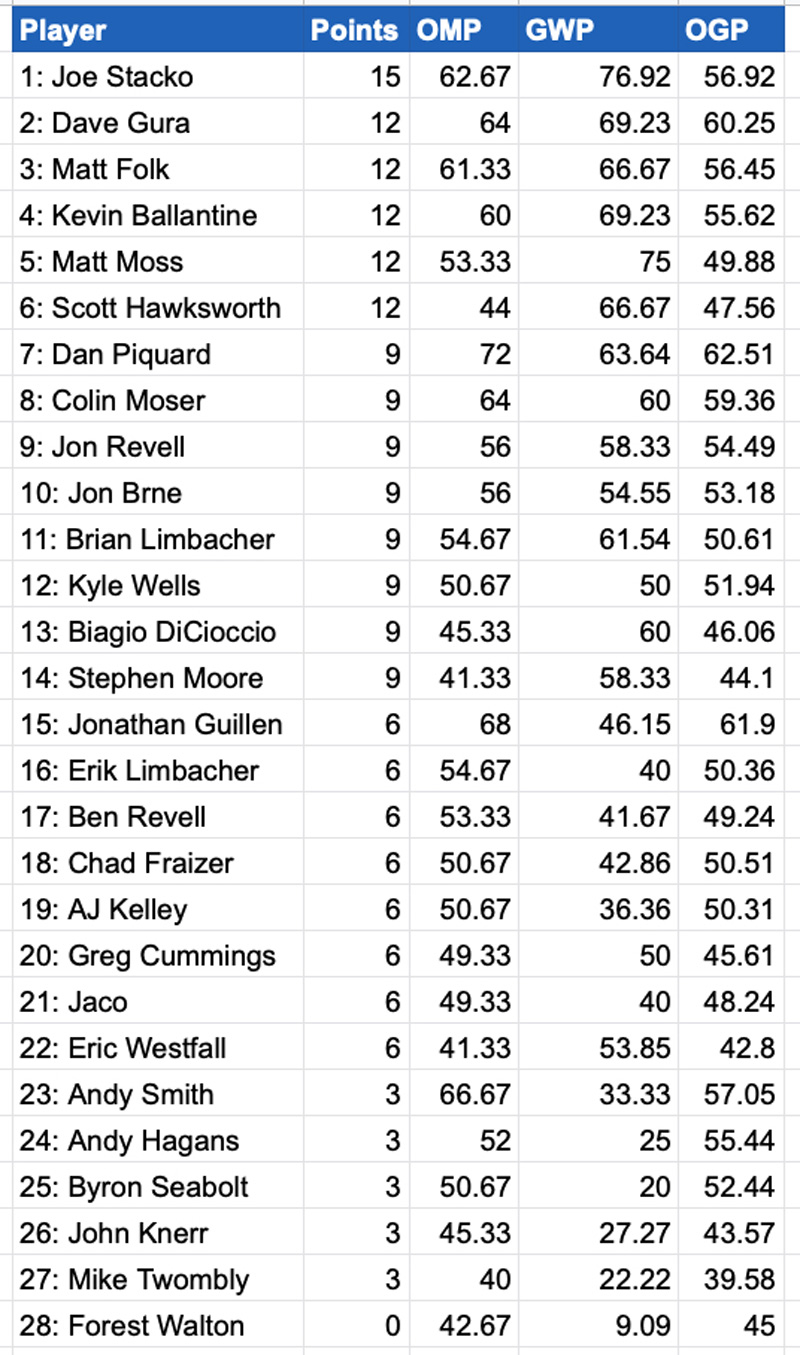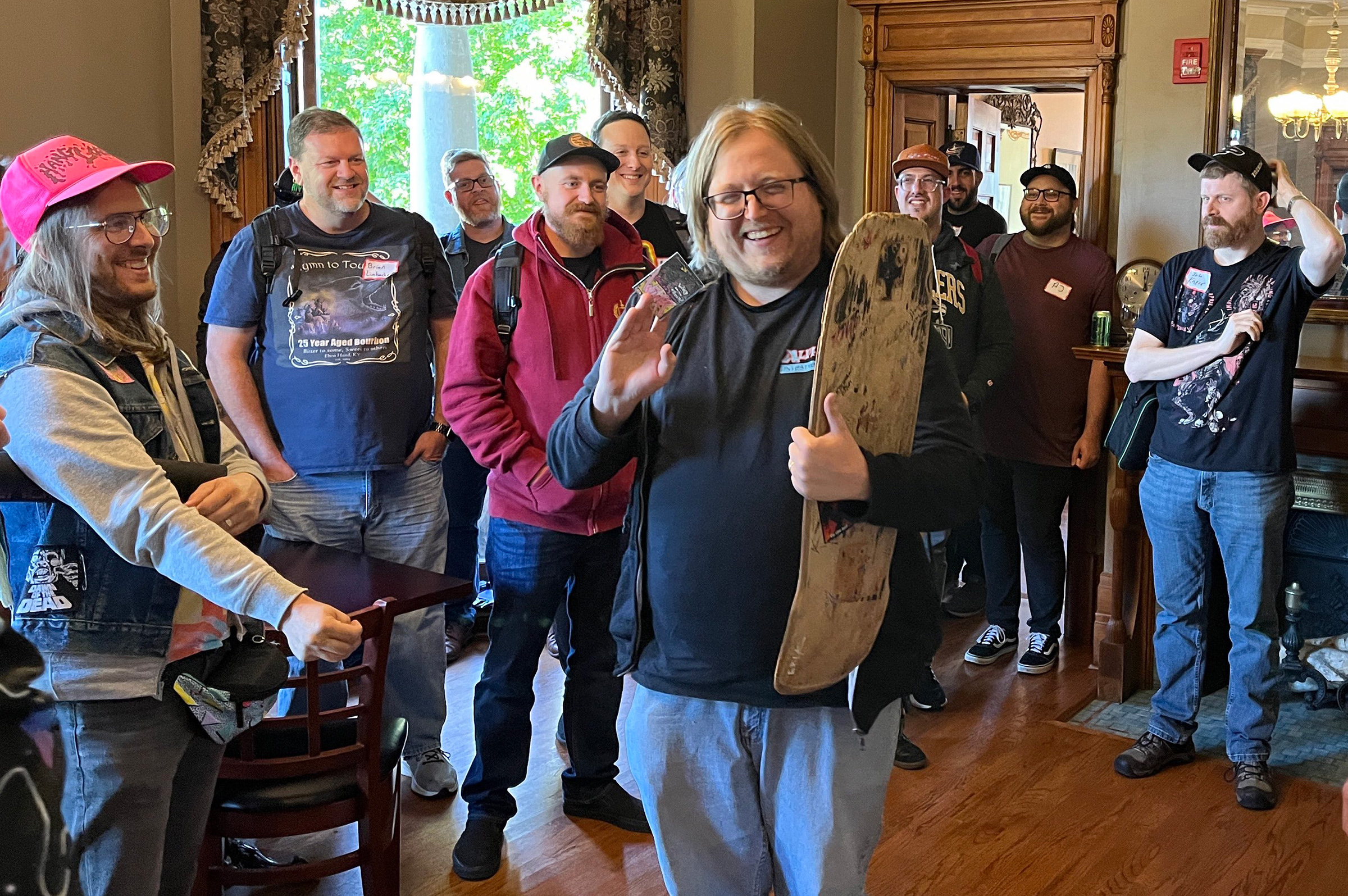 Decks
AJ Kelley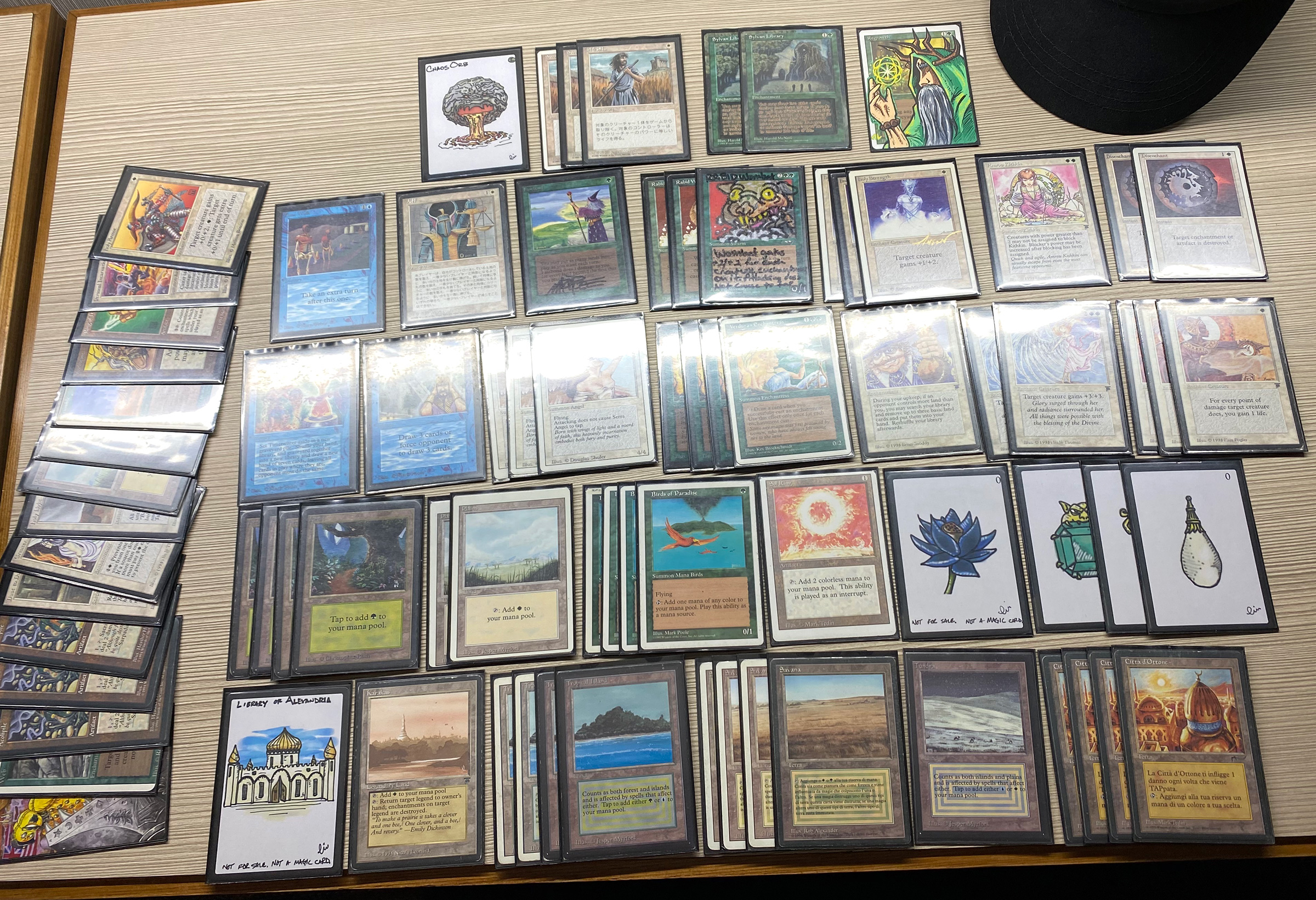 Andy Hagans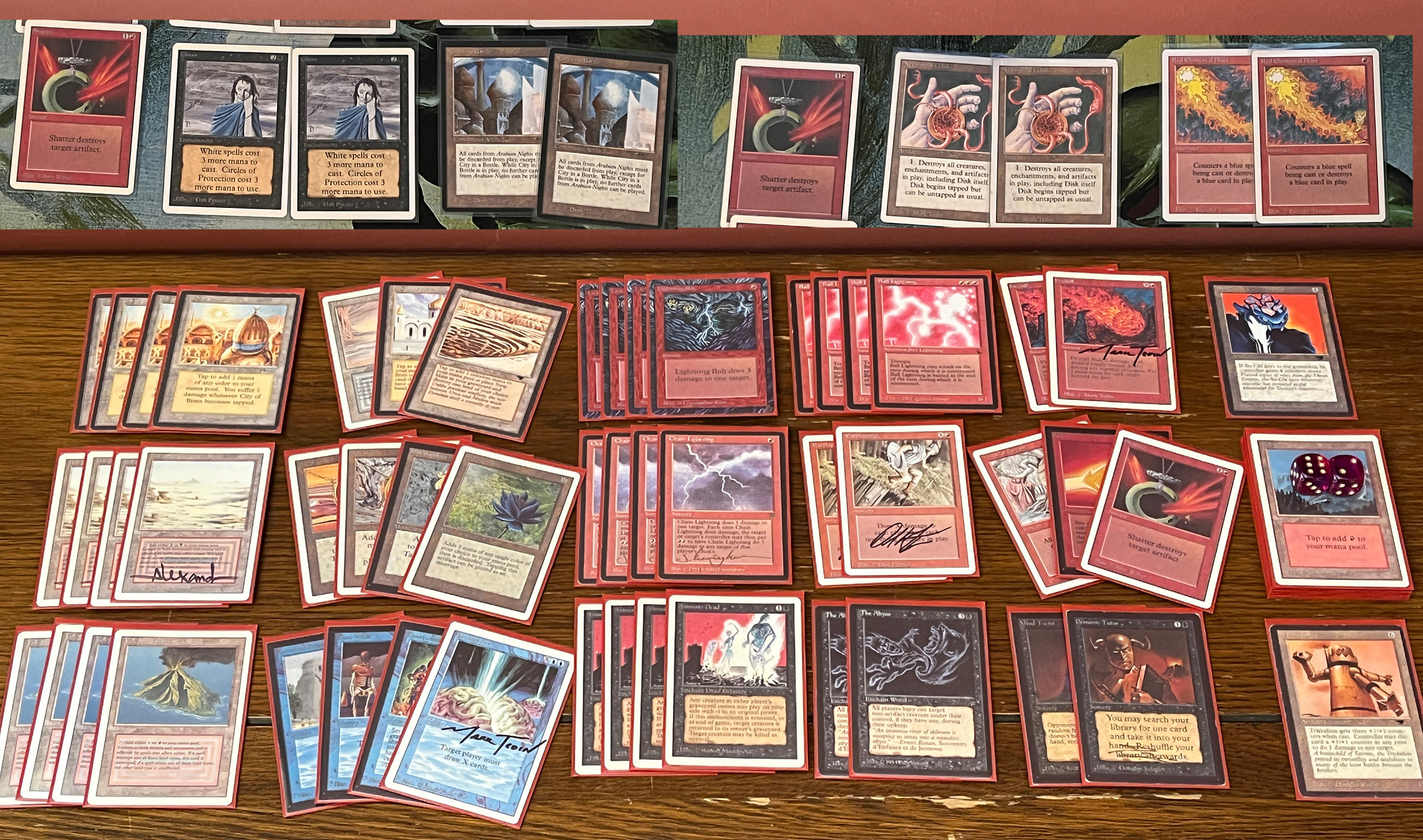 Andy Smith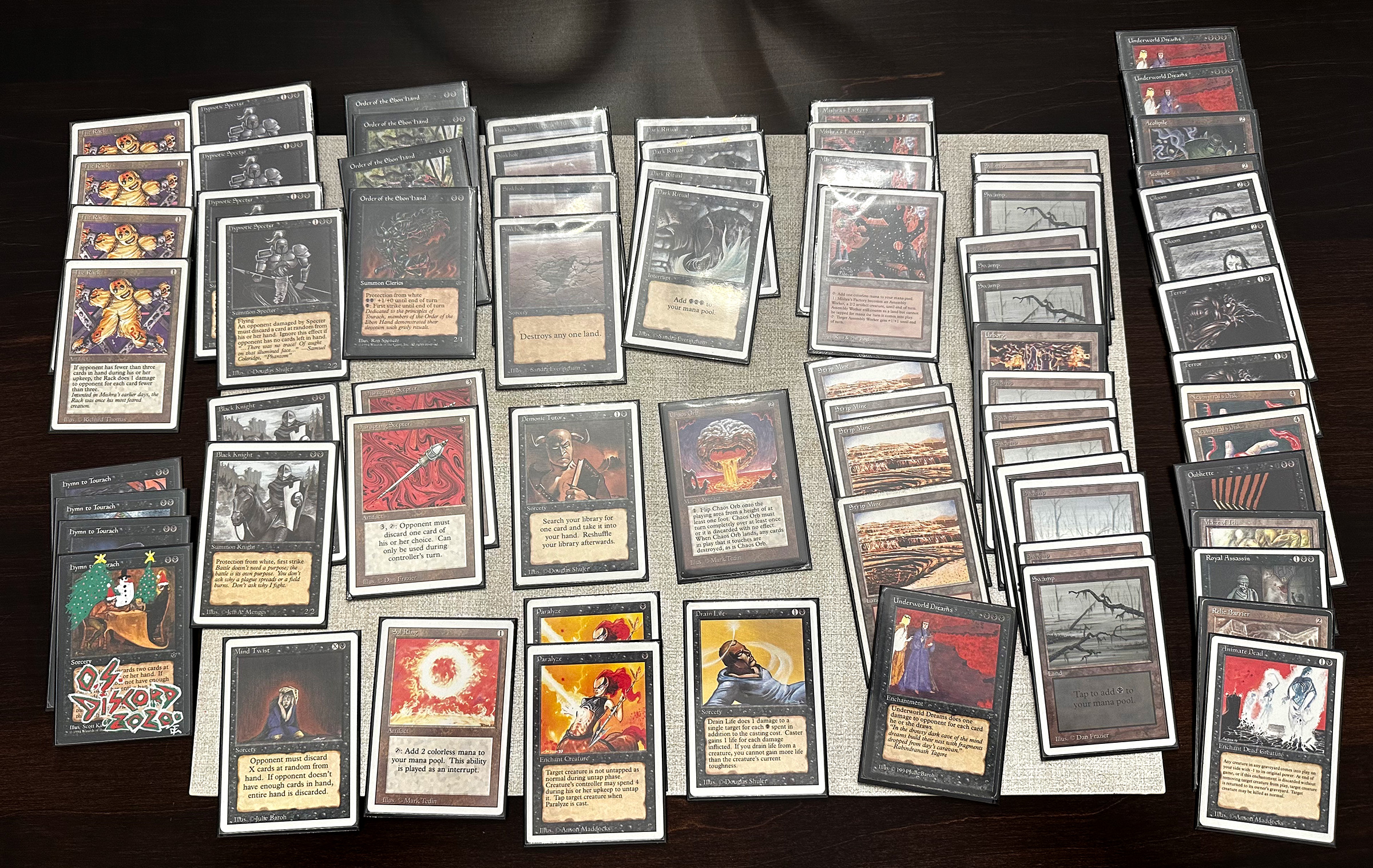 Ben Revell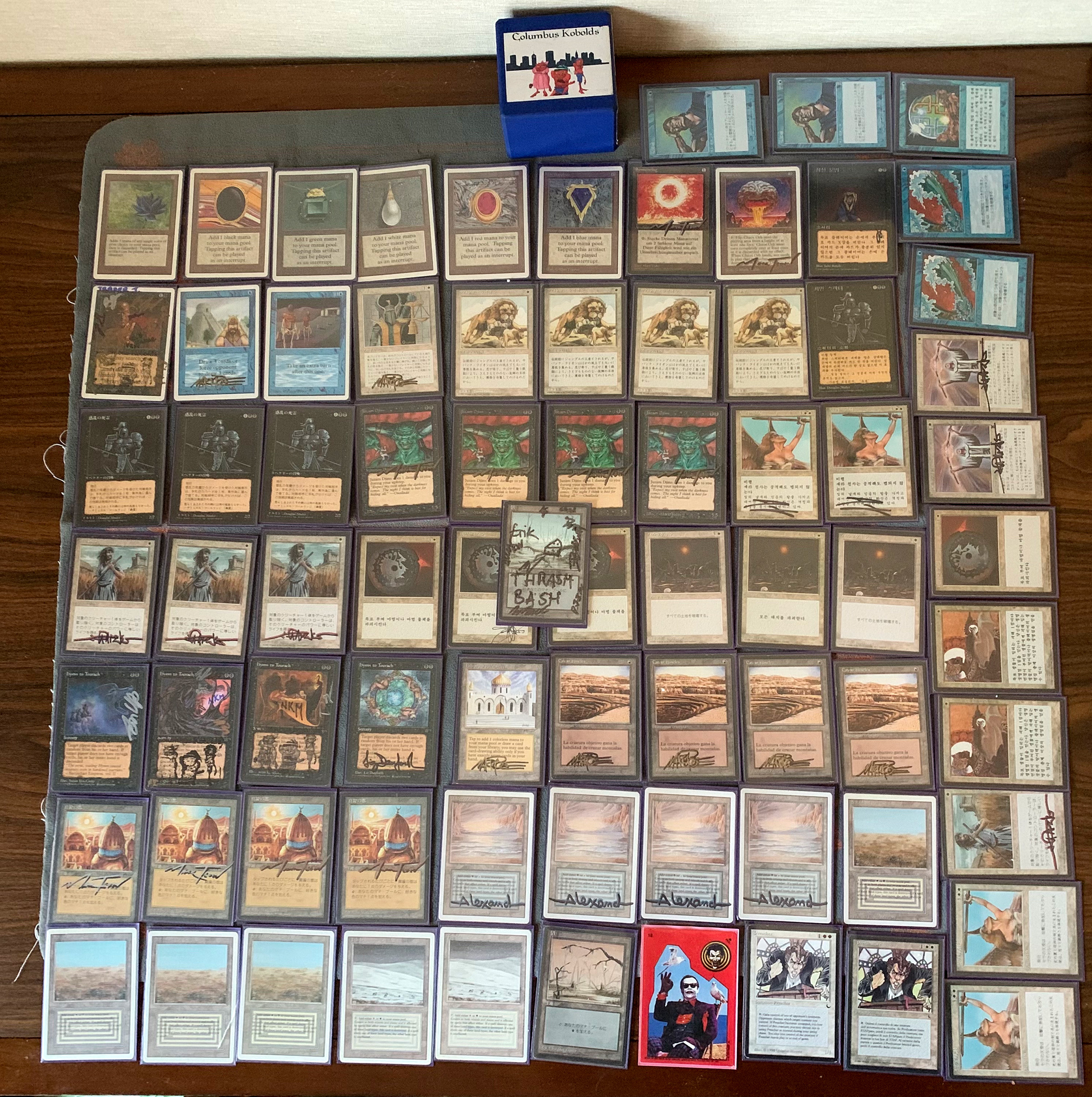 Biagio DeCioccio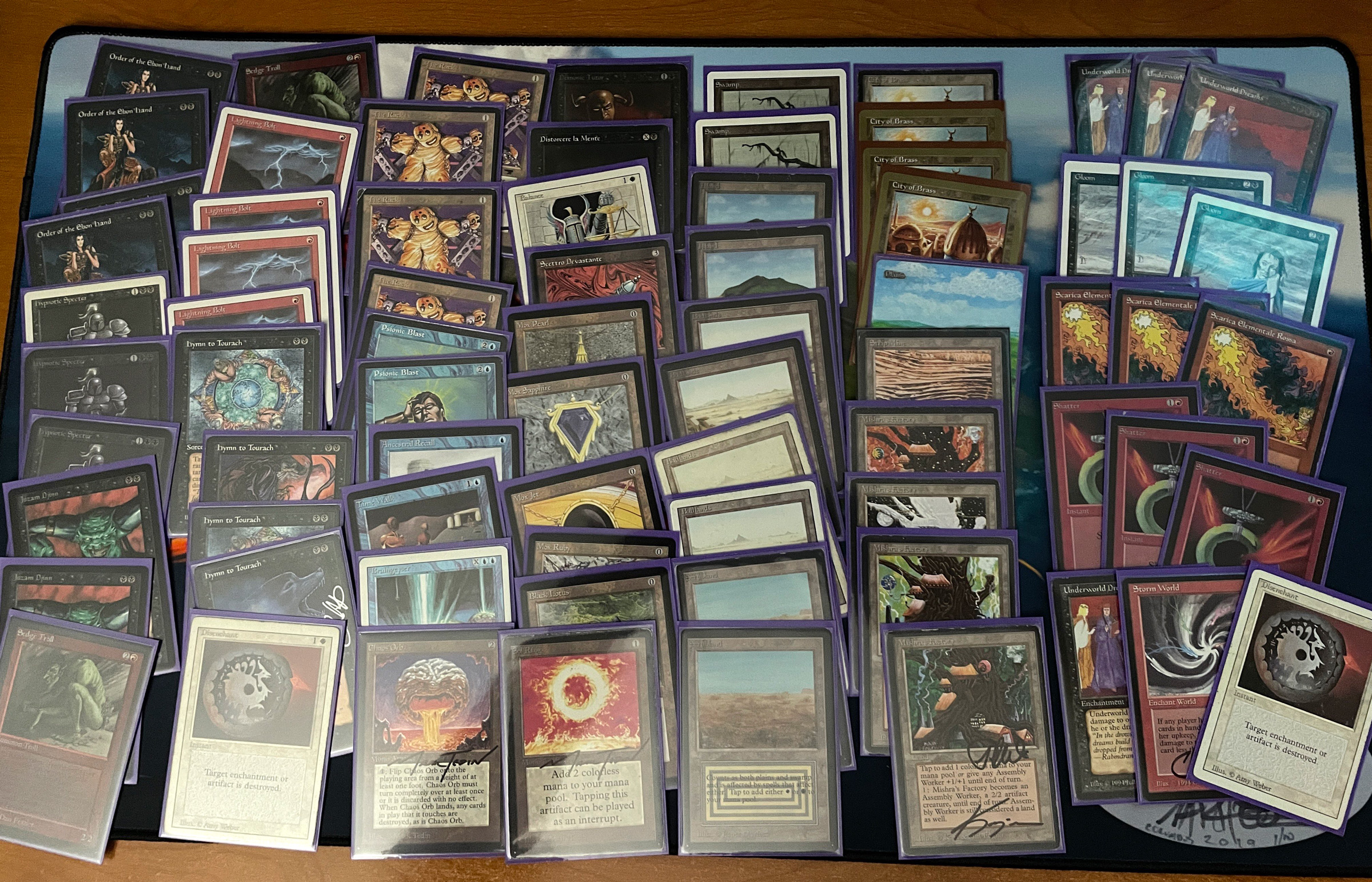 Brian Limbacher Most Hesh Deck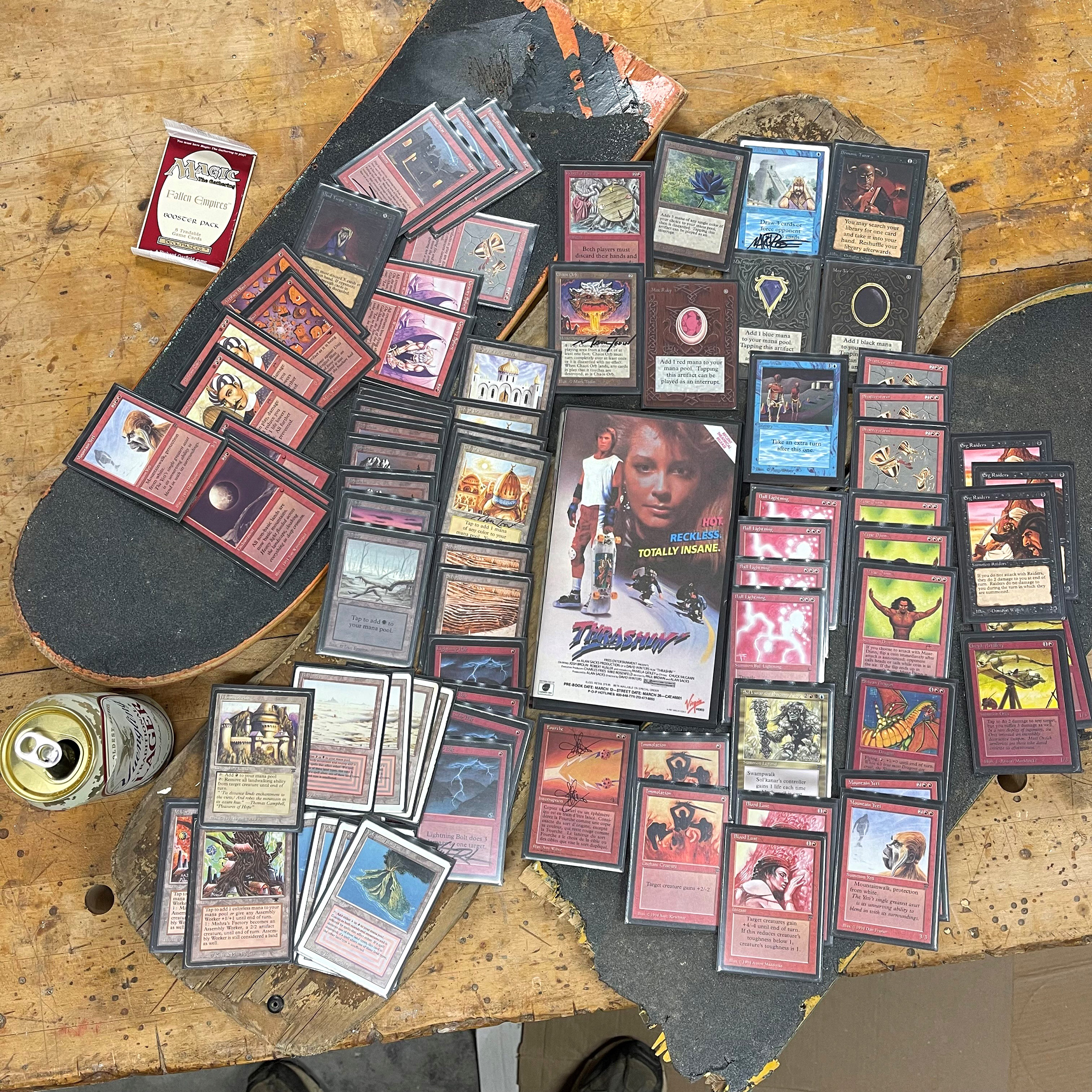 Byron Seabolt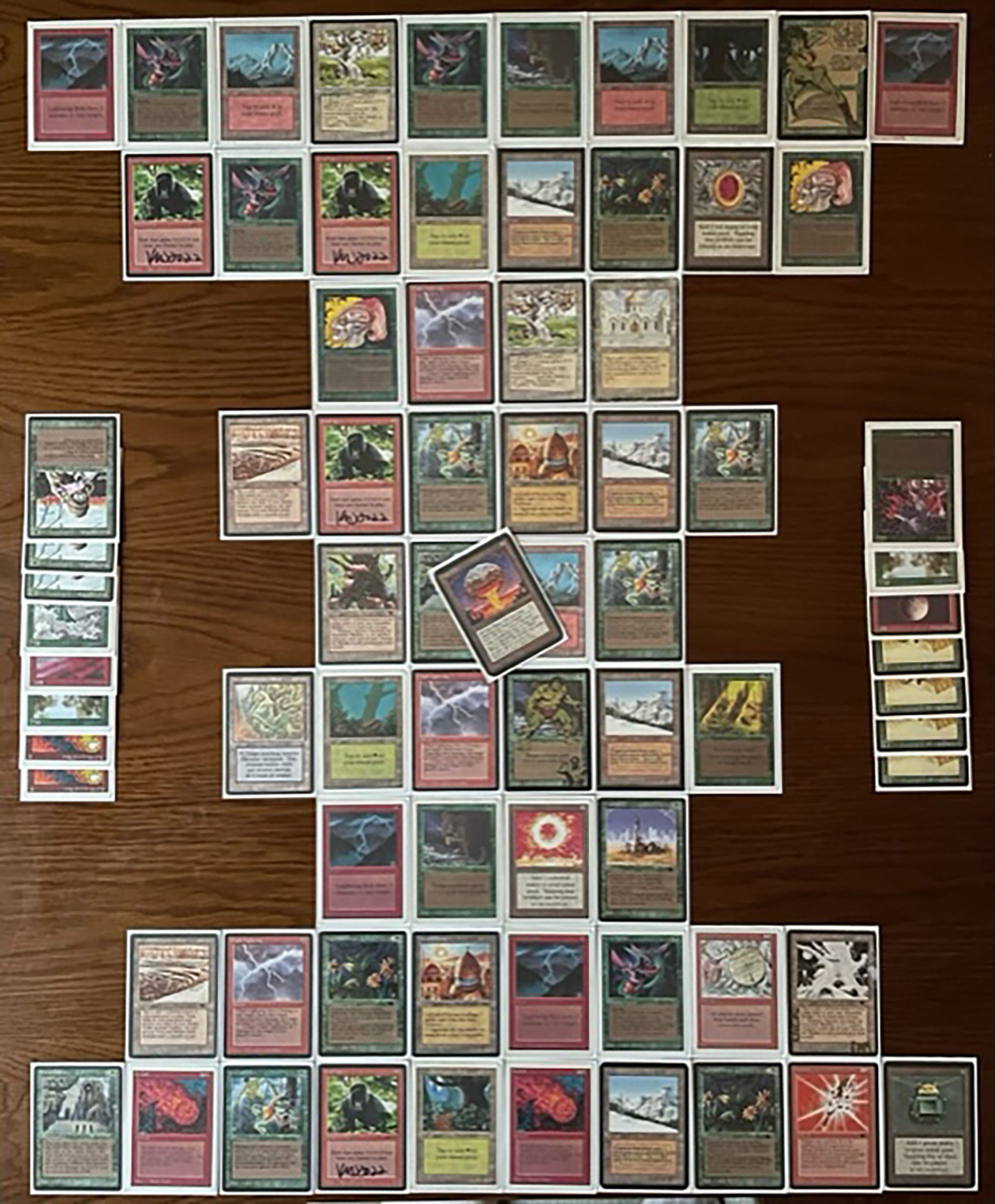 Chad Frazier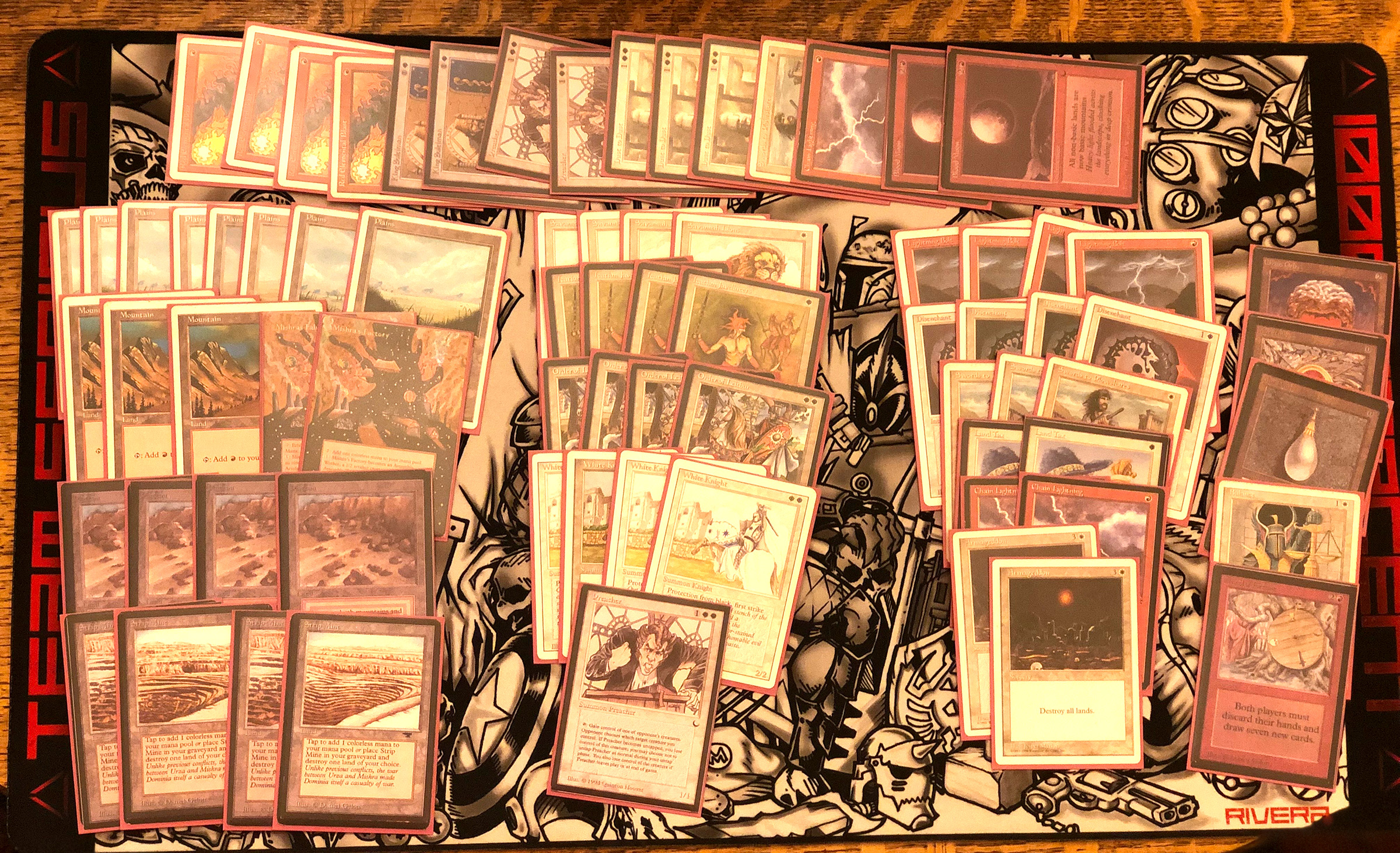 Colin Moser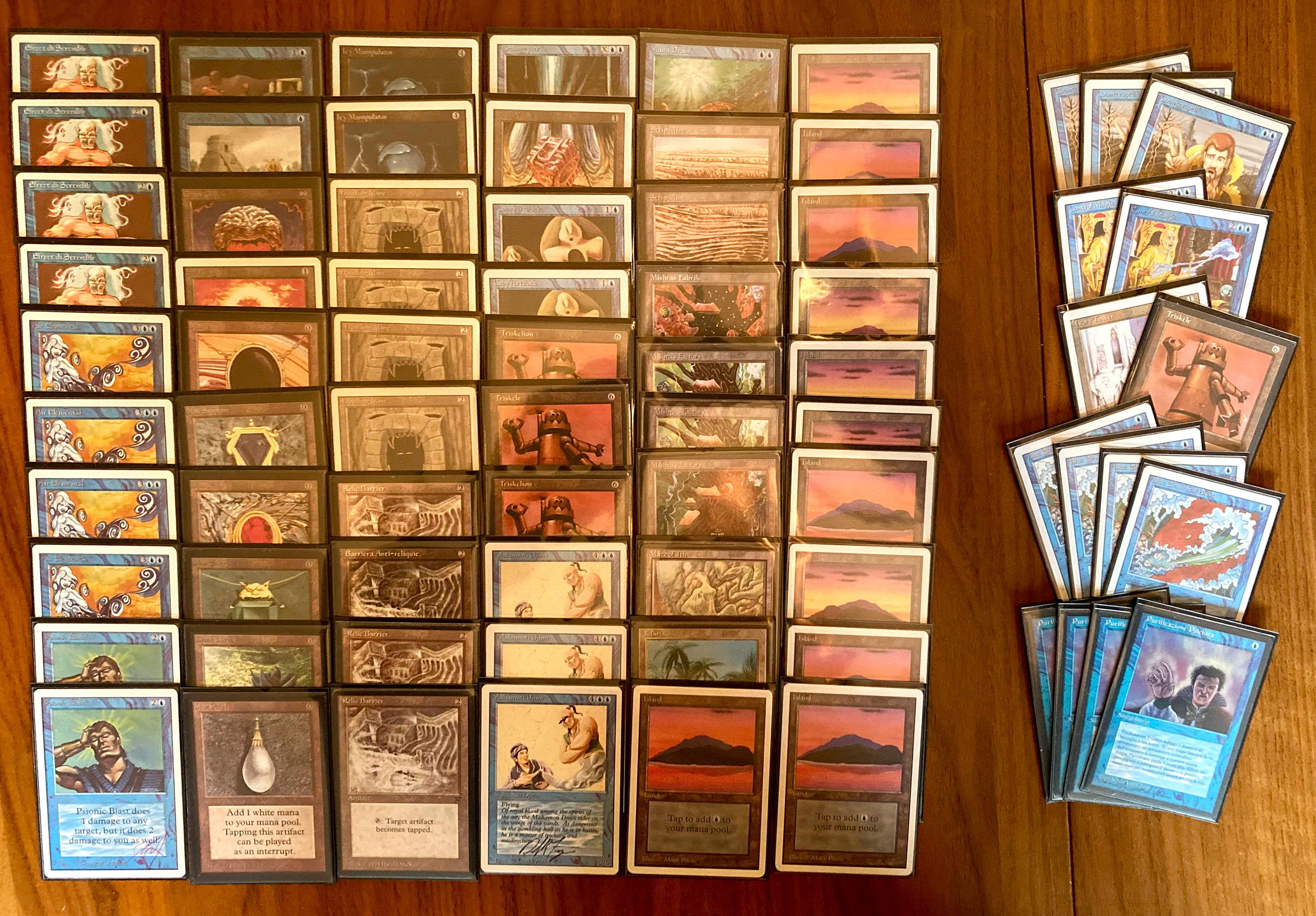 Dan Piquard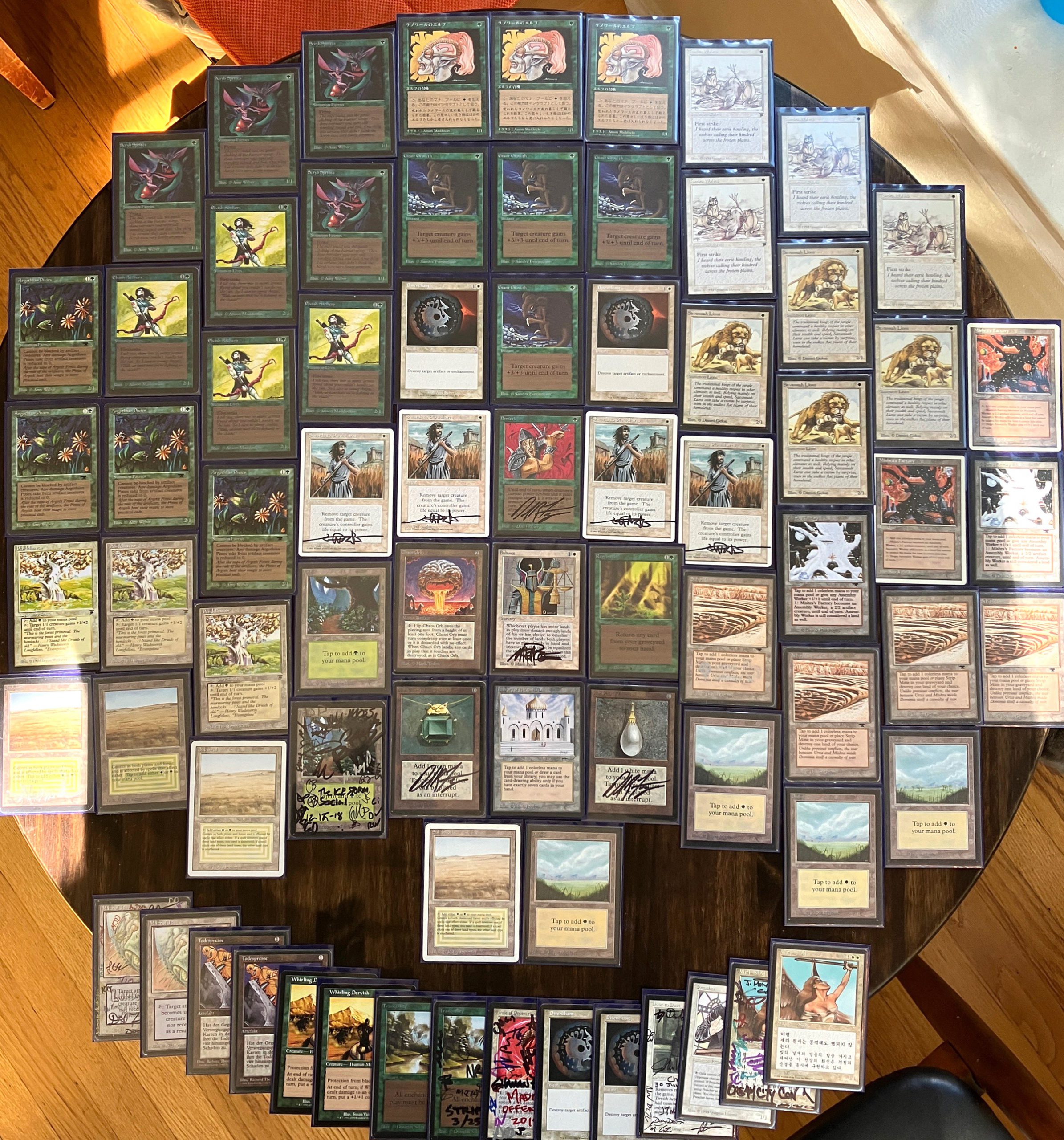 Dave Gura 2nd Place Swiss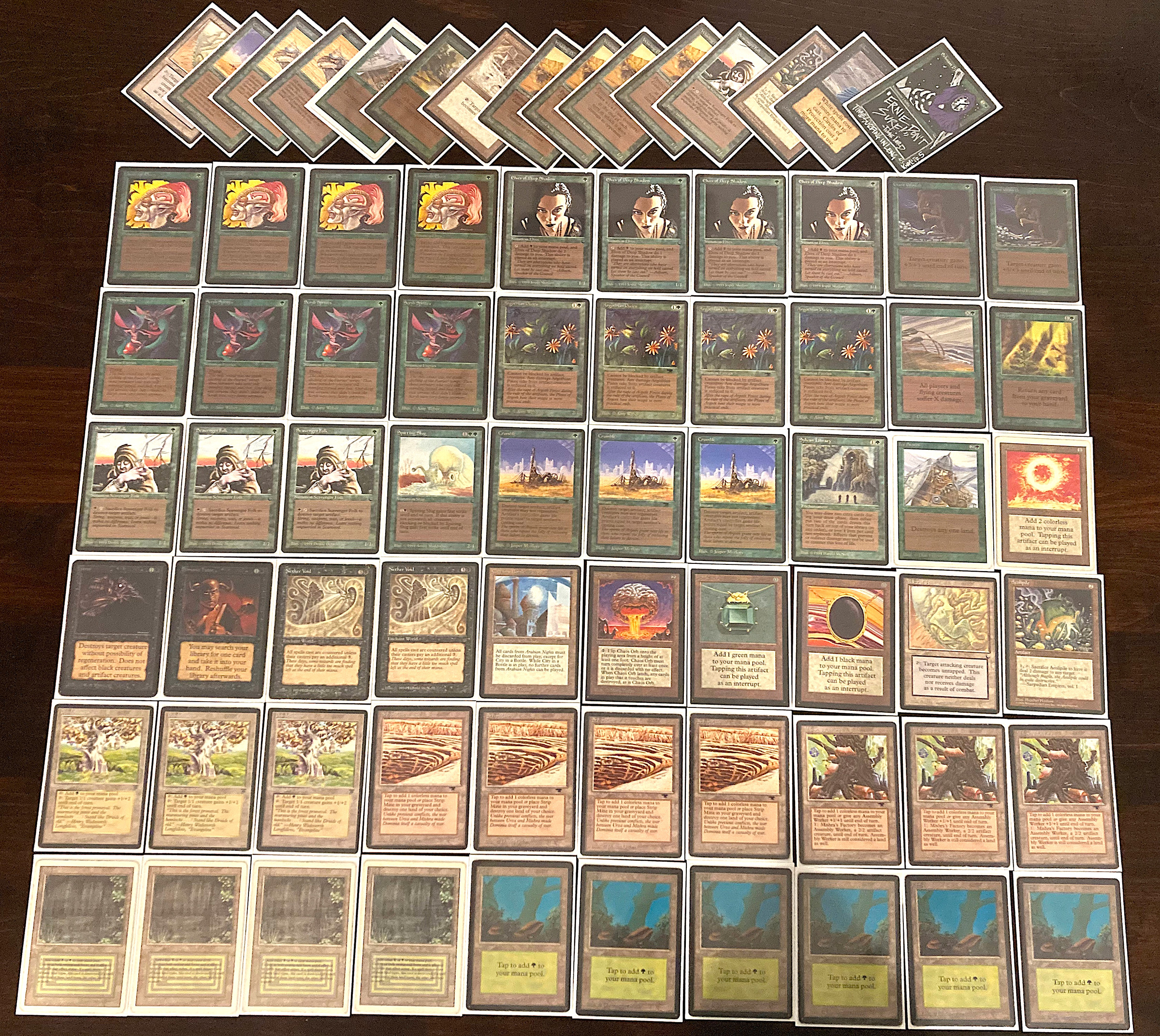 Eric Westfall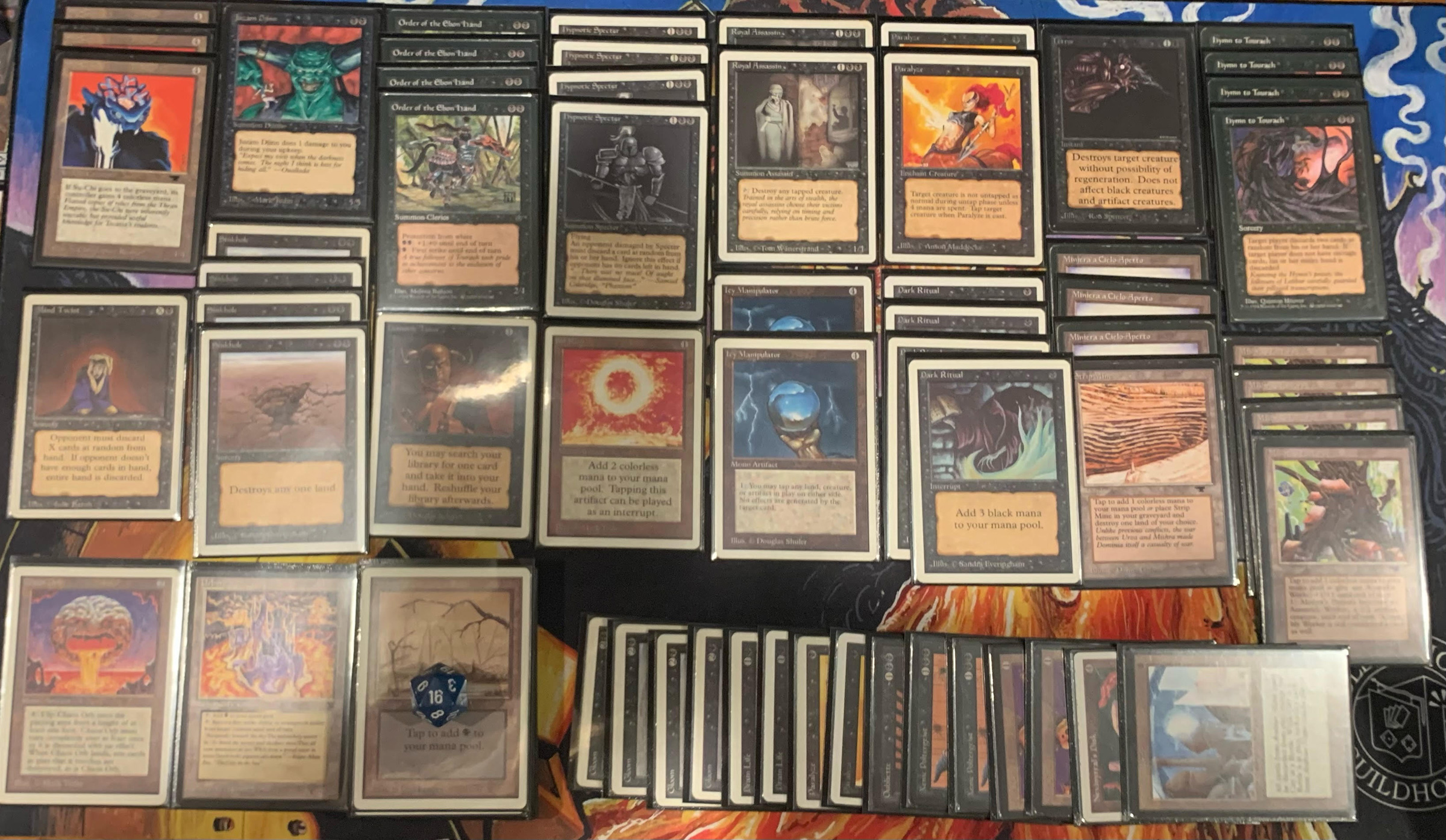 Erik Limbacher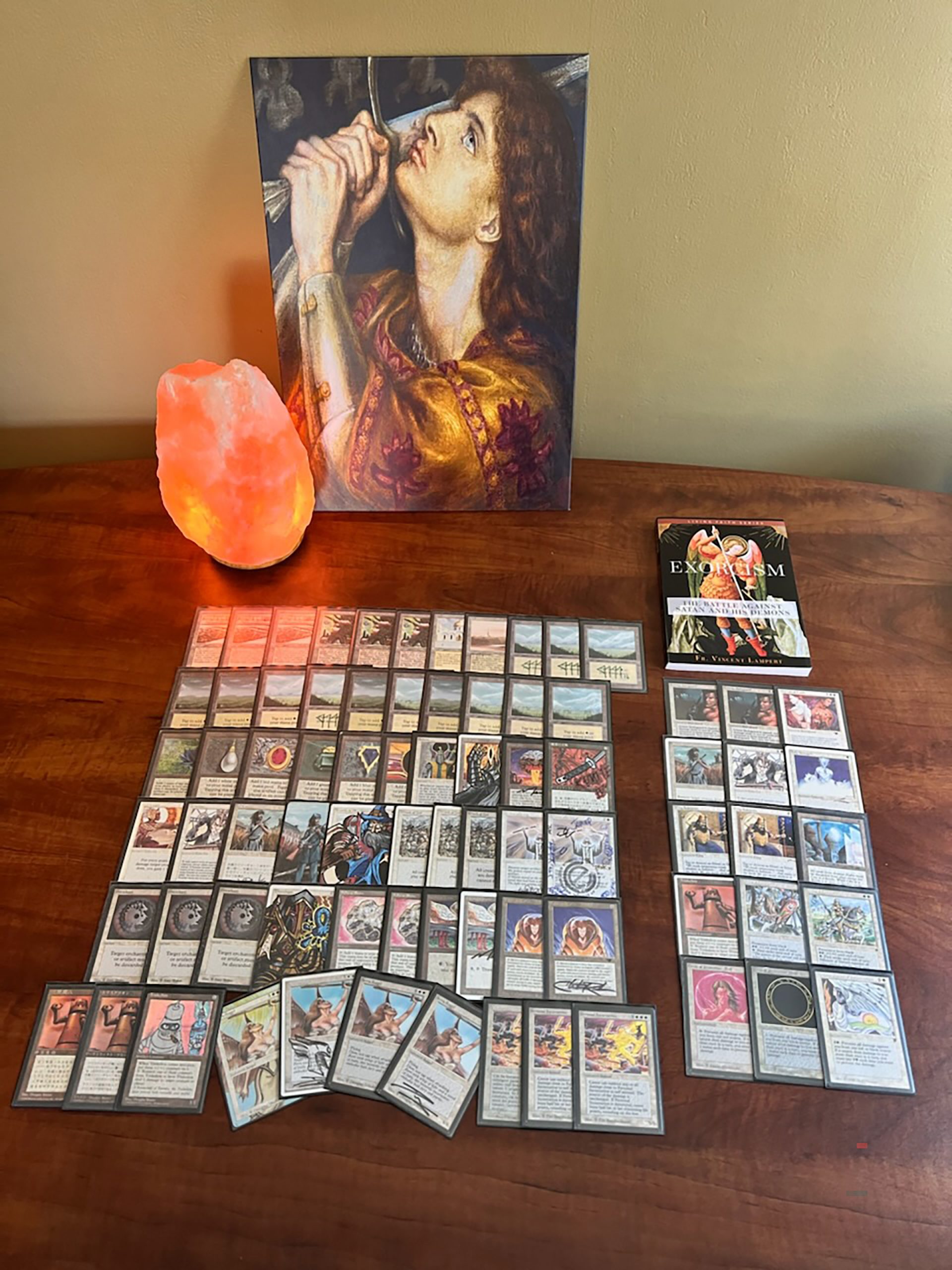 Forest Walton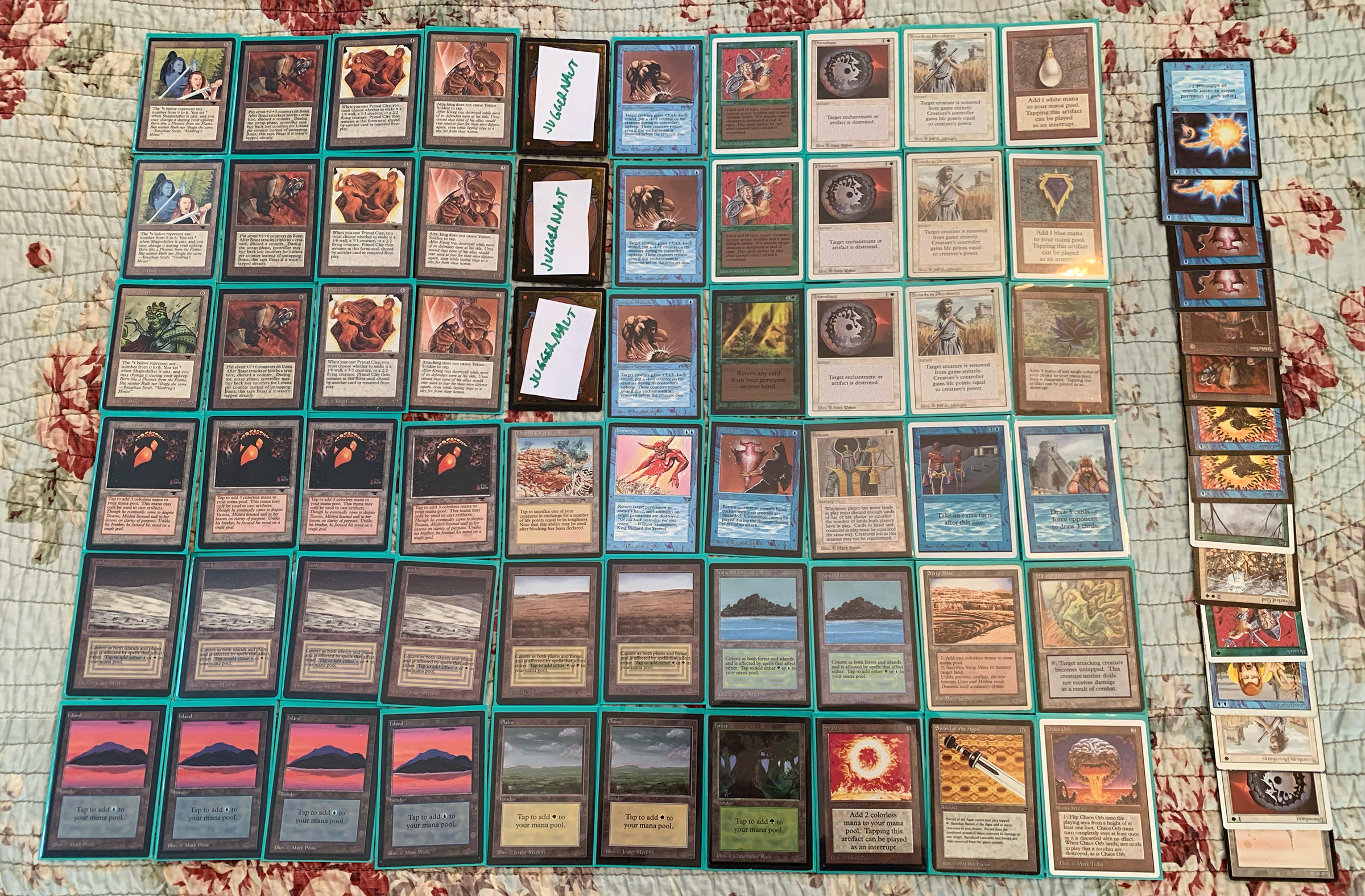 Greg Cummings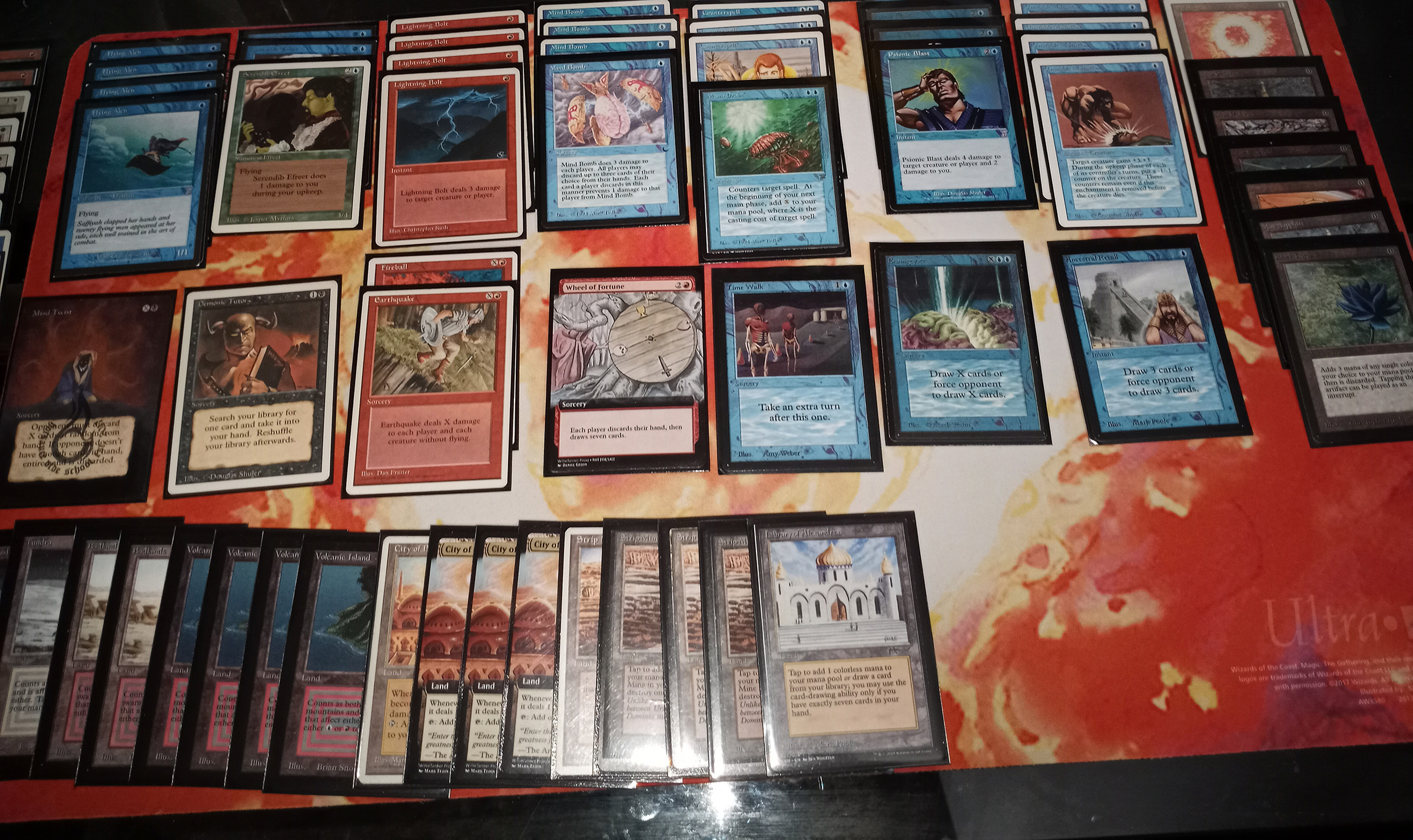 Jaco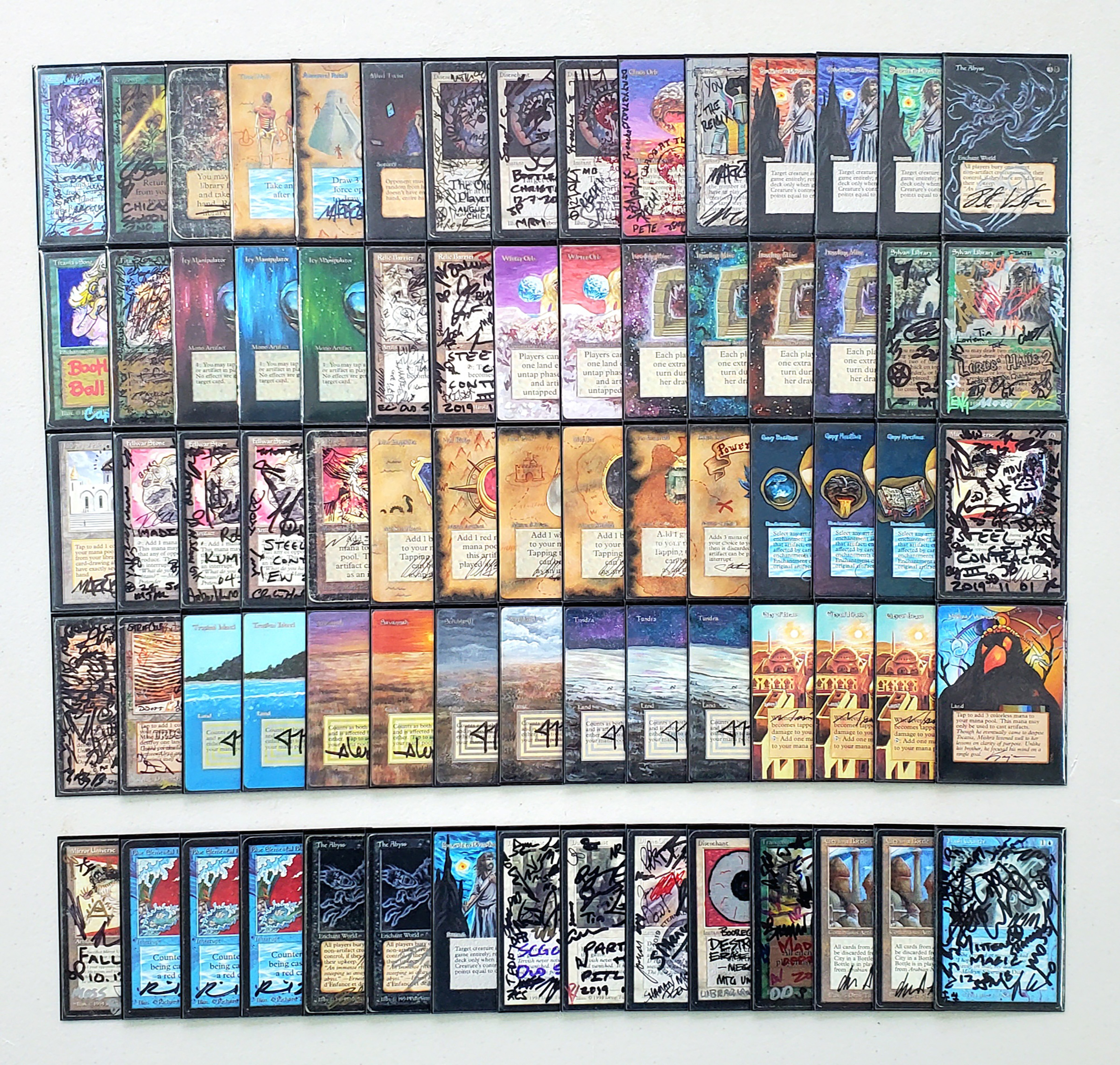 Joe Stacko 1st Place Swiss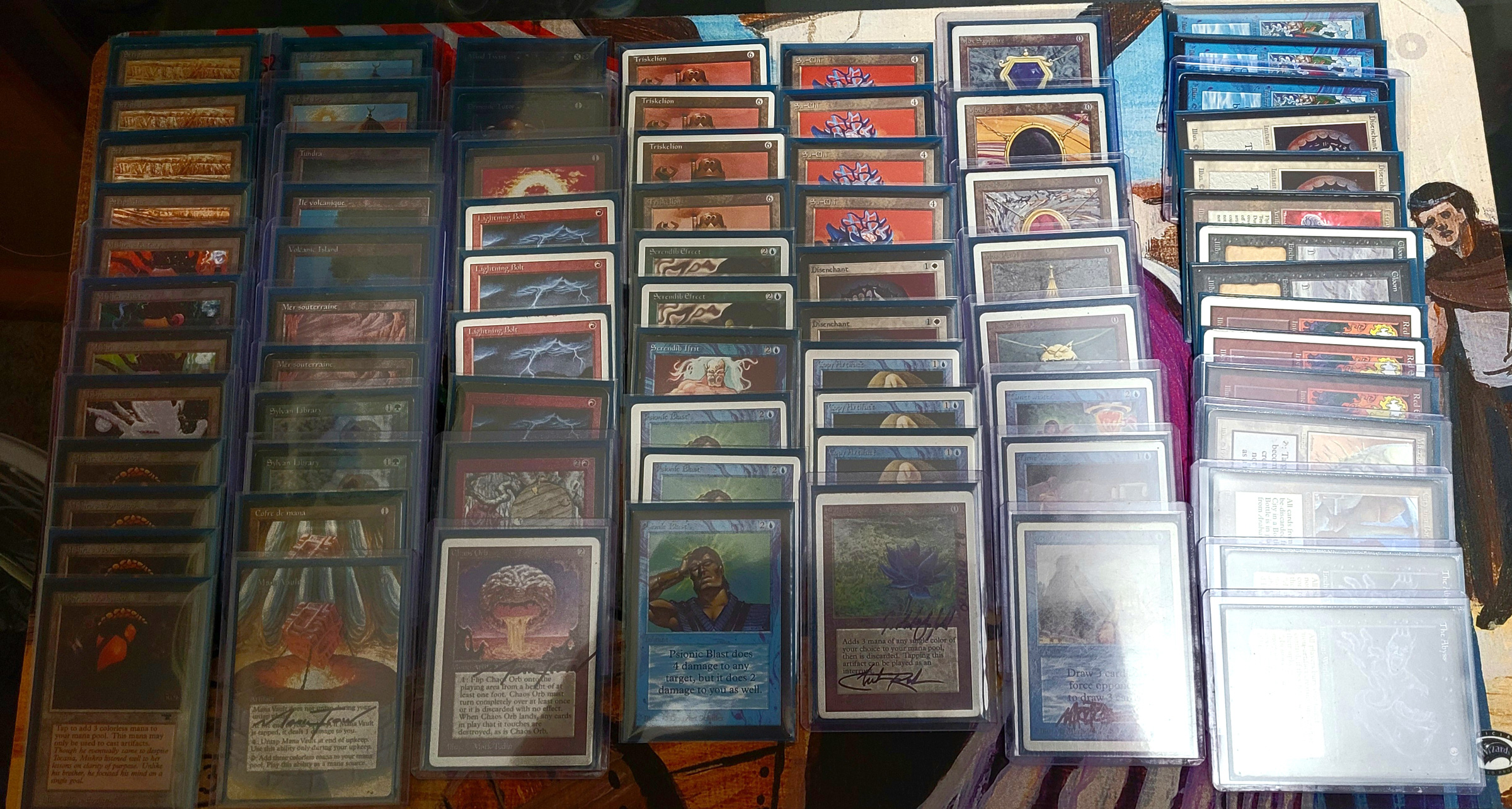 John Knerr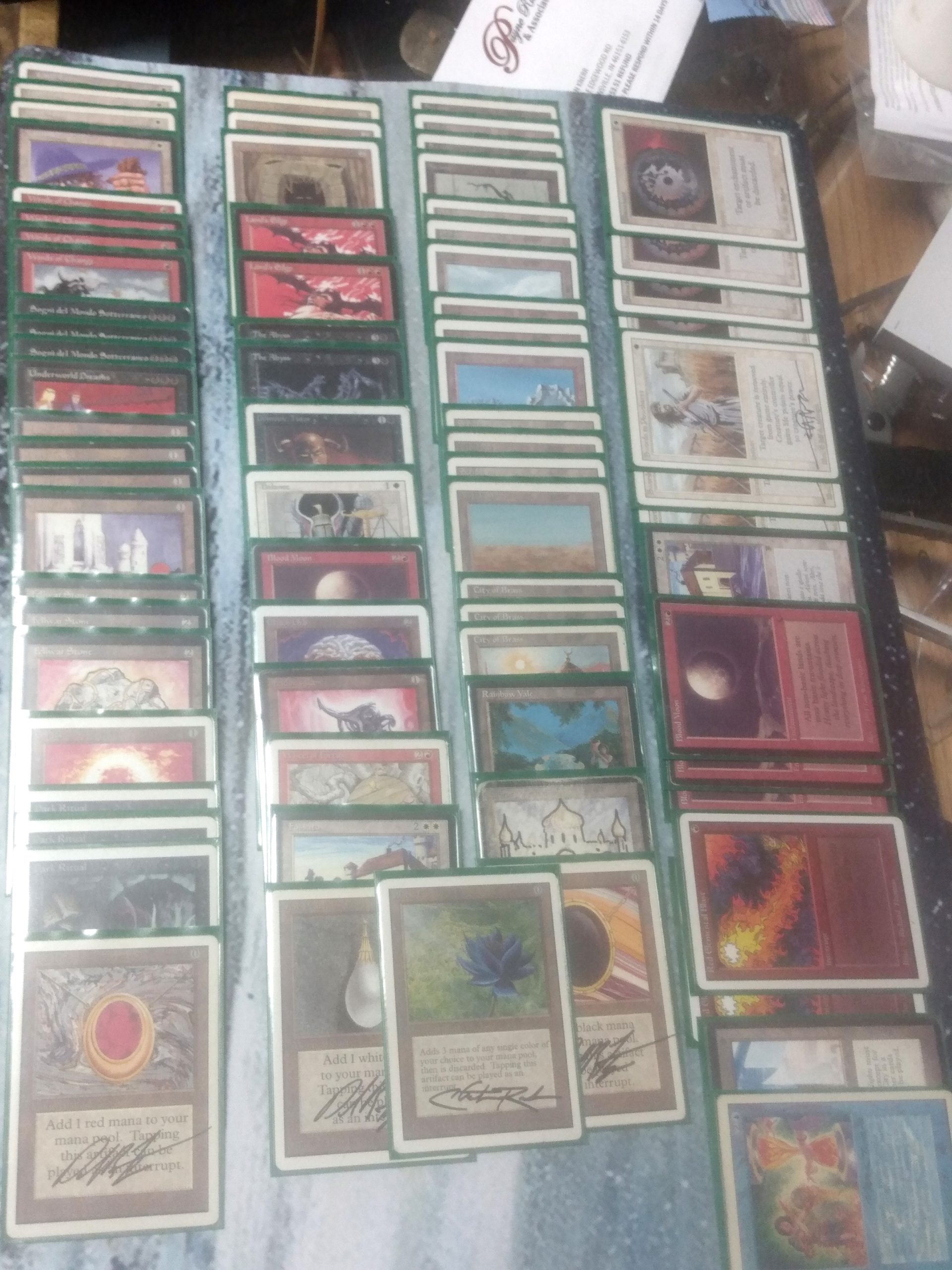 Jonathan Guillen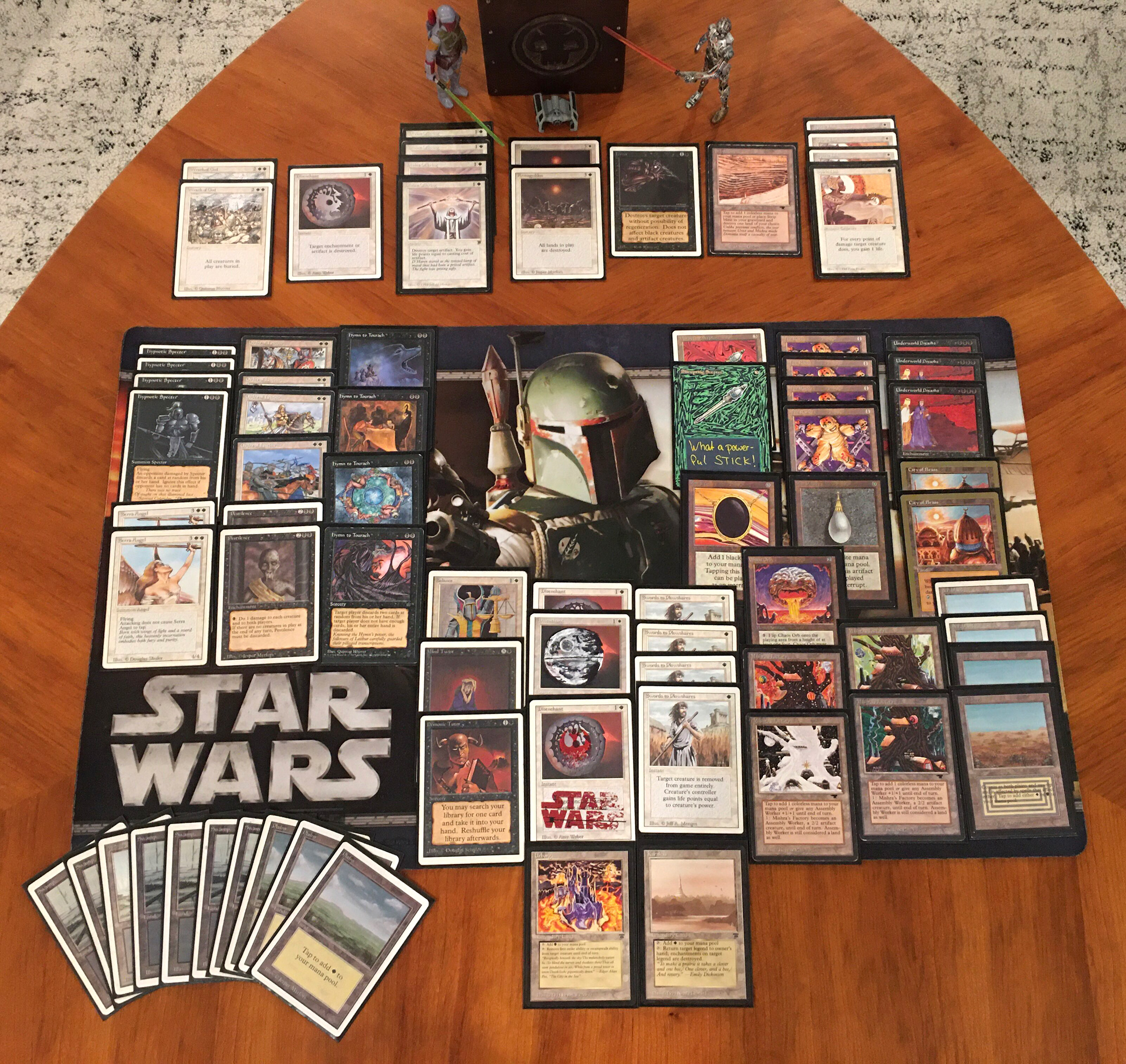 Jon Brne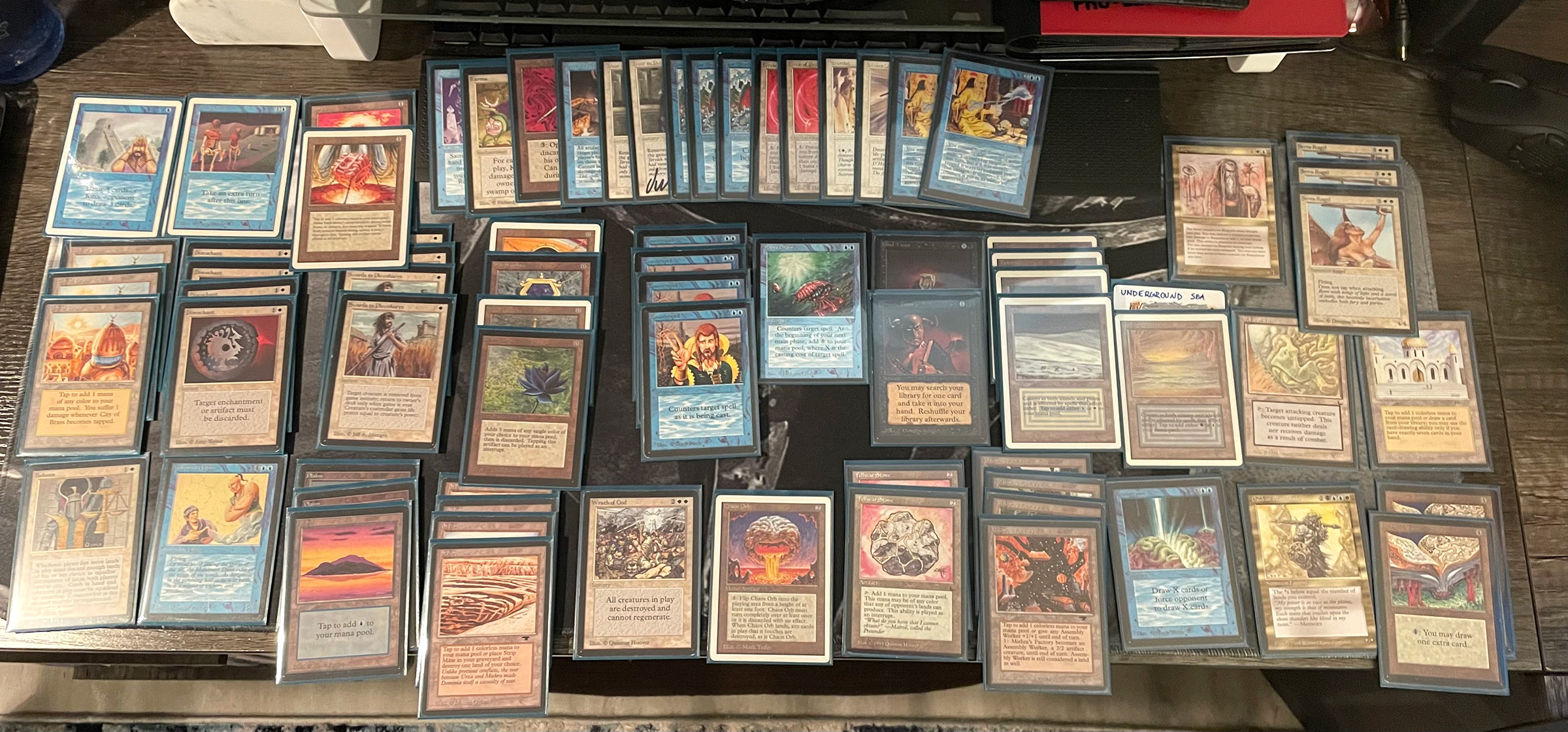 Jon Revell

Kevin Ballantine 4th Place Swiss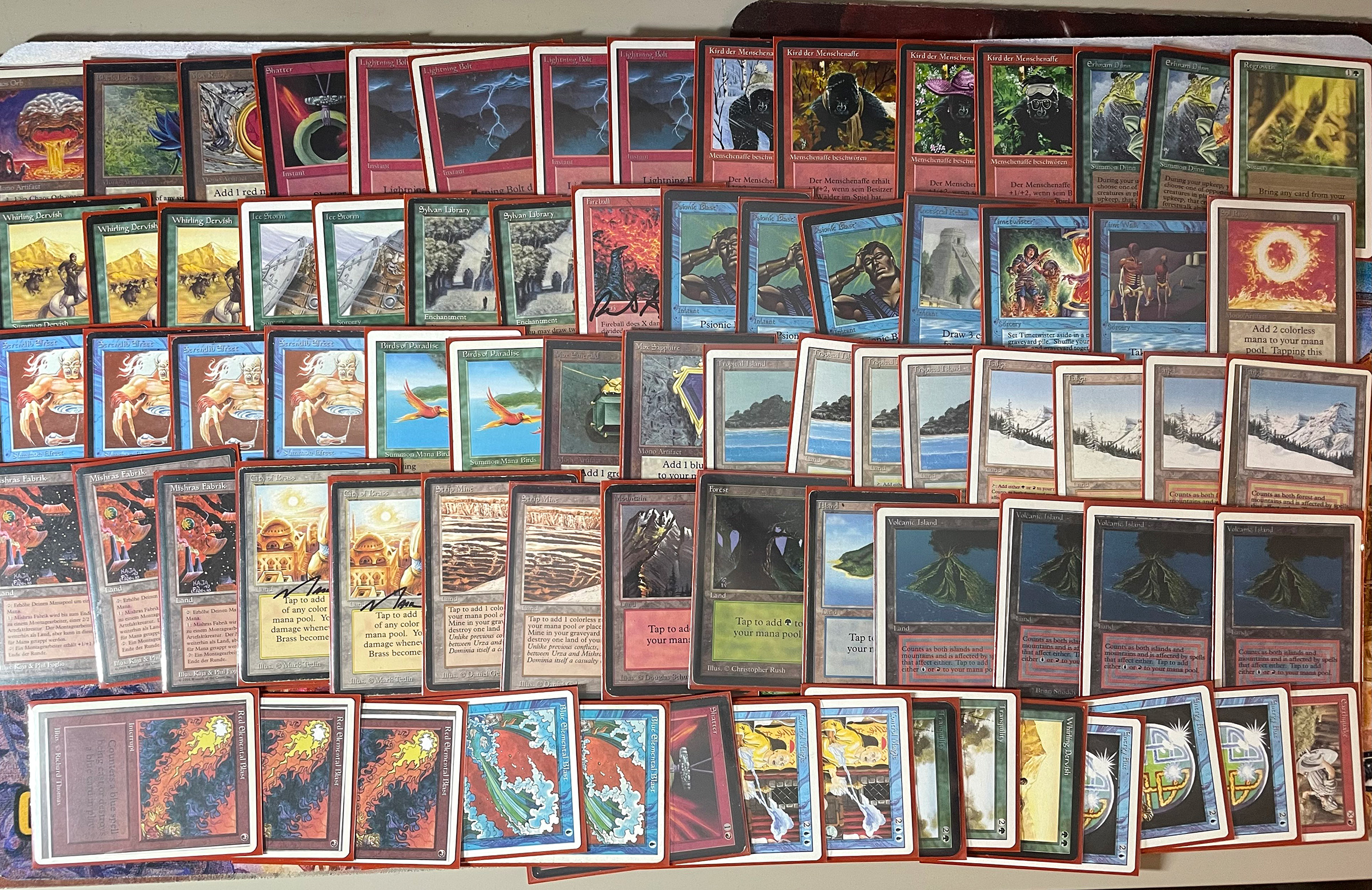 Kyle Wells First Blood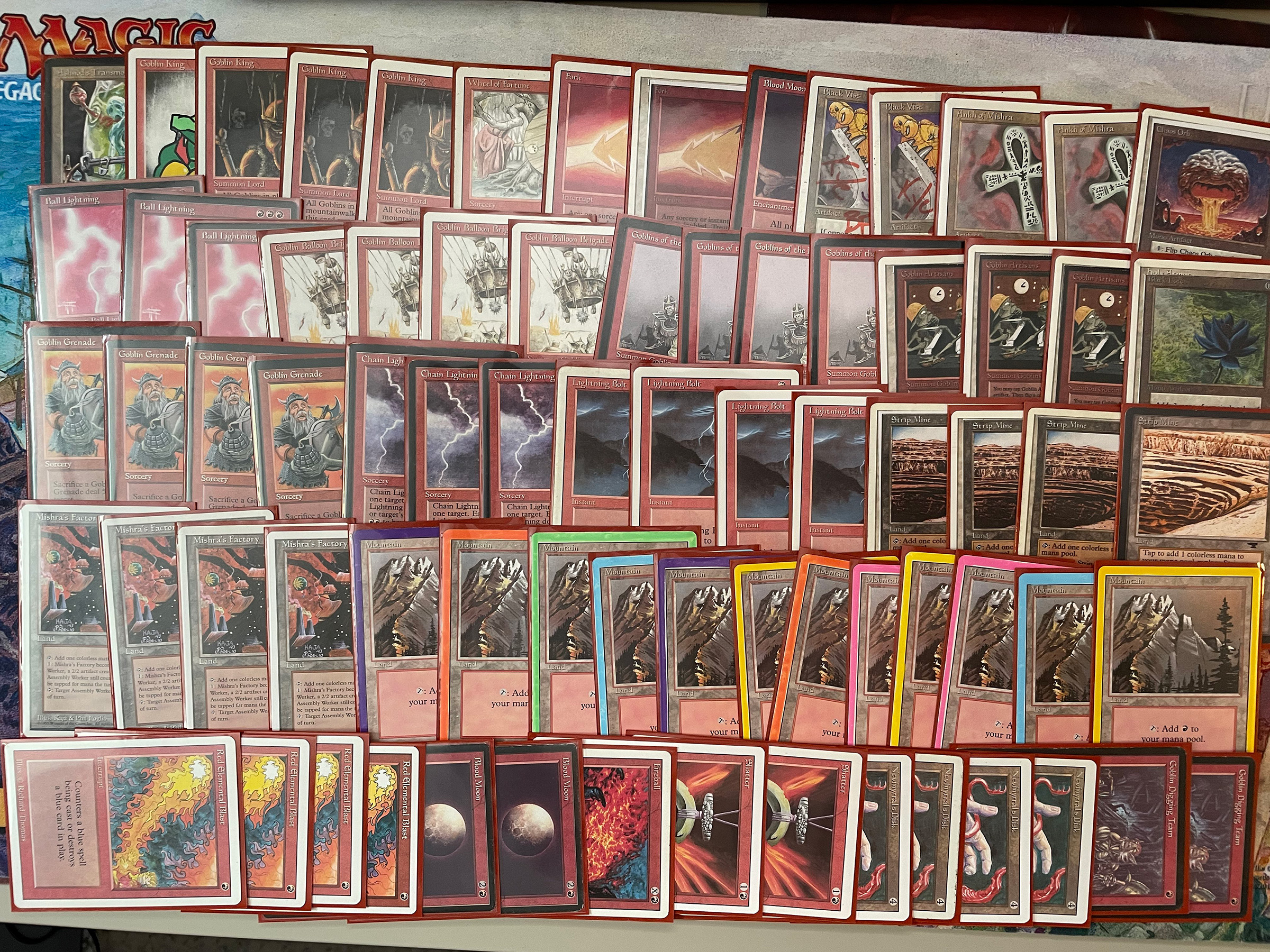 Matt Folk 3rd Place Swiss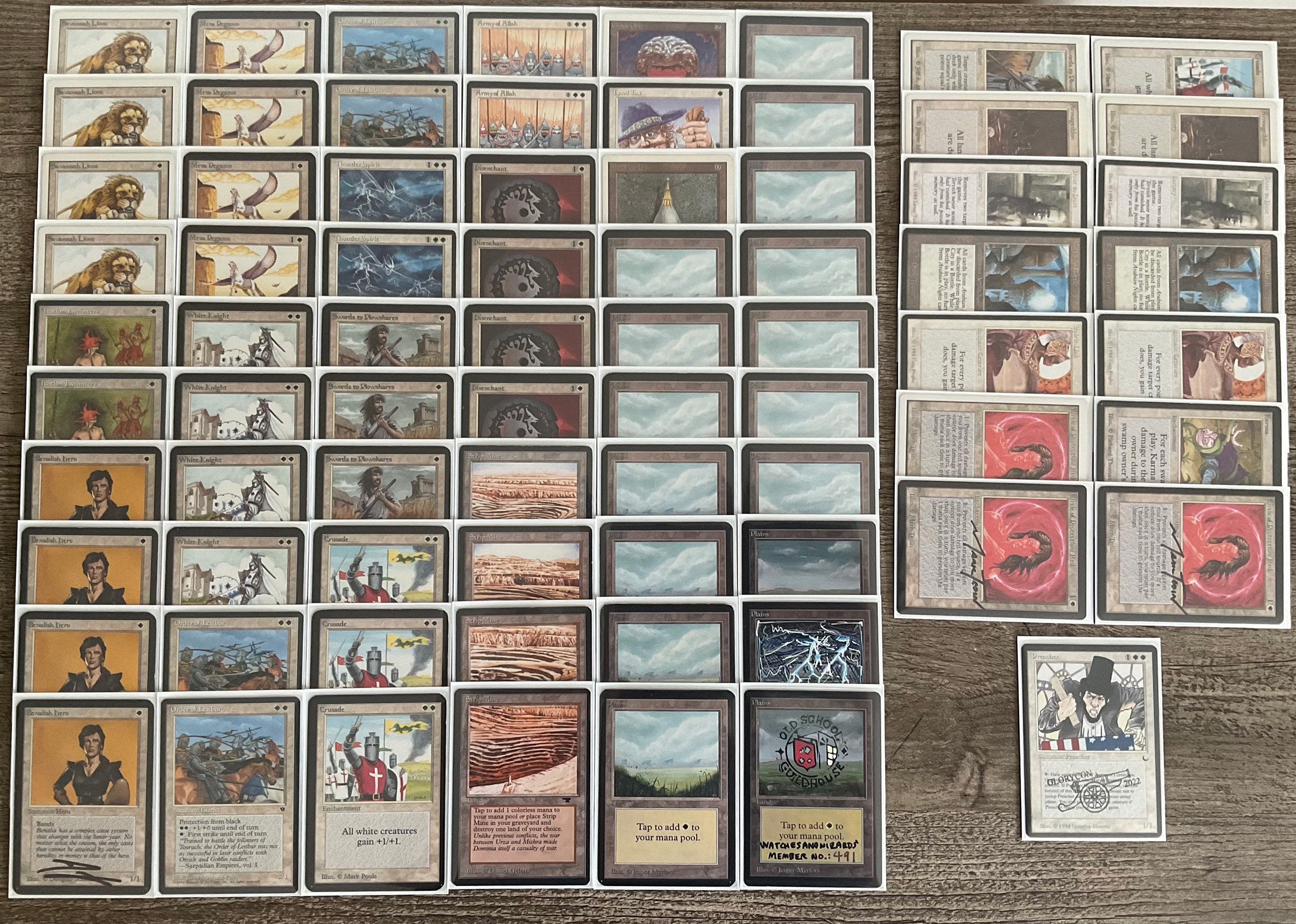 Matt Moss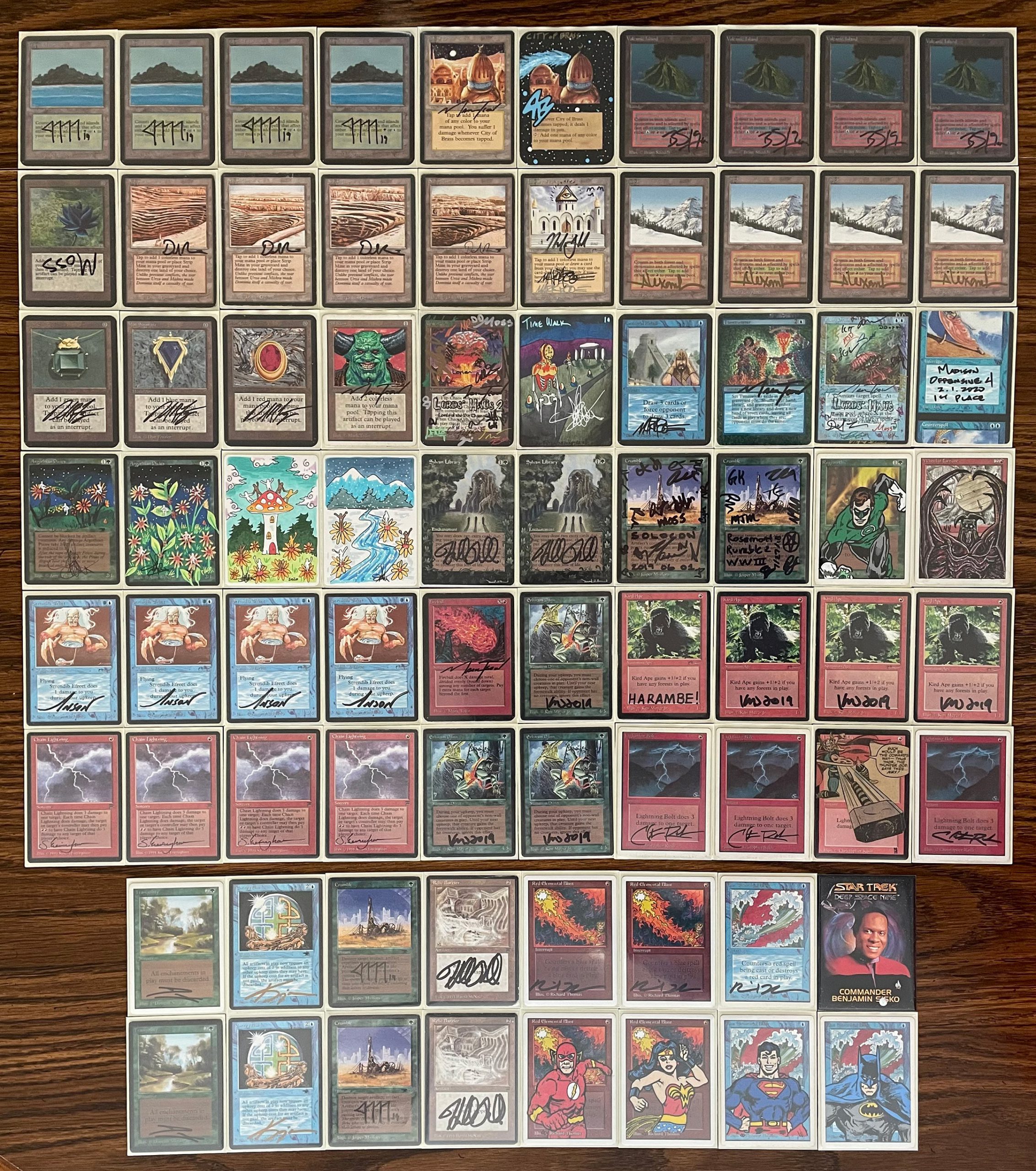 Mike Twombly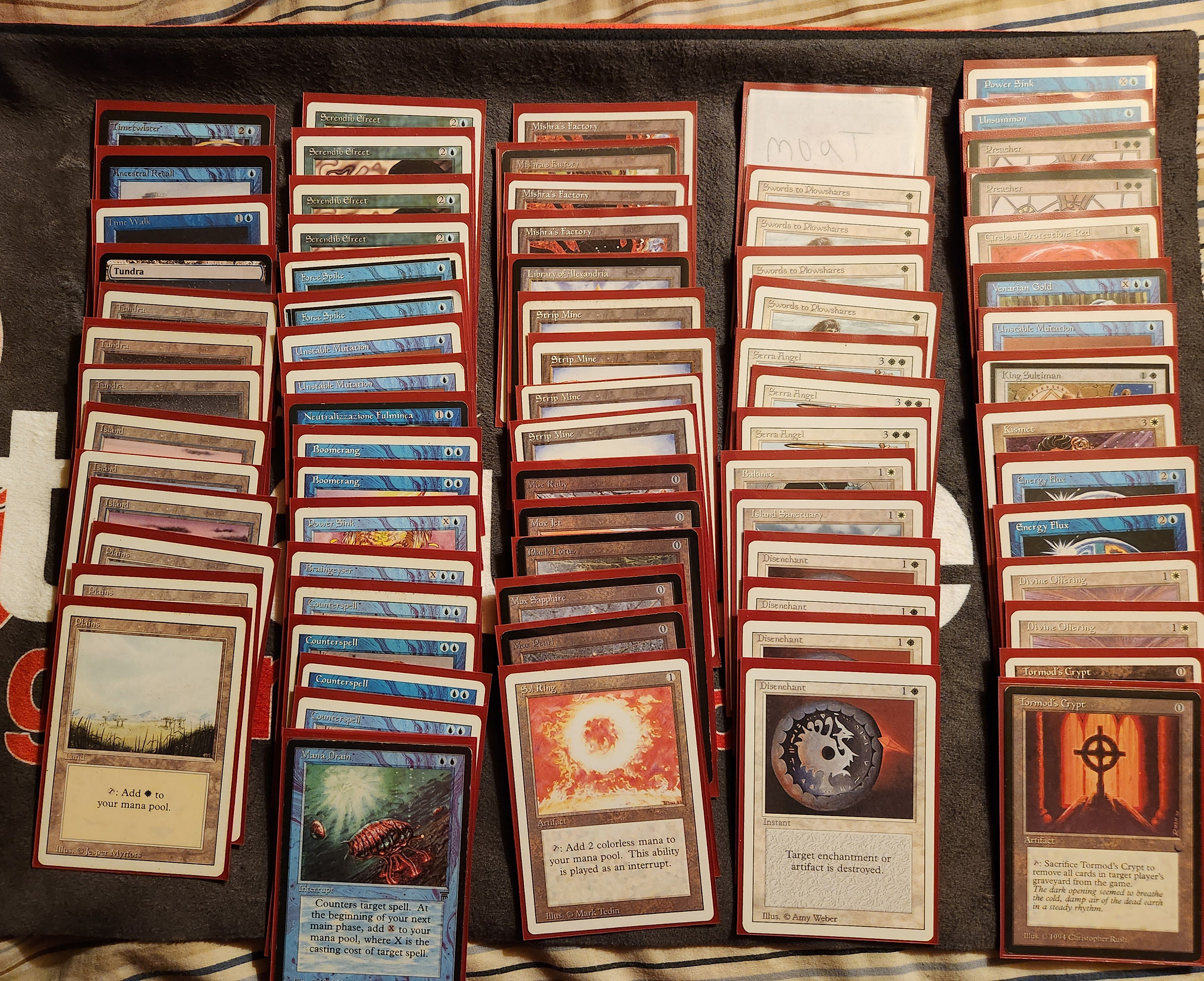 Scott Hacksworth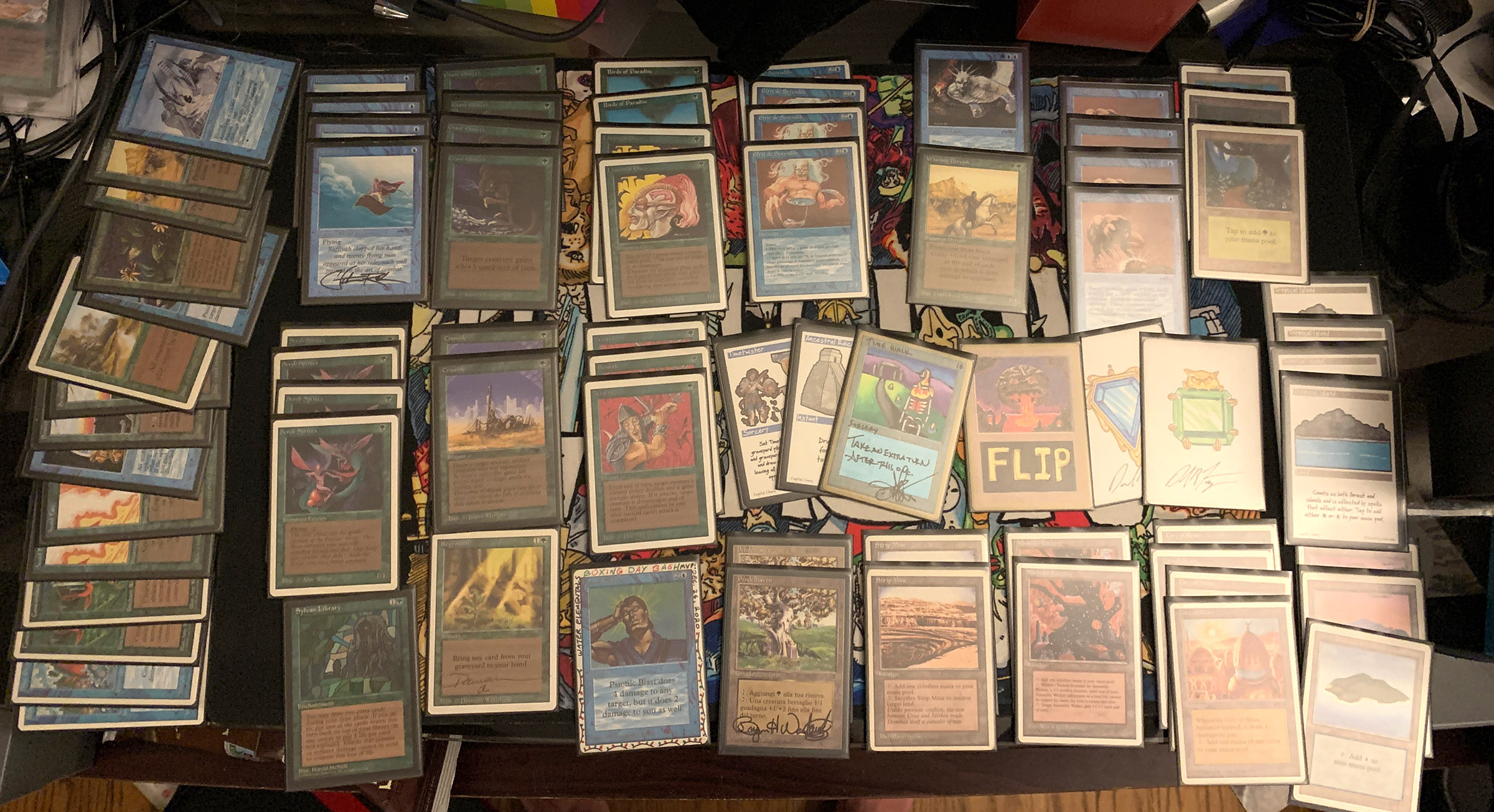 Stephen Moore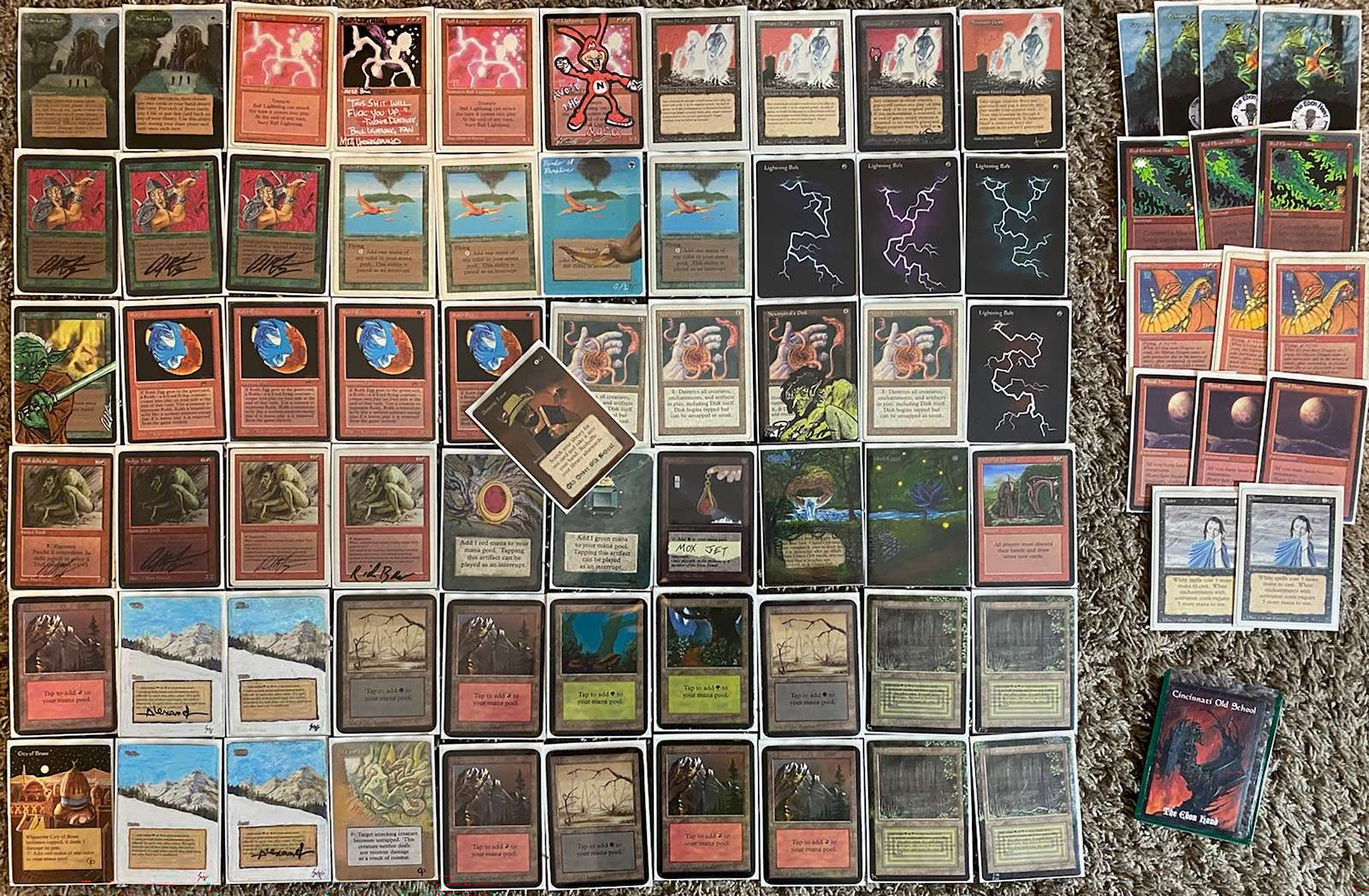 Tournament Action
Thrash Bash 2022 Participants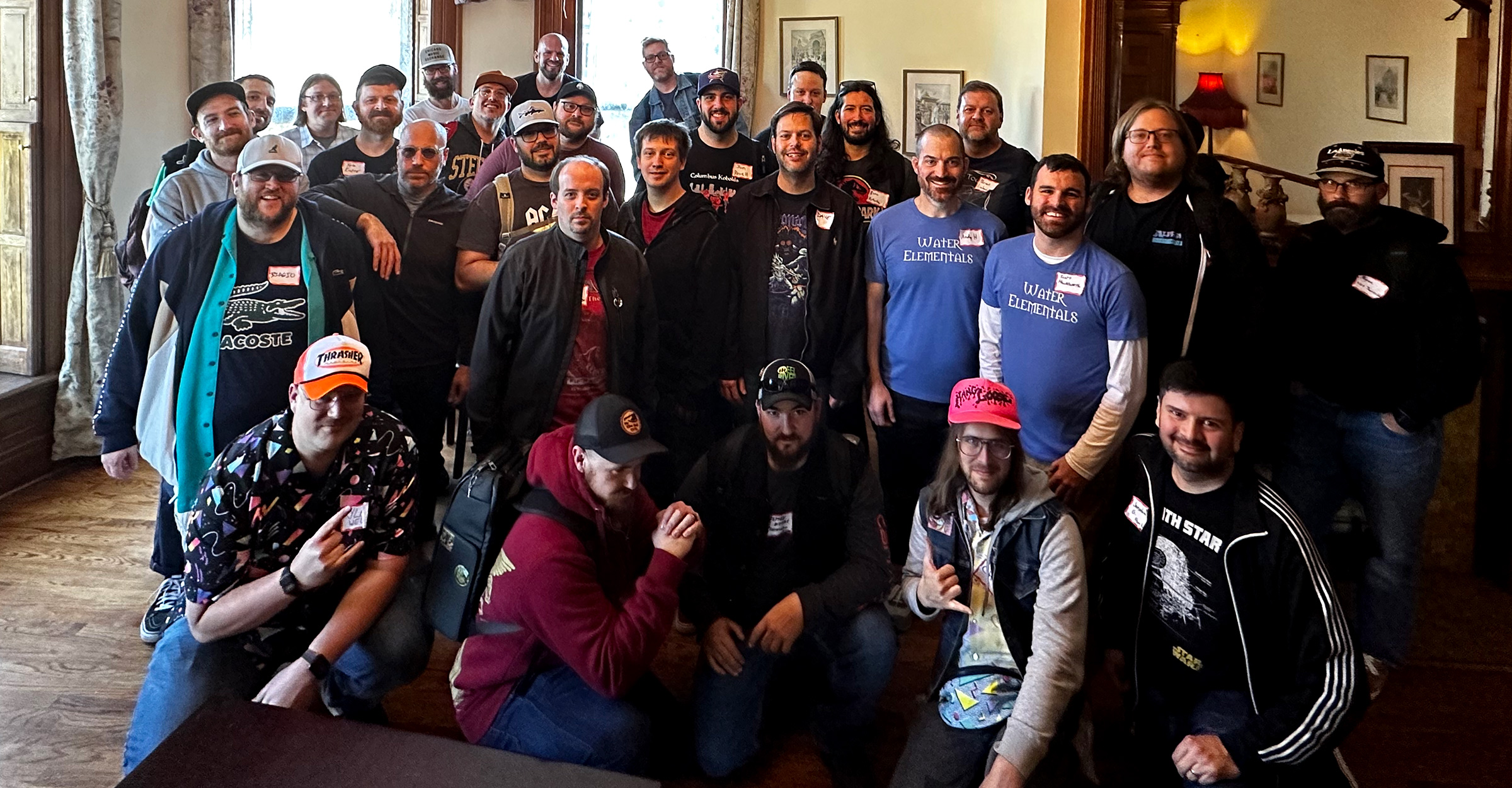 Kyle Wells displays First Blood + sandwich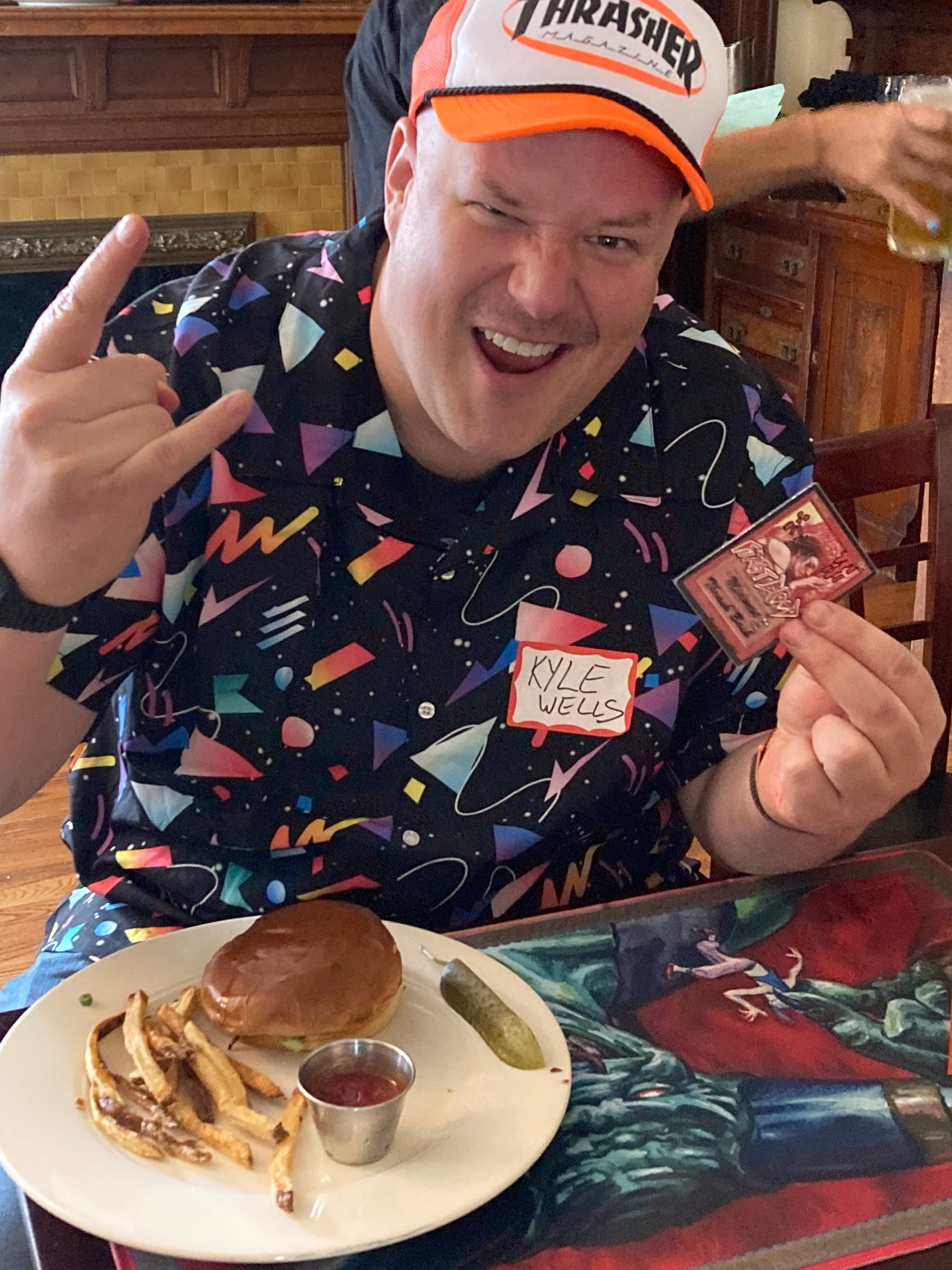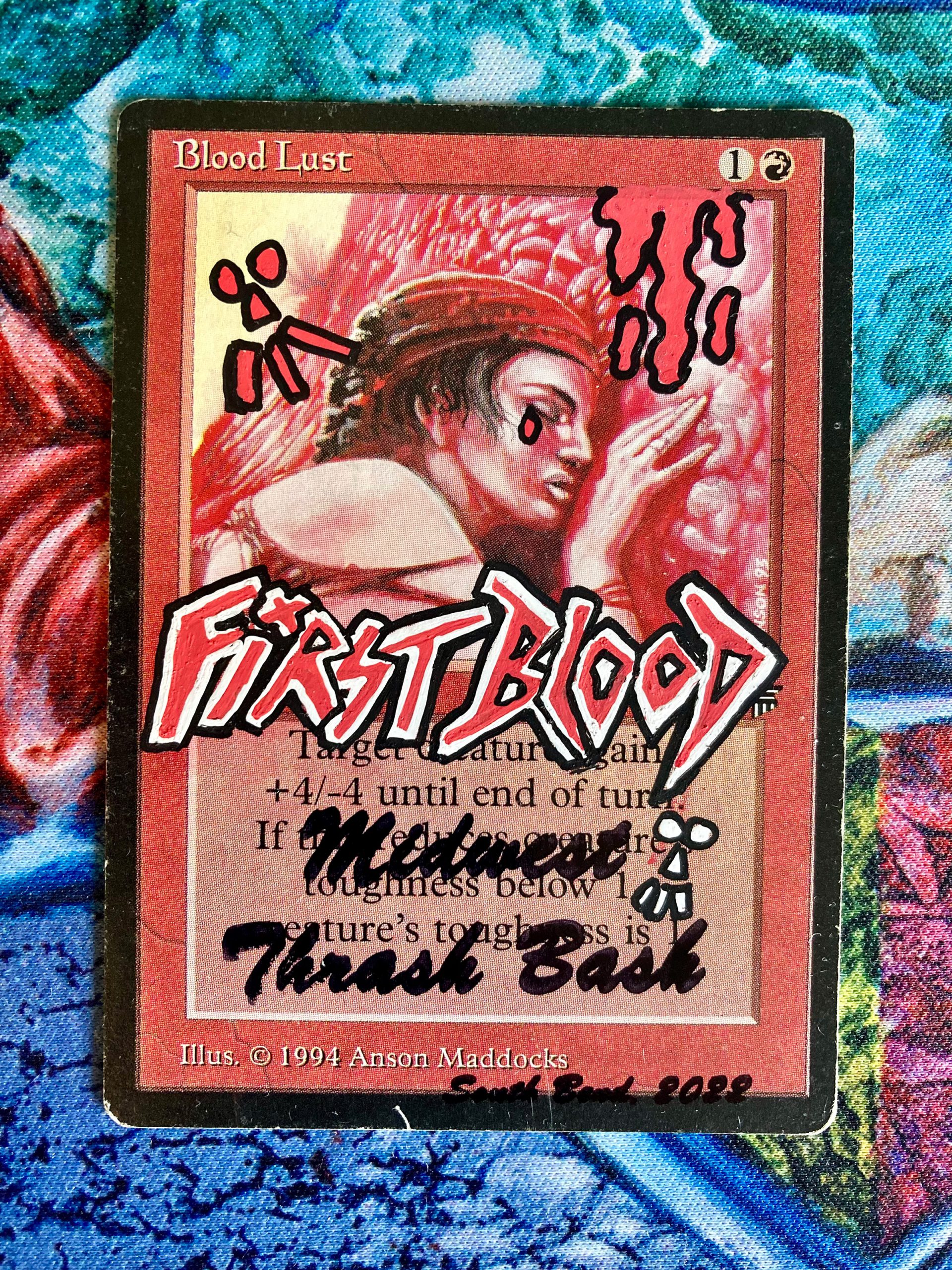 Brian Limbacher accepts the Most Hesh Deck award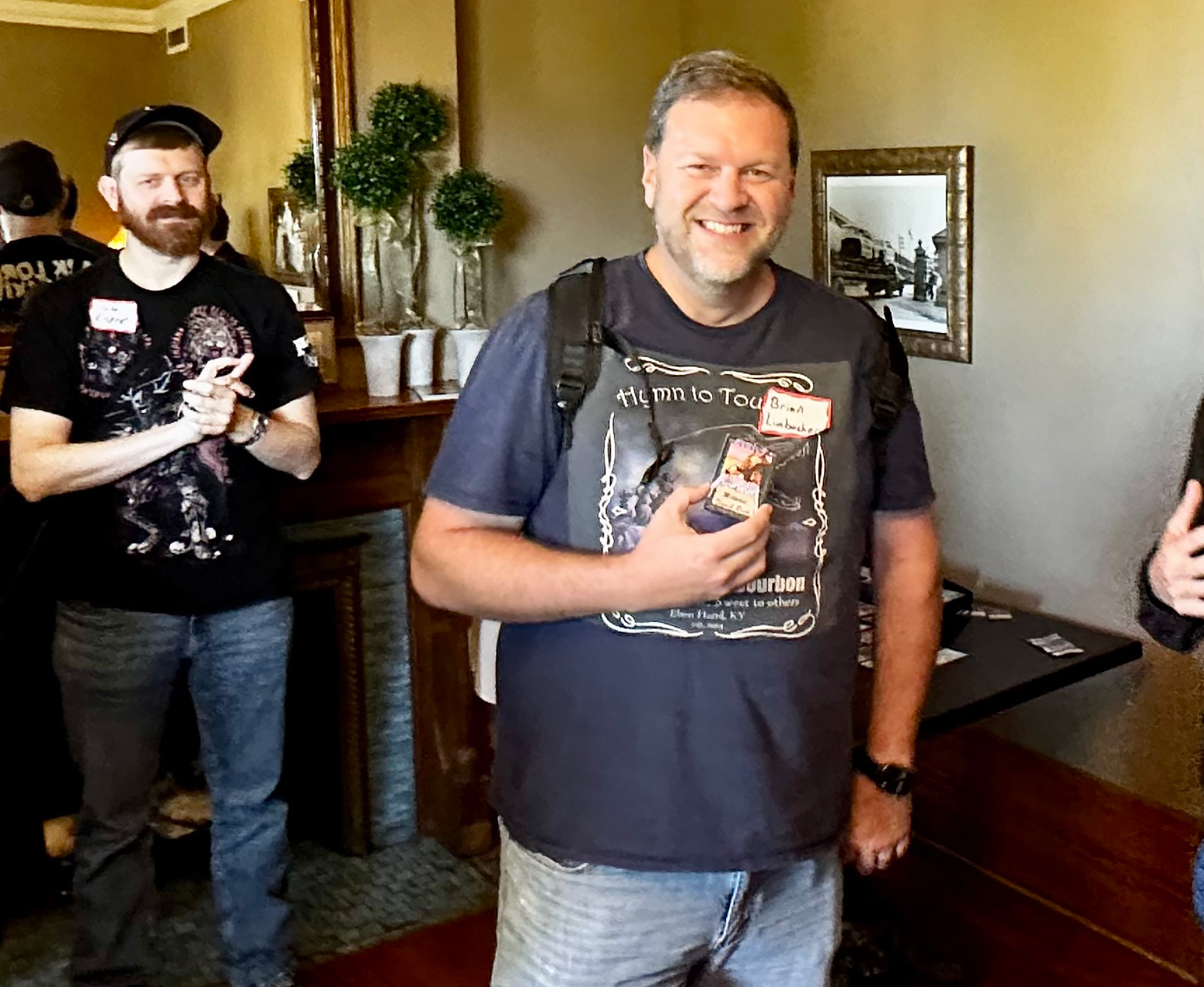 Jaco vs. Walton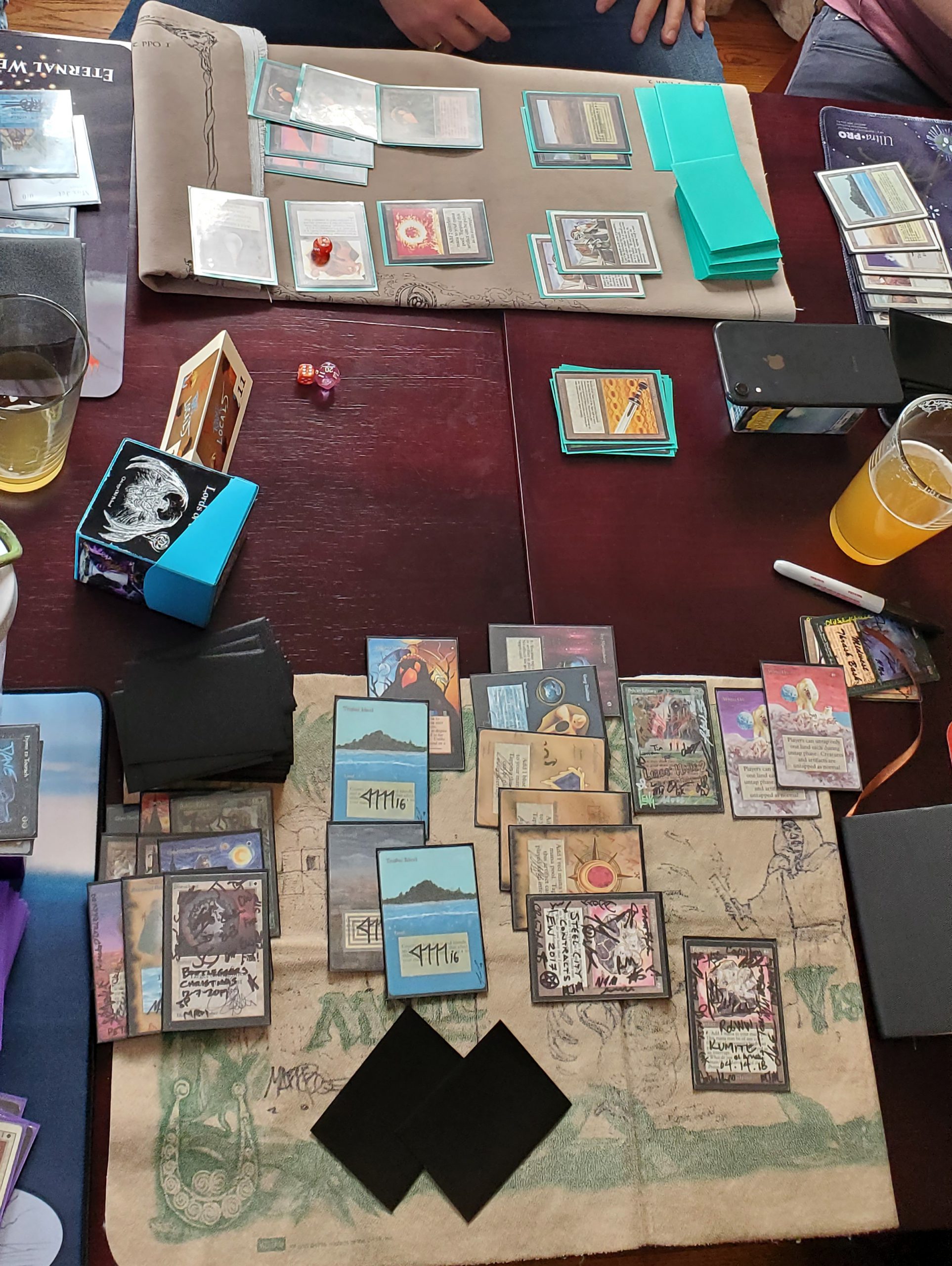 Moss vs. Seabolt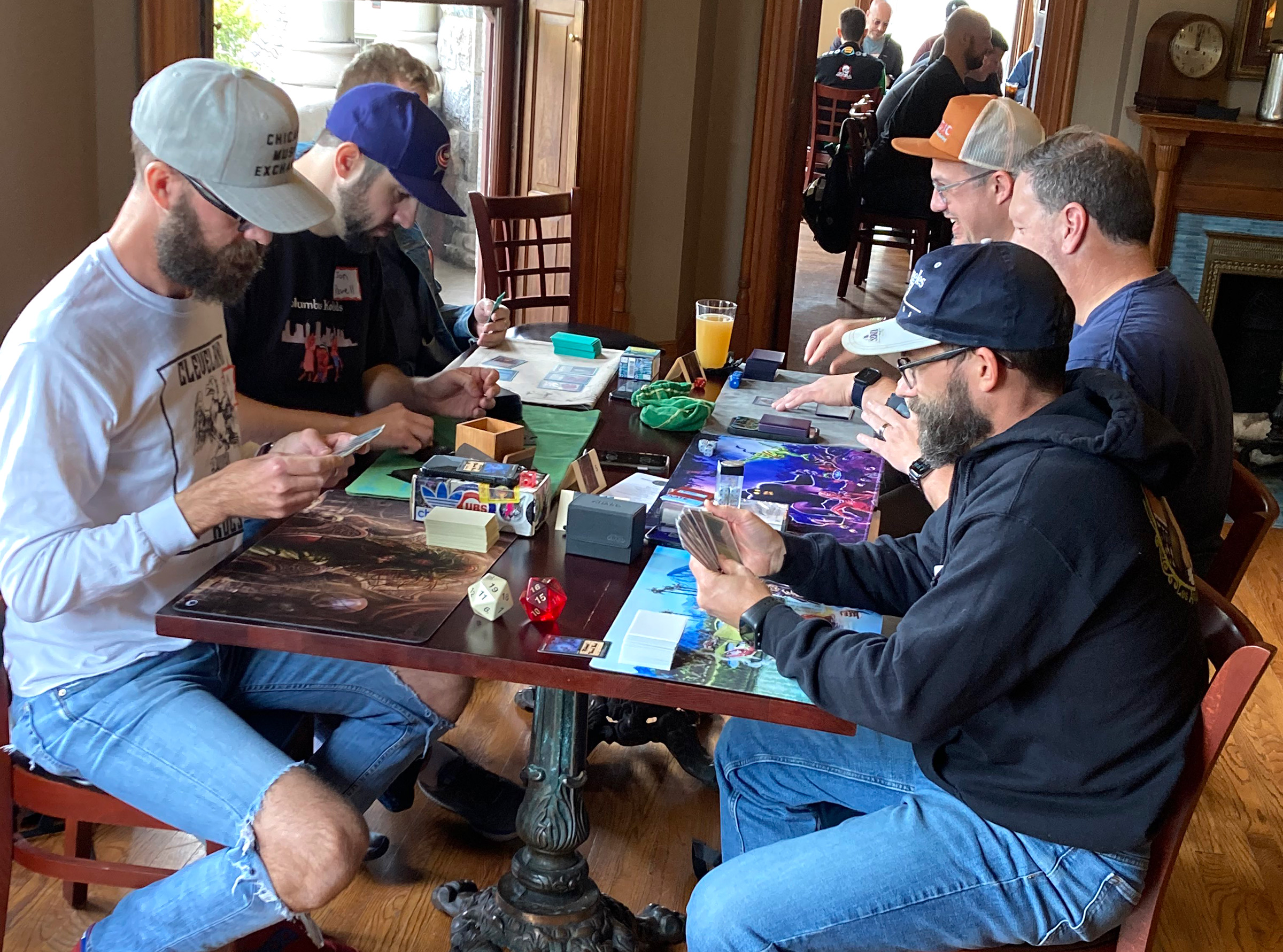 Gura vs. Piquard, when Sandstorm hits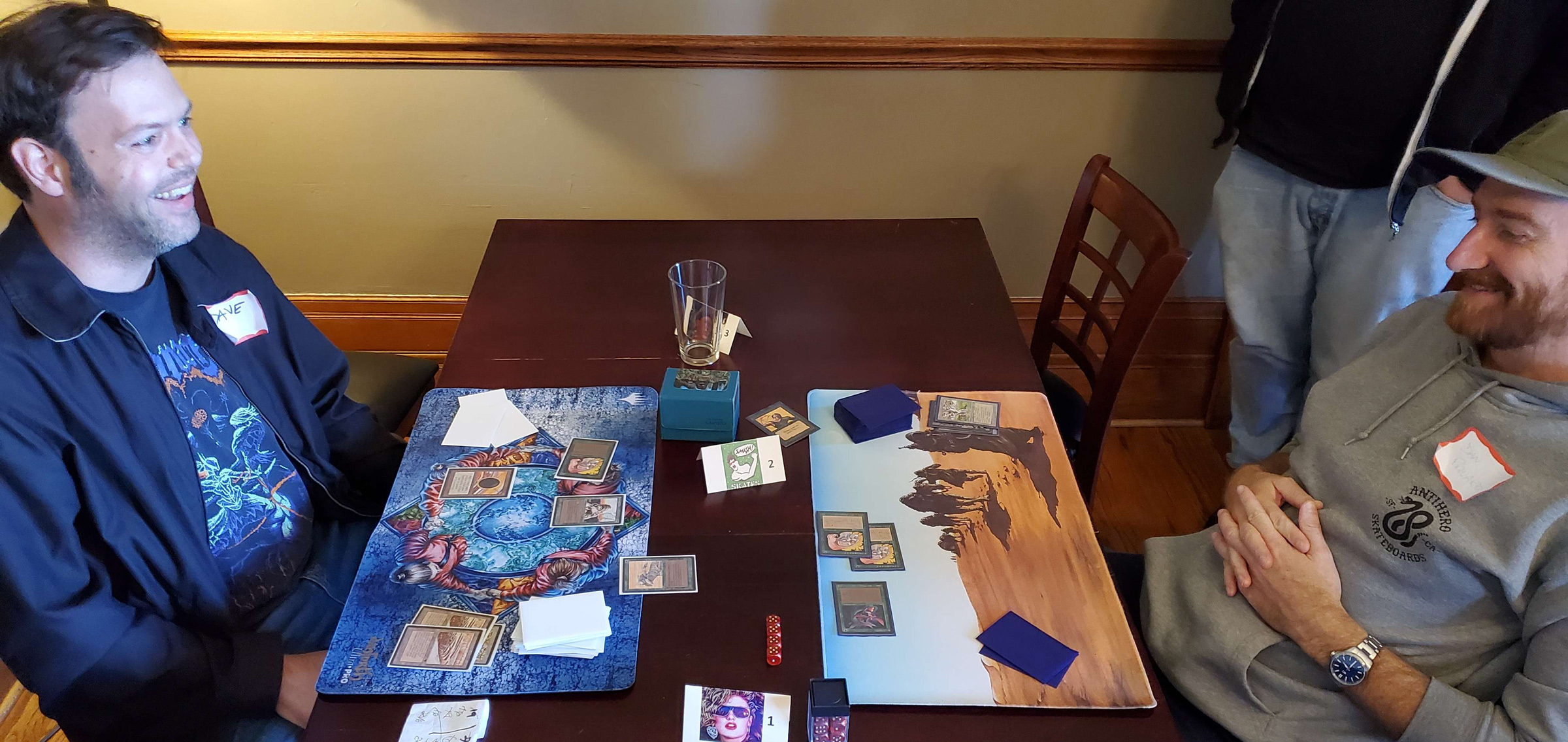 Chad Frazier takes home a custom Thrashin' Deck Box made by Brian Limbacher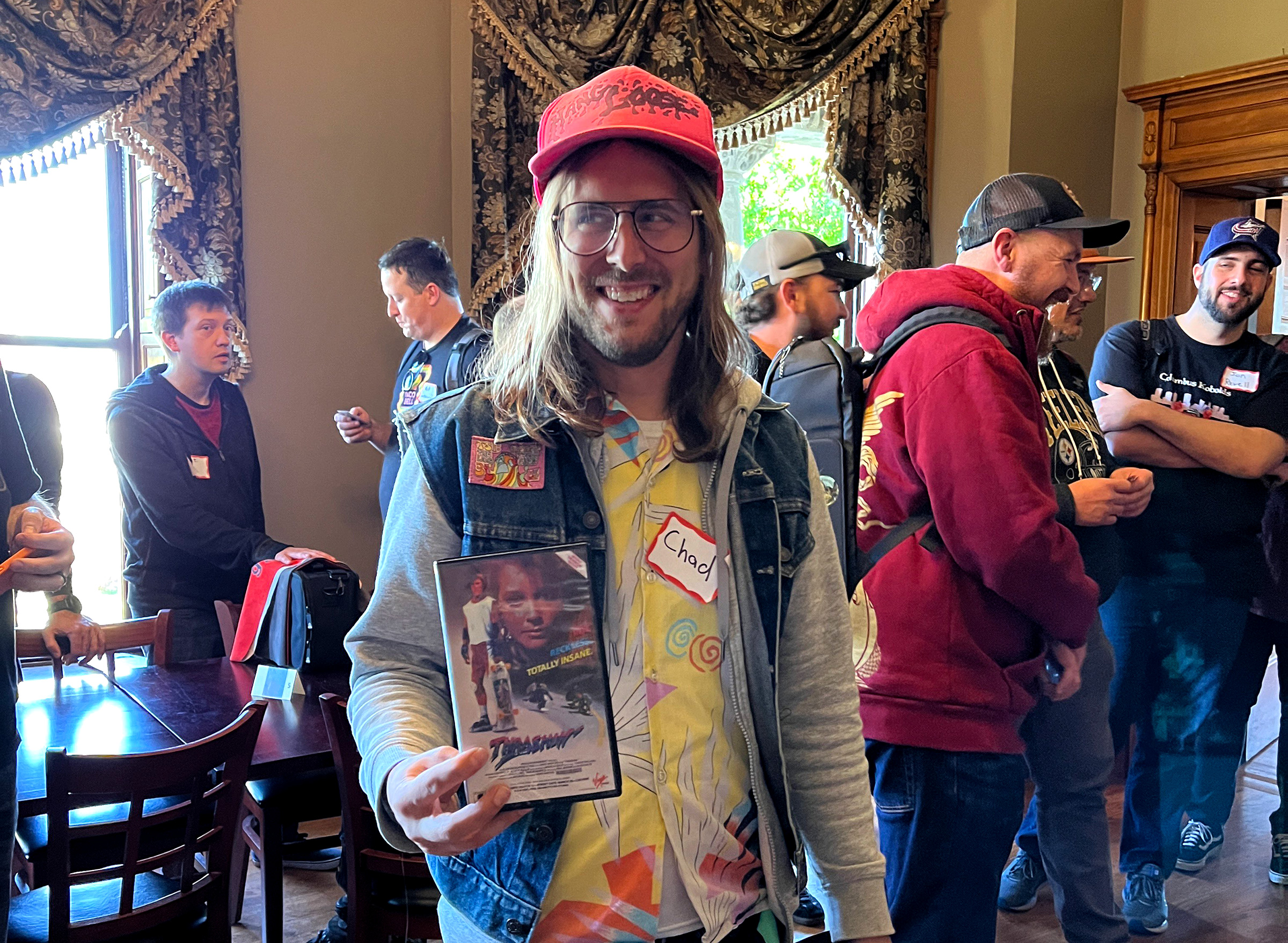 Guillen vs. Hawksworth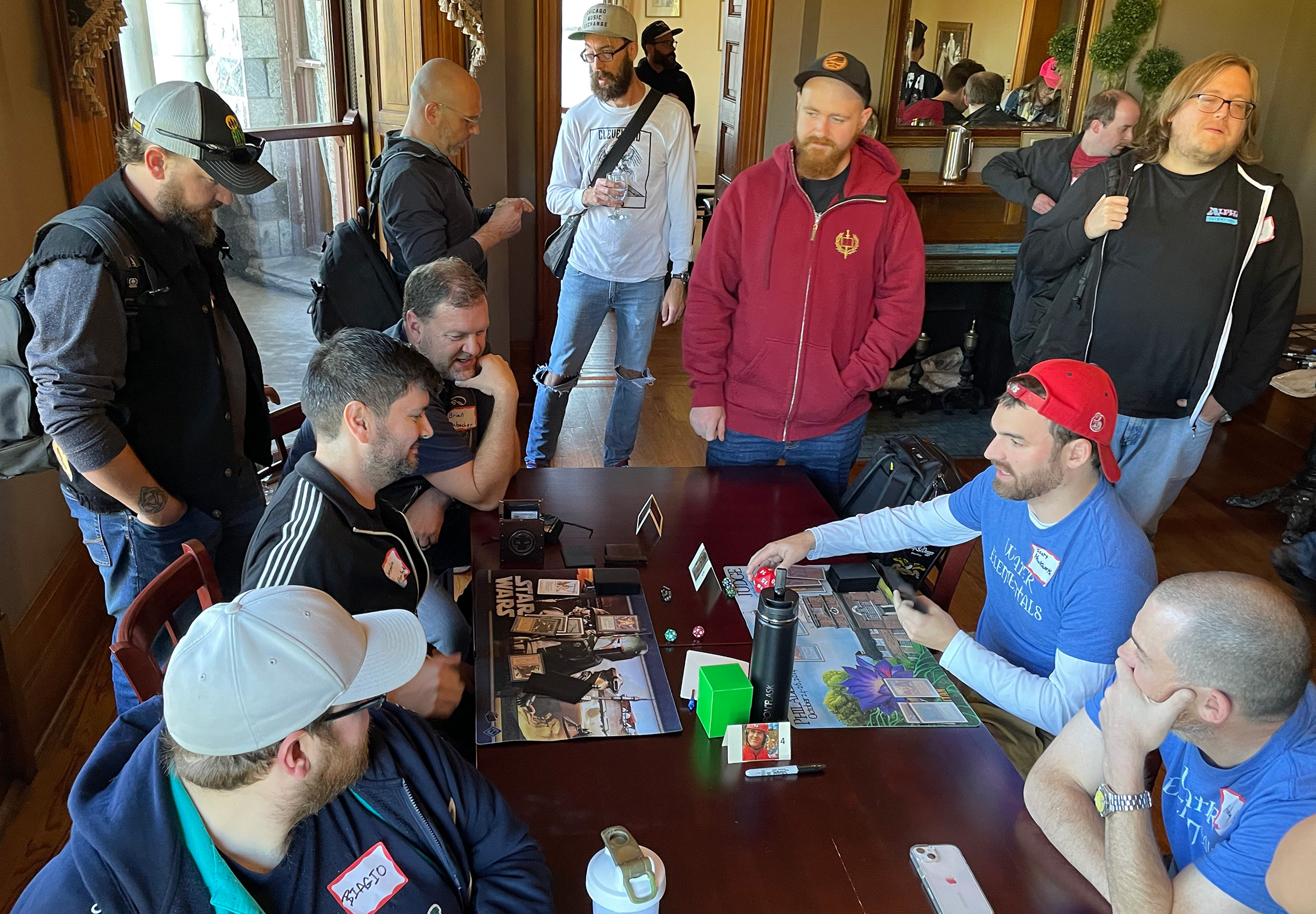 Ben Revell vs. Knerr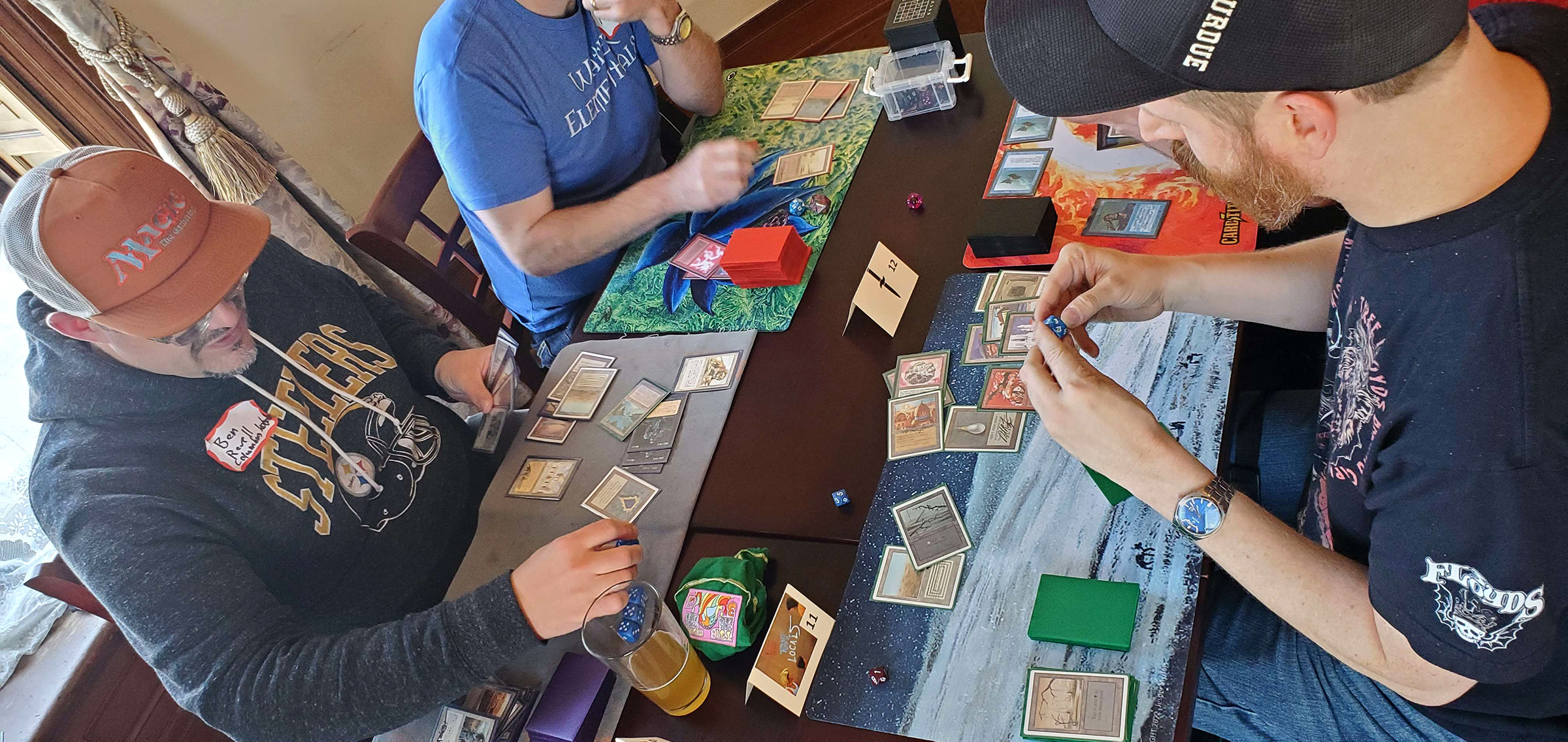 Prize Selection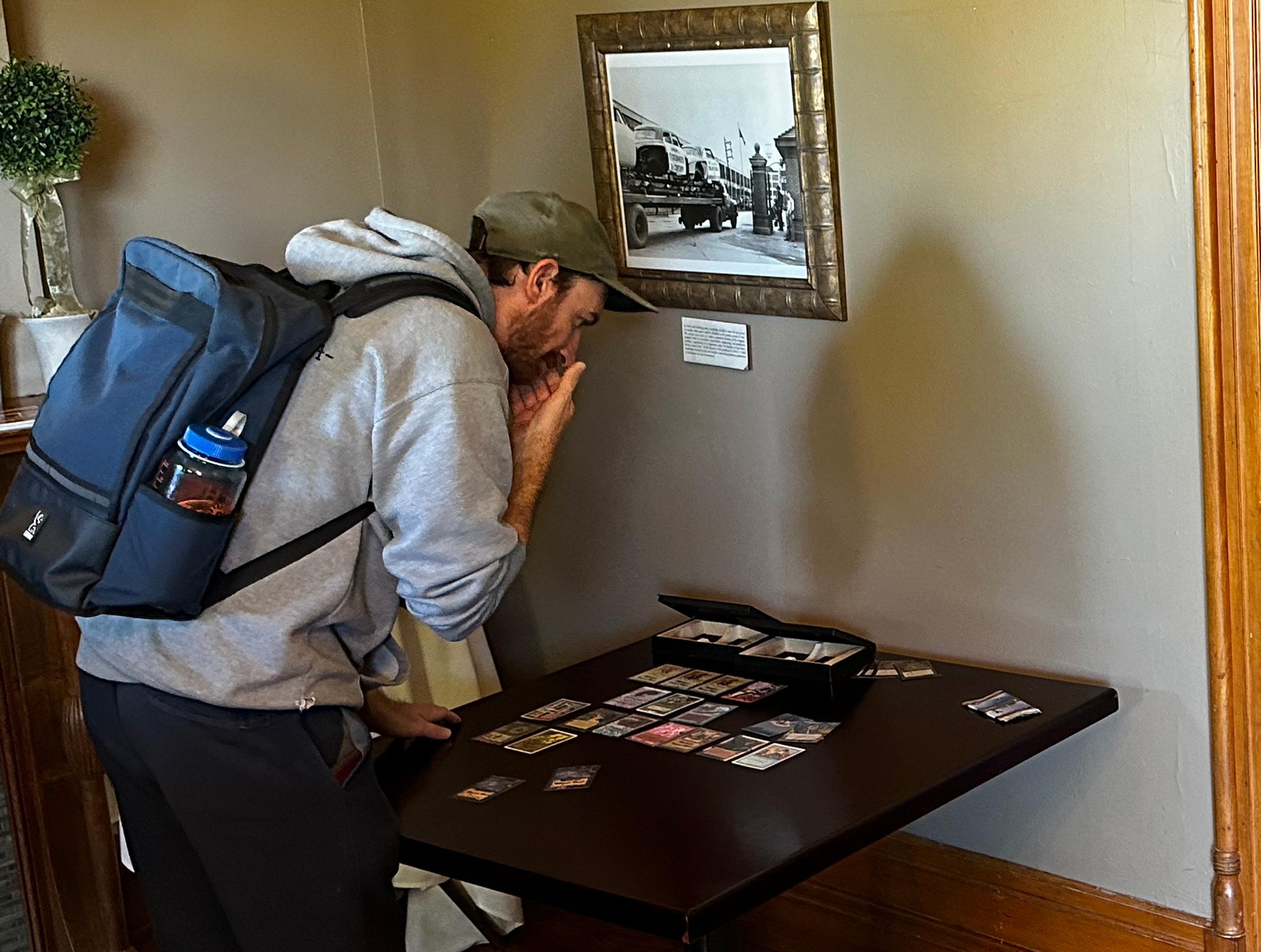 Ballantine comes out of retirement for a Top 4 finish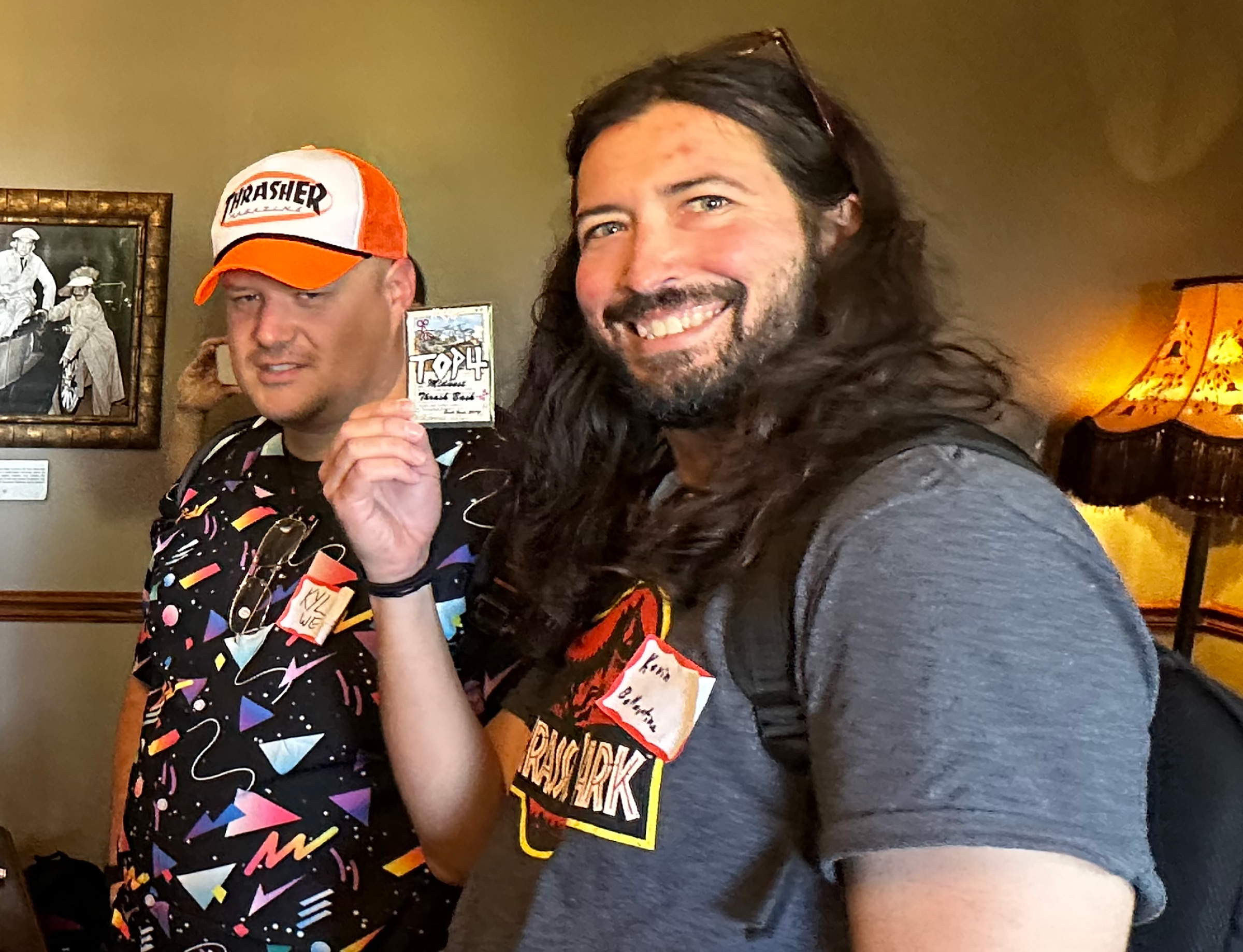 Signing of cards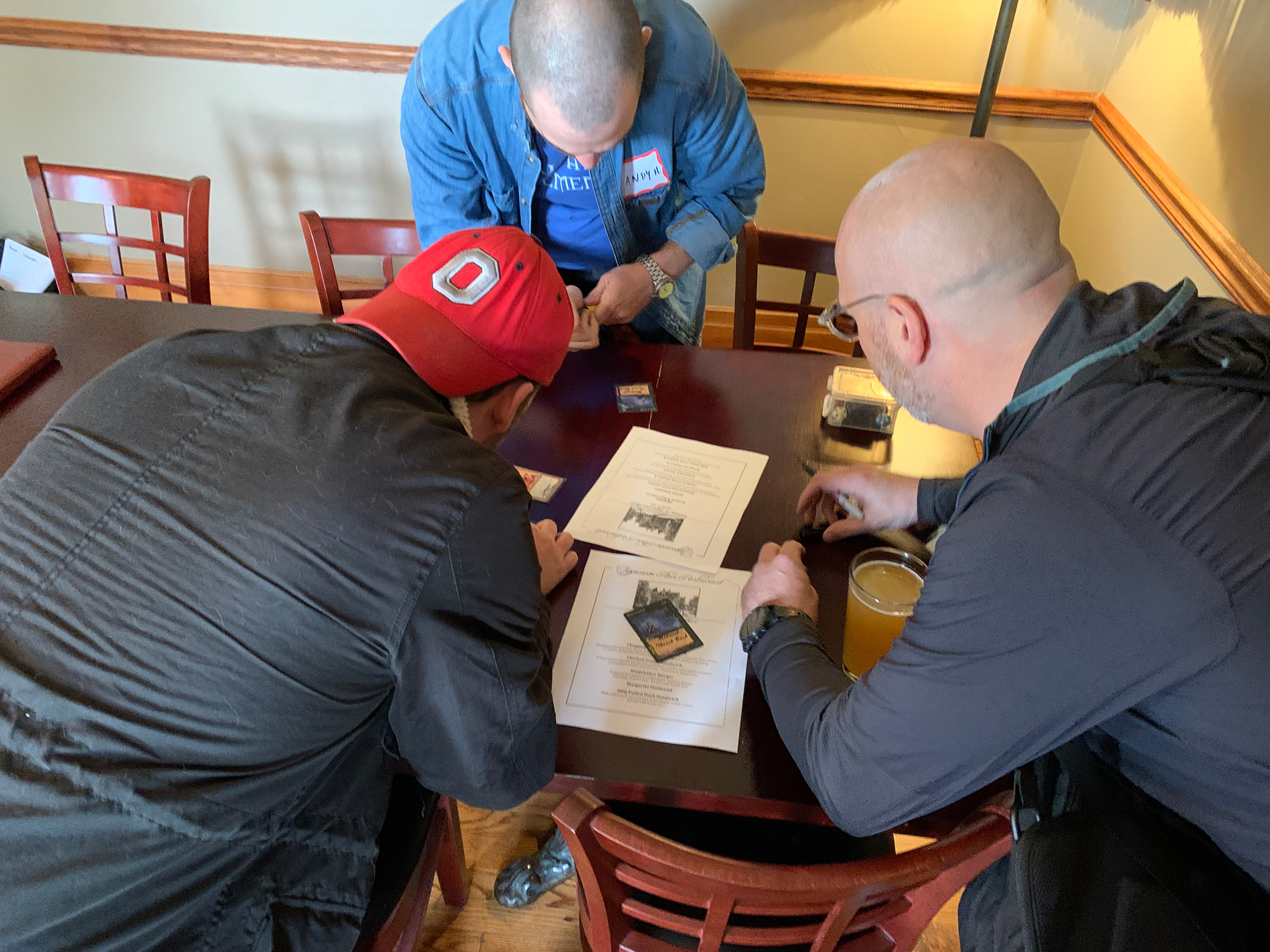 Friday Night's Secret 7 pt. Singleton Hesh Sesh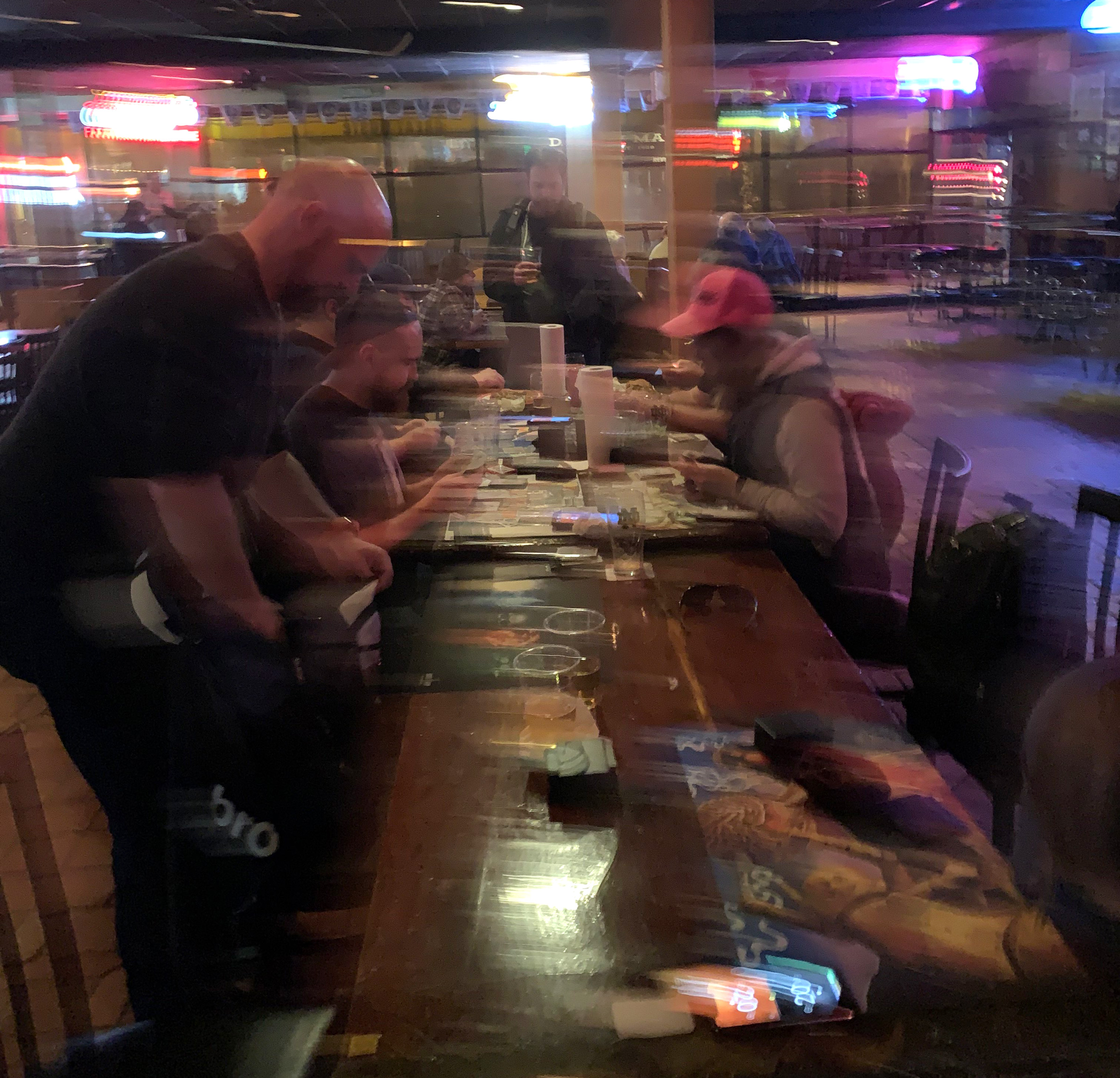 Till Next Year, Hessians!
-Dave