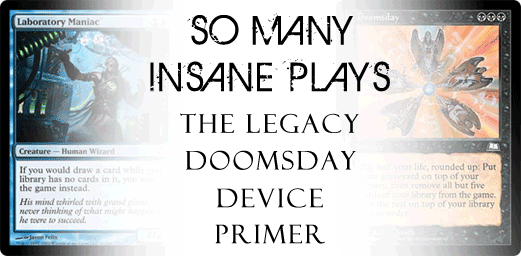 For the last 7 months, Stephen Menendian has been toiling away in his Magic laboratory on a concoction that is certain to shake up Legacy. In this article, Stephen reinvents Doomsday in Legacy, just as he has in Vintage. Focused determination and meticulous refinement have produced a decklist and a deck approach that will blow your mind.
Stephen's Legacy Doomsday deck overcomes many of the problems that traditional Legacy Doomsday decks face. It not only runs more countermagic than nearly every other deck in the format, but it is completely invulnerable to storm hate, Gaddock Teeg, Arcane Laboratory effects, and Leyline of Sanctity. It is blisteringly fast and savagely brutal.
This 33 page primer will provide all of the tips, tricks, and advice you need to learn how to play this monster, and will provide the 12 basic Doomsday scenarios you must master. If you buy any article this year, this should be it!