In the world of Legacy Storm combo there are a handful of shells and options available to the "Real Men Who Play Combo." There are speed versions of Ad Nauseam Tendrils (ANT), versions with the powerful Burning Wish as a tutor (which also give you the power of Empty the Warrens), and other unique creations such as Jordi Amat's Ill-Gotten Gains Tendrils deck (IggyPop 2.0). The version that I think offers the best balance of power, stability, and flexibility right now is a hybrid of Ad Nauseam and Doomsday strategies, or as we'll call it ANT-Doomsday Hybrid.

ANT decks are typically only running 1-2 copies of Ad Nauseam, along with a lot of fast mana, protection, tutors, and deck manipulation spells. They're pretty straight forward, and ideally would like to kill the opponent somewhere between the second and fourth turn. Just set up by digging or tutoring for whatever you don't have from these components, and then fire off a piece of protection (often in the form of Duress or Orim's Chant) and then away you go with your fast mana spells and either Ad Nauseam or Infernal Tutor. Outside of a nearly full hand of cards and the ability to do an Infernal Tutor into Ill-Gotten Gains loop, much of the time ANT will seek to use its life as a resource to power up a game winning Ad Nauseam.
But what if you don't have a lot of life? Legacy decks are faster and more disruptive than ever, and you can easily be at only 13 life or less on turn 2 when facing a Zoo player (Steppe Lynx you for 4, Chain Lightning and/or Lightning Bolt you for 3, fetchlands, etc.). In these cases, or the cases that you facing down a quick Tarmogoyf and your first spell or three were countered, you can't necessarily leverage the power of Ad Nauseam to generate enough of a Storm count to kill your opponent with Tendrils of Agony. This is where the card Doomsday shines. It doesn't require a lot of life to win the game.
Doomsday Demystified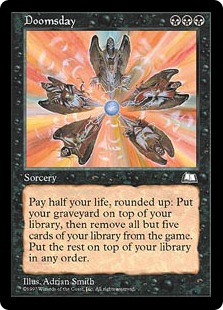 A lot of people seem to be hesitant to include Doomsday or look at it as a viable alternative in Storm decks because they either don't feel comfortable or knowledgeable enough to abuse it. Brandon Adams (known as emidlin online) and Michael Seubert (known as cheeseburger online) have co-authored a handy guide to using and creating Doomsday piles, and have done a fantastic job at providing a list of many options and even arithmetic formulas to teach you how to craft the perfect pile for whatever scenario you're in during a game. Victor Martinez (known as gocho online) took this a step further and used those lists to make a convenient spreadsheet available to the public.
I won't go into all of the details of each pile because there are so many variants and Brandon and Michael have already done a great job of explaining them, but being uncomfortable with Doomsday should not be an excuse for you in the future if you read these. Doomsday is an extremely powerful and important weapon that provides the Storm player with another path to victory that doesn't depend on a lot of life as a resource, which is often very critical in Legacy if things don't go according to plan early in the game.
Protection
The reason to play ANT variants over something like Goblin Charbelcher is that it has a more stable manabase and offers better forms of protection in the face of counterspells and other hate. Here is a brief rundown of the commonly seen protection spells and why you might use them:
Orim's Chant – at a cost of 1 White mana you prevent your opponent from being able to play any spells for the turn, and in rarer situations can be used to prevent combat damage if kicked; has the added bonus of being great against opposing combo
Silence – similar to Orim's Chant without the kicker ability, this shuts off opponent's spells for the turn and can't be Misdirected or Diverted
Abeyance – costs and additional mana beyond Chant or Silence, but also cantrips, and more importantly prevents the opponent from interacting at all by preventing activated abilities
Duress – strips away a potential counterspell or Counterbalance, or can give you precious information about the contents of opponent's hand
Thoughtseize – can strip away problematic counterspells, permanents, and the added bonus of creatures, but at the cost of two life
Pact of Negation – a free counterspell, but has the liability of having a cost on the next upkeep that you most likely won't be able pay; really only great when protecting a spell to go off
Xantid Swarm – at the investment of only a single Green mana, you can effectively Orim's Chant your opponent every turn; the disadvantage of this is that it validates any common main deck removal, so it is best relegated to the sideboard unless you are in an extremely Blue-heavy metagame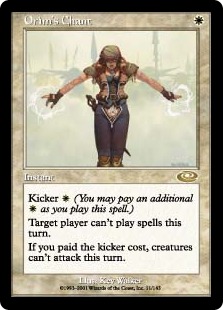 In Tomoharu Saito's build of ANT that he piloted to a Top 8 birth at GP Madrid 2010 he chose to use a combined 6 Duress and Thoughtseize effects as his disruption suite, in order to stay primarily Black and Blue (he had no White) and presumably to gain information about his opponent's hand. The debates about which disruption cards you choose can go on forever, but Orim's Chant provides an ultimate finality if resolved, and if you resolve one before attempting to combo off you should win 95% of your game or more. The same cannot be said for Duress, as the opponent with other non-Force of Will spells can still interact with you, which you want to ultimately avoid.
The other advantage of playing Orim's Chant is its usefulness against other combo matches. While Duress is certainly nice at stripping away a key spell, it does nothing in the face of Brainstorm or Mystical Tutor, and by allowing your opponent to cast a few spells and then casting Orim's Chant you have actually made them expend or waste Storm and mana resources, which is often better and will lead to more victories for the player packing Chant. For these reasons I strongly advocate Orim's Chant as the top choice, and your additional disruption slots can be composed of whatever you think is best.
Tutoring and Deck Manipulation
Mystical Tutor – at a cost of only 1 Blue mana you can find any of your combo pieces, protection, or removal; this is the most efficient tutor available, but comes at the cost of card disadvantage
Infernal Tutor – the restrictions of Internal Tutor are removed when you sacrifice a Lion's Eye Diamond or two in response, but this card is great as the game goes on at fueling a number of different ways to win (sometimes by chaining multiple Infernal Tutors if you have tons of mana)
Grim Tutor – gets you any card you want for 3 mana and 3 life this is somewhat attractive, but the price is probably too steep to pay in this deck
Burning Wish – if you are into a Red splash Burning Wish allows you to create even more Doomsday piles (including pass the turn piles where you needn't win that turn), and also unlocks access to Empty the Warrens
Sensei's Divining Top – you want this to be your first turn play every time if possible, as it allows for reusable searching and deck manipulation and is fantastic in conjunction with Doomsday and Mystical Tutor
Brainstorm – this is on color, cheap, and can both dig for cards you need and shuffle away cards you don't need; in short, it's insane in here
Ponder – this is probably the second best first turn play, as it allows you see up to four cards to find whatever you need (land, Dark Ritual, tutor, protection, etc.) and you can also shuffle away the cards if you don't like them (reducing your potentially dead draws the next couple of turns)
Most ANT decks will run a number of the cards above, but with the ANT-Doomsday hybrid deck Sensei's Divining Top is extremely good. It is a great first turn play that can filter your draws as the game goes on, dig for mana to ensure you hit your land drops, and works extremely well with Mystical Tutor and Doomsday.
The Mana Sources
Many decks (especially game 1) are serious underdogs to your storm deck no matter what shell you are using, so it makes sense to build to also be as strong as possible against those matches that are tougher. When playing this deck you really want have as many cards in hands as possible (to generate storm) and to be able to hit your land drops. To this end you want to reduce mulligans and to make your opening hands as consistent and keepable as possible, so in this regard having more lands rather than less will be better, as will having fewer cards like Chrome Mox in your opening hand. Playing a stable manabase and hitting your land drops will strengthen your matchups against decks with Wasteland and decks with counterspells, so having the strongest manabase possible while still being able to play your powerful spells should be your goal when building this deck. So let's jump in to building the manabase.
Chrome Mox – some people will advocate playing more of these and/or Mox Diamonds, but you really only want to see this card when going off with Ad Nauseam and you don't want it in your opening hand too often, so after a lot of testing I'd recommend two, as this will often be one of the first cards you sideboard out against control decks
Lotus Petal – a free spell that provides any color mana is pretty good, even though it is only a single shot use
Lion's Eye Diamond – aside from the drawback of discarding your hand (not a big deal when going off), getting 3 mana of any color for free is a huge boon to however you are trying to combo out, and this is why LED is a staple of storm combo decks of all forms
Dark Ritual – another fantastic bargain by providing 3 black mana for the cost of 1, Dark Ritual is one of the best cards in the deck
Cabal Ritual – sometimes better (with Threshold), but usually slightly worse, Cabal Ritual is still pretty good but you only need so many mana sources, so 2-3 of these are generally all you need
I tend to fetch out basic lands whenever possible to play around Wasteland (and other non-basic hate), so even though we have four colors in this deck I recommend keeping the dual lands to a minimum and including as many basic lands as you have room for. Saito's GP deck had only one basic land, but for a deck like this you always want stable mana. Some people will question the inclusion of many basic lands or of a maindeck Plains, but this again goes back to building your deck to playing against tougher matchups (such as Canadian Threshold). You really want basic lands to keep being able to reliably cast your important spells (such as Orim's Chant), and there's enough extra mana sources like Lotus Petal and Lion's Eye Diamond that you don't really have to worry much about having the correct mana when comboing out. There is also a good amount of colorless mana in many of your spells (Meditate, Sensei's Divining Top, Cabal Ritual, Infernal Tutor, etc.), so keep in mind you can always use your Plains or whatever White mana source to help in casting those (or with activating Sensei's Divining Top nearly every turn) if you aren't using it for Orim's Chant. You're probably going to destroy other matchups that can't disrupt your manabase and interact with you, so this doesn't matter too much there.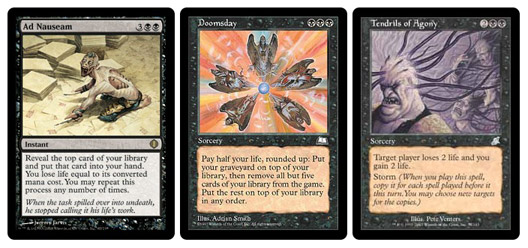 With these options in mind, here's what I would recommend as of this writing:

ANT-Doomsday Hybrid 20101Q1.4, by Jaco 02-15-2010
The sideboard above consists of options for dealing with problematic permanents, more disruption against counterspells, and the ability to switch to the Doomsday kill as your primary kill. Xantid Swarm single-handedly invalidates a lot of hate, and I think it is great for the Green splash, which you're already probably going to have to be able to play either Krosan Grip or Reverent Silence. Dark Confidant was also seen in both Saito and David Do Anh's sideboards in their GP lists, and I think that has merit and is worth heavily considering if Sadistic Sacrament catches on as a sideboard card. You can tailor this to meet your needs, but here is a brief rundown of how I would attack many common matchups with the deck and sideboard above.
Playing and Sideboarding Against Merfolk
Merfolk's only real hard counter is Force of Will, but you still have to take Daze and Cursecatcher into account when doing the math before trying to combo out. Sensei's Top shines in this match to help you dig for more Chants and to hit your land drops. Keep in mind they may have Stifle in their deck, but if you manage to resolve a Xantid Swarm or Chant effect you can obviously ignore this. Another thing to keep in mind is that they may be boarding in Spell Pierce. Here's how I've been sideboarding:
-2 Chrome Mox
-1 Ad Nauseam
-1 Wipe Away/Krosan Grip
-2 Lotus Petal
-1 Lion's Eye Diamond
-1 Mystical Tutor
+1 Bayou
+1 Doomsday
+3 Xantid Swarm
+3 Carpet of Flowers
Playing and Sideboarding Against Ad Nauseam Tendrils
There's not too much thinking about this matchup, and you probably won't encounter it very often. Orim's Chant and Silence are key here in allowing you to combo out unimpeded, and also to prevent your opponent from going off. As mentioned above, it may be worth changing the sideboard around slightly to accommodate 3-4 Dark Confidants if Sadistic Sacrament or Extract starts seeing more play. Sideboarding currently looks like this:
-1 Wipe Away/Krosan Grip
+1 Sadistic Sacrament
Playing and Sideboarding Against Dream Halls
Like the ANT matchup, you want to use your Chant effects to stop them from comboing out and to allow you to. I tend to side in Xantid Swarm here, but that's up to you and if you feel comfortable siding out any mana sources:
-2 Chrome Mox
-1 Silence
-1 Wipe Away/Krosan Grip
+3 Xantid Swarm
+1 Chain of Vapor
Playing and Sideboarding Against Naya Zoo
The Zoo player will seek to aggressively burn you out, and will most likely be bringing in some combination of hate cards in the form of Gaddock Teeg and/or Ethersworn Canonist, and maybe even Mindbreak Trap, so I tend to ditch the Ad Nauseam plan and leave in a few Chants for the protection from Mindbreak Trap and them holding a lot of burn for after your resolve Doomsday. You will have to manage your Mystical Tutors and dig spells appropriately. I tend to side like this:
-1 Ad Nauseam
-2 Silence
-1 Lotus Petal
+1 Doomsday
+1 Chain of Vapor
+1 Rushing River
+1 Slaughter Pact
Playing and Sideboarding Against Goblins
Most Goblins players can't do a whole lot to interact with you, especially game 1. After sideboarding they may have Thoughtseize or Cabal Therapy, or possibly Pyrostatic Pillar. I like to board in better bounce and an additional mana source here to help fight against Wasteland and Rishadan Port:
-1 Wipe Away/Krosan Grip
-2 Silence
+1 Chain of Vapor
+1 Rushing River
+1 Bayou
Playing and Sideboarding Against CounterTop
When battling CounterTop the ultimate goal is to combo off without a Counterbalance in play, so to accomplish this I've been rotating back and forth between a main deck Wipe Away and Krosan Grip. Krosan Grip is the best at dealing with Counterbalance or the occasional main deck Chalice of the Void you'll run into (from AggroLoam, for example), but Wipe Away can also hit a Reanimated Iona or some other problematic permanent, so that's currently what I'm playing main. In the sideboard I have access to a couple more copies of Krosan Grip. An argument can be made for Reverent Silence in this slot because it costs nothing to play, but the problem is that the CounterTop player can still just Force of Will it, whereas they have almost no answer to Krosan Grip other than constantly floating a card with converted mana cost equal to 3 on top of their deck. In this matchup I also tend to ditch the Ad Nauseam plan, because you have are brining in cards that cost more mana which equals more life lost to Ad Nauseam, not to mention the fact that you're probably going to be staring down a Tarmogoyf or something else nibbling at your life while you try to deal with Counterbalance. That's debatable though, so here are a couple of different sideboard plans:
-2 Chrome Mox
-2 Lotus Petal
-1 Lion's Eye Diamond
-1 Mystical Tutor
-1 Ad Nauseam
+1 Doomsday
+1 Bayou
+2 Krosan Grip
+3 Xantid Swarm
Playing and Sideboarding Against Canadian/Tempo Threshold
The Ad Nauseam plan against Threshold is a struggle, as they often have a quick clock in the form of Tarmogoyf, along with Lightning Bolt, Fire/Ice, Nimble Mongoose, and sometimes things you'll have to play around like Vendilion Clique (when Sensei's Divining Top tricks are most important). After sideboarding they'll often be bringing in something like Red Elemental Blast and/or Spell Pierce (more common now), but these can still be invalidated by Xantid Swarm. Because of this they may be forced to keep in their removal against you, and I would definitely force the issue because if they don't have removal your Xantid Swarms are going to win you the game. You'll have to battle through Stifle, Force, Spell Snare, and more so Xantid Swarm and Chant effects are the best path to victory. Another key resource here is Carpet of Flowers, which Wizards' recently changed the Oracle text for during the January 2010 Update Bulletin. The new wording is as follows:
"At the beginning of each of your main phases, if you haven't added mana to your mana pool with Carpet of Flowers this turn, you may add up to X mana of any one color to your mana pool, where X is the number of Islands target opponent controls."
So this allows you to cast Carpet of Flowers during your first main phase and then get the mana during your second main phase the same turn. This is incredible, and it gives you multiple mana every single turn (albeit without upping your Storm) for a one time investment of a single Green mana. This can prove critical in playing around their mana denial plan, as will all of the basic lands we've conveniently included. With the battle raging for mana resources and the fight to resolve spells against Threshold I'll often sideboard out temporary mana sources in favor of more protection and permanent mana sources like this:
-2 Chrome Mox
-1 Wipe Away/Krosan Grip
-2 Lotus Petal
-1 Lion's Eye Diamond
-2 Cabal Ritual
+1 Doomsday
+1 Bayou
+3 Carpet of Flowers
+3 Xantid Swarm
Playing and Sideboarding Against Bant Aggro (ProBant)
This is an interesting matchup for you, because their deck can be all over the board. They may have Wasteland, Stifle, Daze, Force, or they may eschew the mana disruption plan altogether for stuff like Spell Snare. They can have a quick clock in the form of Tarmogoyf or Rhox War Monk, not to mention Progenitus if they find a Natural Order before you're able to kill them. I can't give you a solid sideboarding suggestion here, because a lot of it will come down to what you've seen from their deck. You'll want Slaughter Pact/Deathmark for any potential hate creatures they may have (Meddling Mage, Ethersworn Canonist, Gaddock Teeg), or even to deal with a quick Rhox War Monk. You can look at the Threshold and CounterTop matchups for tips if you're really clueless, but Xantid Swarm, Carpet of Flowers, and the Doomsday plan all have merit here depending on you've seen or suspect they might have, so play this one by your gut.
Playing and Sideboarding Against Dredge
I used to have random cards like Mindbreak Trap or Extirpate in my sideboard to Mystical Tutor for, but after testing against many different versions of Dredge I just found it unnecessary after a while. They will have Cabal Therapy and possibly Iona, Shield of Emeria as a Dread Return target main deck to interact with you, and that's about it. After sideboarding they could have stuff like Mindbreak Trap, Force of Will, or Unmask, so I like to leave my Chant effects in just in case, which can also act as Time Walks against them and buy you more turns if necessary. Unless I see something really weird from their deck this is usually my plan:
-1 Plains
-1 Wipe Away/Krosan Grip
-1 something else you don't care about (depending on what you've seen from them)
+1 Bayou
+1 Chain of Vapor
+1 Slaughter Pact (if they don't have Iona this probably isn't justified)
Playing and Sideboarding Against Lands.dec
This is a pretty good matchup in general, and outside of an absolute bomb draw by them you should defeat them game 1 without problem, as they can't interact with you outside of Wasteland and Rishadan Port. If you're playing the list above you have 4 basic lands main deck so this isn't much of an issue. The Lands player will know they are a massive underdog to combo, and will likely have some combination of Mindbreak Trap and Chalice of the Void, and if they're really desperate they could try to bring in Leyline of the Void too, but they probably don't have enough slots to side out for that many additional cards. For this reason I'd advocate keeping in most Chant effects to hedge against Mindbreak Trap, and I also board in some bounce like this:
-1 Wipe Away/Krosan Grip
-2 Chrome Mox
+1 Bayou
+1 Chain of Vapor
+1 Hurkyl's Recall
Rather than hoping to be able to tutor or draw for Ad Nauseam and the accompanying Angel's Grace after sideboard against a lot of decks where life is an issue, you can simply use the mana and Storm instead to leverage the power of Doomsday. I highly recommend reading Brandon and Michael's Doomsday primer in the link provided earlier. I feel that this hybrid strategy is currently the best way to pilot a Legacy Storm deck, given what we've been seeing from late 2009 into early 2010. You can expect to face Zoo and Merfolk and a myriad of other decks in each tournament you attend, so this approach allows you to have a consistent manabase and to be able to easily shift your plan of attack. Doomsday is an important and powerful piece of the Storm players' repertoire that should not be overlooked, and works exceptionally well in the context of this deck.