The first annual Old School Player's Ball has finished, and was an incredible day for the community. With road warriors hailing from California to Texas to Wisconsin to Tennessee to Maine, and everywhere in between, 58 ballers showed up to battle. This will probably go down as the third largest Old School 93-94 event in 2017, and we were filled to our capped registration limit immediately, even after expanding from 48 to 58 seats.

The Player's Ball was held at Revolution Brewery Taproom, in Chicago (Illinois, USA), and was organized by Bob Agra and Chicago's native crew, the Lords of the Pit. Eternal Central helped promote and support these efforts, and the tournament was able to raise nearly $1000 for charity (going to the Chicago Public Library Foundation, in this case). This was the first Player's Ball held, and the plan is for the Player's Ball to become an annual event each August in the summer, part way between NoobCon and Eternal Weekend's Old School events.
The tournament was run with timed 50 minute Swiss rounds, plus a Top 8 playoff, using Eternal Central's recommended Old School 93-94 rules, with no draws allowed (and Sudden Death Chaos Orb flipping if any matches went to time). The point of Old School is to play Old School, meet new friends, and catch up with old ones. Here are some of the prizes given out to all players:
#OldSchoolPlayersBall prize pool for Chicago #OldSchoolMTG charity tournament today. pic.twitter.com/zwEb0ScOAs

— Eternal Central (@EternalCentral) August 26, 2017
While there were a few copies of UR Control and other UWx Control variants present, there were notably zero copies of The Deck, as people took the time to design things that were far more interesting or fun, as you'll no doubt discover in the deck pictures section below. There is everything from Eureka to Diamond Valley to Titania's Song to Living Plane Control to very aggressive Zoo decks. The field was fairly creature-heavy and aggressive overall, with lots of interactivity in games.
Final Standings After Swiss
Final standings after Swiss rounds at #OldSchoolPlayersBall today. Top 8 playoff about to start! pic.twitter.com/HKNLLvKjVK

— Eternal Central (@EternalCentral) August 27, 2017
Top 8 Playoff
Quarterfinals
1 Matt S (RUG Tempo) vs. 8 Jimmy McCarthy (Green White Workshop Aggro) – Matt wins
2 Chris Bergeson (3C Goblins) vs. 7 Steve McGrew (Bant) – Steve wins
3 Jaco (Naya Bazaar Zoo) vs. 6 Jason Happel (UR Control) – Jaco wins
4 Nathan Mullen (Naya Bazaar Zoo) vs. 5 Robert Westergaard (White Weenie) – Nathan wins
Semifinals
1 Matt S (RUG Tempo) vs. 4 Nathan Mullen (Naya Bazaar Zoo) – Matt wins
3 Jaco (Naya Bazaar Zoo) vs. 7 Steve McGrew (Bant) – Steve wins
Finals
1 Matt S (RUG Tempo) vs. 7 Steve McGrew (Bant) – Steve wins
All Decks, Alphabetically, by Last Name
Bob Agra – Mono Brown UrzaTron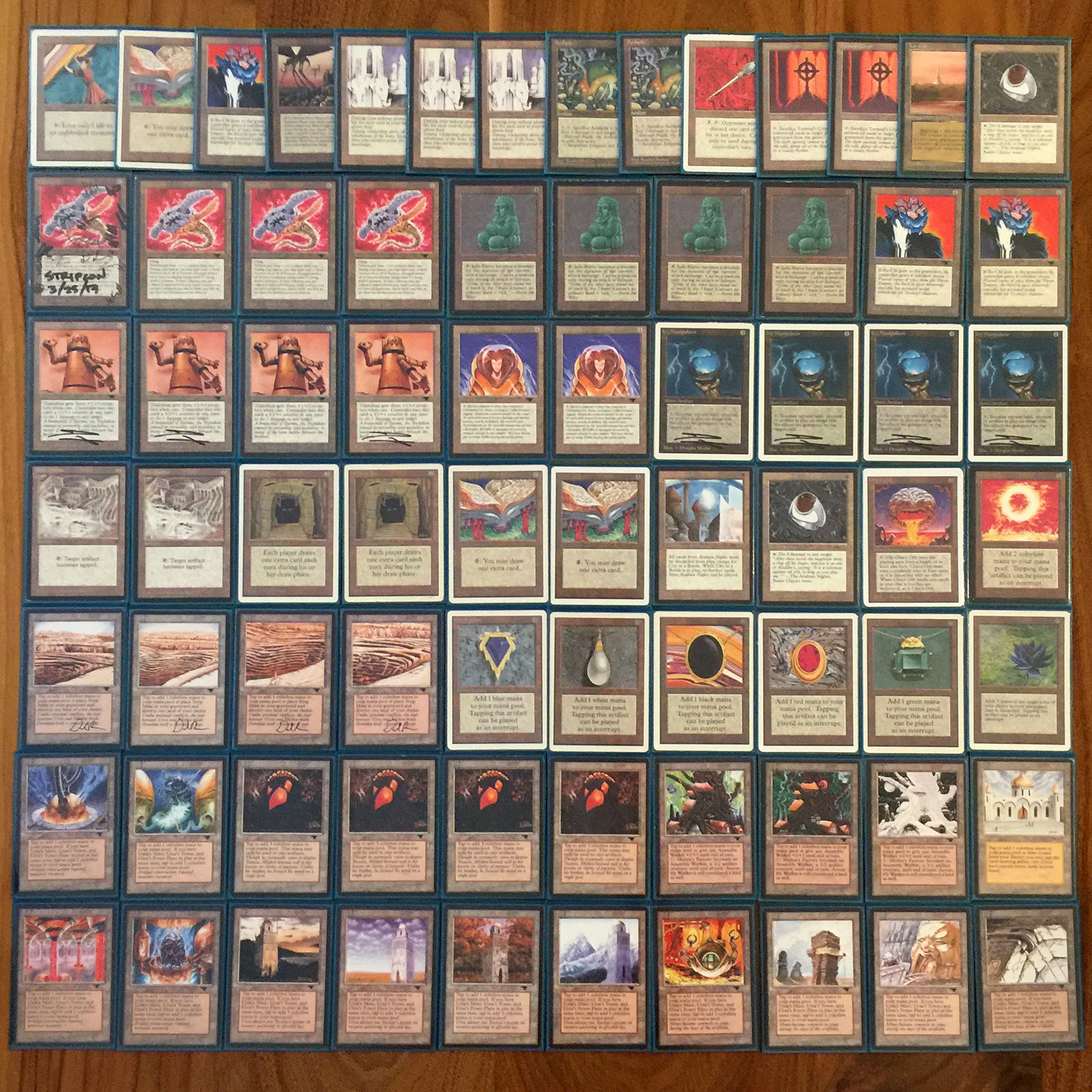 Joe Alane – Naya ChannelBall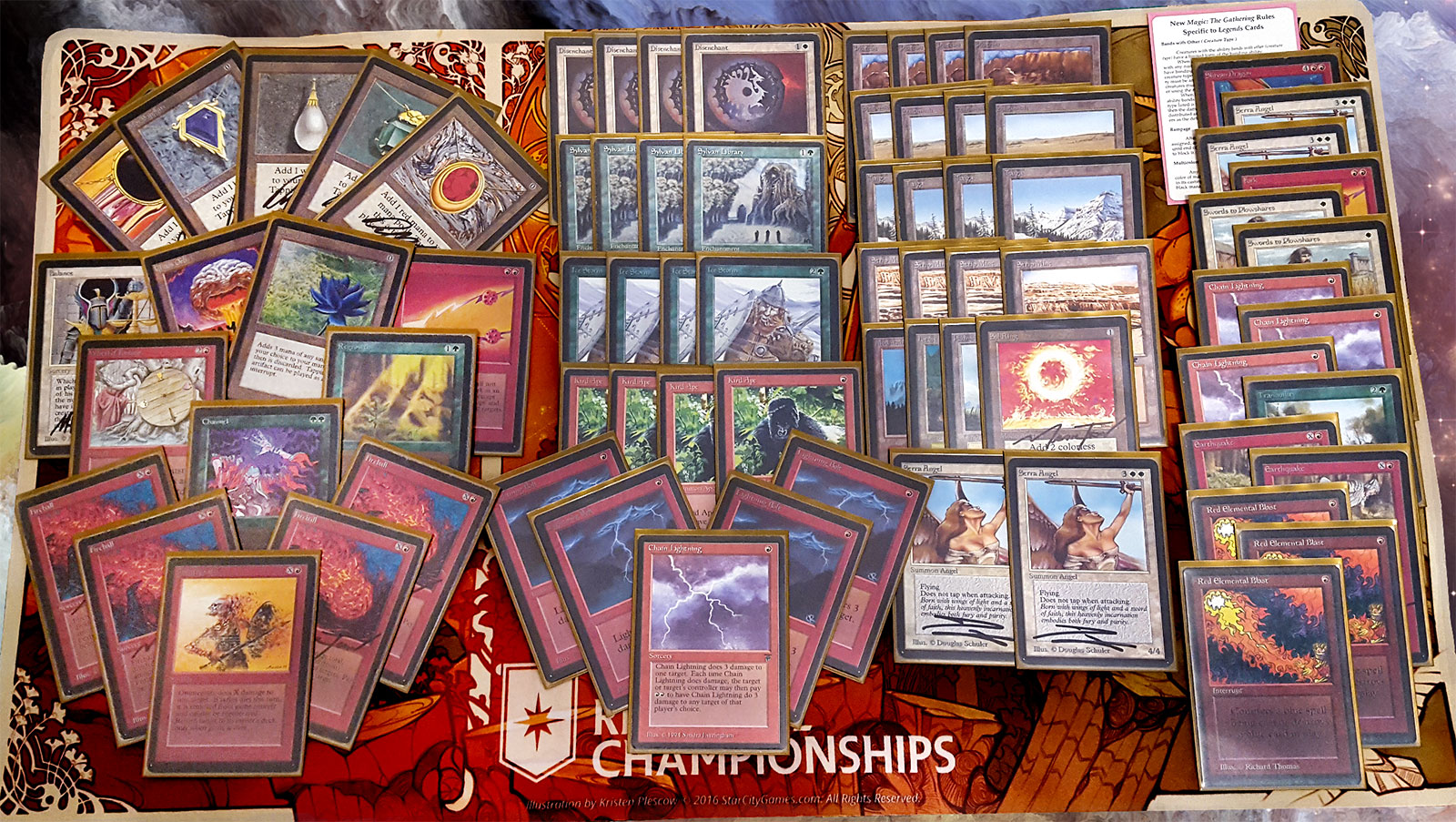 Chris Bergeson – 3C Goblins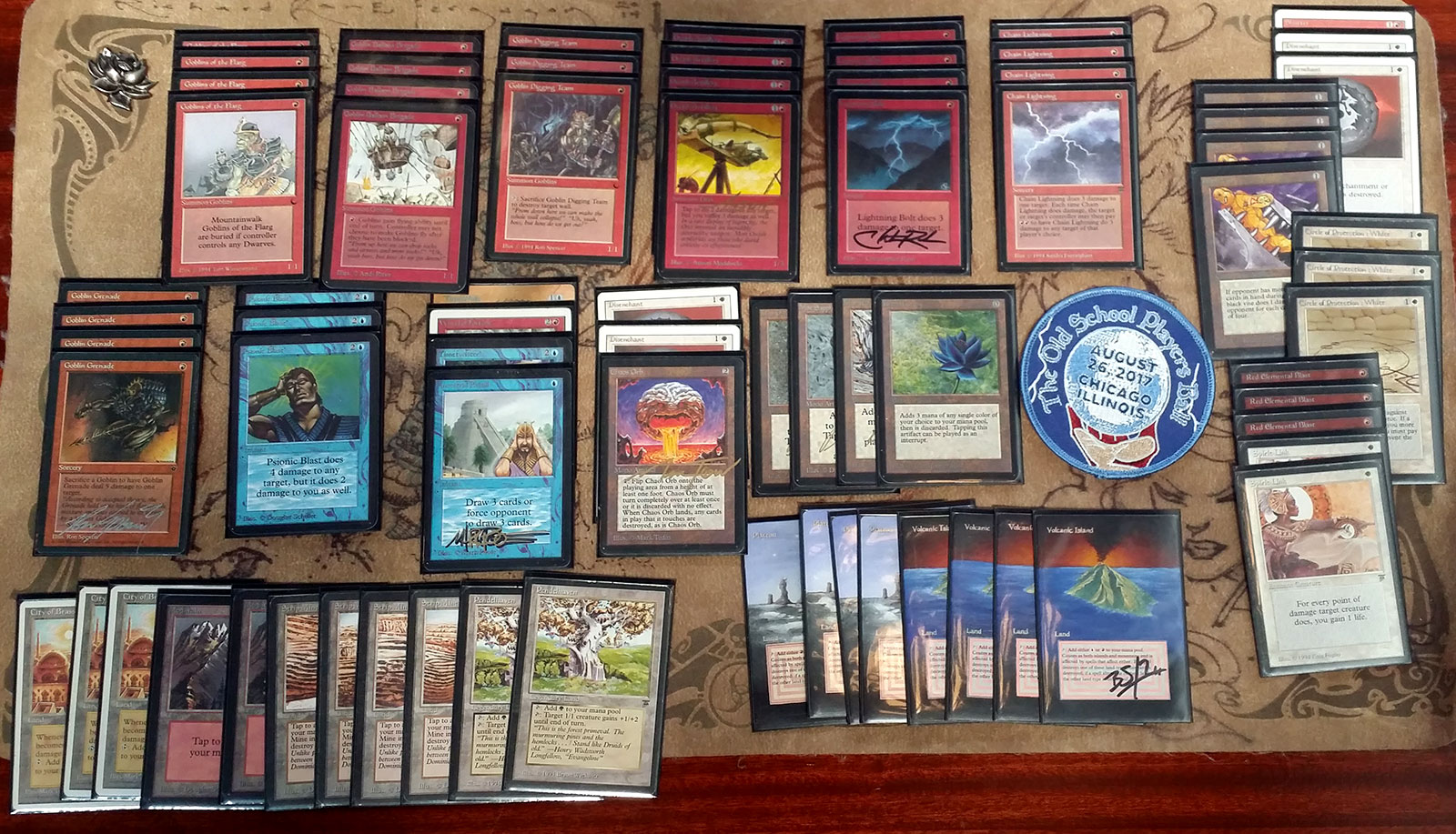 Brendon Bowersox – Mono Black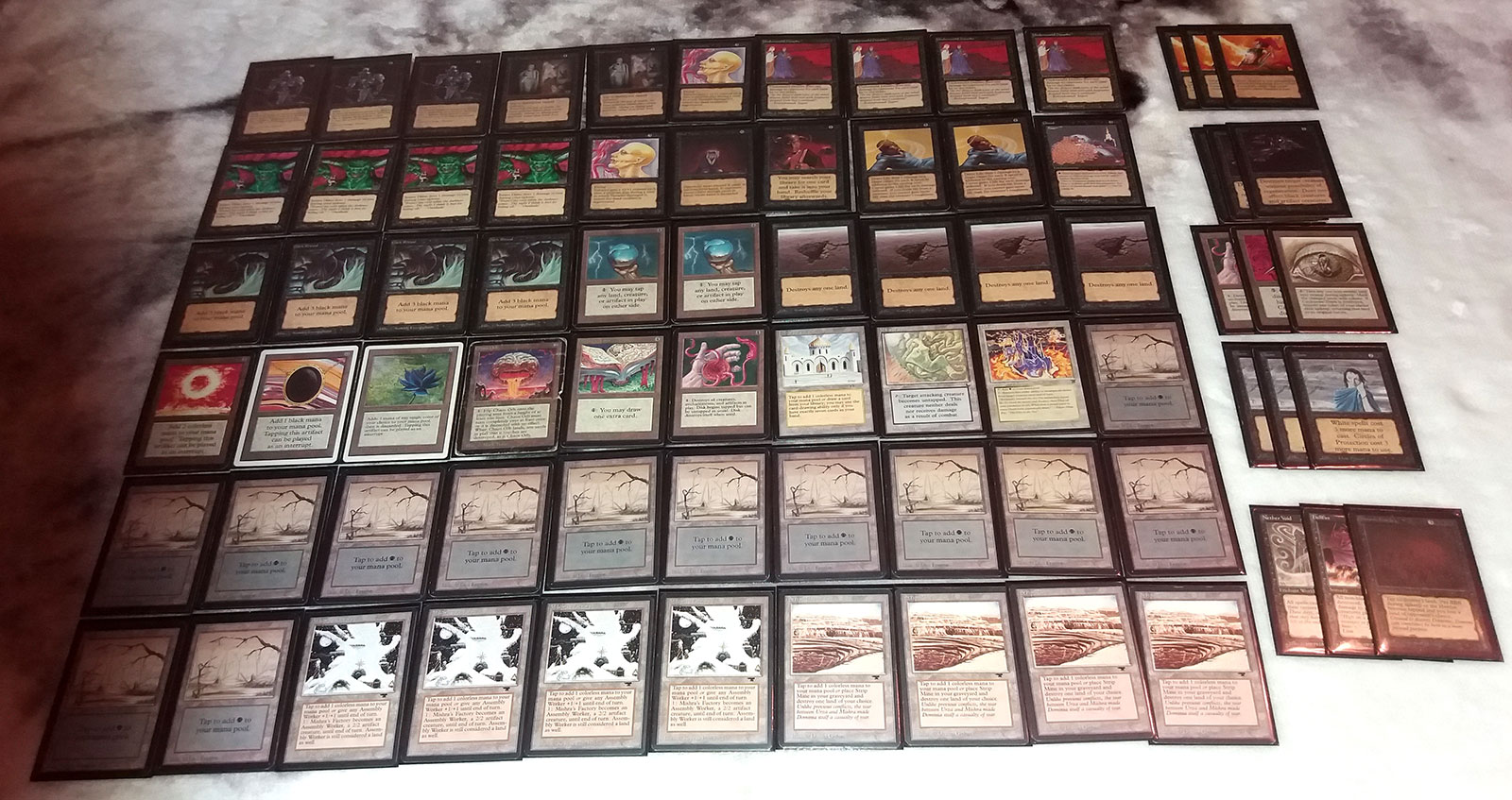 Zach Bowersox – White Weenie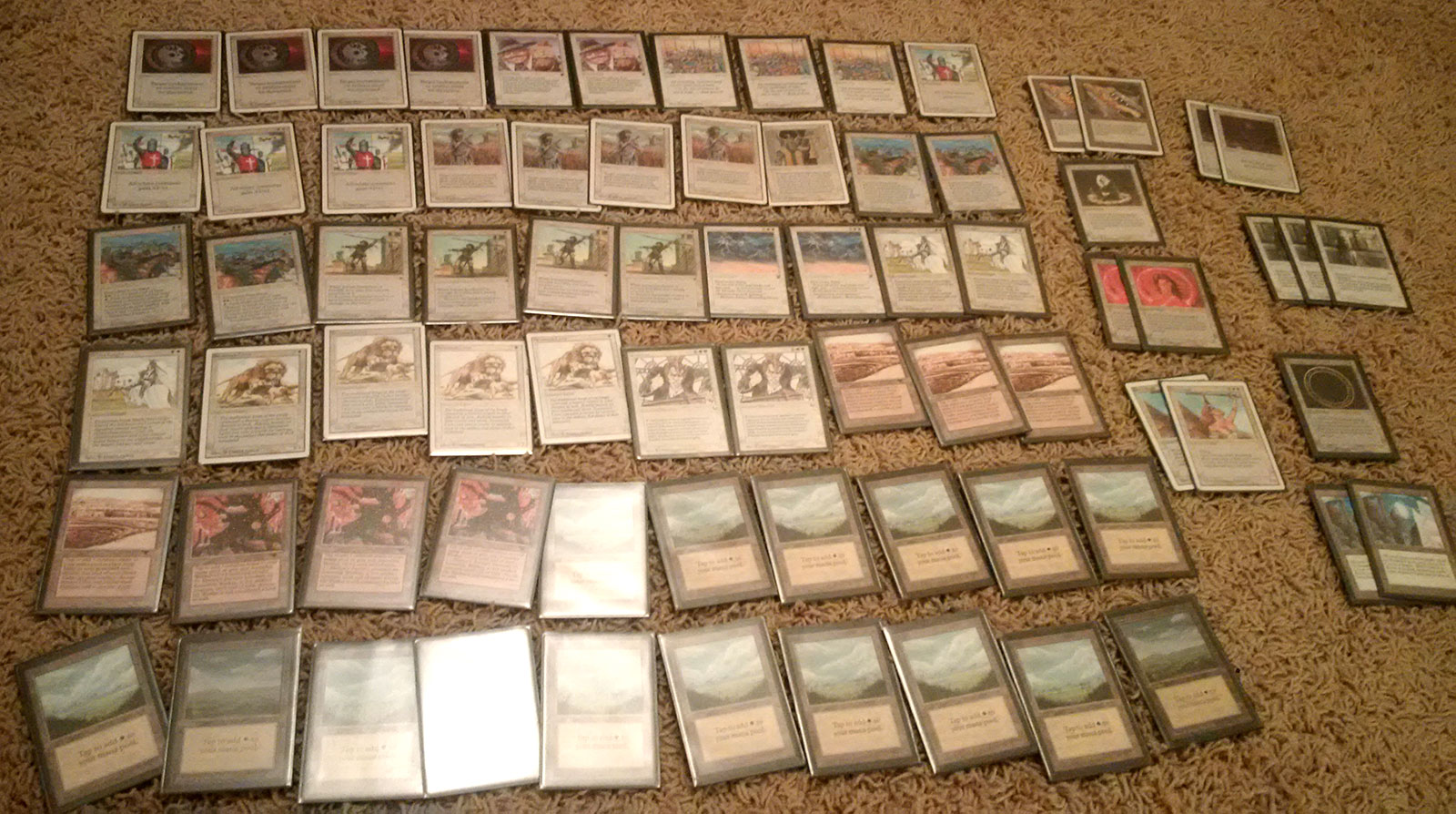 Andrew Bowman – 5C Titania's Song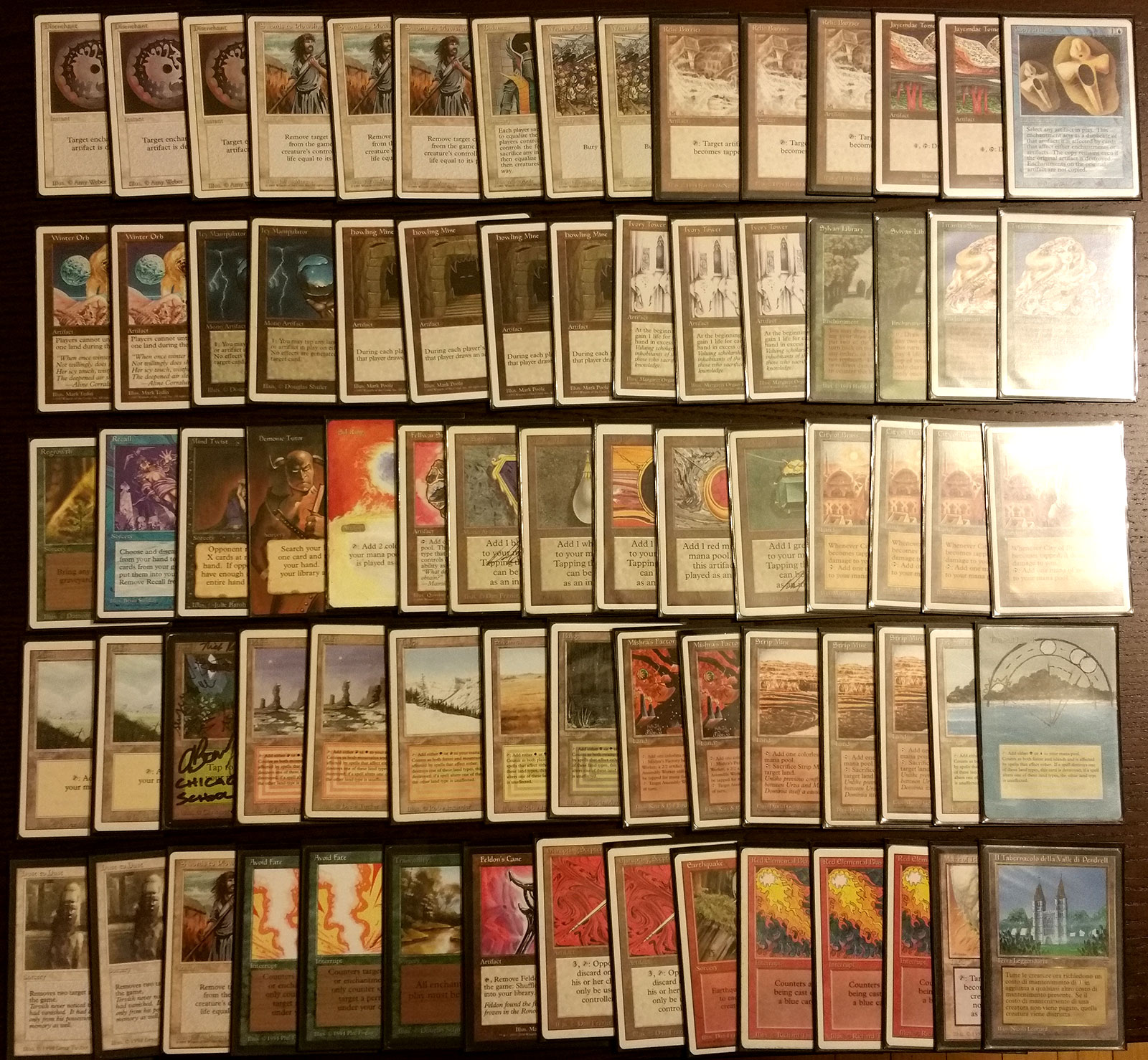 Mike Butzen – Esper Workshop Aggro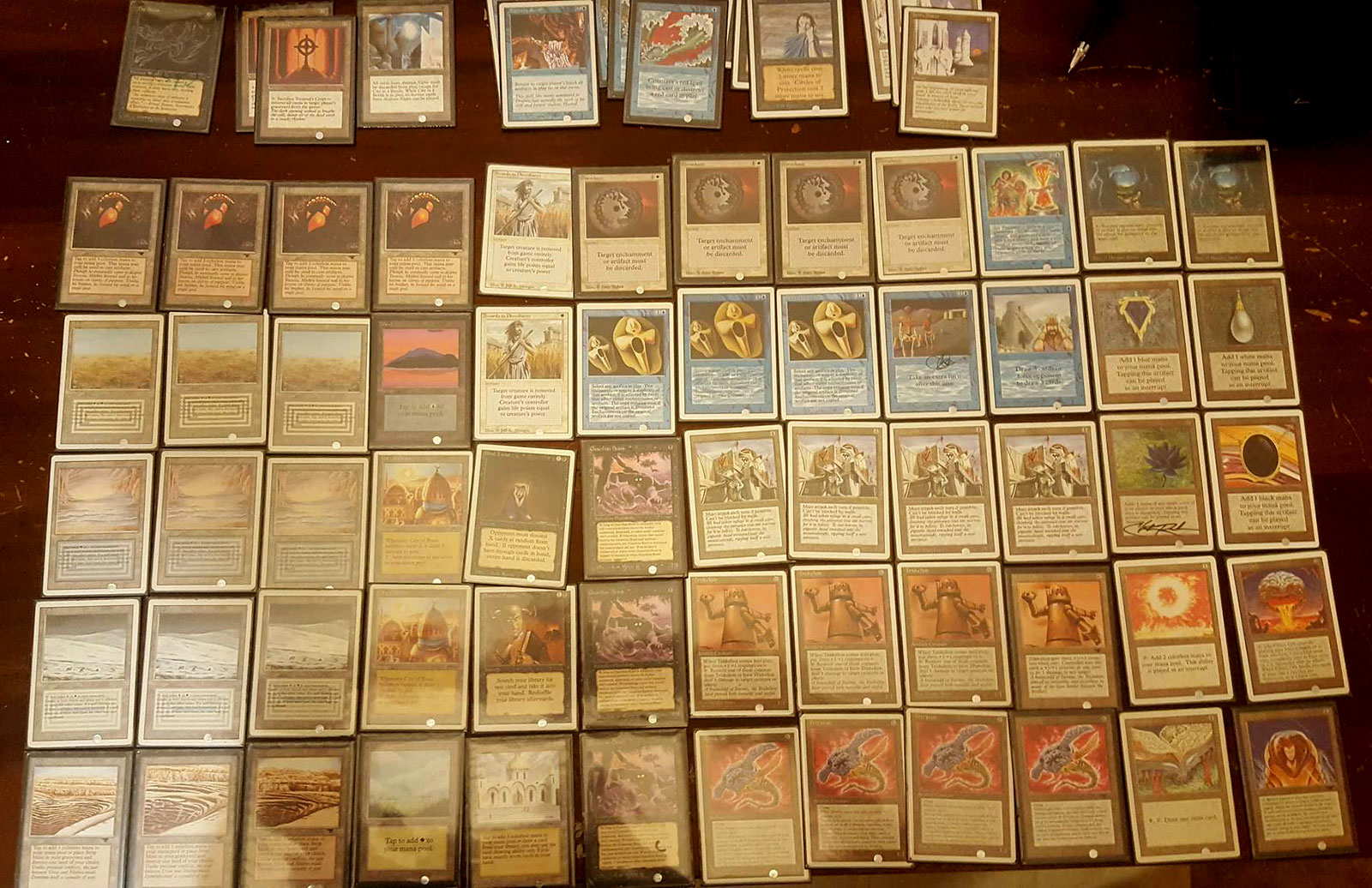 Grant Castleton – Green White Geddon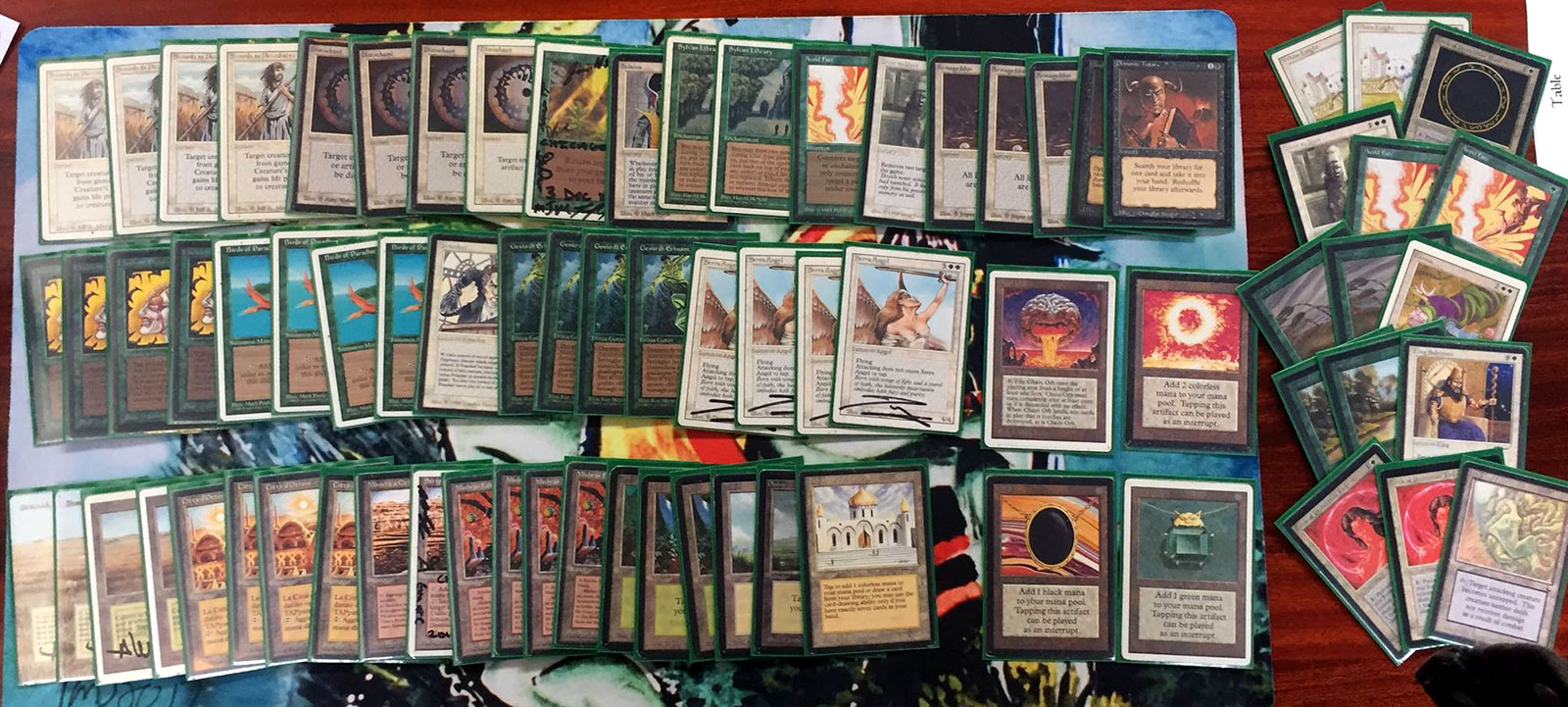 Curt Christian – Crimson Disco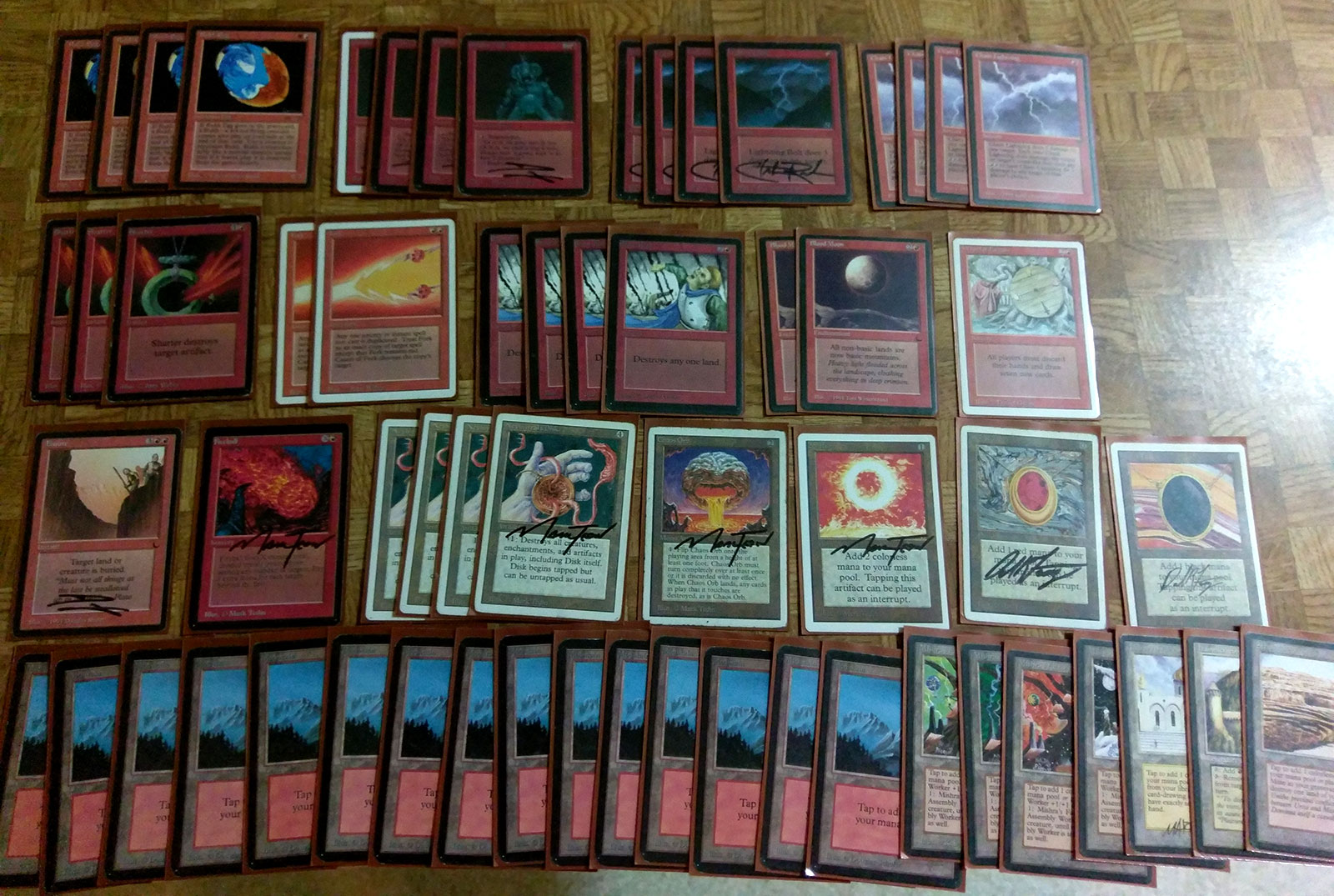 James Cooney – Mono Blue Merfolk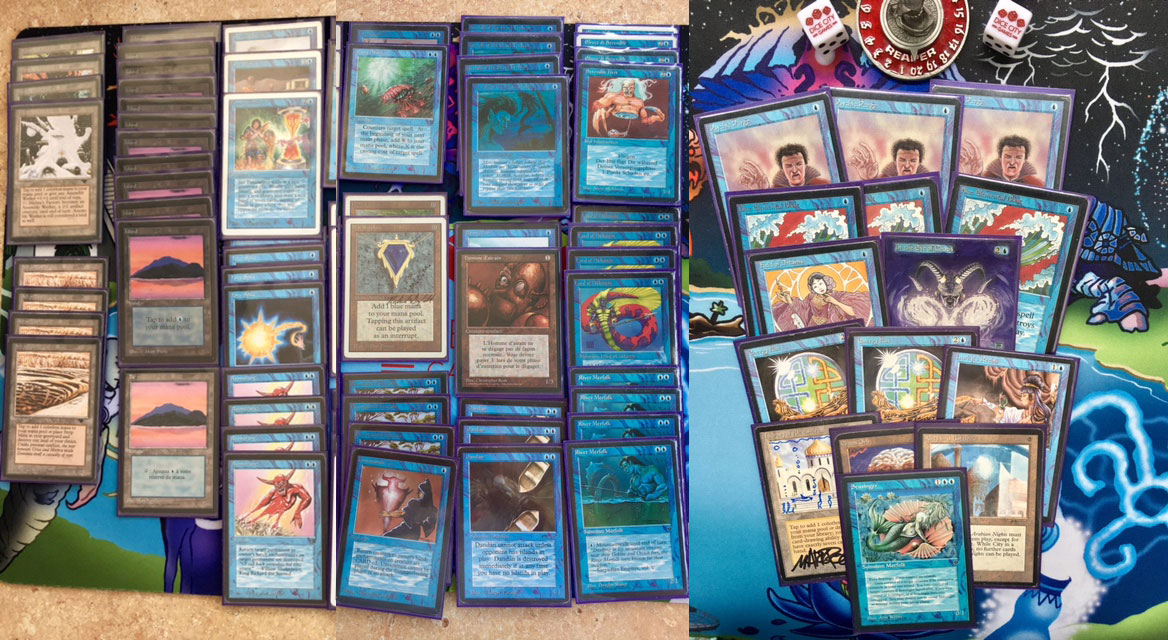 Matthew Deering – Esper Skies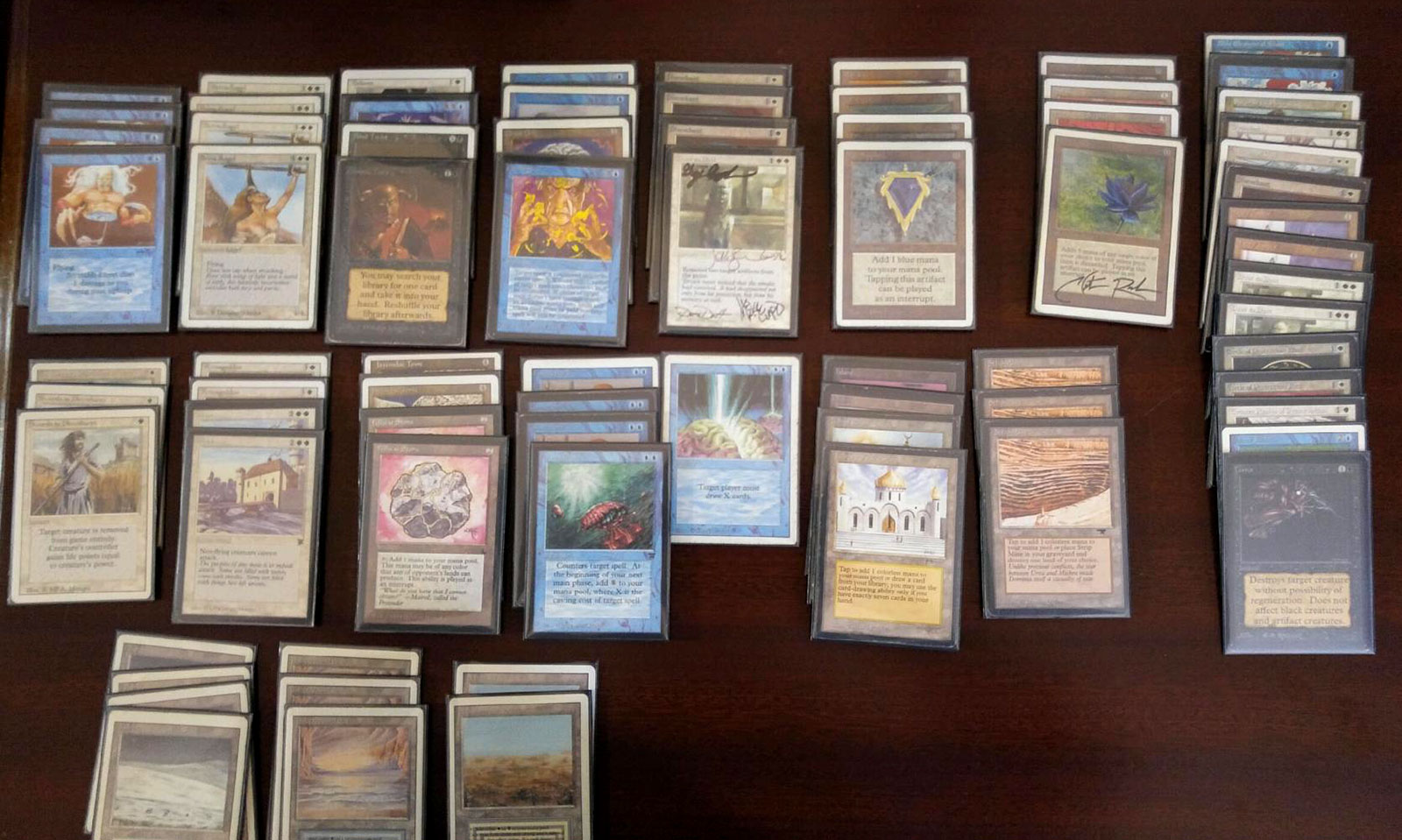 Dominic Dotterrer – Arabian Esper Aggro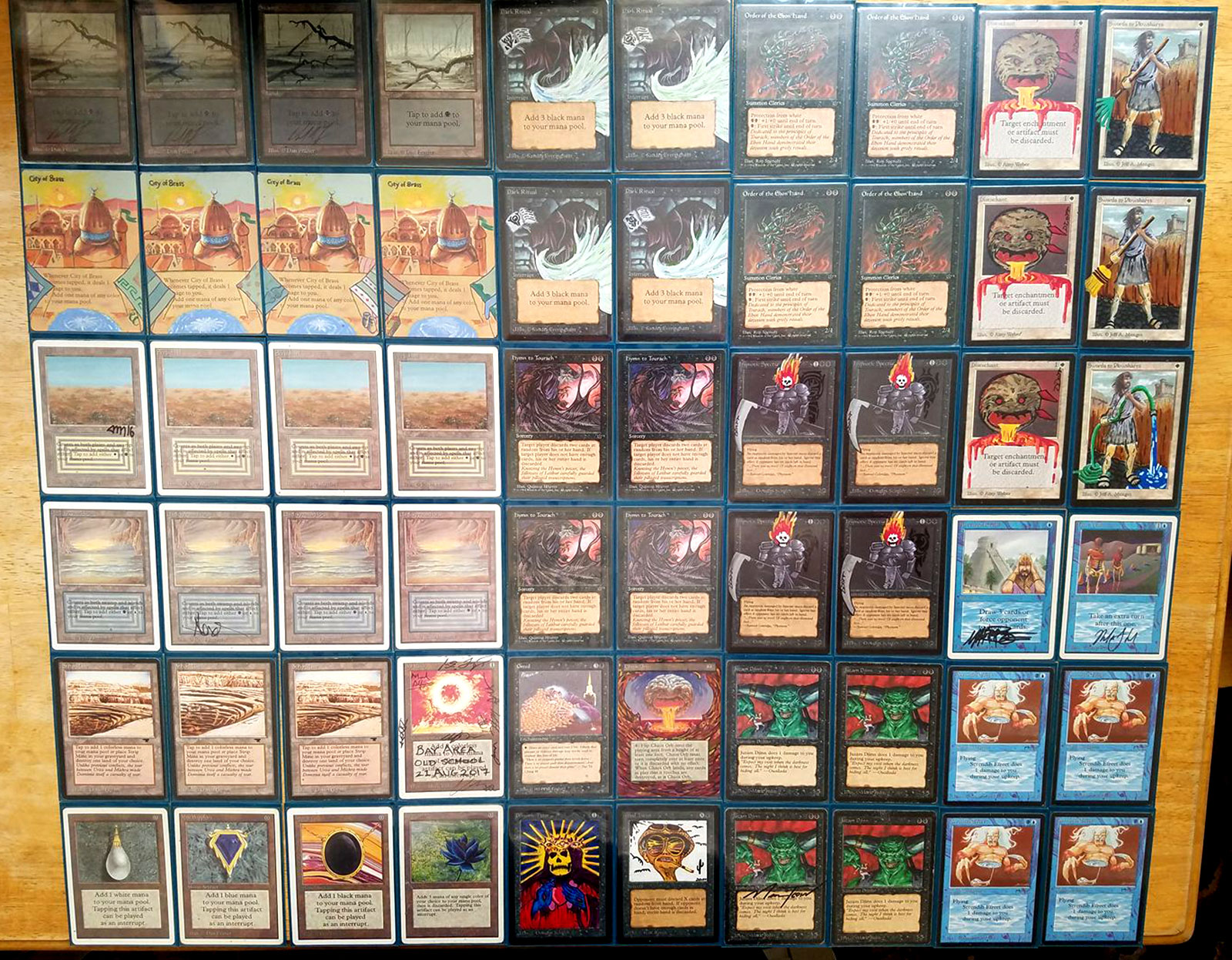 Lorian Elleman – UR Control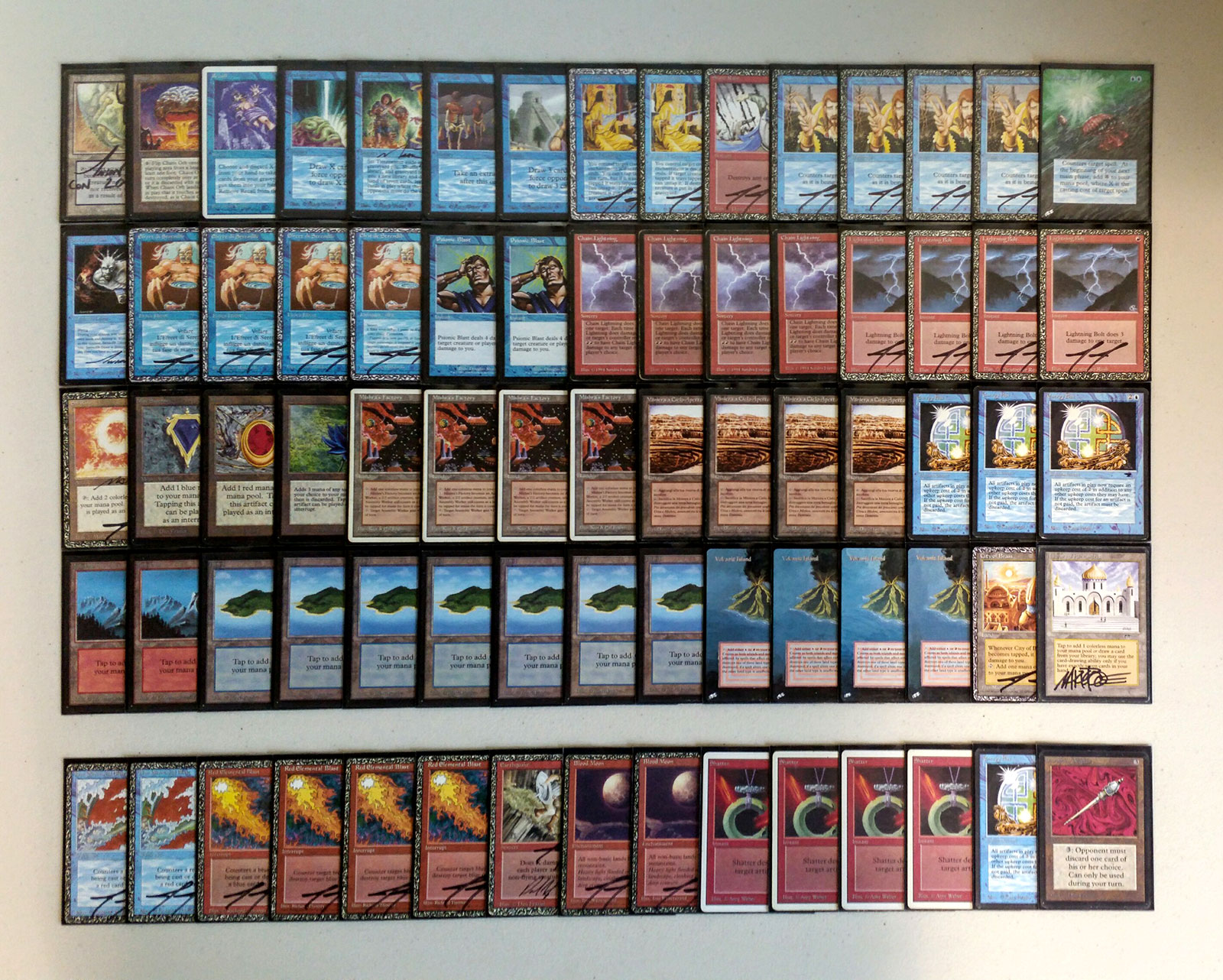 Tyler Etters – Red White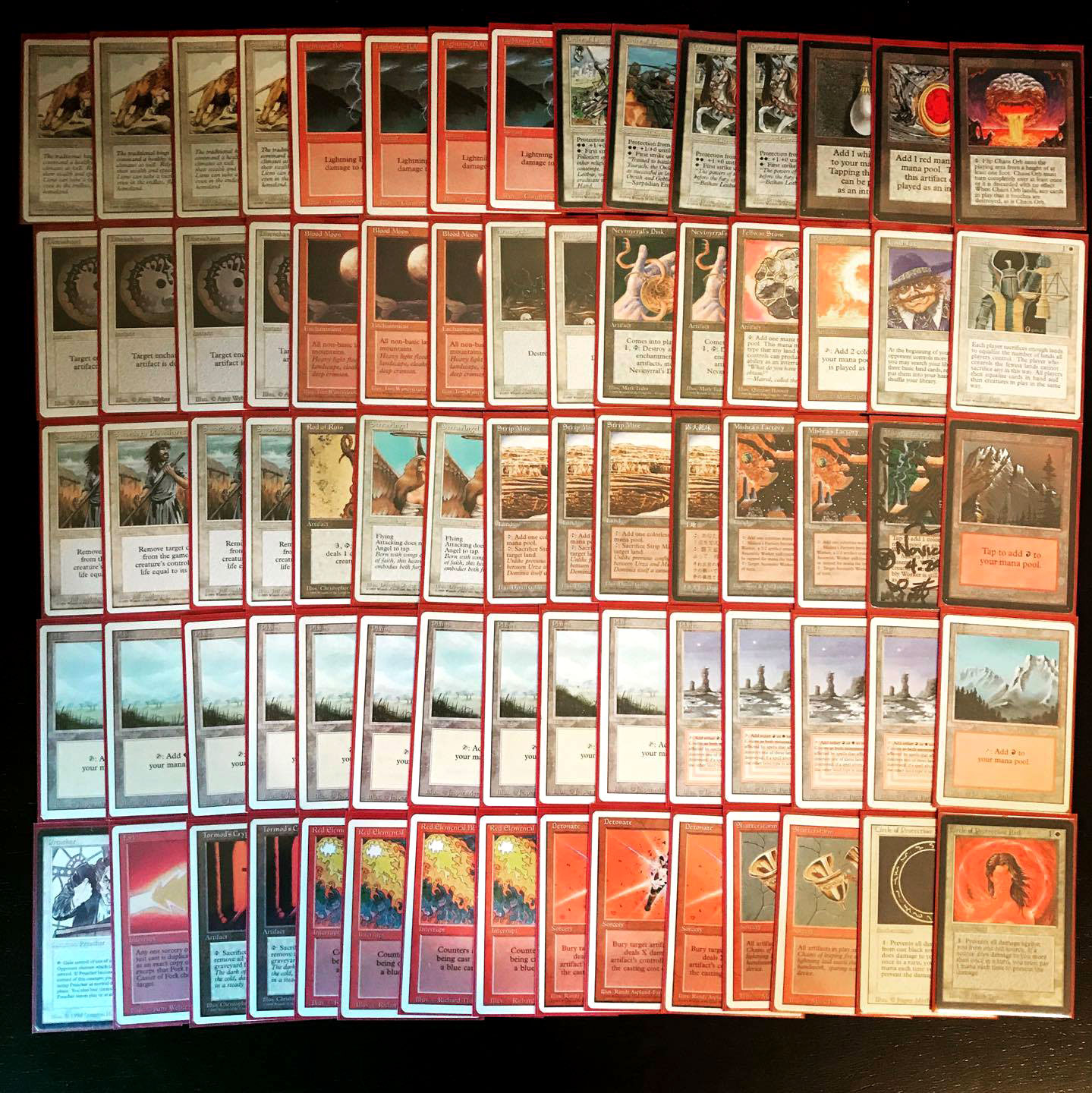 Paul Fiero – Blue Green Living Plane Control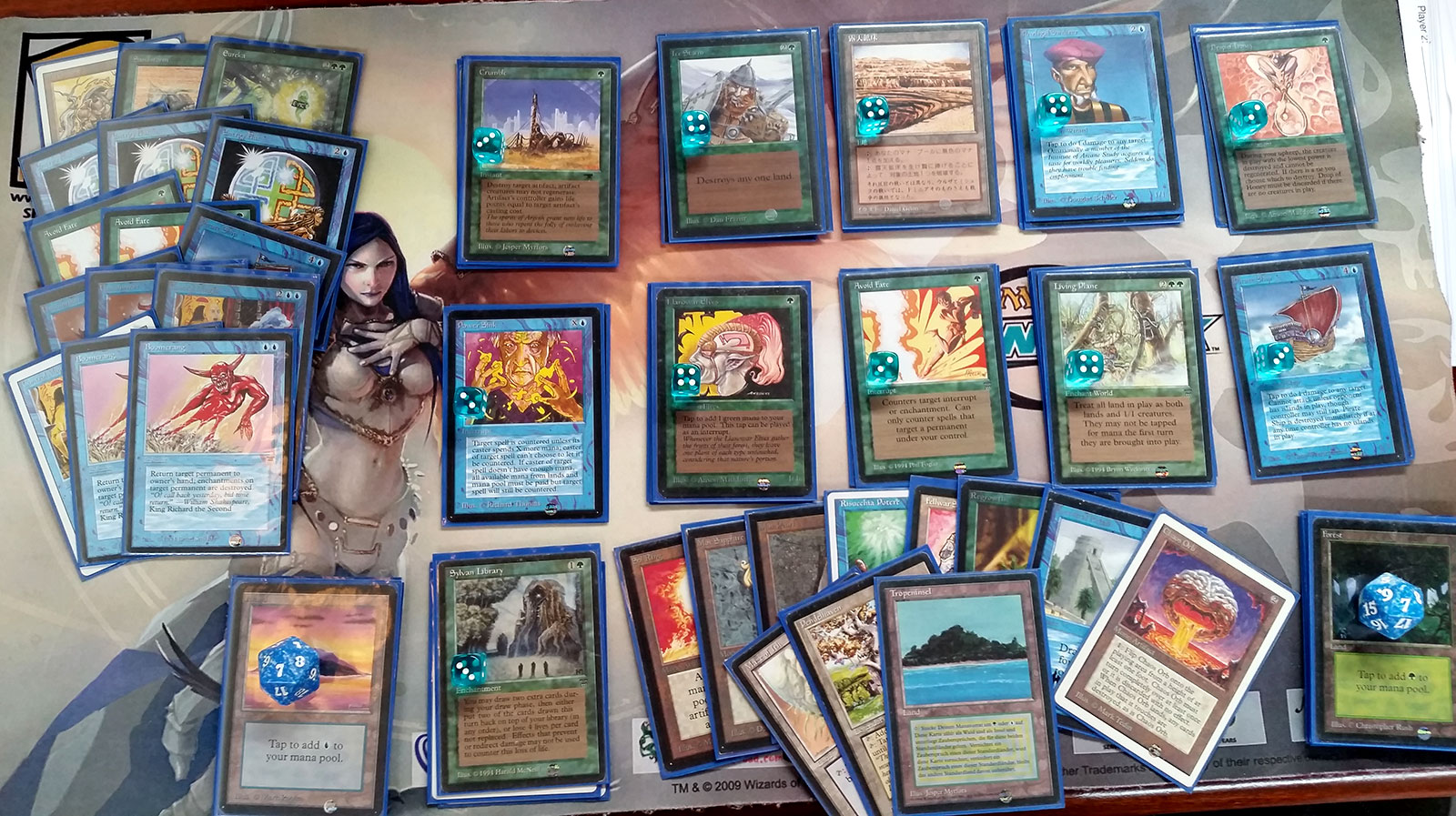 Danny Friedman – Nether Void Control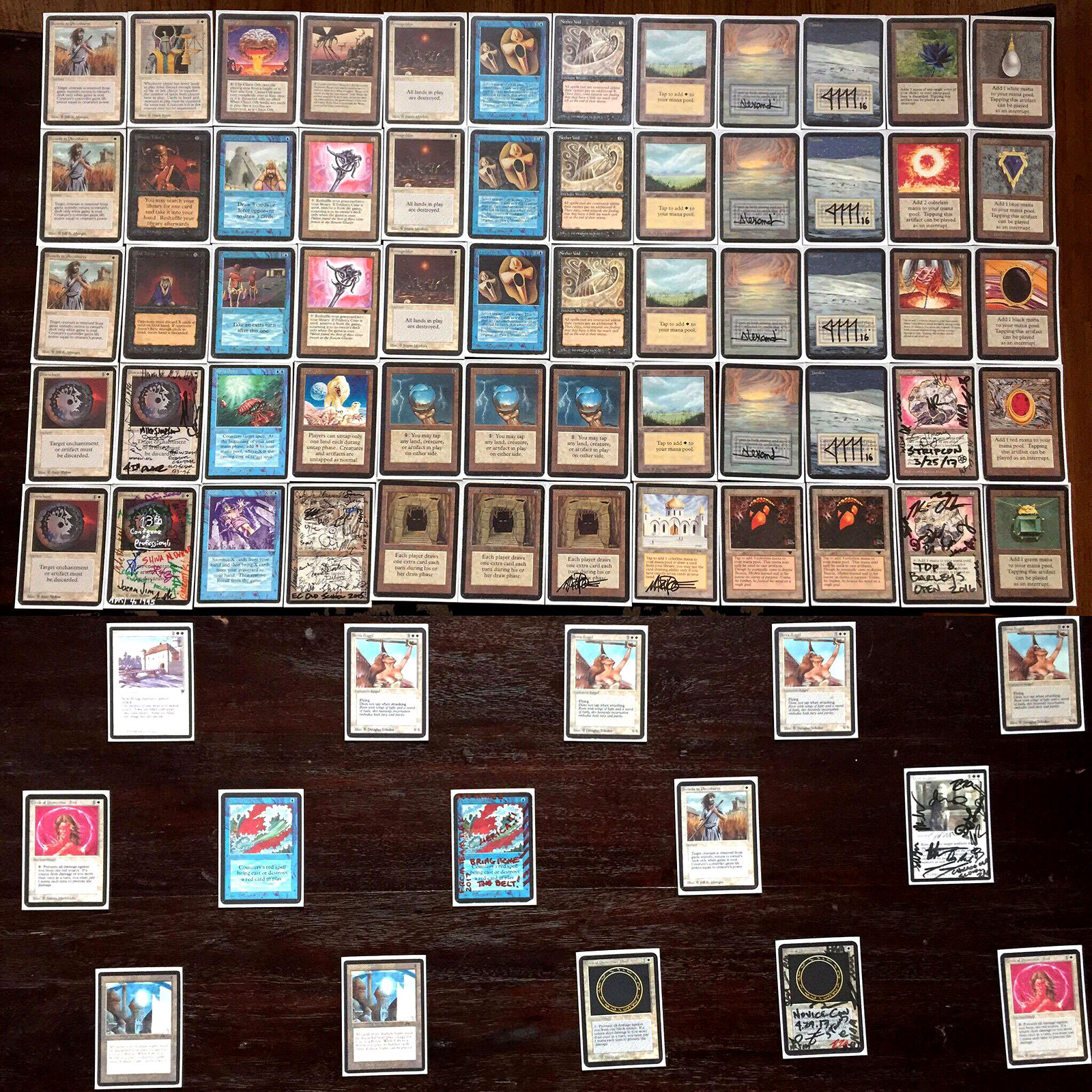 Charlie Hahn – 4C Gasoline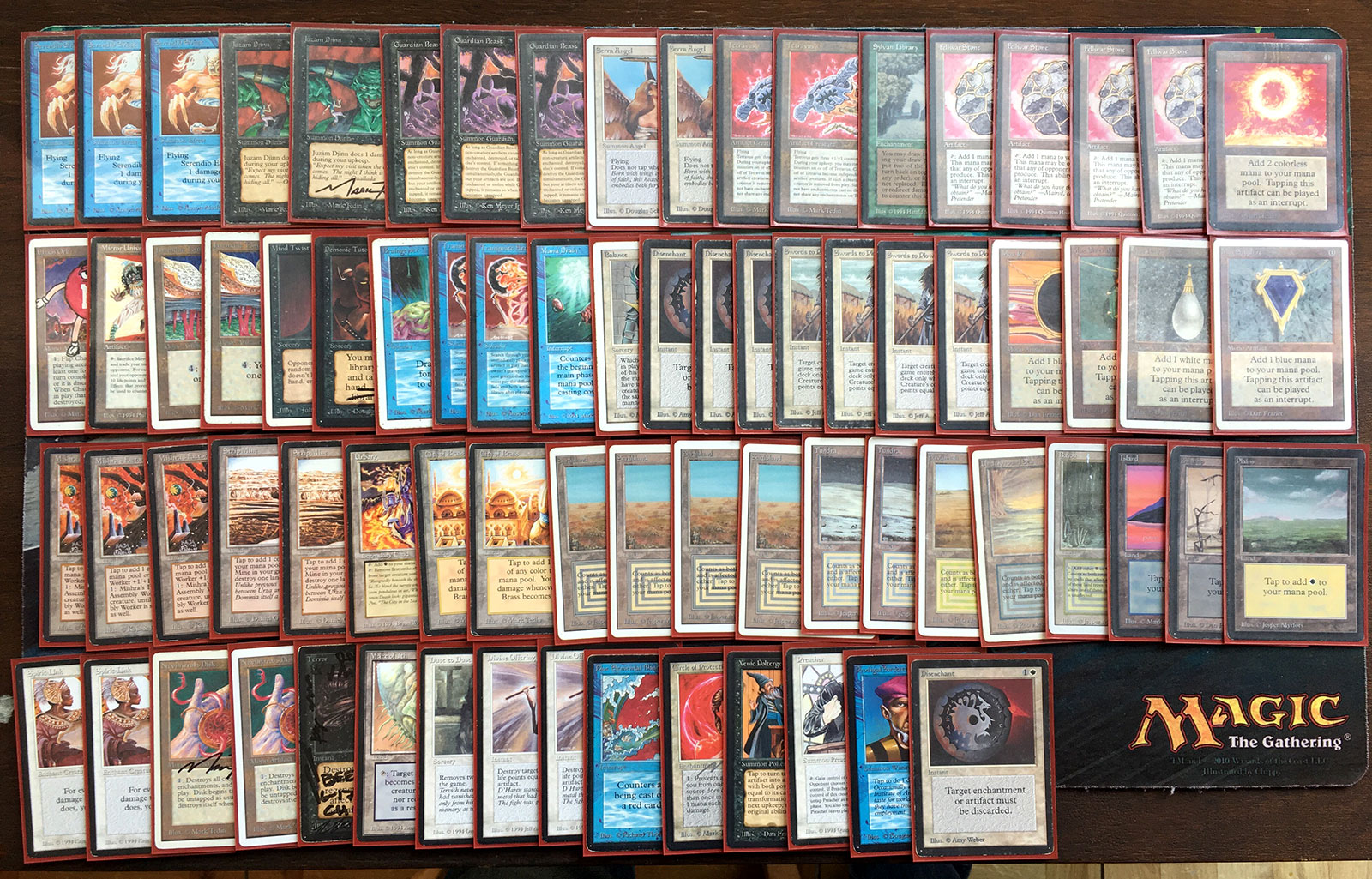 Matt Hahn – Mono Blue Tempo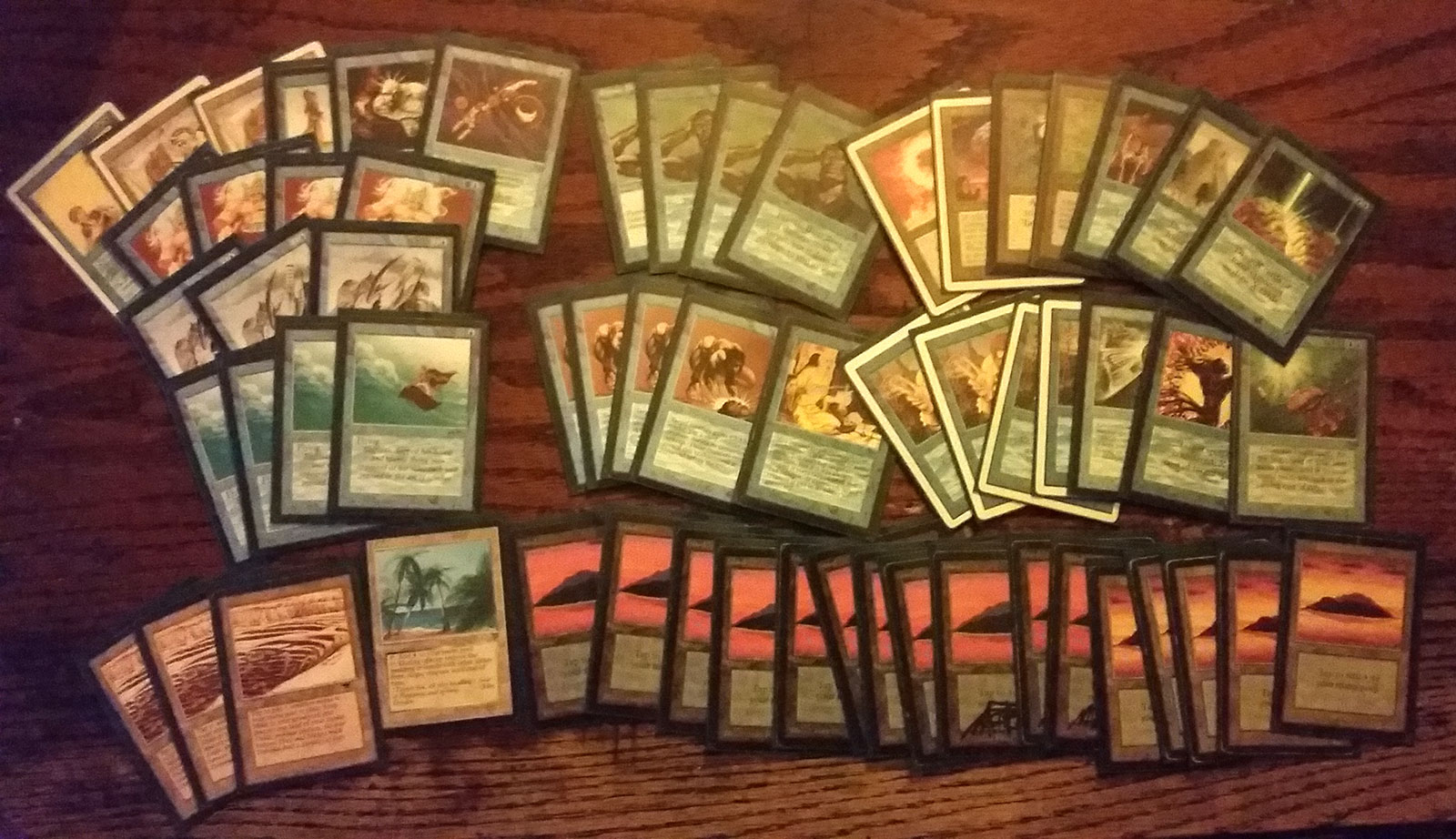 Jason Happel – UR Control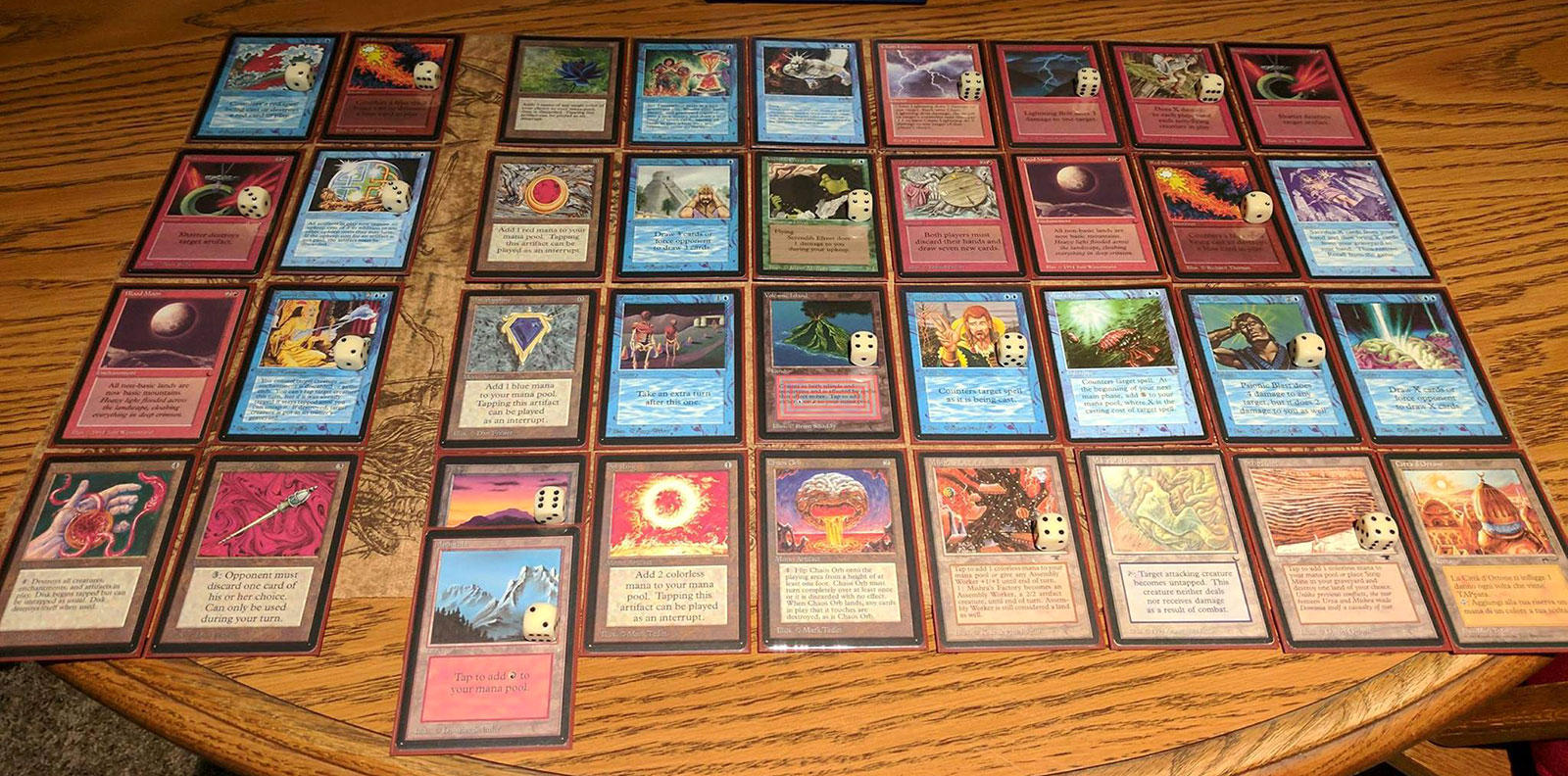 Amanda Hilton – Mono Black Discard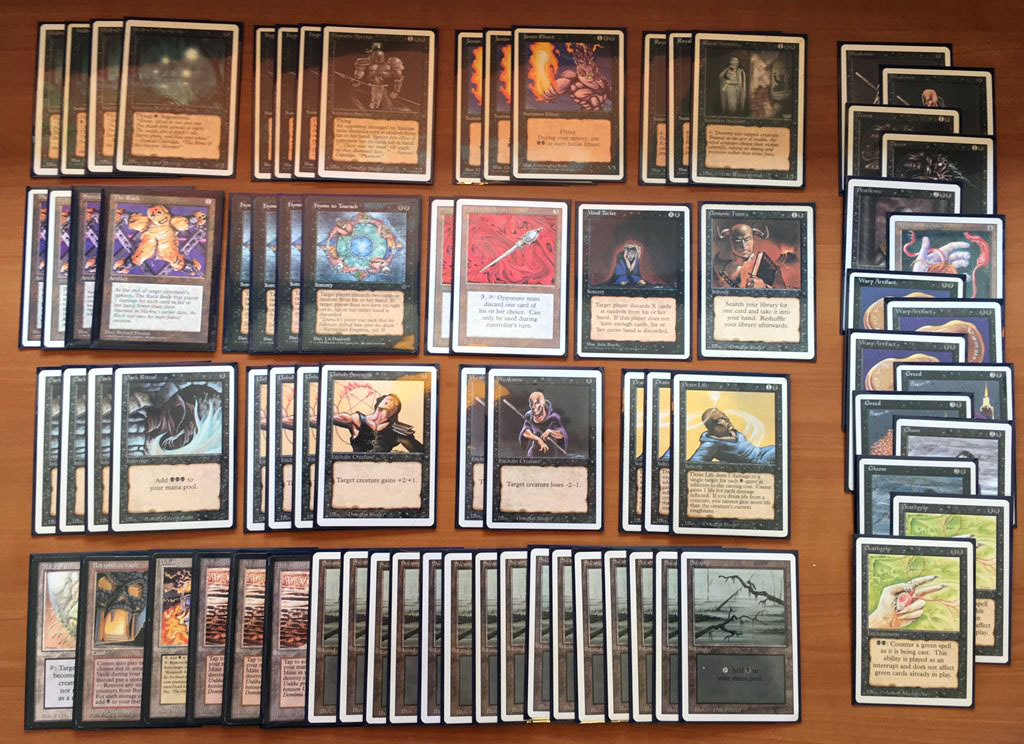 Michael Hilton – White Weenie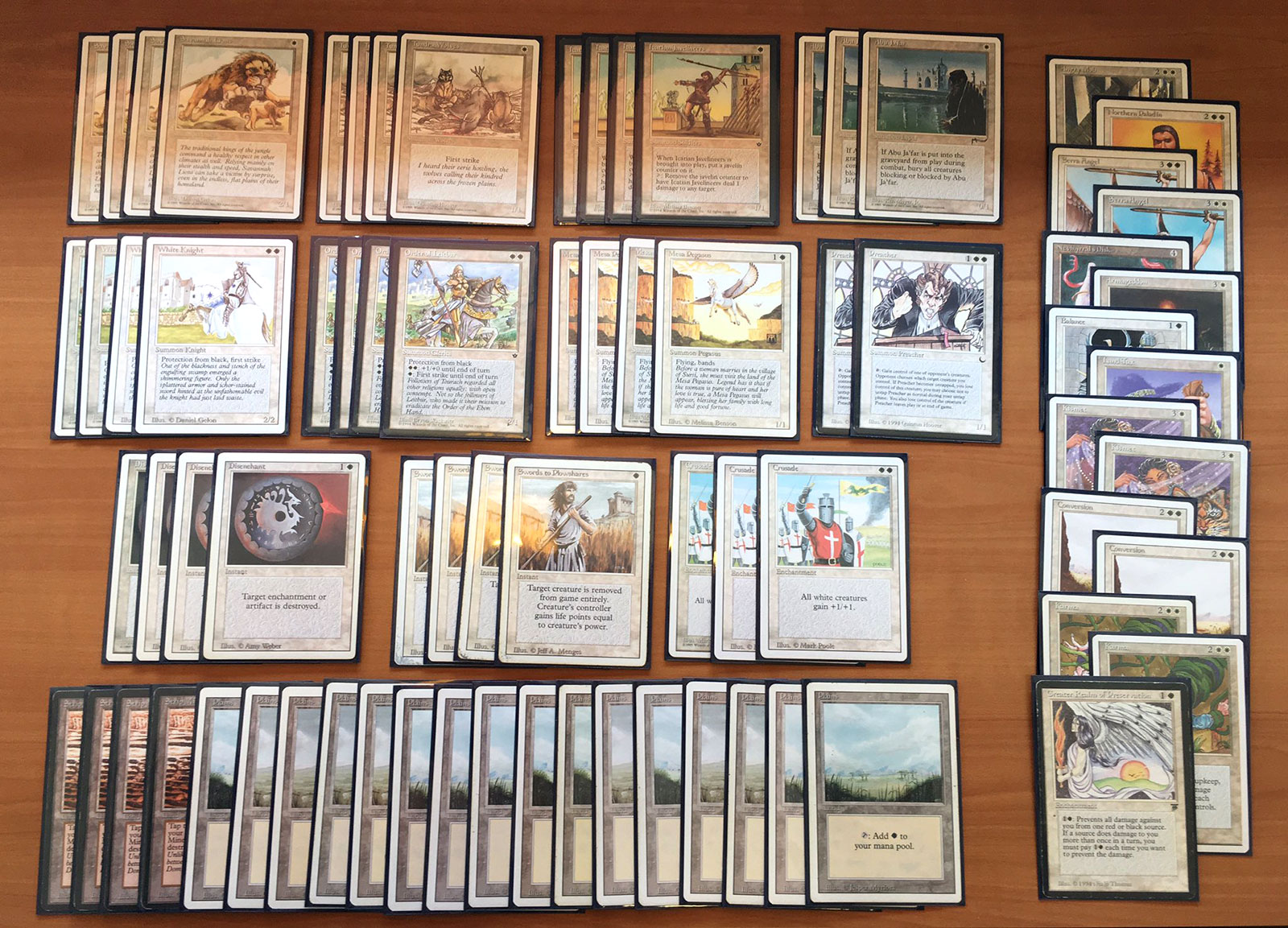 Trevon Hilton – Mono Black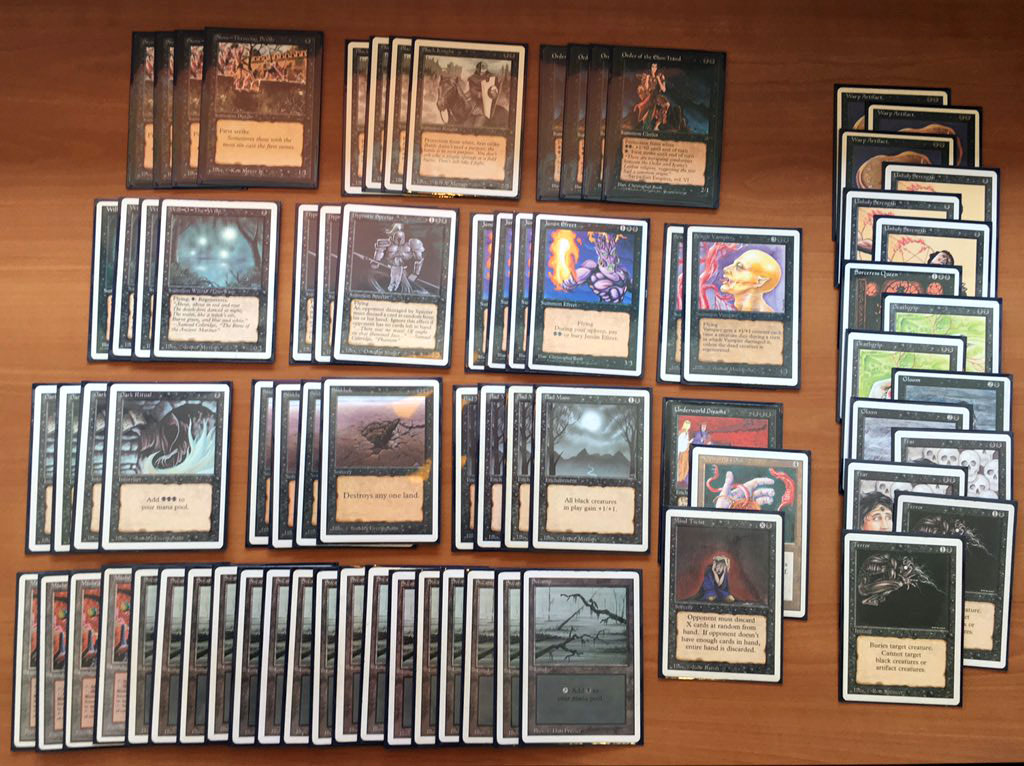 Daniel Humphreys – White Weenie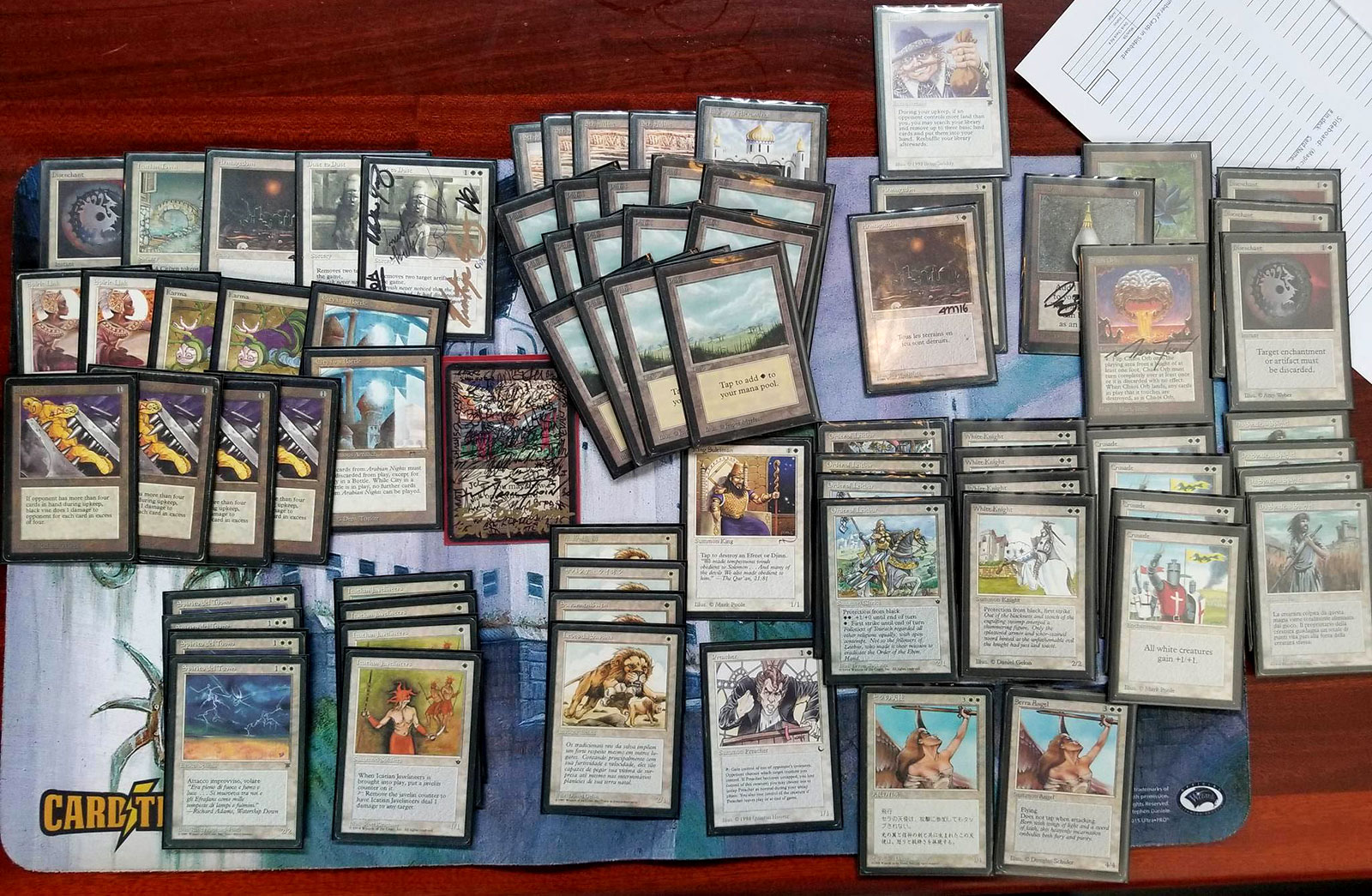 Jaco – Naya Bazaar Zoo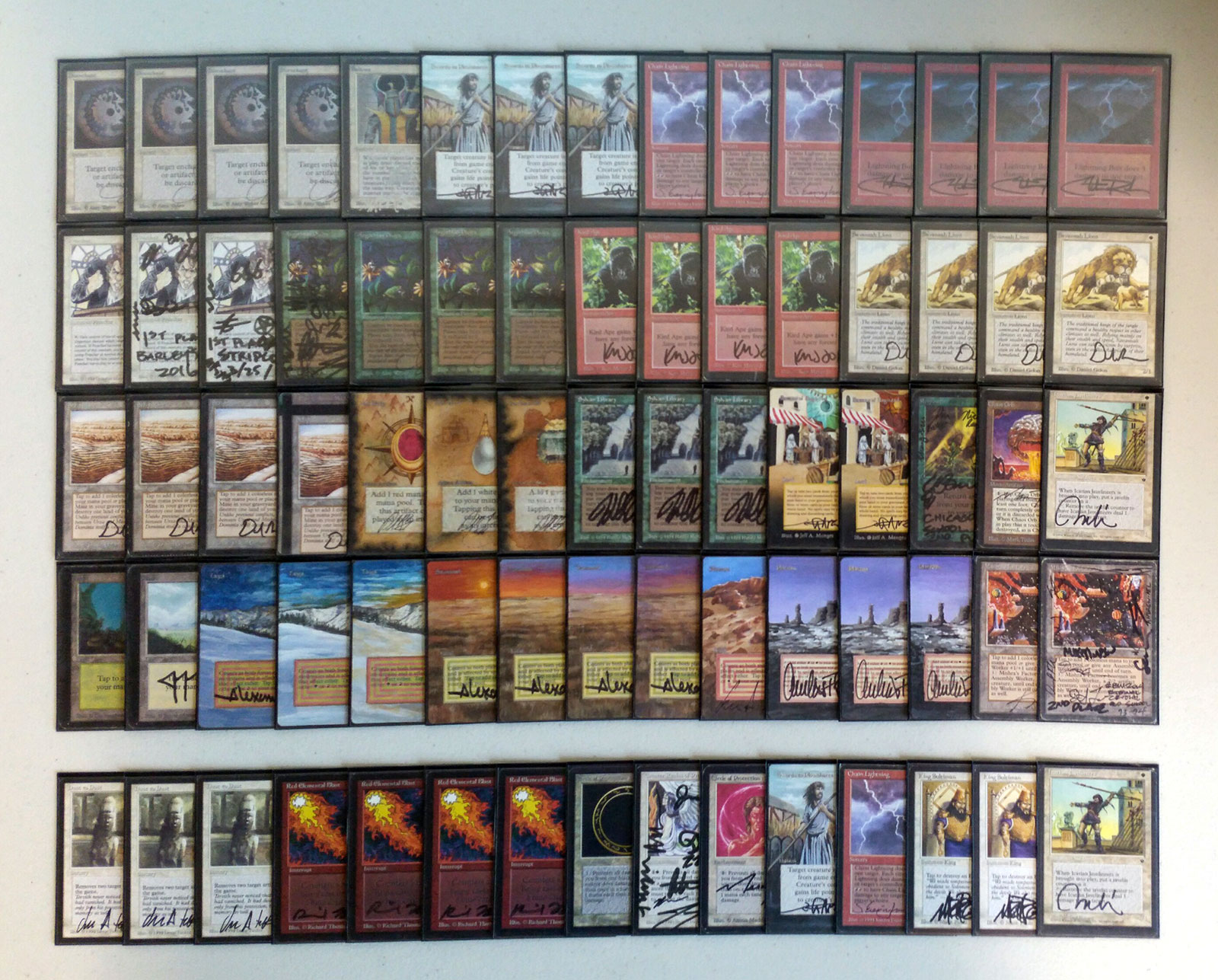 Ryan Jean – Black Red White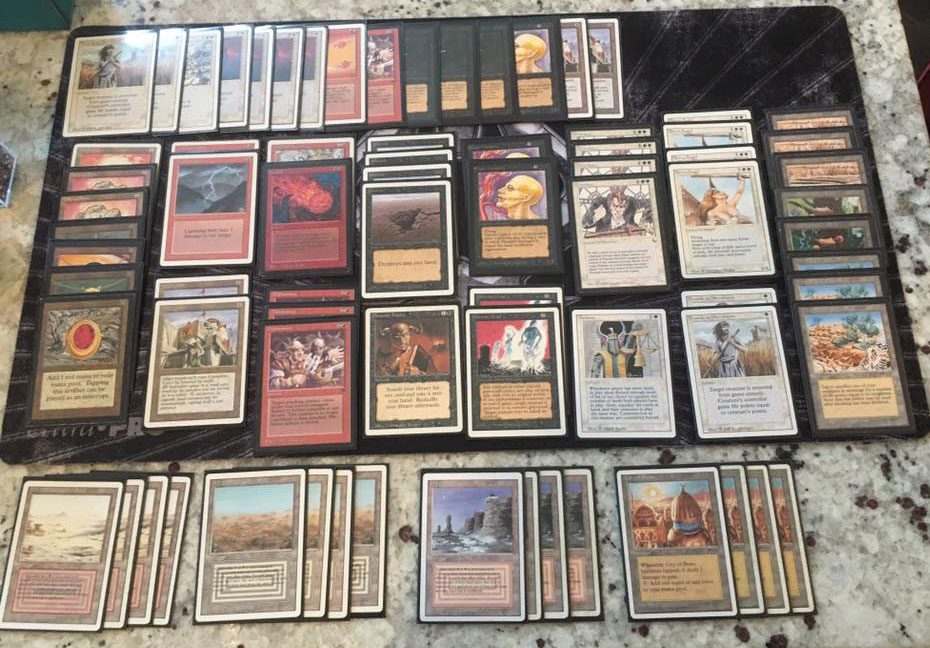 Jay Krusac – Bant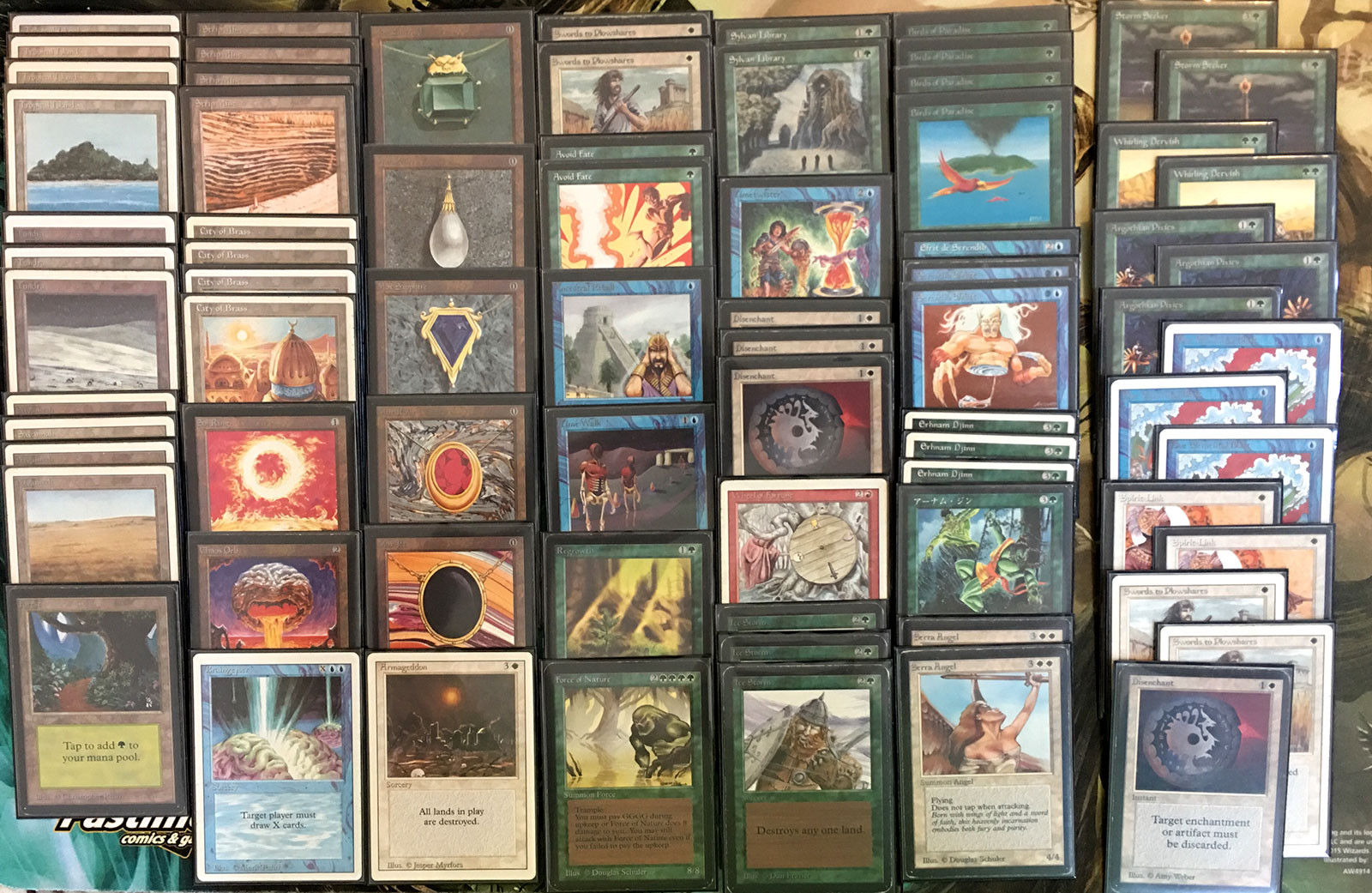 Andrea Longhi – Red Green Aggro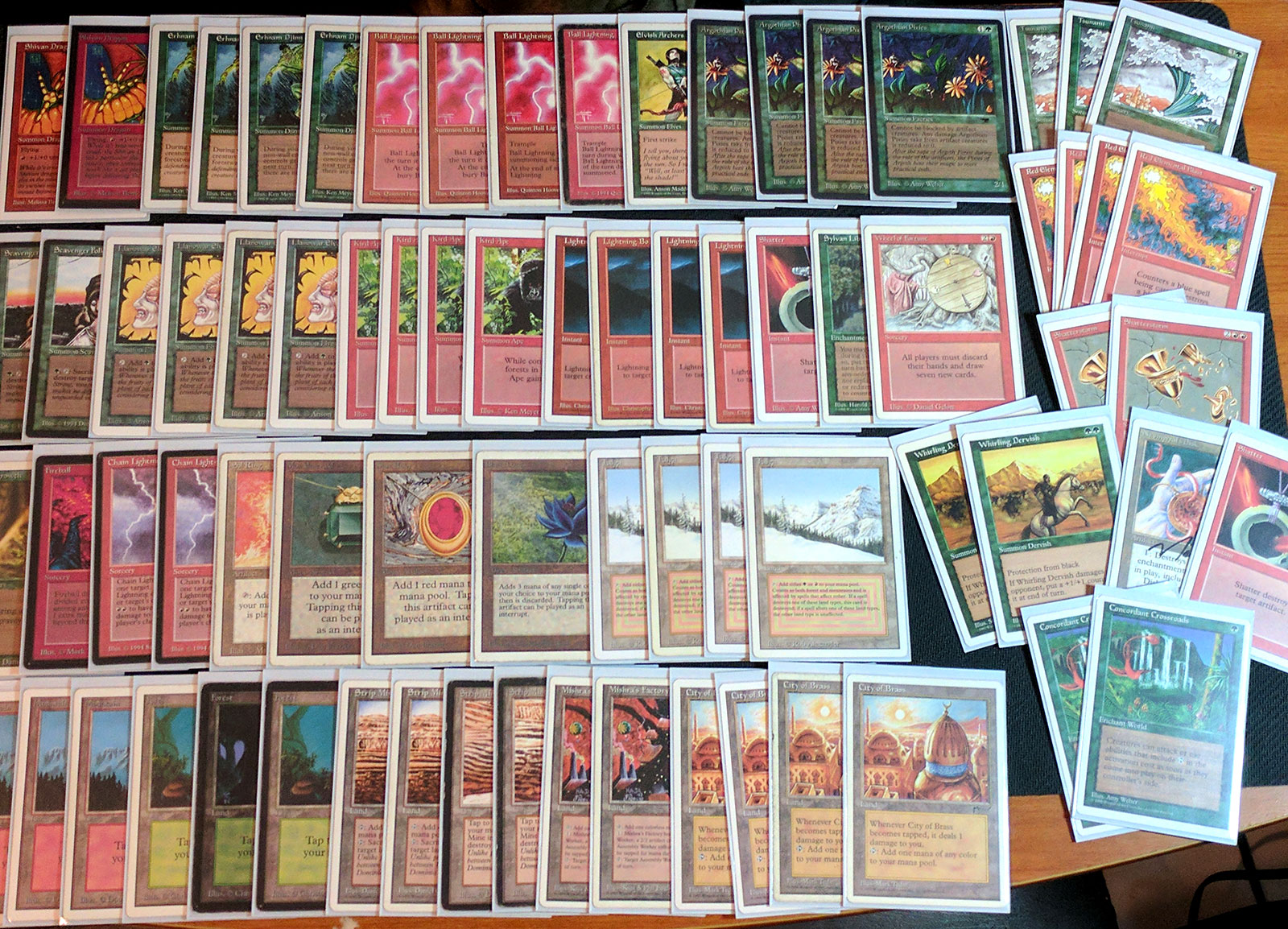 Ron Longhi – Mono Black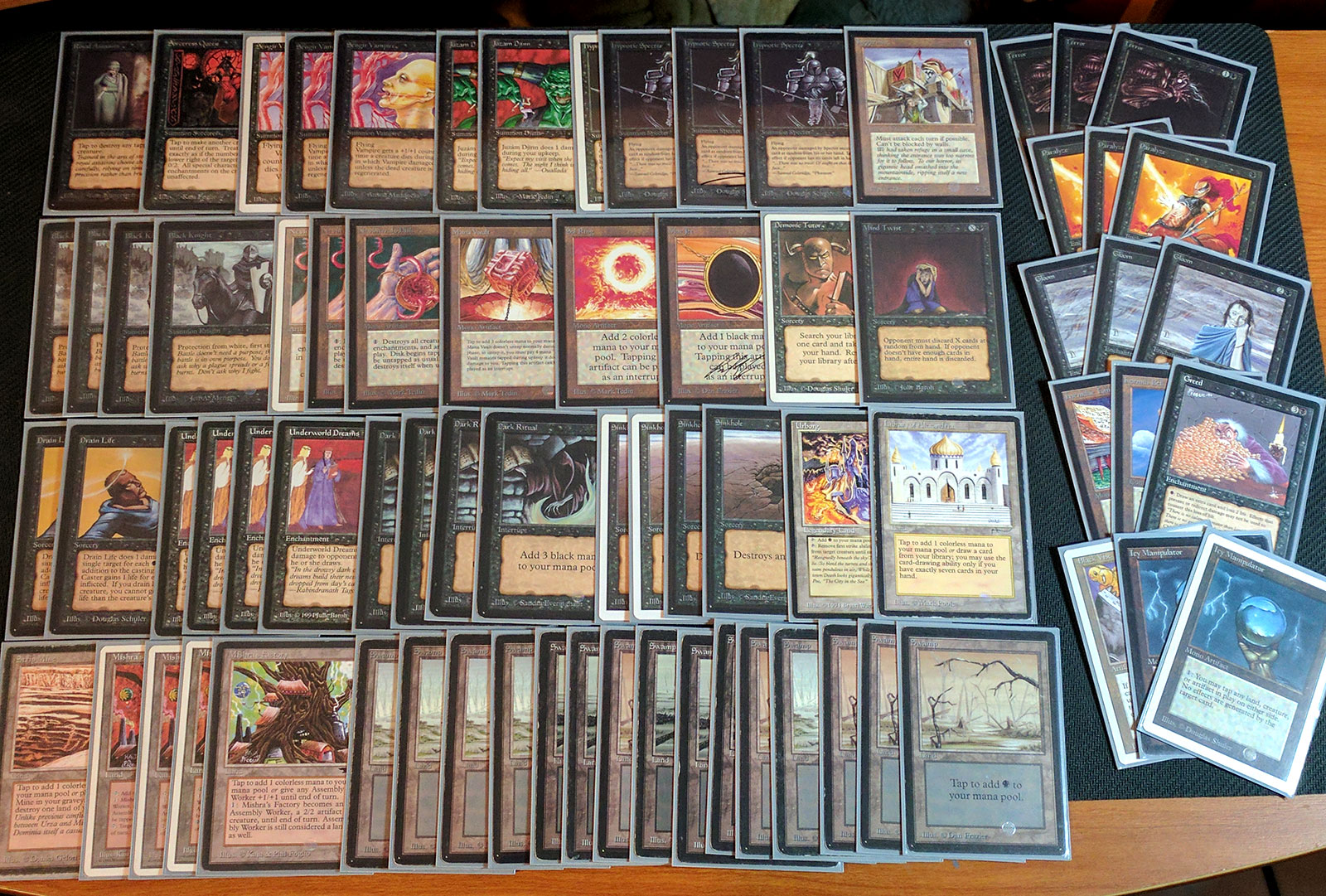 Mike Lupo – Cyclopean Lich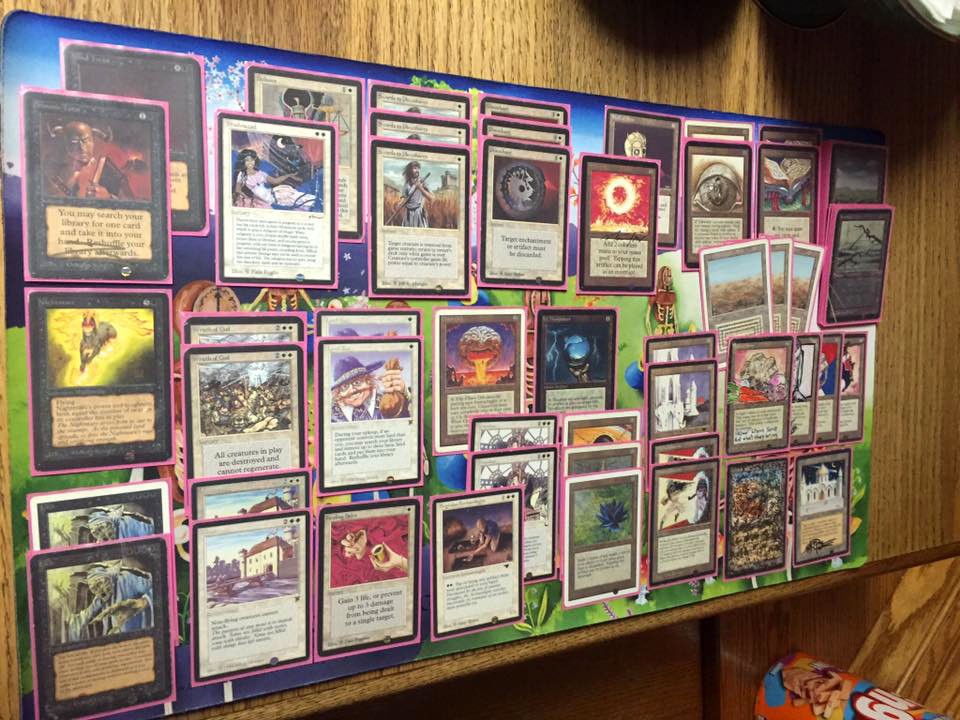 Peter Lupo – Mono Black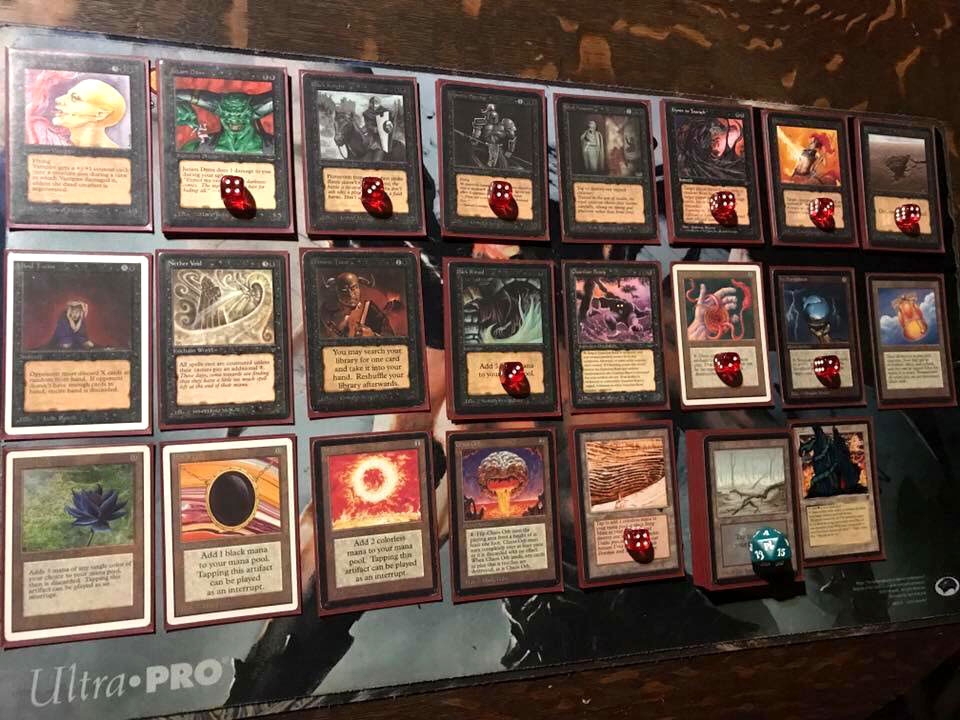 Stephen Maldonado – Bant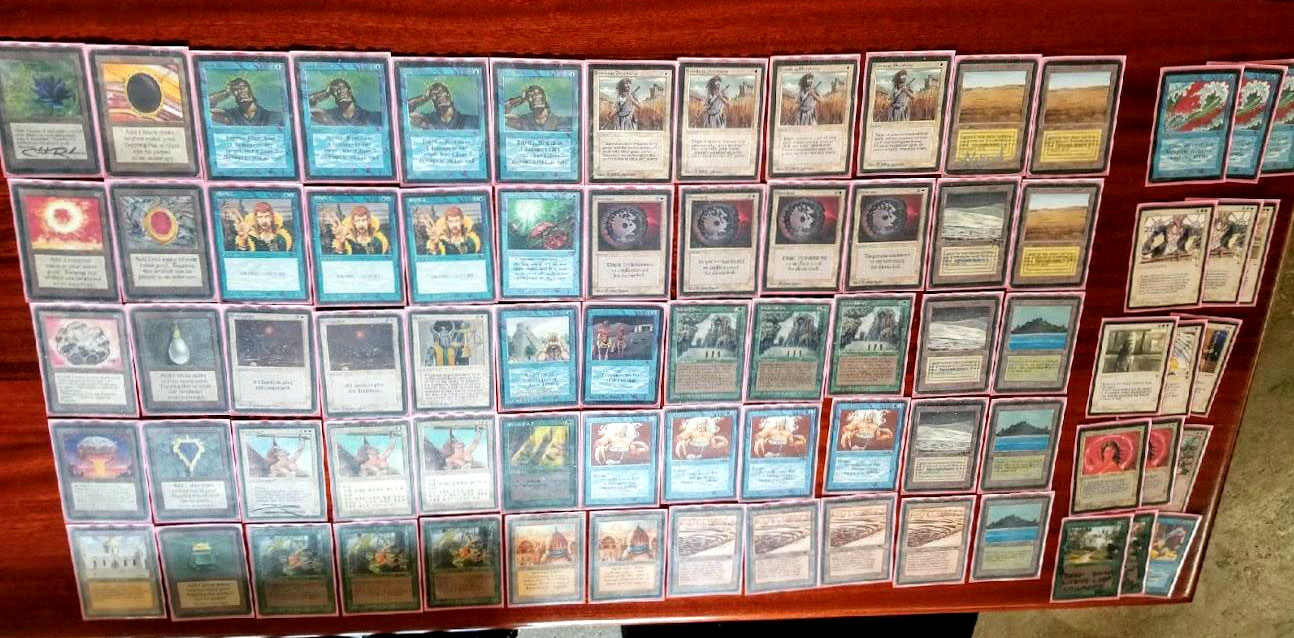 Robert Matthews – White Weenie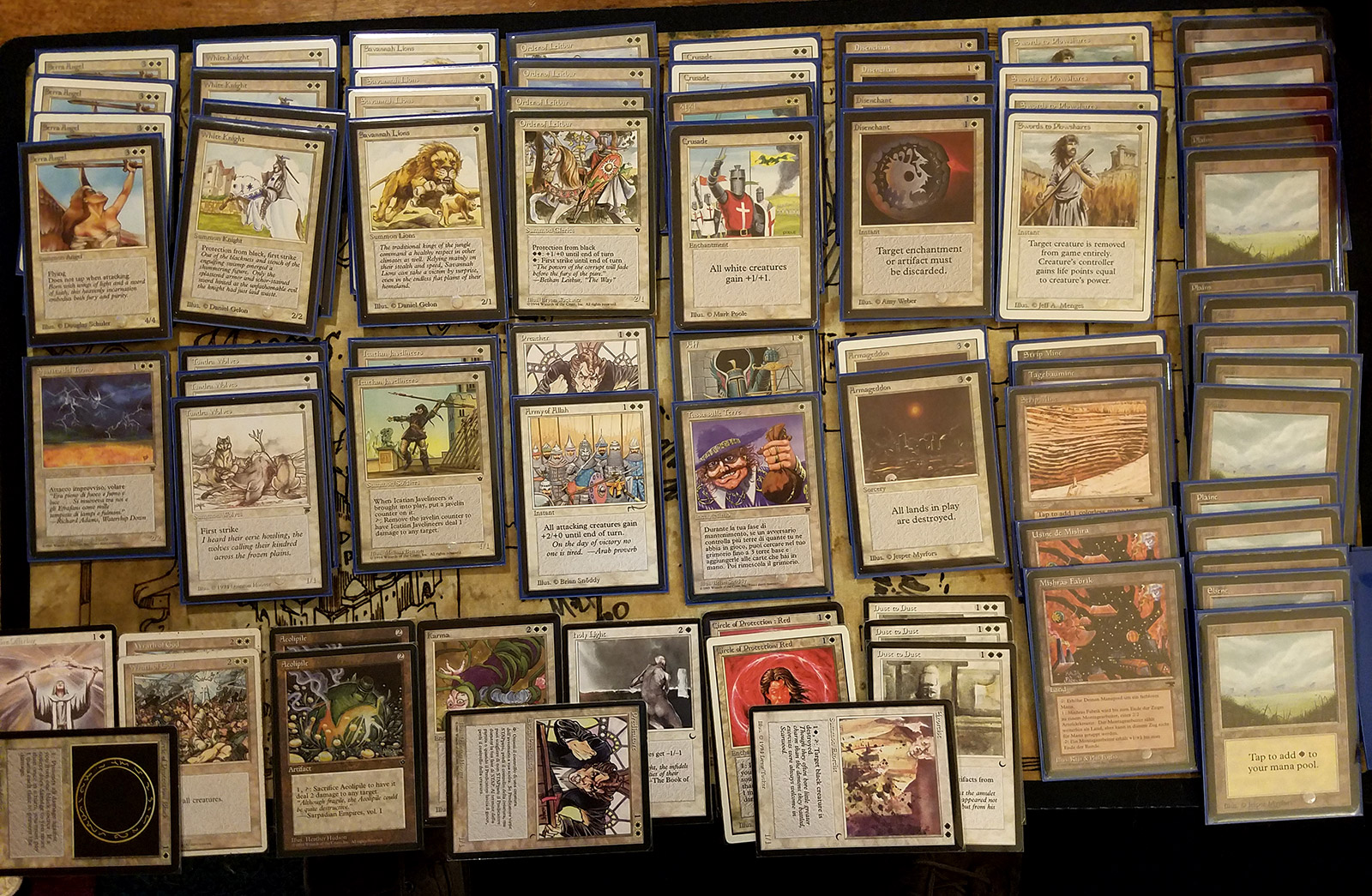 Ray Mattson – Eureka Reanimator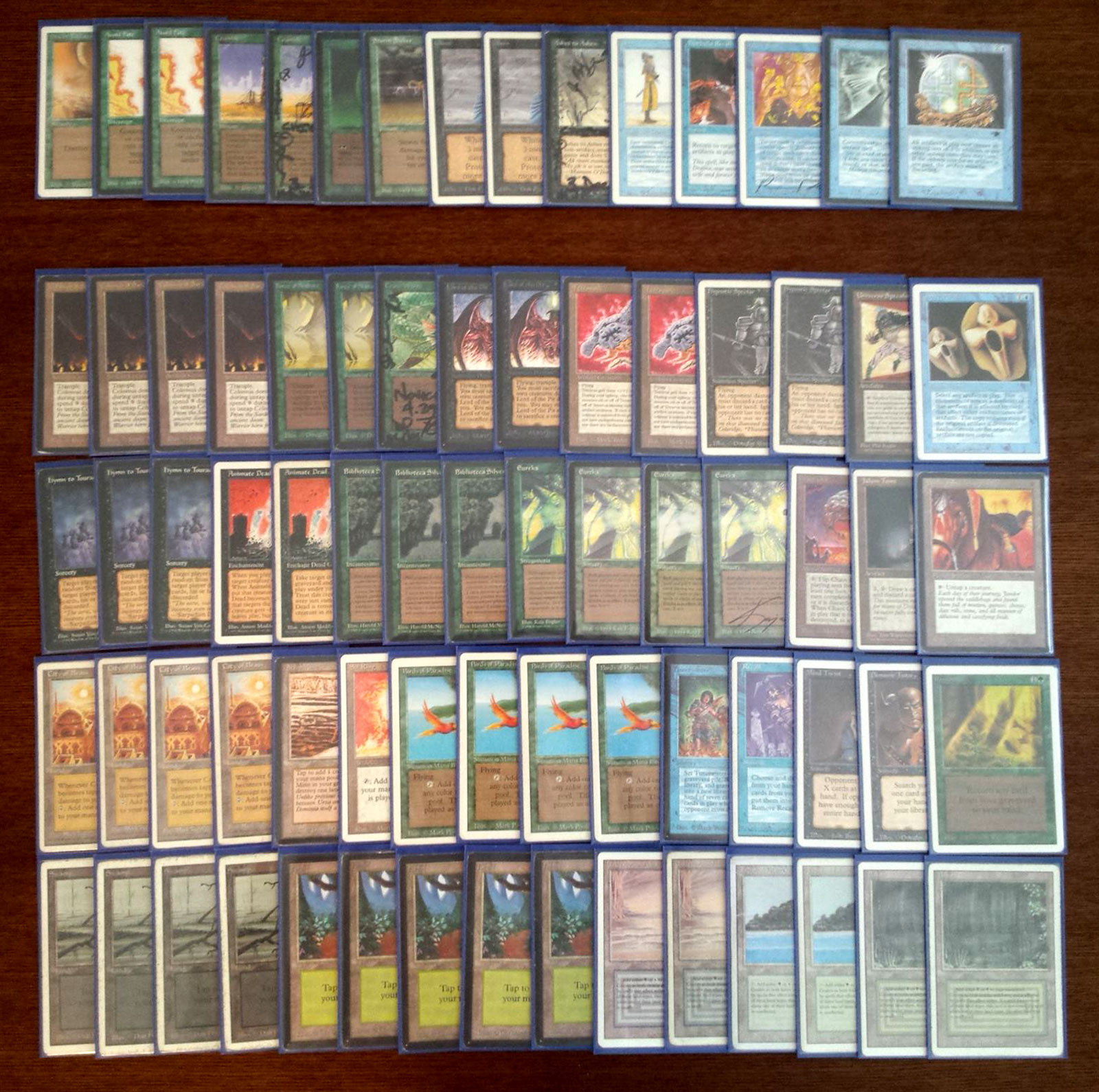 Jimmy McCarthy – Green White Workshop Aggro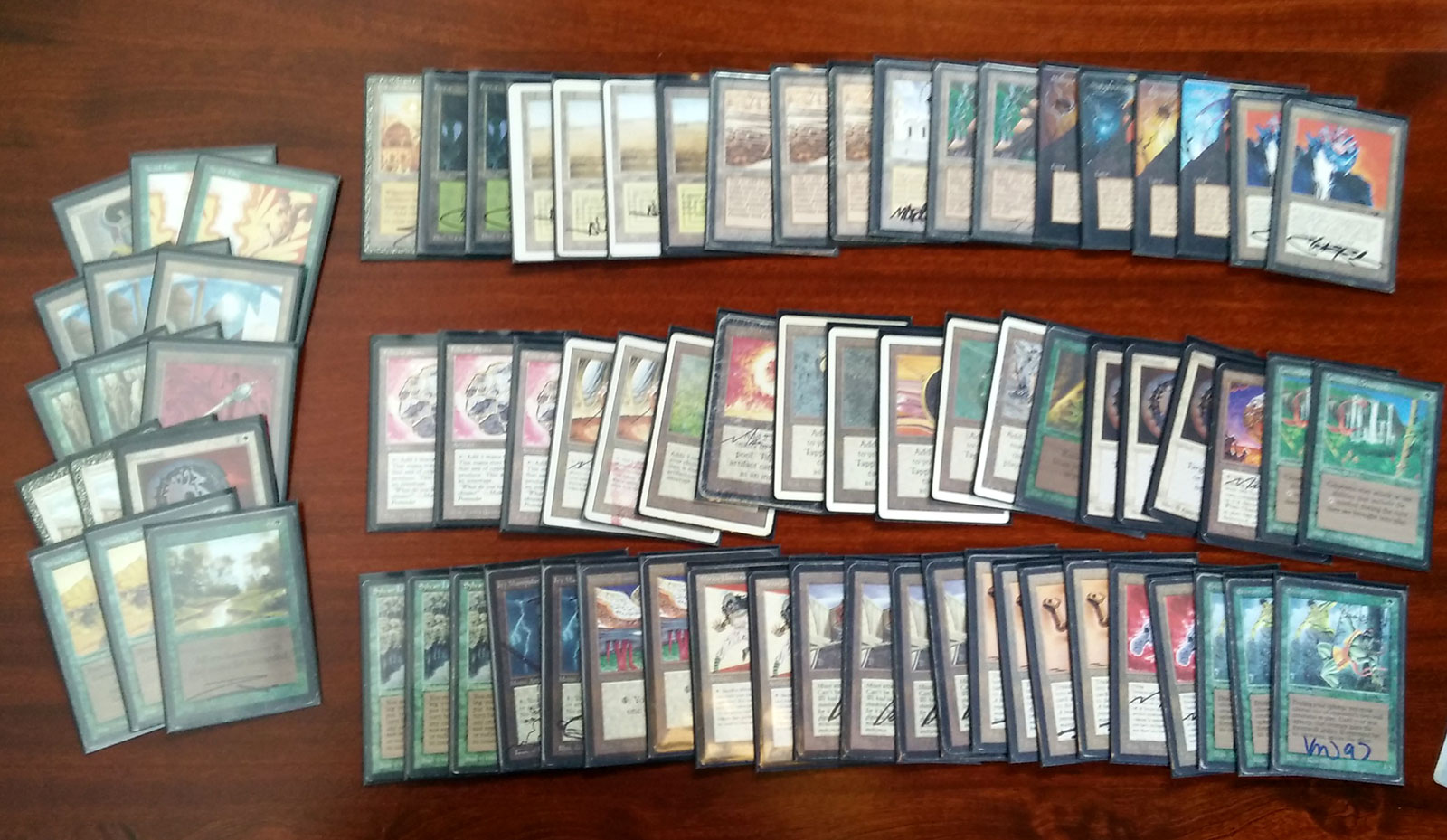 Steve McGrew – Bant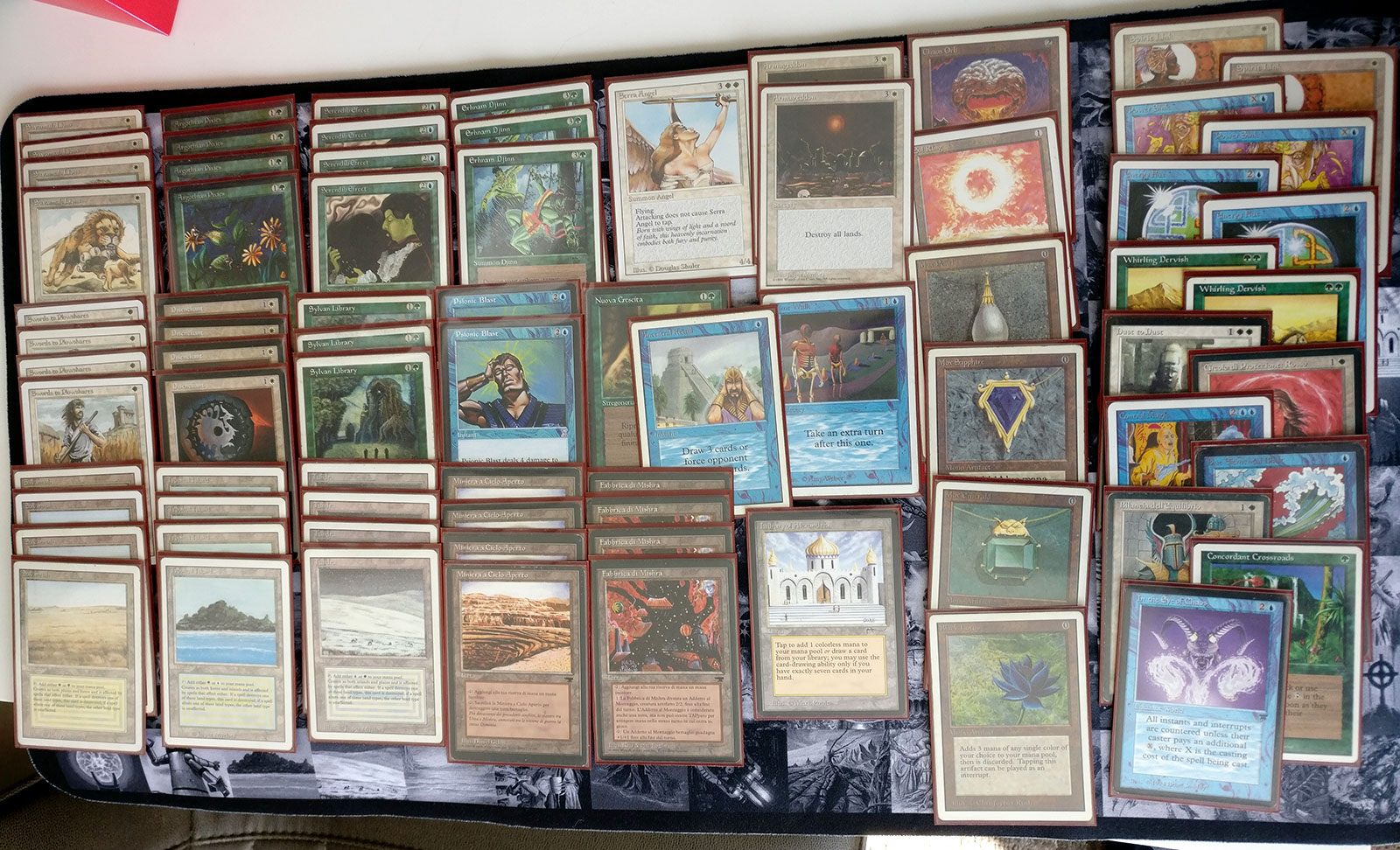 Andrew McLennan – Esper Skies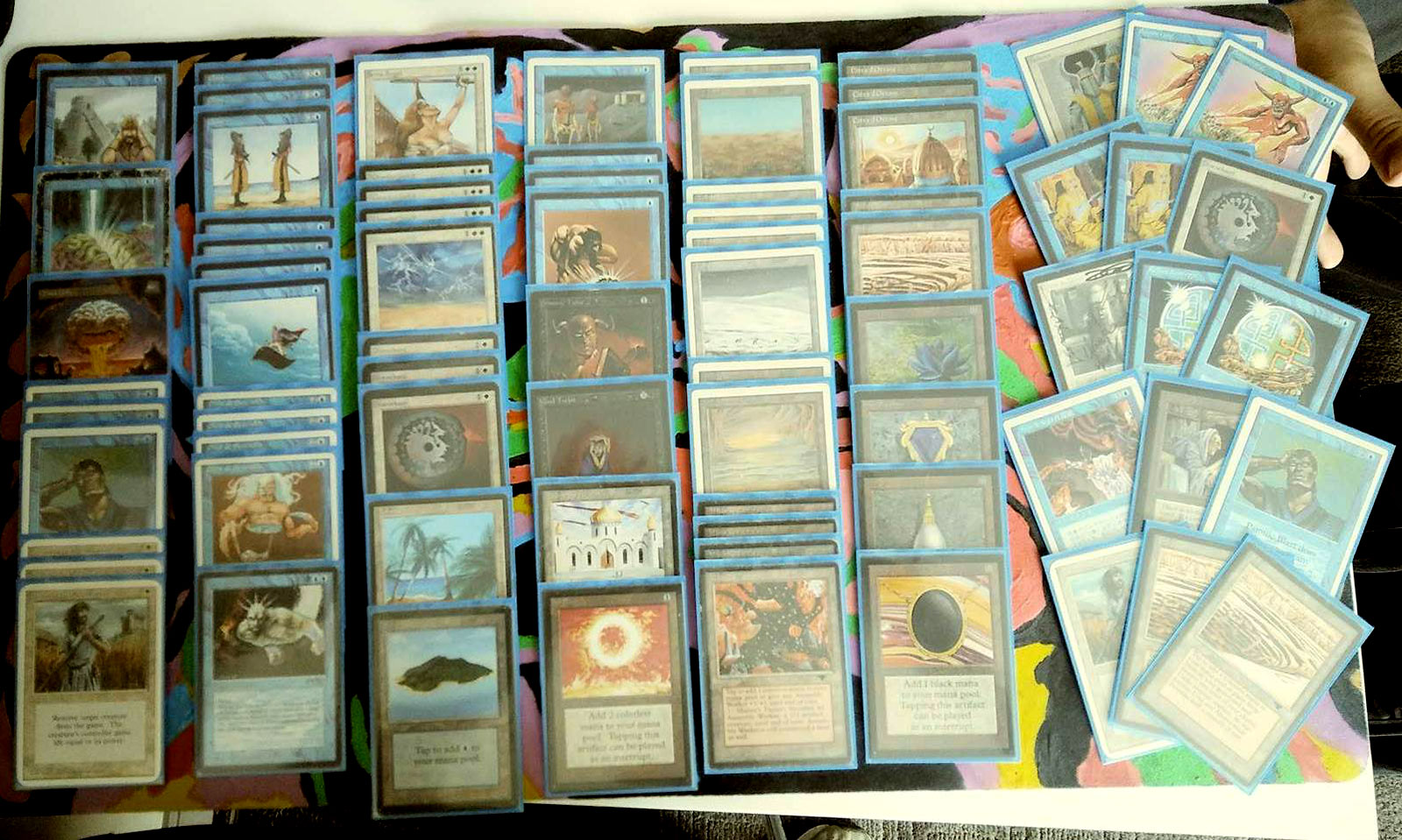 Mith – Junk Song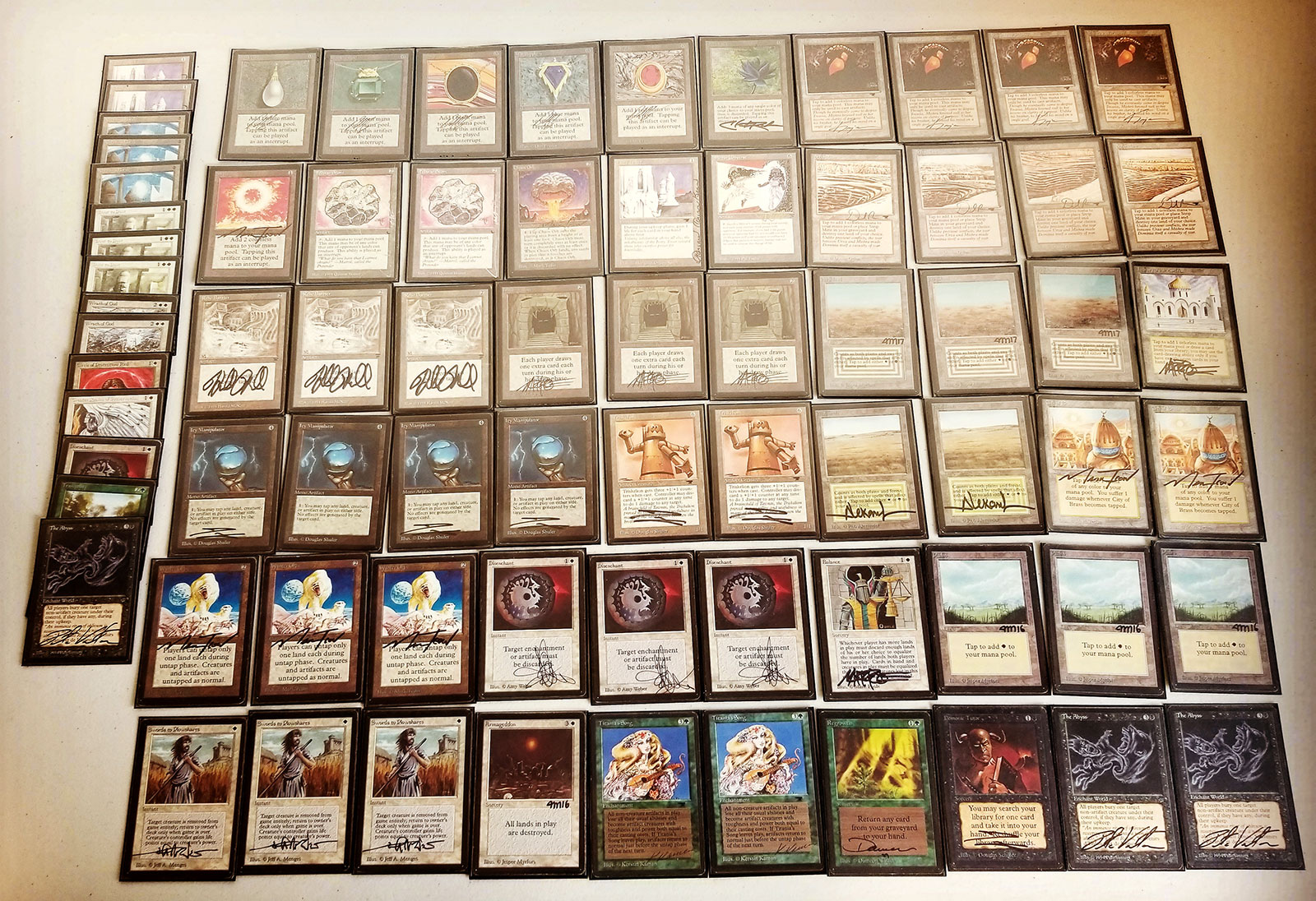 Matt Moss – Mono Black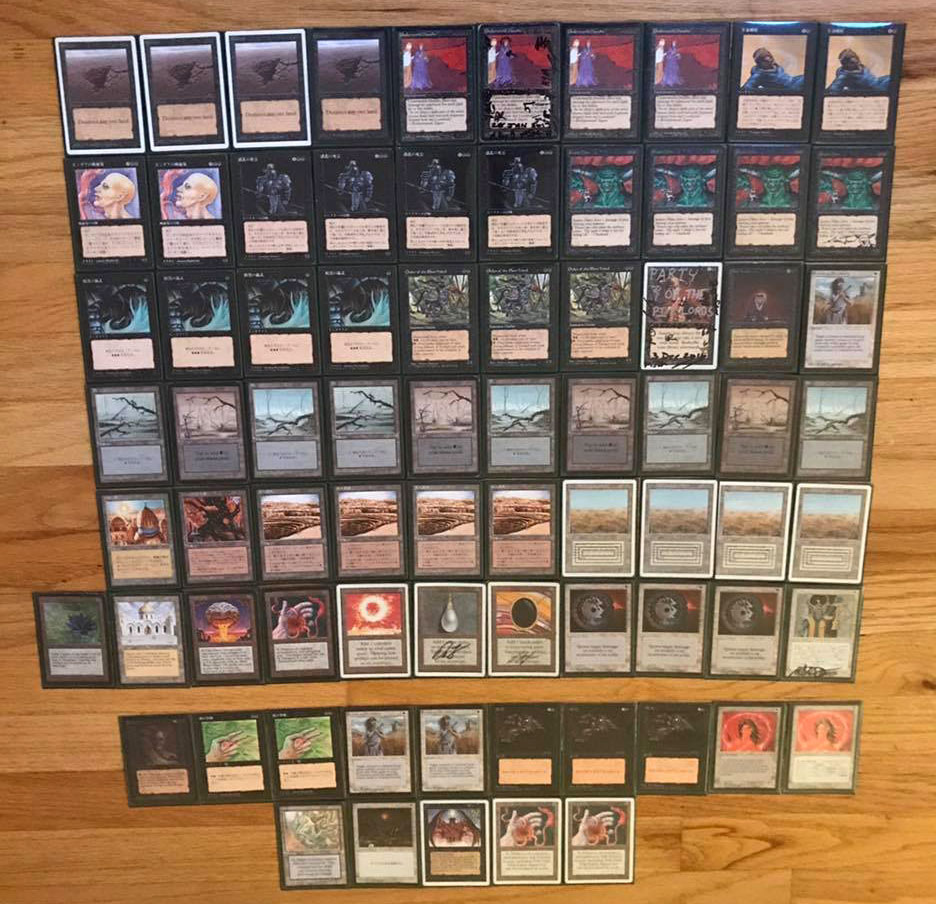 Nathan Mullen – Naya Bazaar Zoo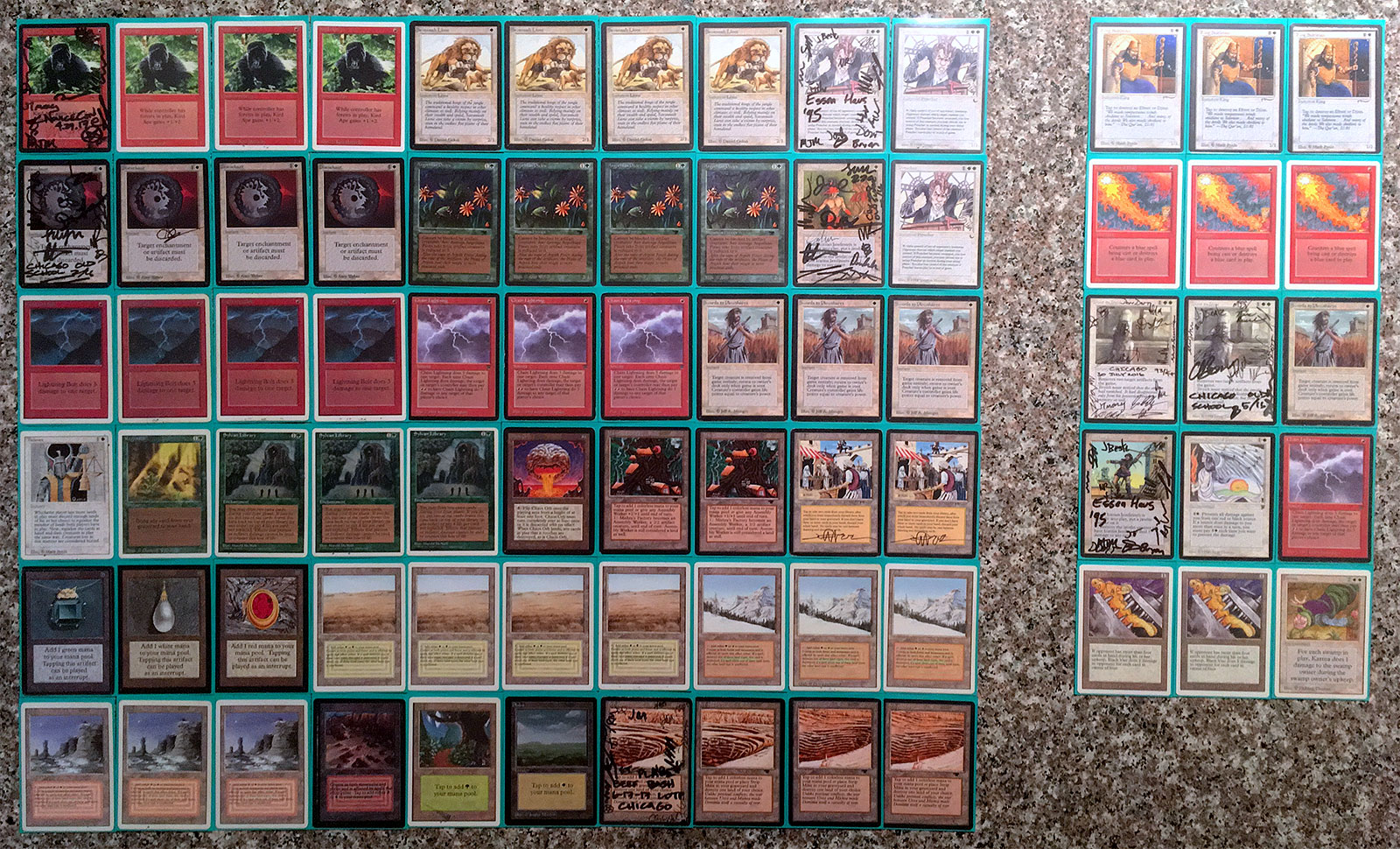 Evan Nyquist – Tusk Eureka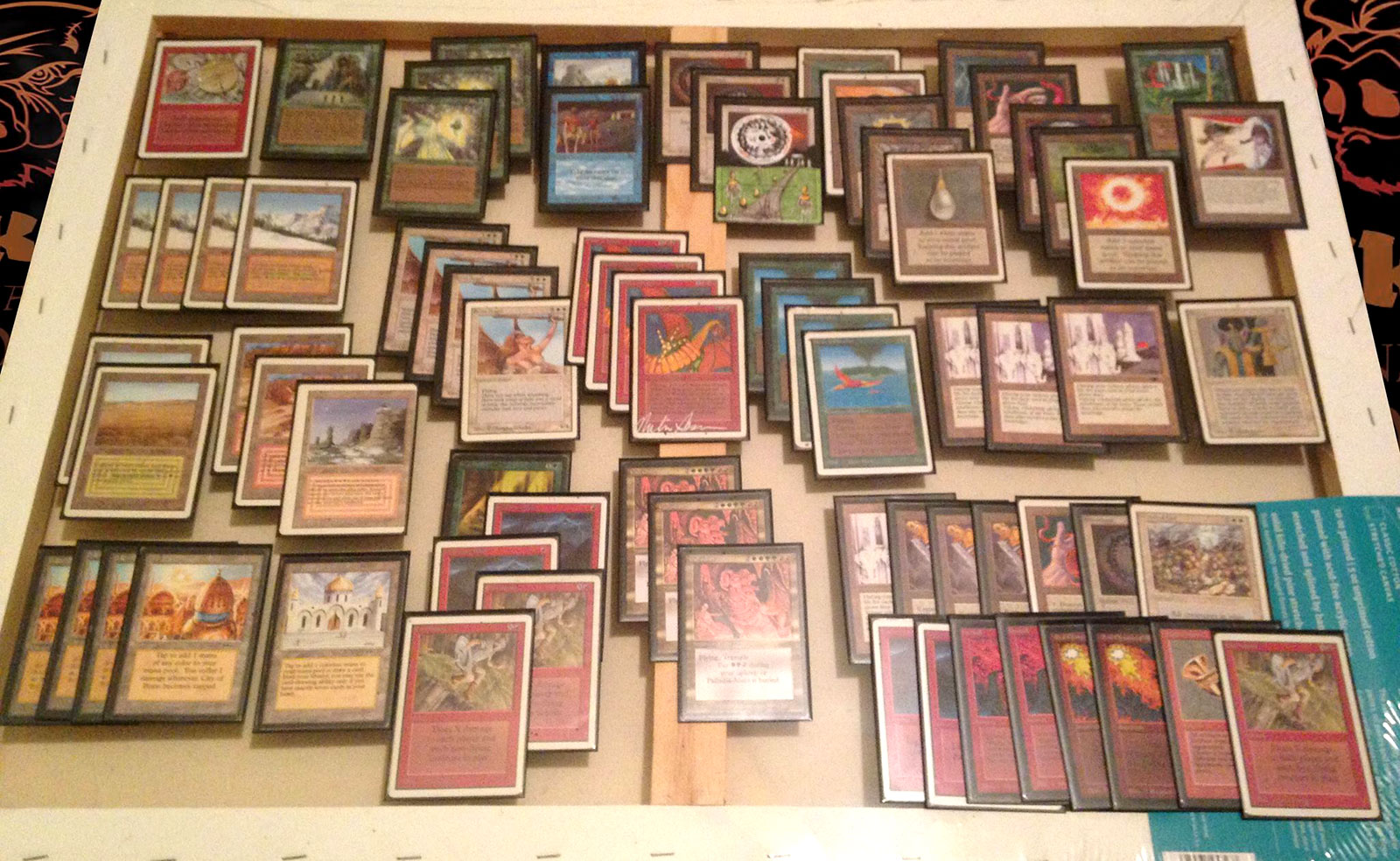 Sean O'Brien – Kuato Lives (Black Red White)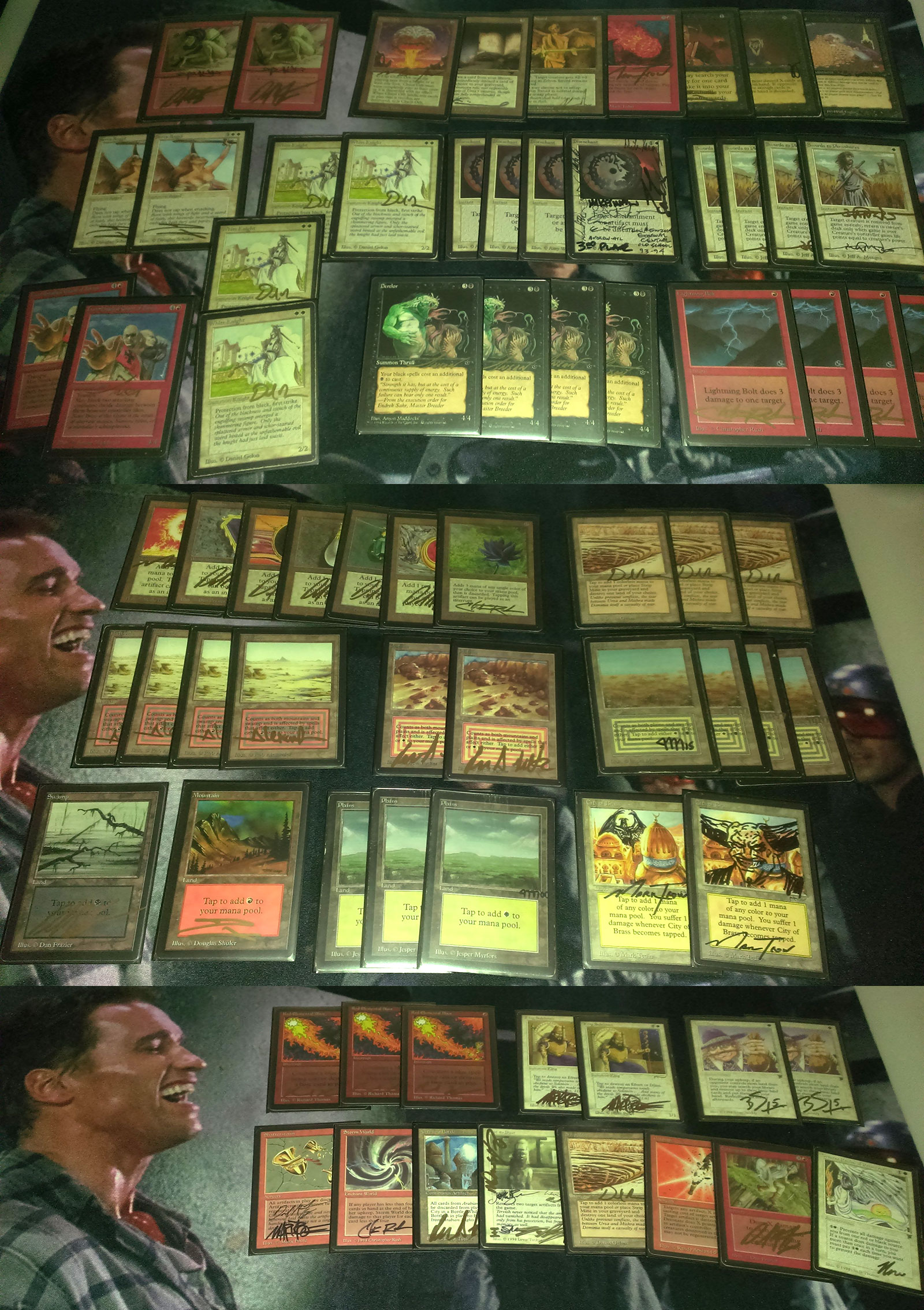 Frank Pedota – Esper Skies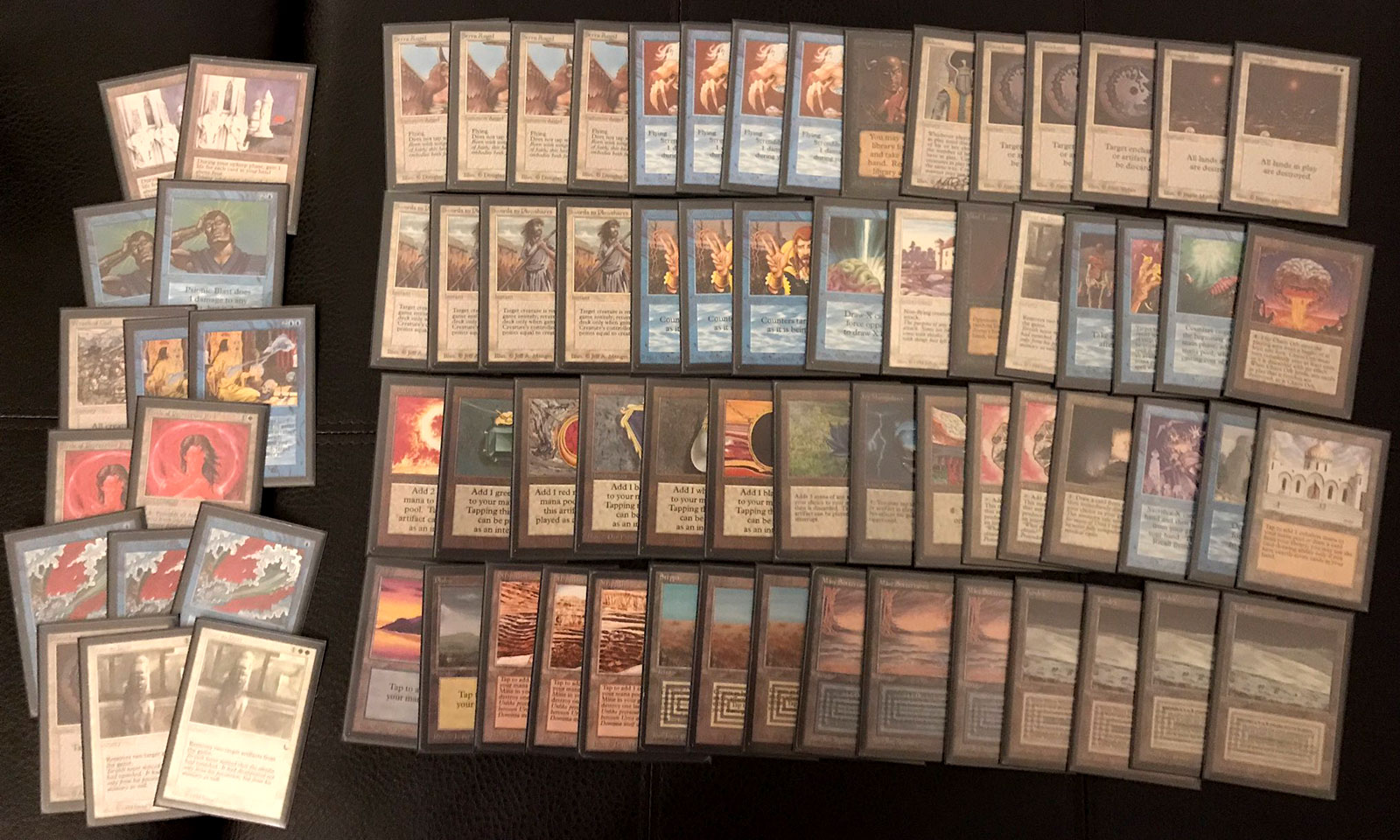 Carter Petray – Turbo Stasis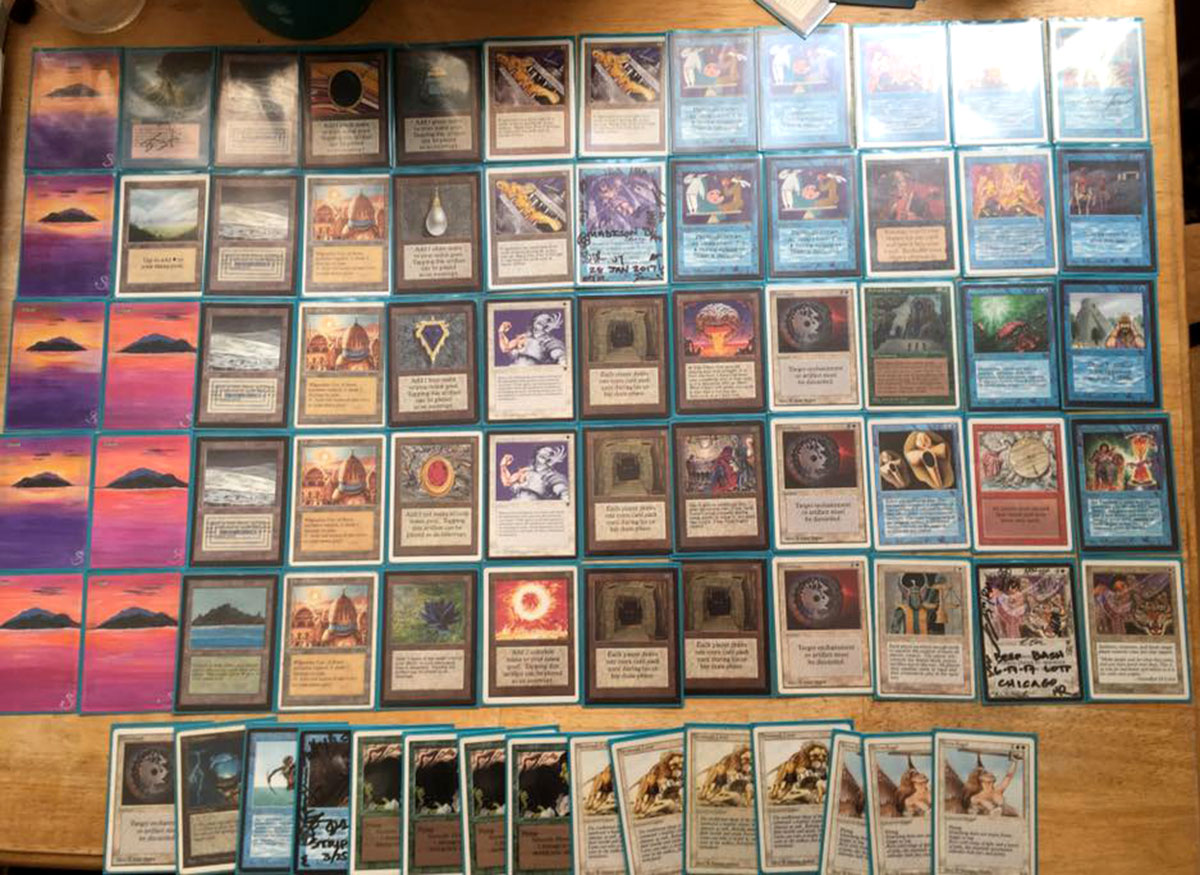 Dan Piquard – Naya Zoo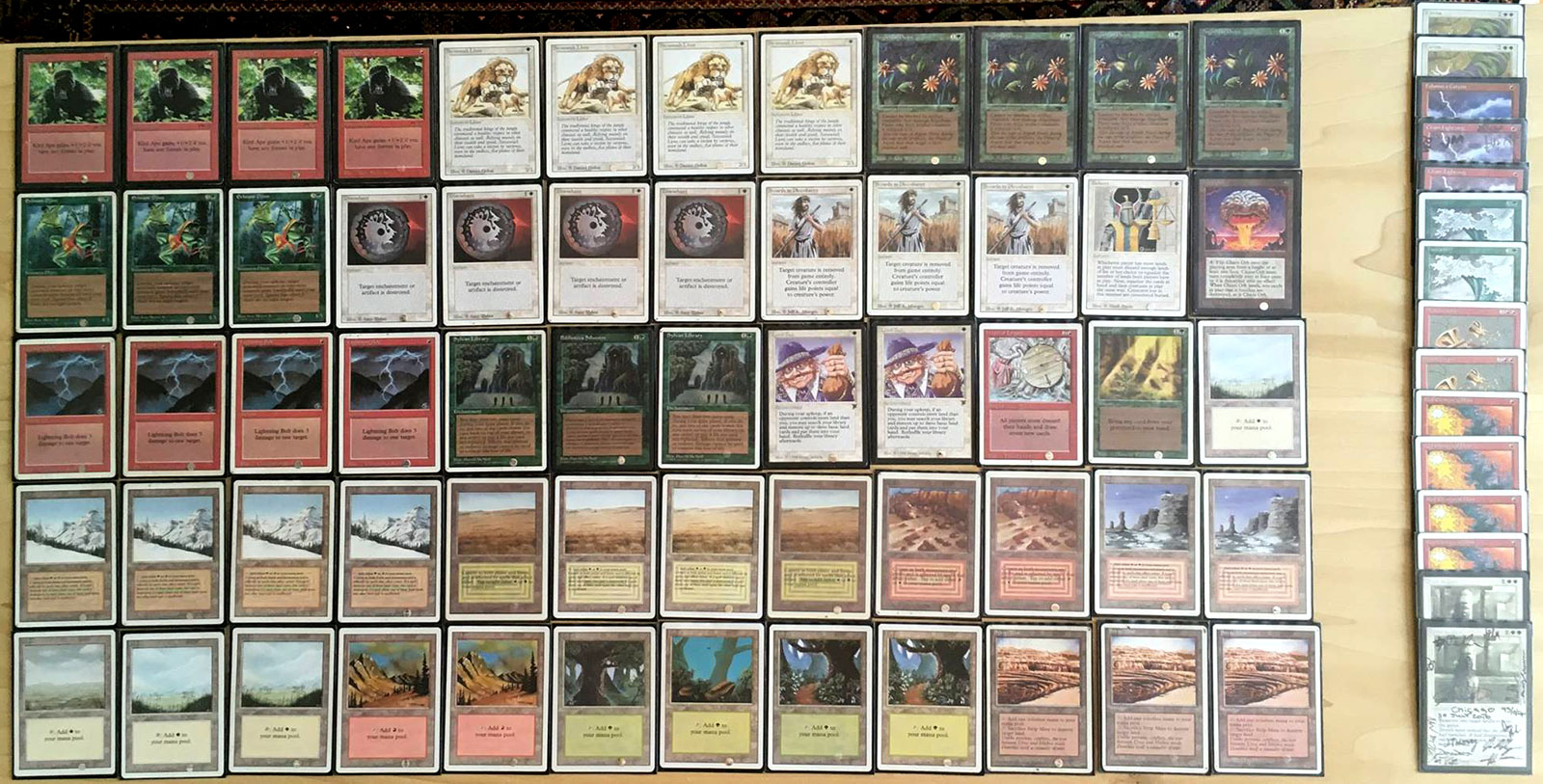 Dan Rech – Red White Skies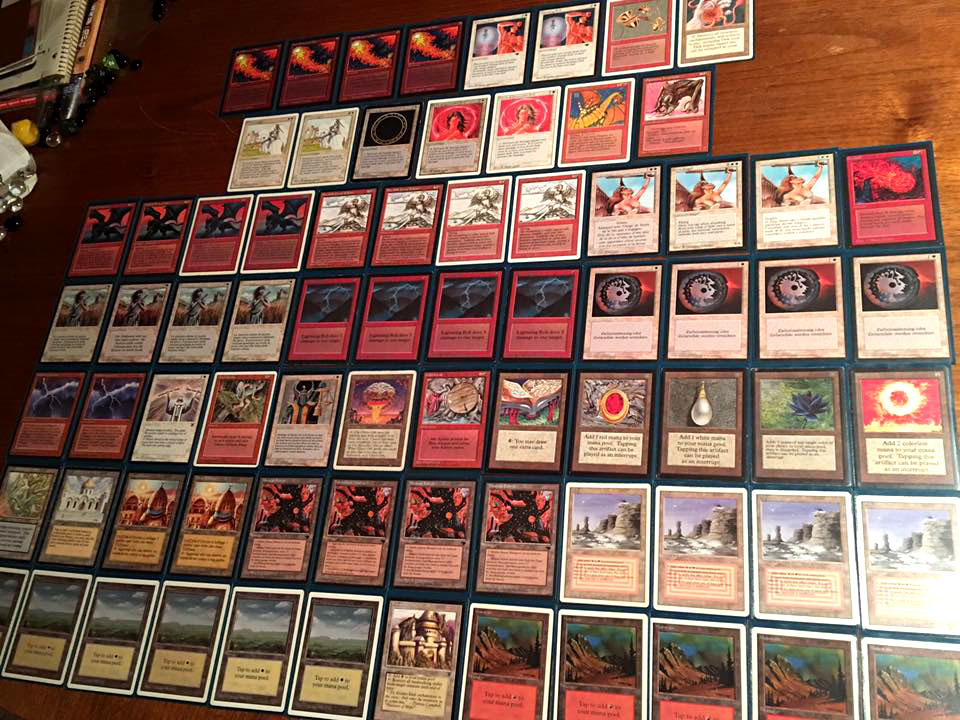 Nick Rohr – ShahraZoo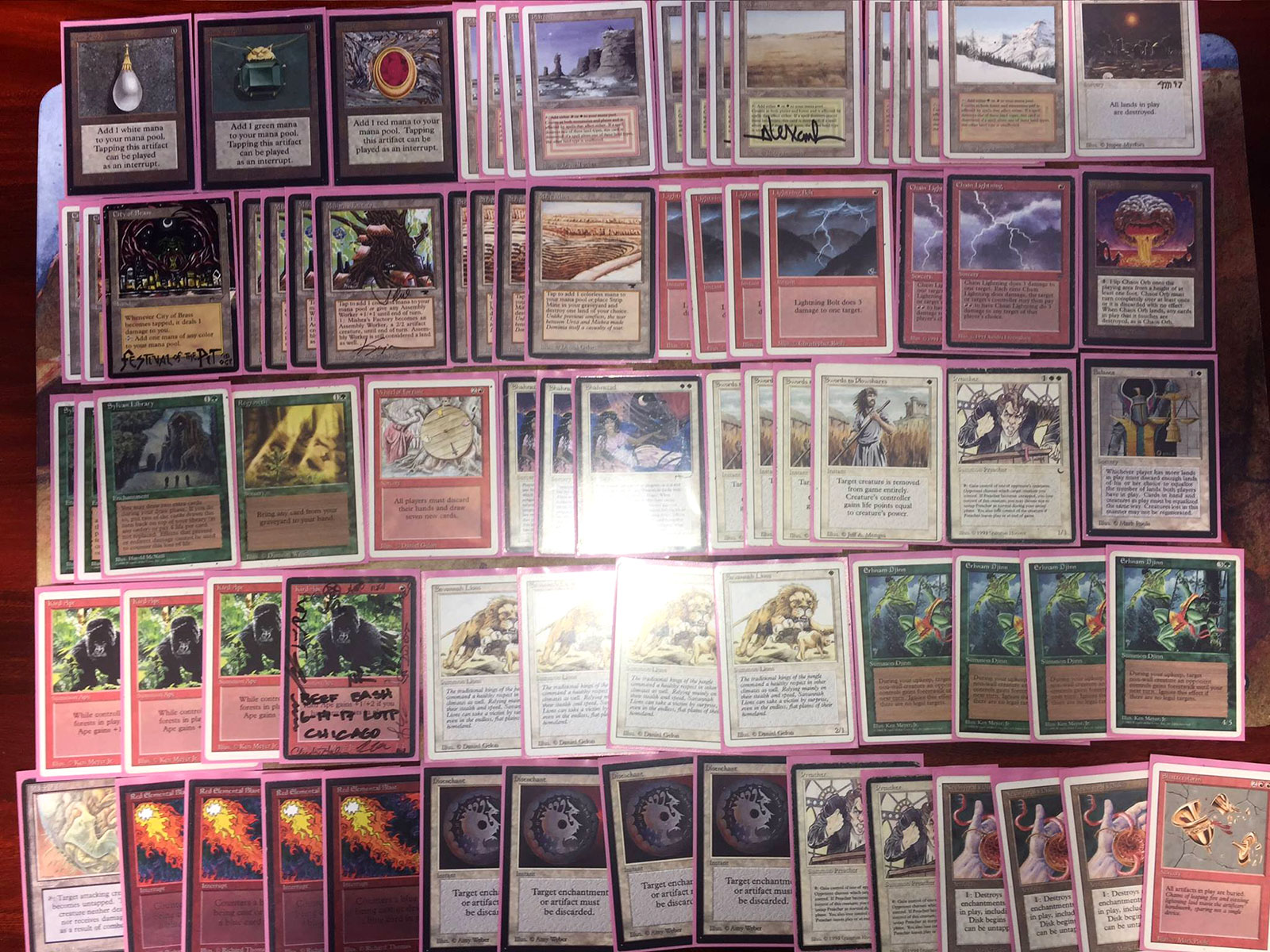 Matt S – RUG Tempo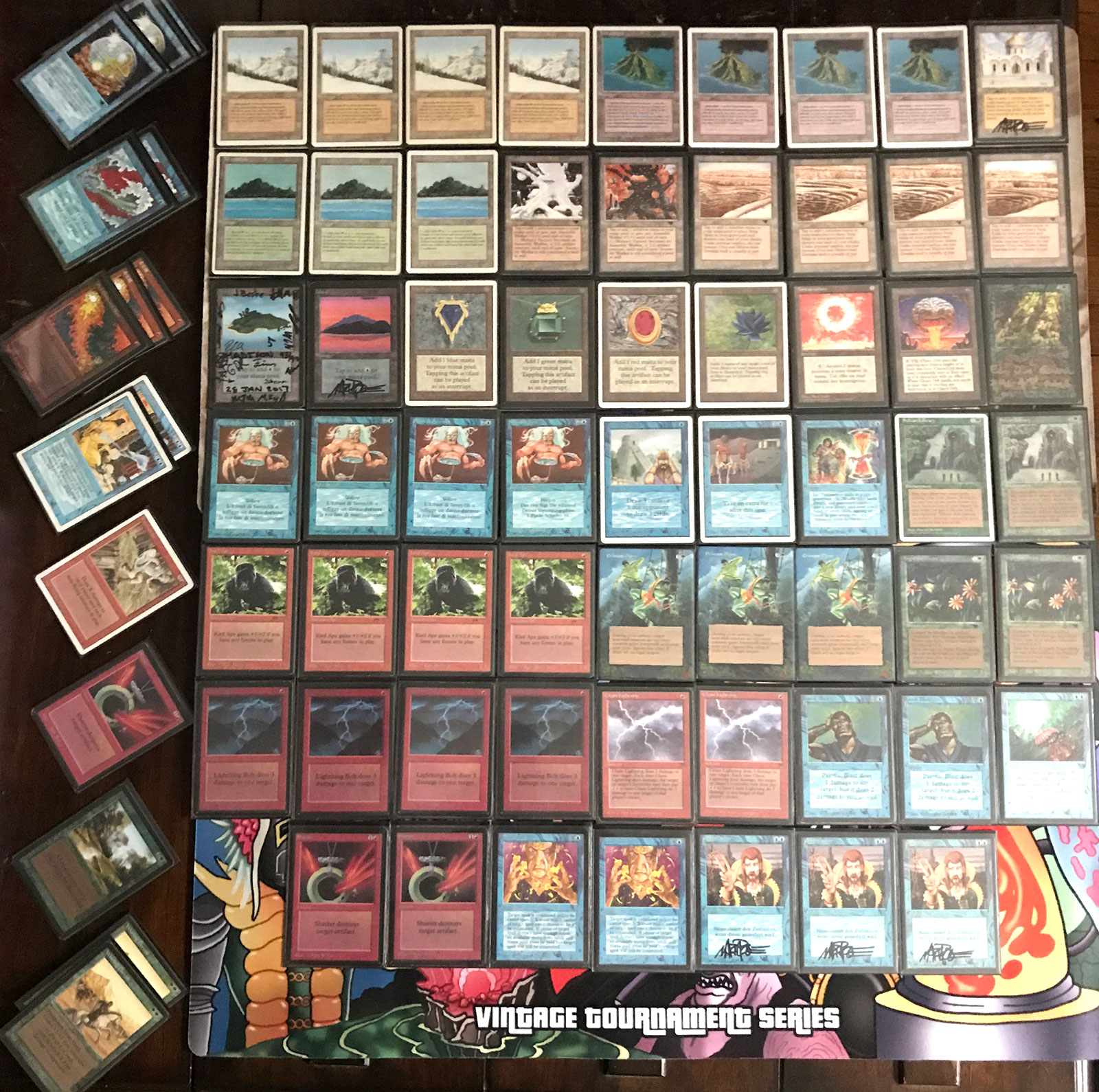 Brandon Sanders – Black White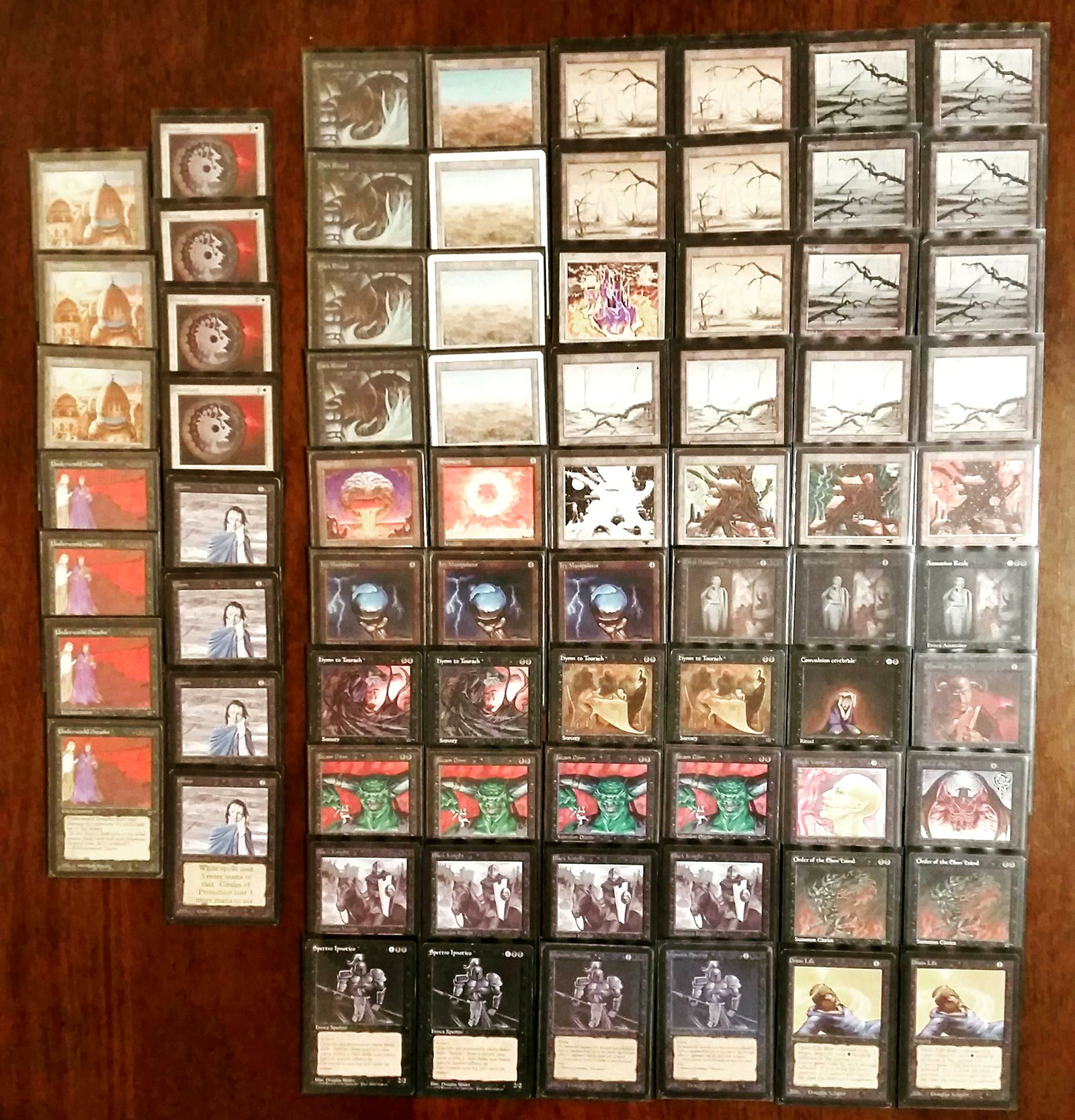 Shane Semmens – The Gothenburg Special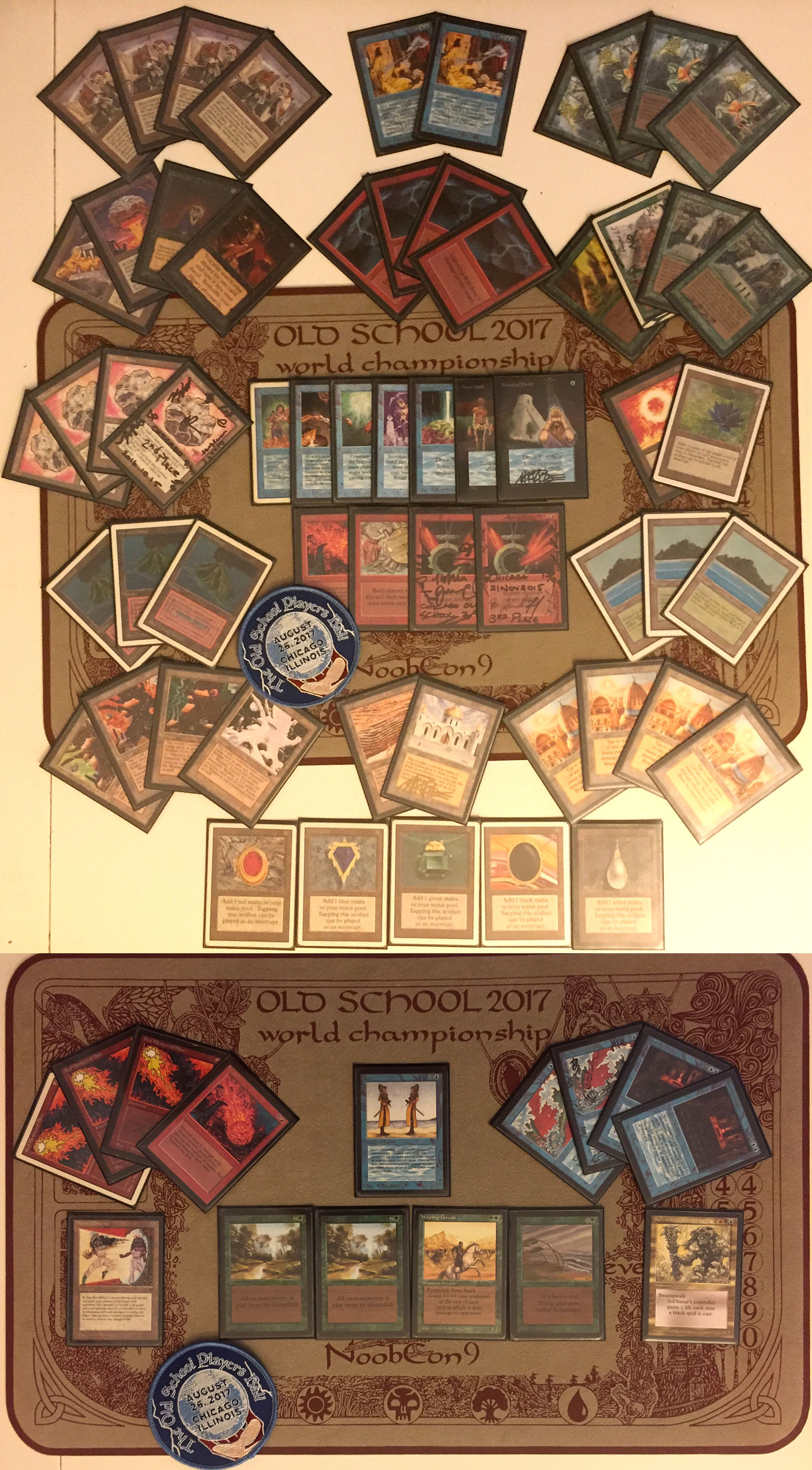 Shaman Ben – Eureka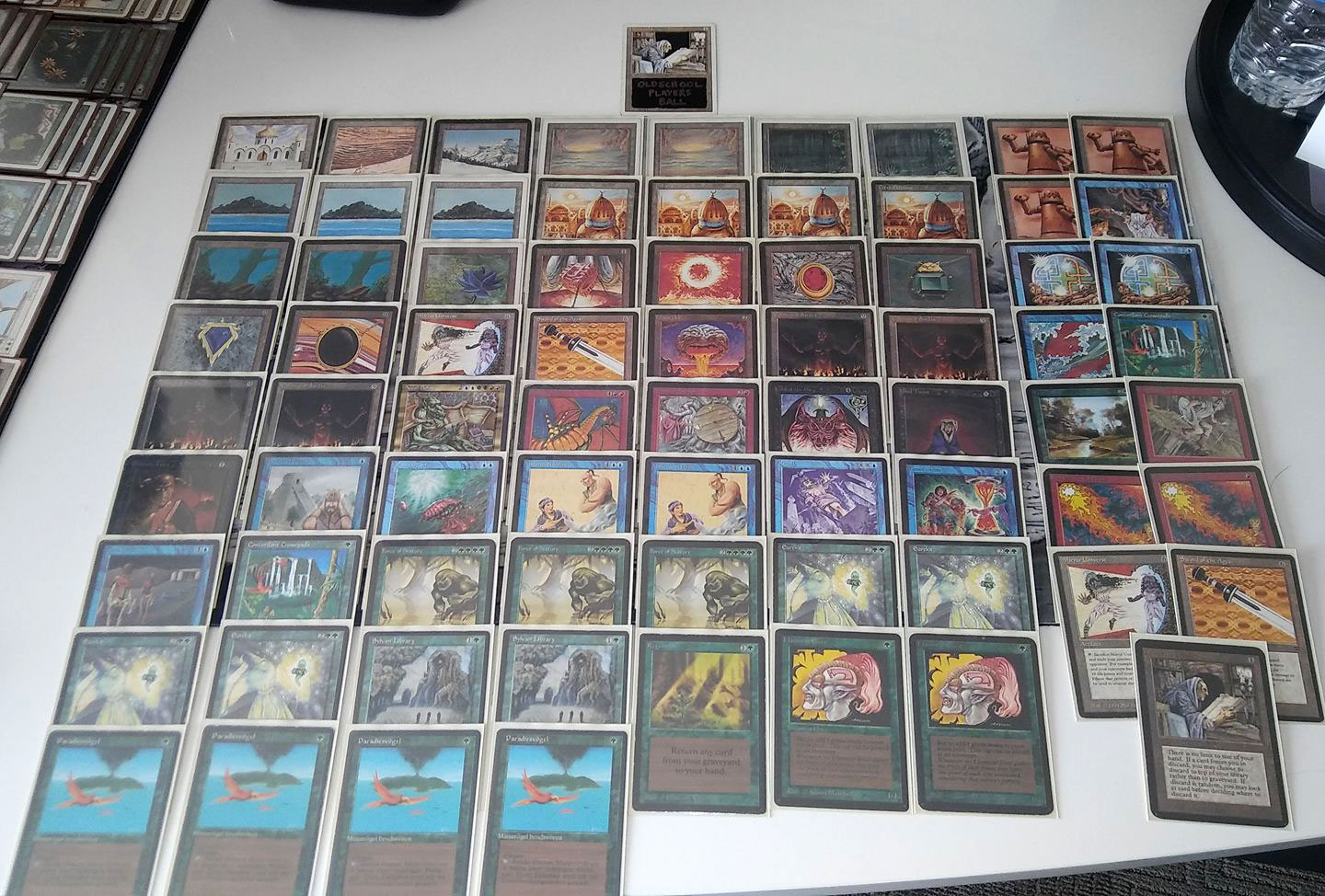 Jeff Simpson – Bant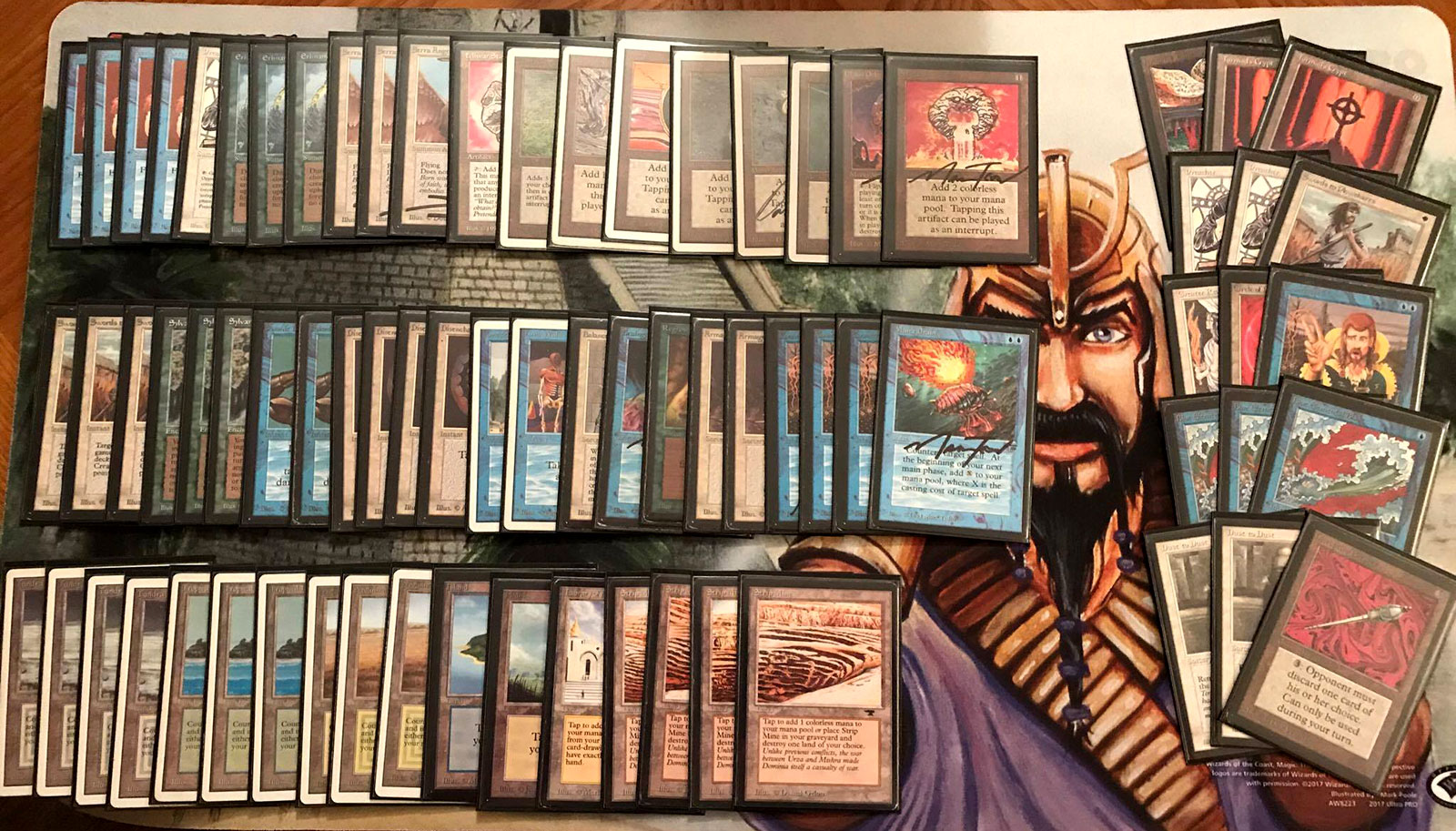 Joe Stacko – Power Monolith Combo; NO DECK PHOTO
Chad Teuscher – Pink Weenie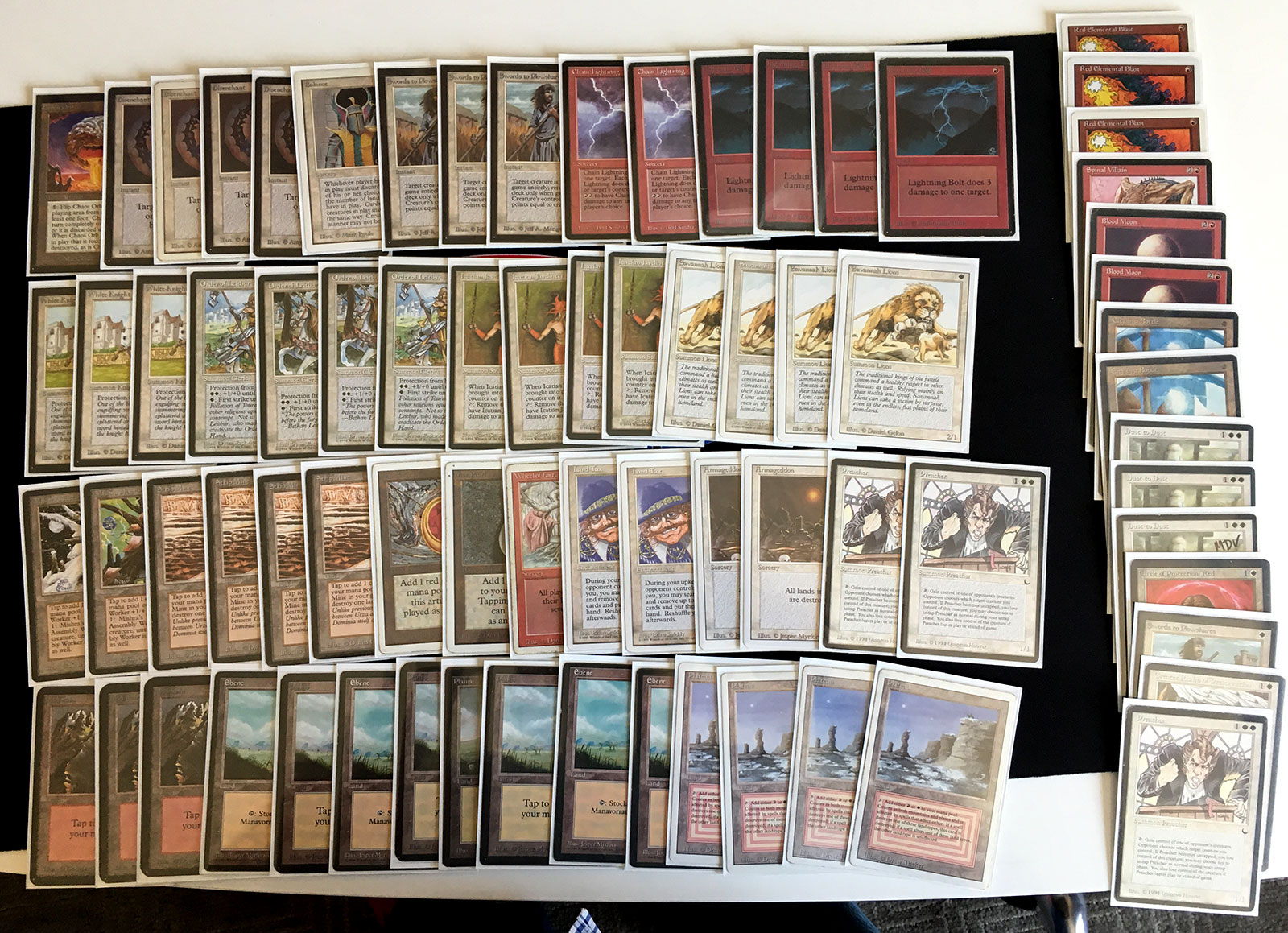 James Tork – Thallids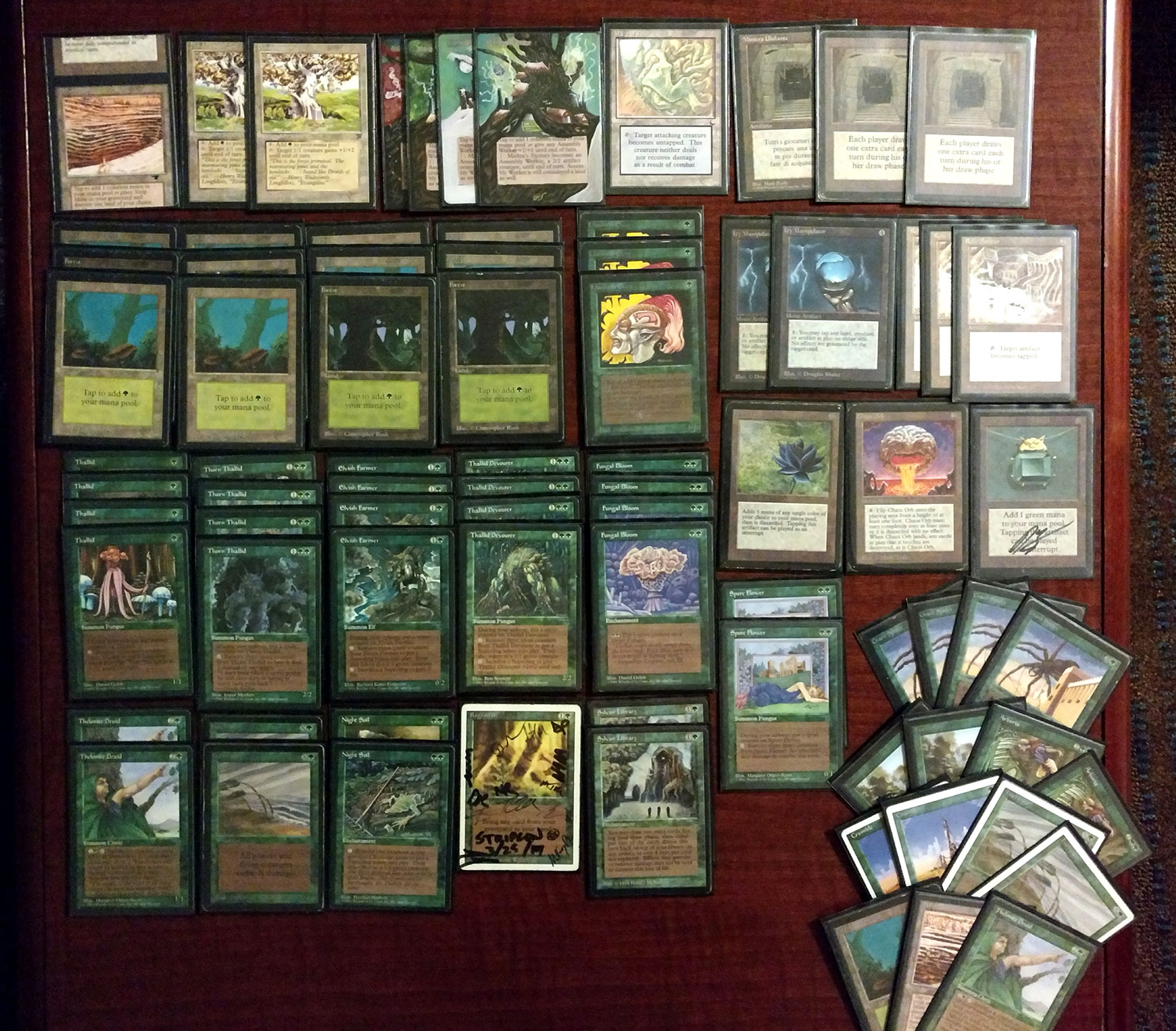 Michael Walker – 4C Aggro Control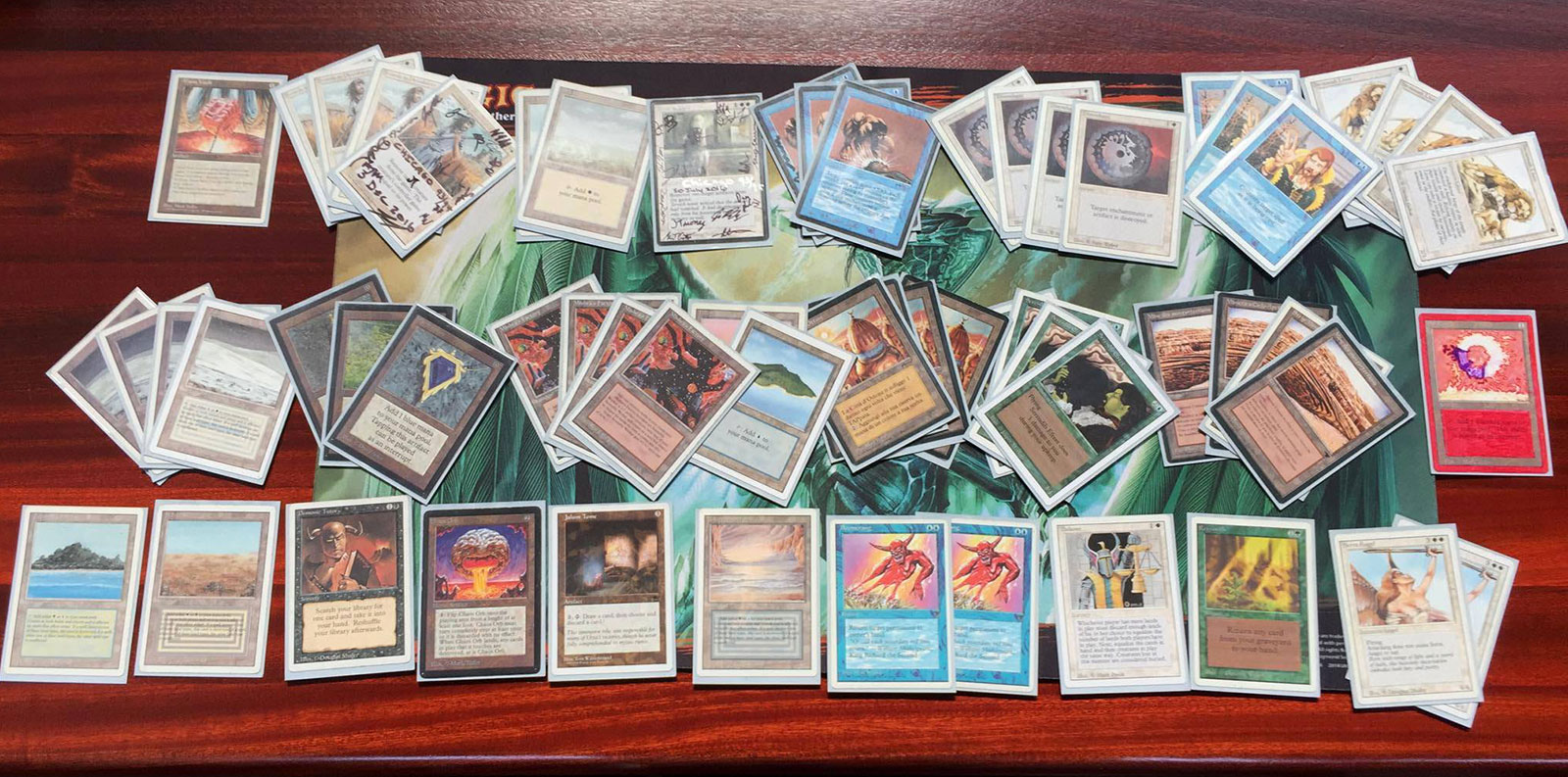 Robert Westergaard – White Weenie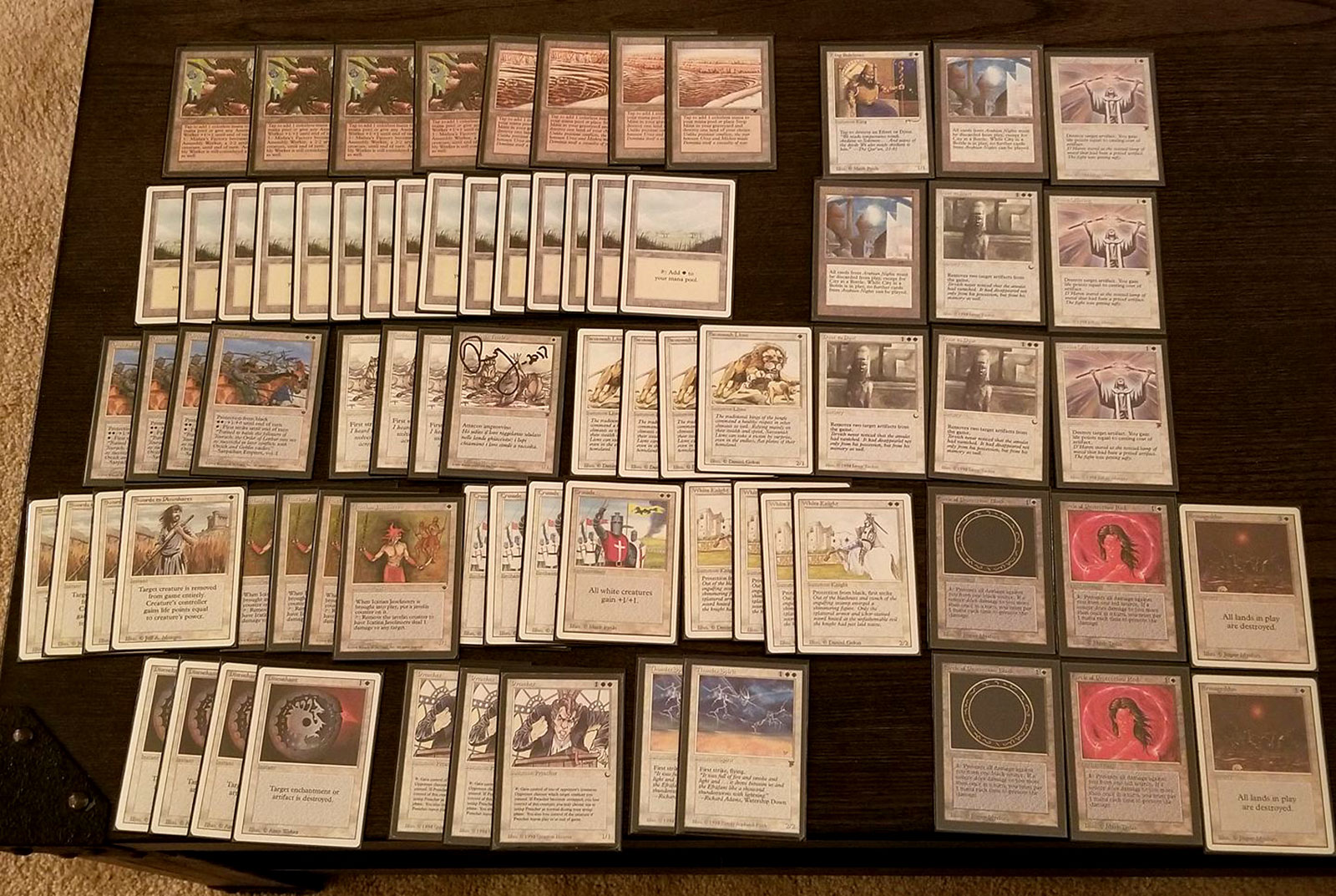 Chris Wynes – Bant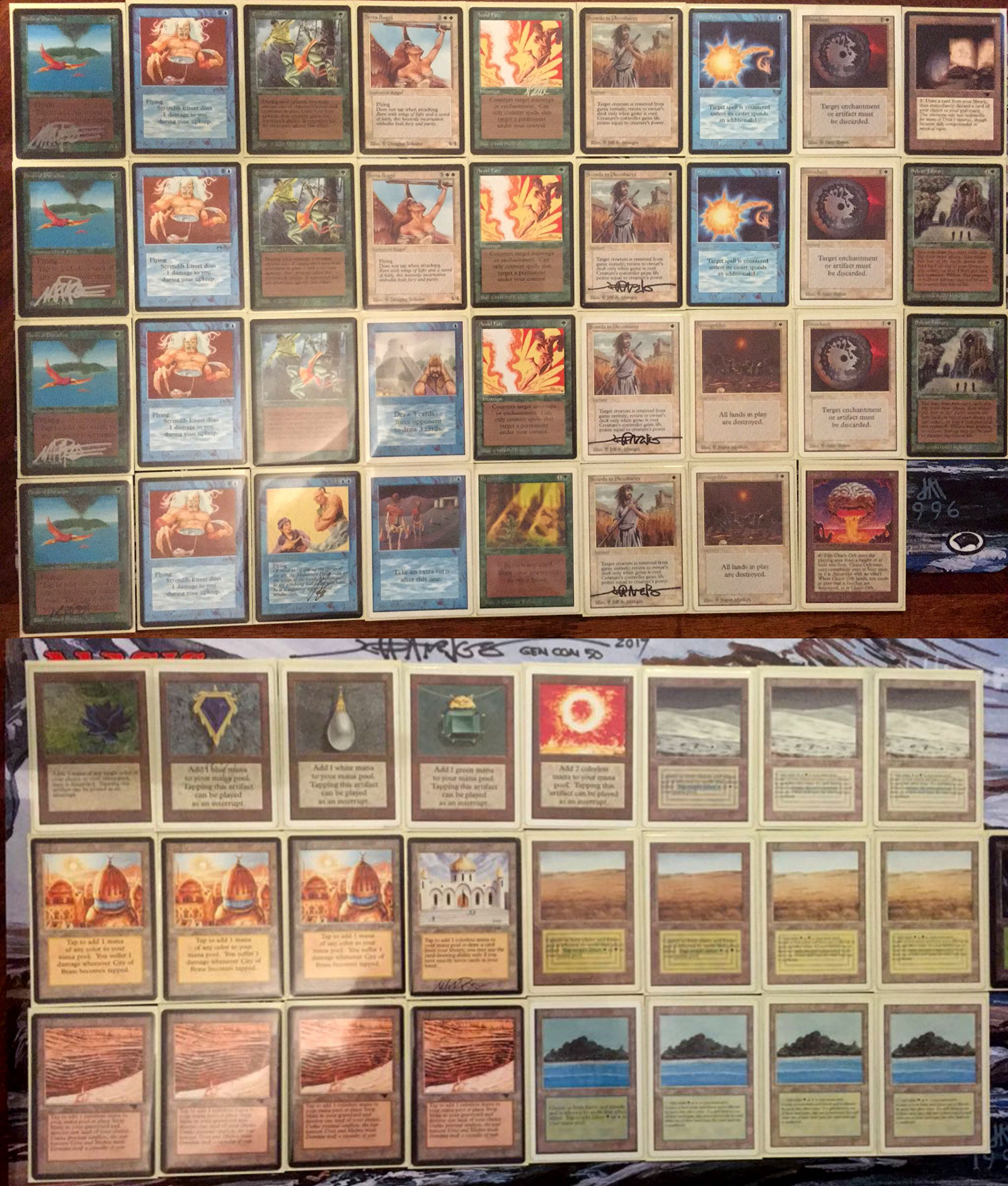 Matt Young – Blue Black Beast Control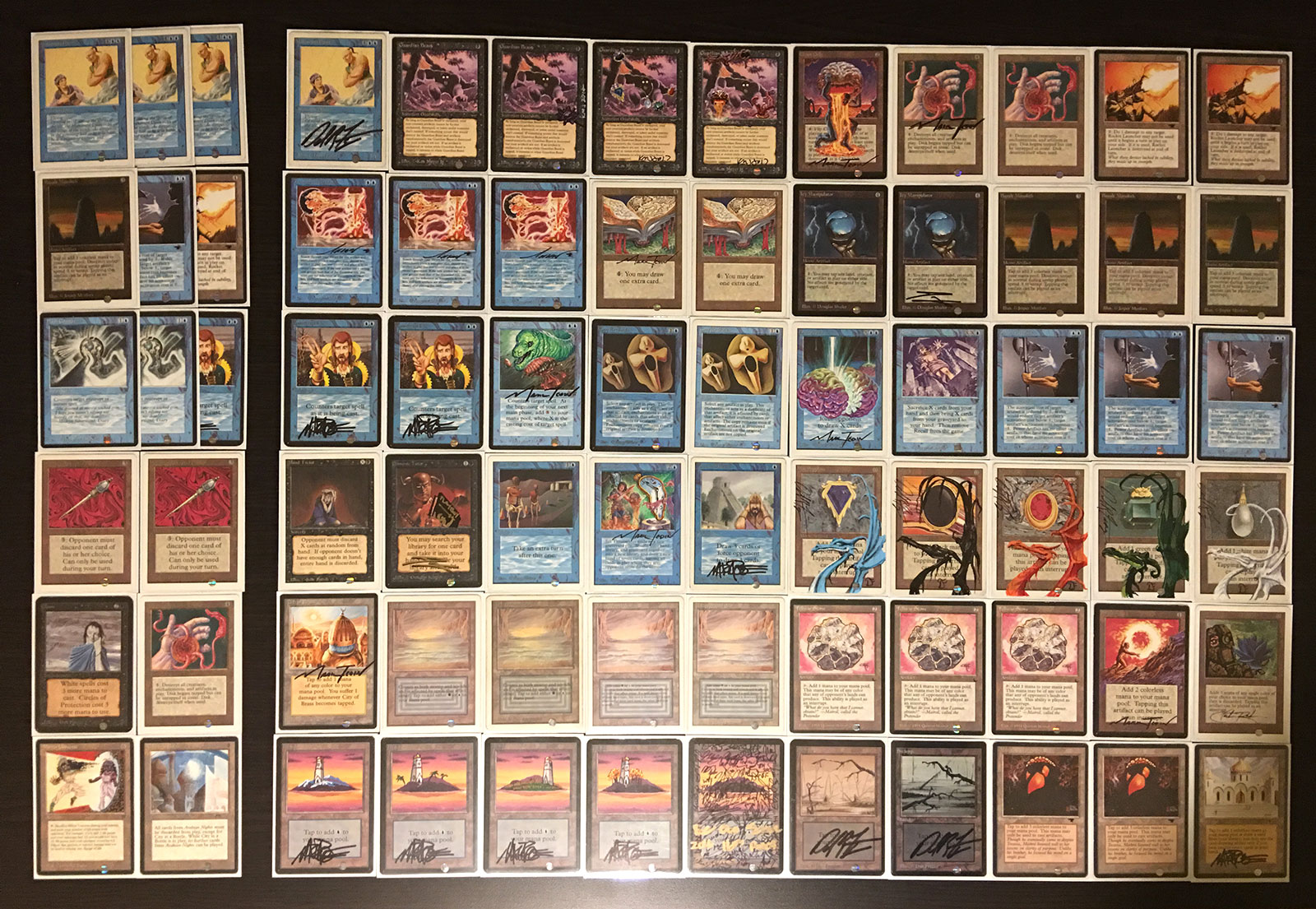 Tournament Action, Social Media Roundup, and Closing
The hashtag for social media for the event was #OldSchoolPlayersBall, which you can use to find more on Twitter, Instagram, etc. Thank you to everybody who came out to play, and we hope to see you again soon. As we move forward experimenting with more changes we hope to make each event more unique and fun. For any corrections, comments, or follow up, please email jaco@eternalcentral.com. Below are just some of the sweet action and community pics from the day.
Player's Ball 2017 Full Crew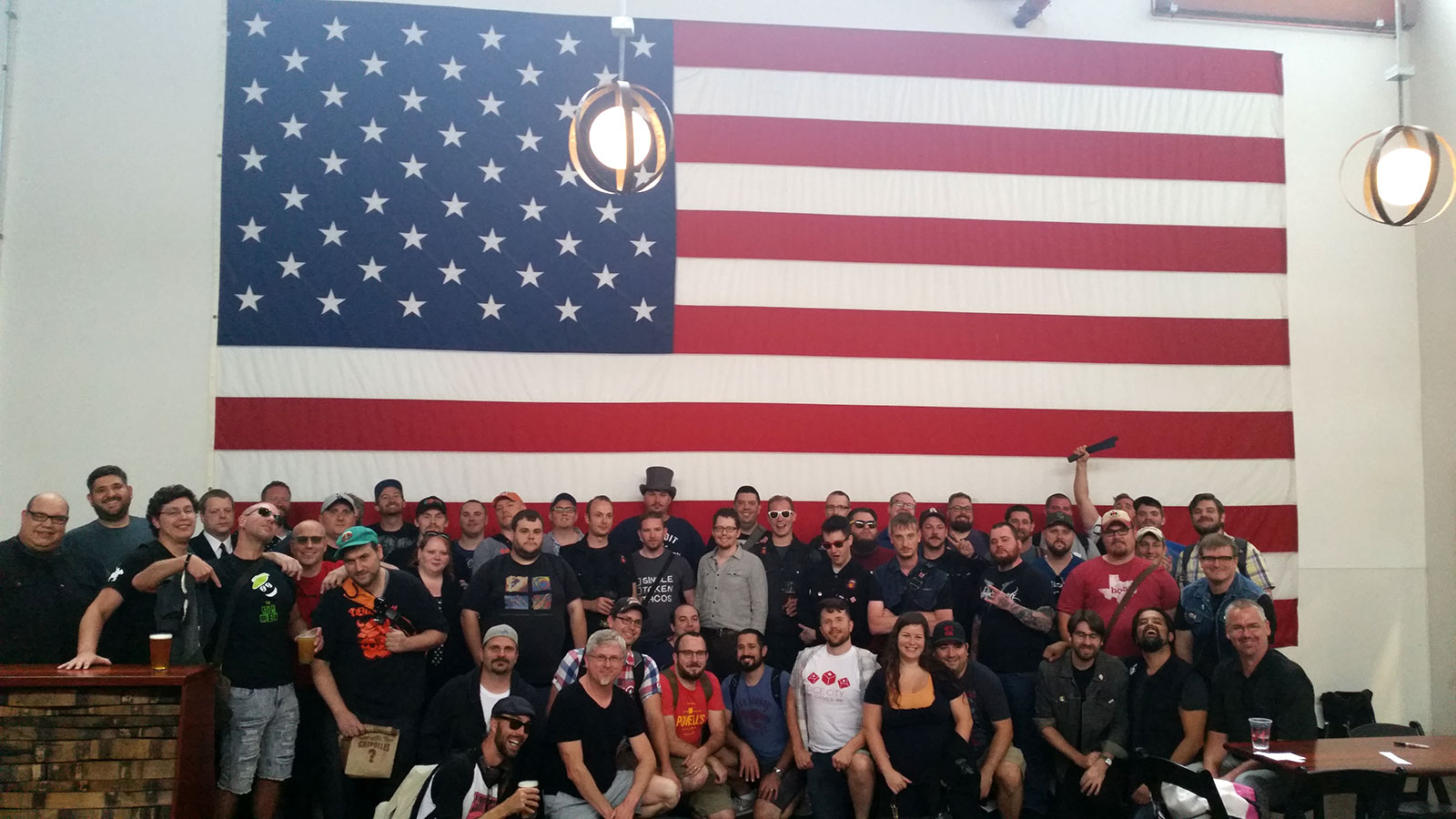 Young (UB Guardian Beast Control) vs. Bergeson (3C Goblins)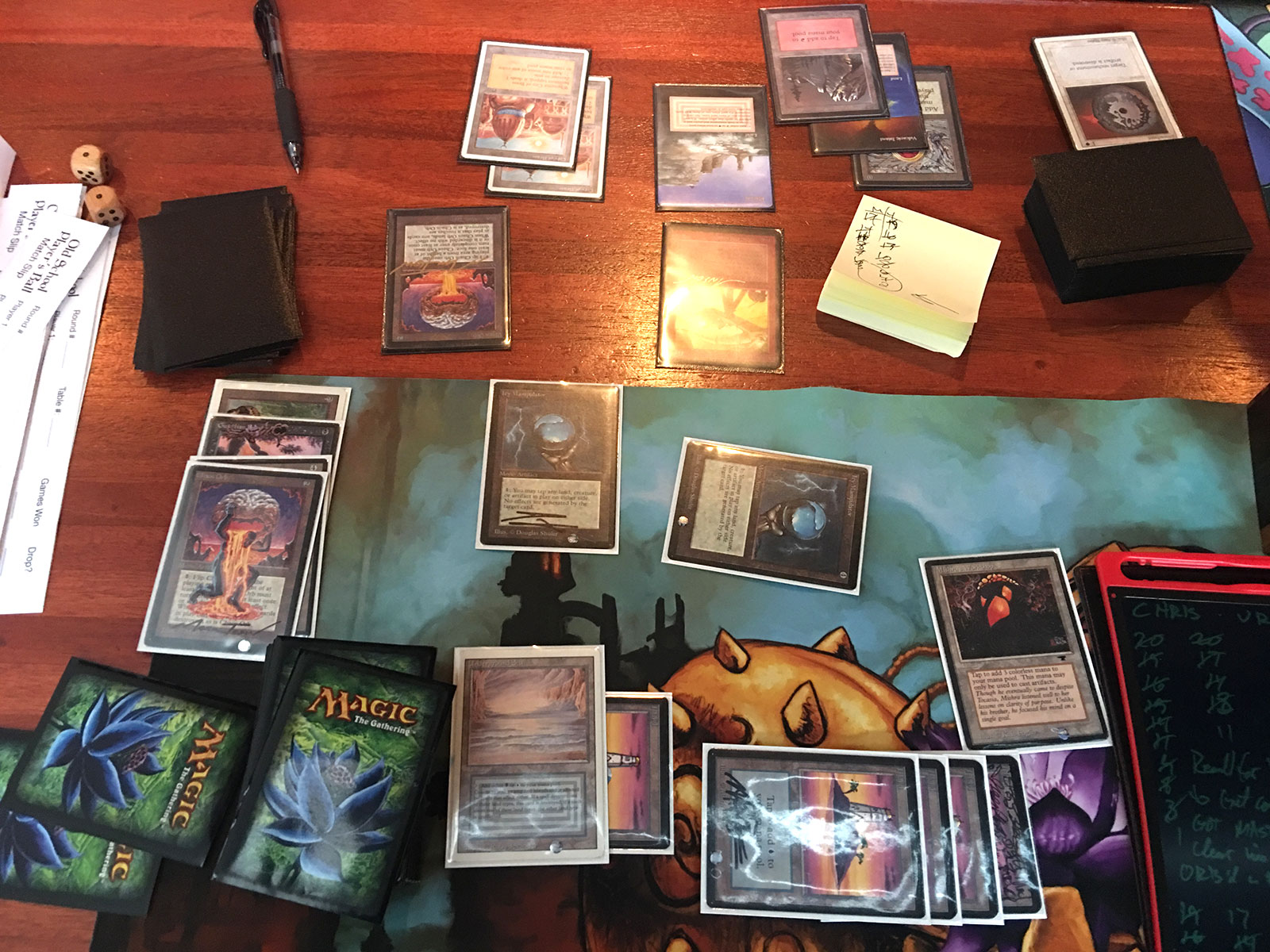 When Rocket Launcher Meets Orcish Artillery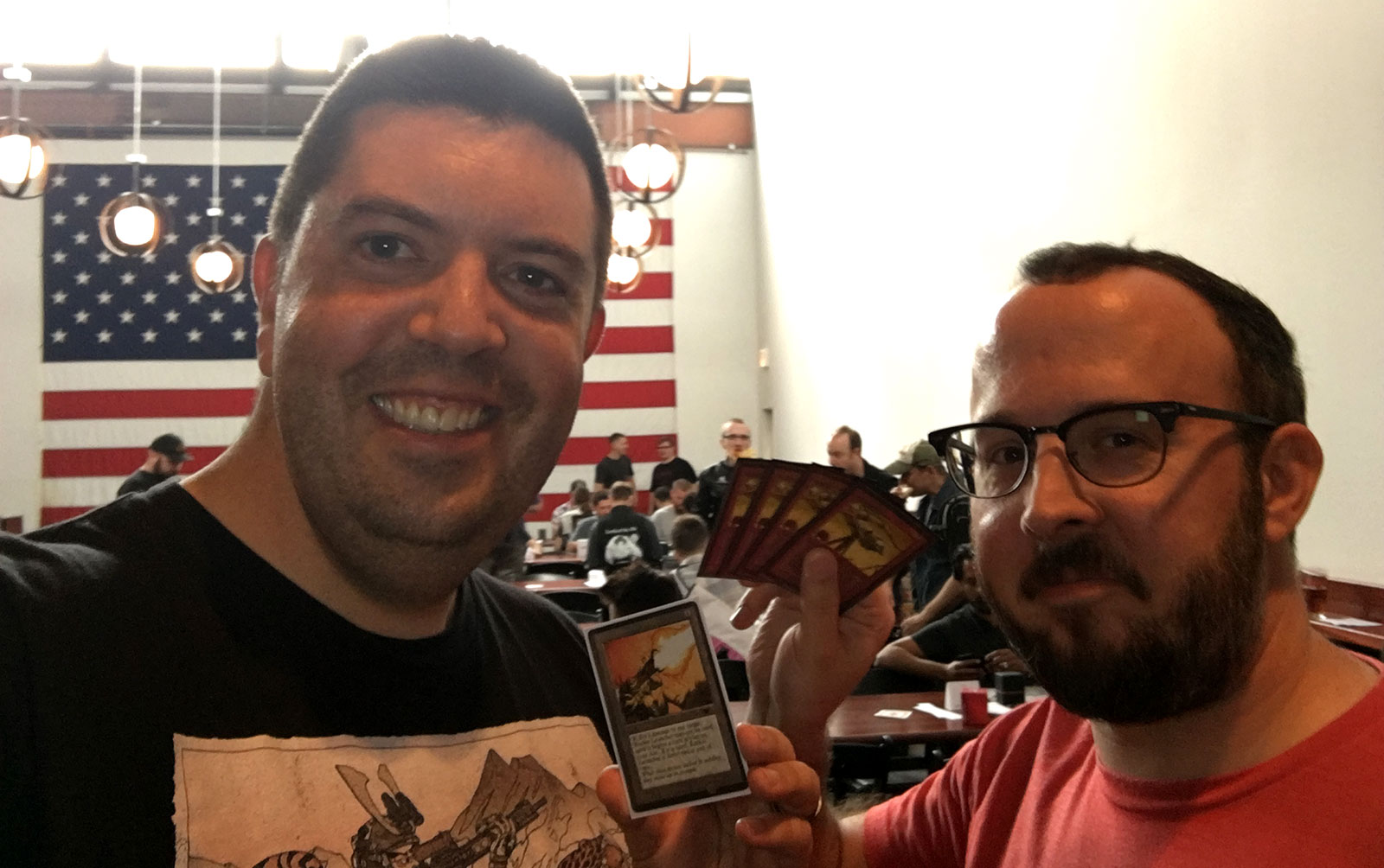 O'Brien (BWR) vs. Bowman (5C Song)

Westregaard (White Weenie) vs. Sanders (Black White)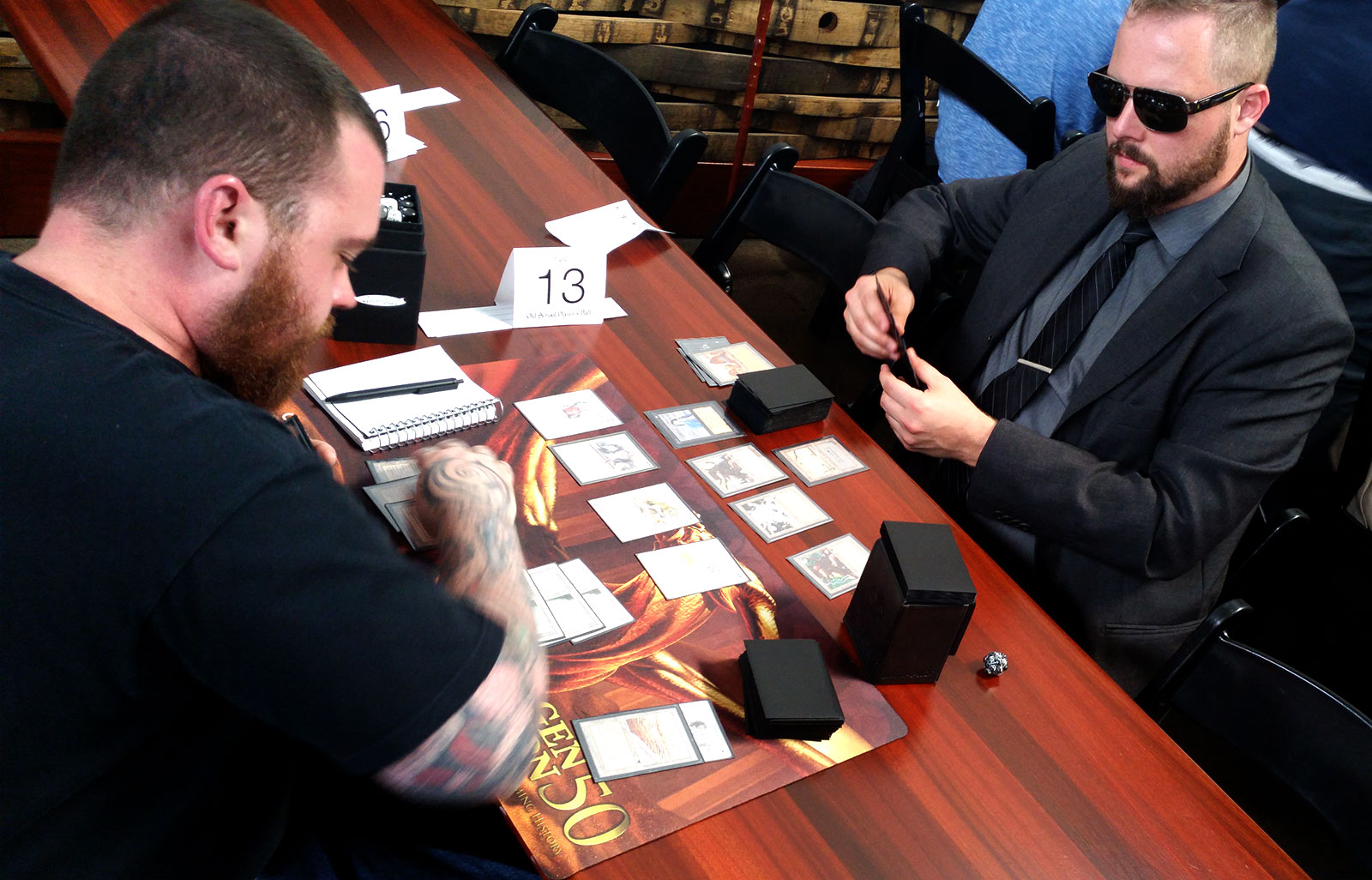 Tork (Thallids) vs. Hahn (4C Gasoline)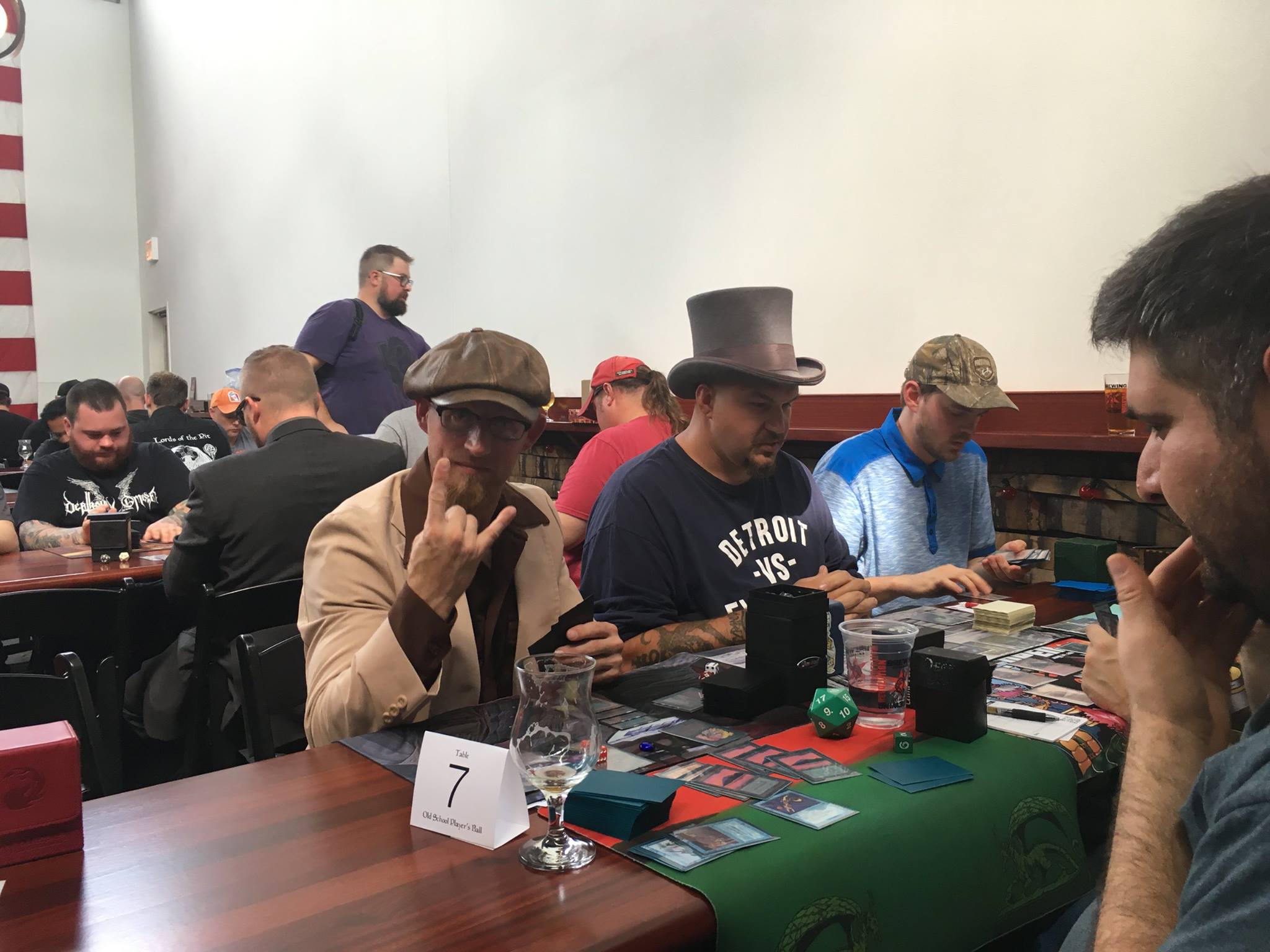 Young (UB Guardian Beast Control) vs. Longhi (Mono Black)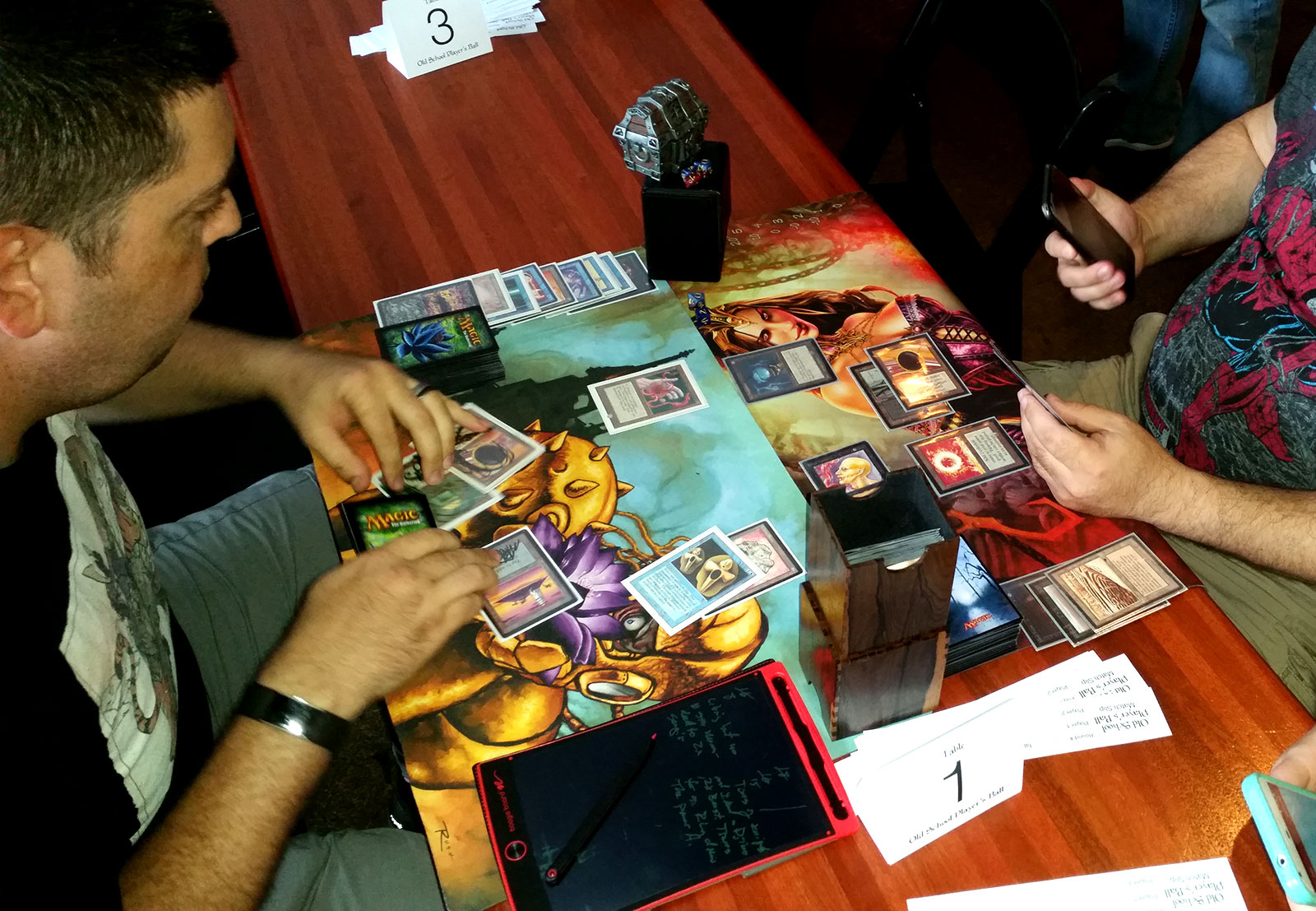 Elleman (UR Control) vs. Dotterrer (Esper Arabian Aggro)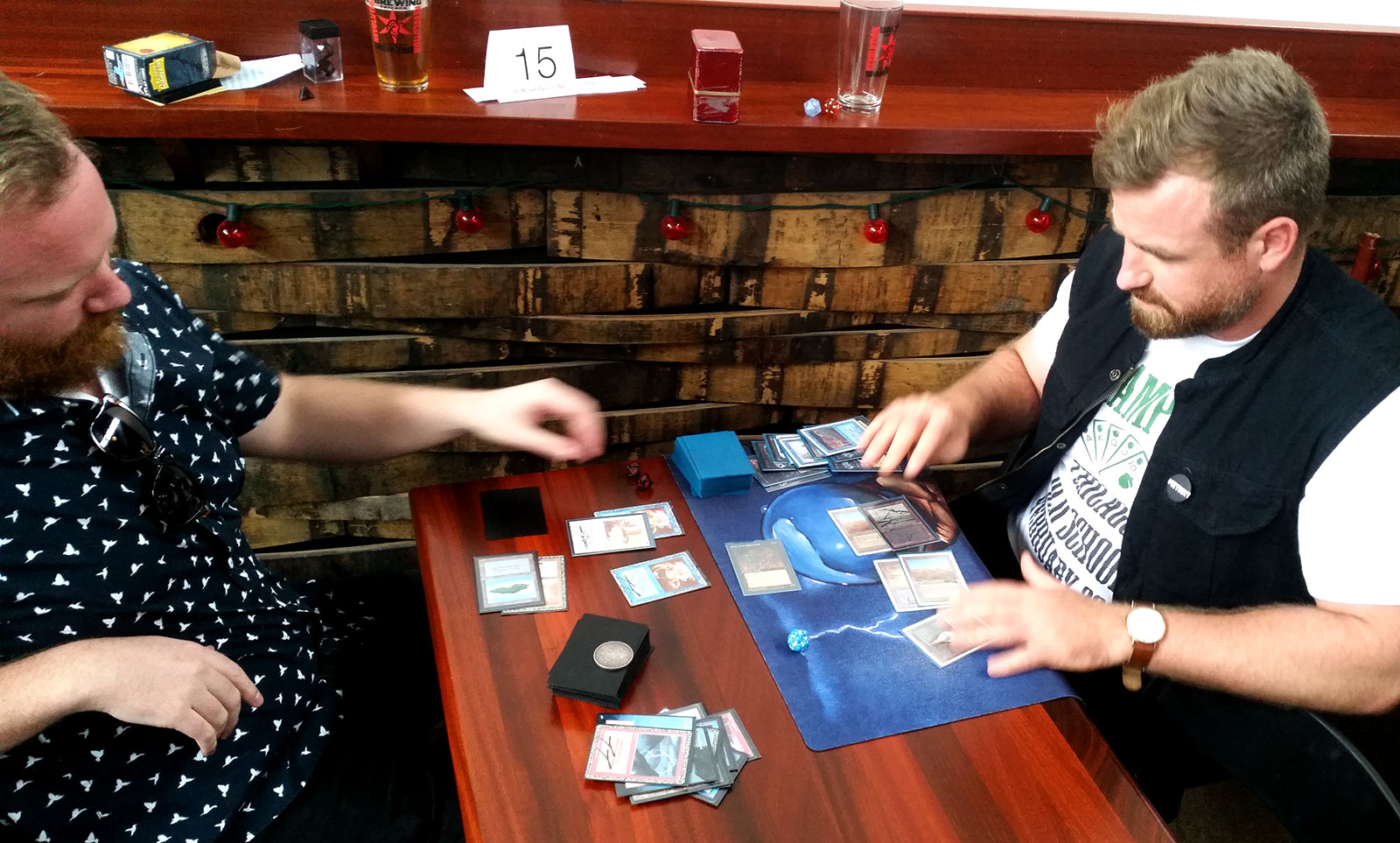 Hilton (White Weenie) vs. Bowman (5C Song)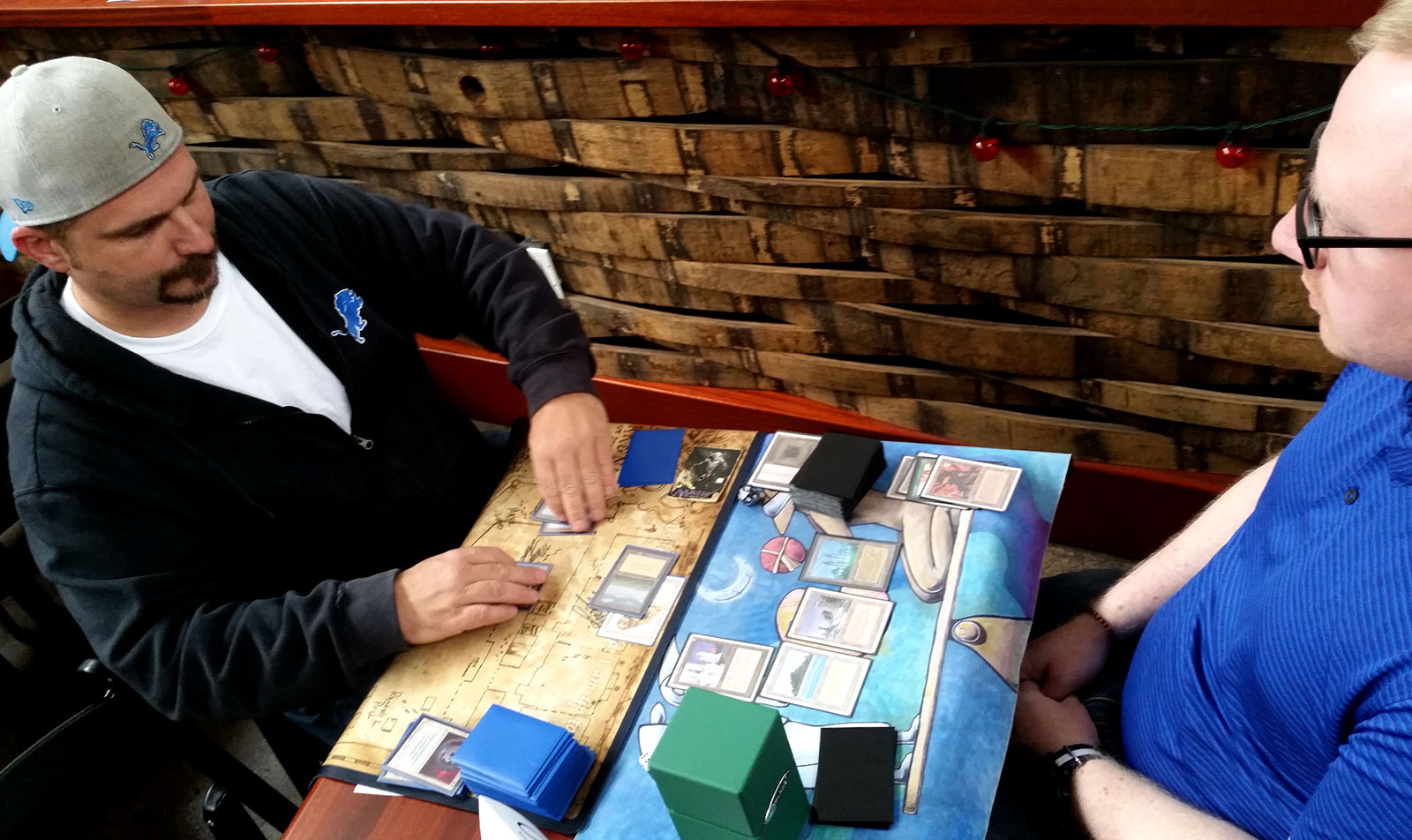 Tork and Moss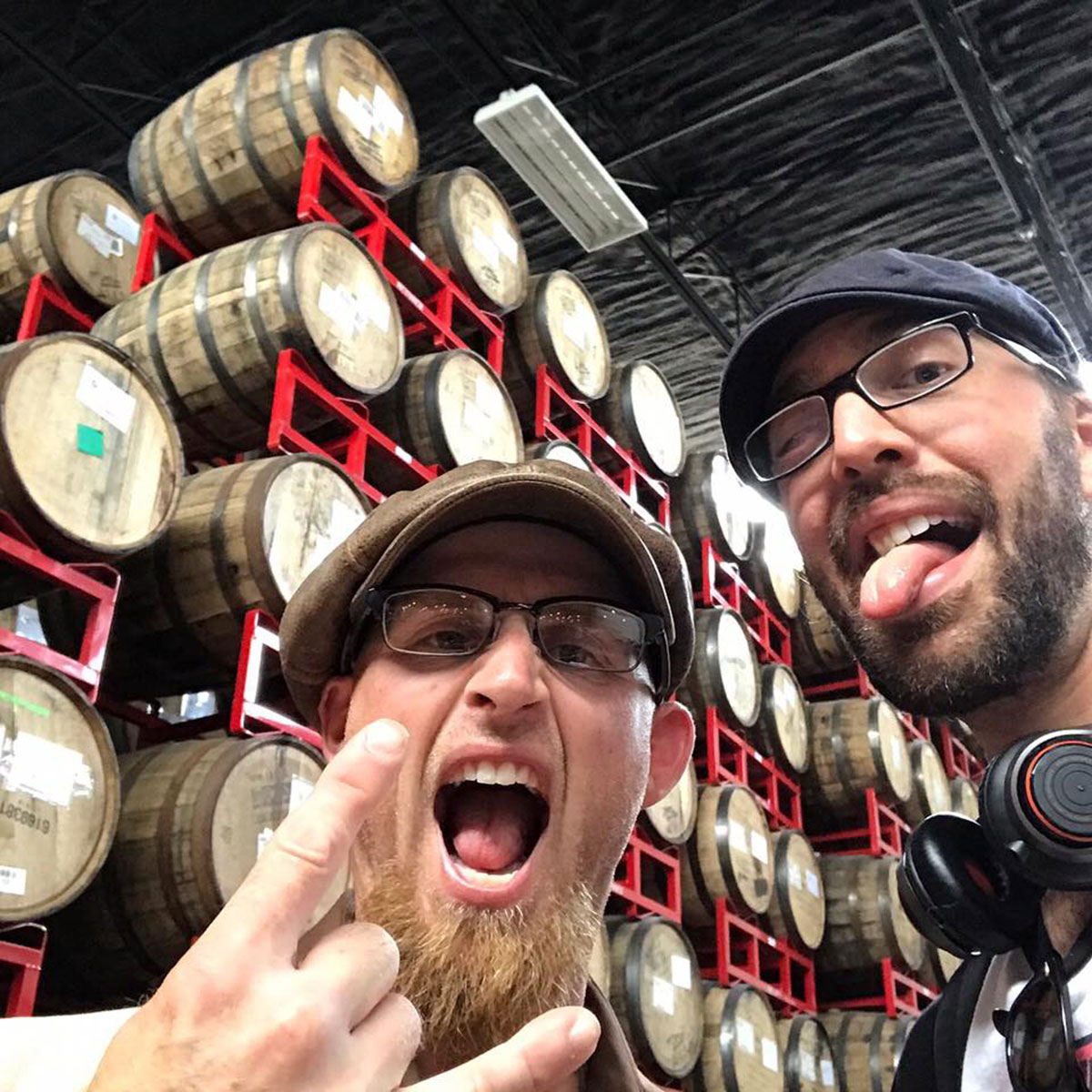 Piquard (UGW) vs. Nyquist (Tusk Eureka)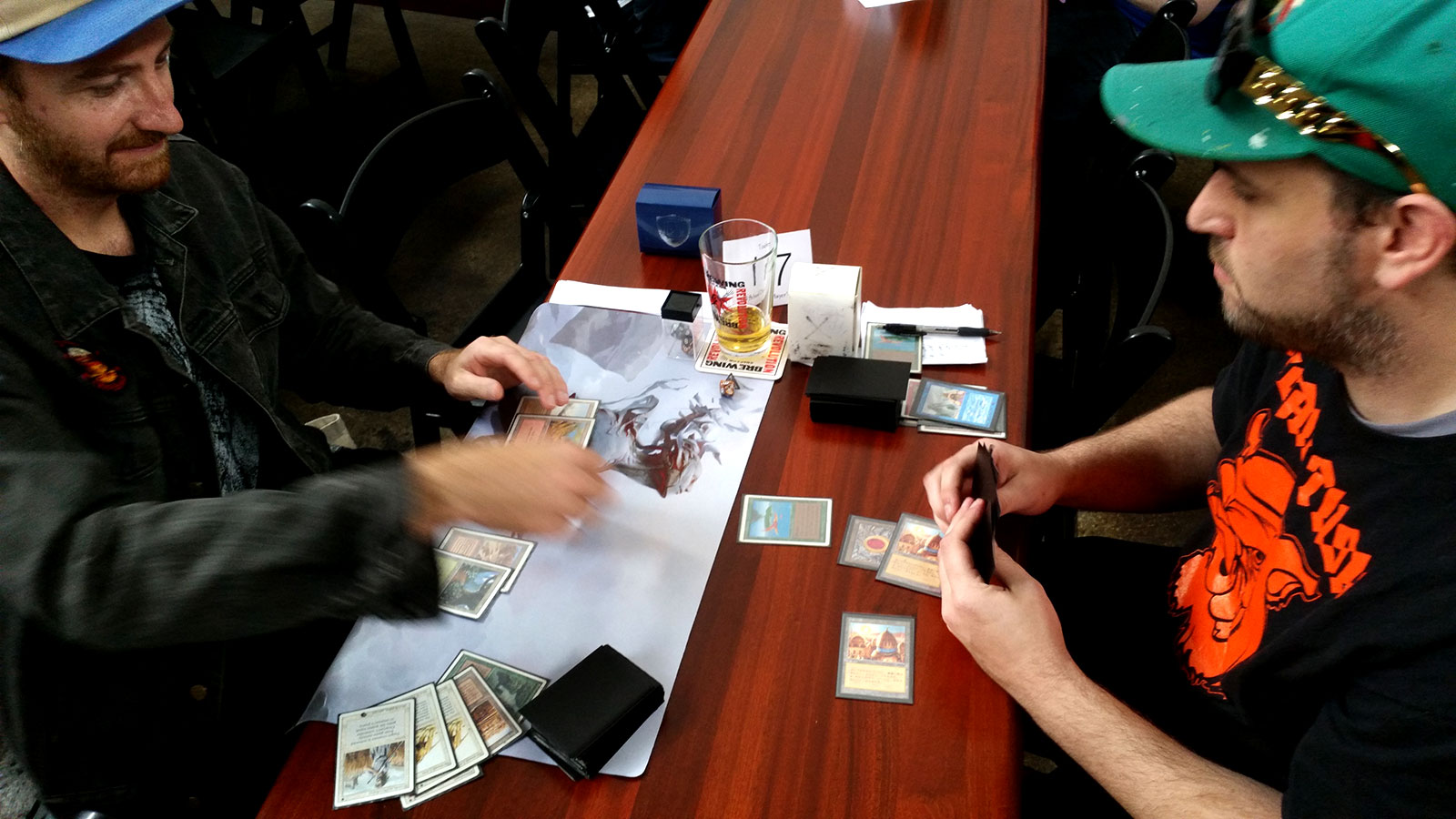 Mith (Junk Song) vs. McGrew (Bant)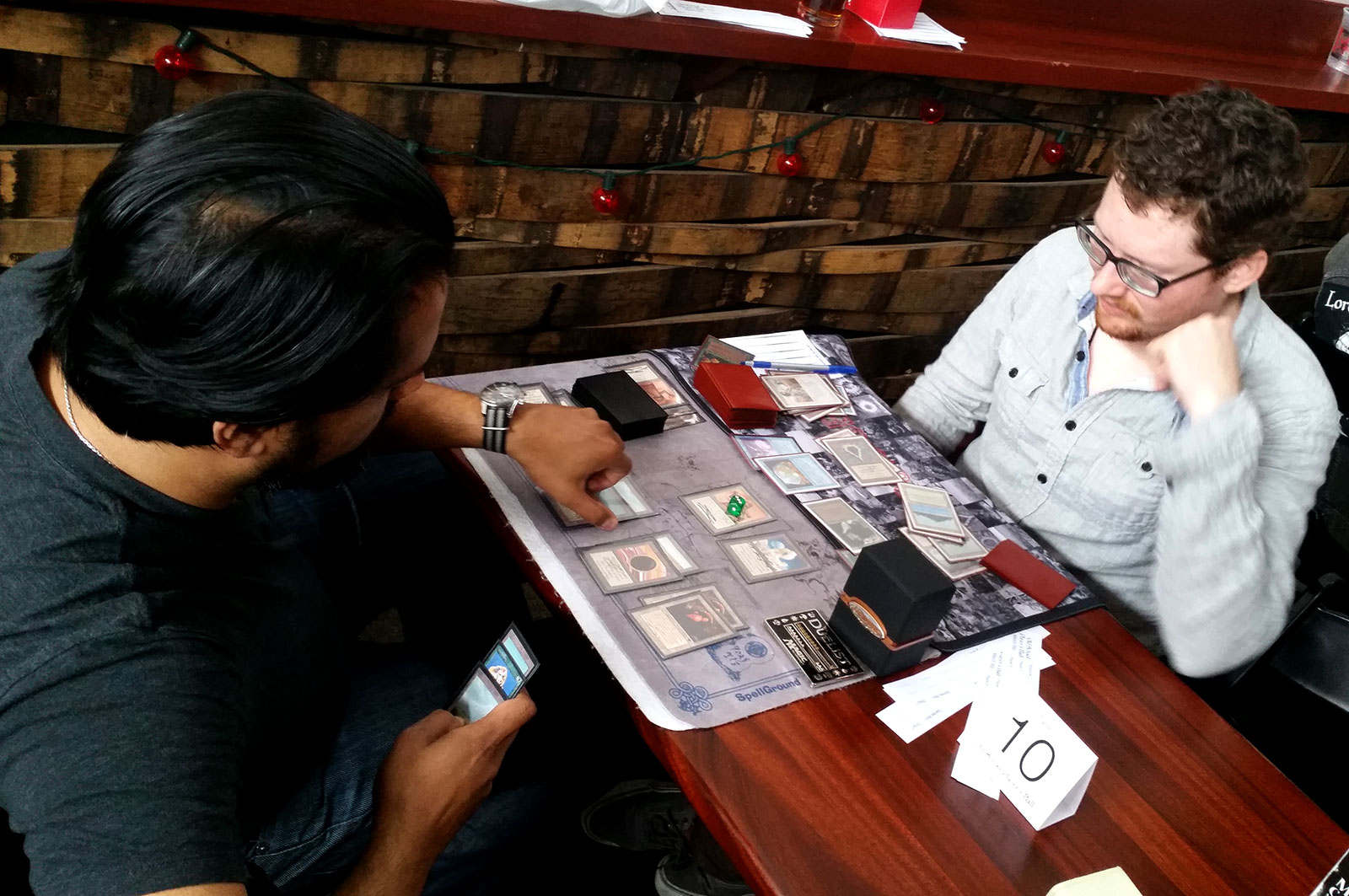 Bowersox (Mono Black) vs. Hahn (4C Gasoline)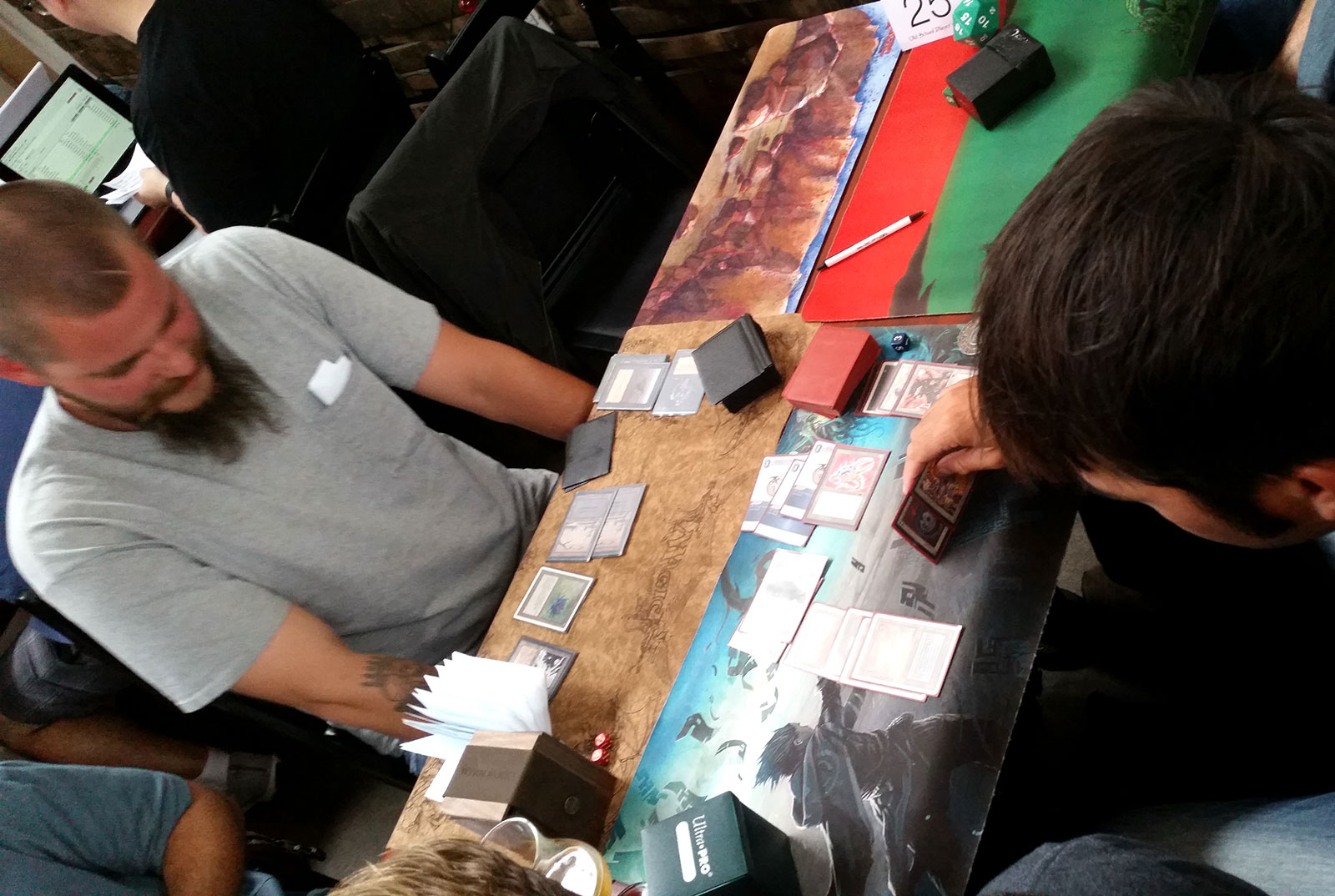 Jean (BRW) vs. Petray (Turbo Stasis)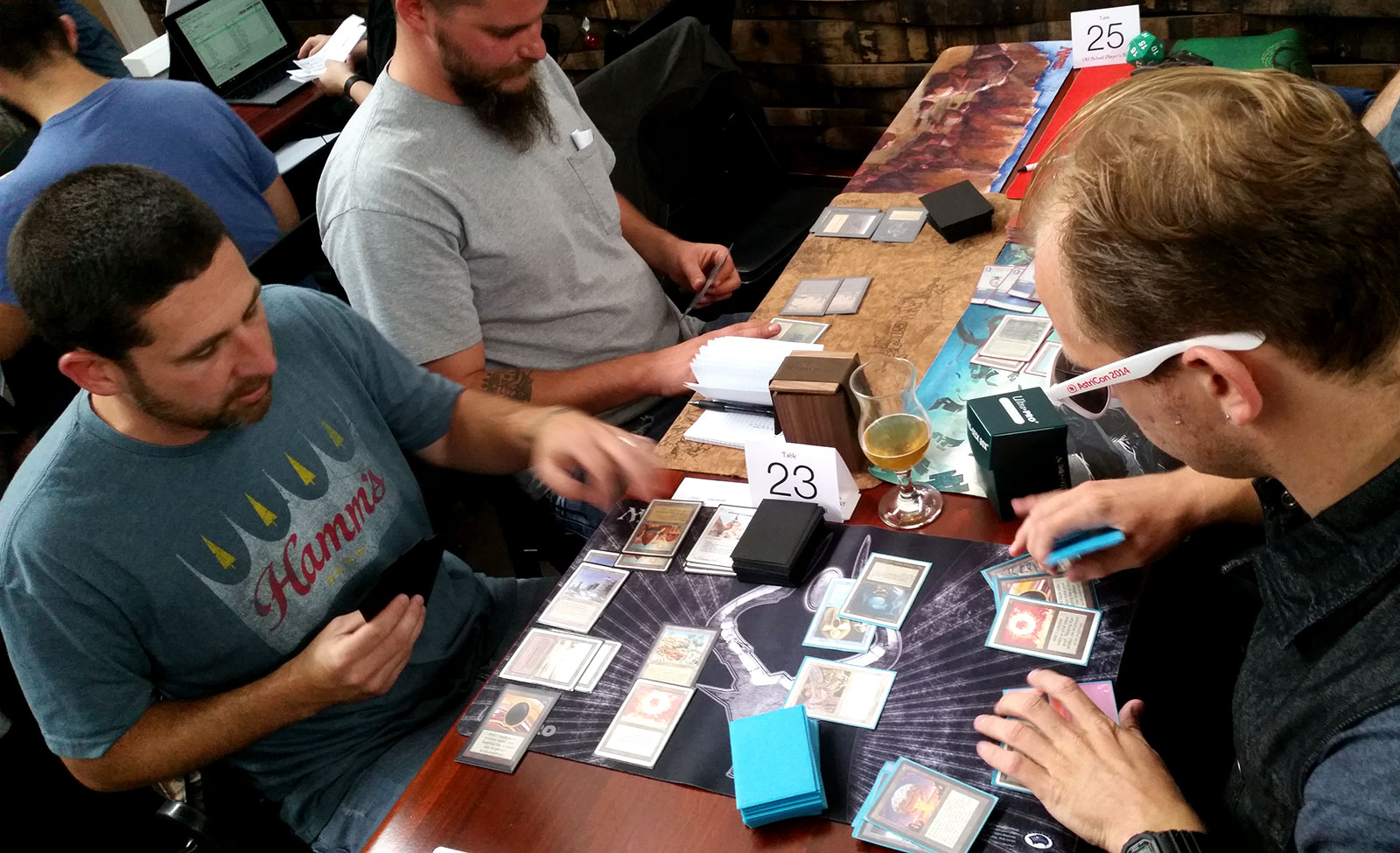 Happel (UR Control) vs. Shaman Ben (Eureka)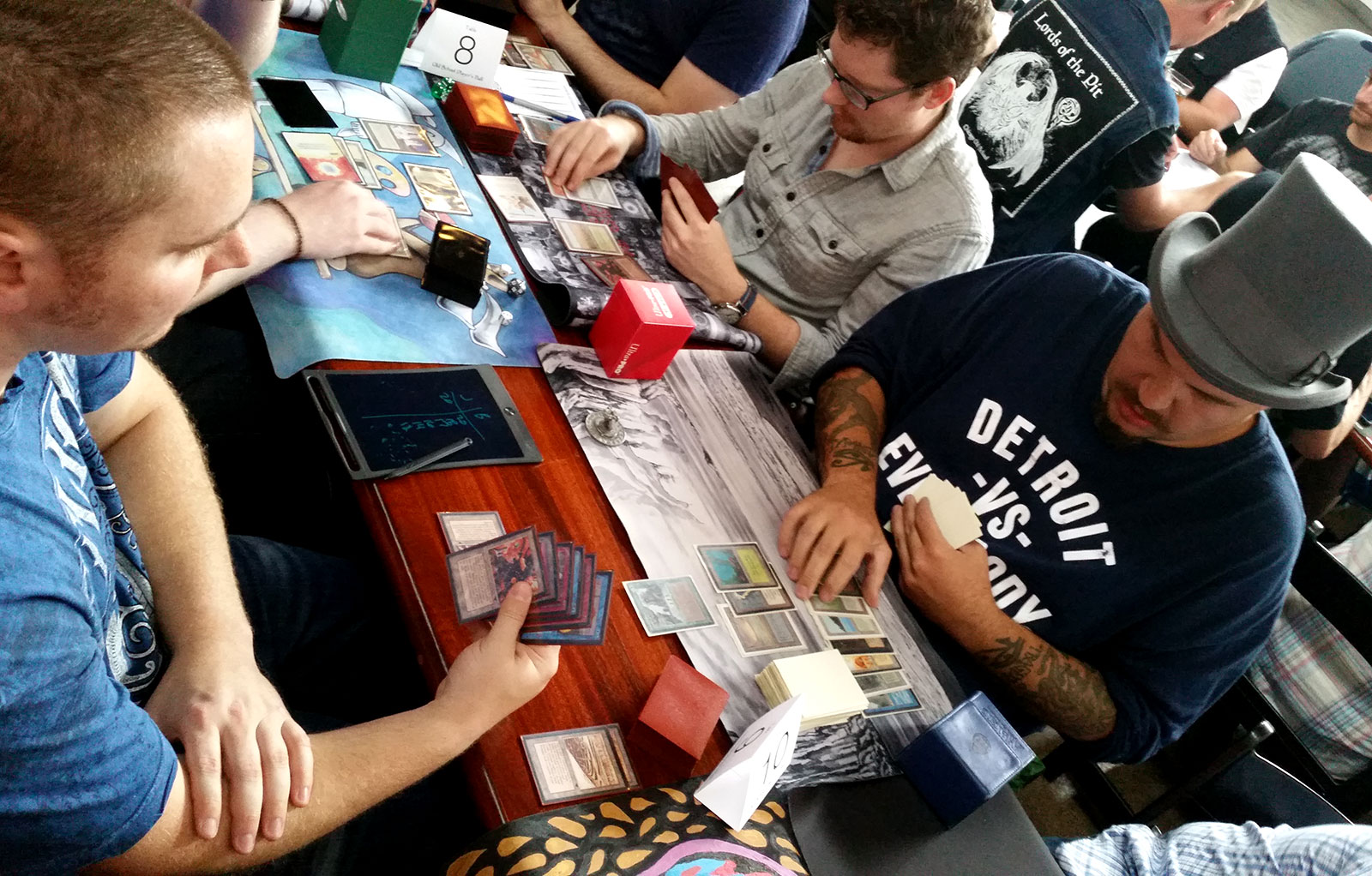 Elleman (UR Control) vs. Walker (4C Aggro Control)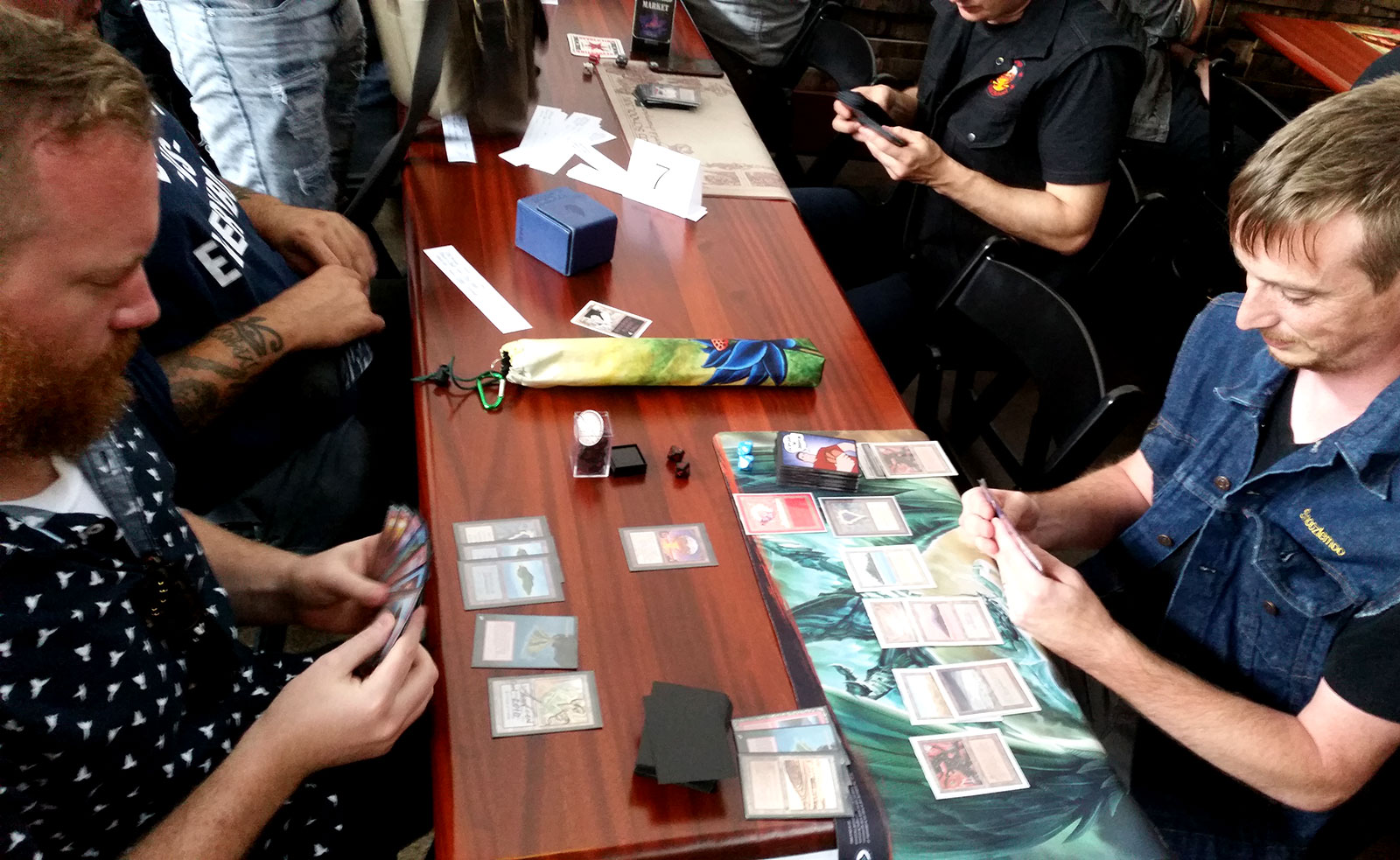 Butzen (Esper Workshop Aggro) vs. Jimmy Cooney (Mono Blue Merfolk)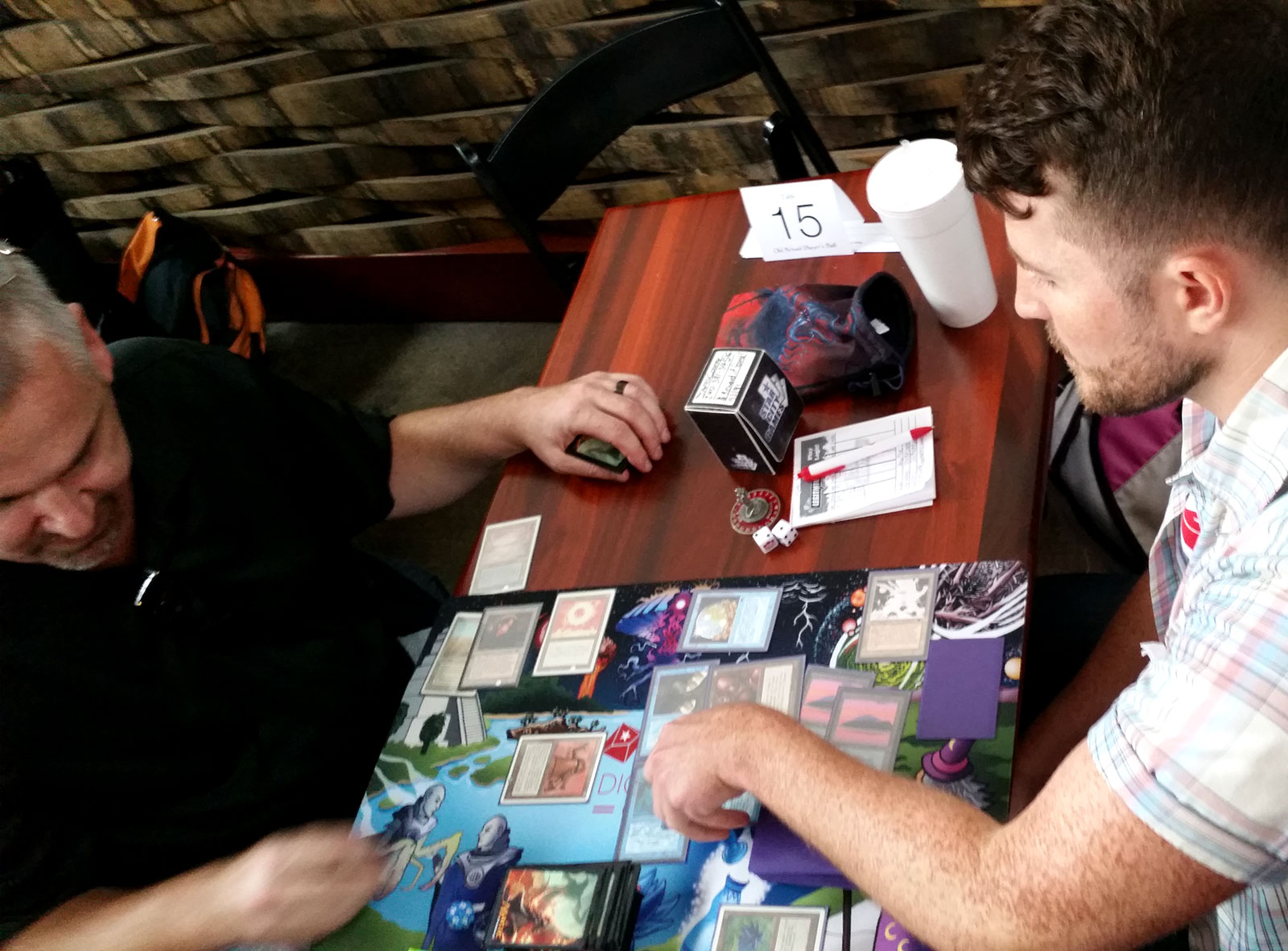 Fiero (Living Plane Control) vs. Hilton (Mono Black)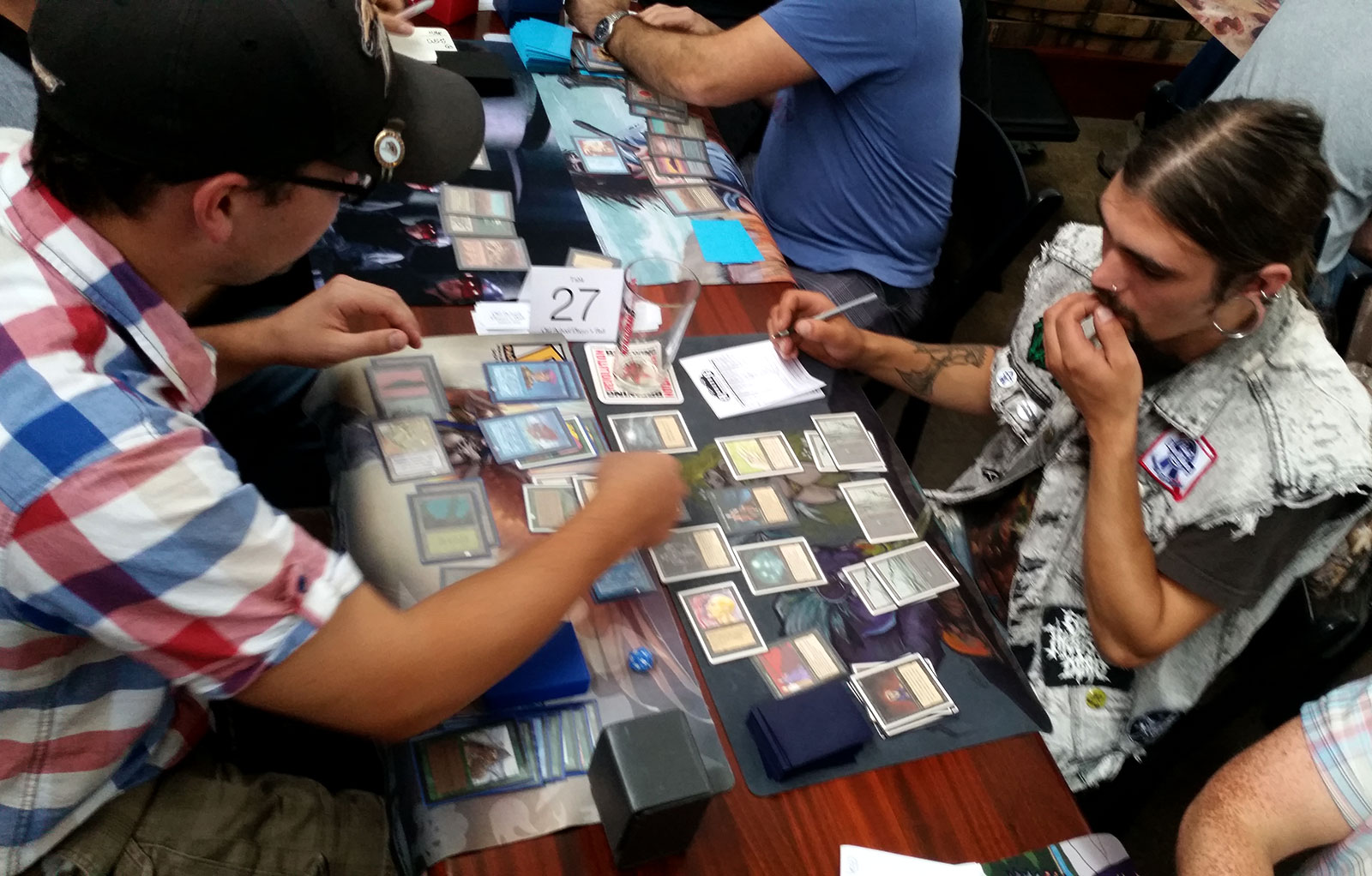 Alane (Naya ChannelBall) vs. Friedman (Nether Void Control)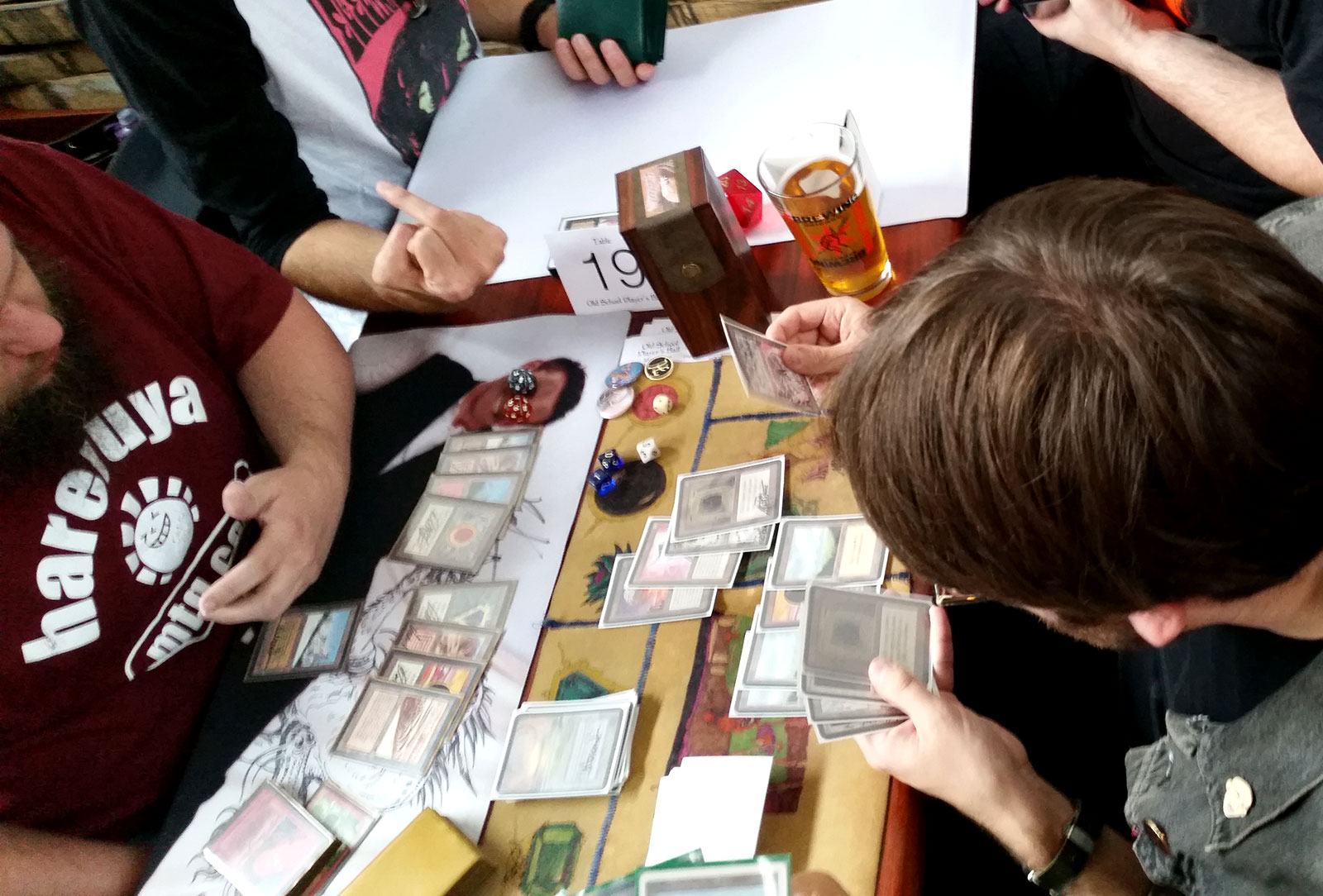 Top 8 Playoff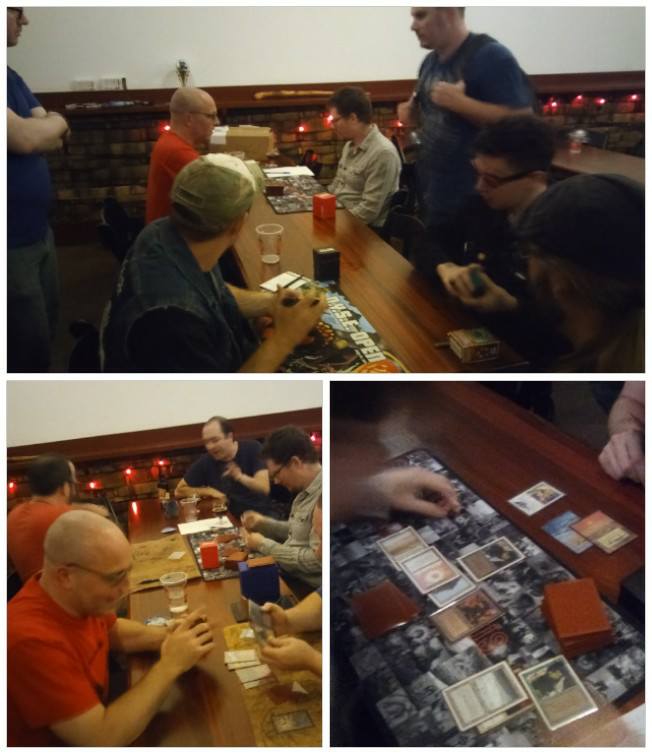 The Finals – McGrew (Bant) vs. Matt S (RUG Tempo)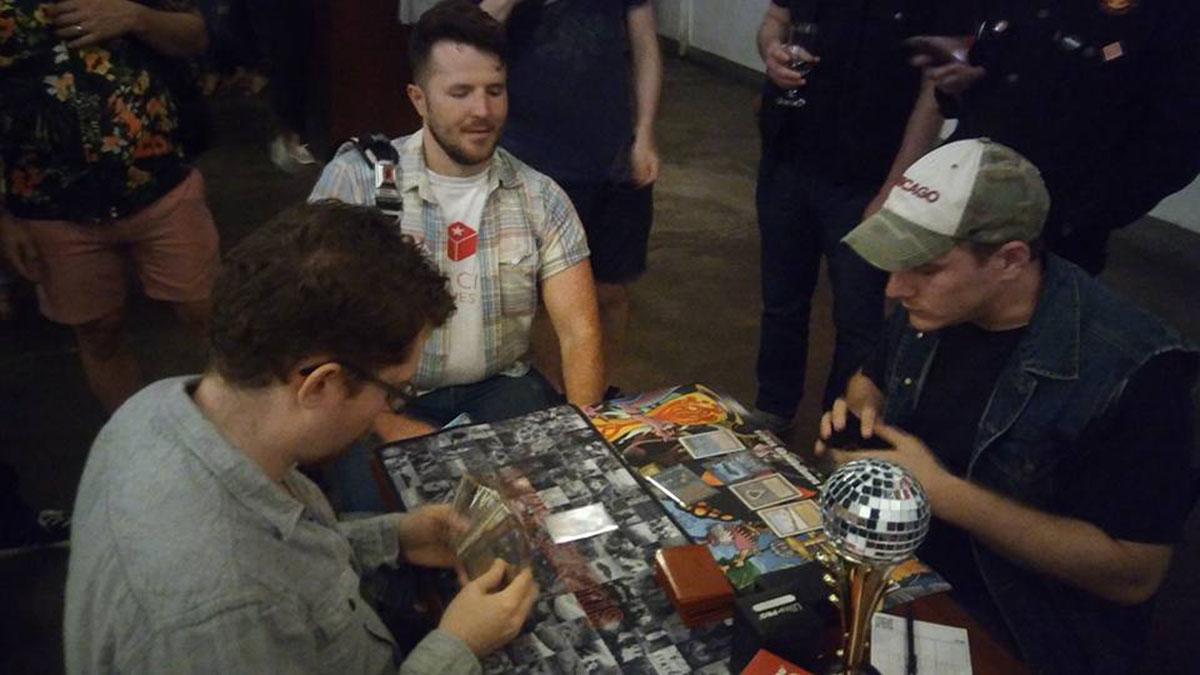 The Lords of the Pit