As in the past few years, this year's GenCon experience is growing larger and faster, with tons of new games debuting, and some being reskinned and reintroduced. With admission selling out well in advance this year, and over 50,000 unique visitors coming through the "turnstyles" the past couple of years, GenCon is still living up to its billing as "the 4 greatest days in gaming."

The 50th anniversary of GenCon has been a blast, and here are some of the best (non-Magic: The Gathering) games we saw and played this year. "Best" is entirely subjective, but these are games that we thought had tons of replayability, and could appeal to a variety of gamers, from beginners to hard-core old schoolers. Our team has different preferences and favorites, so our favorites below will simply be listed in alphabetical order.
A Feast for Odin, by Z-Man Games MSRP $100
While this game technically debuted in 2016, it seemed to be kind of a split circuit, with many of the demos from Z-Man starting in 2017. This is a seriously dense game, packed with mechanics and tons of different pieces, to go along with a complex board. It is not for the faint of heart, nor for the light wallet, but the complexity and fun of the game will keep hard core gamers coming back for more. It may seem like a steep price point, until you physically pick up the game, see that it weighs about 10 pounds, and includes an insane number of pieces (many wooden).
Cobra Paw, by Bananagrams MSRP $15
This easy to learn party game supports 2-6 players, and easily fits in a backpack or large purse. The heavy duty plastic pieces and easy to learn rules ensure that this will be a hit at parties, and can stand up to abuse if liquids or food are spilled. Cobra Paw is a quick hitting game that involves players rolling dice and quickly reacting to grab domino-like tiles in a pile. At only $15 this seemed like an absolute steal for the quality and form factor.
Cursed Court, by Atlas Games MSRP $50
Cursed Court is a fun game for 2-6 players that involves betting, bluffing, deduction, and supports 2-6 players. Setup is minimal, so once you have an understanding of the rules (which only take a few minutes to learn), players can begin playing immediately. Construction of the game pieces feels solid, and includes a mix of cardboard and plastic pieces, along with a deck of cards. It might not seem like a lot included in a $50 box, but the replayability and quality of the game was worth it to our team of testers. This should appeal to both beginners and experienced gamers alike.
Downforce, by Restoration Games and iello MSRP $40
Downforce is a "re-skin" of the classic Top Race game, designed by Wolfgang Kramer. This adaptation is slick, colorful, and easy for all ages to play. It balances bidding, hand and resource management, along with betting and interesting player variables to create a lot of replayability. Our team found themselves playing this late at night in hotels more than any other game, time and time again. The game play, graphic design, and quality construction made this well worth the price of admission.
Kerala: The Way of the Elephant, by KOSMOS MSRP $30
Named after a region in south India, this beautifully designed and colorful game should be a hit across audiences. It is a light game with little setup time that balances tile/elephant placement with resource drafting. Games are fairly quick (30-45 minutes), and can support 2-5 players. Kerala is easy enough for even the most casual players, but has enough variance and replayability to keep it in your gaming stable long term.
Lovecraft Letter, by Alderac Entertainment Group (AEG) MSRP $30
A variant (or "skin") of the popular card game Love Letter, AEG's new variant features the premium treatment on packaging, cards, and new tokens. Lovecraft Letter features similar mechanics to the original Love Letter, but enriches the game play by introducing a new "insanity" mechanic that alters how games play, and extends replayability.
This variant retails for about $30, which is three times the price of the original Love Letter (MSRP $10), but still brings with it a fast-paced game that anyone can learn, and is great for small groups. Although the nicer finish and additional pieces make for a slightly larger footprint, the new rules featured in this variant are still very easy for people new to gaming, and is still a great game for parties that can be tossed in a purse or backpack and not take up much room.
Lisboa, by Eagle-Gryphon Games MSRP $100
This very dense game packs a lot into a roughly 90-120 minute game. Area control, card/hand management, and tile and resource placement are all involved in this game that supports 2-4 players (although it seemed like 3-4 players was definitely optimal for more engagement).
The city of Lisboa suffered some devastating setbacks in the 18th century, and in this game you take on the role of a developer to help rebuild the city. There's a bit of a steeper learning curve and some of the pieces are a bit small, but it is a dense game with a lot of replayability. This rings in at about $100, but has sturdy construction, beautiful design, and about a million pieces, so while that may seem high, it's probably worth it considering most games are $50-60 nowadays and contain a small fraction of what this game contains.
Majesty: For the Realm, by Z-Man Games (English; Schmidt Games original German) MSRP $30-40
A quicker family style game involving card drafting, players are competing to control a few different card and character types, as well as other sub-goals. The game supports 2-4 players and takes about 30 minutes. This was a German game originally released by Schmidt Games, and the demos at GenCon were with the German game, with the formal Z-Man Games English release coming later this year. The colors, quality, and everything about this game felt fantastic. Sales reps at GenCon were not sure what the MSRP was going to be, but thought $30-40.
Mountains of Madness, by iello MSRP $40
A cooperative game about communication, hand and resource management, this game increases difficulty as you try to complete objectives alone or as a team, and then move up the mountain. This English debut of the French game titled "Les Mountagnes Hallucinees" supports 3-5 players, and takes about 60-90 minutes on average, and seems well worth the suggested MSRP price of $40. There are a ton of cards, tokens, and tiles included in the box.
Nmbr9, by Z-Man Games MSRP $30
This quick hitting tile game requires basically no setup, and is easy to learn for all ages. It involves elements of abstract thinking, resource management, and tile placement, and was very replayable. There were constant lines to try this game out, and everyone who we played with had a great time in demos as well as after-hours hotel slinging, and this seemed like the underrated breakout game of GenCon 2017.
Oath of the Brotherhood, by Alderac Entertainment Group (AEG) MSRP $50
This is a beautiful looking hybrid game, balancing resource management, worker-placement, role decision making, and more. This was designed for 2-5 players, but game testing felt best with 4+ players, as there is more forced interaction with a tighter board, but the game was still solid with 3 players.
The pirate theme, coupled with well-designed mechanics and solid physical construction (cardboard and wood pieces), made for a nice change from most of the other games we played at GenCon this year. Our only complaints were that the rulebook was not all that clear and concise, and that the game (even after having played multiple times) took far longer than the 60-90 minutes designated on the physical packaging (most games took 2.5-3.5 hours with 3-5 players; not that the time itself is an issue, just that it was a pretty stark difference from what is advertised by the manufacturer).
Spynet, by Z-Man Games MSRP $20
Designed by Magic: The Gathering creator Richard Garfield, this felt like a faster and lighter version of Netrunner, and incorporates many similar mechanics of hand management and bluffing to set yourself up for multiple turns down the road. It supports 2-4 players (can include teammates), and takes about 30-60 minutes per game, depending on number of players. This was another one that seemed popular with everyone we played with, regardless of how new or old a gamer they were, and can easily fit in a backpack or purse.
Valletta, by Z-Man Games MSRP $50
Valletta is a medium-light historical city builder that involves deck building, centered around historic Malta, and is fairly quick and easy to learn. The graphic design is nice, colorful, and easy to read, and while this game didn't blow us away per se, it just felt great playing, and was an all-around nice offering that felt like it hit on all points in these genres.
Best of Show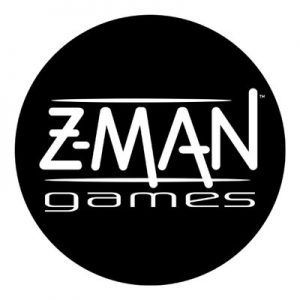 If it seems like there are a lot of games on this list by manufacturer Z-Man Games, it's because they absolutely crushed it this year at GenCon. They were roundly considered by our team of gamers to be the star of the show, in terms of the quantity of new quality games that were released and featured at this year's GenCon. While the games themselves were at multiple price points, they were generally priced on the higher side, but the game play of most games was bonkers and the quality of manufacturing is high, and these are games that will last you a long time, so we found them to be fair value when choosing what to add to a collection. While they didn't have the longest lines like some of the other vendors, Z-Man's staff, demo areas, and availability of games on site was great. They are awarded our Best of Show for 2017.