The second annual Eternal Central Old School tournament at Eternal Weekend is over, and a huge thank you goes out to everyone who showed up to support Old School. Players traveled from all over the USA, France, Brazil, Germany, Norway, and New Zealand to battle with sweet brews, while drinking craft brews, and it seemed like everyone had a blast. Dozens of players commented things such as "this was the most fun I've had playing Magic in 10 years," to "this was the most fun tournament I've ever played in!" This tournament was intentionally casual and old school in feeling, and that was great to hear. Next year will be even bigger and better, with some special surprises in store.

We had 56 players pre-registered, but unfortunately one of the players from overseas could not attend, dropping registered players to 55, so I bowed out to even out the number of players to 54. We did not want to have any byes for any players during rounds, as people are coming to play Old School, so this seemed like the best solution. While I was sad to not being able to play, it gave me a chance to run all over the tournament site (ie. hotel lobby, conference room, and our hotel rooms) to take pictures, chat, and do many, many, many Jaegerbombs with other players during and between rounds. That being said, we had 54 players, making this the second largest Old School tournament ever run (behind this year's NoobCon)! Not bad for the second tournament we've ever run.
The tournament was run out of our hotel rooms, a conference room, and the hotel lobby. Entrance fee was a 6-pack of craft beer, a bottle of liquor, a 4-pack of Red Bull, or soda + bag of chips (for the teetotalers abstaining from liquor), and we had a nice spread of goodies, as you can see in the pics below. Jaegerbombs were provided throughout the day by the tournament organizer (yours truly, with help from the indispensable Danny Friedman).
Everyone who played was pre-registered, and players showed up with drinks in hand, and grabbed name tags, and then got to signing the prize pool. Once again we gave out prizes to everyone who played, and every card was signed (or supposed to be signed) by each player. Here was the prize pool (before being signed):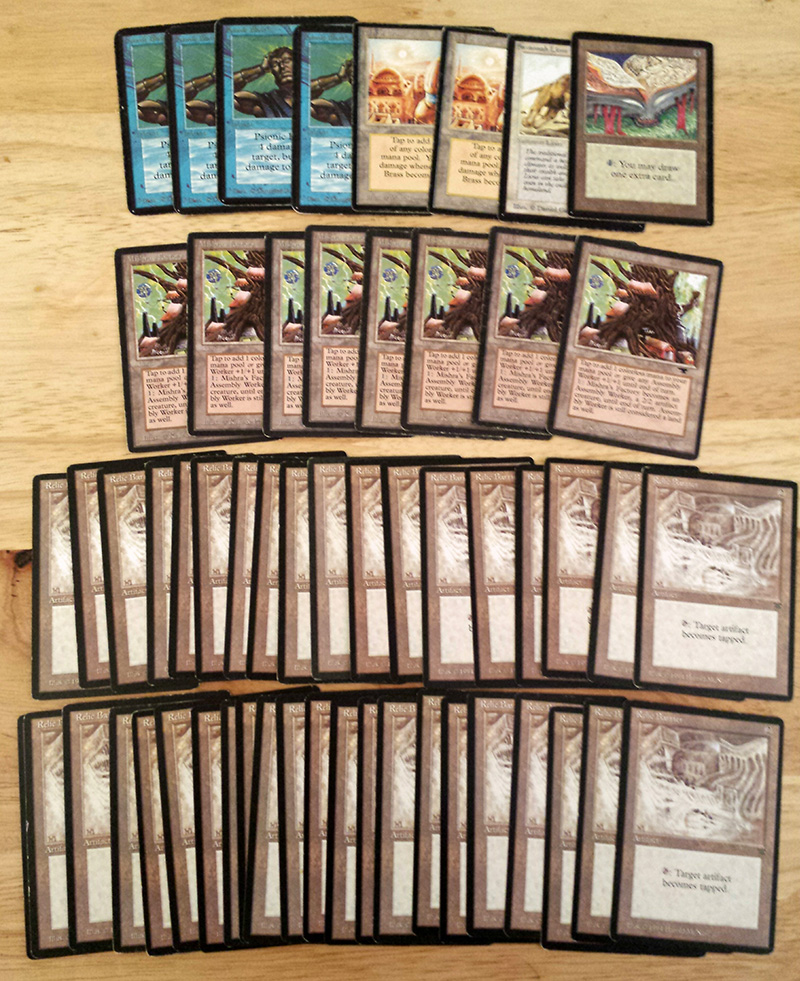 Due to the number of players we ran 6 rounds of Swiss, with untimed rounds, and NO DRAWS ALLOWED (unintentional or otherwise). The point of Old School is to play Old School with all of the sweet cards you don't normally play, and not just try to draw into Top 8, so everyone had to play and fight each round to earn a Top 8 birth. Our live coverage of the event, including Pairings and Results from each round, can be found here. The Top 8 playoff info can be found below, and the original Old School Blog has an interview with winner Randy Buehler that can be found here. There were many of the 'standard' Old School decks like UR Control, UWx Control variants, White Weenie, RUG, Mono Black, The Deck, and then there were a lot of other cool and more unique decks like Eureka, Merfolk, Underworld Dreams Combo, High Tide, various Atog builds, Titania's Song, Jund Land Destruction, numerous Workshop decks, and many more. You can dig in to the technology below, where we have listed all of the decklists in full. The more you play Old School, the more you'll realize that it's not about playing the most tuned or optimal deck, but simply playing fun cards you don't get to play in other formats, and having interactions you don't see anywhere else.
Top 8 Playoff Bracket
Top 8 Quarterfinals
1 Steven Menendian (UR) vs. 8 Justin Beckert (Underworld Dreams Combo) – Menendian wins
4 Randy Buehler (The Deck) vs. 5 Kevin An (RG Aggro) – Buehler wins
2 Richard Lessman (UR) vs. 7 Jeff Anand (The Hive 5C Control) – Anand wins
3 Bryan Manolakos (UWB Control) vs. 6 Jeff Gottstein (The Hive 5C Control) – Gottstein wins
Top 4 Semifinals
1 Steve Menendian (UR) vs. 4 Randy Buehler (The Deck) – Buehler wins
6 Jeff Gottstein (The Hive 5C Control) vs. 7 Jeff Anand (The Hive 5C Control) – Anand wins
Top 2 Finals
4 Randy Buehler (The Deck) vs. 7 Jeff Anand (The Hive 5C Control) – Buehler wins
ALL Decklists, Alphabetically, by Last Name
(Note: a few of the decklists are still streaming in from the last few participants, and this will continuously be updated, until we have them all over the next day or two.)

RG Aggro, by Kevin An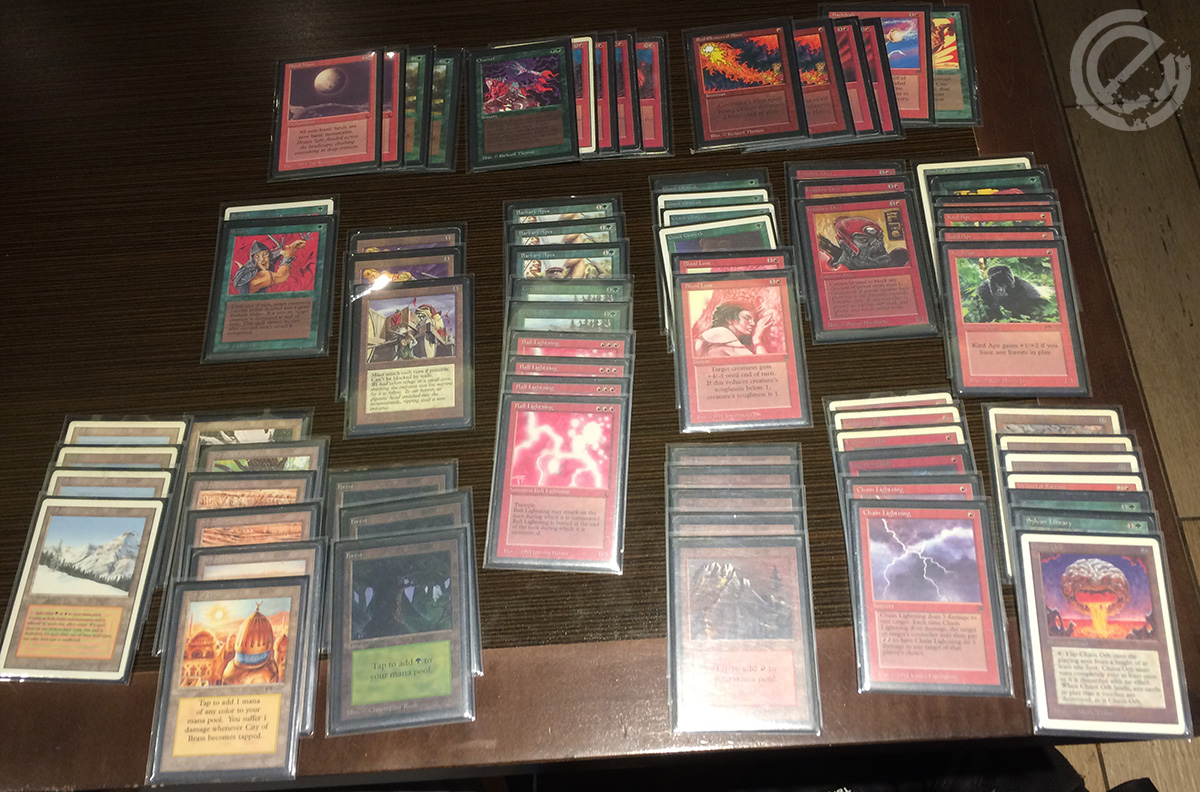 The Hive 5C Control, by Jeff Anand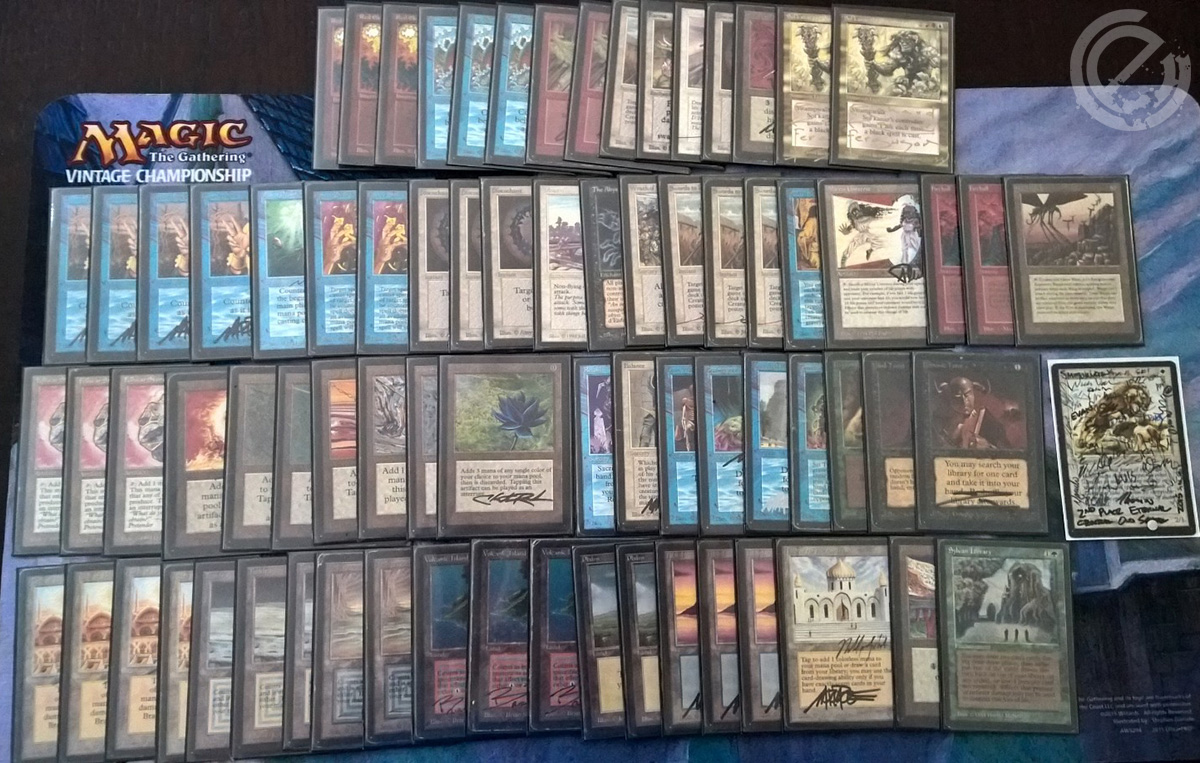 Mono Black, by Mark Arce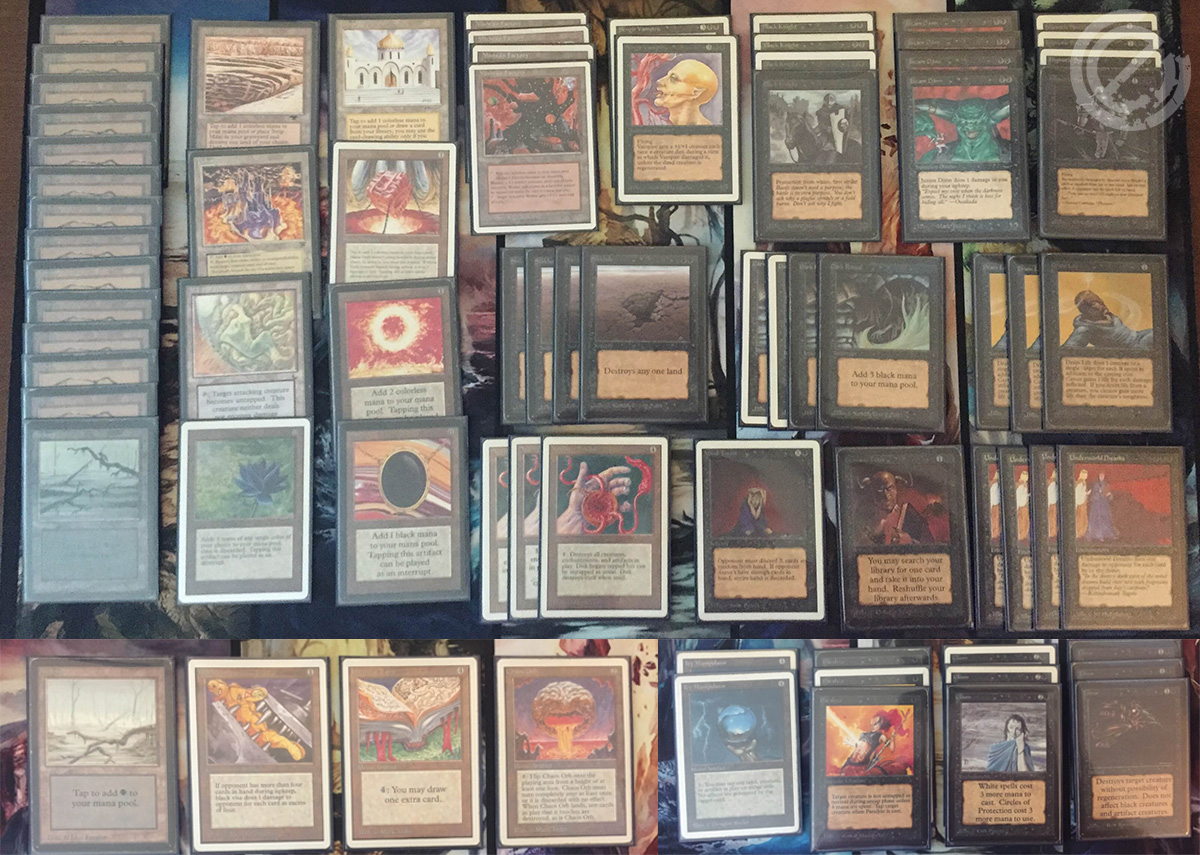 The Deck, by Forrest Ashmore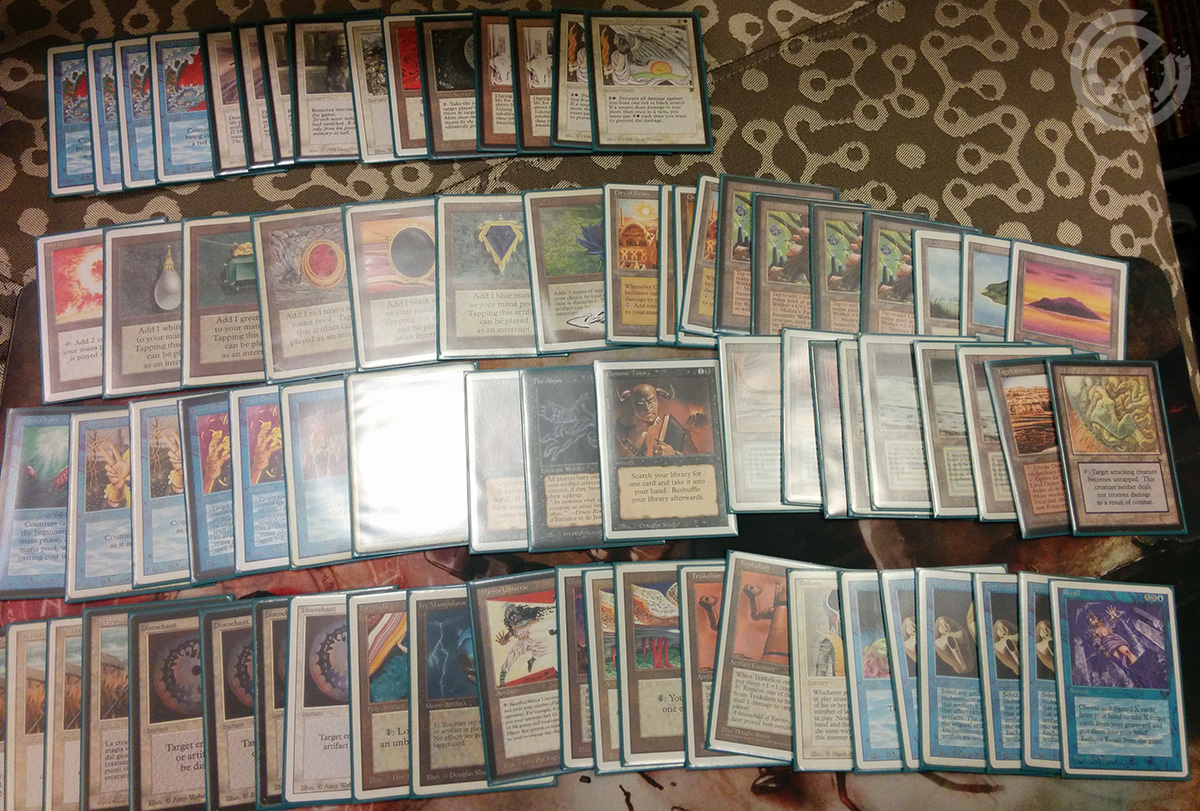 The Deck, by Brett Attmore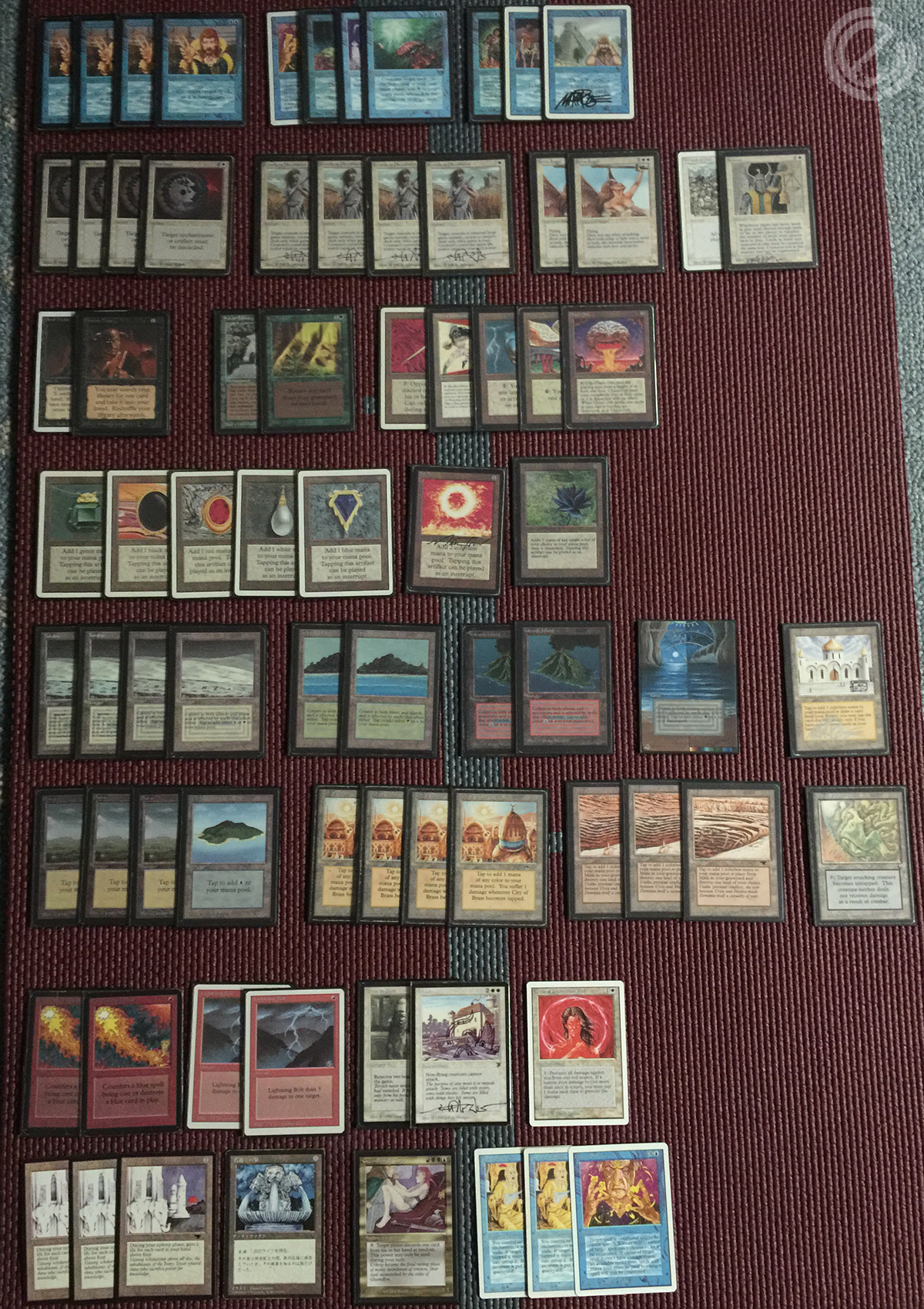 Underworld Dreams Combo, by Justin Beckert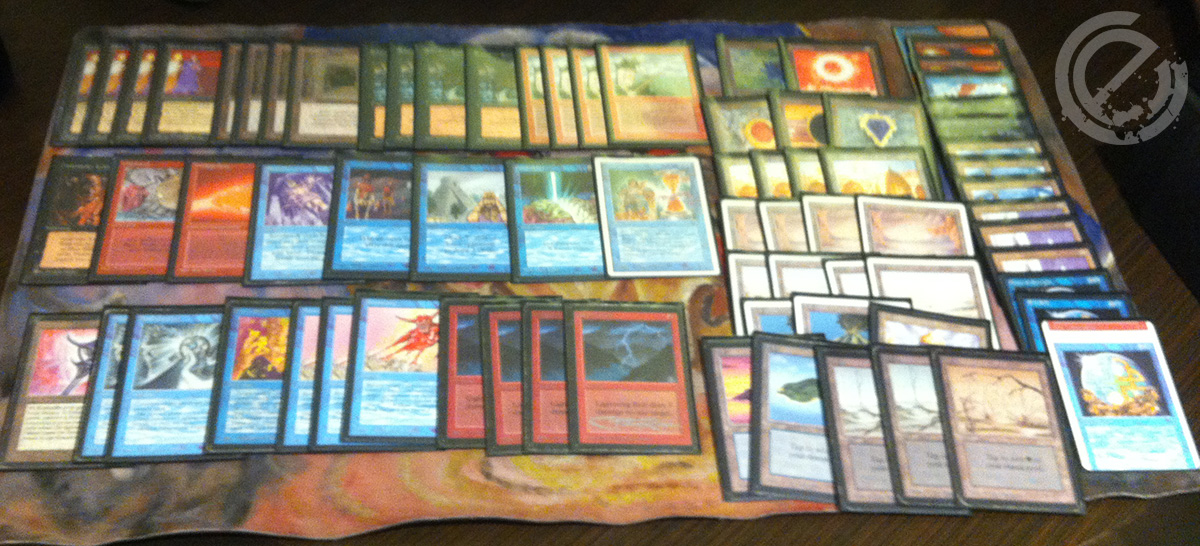 RUG, by Bobby Birmingham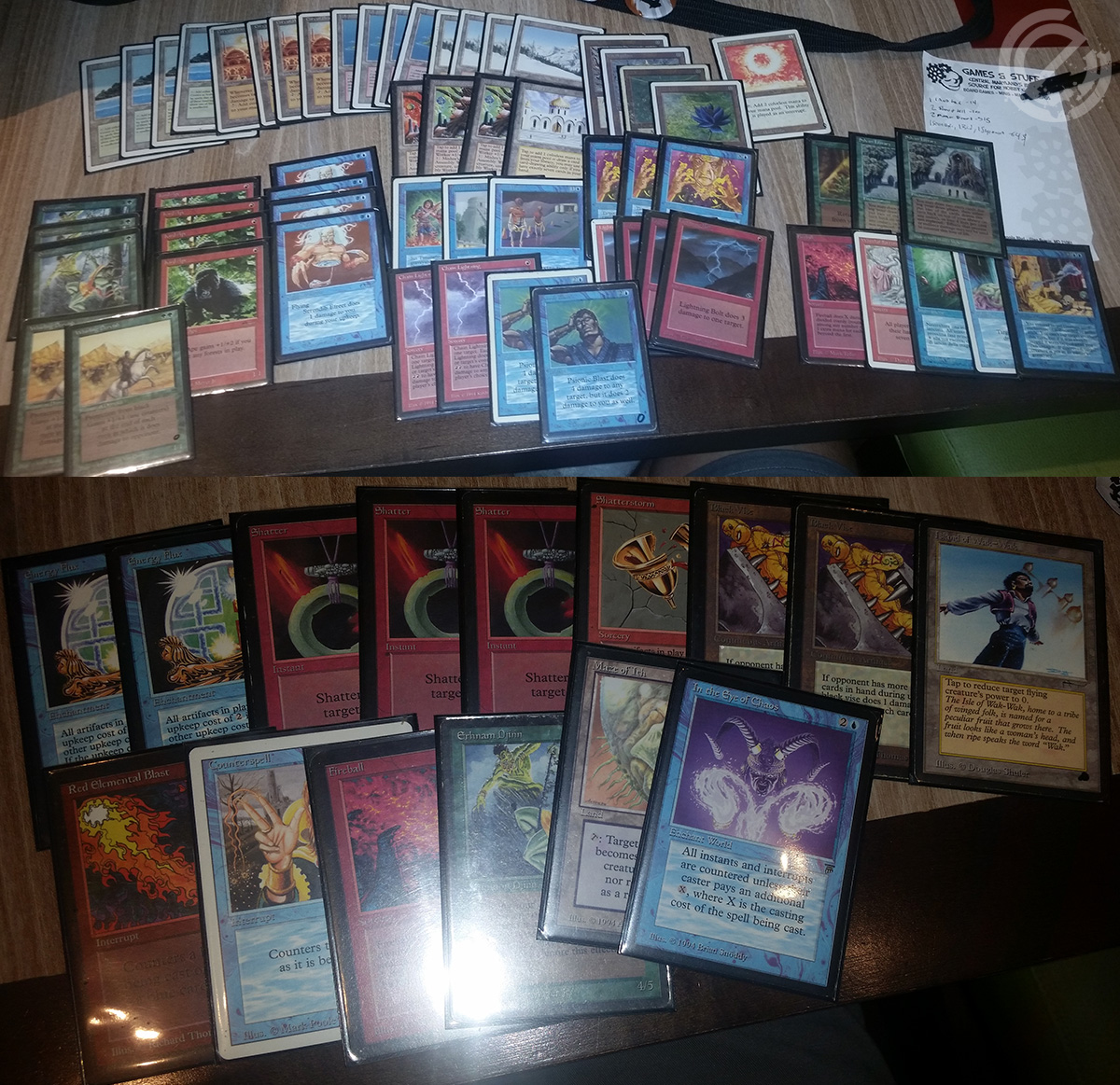 4C RUG, by Gene Brumby
The Deck, by Randy Buehler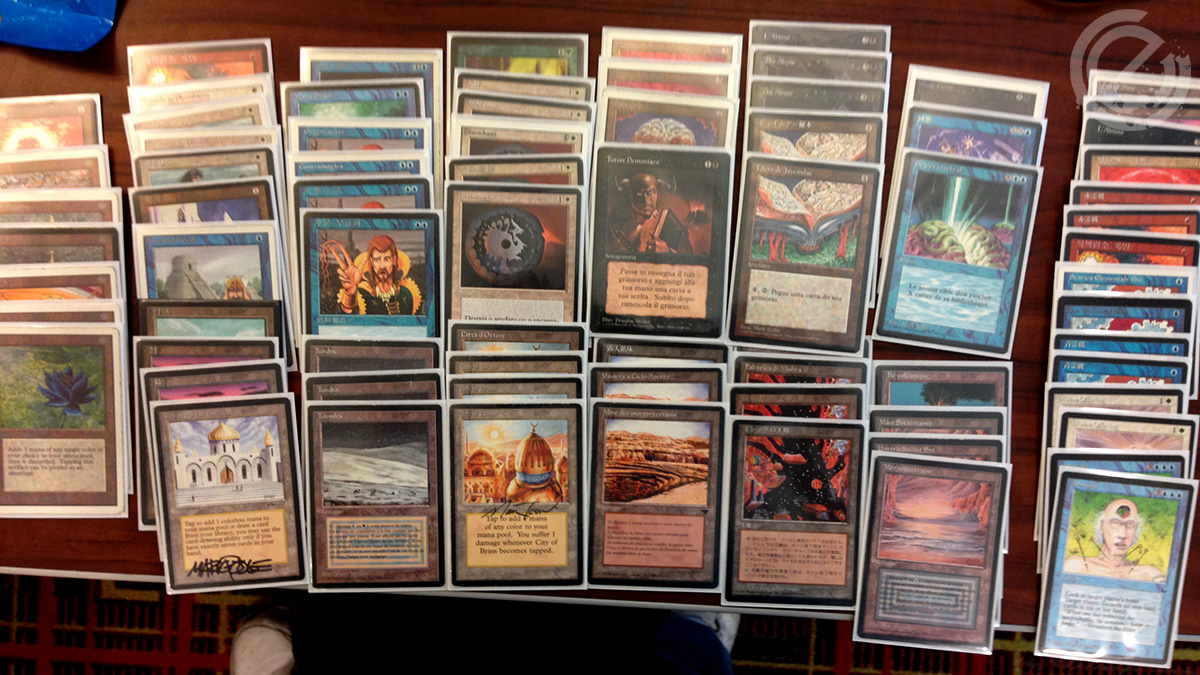 Stasis, by Paul Callis
Suicide Black and Blue, by Roland Chang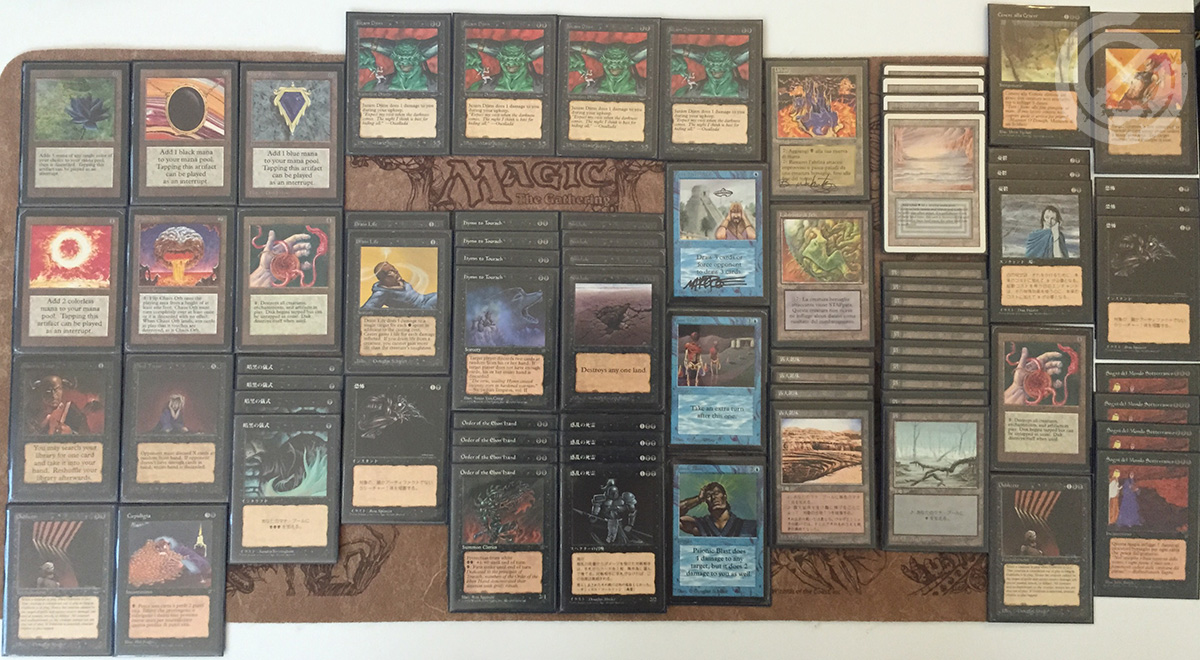 Birdman Bant, by Shann Chaudhry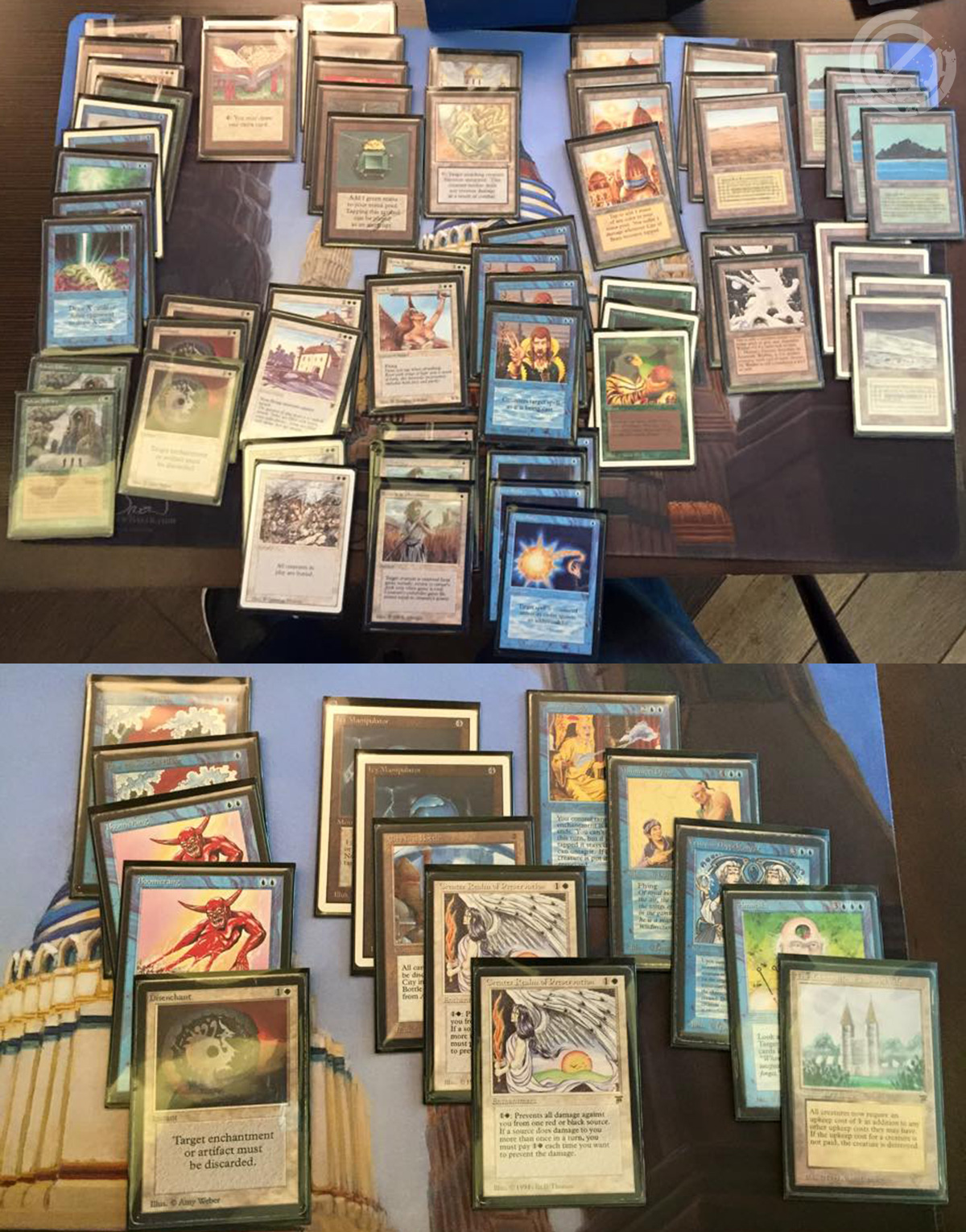 UWR Merfolk, by Jimmy Cooney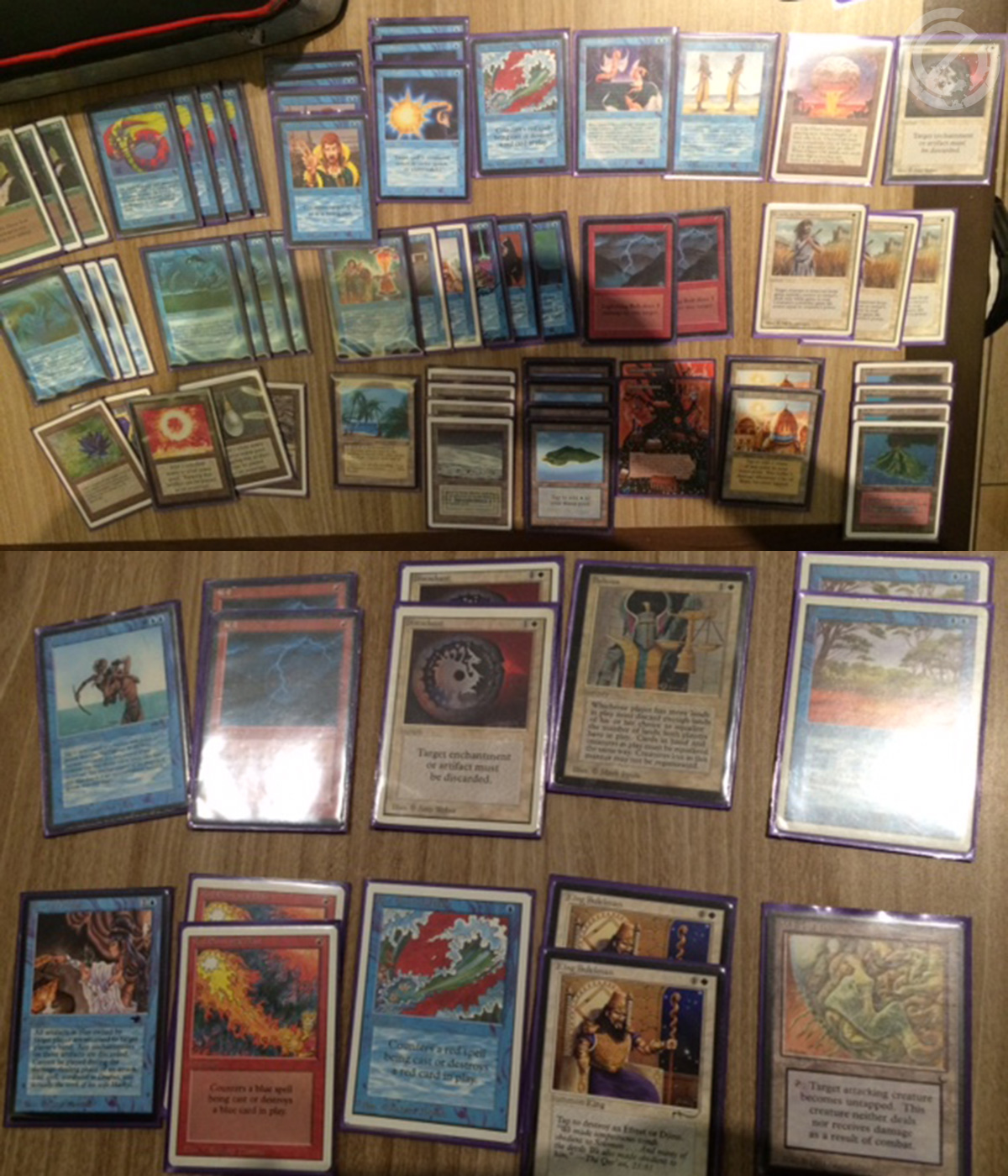 White Weenie, by Morgan Cooper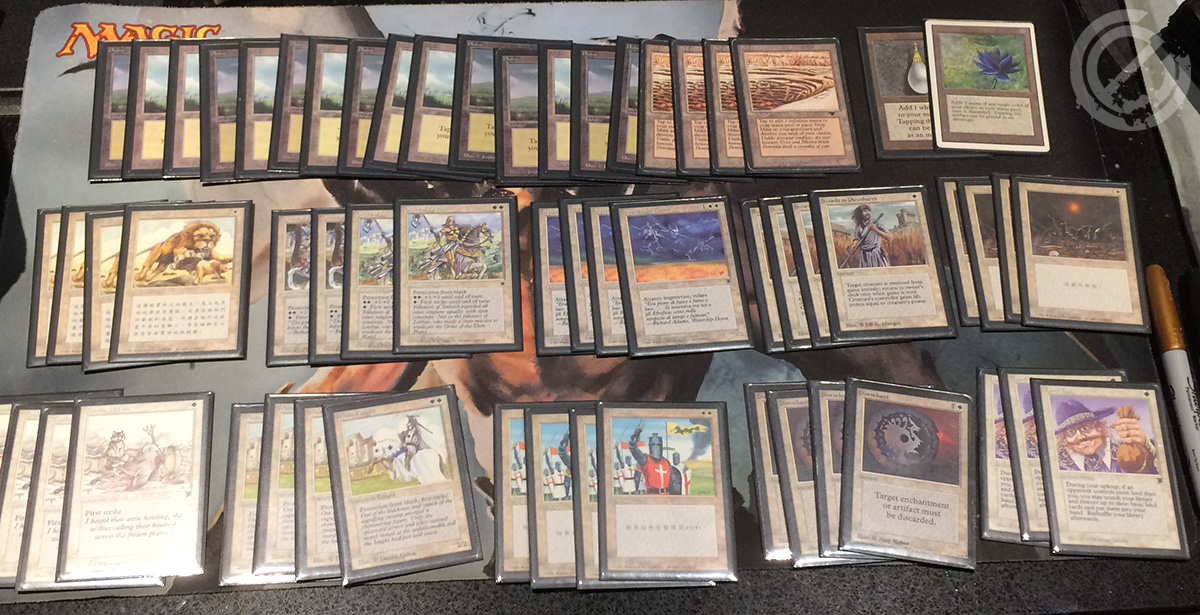 UR, by Marcelo Coutinho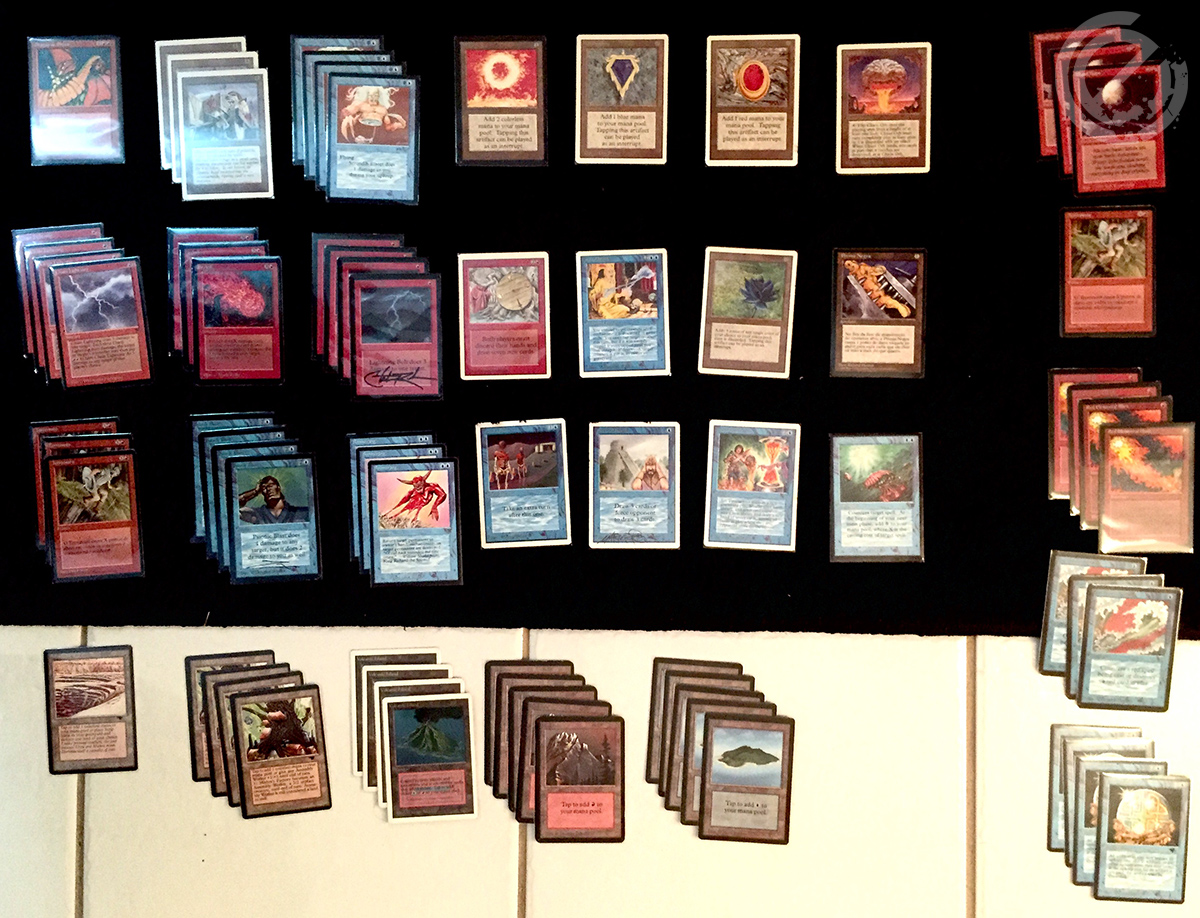 Eurweaka, by Fam Doola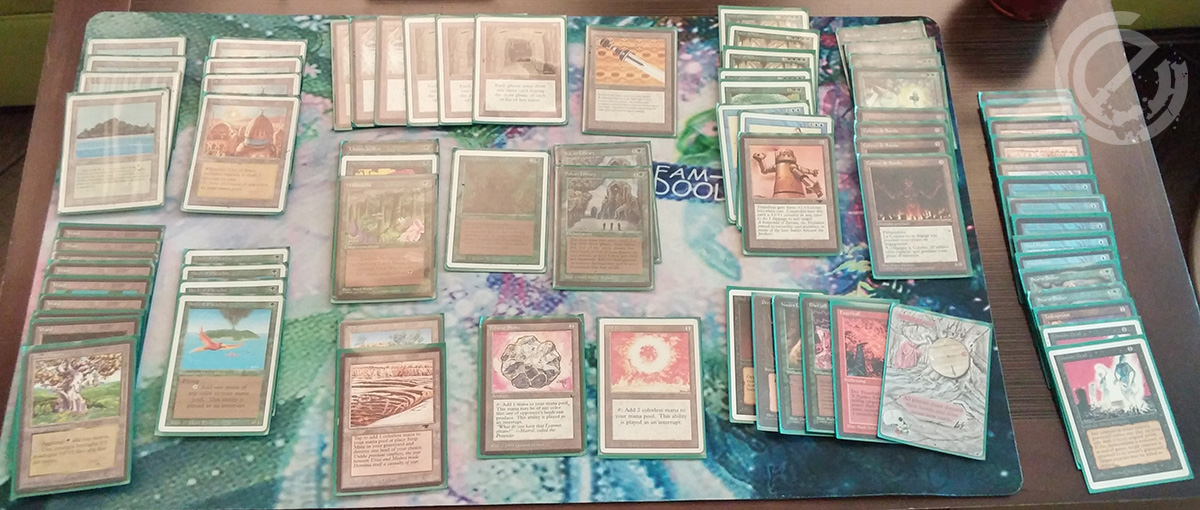 American Weenie, by Brian Fisher
Candelabra Tide Flare, by David Fleischmann-Rose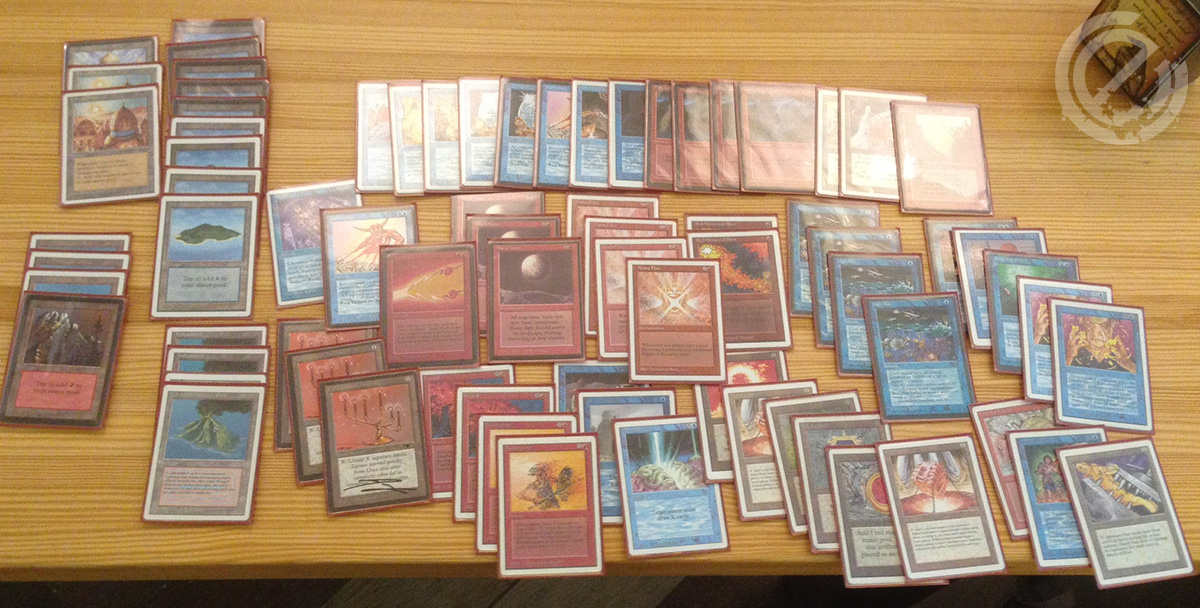 UR, by Bryan Freres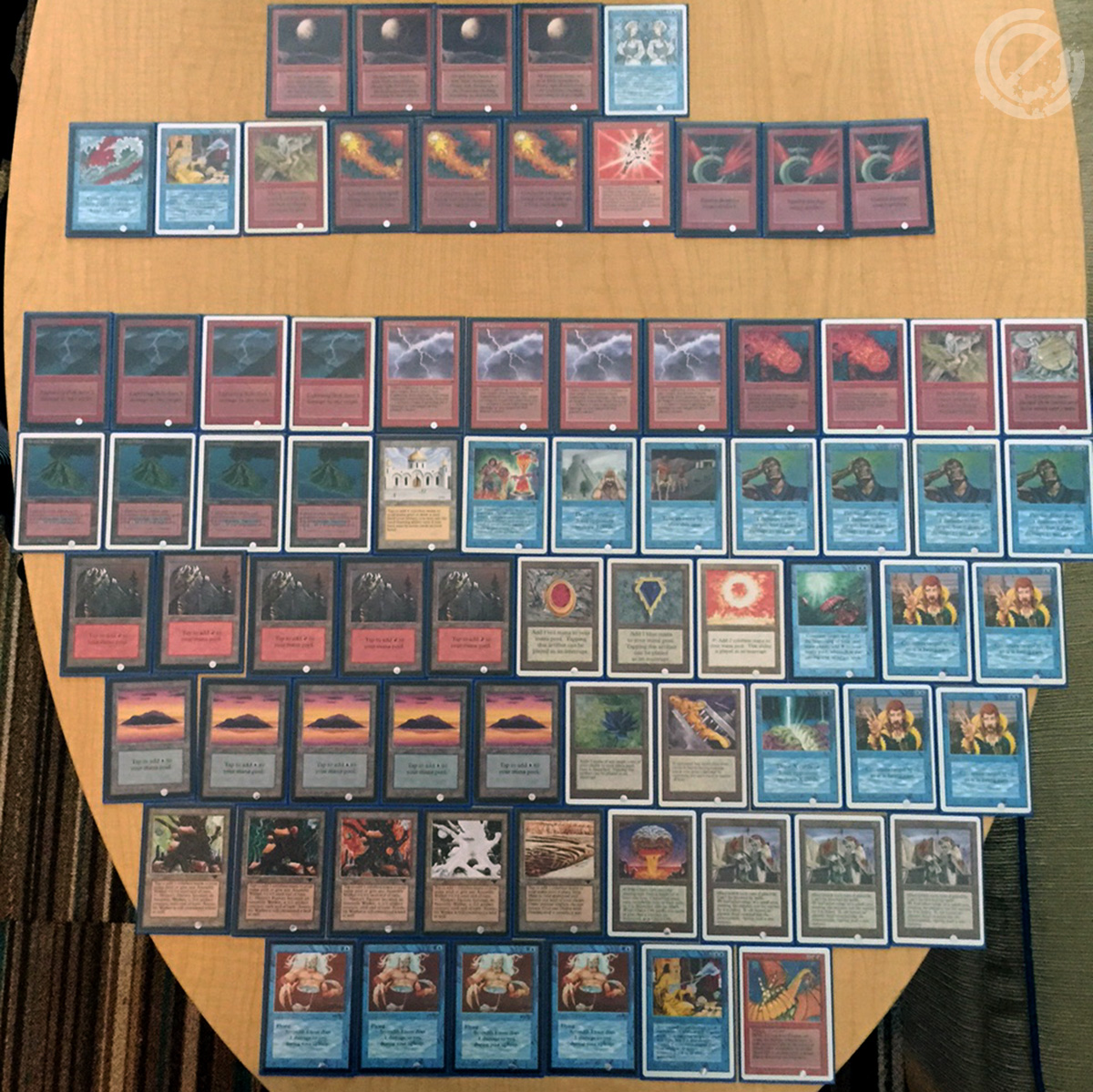 Workshop Atog, by Danny Friedman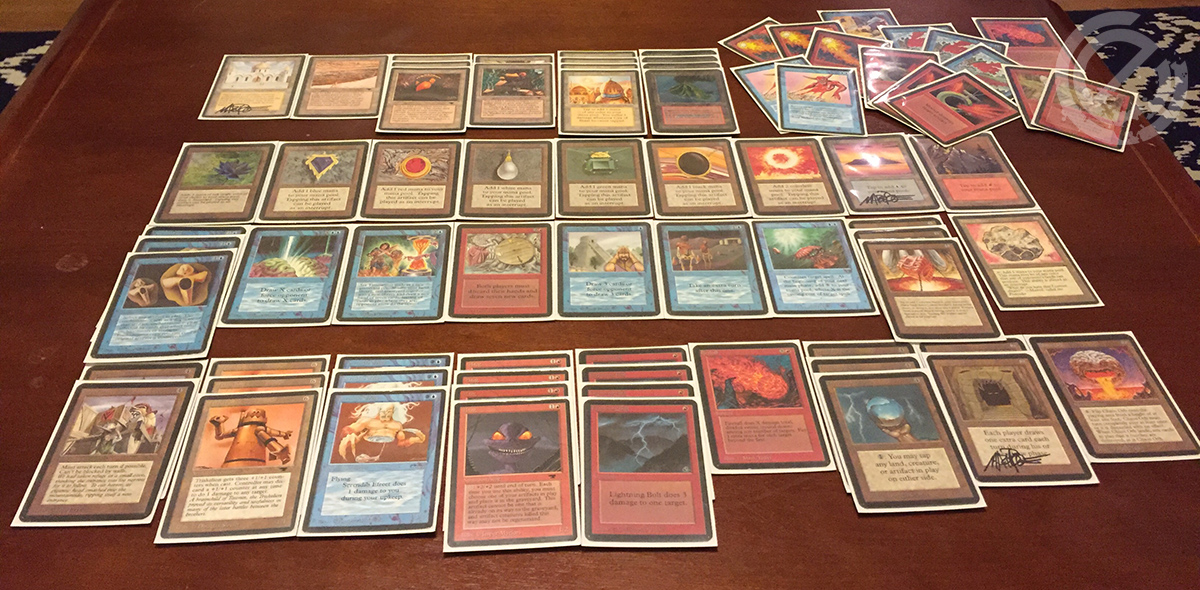 The Hive 5C Control, by Jeff Gottstein
White Weenie, by Trevor Hayden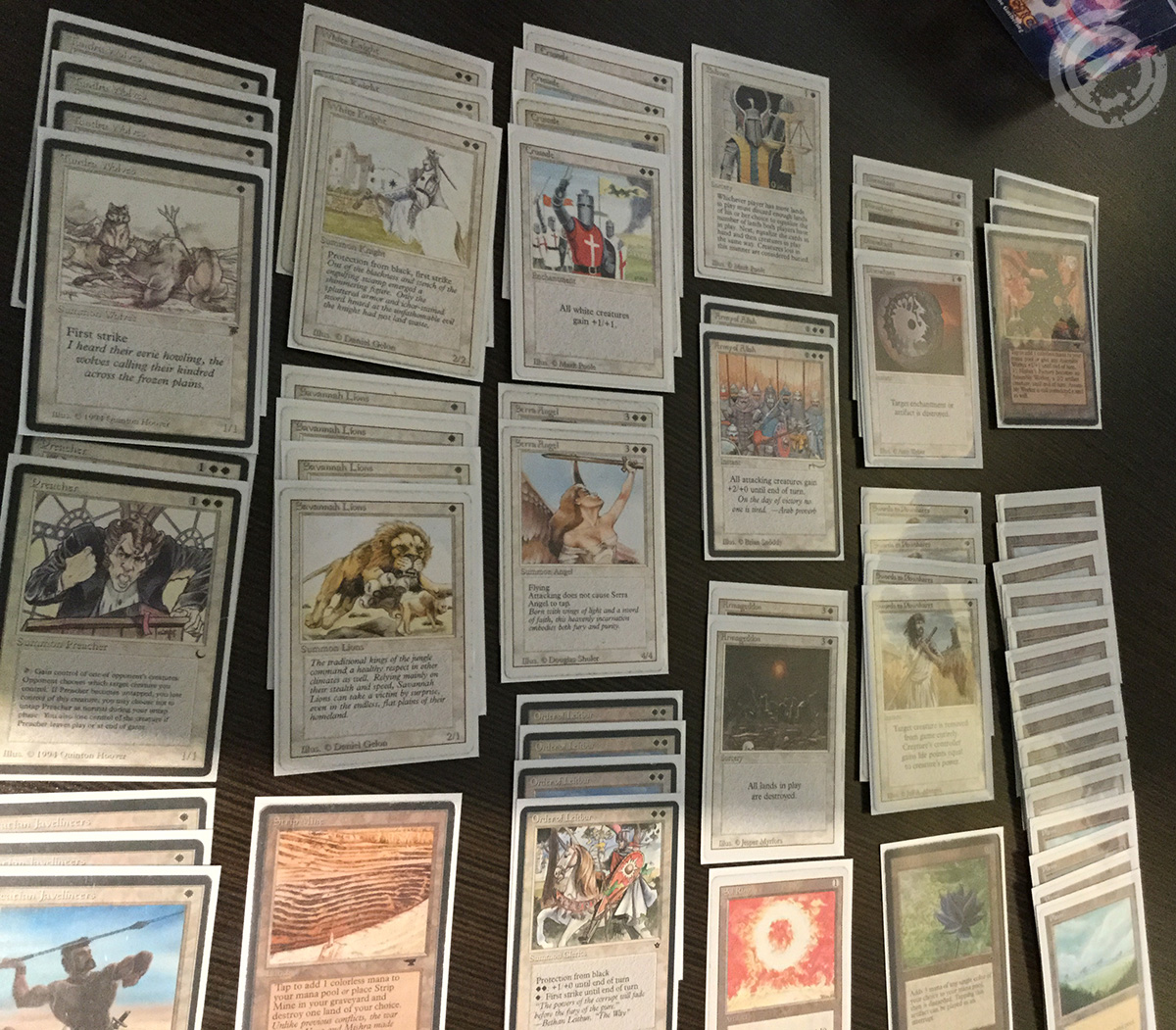 Workshop Atog, by Evan Husney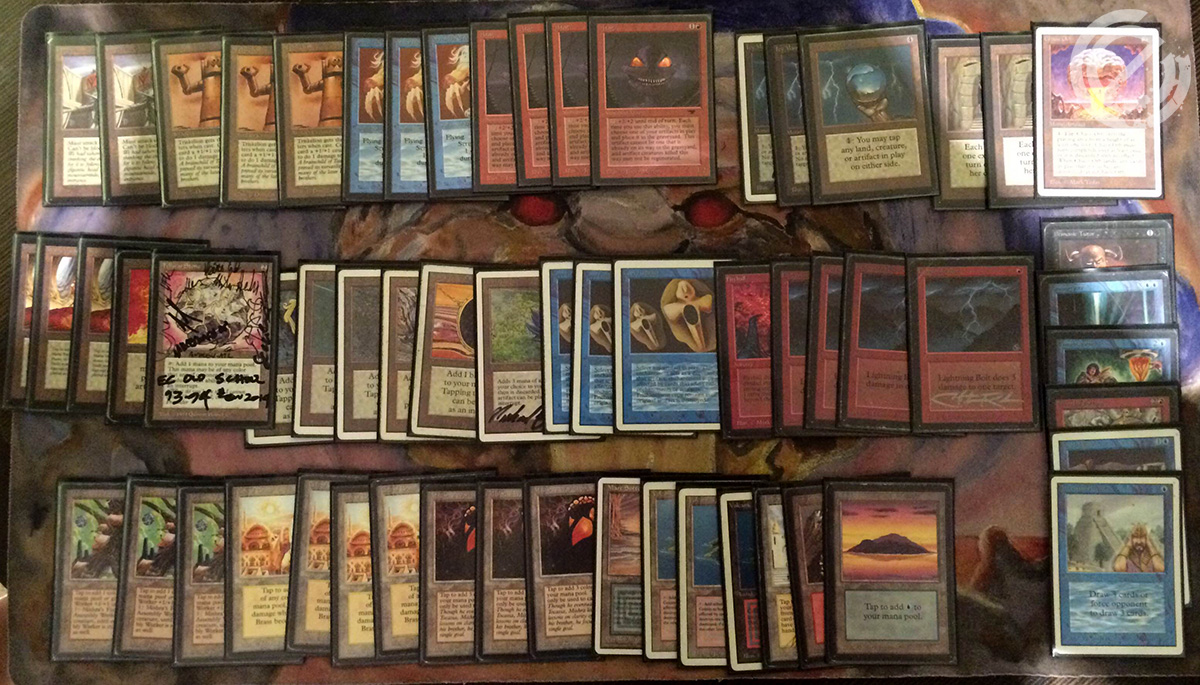 UW Control, by Thomas Irmler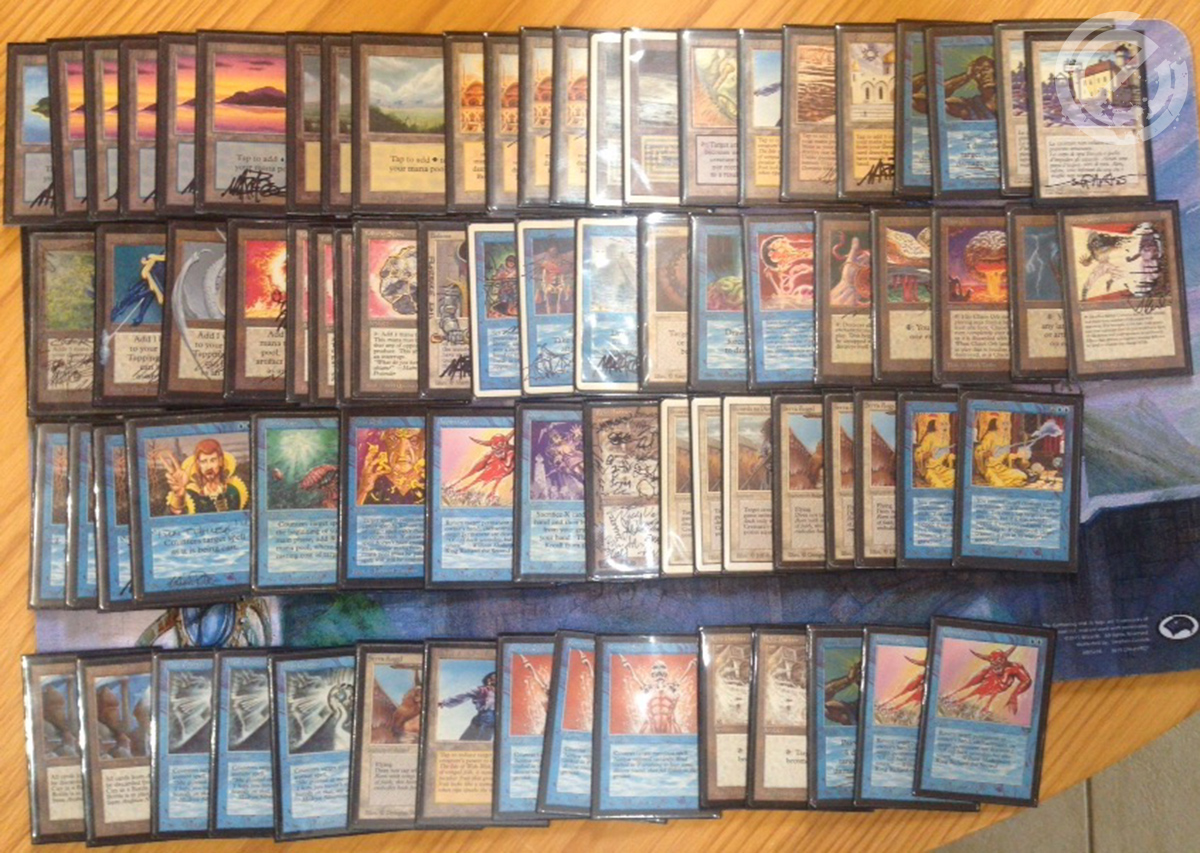 UG Tempo, by Garrett Koeppicus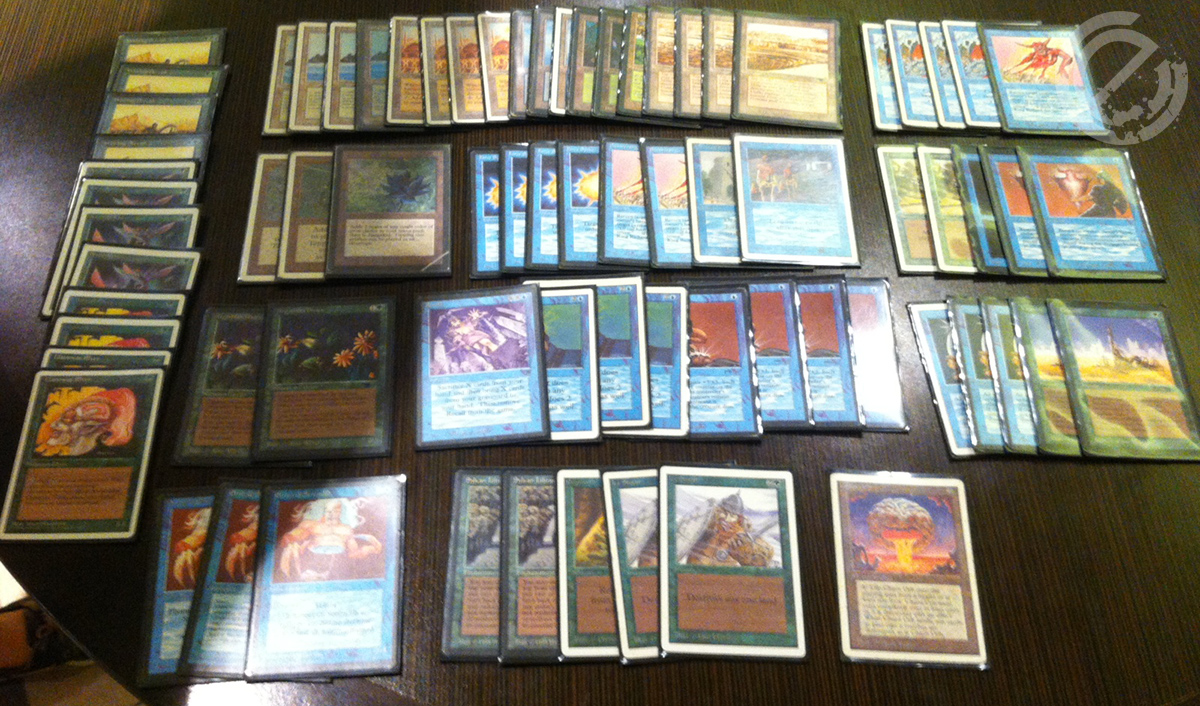 UR, by Richard Lessman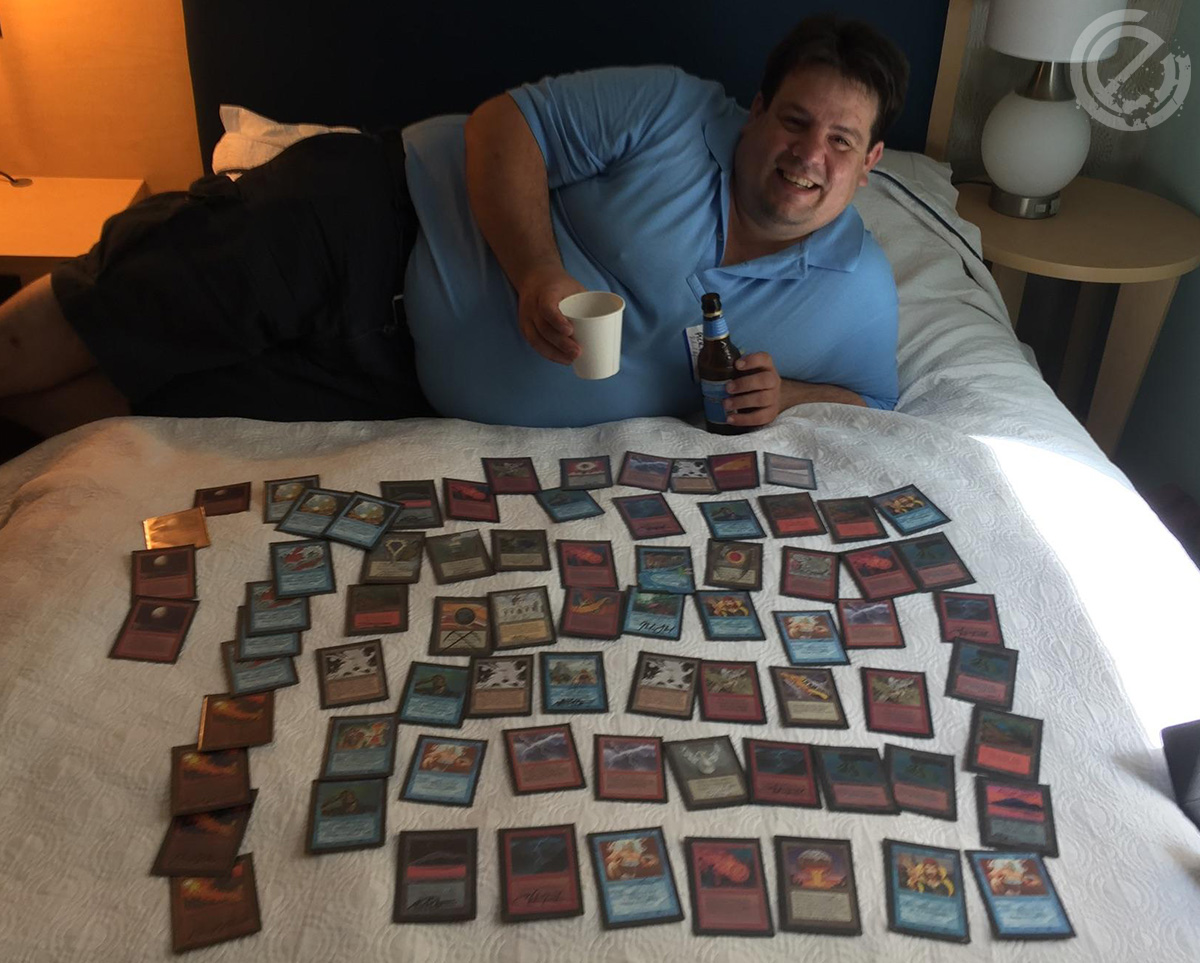 UR Workshops, by Heiner Litz
UWB Aggro Control, by Bryan ManolakosPlace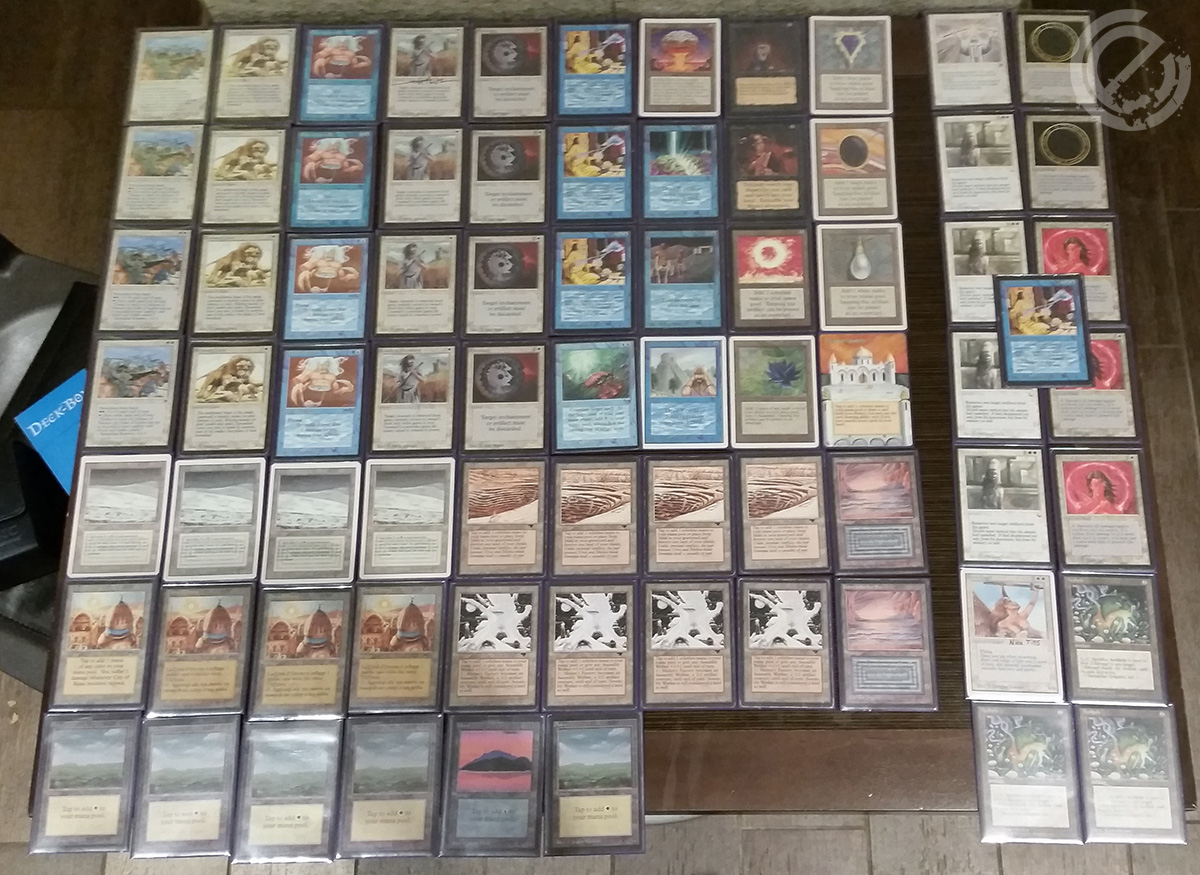 UR, by Jesse Martin
UR, by Steve Menendian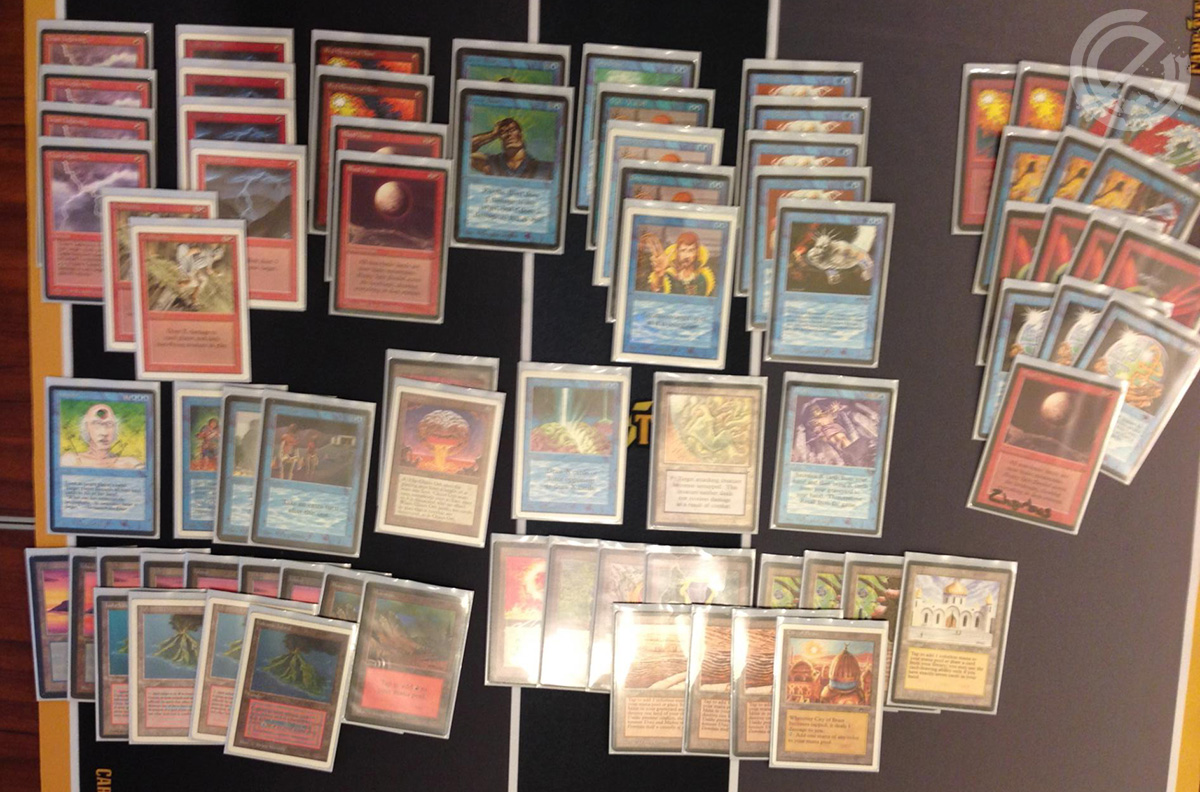 Transmute Hive Control, by Daniel Miller
SolKanar Control, by Greg Mitchell
Iman from Cairo, by Iman Motamed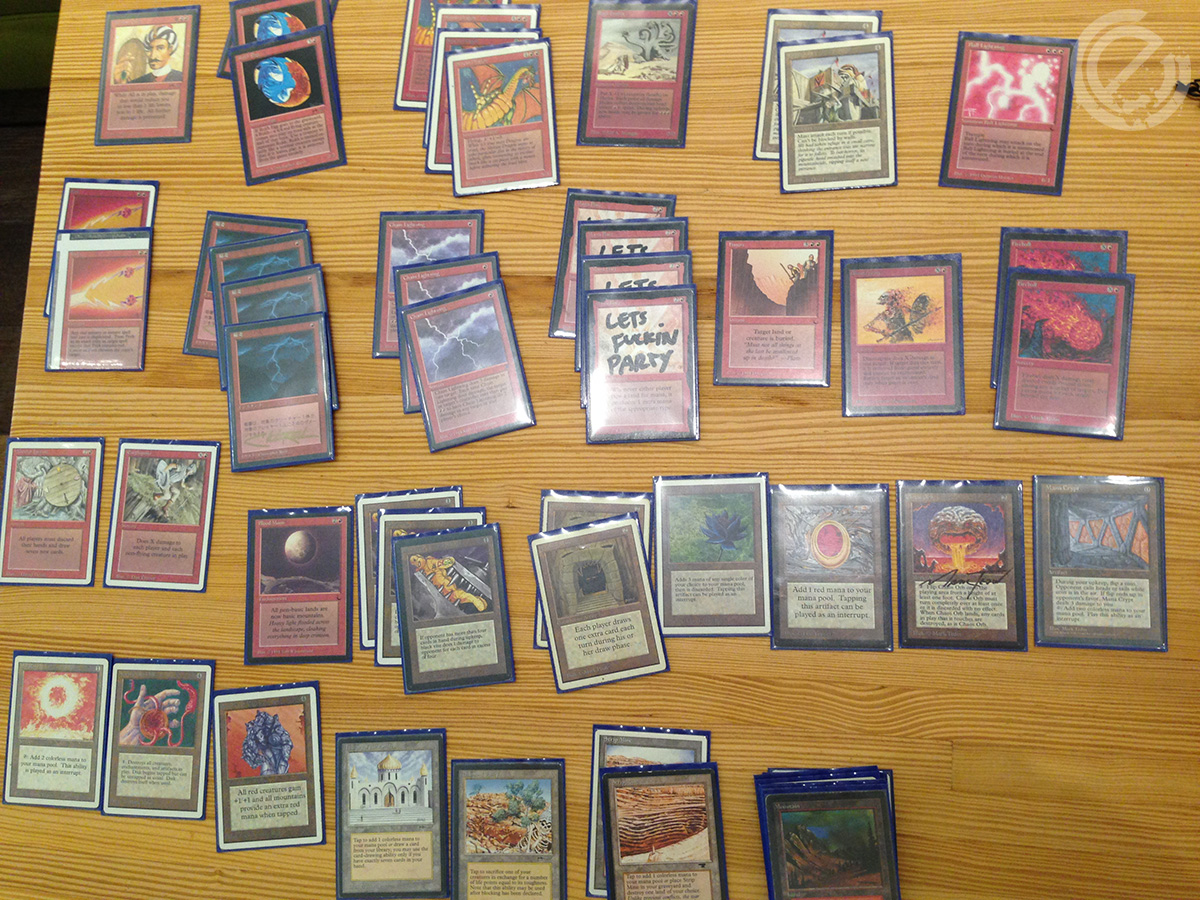 UR, by Luis Neiman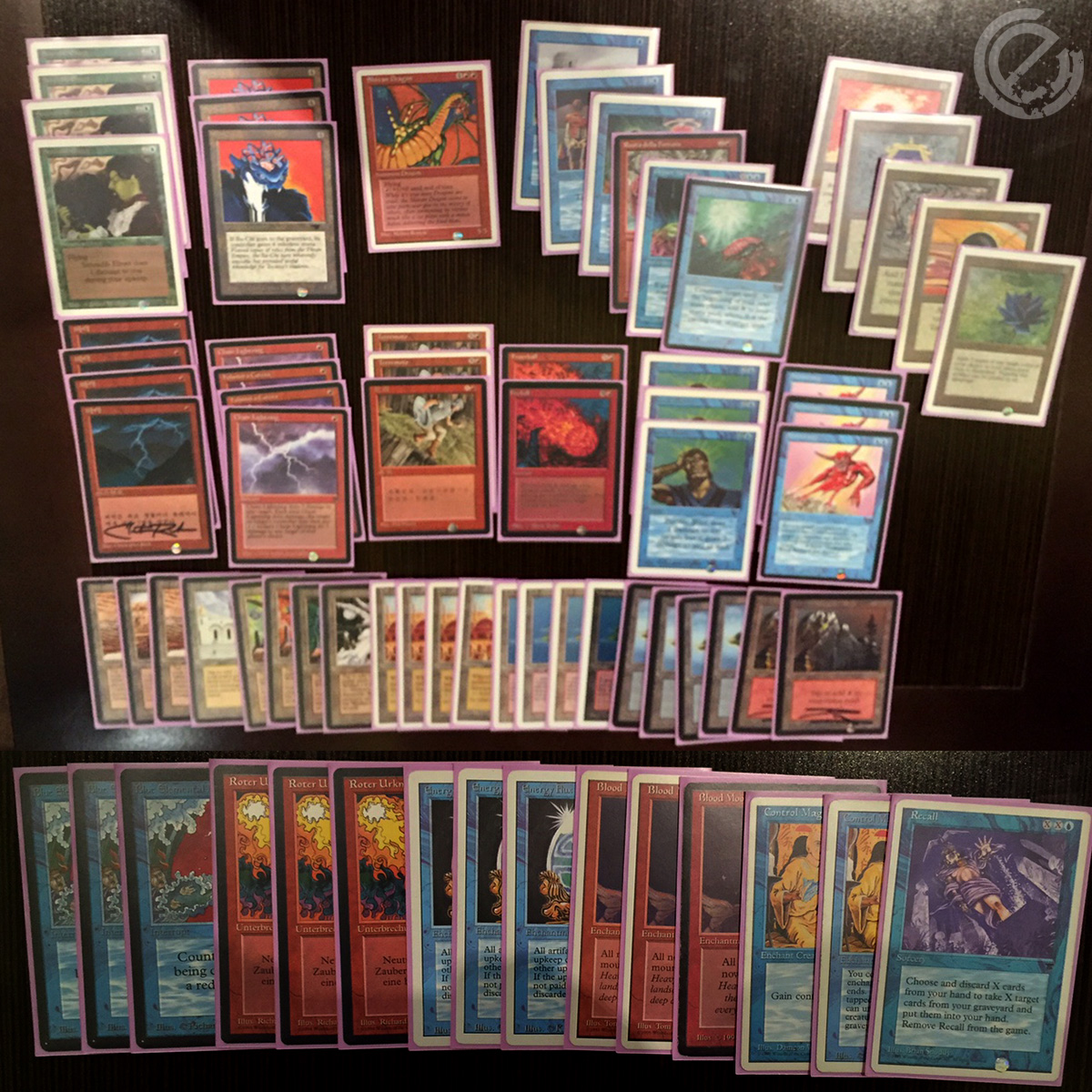 Power Artifact Combo, by Thomas Nilsen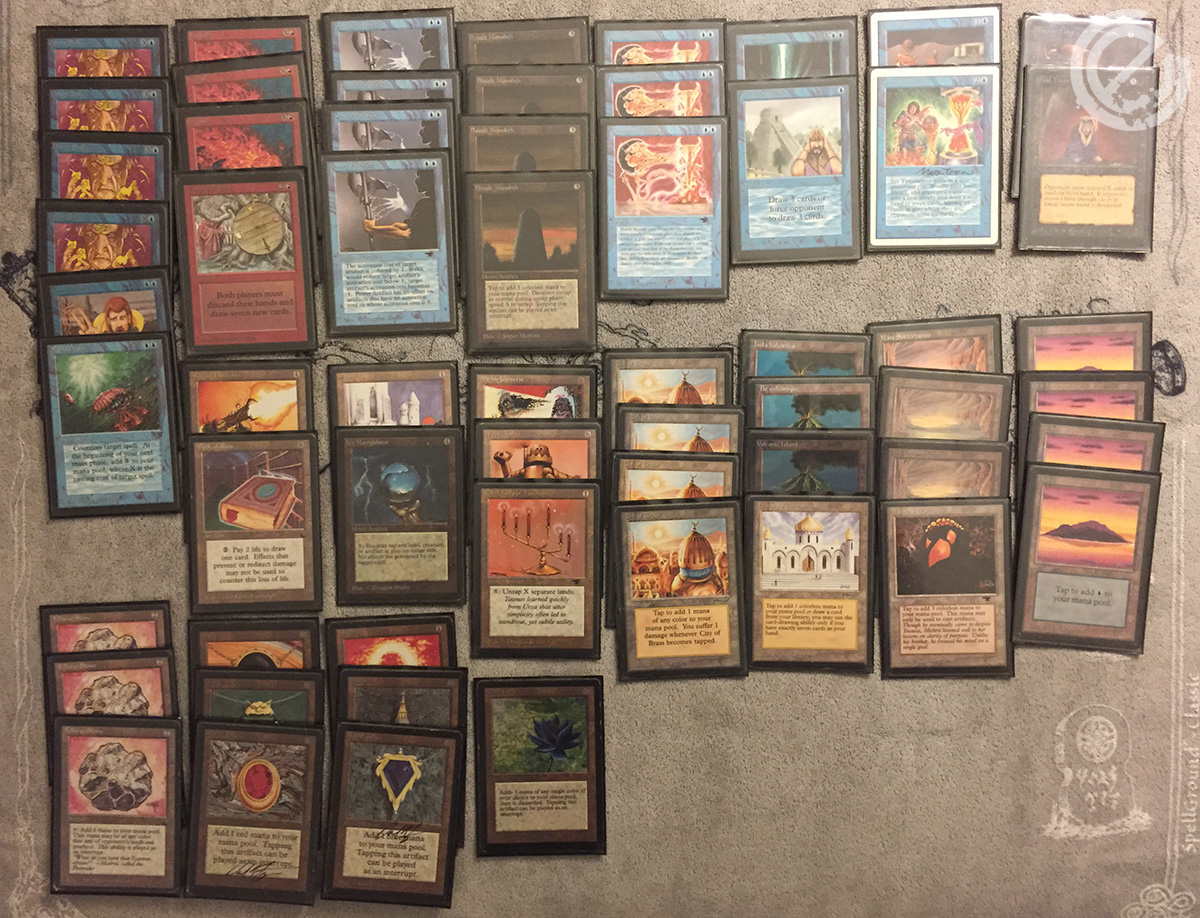 UR, by David Nunez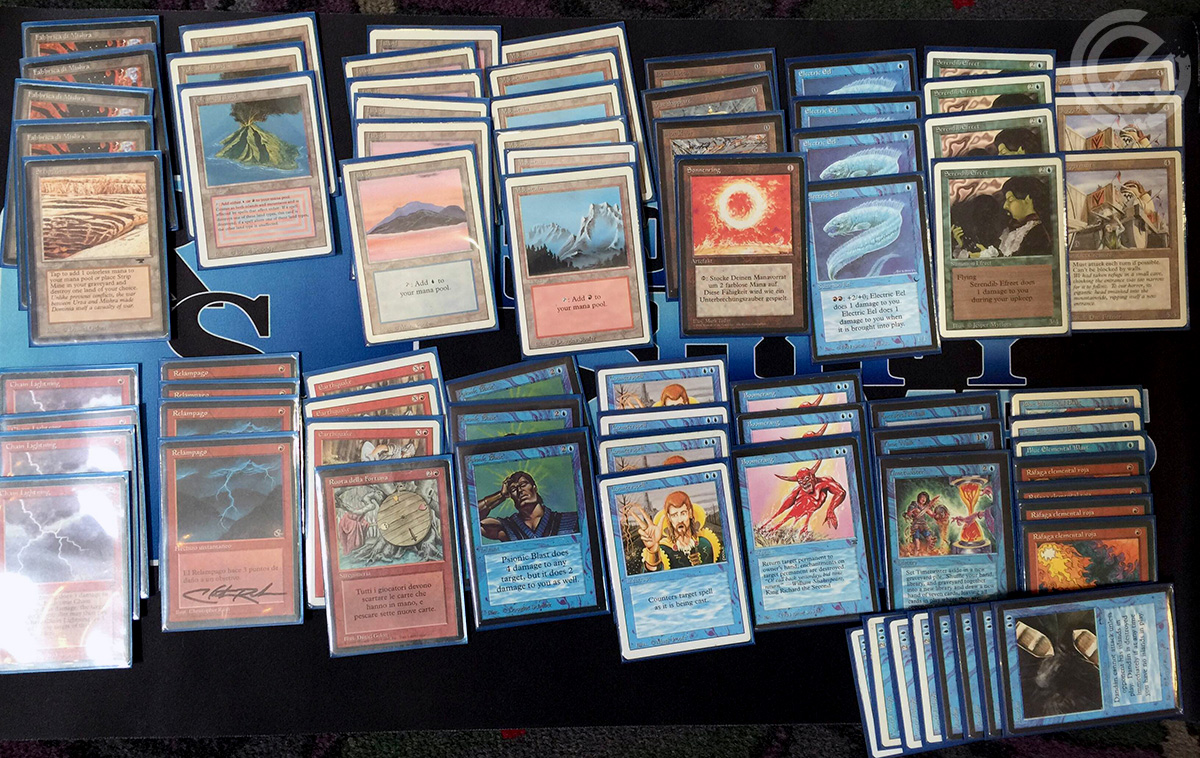 BGW, by Evan Nyquist
Nether Void, by Sean O'Brien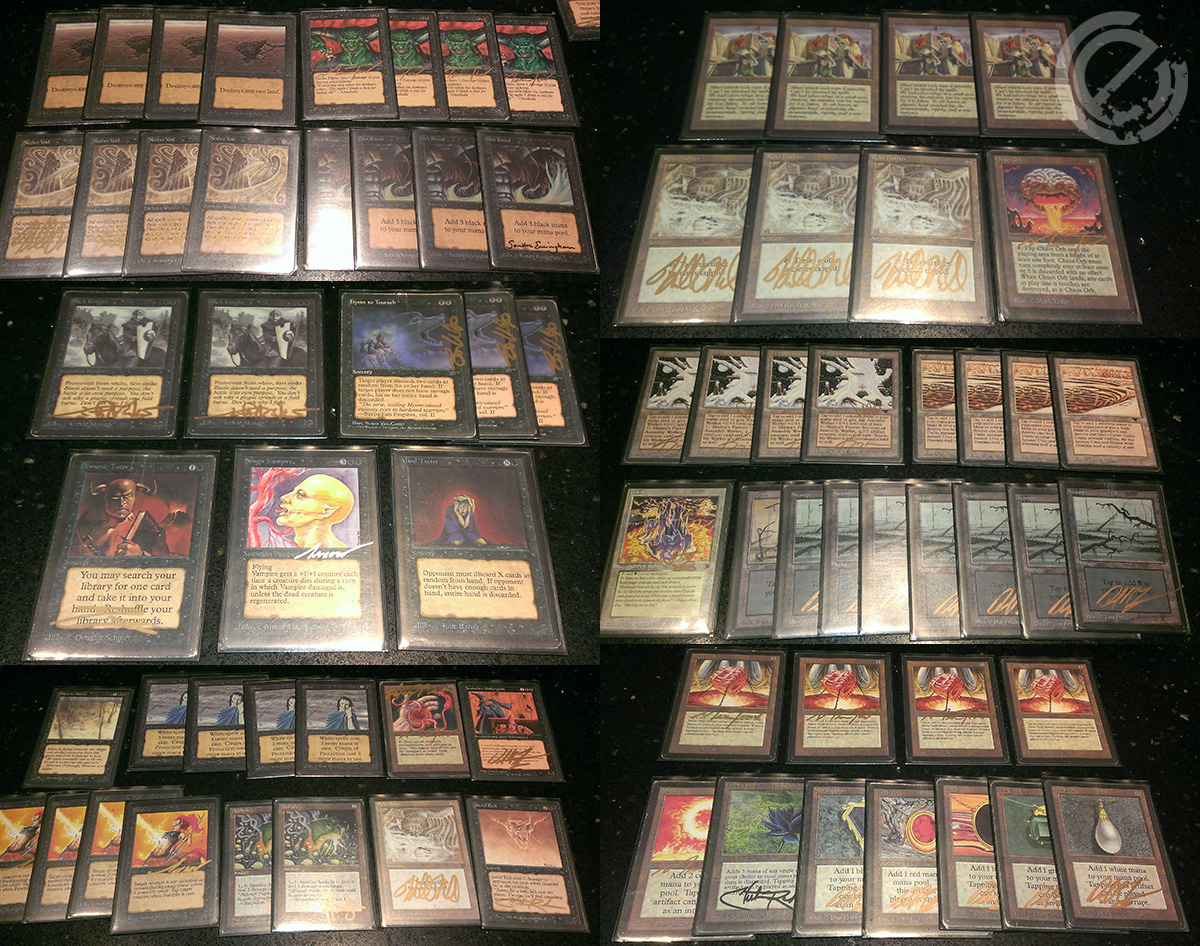 Stasis, by Nate Ponce
4C Control, by Brian Plattenburg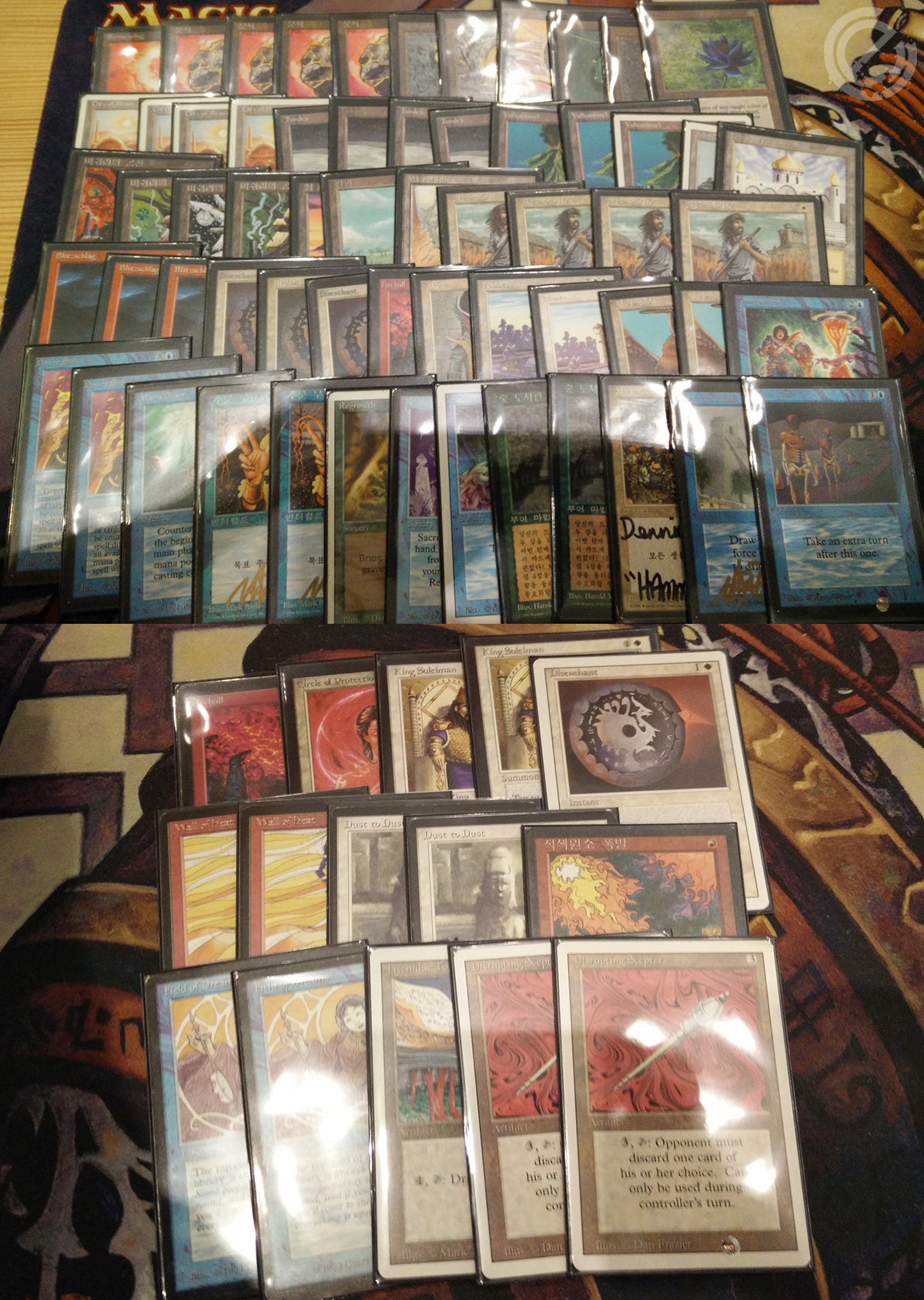 UW Control, by Chris Prementine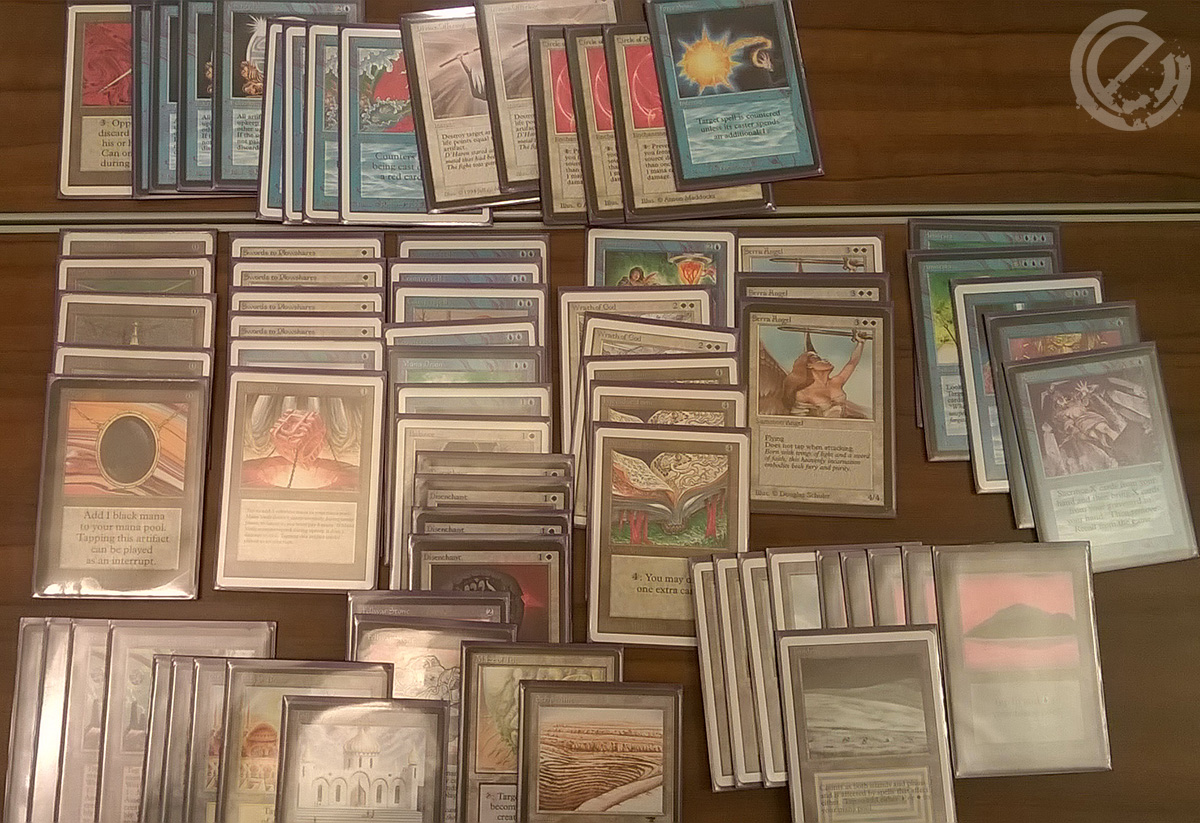 Workshop Aggro UB, by Mith
Jund Land Destruction, by Seth Roncoroni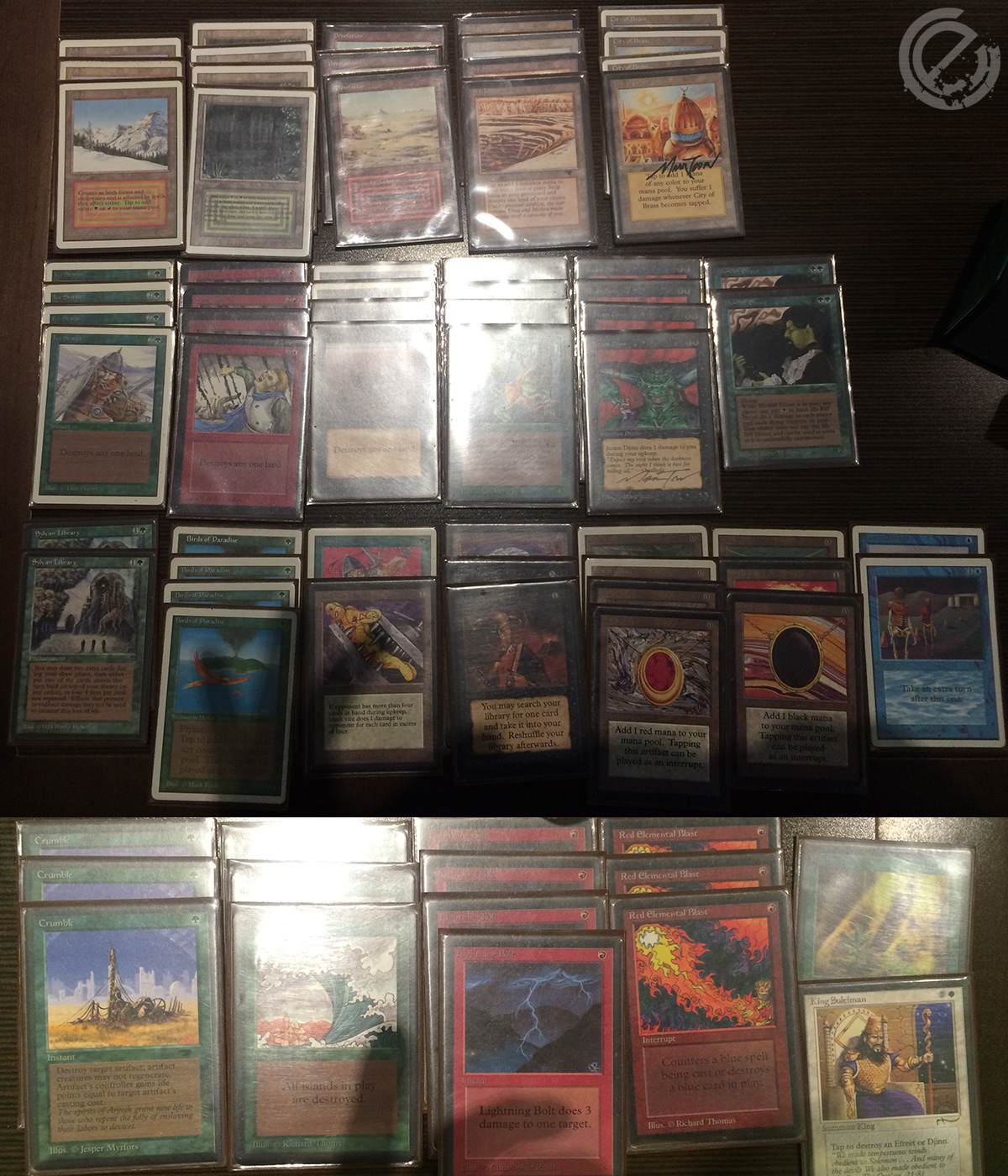 RUG, by David Schooley
UWB Control, by Shane Semmens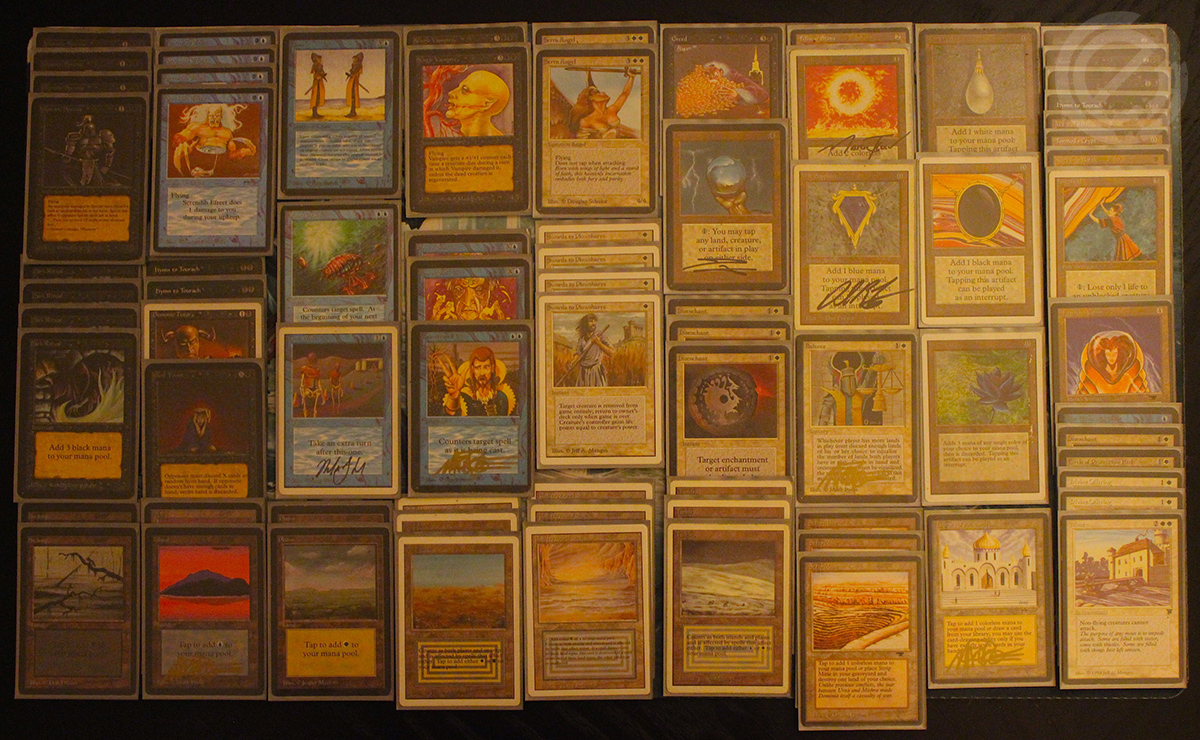 UR, by Benoit Seveno and Benjamin Guillerm
Hurkyl's Recall Fireball Combo, by Hrishikesh Sidhartha
Jund Land Destruction, by Tu Ta
Black White, by Nick Vallas
Goblins, by Matt Webster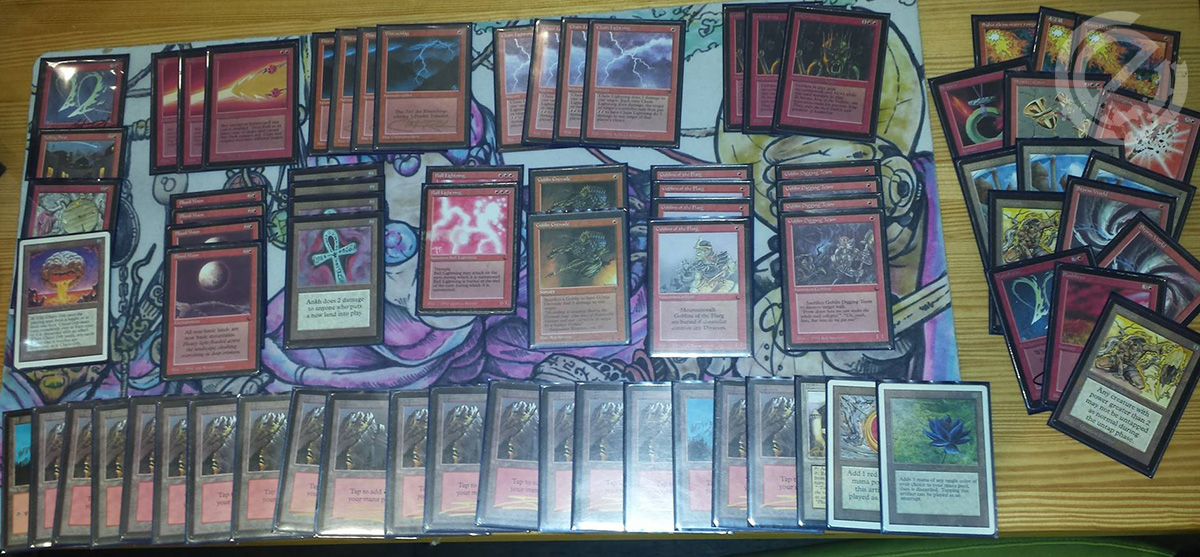 Titania's Song Prison, by Aaron West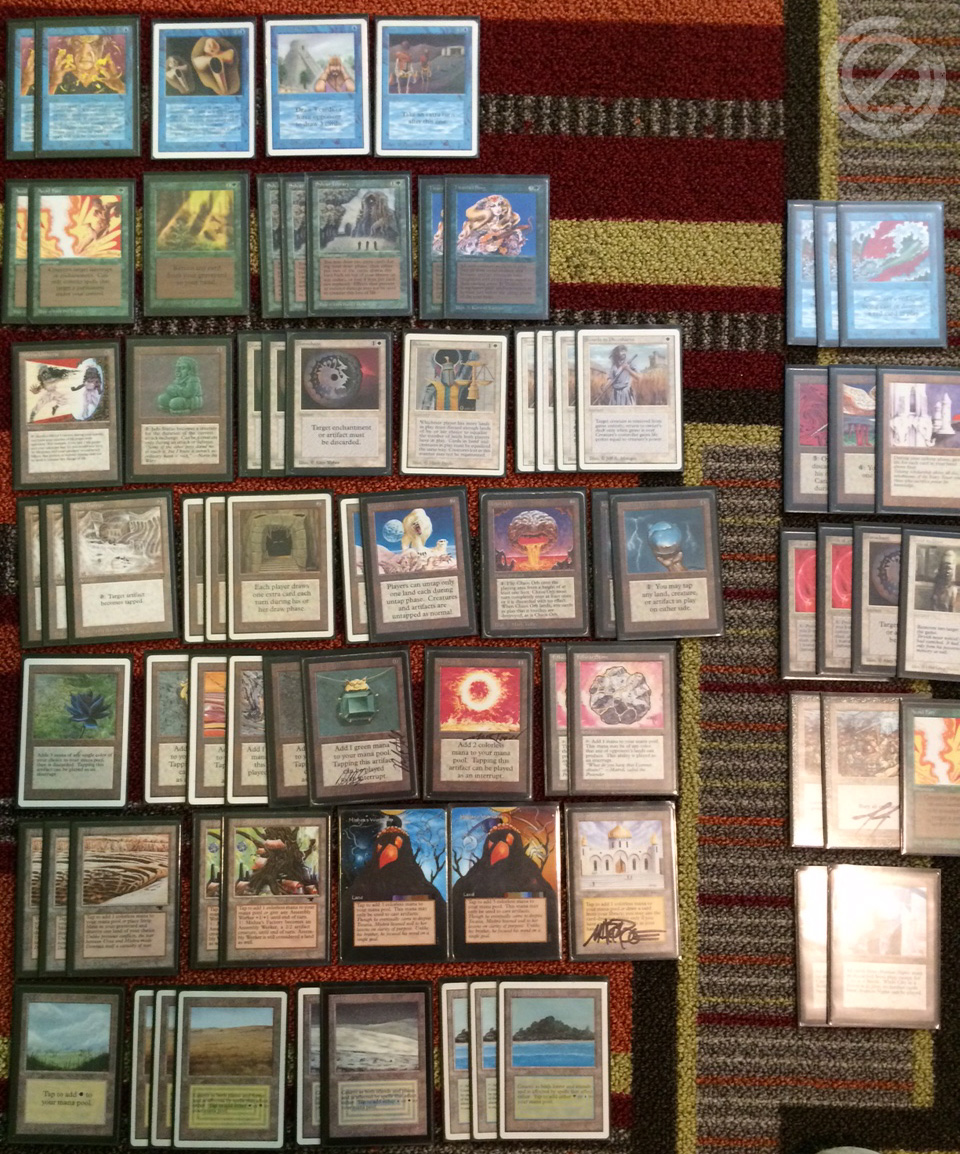 BantamGeddon, by Zach Wilson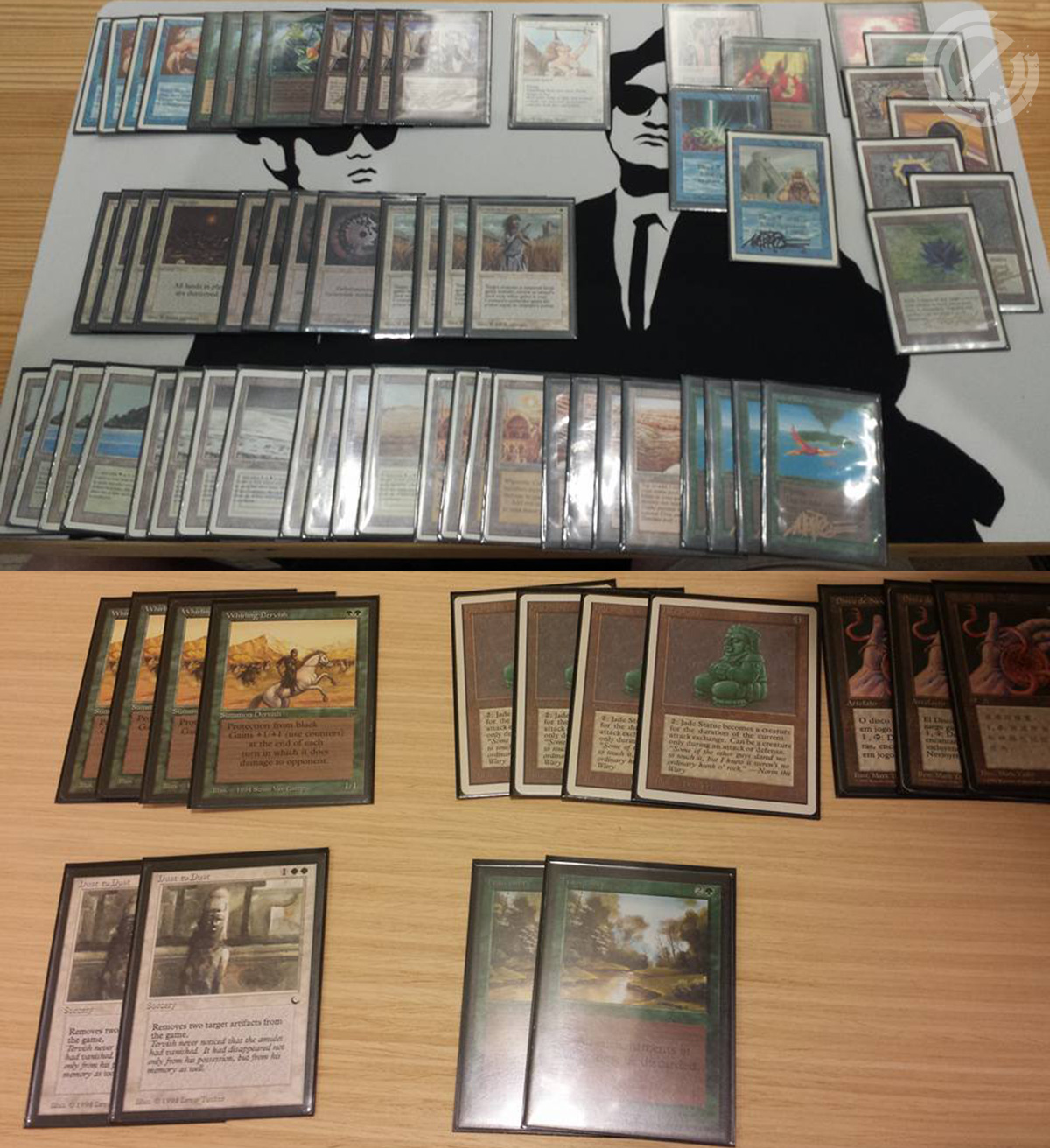 Pink Weenie, by Andrew Wright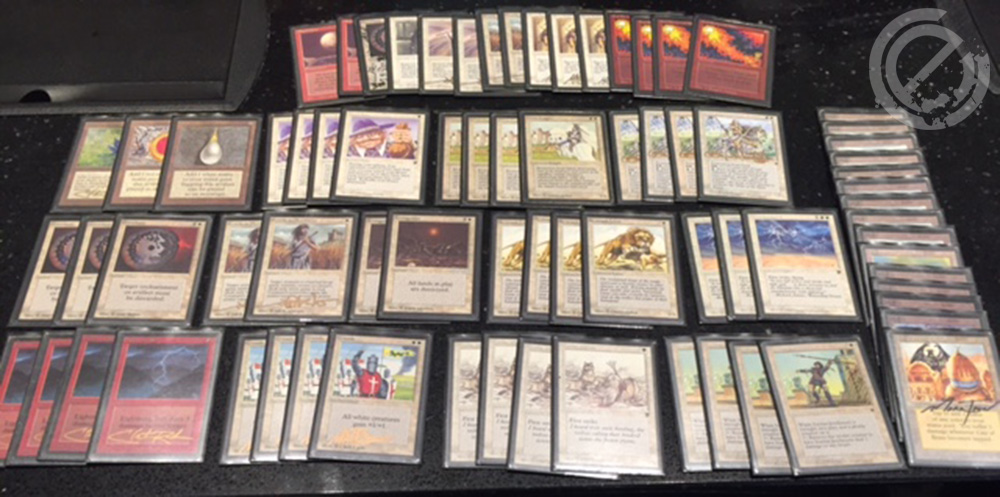 Old School Deck Techs
Card Titan and the official coverage team were kind enough (and interested enough!) to come over to our tournament site and do a few deck tech videos for their official coverage. Those can be found below, with Kevin An, Steve Menendian, and Randy Buehler.
Photo Report
A huge thanks goes to all players and friends who snapped many of the following photos during this tournament, including but not limited to Brett Attmore, Sean O'Brien, Bryan Freres, Brian Plattenburg, Mith Rao, Thomas Nilsen, Roland Chang, Jimmy Cooney, Danny Friedman, and Andrew Wright. Long live the Old School! You can click on any of the photos below to slightly enlarge/expand it in a new window.
Pre-tournament sign ups, with Sean O'Brien and Team Tusk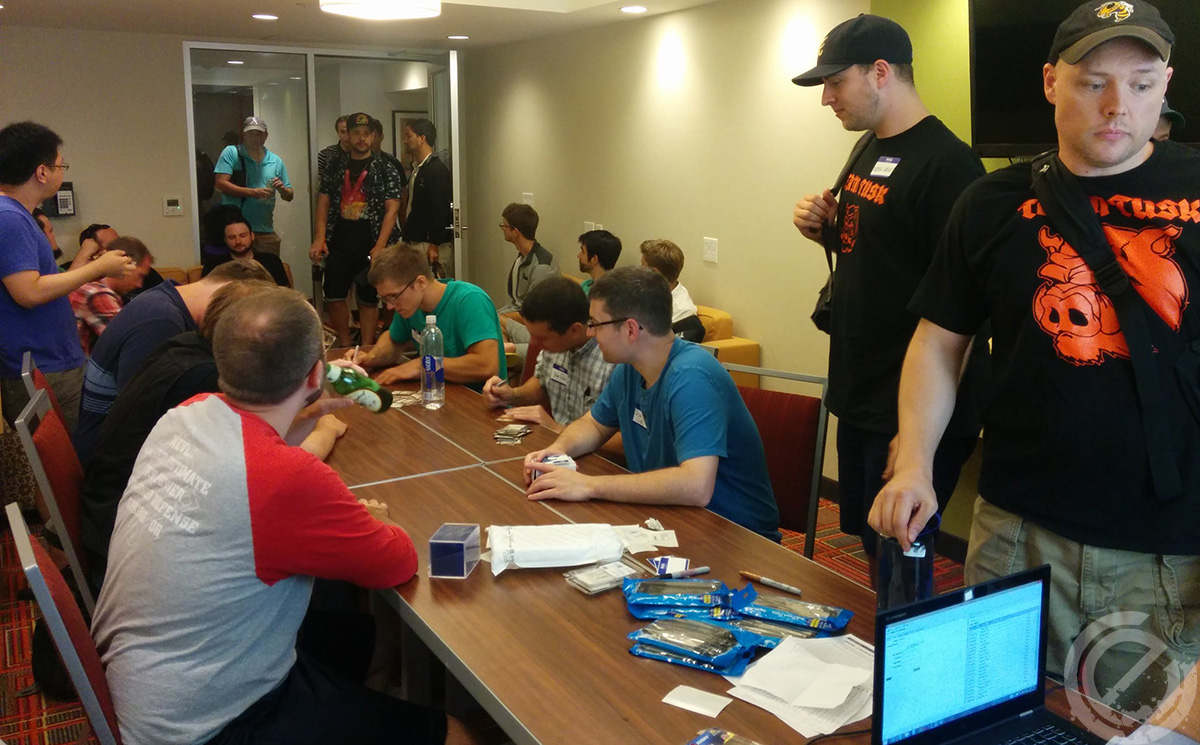 Yours truly, directing players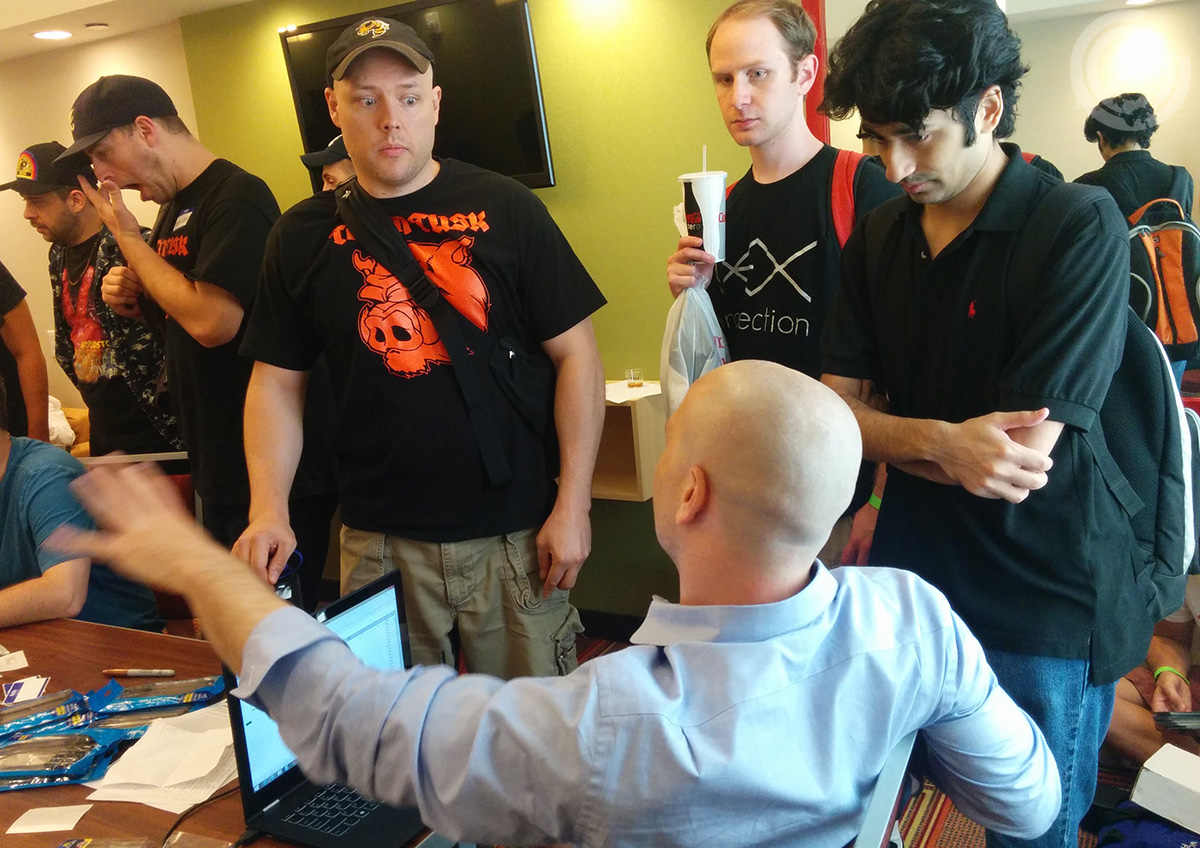 Pre-tournament drinking and milling around the lobby, waiting for Round 1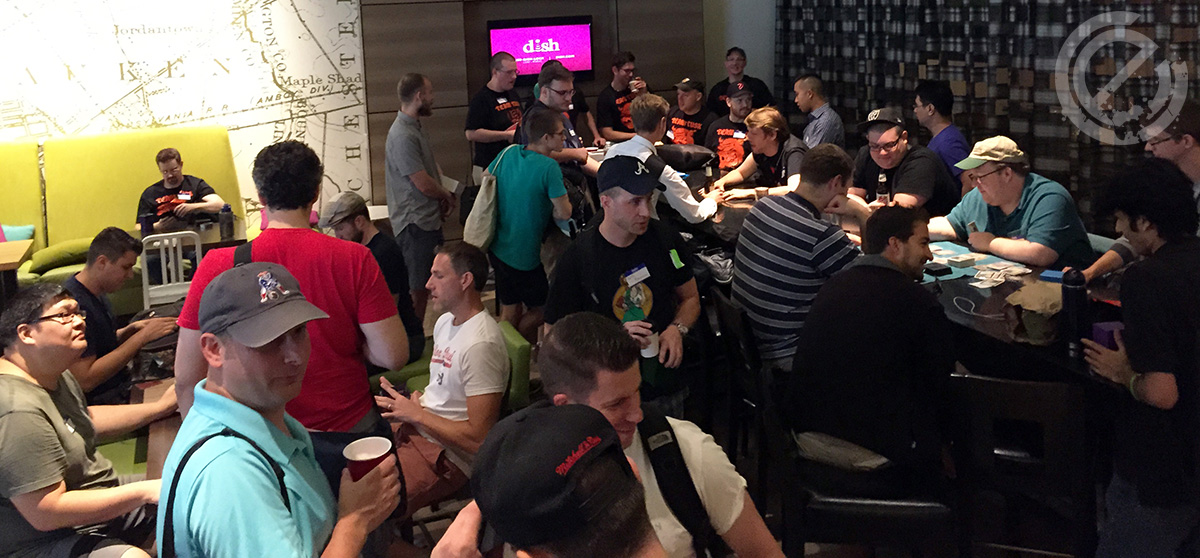 Pre-tournament signing of the prize pool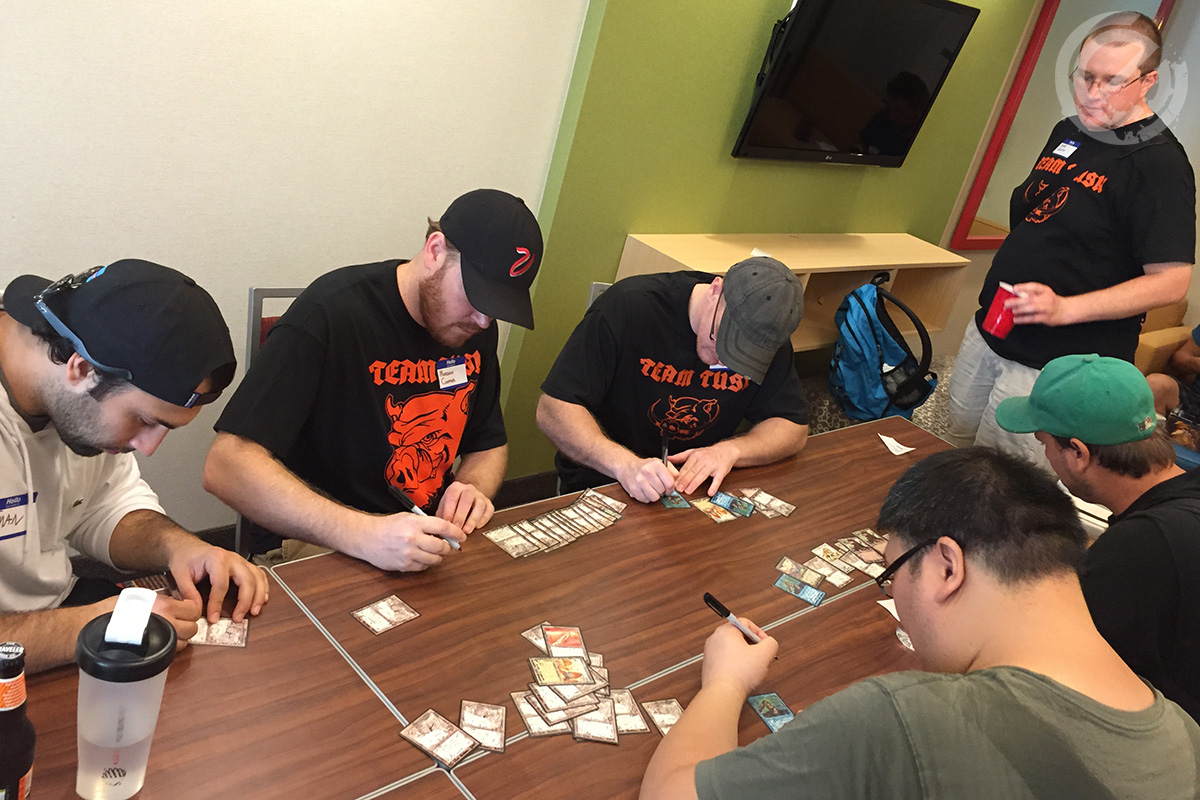 Eurweaka vs. Nether Void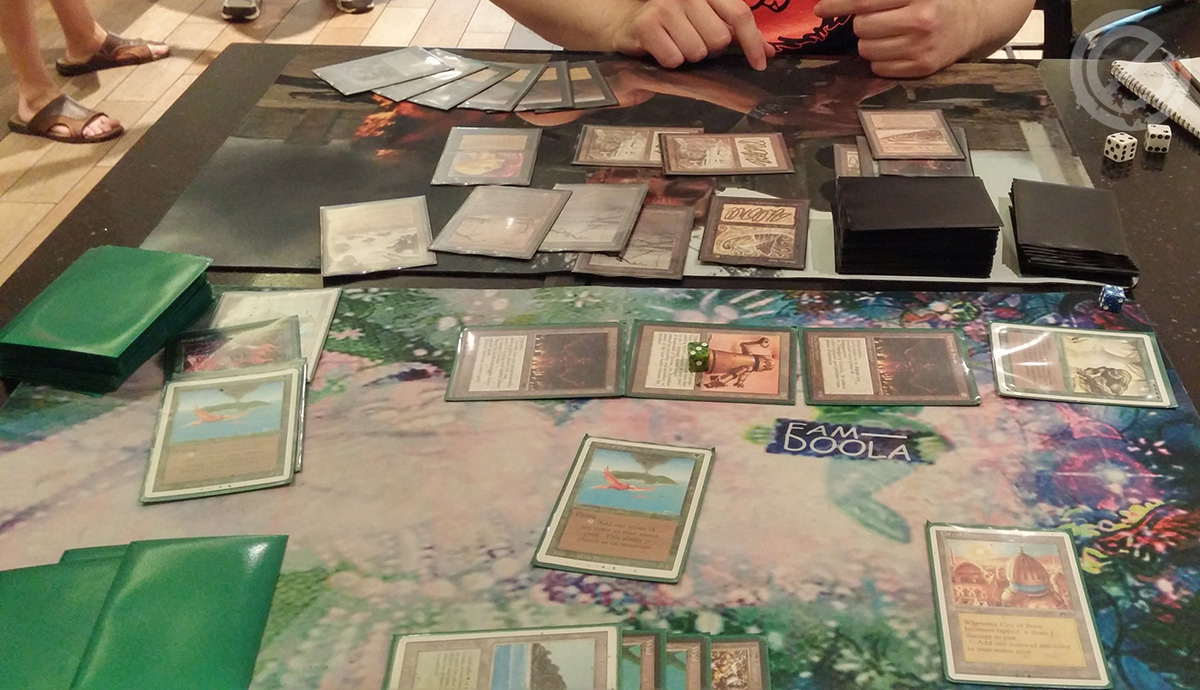 Jund vs. Birmingham RUG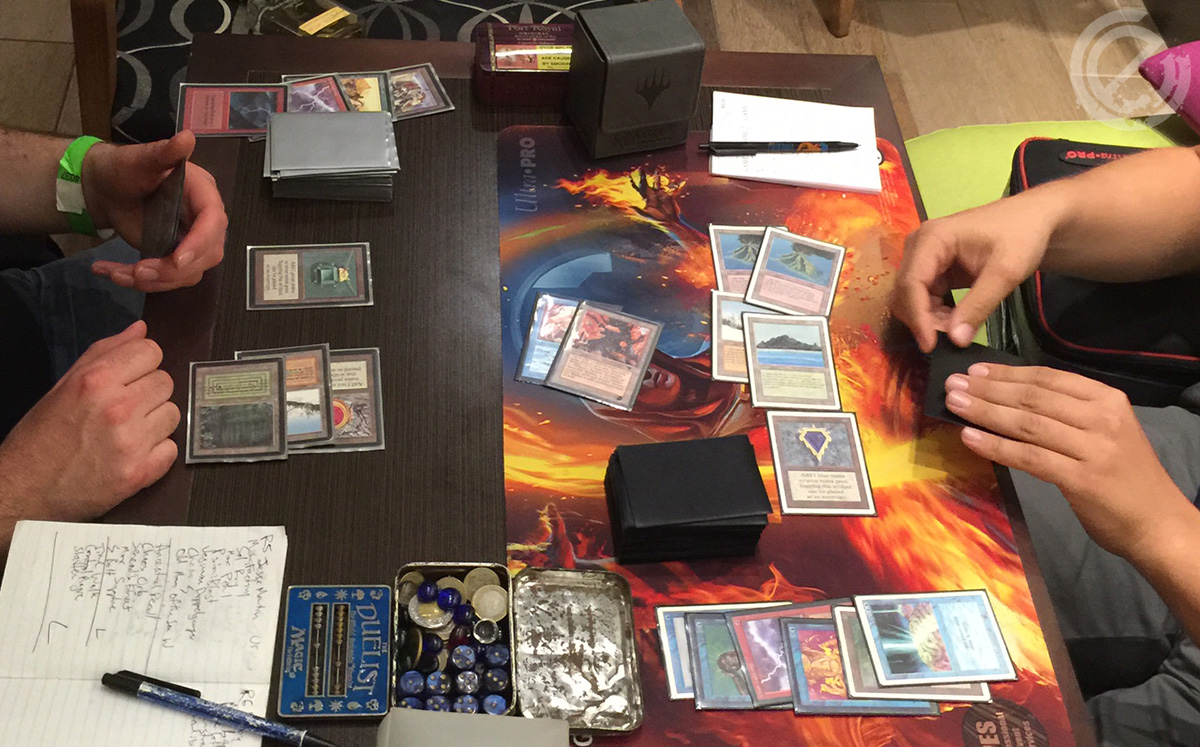 Iman brings Mana Flare to the party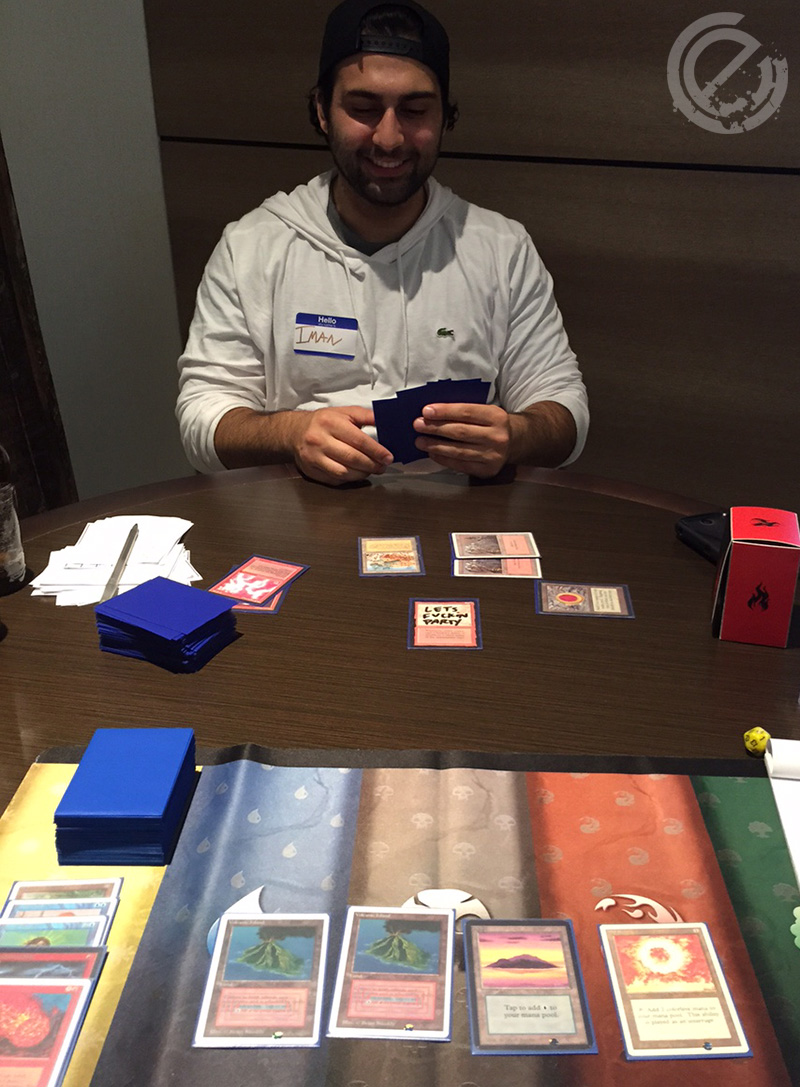 Menendian vs. Plattenburg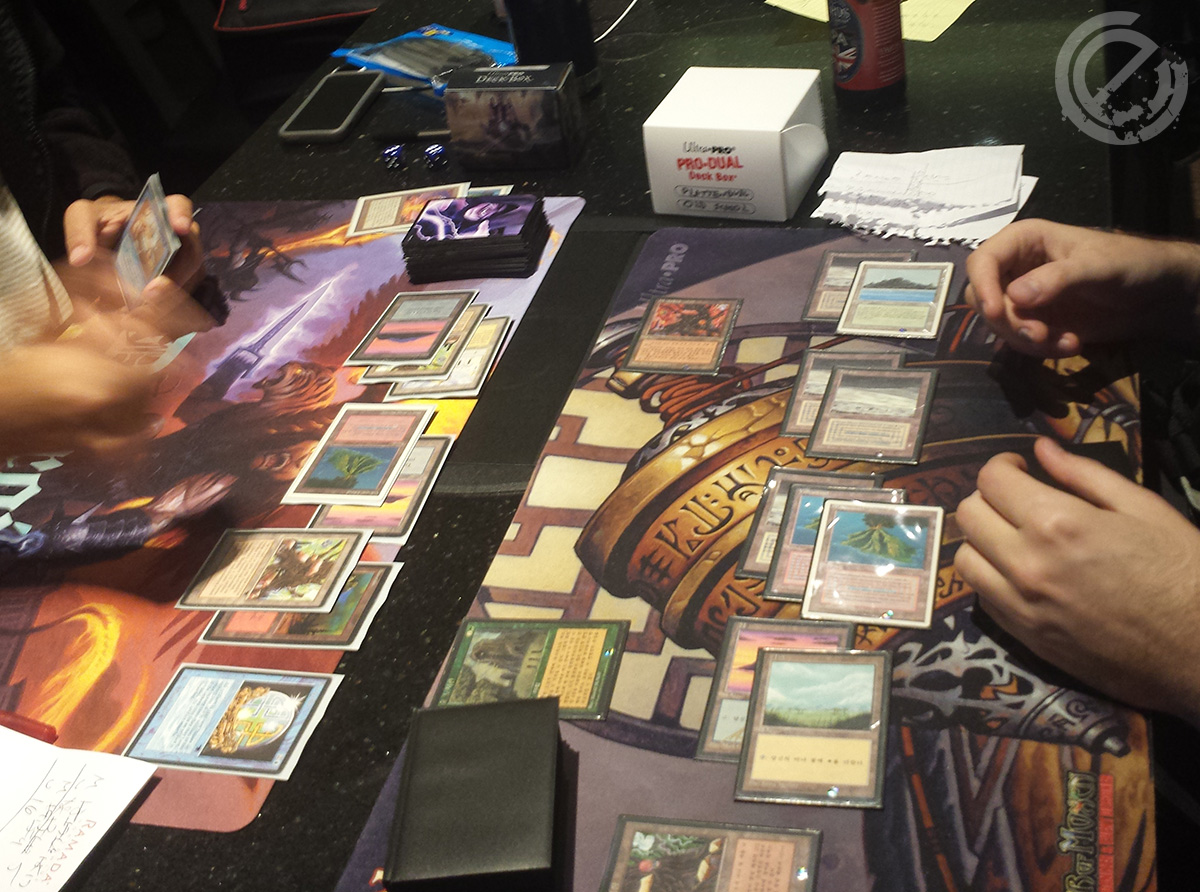 Attmore vs. Arce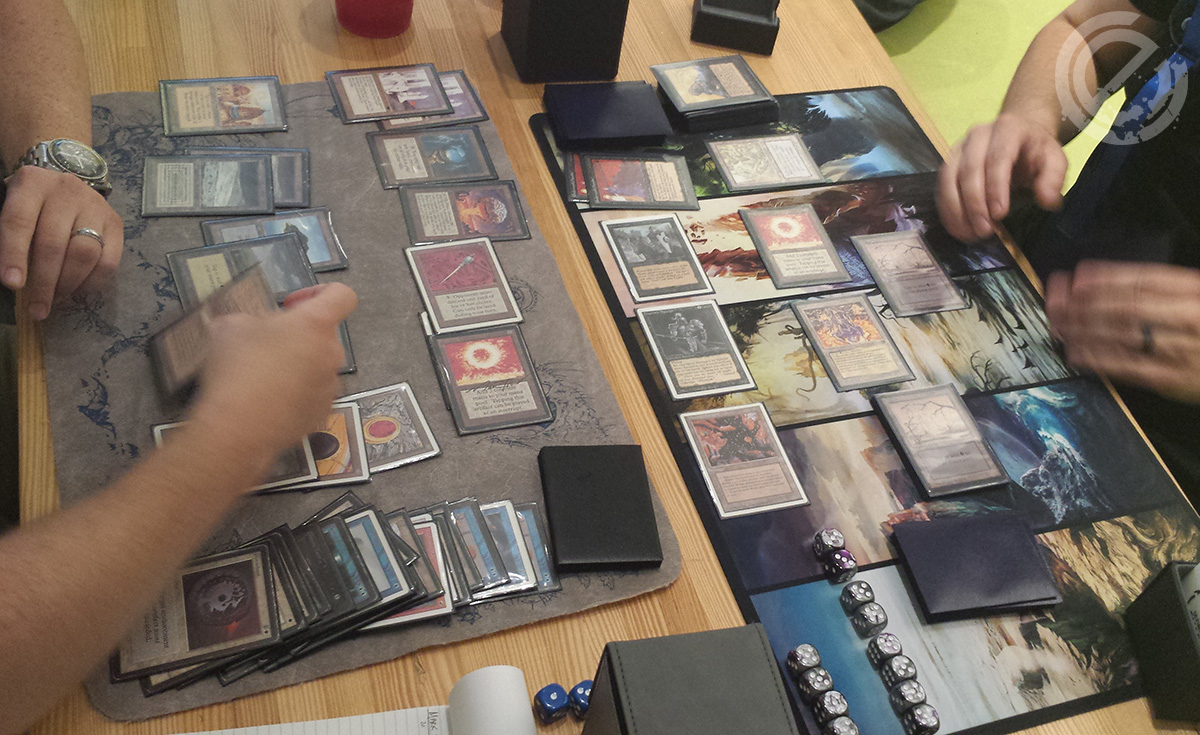 Lessman vs. Mono Black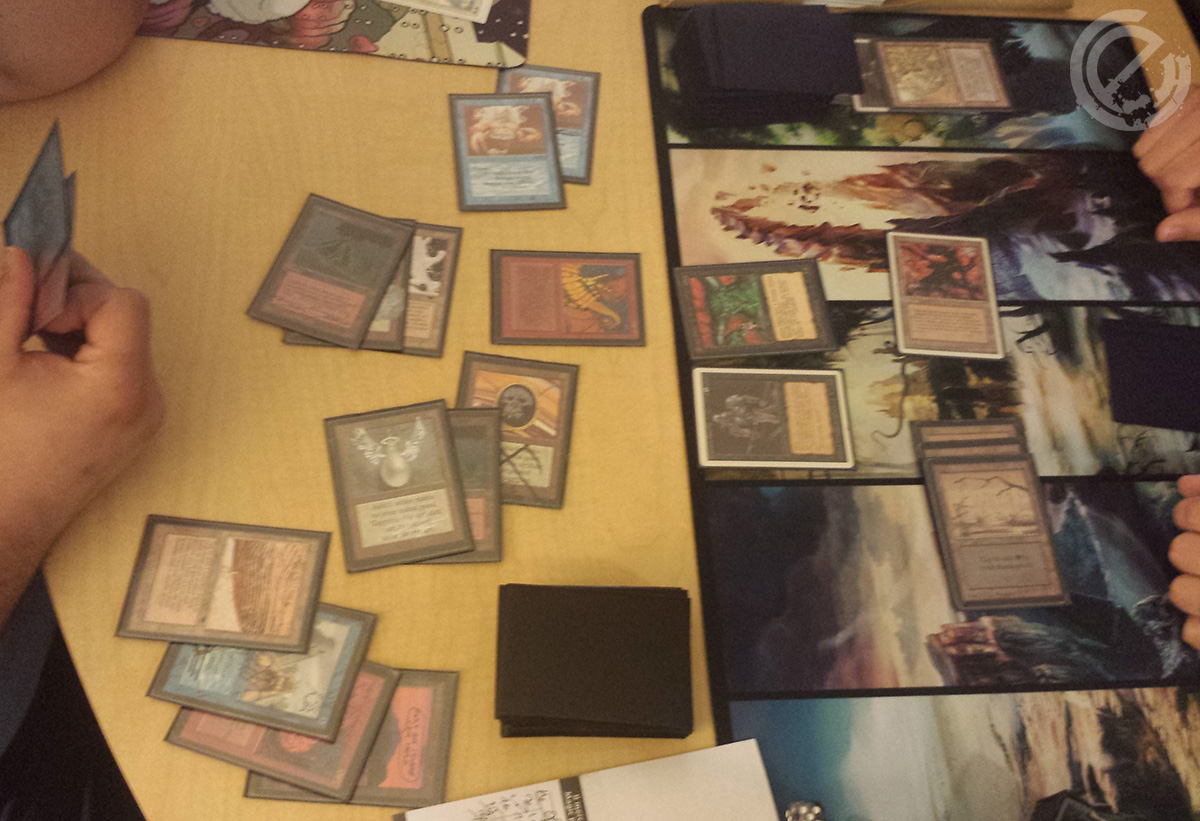 Nilsen vs. Miller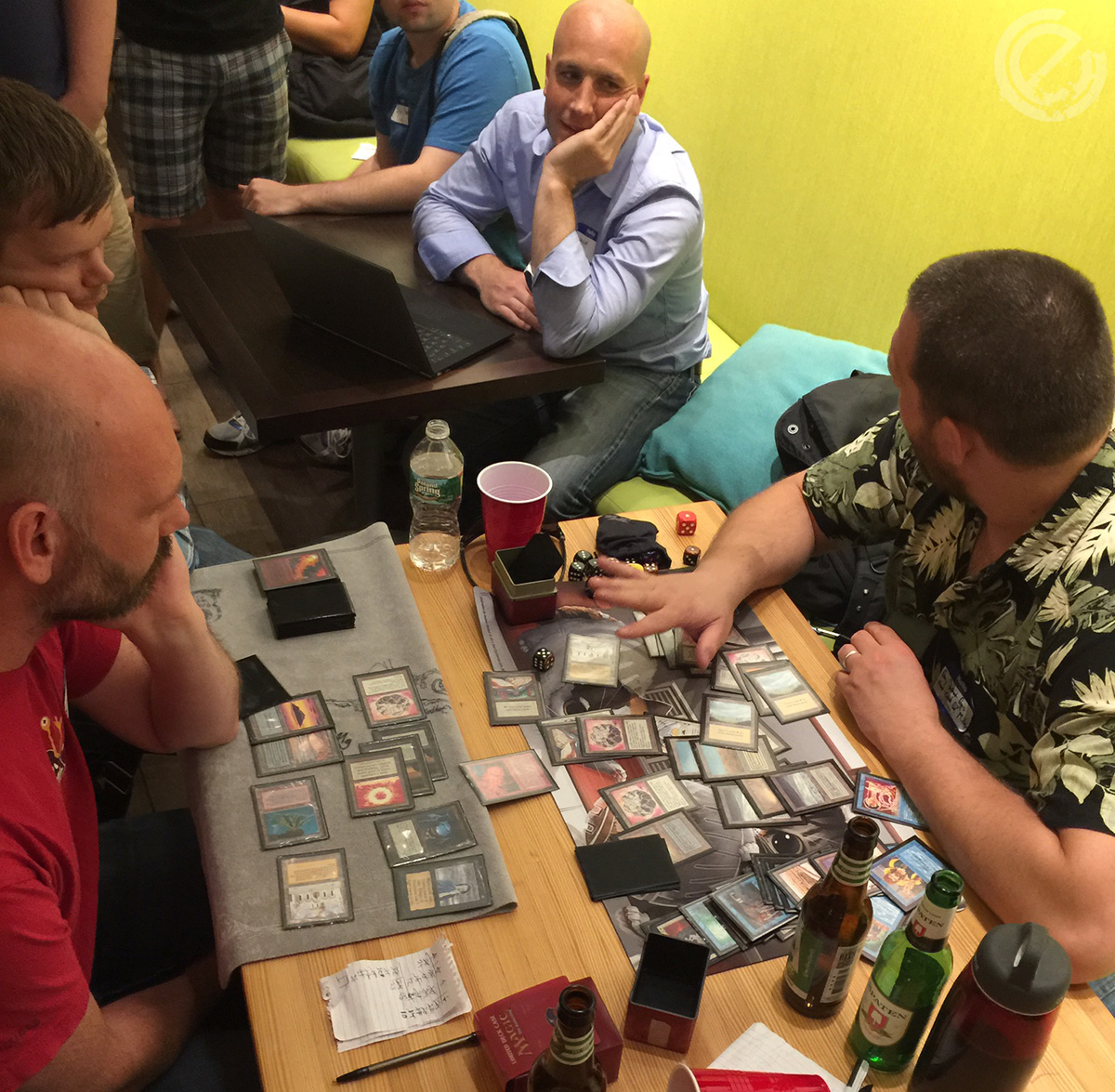 Menendian vs. Anand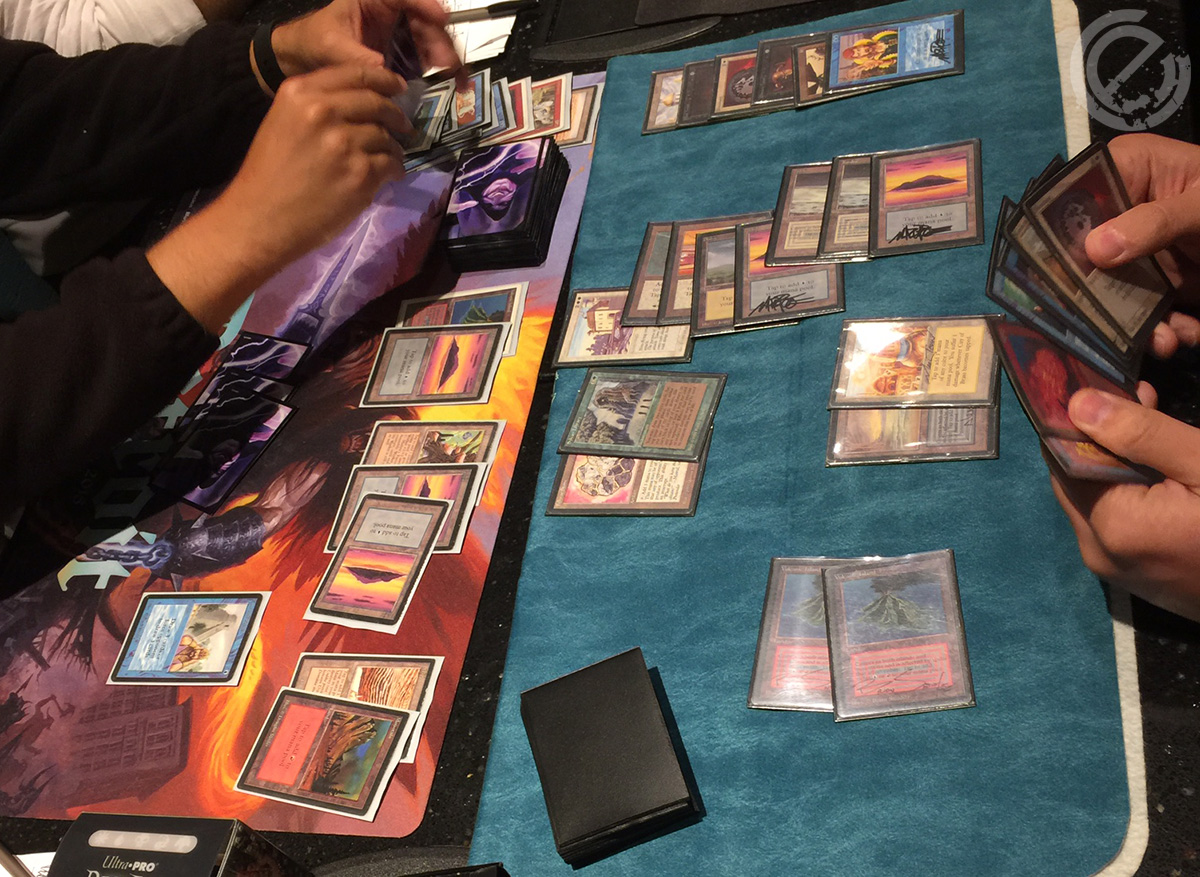 Buehler vs. Callis: Stasis lock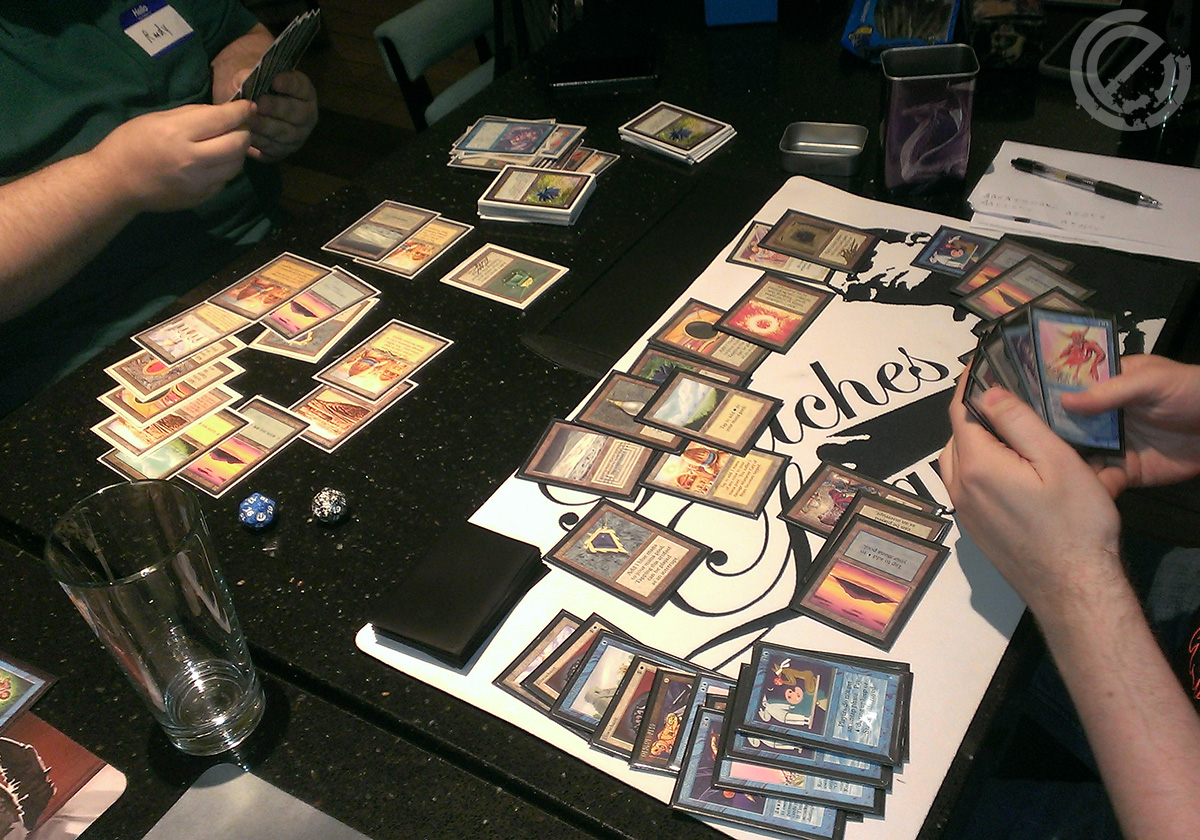 RUG on RUG crime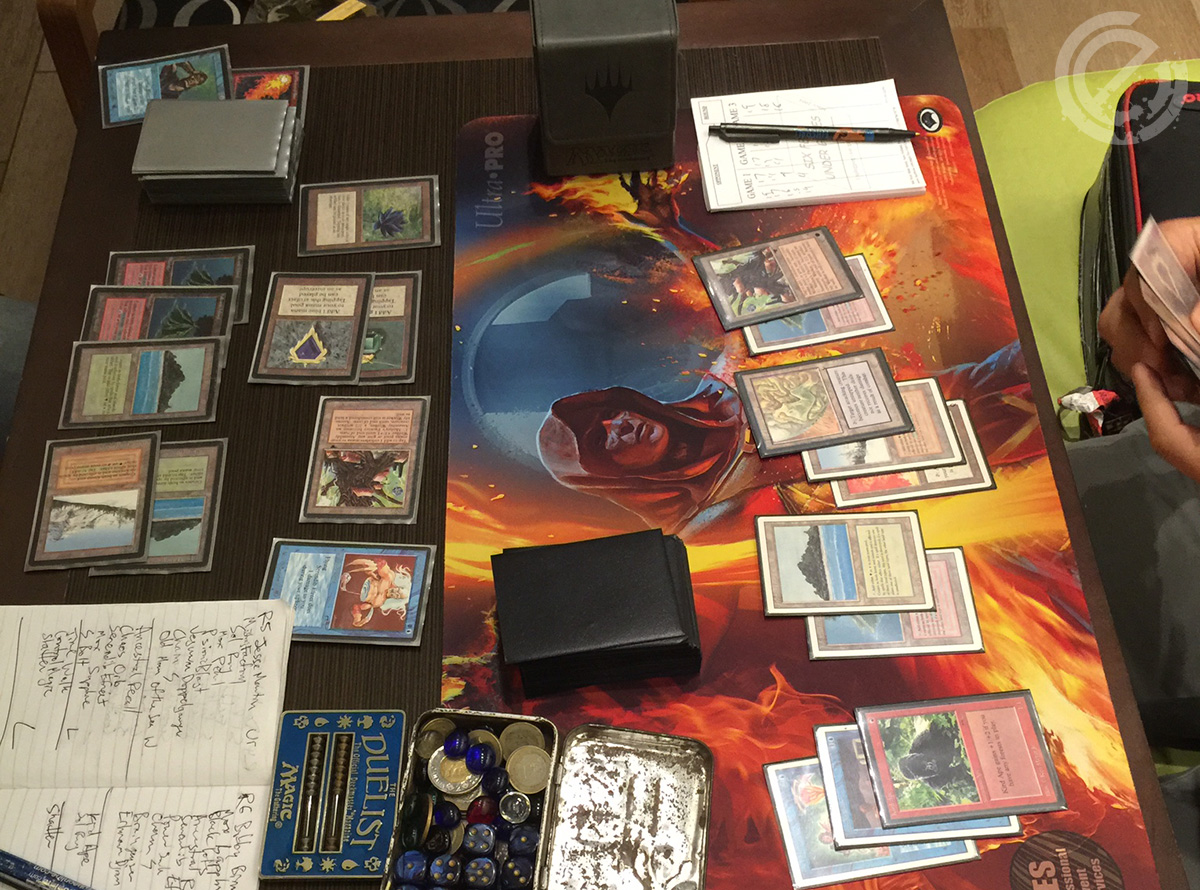 Anand vs. Birmingham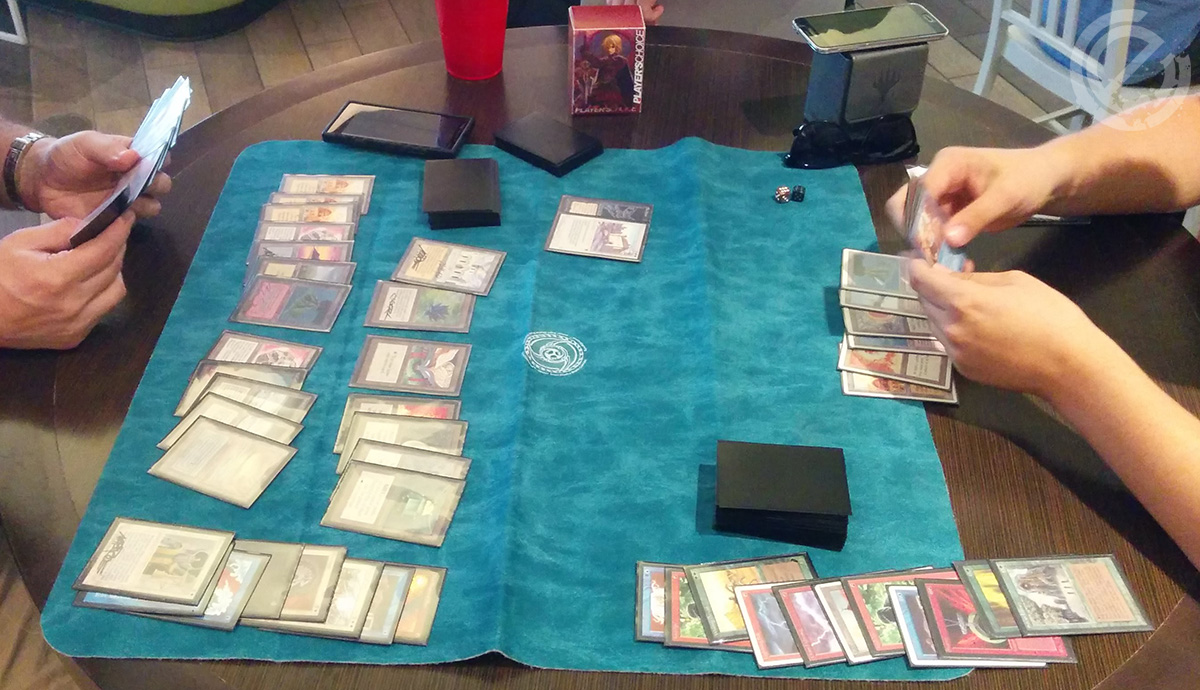 Lessman vs. Plattenburg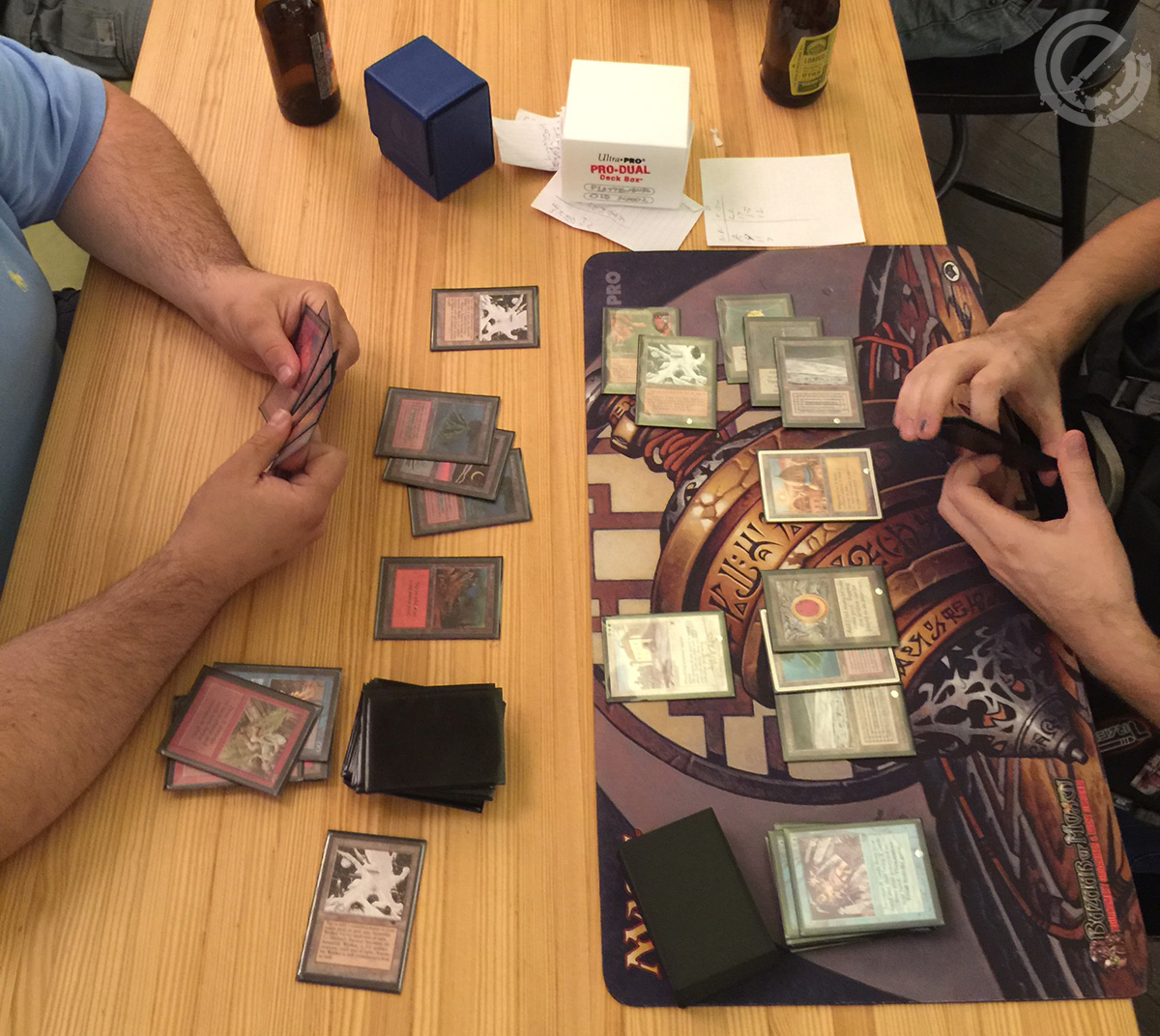 WR Weenie vs. Mono Black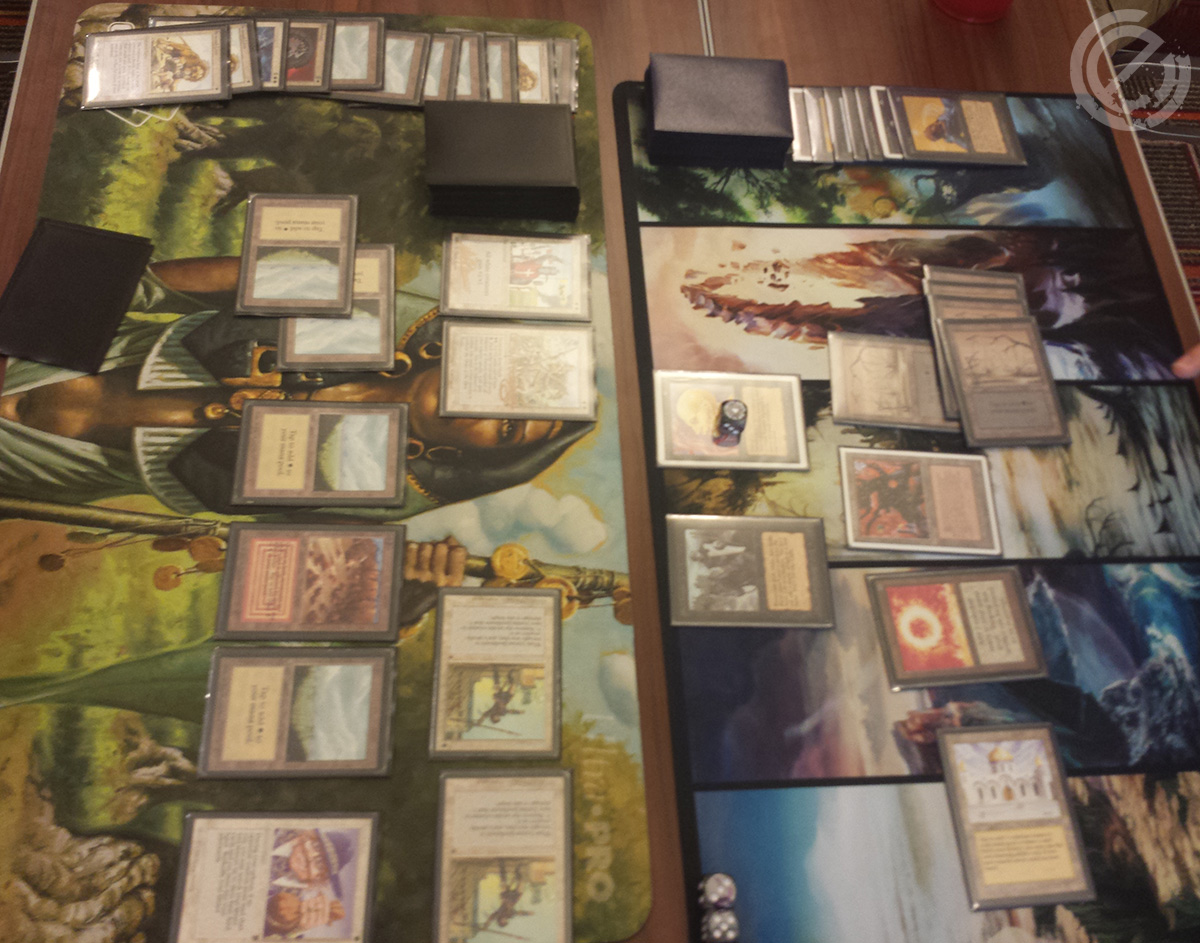 Litz vs. Ponce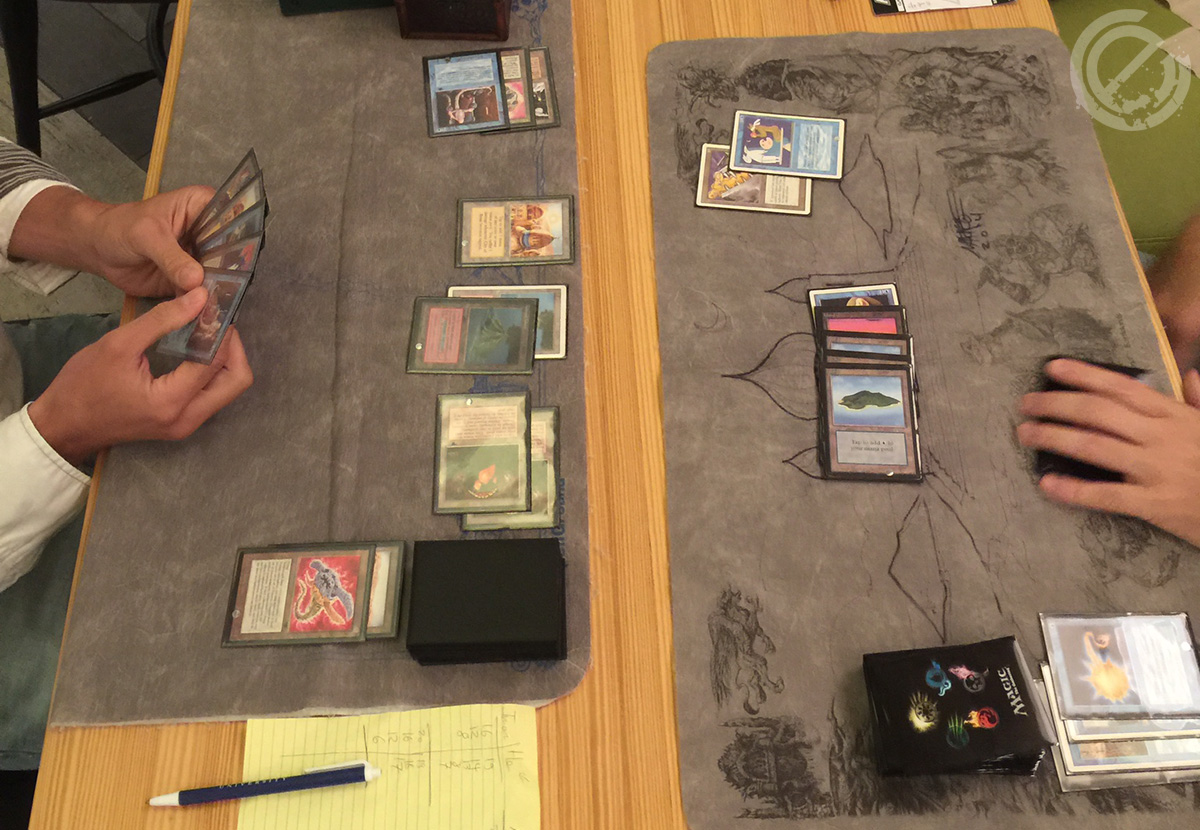 Husney vs. Nyquist: notice the Old School deck box – a 3.5″ floppy disk box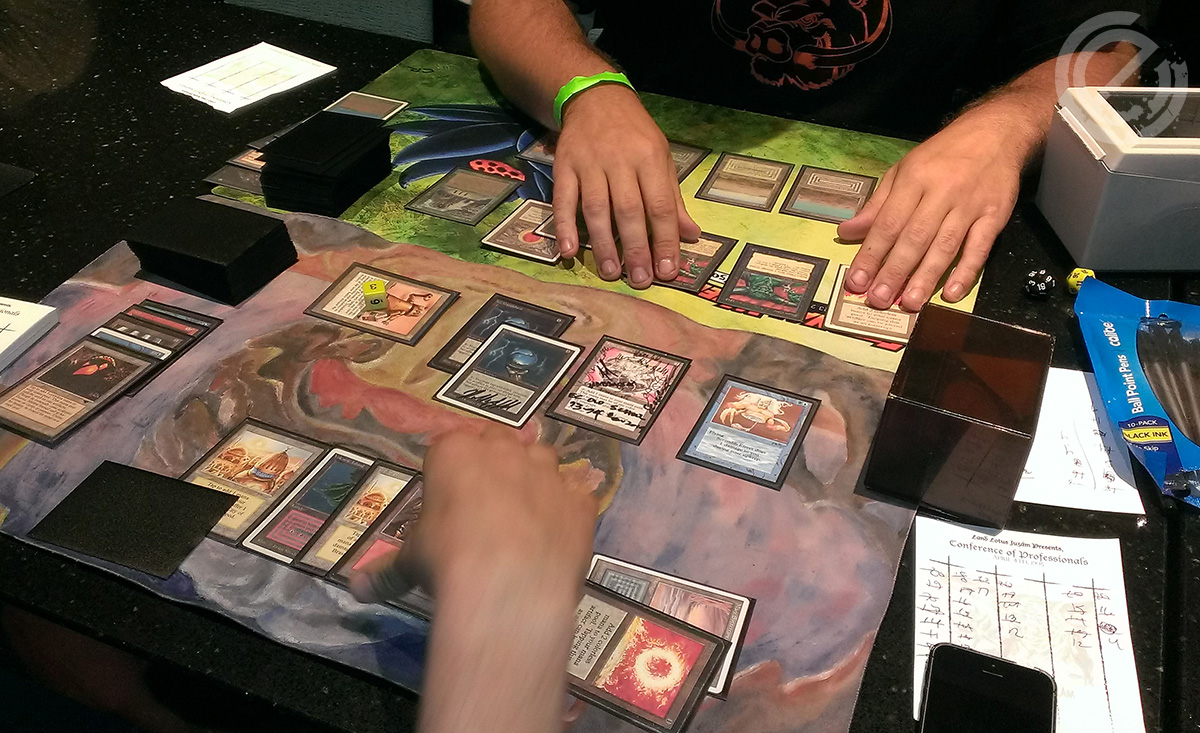 Mana Flare into opponent's Mind Twist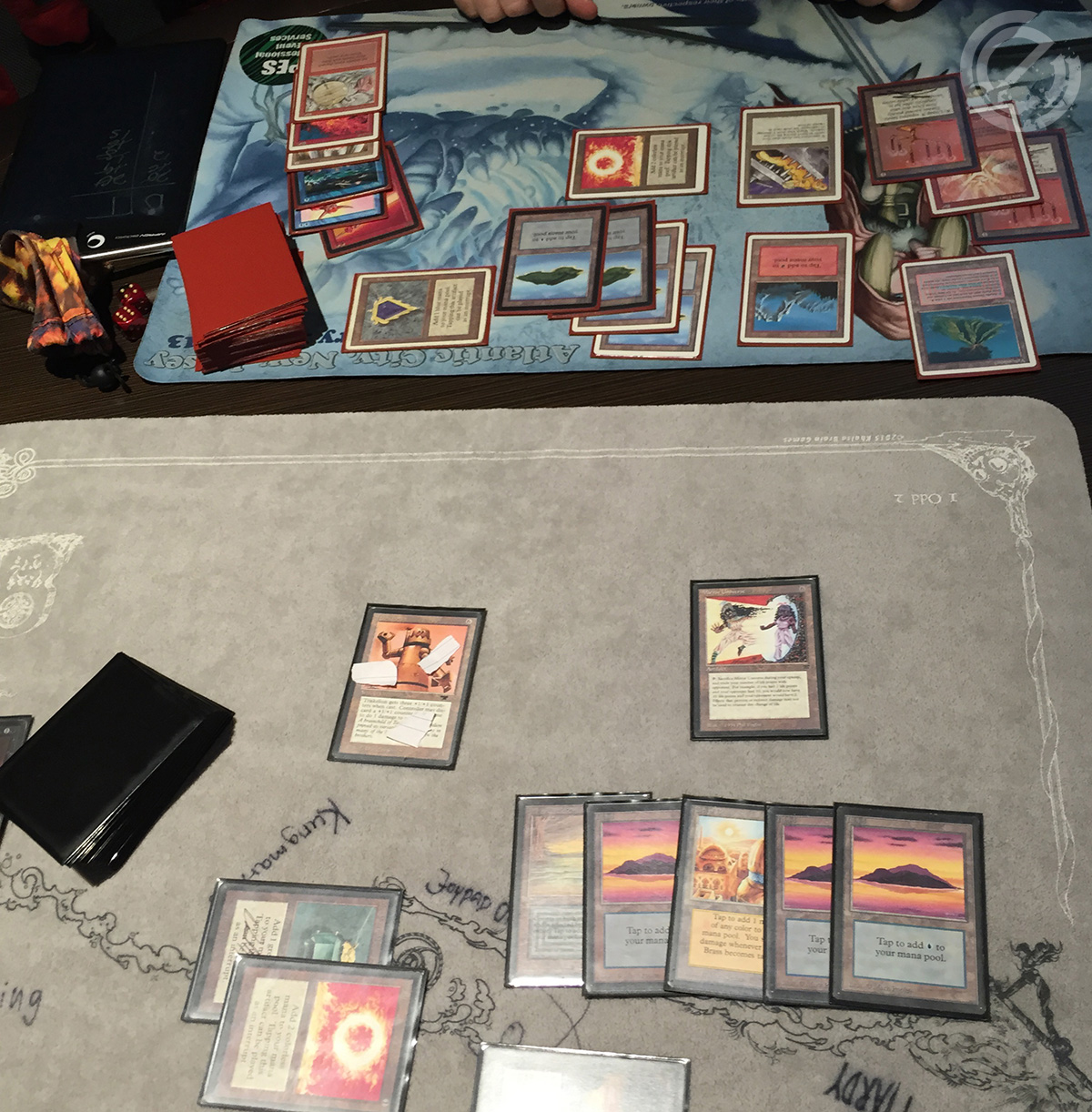 Mith vs. O'Brien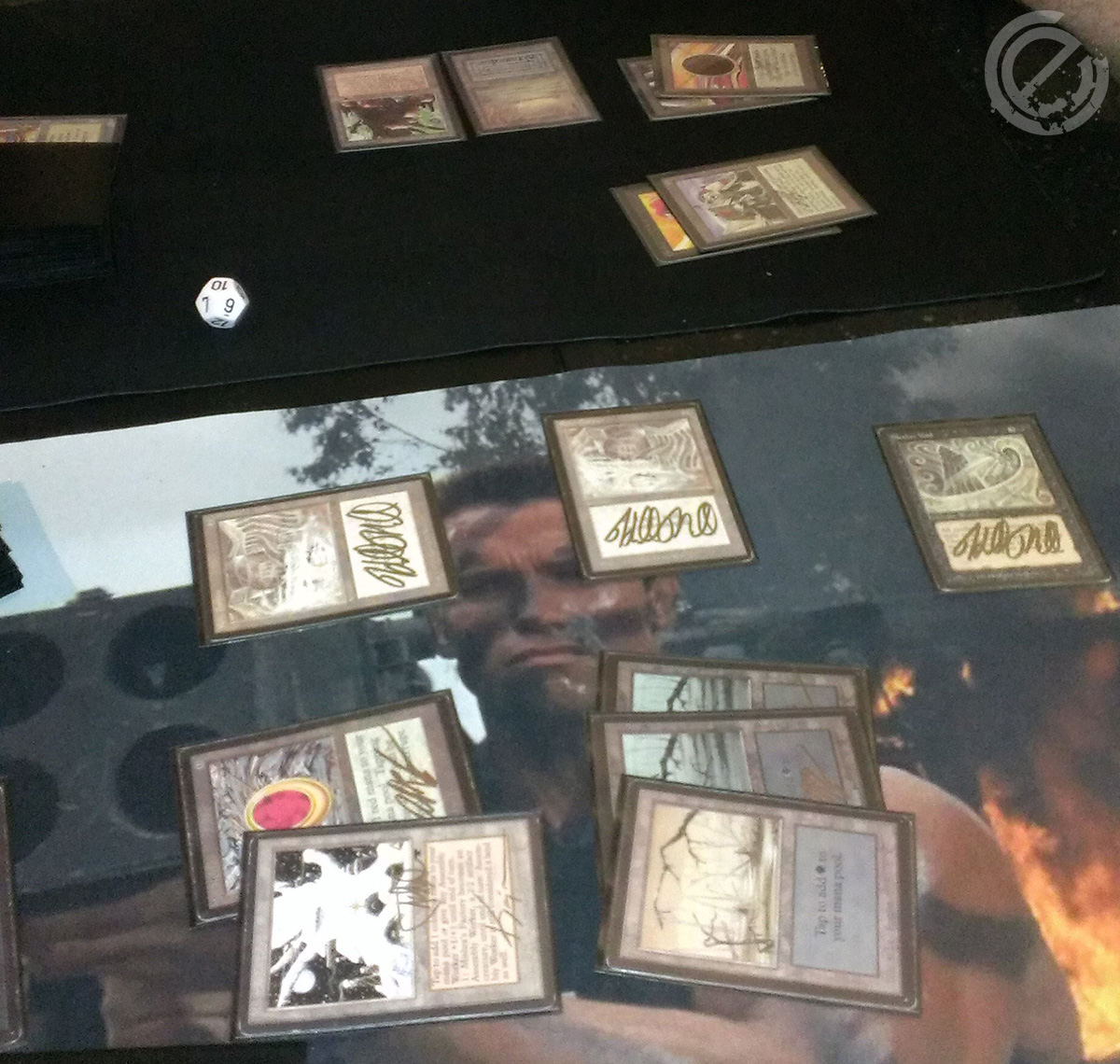 Eurweaka vs. BantamGeddon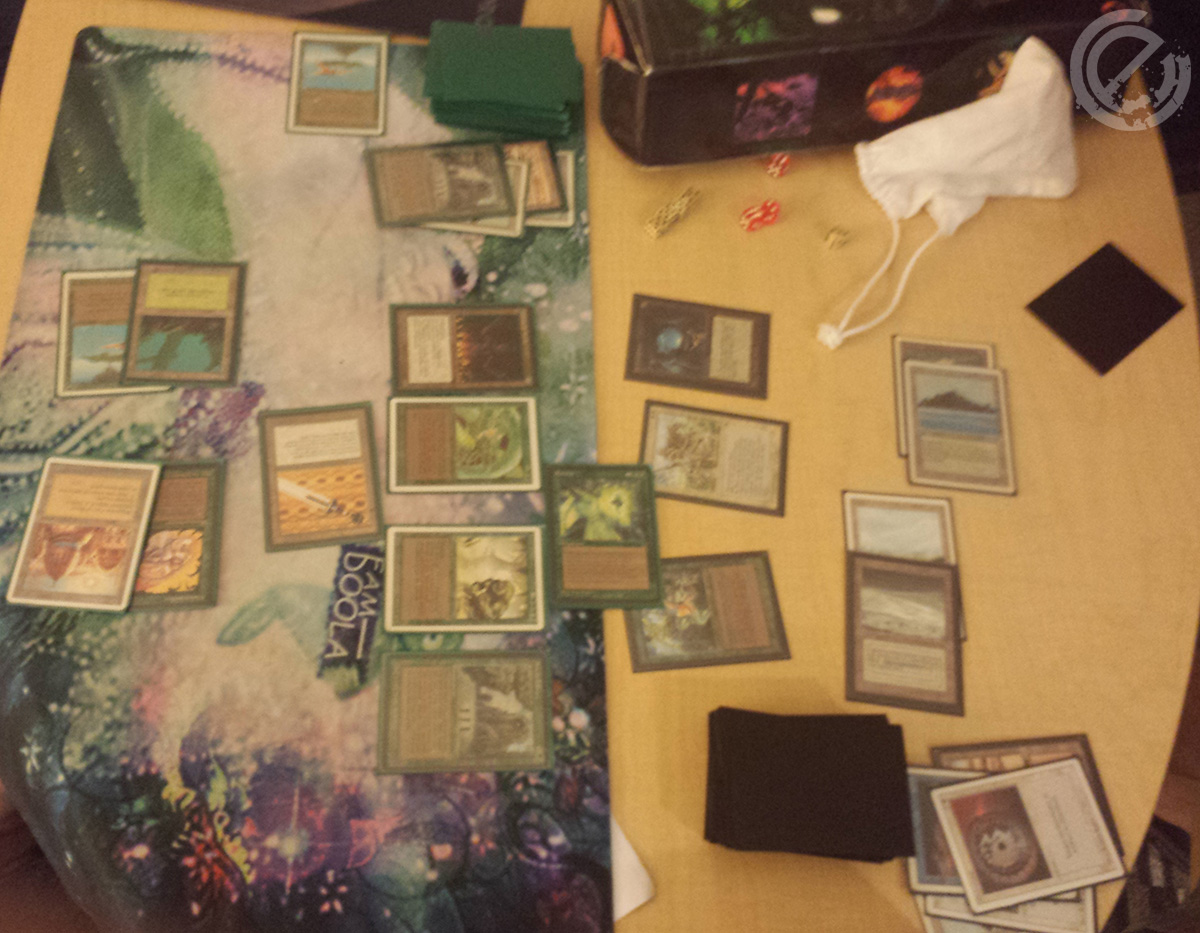 Mono Black vs. UW Control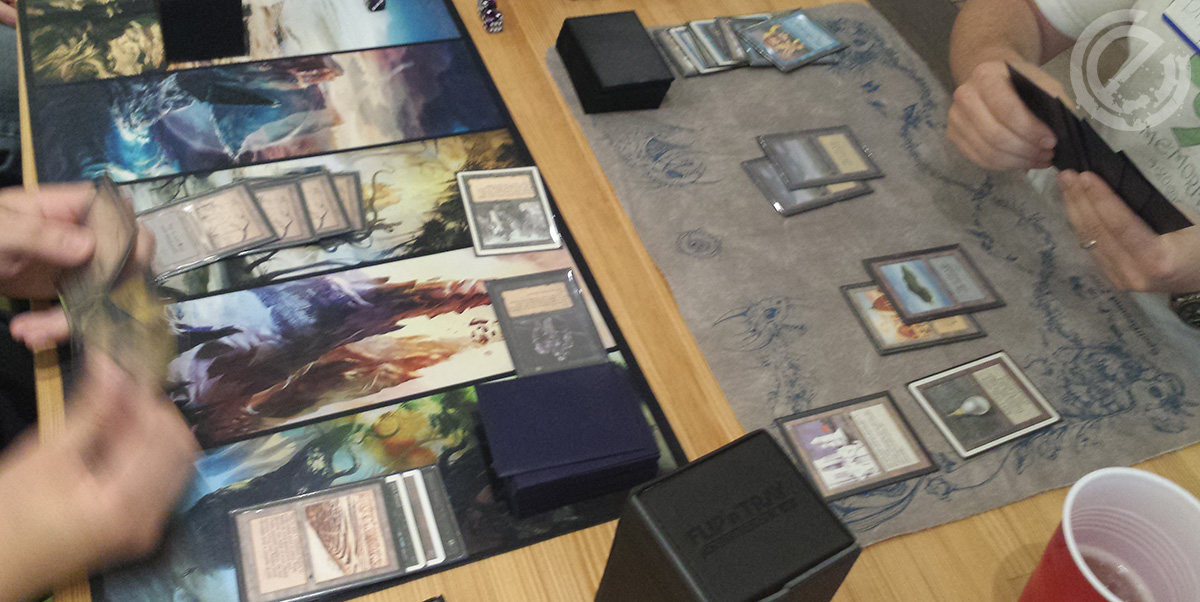 Irmler vs. Vallas: Vallas' Black White deck would get decked this game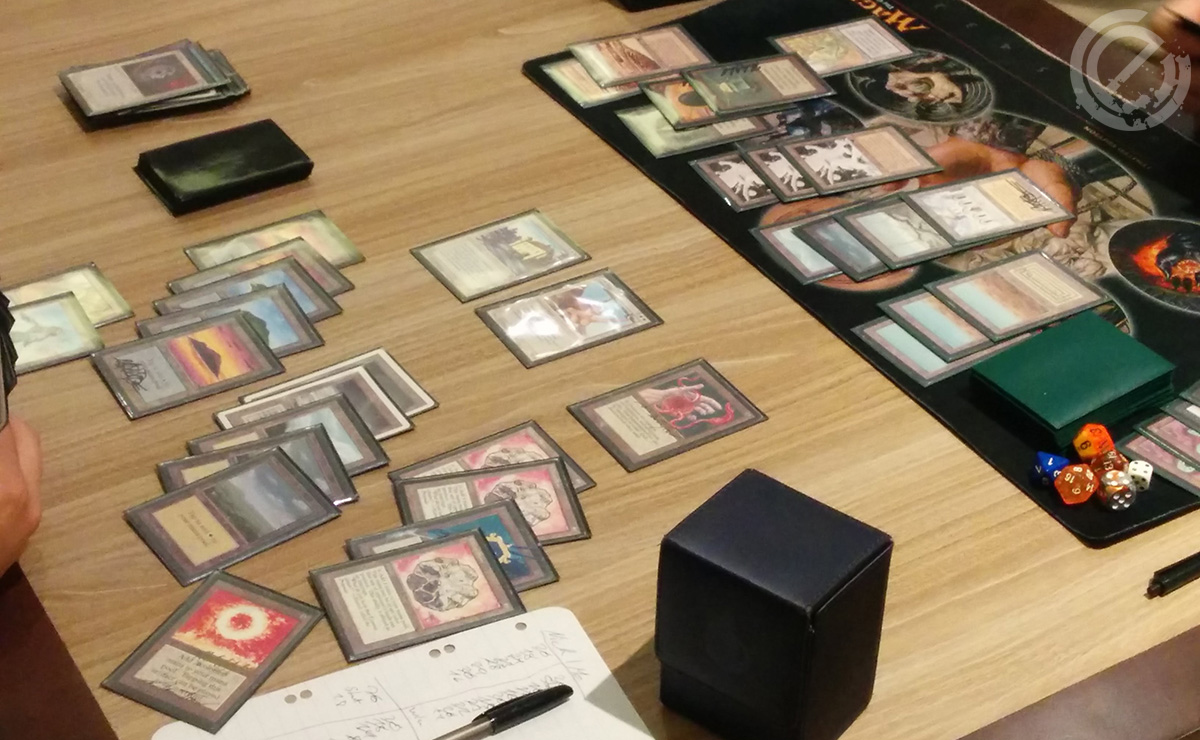 Cooney Merfolk, swimming to victory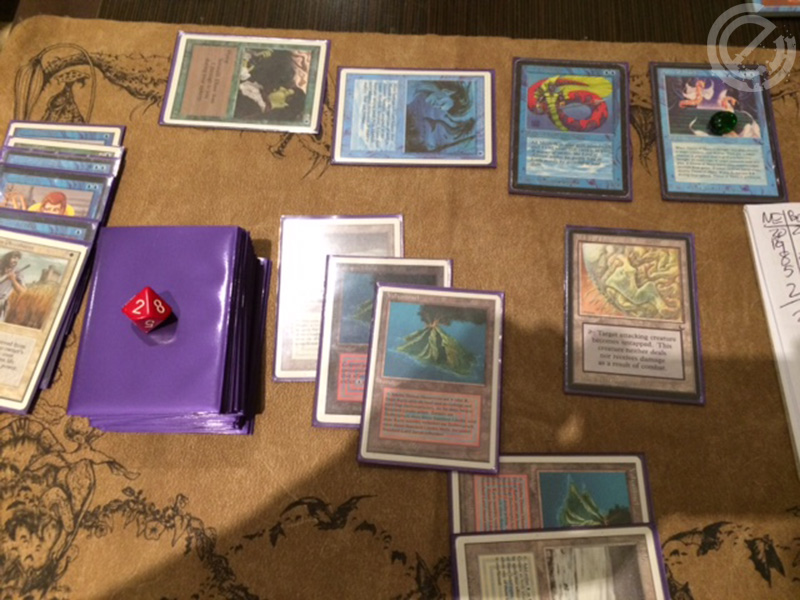 Eckert vs. Callis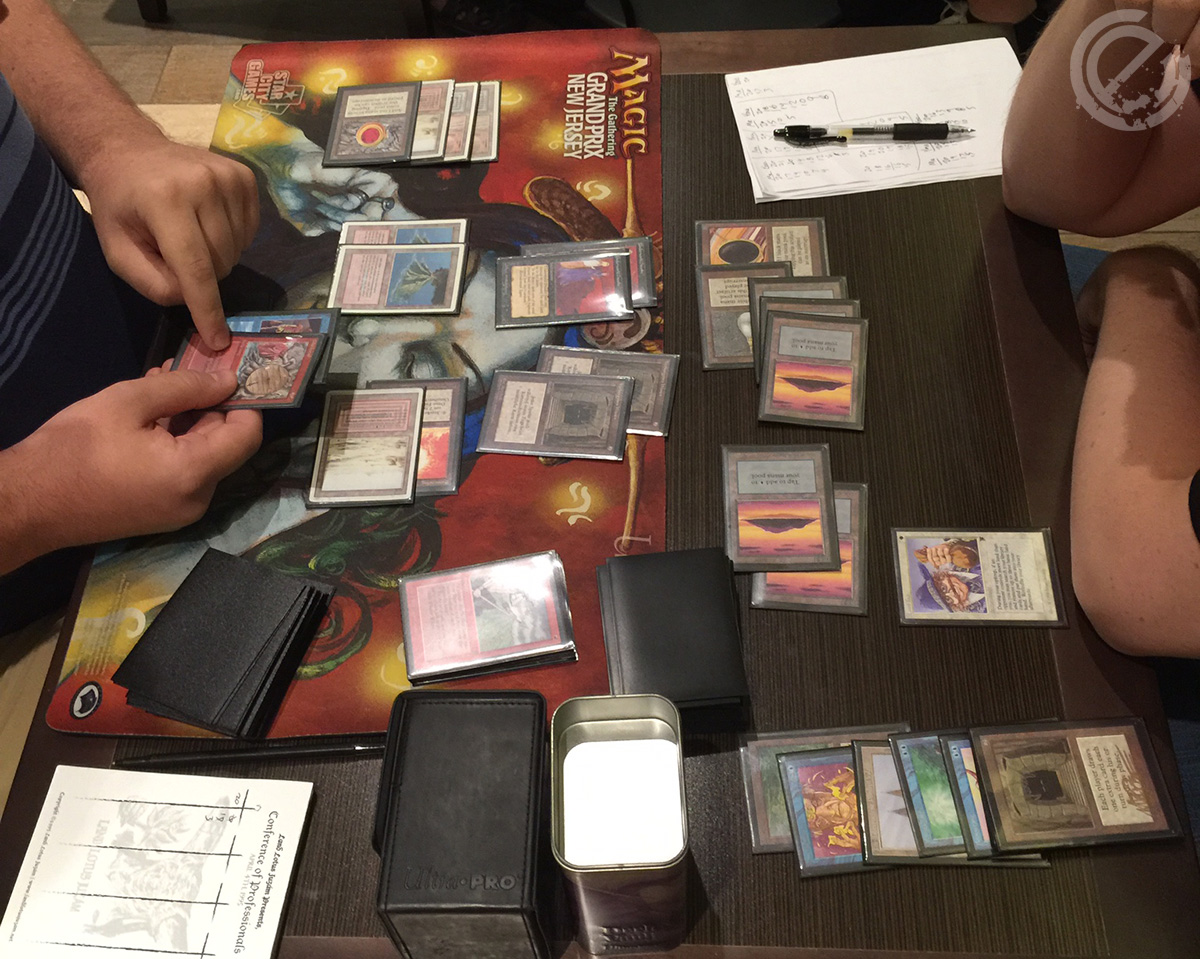 Chang vs. O'Brien: 1st turn Juzam showdown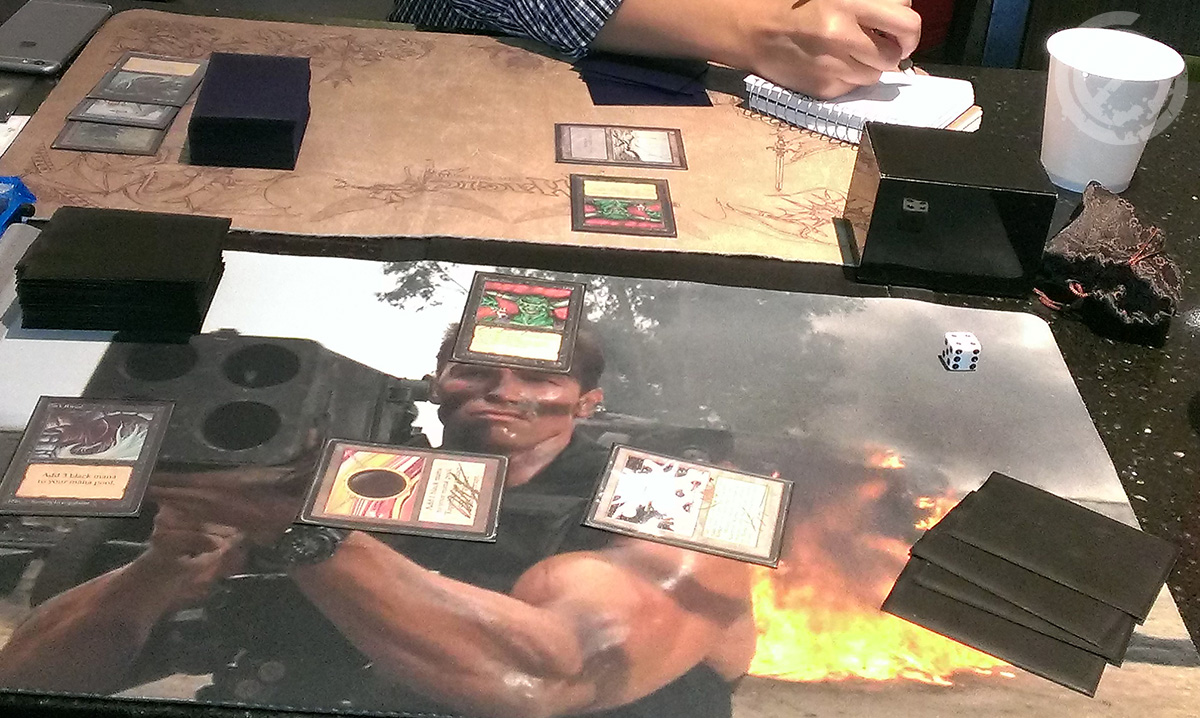 Balance is just too good for some people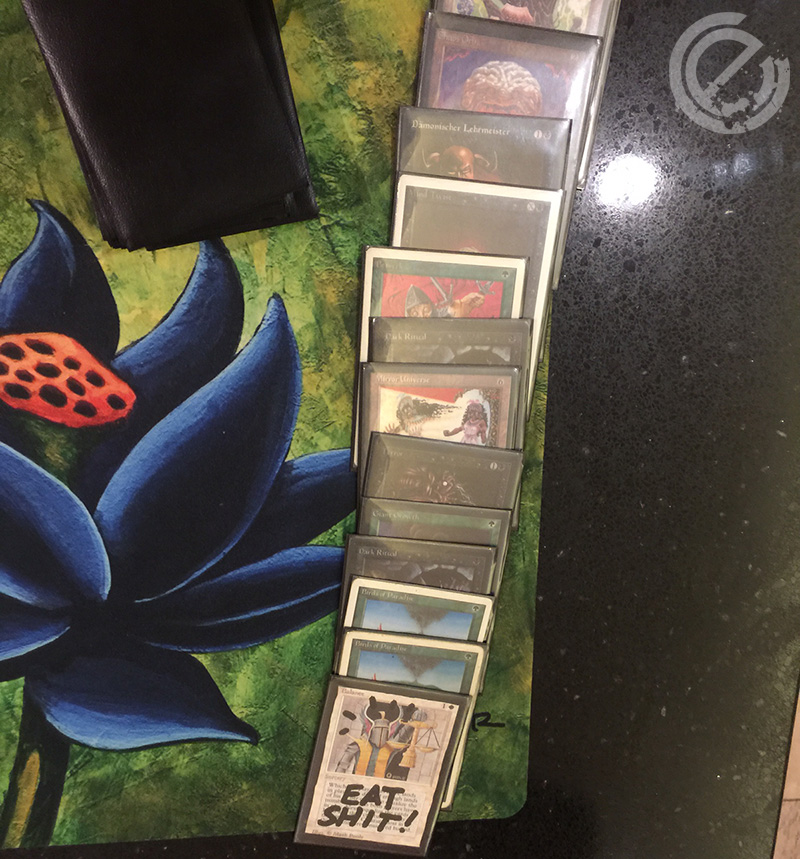 The O'Brien School of Magic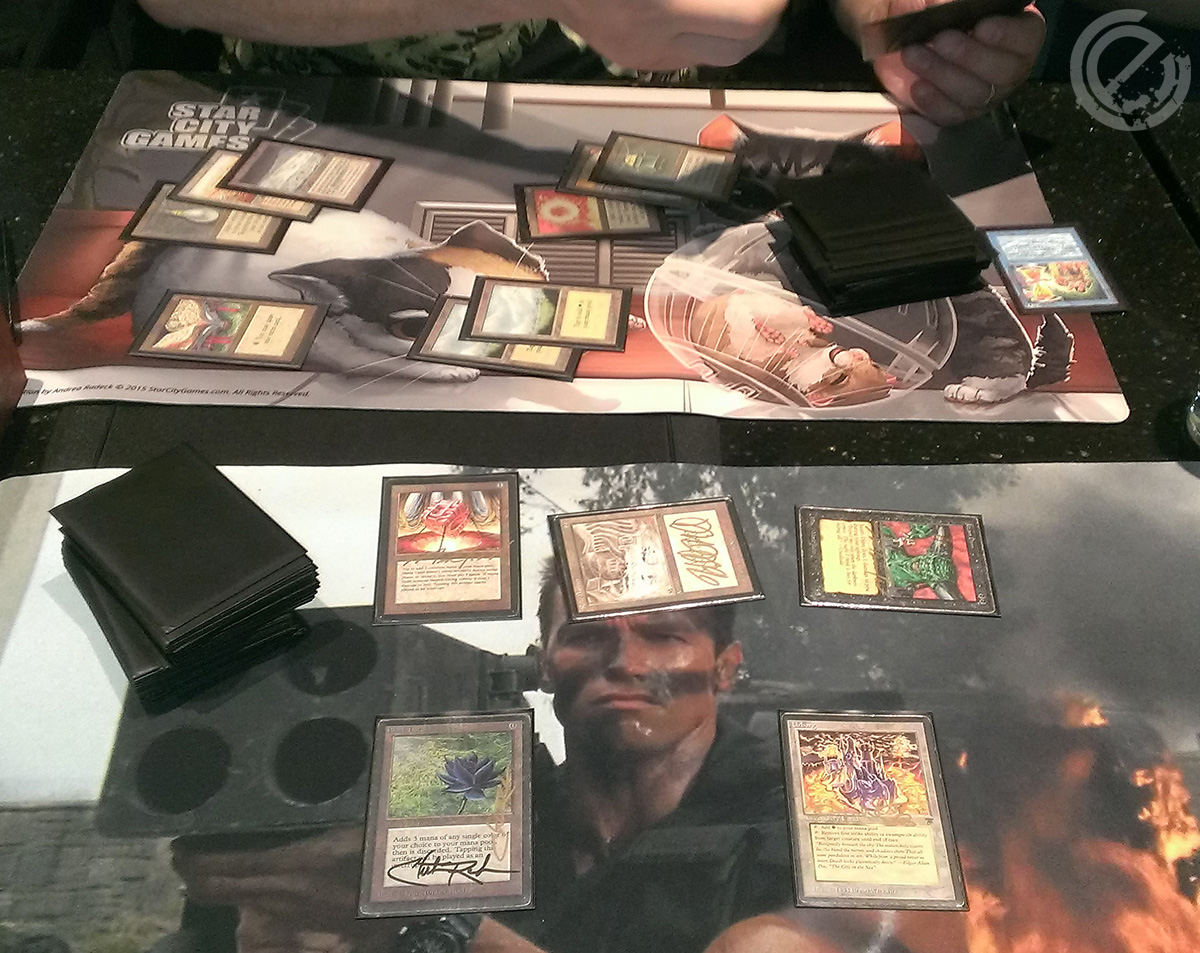 Friedman vs. Ta: Friedman mulligans, then plays 1st turn Timetwister on the play

WR Weenie in action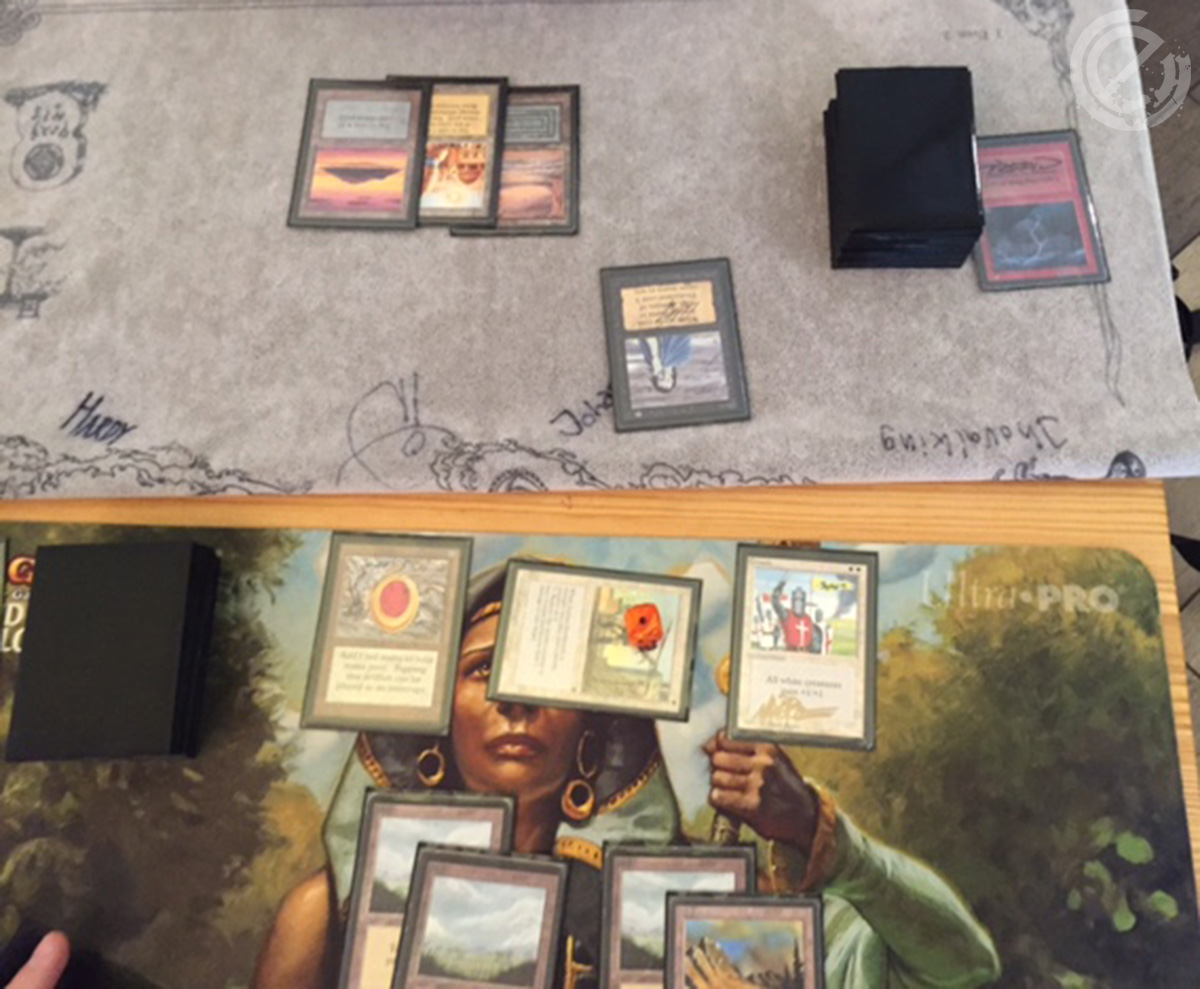 Jaco, recording match results

Gottstein vs. Arce

Thomas Nilsen Power Artifact combo killing Morgan Cooper with Braingeyser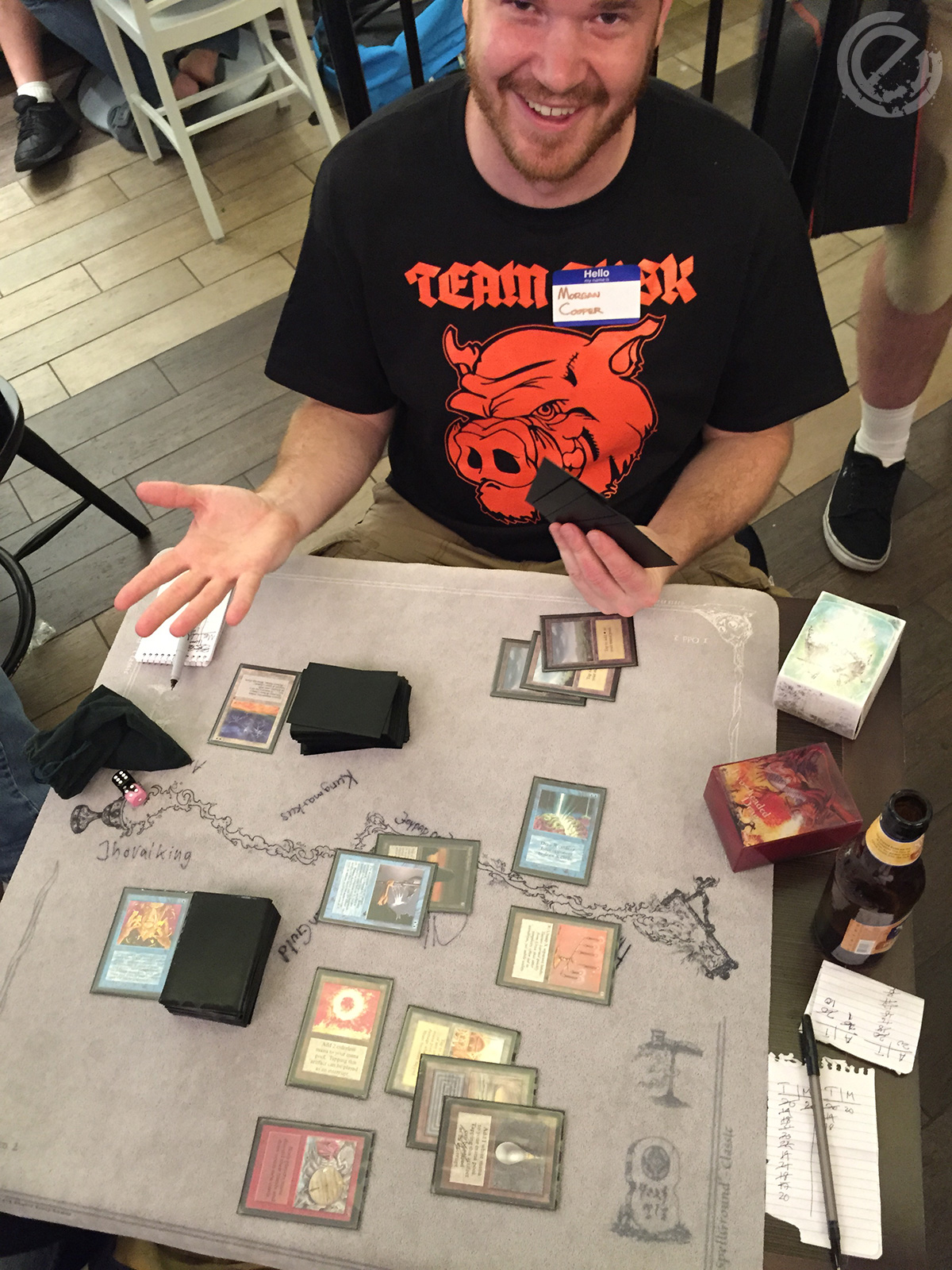 So much Old School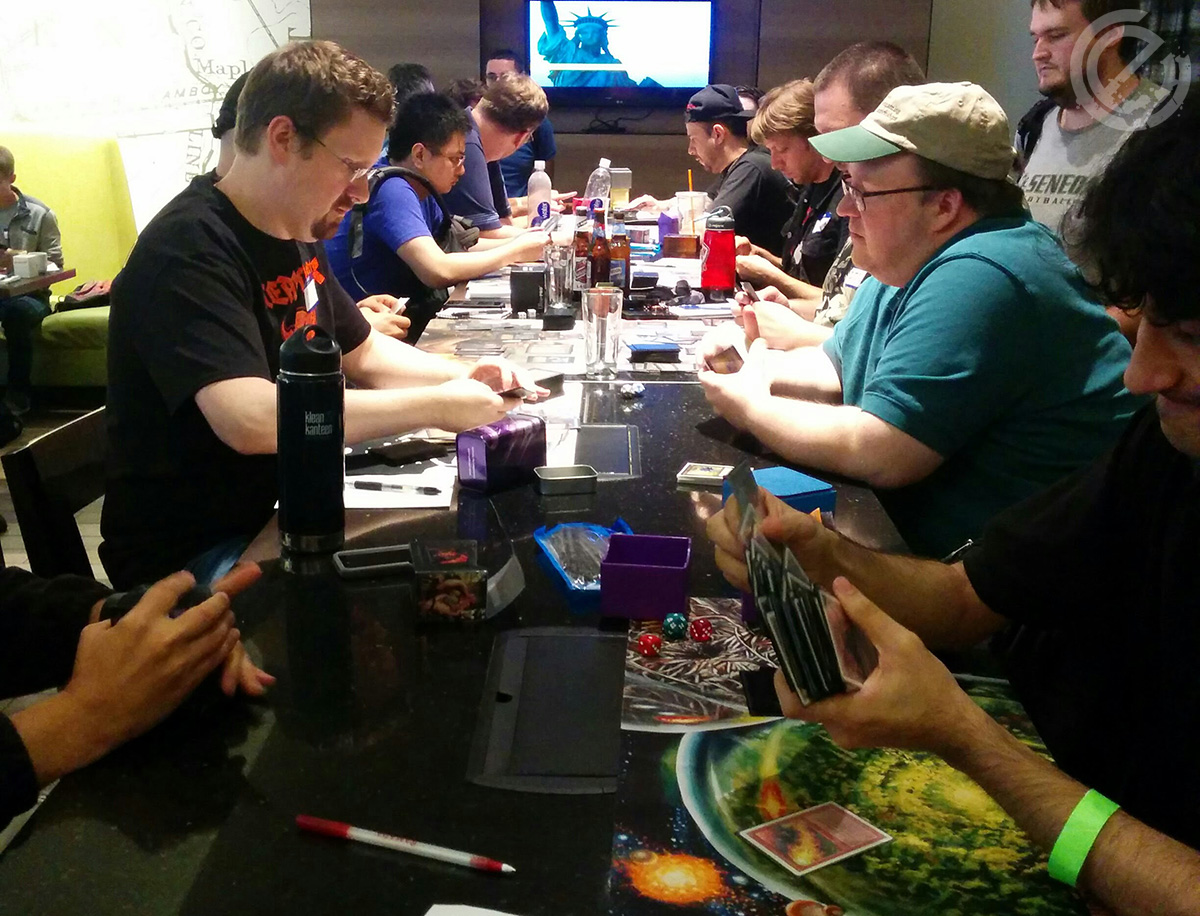 Eurweaka vs. UG Tempo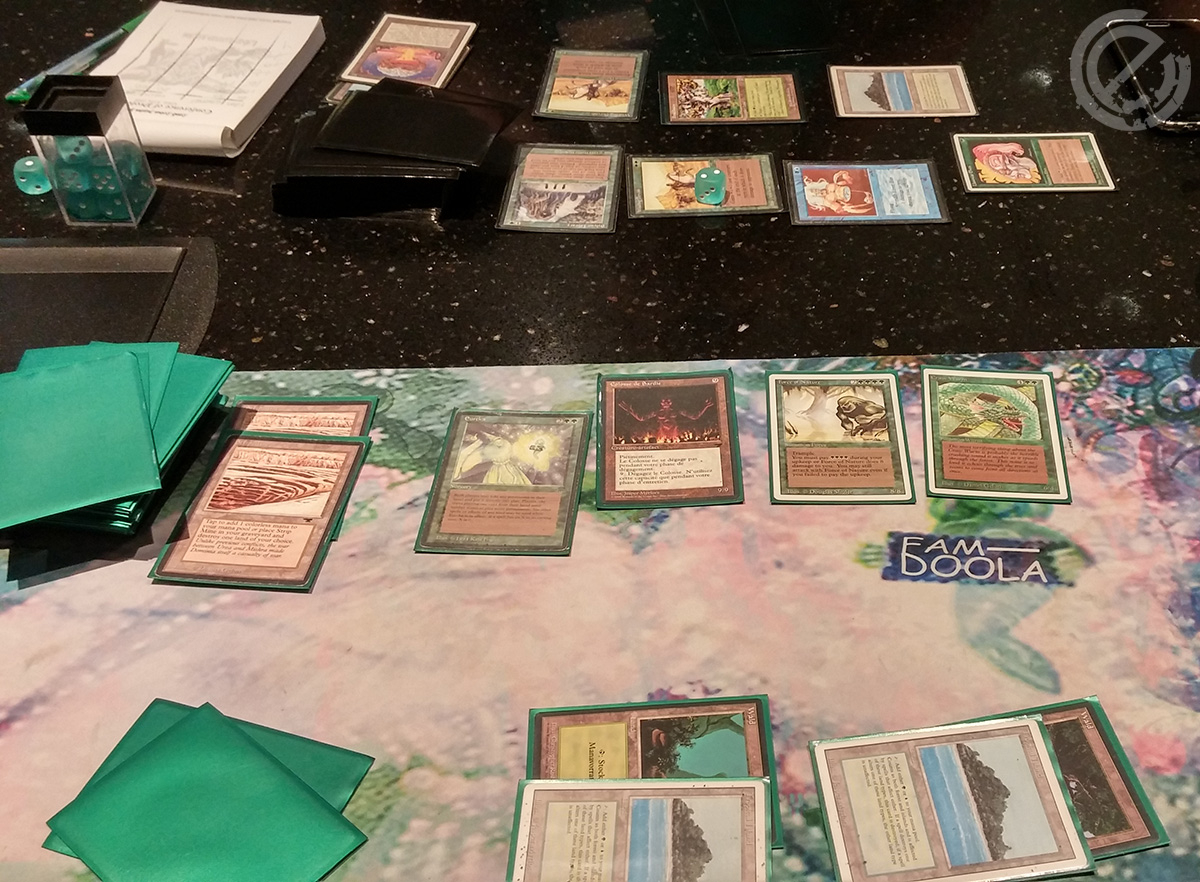 Beckert vs. Menendian T8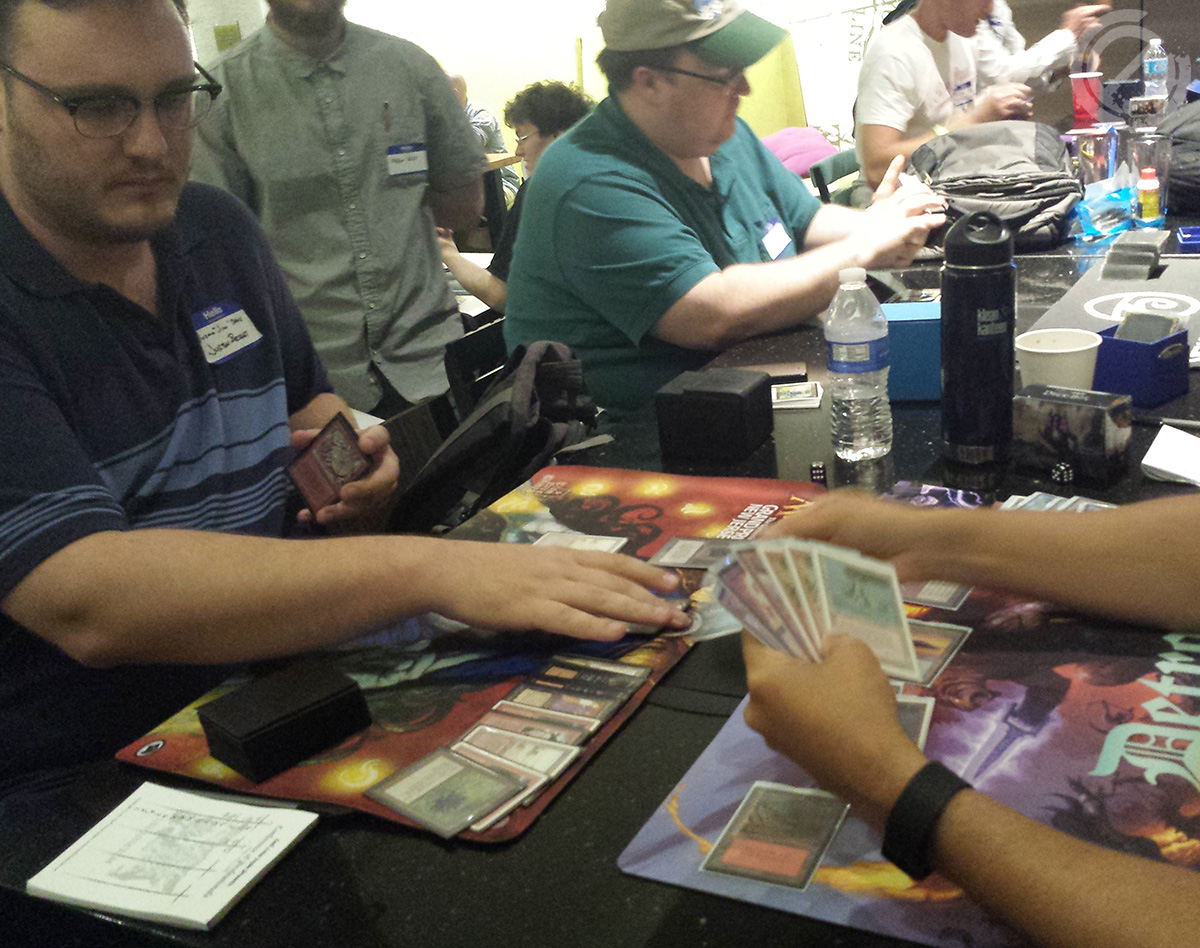 An vs. Buehler T8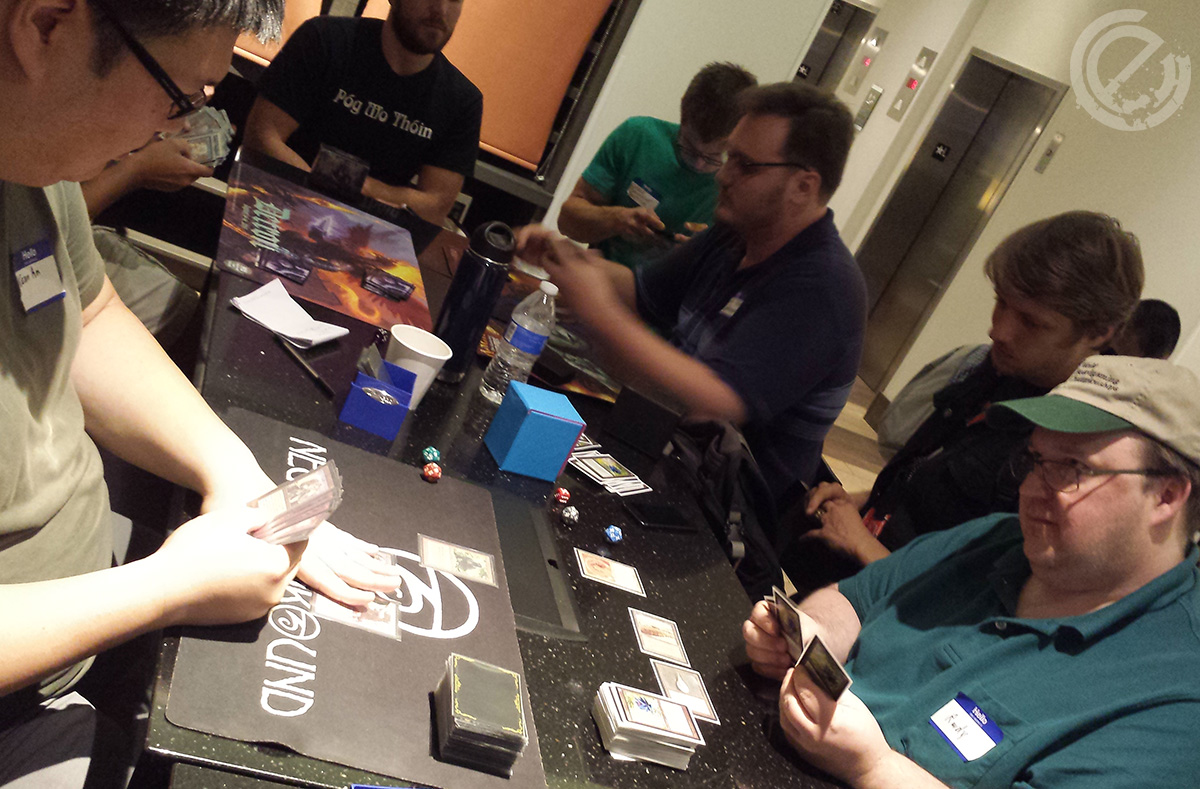 Buehler vs. Menendian T4: deep thought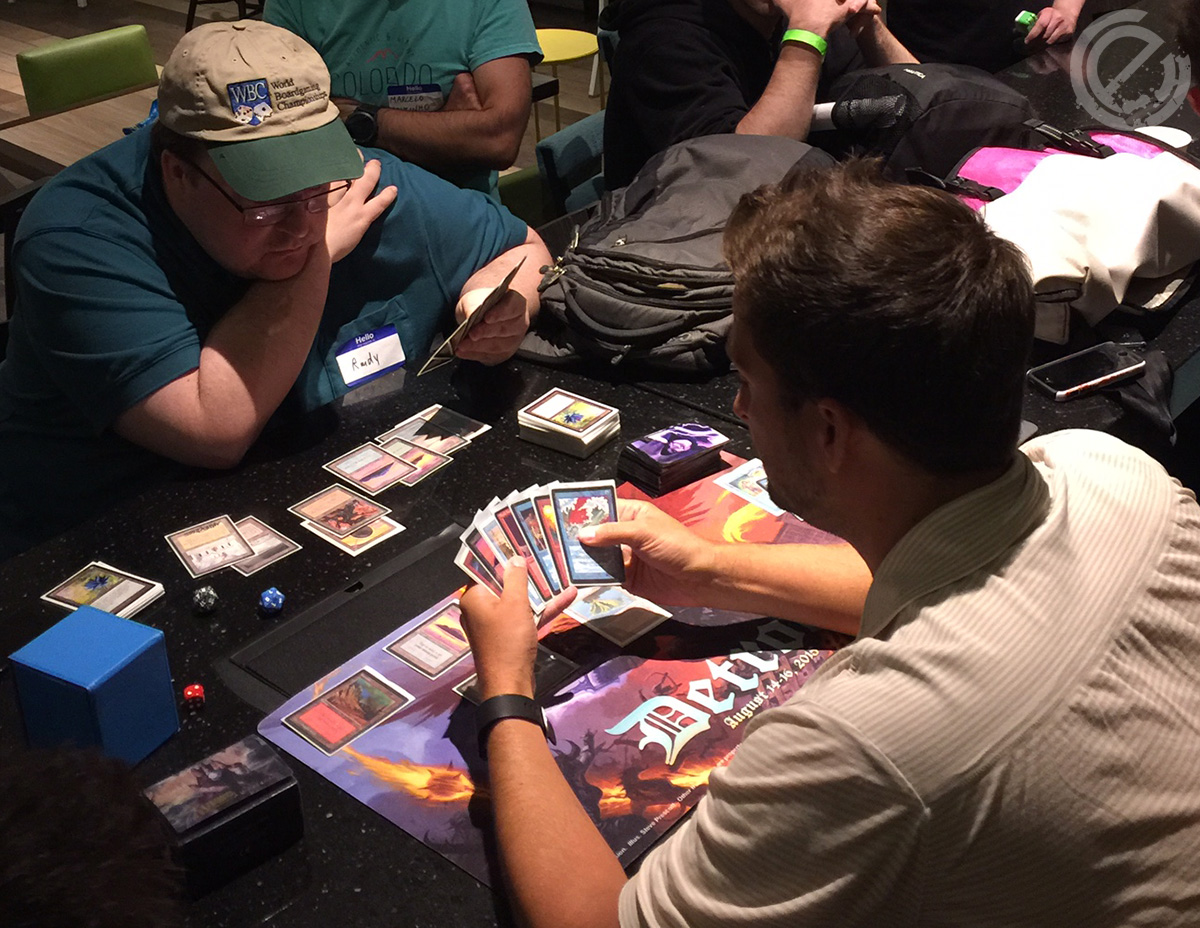 Buehler vs. Menendian T4: Randy showing off his Chaos Orb technique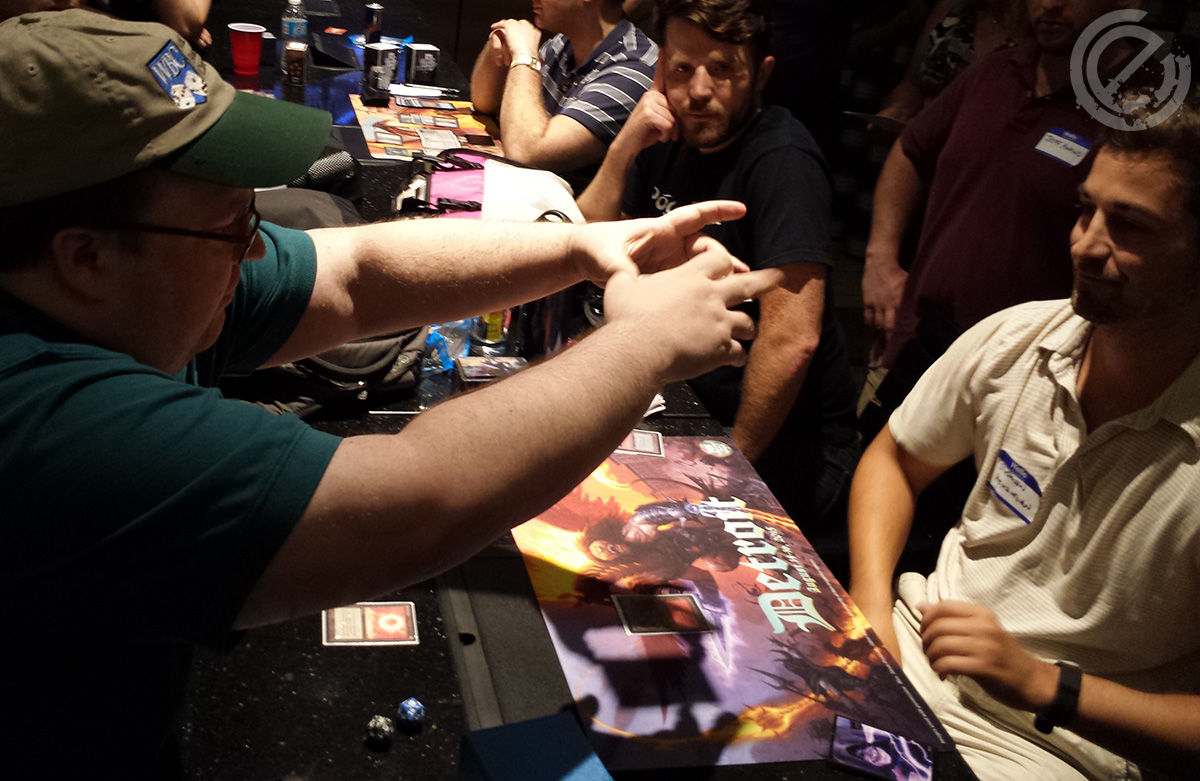 Gottstein vs. Anand T4: the 75 card Hive mirror match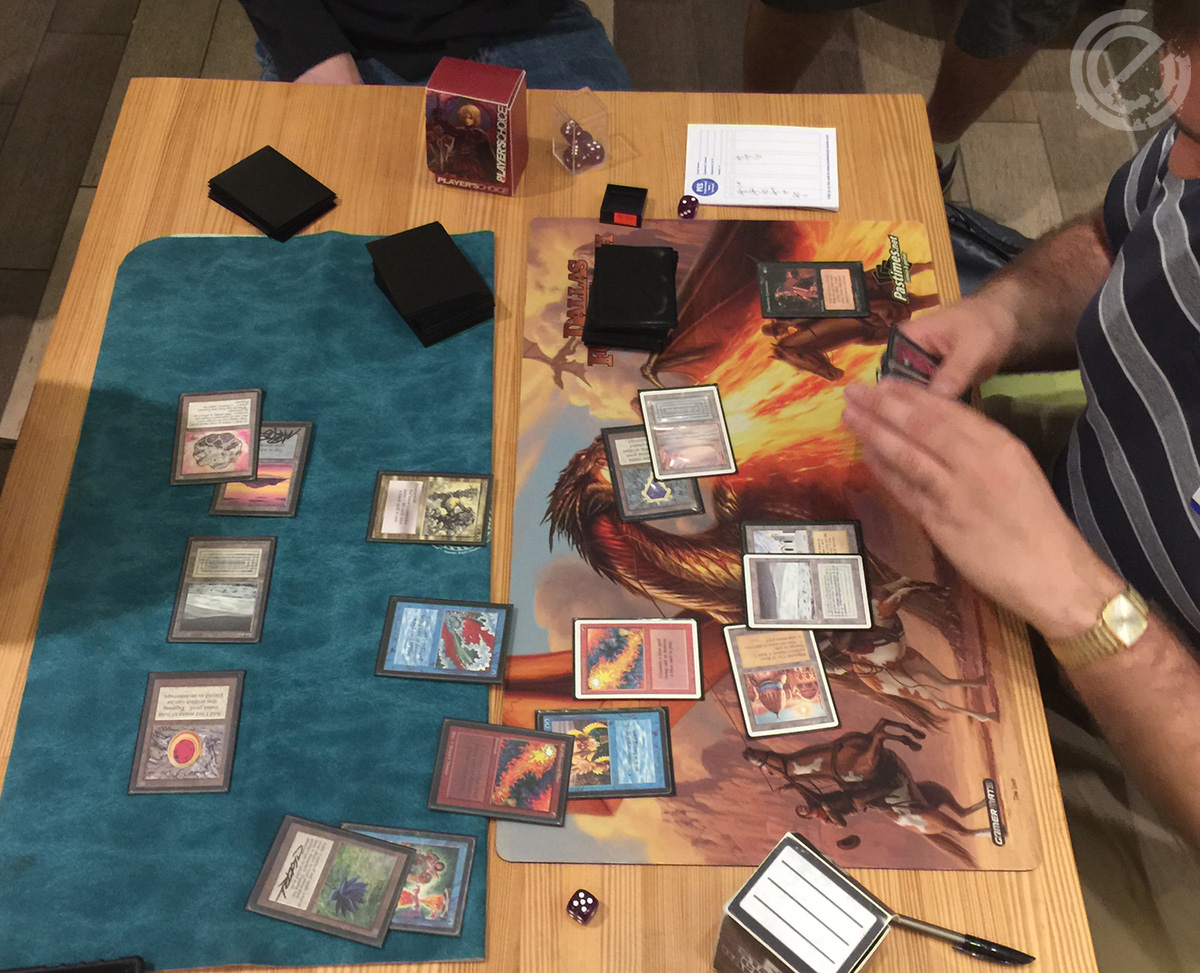 Finals Game 1, Anand vs. Buehler: After Buehler's whole hand is Mind Twisted away, he topdecks Library of Alexandria, holds subsequent draws to refill his hand, and Library takes over the game from that point and delivers Buehler the victory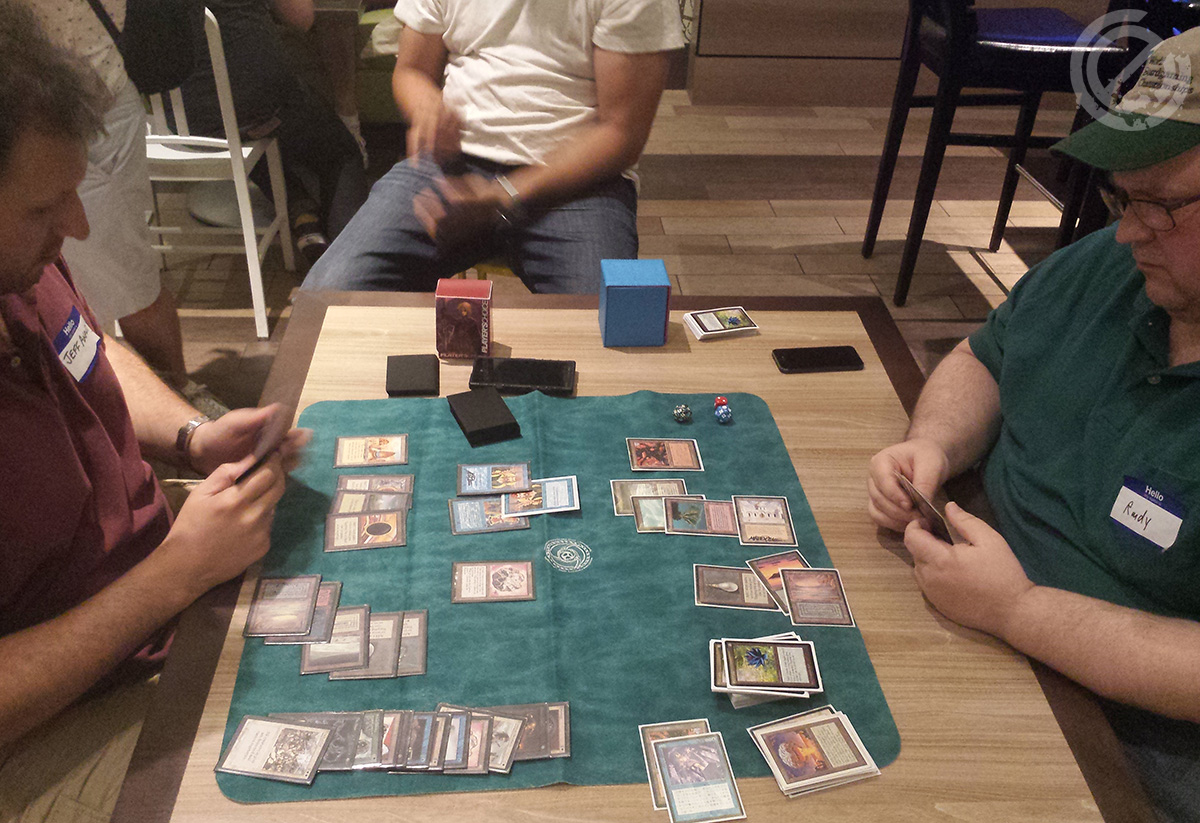 Finals Game 3, Anand vs. Buehler: Buehler resolves Amnesia for Jeff's whole hand, and seals the match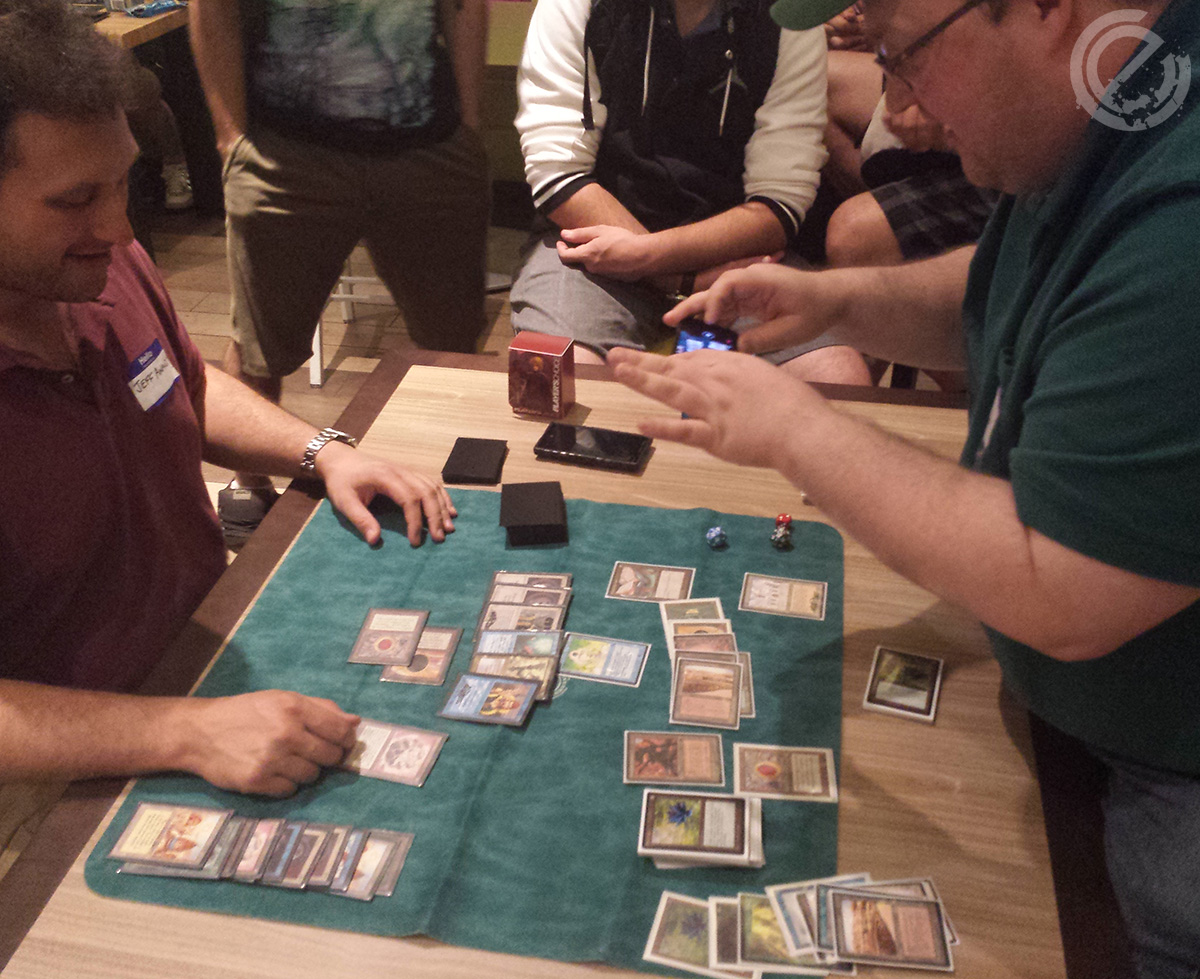 Anand and Buehler with prizes after the Finals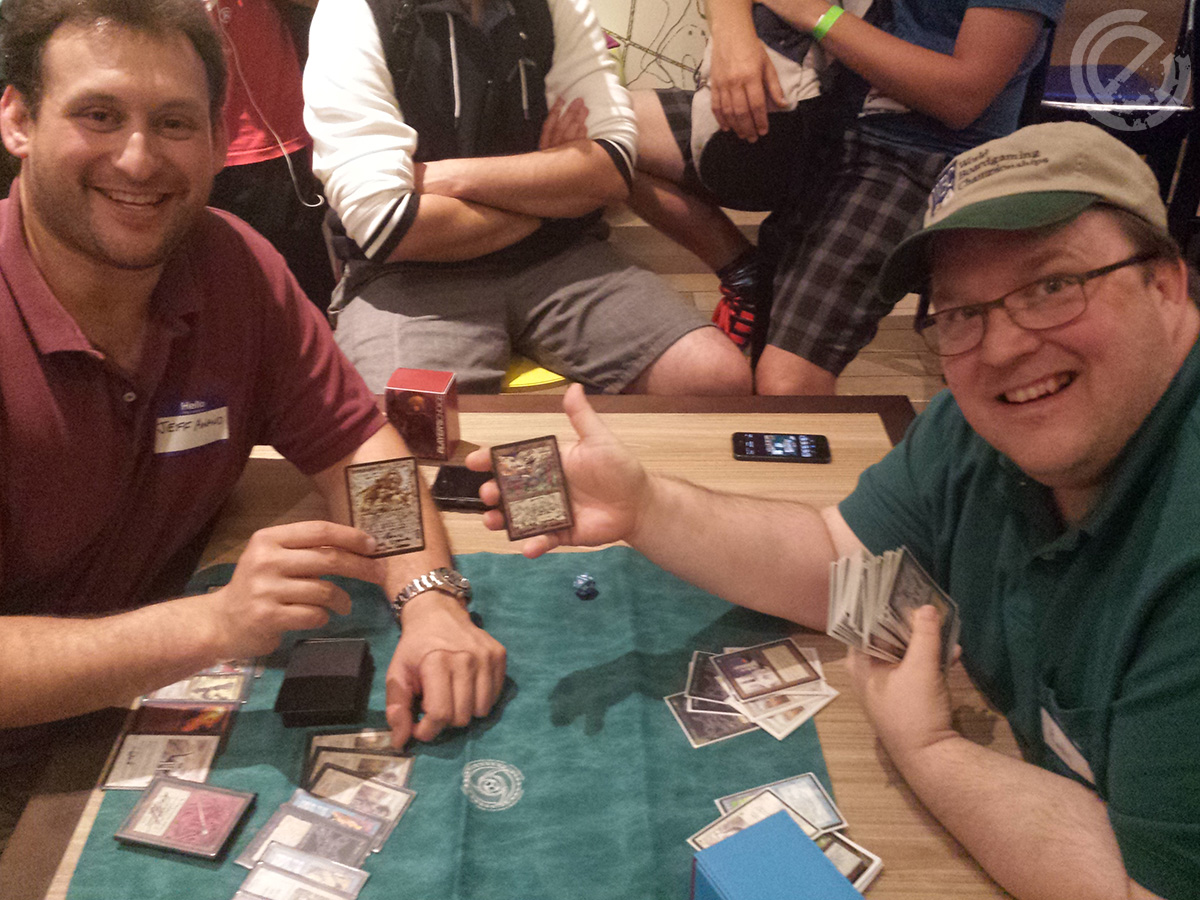 If you have any other cool pictures from the event (or would like a photo of the deck you played added to the decklist section) please email us at jaco@eternalcentral.com and we'll get them added. Thanks for reading!