It's a Friday night in 2000, and I'm sitting across from T.J. Impellizzieri. We're on the Trinity Green mirror. He was ahead, and it was late. He had chipped away at me early. I needed to find an answer, quickly, as two massive boards saw his growing more menacing than mine. The early damage he did mattered. Time was running out.

My Skyshroud Poacher was hunting away, trying to thin my deck so that I could hit an answer. I activated it again at the end of his turn, and was met with a quick retort "Hey, why don't you show what you had on top?" I flipped my top card. Masticore. This was going to be my end. That was the out that I needed to win, and now it would be shuffled away. Dejectedly, I found another Llanowar Elf, shuffled, and presented my deck back to T.J. He cut, and then I drew it.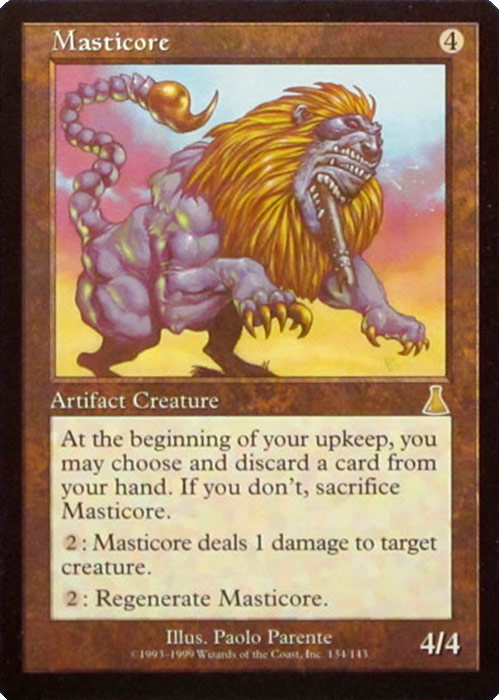 Maybe I lack vision, but in the moment, there are few joys in life as pure as the perfect top-deck.
Rofellos, Gaea's Cradle, and all my mana provided the fuel needed to pick off his army, one by one, machine-gun style, with the freshly cast Masticore. The tide turned, a situation that was becoming hopeless did an about-face, and was suddenly impossibly in my favor.
I went on to the finals and proved victorious. This was the first tournament that I ever won. The joy of winning an event would serve as its own fuel, to attend countless others, in an effort to recapture that moment and feel it again. But no matter how any future events went, no victory is ever so special as your first.
I was 17, and while we all had access to the Internet, the kind of in-depth strategy that is readily available from myriad sites nowadays was mostly absent, save for TheDojo.com and NeutralGround.net. This is a kind way of saying that I was mediocre at best back then.
We didn't learn online yet, we learned from the players who beat us. Erik Rodriguez was the best player at Mark's Comics back then. Watching him play was an incredible learning experience. He played the game at a higher level than all of us. His timing, his patience, his deck construction, the psychological warfare that he engaged in, they were all elite. He, and a few others (like Jill Costigan) routinely crushed us. I owe them both thanks for that. You will never learn more from anything in life than from your losses, and from your mistakes.
The second wave of strong Mark's Comics players came shortly after E-Rod had moved on. Bryn Kenney, T.J., Dave Kaplan, Gregg Spano, and Christian Grim competed for his mantle. Bryn was the best of us, but the level of competition amongst all was exceptionally high. These were deep waters, and if you intended on winning games, you had to learn quickly. We took our lumps, and we grew.
Magic has taught me, sometimes inadvertently, crucial life lessons. Learning what it took to win was important. Learning the importance of repetition, testing, and not just asking questions, but asking the right questions, were lessons that had applications outside Magic. Even then, there was so much more than just the strategy of Magic.
Before the era of Facebook, before everyone had cell phones, before the Internet had truly taken flight, you could still find something new and foreign introduced to you through the vehicle of something that you thought, mistakenly, you knew. I got my first job when I was 15. I worked as a stock boy in a small family-owned shop, and at the end of every Saturday, I'd take a check for $35 home. Minimum wage was $5.15 an hour, and 15 cents went to my Social Security contribution.
The check on Saturday turned into a bike ride to Doubleheader on Sunday. The local sports memorabilia store had boxes of the most recent Magic sets, and if you angled yourself past Patrick Ewing, Wayne Gretzky, Don Mattingly, and Dwight Gooden, you could buy packs. Urza's Legacy was the newest set, and I happily spent my pay on nine packs. I hoped to open cards I could use to beat Danny Dinardo, Kenny Jackson, and others the following Friday night, when we'd all go to Danny's, and play at his parent's kitchen table. I opened something, and didn't understand what it was: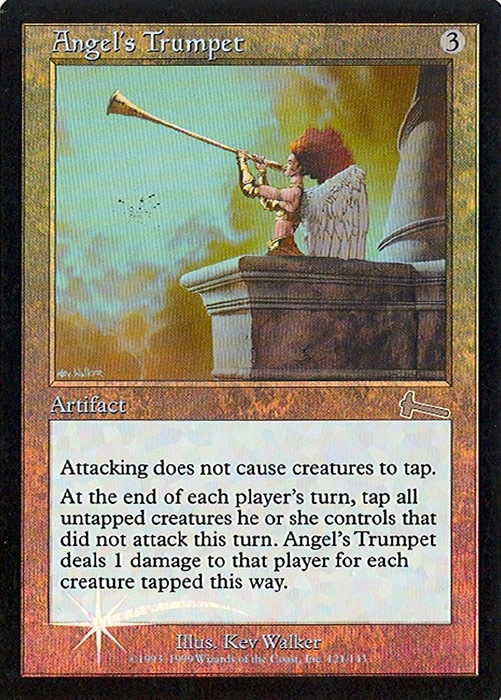 I didn't know what I was looking at. I did, however, know that I loved it. I was the first of my friends to open what we later learned was called a foil. They were rare and beautiful, exotic birds somehow transported to a frigid locale. They weren't yet seen en masse. A deck of foils was an absurd notion; how would you ever get them all in time, before a deck rotated out of Type II?
Pro Tour New York 2000 was held at The Armory, which seemed impossibly large, and yet perfectly suited for the event. While I wouldn't be playing, I had gone with friends to see what a Pro Tour was like. I met Richard Garfield. We were at what I'd later feel was the apex of Magic, in the heady days of Urza's block. The newest, coolest, thing was the introduction of foils. It was then that I learned of judge foils. I had never seen one in person (none of my friends had either), and I dreamed of one day owning them. The art direction back then was magnificent, and the foils that had been chosen were special. Serra Avatar, Stroke of Genius, and, most prized among them all, Gaea's Cradle. I went to the first dealer table I saw, and stared into the showcase to find all these valuable, rare cards. Serra Avatar, $150. Stroke of Genius, $250. Gaea's Cradle, $350. There was also a mint Beta Black Lotus, but at $400, but it seemed far too expensive. Clearly I would never own one of those.
Foils were glorious. It was the shimmer of them, caught in the light. Maybe it's a link to an animal instinct that likes shiny things. Maybe it's just that they felt like a statement when they hit play, not a financial one, but cards that screamed "This is what the game could be! This is what the game could look like, at its apex!" Original borders, the perfectly understated foil star, the perfect, beautiful fantasy art done by some of the best artists in the world; these cards were without flaws and I loved them.
There were so many beautiful images turned into beautiful foils (our debt of gratitude to the men and women who subtly introduced that beauty to our lives will never really be fully paid). While Yawgmoth's Bargain, Rofellos, Llanowar Emissary, Karn, Silver Golem, Covetous Dragon, and many, many others all had homes in decks, Masticore was ubiquitous. Paolo Parente's rainbow of a painting was played in nearly every deck in the format. Masticore was the king of foils.
I had wanted foil Masticore for a long, long time, and yet who would deal them away? I finally found someone willing to trade me foil Masticores online, on the Magic Online Trading League. A trusting 17 year old shipped off Gaea's Cradles, non-foil Masticores, and more, and waited patiently. Eventually I received an email informing me that I should stop reaching out to him, that I would never get the cards.
It was another life lesson, this time about trust, knowing where to place it, and where not to.
Time passed, and Masticore rotated. Arcbound Ravager pushed me out of Type II, and committed me fully to Type I. For a while, I was able to run Masticore in my mono-blue control deck (aptly named by the community, it was called Blue Bullshit). But even then, Masticore's days were numbered, and eventually I moved on to playing Mishra's Workshop decks, forsaking blue, and never owning a foil Masticore.
Many years passed. October of 2017 came around, and for the first time since 2009, I would not be going to play in Vintage Champs. I wished my friends luck, I dug in at work, and I prepared to catch as much as I could of the matches online on the Twitch broadcast. Nick Coss coined the name Eternal Weekend, and he has turned Vintage Champs into the de-facto global Vintage tournament. While my passion for the format has waned, I felt a powerful desire to be there when I turned the stream on, and saw friends battling. Thank you Nick. It gives me hope that the fire to play again will be lit at some point in the future.
I sat there at my desk, watching the stream, following up on my work. A friend from Florence reached out to me. Raffaele Ramagli and I had made each other's acquaintance a few years ago, and we have kept in touch since. I loved hearing from an Italian Vintage player; he was on the ground, and could give me feedback on events I'd never been to, on players whom I knew of there, of others whom I respected, and most of all, Italy itself. As we toil away in our lives, it's easy to forget that the world is a great big place. Magic has helped remind me of the world's magnitude, as I speak to those I'm lucky enough to call friends who inhabit their corners of the world.
I feel embarrassed to write it, as in some perverse way it feels like I'm puffing my chest (which I swear, I'm not), but occasionally I'll have players I don't know from other parts of the world reach out to me. Maybe they know me from TheManaDrain.com, the N.Y.S.E. Open, from playing Workshop decks with Raffaele and Vincent Forino, or from my short stint in the first Vintage Super League play-in tournament online. I am grateful every time it happens, as it's yet another instance in which Magic proves itself to be a bond that transcends national borders, that crosses oceans, that unites hearts and minds.
Raffaele and I spoke about a lot as we watched the Top 8. Mostly, Vintage. But towards the end of the coverage, as the match against Rich Shay and Andy Markiton worked its way to a decisive game three, I asked him if he could keep an eye out for me for Magic art.
Those kids from the 90's have grown up. The kids who played with their Hammer of Bogardans, their Cursed Scrolls, their Morphlings, Masticores, and Rishadan Ports are now adults. We've discovered, as we've aged, that the time that we devoted to the game is time we may not have to give anymore. Any number of commitments keep us away: jobs, significant others, and for many, children. The time that we have for the game runs short, but there, in the back of our minds, lie burnished memories, shining like beacons of our halcyon youth, demanding never to be forgotten. How could we forget them?
I had reached out to Paolo Parente years prior, and was given the same information that he gave all who asked; Masticore was a gift to a friend who once ran a store in Milan. He did not remember the man's name, and he knew that the store had closed.
It wasn't much to go on. But the connections that we forge through this game, this thing that holds us together despite all that could divide us, would help Raffaele track down Masticore. He spoke with friends, including Giampiero Ronzo, who gave us our first lead. Antonio Prama gave us more information, leading us further down the path. It led to Alessandro Cattani, who provided the most vital piece of information; an old email address that the owner of Masticore was believed to have used. Raffaele followed up there, and, magically, a response came back shortly thereafter. Gentlemen, I owe you all a debt of gratitude for your efforts. Thank you.
Magic art, and the pursuit of it, is a strange thing. You will hear whispers of whispers of things, and then nothing. You will work at something for years, to no avail. And then chance steps in, the veil is pierced, and information flows like the waters from a broken dam. You had nothing, you worked for inches. In an instant, you are given miles. It is a surreal experience, and it doesn't happen often. When it does happen, it ignites the memories from your youth. For a few moments, you have recaptured what you felt when you were 17, playing a game that would prove one of your greatest teachers, with your best friends.
I had been burned once for Masticore, albeit a lowly foil. Now, the piece itself had appeared before me. A gifted artist had touched that paper, had worked over it, had exercised his brilliance in creating a piece that conveyed strength, and did it with beauty.
Trust. It was one of the early lessons from Magic; to recognize those who deserved it, and those who do not. Could I trust the owner? Yes. He was a prominent member of the community in Italy at the turn of the millennium. He understood that, in many ways, our names, our honor, are all that we have. However much we could gain from sacrificing those things in an instant, we would lose far more in a lifetime for having sacrificed them.
I paid him, and I waited. Christmas came, and went. New Year's approached. And then I got a phone call from my office as I enjoyed my vacation. A package had arrived.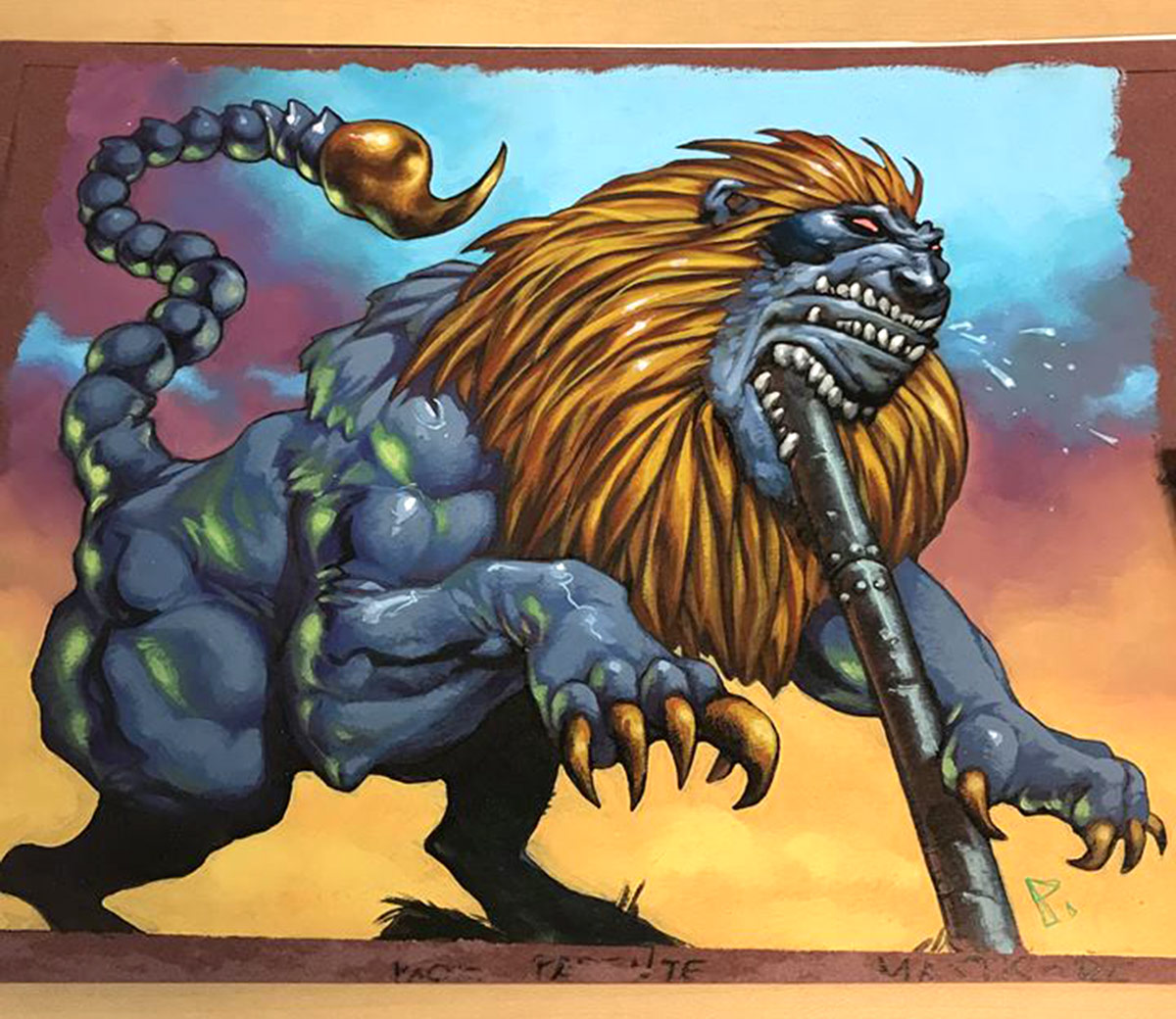 As I sat there, Masticore in my lap, I wondered how it had all happened. How it was that this was possible. My cadre of Italians, led by Raffaele, joined by Giampiero, Antonio, and Alessandro had made this possible. My good friend Kouji Kobayashi had been invaluable as my counsel through the process. Ben Huang, Will Larson, Paul Akerman, and others, all played important roles. Masticore had been sought after by others. I did not hunt for the piece until the time came when I had friends who could help me. Friends in Italy, Japan, Singapore, and across the United States.
To all of them, I owe a debt of gratitude. Thank you.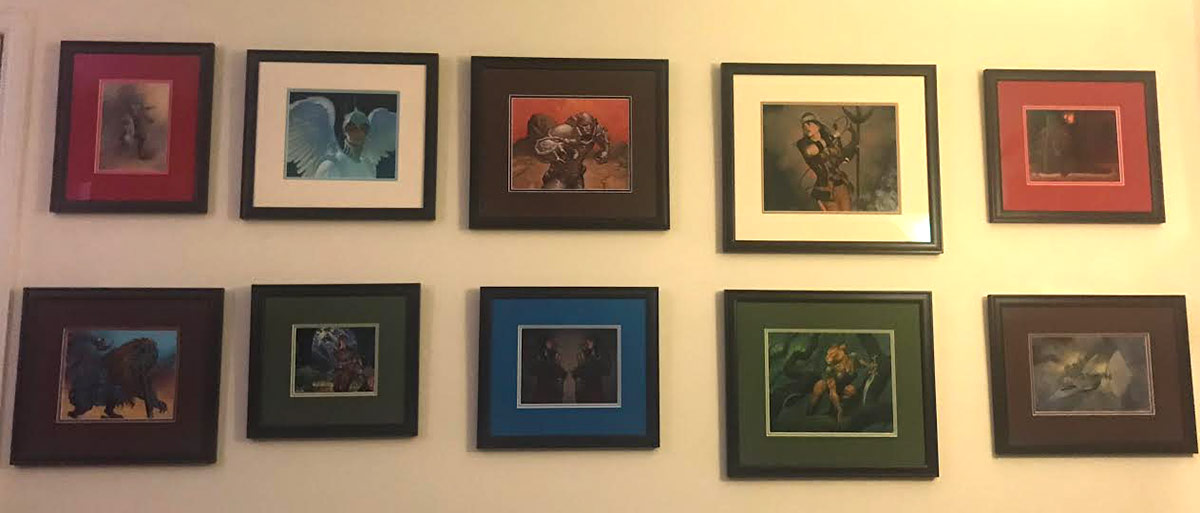 There's Masticore, fighting side by side Morphling in Accelerated Blue. There's Masticore, allied with Rofellos, in Trinity Green. There's Masticore, clearing the path for victory in B.B.S. There's Masticore, reminding a man in his 30's of the joy that a teenager once felt at a draw off the top of his deck.