Vintage players have either grown to love or hate the card Gush, and the effect that it had on the metagame over the past half decade during the times when it was allowed to be played. When Gush (and Brainstorm, Flash, Merchant Scroll, and Ponder) landed on the Restricted List again on June 1 2008 many people were saddened by the news, as the "Gush Metagame" was one full of interaction, excitement, many interesting deckbuilding ideas, and of course the broken plays that Vintage players are accustomed to.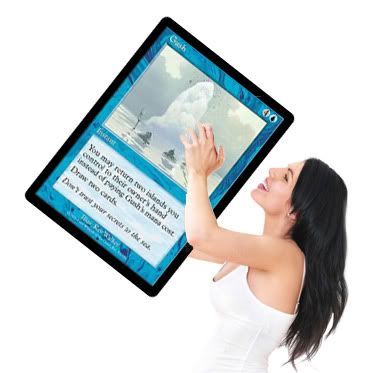 In January 2010 the Team ICBM Vintage extraordinaire tournament organizer and Vintage arms dealer Ben Carp decided to take matters into his own hands. He announced that in March there would be an ICBM Retro Vintage Open tournament using the old Restricted List and card pool, with the following rules to mimic the metagame from early 2008:
1. Gush, Brainstorm, Flash, Merchant Scroll, and Ponder are unrestricted. Gifts Ungiven is still restricted. Shahrazad is legal and unrestricted.
2. Time Spiral, Personal Tutor, Dream Halls, Mox Diamond, and Chrome Mox are still restricted.
3. The "M10 rules update" is NOT in effect. This means:
3a. Combat damage stacks.
3b. Tokens are "owned" by whoever controlled the effect that created them.
3c. Mana burn exists.
3d. No more simultaneous mulligans
3f. Wishes fetch RFG'd cards as well as SB cards.
4. All errata updates after July 2008 are NOT in effect. This means:
4a. Illusionary Mask works the old way.
4b. Oath does not target.
4c. Time Vault/Voltaic Key does NOT work.
5. Cards printed after Shadowmoor are not allowed. This includes Eventide, Alara Block, M10, Zendikar, and Worldwake.
Many locals were very excited about this, as the Key-Vault era has grown stale to a lot of people, and they enjoyed the Gush era. Deckbuilding strategy and technology is constantly changing and adapting, so it would be very interesting to see how the deckbuilding of today matches up with the metagame from nearly two years ago. Would the GushBond engine (Gush + Merchant Scroll + Fastbond) dominate, or would new technology and ideas trump the decks of yesteryear?
The tournament was hosted today at Milwaukee Magic Cards and Games in Milwaukee, WI (USA). Turnout was unfortunately only 11 people (to play for MOX SAPPHIRE!!), but it was a star-studded field with many of the Midwest's best Vintage players, and a number of recognizable names. There were many different deck types represented, as most of the players seemingly had their own idea of how to trump the metagame.
After four rounds of Swiss the following gentlemen and scholars were left standing with the best record to square off in the Top 4 for the rights to own a nice piece of Power 9:
1) Ben Carp, playing DEEZ Noughts
1) Mike Solymossy, playing Tropical Storm
3) Jeremy Seroogy, playing Reveillark Flash
4) James King, playing GushBond Tyrant Oath
In the semi-finals Jeremy Seroogy took down Mike Solymossy in three closely contested games, and in the other bracket James King narrowly edged Ben Carp in an epic three game set. Seroogy then went on to best James King in the finals in three games, making Jeremy Seroogy and Reveillark Flash the winner of the first ICBM Retro Vintage Open!
We've provided the complete decklists from all 11 competitors below, so check out the technology. As Stephen Q. Mendendian would say, "That's Gush, Boys!"
DEEZ Noughts, by Ben Carp aka Broodstar3000
Business (36)
4 Force of Will
4 Thoughtseize
2 Spell Snare
4 Stifle
1 Echoing Truth
1 Vampiric Tutor
1 Demonic Tutor
4 Brainstorm
1 Ancestral Recall
1 Time Walk
4 Phyrexian Dreadnought
4 Dark Confidant
2 Dimir Cutpurse
2 Illusionary Mask
1 Engineered Explosives
Mana Sources (24)
1 Black Lotus
1 Mox Emerald
1 Mox Jet
1 Mox Pearl
1 Mox Ruby
1 Mox Sapphire
1 Lotus Petal
1 Strip Mine
4 Wasteland
4 Polluted Delta
1 Flooded Strand
4 Underground Sea
1 Watery Grave
1 Island
1 Swamp
Sideboard (15)
4 Leyline of the Void
2 Duress
1 Pithing Needle
2 Trygon Predator
1 Sealof Primordium
2 Sower of Temptation
1 Control Magic
2 Mystic Remora
Trinket Nought, by Ryan DuBois
Business (37)
4 Force of Will
1 Duress
3 Thoughtseize
4 Stifle
1 Mystical Tutor
1 Vampiric Tutor
1 Demonic Tutor
4 Brainstorm
1 Ancestral Recall
1 Time Walk
4 Dark Confidant
4 Tarmogoyf
3 Trinket Mage
1 Phyrexian Dreadnought
1 Sensei's Divining Top
1 Tormod's Crypt
1 Aether Spellbomb
1 Engineered Explosives
Mana Sources (23)
1 Black Lotus
1 Mox Emerald
1 Mox Jet
1 Mox Pearl
1 Mox Ruby
1 Mox Sapphire
1 Academy Ruins
1 Strip Mine
3 Wasteland
4 Polluted Delta
1 Flooded Strand
4 Underground Sea
1 Tropical Island
1 Bayou
1 Island
Sideboard (15)
4 Leyline of the Void
2 Duress
1 Pithing Needle
2 Trygon Predator
1 Sealof Primordium
2 Sower of Temptation
1 Control Magic
2 Mystic Remora
Confidant Remora, by Jason Jaco
Business (39)
4 Force of Will
4 Duress
2 Thoughtseize
3 Spell Snare
2 Mana Drain
1 Echoing Truth
1 Repeal
1 Ancestral Recall
4 Brainstorm
3 Mystic Remora
1 Time Walk
2 Sensei's Divining Top
1 Mystical Tutor
1 Vampiric Tutor
1 Demonic Tutor
4 Dark Confidant
1 Gorilla Shaman
1 Yawgmoth's Will
1 Tinker
1 Sundering Titan
Mana Sources (21)
1 Black Lotus
1 Mox Emerald
1 Mox Jet
1 Mox Pearl
1 Mox Ruby
1 Mox Sapphire
1 Mana Crypt
1 Tolarian Academy
4 Polluted Delta
1 Flooded Strand
2 Underground Sea
3 Volcanic Island
2 Island
1 Swamp
Sideboard A (15)
4 Leyline of the Void
1 Helm of Obedience
1 Darkblast
3 Threads of Disloyalty
3 Ingot Chewer
2 Magus of the Moon
1 Gaea's Blessing
Jones Mind Trap (aka Dredge), by Tom Jones
Business (47)
4 Cabal Therapy
4 Unmask
4 Bazaar of Baghdad
1 Ancestral Recall
1 Brainstorm
3 Careful Study
1 Life From the Loam
3 Darkblast
4 Golgari Grave Troll
4 Stinkweed Imp
3 Ichorid
4 Narcomoeba
4 Bridge From Below
2 Dread Return
1 Angel of Despair
4 Serum Powder
Mana Sources (13)
1 Mox Sapphire
4 Cephalid Coliseum
4 City of Brass
4 Gemstone Mine
Sideboard (15)
4 Leyline of the Void
4 Oath of Druids
1 Gaea's Blessing
1 Akroma, Angel of Wrath
1 Sundering Titan
4 Forbidden Orchard
Tropical Storm, by Jake Kempfer
Business (38)
4 Force of Will
1 Misdirection
4 Duress
1 Thoughtseize
1 Chain of Vapor
4 Gush
4 Brainstorm
3 Ponder
1 Ancestral Recall
1 Timetwister
1 Necropotence
1 Mystical Tutor
1 Vampiric Tutor
1 Demonic Tutor
4 Merchant Scroll
1 Fastbond
1 Yawgmoth's Will
2 Doomsday
1 Tendrils of Agony
1 Research and Development
Mana Sources (22)
4 Dark Ritual
1 Black Lotus
1 Mox Jet
1 Mox Sapphire
1 Lotus Petal
4 Polluted Delta
2 Flooded Strand
4 Underground Sea
1 Tropical Island
3 Island
Sideboard (15)
4 Leyline of the Void
2 Extirpate
3 Xantid Swarm
1 Thoughtseize
2 Hurkyl's Recall
1 Echoing Truth
1 Threads of Disloyalty
1 Swamp
GushBond Tyrant Oath, by James King
Business (38)
4 Force of Will
3 Thoughtseize
1 Chain of Vapor
4 Gush
1 Ancestral Recall
4 Brainstorm
4 Ponder
1 Time Walk
3 Merchant Scroll
1 Vampiric Tutor
1 Demonic Tutor
1 Fastbond
1 Yawgmoth's Will
4 Oath of Druids
2 Tidespout Tyrant
1 Krosan Reclamation
1 Brain Freeze
1 Flash of Insight
Mana Sources (22)
1 Black Lotus
1 Mox Jet
1 Mox Jet
1 Mox Ruby
1 Mox Sapphire
1 Lotus Petal
4 Forbidden Orchard
3 Polluted Delta
2 Flooded Strand
2 Underground Sea
2 Tropical Island
2 Volcanic Island
1 Island
Sideboard (15)
1 Blazing Archon
1 Darksteel Colossus
2 Extirpate
1 Pyroblast
1 Ray of Revelation
1 Red Elemental Blast
2 Trickbind
1 Pyroclasm
1 Tendrils of Agony
1 Tinker
1 Pithing Needle
2 Tormod's Crypt
BrianDemars.dec (aka Confidant GAT), by Jimmy McCarthy
Business (39)
4 Force of Will
2 Duress
3 Thoughtseize
1 Echoing Truth
4 Gush
1 Ancestral Recall
4 Brainstorm
2 Ponder
1 Time Walk
1 Mystical Tutor
4 Merchant Scroll
1 Vampiric Tutor
1 Demonic Tutor
1 Fastbond
1 Yawgmoth's Will
4 Dark Confidant
3 Quirion Dryad
1 Tendrils of Agony
Mana Sources (21)
1 Black Lotus
1 Mox Emerald
1 Mox Jet
1 Mox Ruby
1 Mox Sapphire
1 Lotus Petal
4 Polluted Delta
3 Flooded Strand
3 Underground Sea
3 Tropical Island
2 Island
Sideboard (15)
4 Leyline of the Void
1 Extirpate
1 Tormod's Crypt
2 Oxidize
3 Seal of Primordium
2 Smother
2 Uktabi Oragutan
Reveillark Flash, by Jeremy Seroogy
Business (40)
4 Force of Will
1 Misdirection
4 Pact of Negation
2 Duress
1 Chain of Vapor
3 Summoner's Pact
1 Vampiric Tutor
1 Mystical Tutor
1 Demonic Tutor
4 Merchant Scroll
4 Brainstorm
1 Ancestral Recall
4 Flash
4 Protean Hulk
1 Reveillark
1 Body Double
1 Mogg Fanatic
1 Carrion Feeder
1 Body Snatcher
Mana Sources (20)
1 Black Lotus
1 Mox Emerald
1 Mox Jet
1 Mox Pearl
1 Mox Ruby
1 Mox Sapphire
1 Lotus Petal
1 Mana Crypt
4 Polluted Delta
2 Flooded Strand
3 Underground Sea
1 Tundra
2 Island
Sideboard (15)
4 Leyline of the Void
2 Engineered Explosives
1 Tinker
1 Platinum Angel
3 Trickbind
2 Duress
1 Chain of Vapor
1 Echoing Truth
Tropical Storm, by Mike Solymossy
Business (38)
4 Force of Will
1 Misdirection
1 Pact of Negation
4 Duress
1 Thoughtseize
1 Chain of Vapor
4 Gush
4 Brainstorm
3 Ponder
1 Ancestral Recall
1 Timetwister
1 Necropotence
1 Mystical Tutor
1 Vampiric Tutor
1 Demonic Tutor
3 Merchant Scroll
1 Fastbond
1 Yawgmoth's Will
2 Doomsday
1 Tendrils of Agony
1 Research and Development
Mana Sources (22)
4 Dark Ritual
1 Black Lotus
1 Mox Jet
1 Mox Sapphire
1 Lotus Petal
4 Polluted Delta
2 Flooded Strand
4 Underground Sea
1 Tropical Island
3 Island
Sideboard (15)
4 Leyline of the Void
2 Extirpate
3 Xantid Swarm
1 Thoughtseize
2 Hurkyl's Recall
1 Slaughter Pact
1 Threads of Disloyalty
1 Swamp
Sliver Flash, by Shawn Brook Williams
Business (40)
4 Force of Will
4 Pact of Negation
1 Chain of Vapor
3 Summoner's Pact
1 Mystical Tutor
1 Vampiric Tutor
1 Imperial Seal
1 Demonic Tutor
4 Merchant Scroll
4 Brainstorm
1 Ancestral Recall
1 Street Wraith
4 Flash
4 Protean Hulk
4 Virulent Sliver
1 Heart Sliver
1 Elvish Spirit Guide
Mana Sources (20)
1 Black Lotus
1 Mox Emerald
1 Mox Jet
1 Mox Pearl
1 Mox Ruby
1 Mox Sapphire
1 Lotus Petal
3 Polluted Delta
3 Flooded Strand
3 Underground Sea
2 Tropical Island
1 Volcanic Island
1 Island
Sideboard (15)
4 Dark Confidant
4 Tarmogoyf
3 Threads of Disloyalty
2 Echoing Truth
1 Tropical Island
1 Time Walk
TinkerGush, by Derek Wochinski
Business (38)
4 Force of Will
2 Misdirection
3 Duress
2 Thoughtseize
2 Spell Snare
1 Echoing Truth
4 Gush
4 Brainstorm
3 Mystic Remora
1 Ancestral Recall
1 Time Walk
1 Mystical Tutor
1 Vampiric Tutor
1 Demonic Tutor
3 Merchant Scroll
1 Fastbond
1 Yawgmoth's Will
1 Tendrils of Agony
1 Tinker
1 Darksteel Colossus
Mana Sources (22)
1 Black Lotus
1 Mox Emerald
1 Mox Jet
1 Mox Pearl
1 Mox Ruby
1 Mox Sapphire
1 Mana Crypt
1 Sol Ring
1 Tolarian Academy
4 Polluted Delta
2 Flooded Strand
3 Underground Sea
2 Tropical Island
2 Island
Sideboard (15)
4 Leyline of the Void
2 Engineered Explosives
2 Phyrexian Dreadnought
2 Trickbind
3 Smother
1 Chain of Vapor
1 Spell Snare