For our last installment of #GiftsWeek, we thought it appropriate to leave you with a double-dose of devastating decklists. There are so many insane creations being concocted in labs around the globe, and here are two that we have been enjoying recently.

When searching for the most broken Gifts Ungiven decks, I wanted to not only look at old focused Gifts list that abused the card, but other decks that I thought could benefit from significant re-shaping to give them a shot in the arm.
Cobra Gush Gifts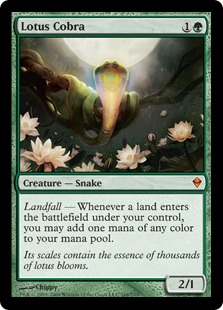 One such deck is a Gush variant that Stephen Menendian unveiled on this very site, called "Cobra Gush," back in September 2011. Menendian felt it was a small evolution from his previous "Confidant Gush" deck, which he used to Top 8 the 2011 Vintage Champs. While Dark Confidant is the creature closest to my heart (shout out to Goblin Welder), Lotus Cobra presents an interesting method of accelerating your mana. But the time for Cobra Gush has long since passed, if tournament results are any indication. Cobra's synergy with Gush is great, and I thought it would also play well with Gifts Ungiven, boosting out tons of mana in situations that the opponent may not necessarily be ready for. The question then became, how to reinvigorate this corpse of a Gush deck?
Earlier this week, Spanish superstar Guillem Ragull introduced a unique list he calls Gifts Talrand Gush, which plays like a Combo-Control deck. Leveraging a relatively high mana count (compared to a traditional Gush deck), Guillem was able to successfully fuse Gush and Gifts together into an explosive package that can threaten to break the game open very quickly. The only downside that I saw in this list was that both of the finishers (Talrand, Sky Summoner, and Tendrils of Agony) relied on chaining together a lot of spells. If the mid-game degenerates into a situation where you have 1 or 2 cards in hand, or your opponent has your graveyard locked down, both of these become less attractive. My approach from the very first day I began work on this deck was slightly different.
I have long believed that Yawgmoth's Will and Tinker are the cards that I have lost to more than any other in Vintage, and for that reason I believe I have to have a compelling reason to not be playing them myself if I'm trying to win a tournament. The power of both is obvious. With the historical precedent of decks like Empty Gush, I felt that the combination of Tinker (plus Blightsteel Colossus) and Tendrils of Agony (or Empty the Warrens, if you prefer) were the direction I wanted to take this deck.
Cobra Gush Gifts 20151Q 1.0, by Jaco
The first thing that might jump off the page at you is the 22 mana sources. That's on the high side for more traditional Gush lists, and on the low side for Gifts Ungiven decks. 4 Lotus Cobras are present to help bridge that gap for when you need more mana, but not only do the bridge the gap, they help account for some truly broken sequences, even without Fastbond. It is not all that uncommon to be able to cast both Gush and Gifts Ungiven on the same turn in the mid-game with this deck, especially if a Lotus Cobra and fetchland is present. Playing a fetchland with a single Lotus Cobra in play can net you 3 mana (Cobra trigger, sac fetchland, Cobra trigger, tap for mana). Playing a fetchland with 2 Lotus Cobras in play can net you a whopping 5 mana. REMEMBER YOUR TRIGGERS!
The second thing you'll notice about this deck is that it doesn't have as much permission or disruption as some other blue decks in Vintage, but that is because you are playing more draw, more tutors, or more threats than most of them. Depending on how you want to build this deck, Mana Drain, Mental Misstep, Pyroblast/Red Elemental Blast, Flusterstorm, and Thoughtseize are all valid main deck options. The present version run Mental Missteps, to combat what I'm seeing right now, which is a lot of other Mental Missteps and Red Elemental Blast effects. This can change though. It is very tempting to run more Thoughtseizes and Flusterstorms in order to be the aggressor more often with this deck. First turn Thoughtseize, followed by a second turn Lotus Cobra, followed by going nuts on your third and fourth turns is a very attractive line. I'm sure this configuration will change over time.
The third thing that stands out about this particular list is the manabase. It may look strange, but it is actually pretty decent, especially when you consider the explosiveness that Lotus Cobra will often present. Be wise when fetching your dual lands, and try to plan a turn or three ahead when doing so. A small miscalculation in this department can often mean the difference between winning and losing. This array allows us to cast most of the efficient disruption spells both main deck and sideboard.
In regards to the sideboarding, you have the standard Mountain + Ingot Chewer package for Workshop matches, along with some other loots like Ancient Grudge, Rebuild, and Abrupt Decay to bring in. Against Dredge you have 4 Leyline of the Void and 1 Relic of Progenitus, along with Timetwister. I like to have about 6 pieces in this matchup when piloting this deck, and Relic and Timetwister are more flexible options that can be brought in against other decks too, allowing us to save a tiny amount of sideboard space. For blue and combo decks you definitely want something like Thoughtseize or Flusterstorm to bring in, and I favor 1 or more Thoughtseizes here, allowing us more information about the opponent's hand, or to be able to proactively strip away something like Flusterstorm that we may have a more difficult time answering on the stack (which is half of the allure of discard spells to begin with). Timetwister is also another bomb you can bring in against other combo decks or hard control decks where you want another threat, while Relic of Progenitus is verstatile tool you can use to control an opposing Snapcaster Deck's graveyard (and is never dead, because you can cycle it). Abrupt Decay is present in the main deck, and you can bring in more from the sideboard as a catch-all answer to stuff like Deathrite Shaman, Oath of Druids, Null Rod, Grafigger's Cage, etc. I like cards with plenty of utility that are rarely embarrassing draws, and Abrupt Decay fits the bill perfectly.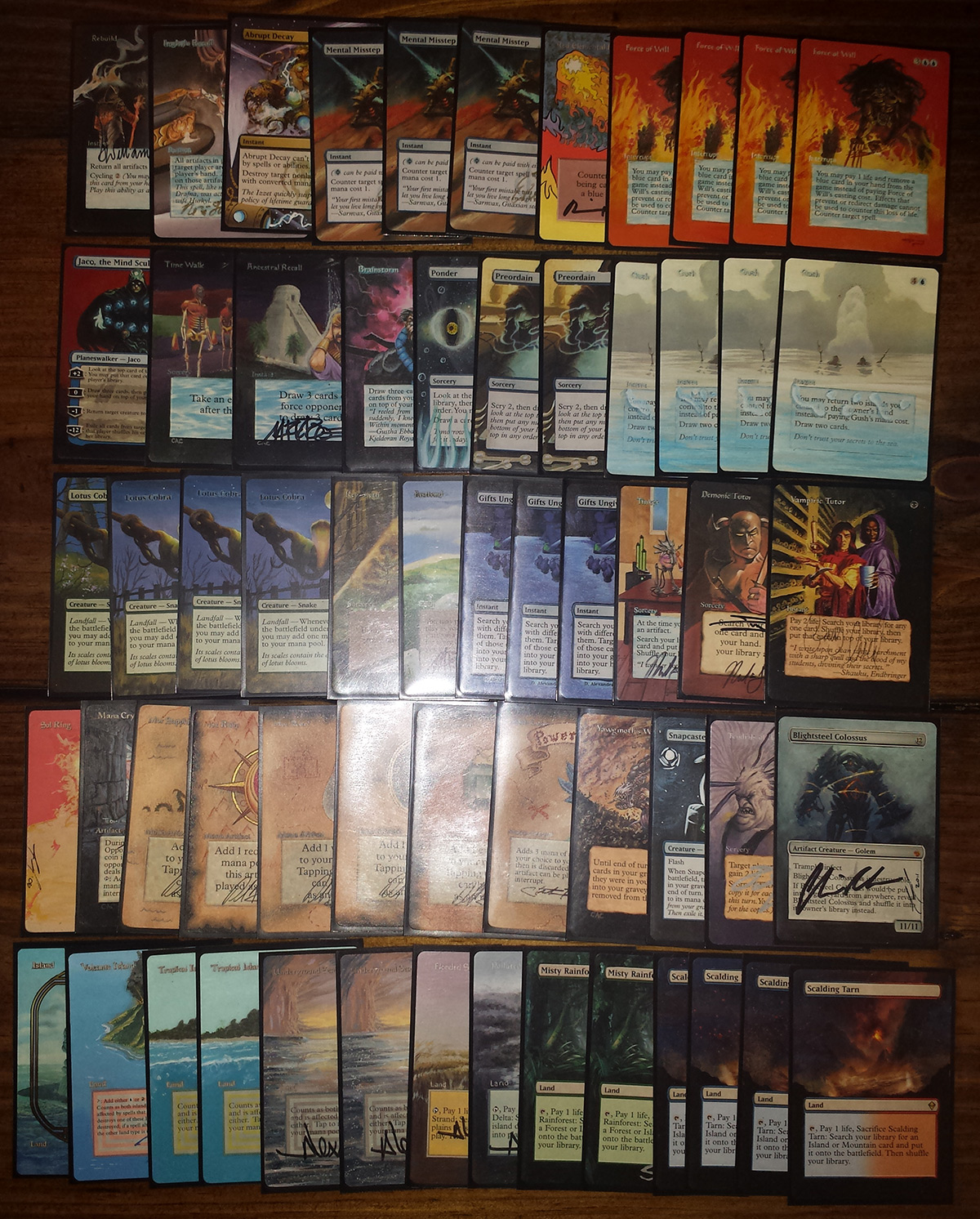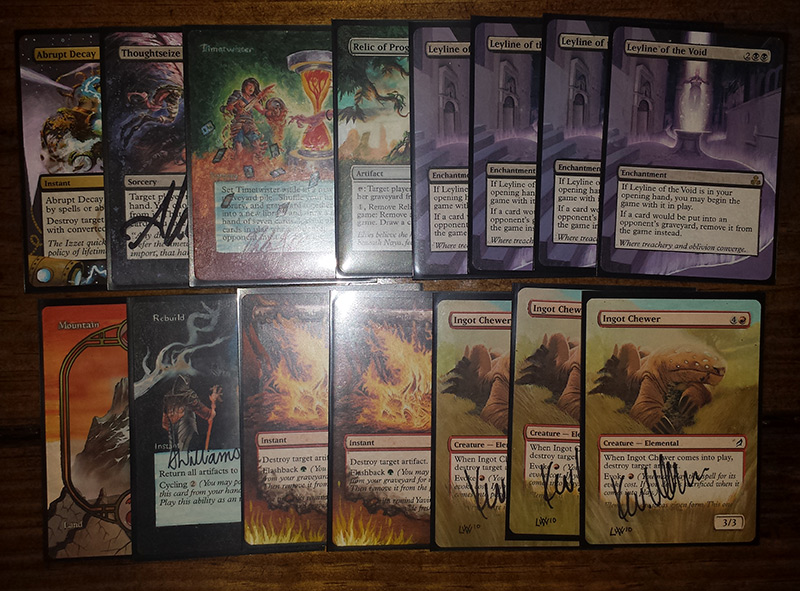 There are plenty of other maindeck and sideboard options (like Dack Fayden, Trygon Predator, Repeal, more Preordains, etc.), but this should give you a good idea of a more focused list to check out, before you branch out and tailor it to your own tastes.
Oath of Gifts
The second deck that I looked at reshaping in my image was none other than Oath of Druids. I love the raw power of Griselbrand, and look for every opportunity to play it in any format where it's legal. But I don't love the fact that standard Oath lists have lots of dead draws, and lots of times where you're digging for part of your 'combo' and just keep drawing garbage. What if we could turbo-charge Oath to be a more threat-dense deck? After trying numerous other draw engines from Night's Whisper to Gush to Preordain in modern Oath decks, I was never really happy with any of them, as there were simply too many times where you have mediocre cards and dead draws. Dig Through Time seems tailor-made for Oath in an ideal world, but the reality is you don't quite fill your graveyard up fast enough to make Dig shine.
Enter Gifts Ungiven. When playing Oath I nearly always want to have the backup plan of assembling Voltaic Key + Time Vault, and cards like Tinker and Gifts Ungiven just happen to be very good at helping achieve this goal, while providing additional reach or assembling our Oath combo (or allowing us to get something like Brainstorm and/or Jace to put back creatures stuck in hand).
Oath of Gifts 20151Q, by Jaco
The reasons why I think is a powerful Gifts variant in the coming metagame are plentiful. For one, one of your main bombs (Oath of Druids) can reliably be a turn 1 or turn 2 play (allowing you to curve into your other more expensive threats later), is unaffected by Flusterstorm, Red Elemental Blast, and Mental Misstep, and doesn't rely on the graveyard. It also acts as a trump to the growing ranks of creatures strategies, that will no doubt swell further with the recent release of Monastery Mentor. By fortifying the Oath strategy with multiple copies of Gifts Ungiven you also get greater mid-game threats, and are left holding embarrassing cards like Show and Tell less of the time. Preordain was supposed to be some kind of savior to make Oath more consistent, but all it's ever done for me is make me wish it was another card in this deck. A card like Gifts Ungiven! I also like the UBG shell for Gifts decks because it allows us to naturally run Abrupt Decay as an answer to Grafdigger's Cage, which a lot of people will think is effective against this deck. But when you're running 3+ Abrupt Decays in your 75 you know that Grafdigger's Cage is rarely going to stop you.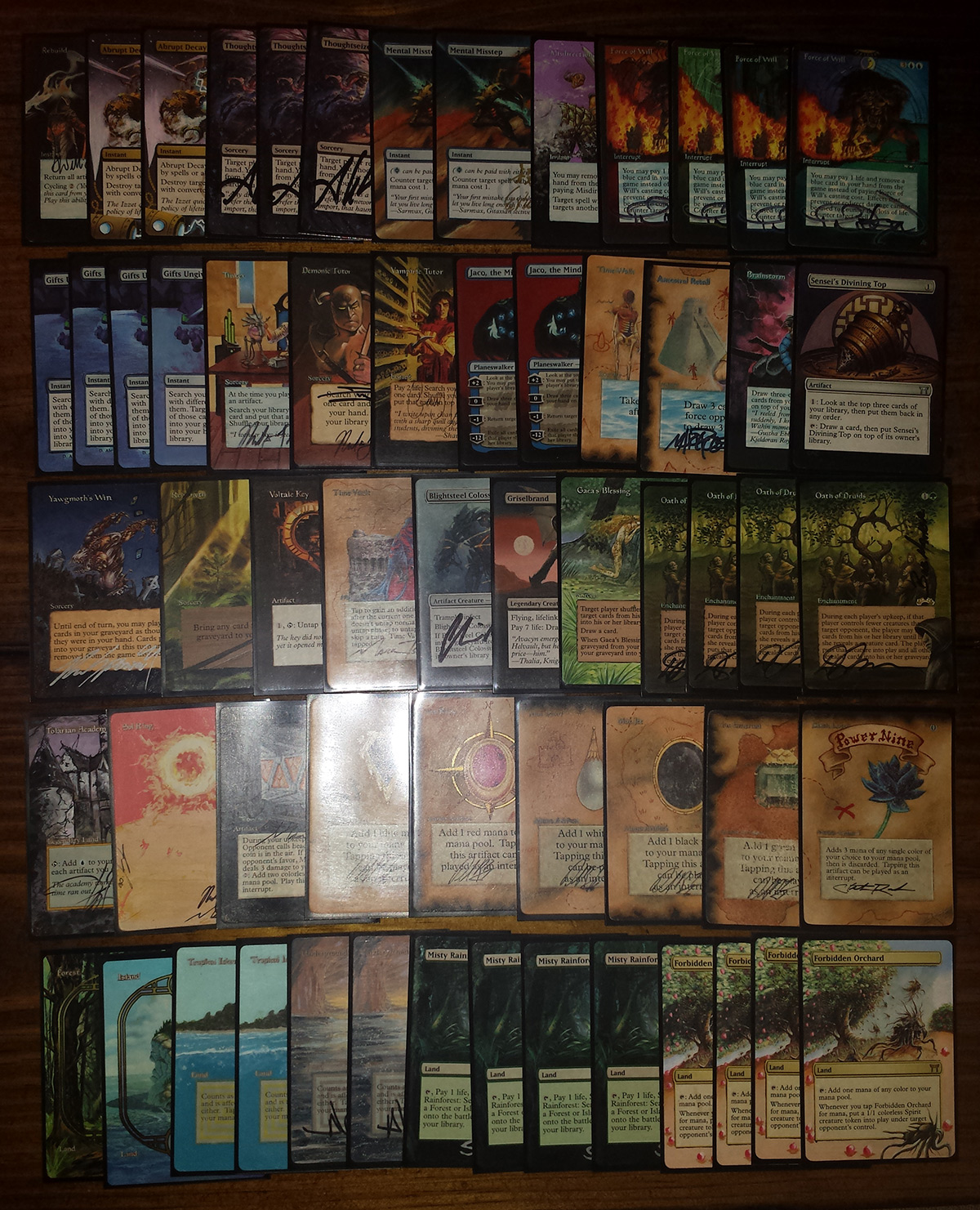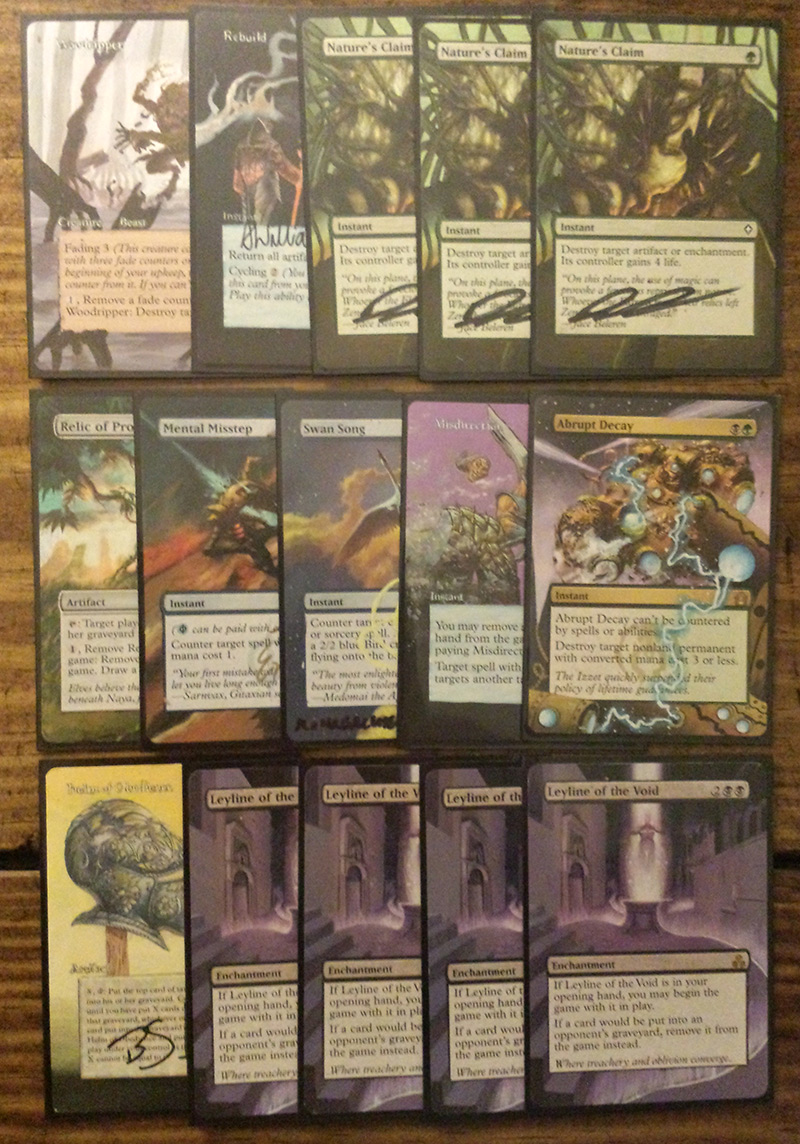 I know that people have this feeling that Oathing into Blightsteel Colossus sucks. But let me ask you this, does Tinkering into Blightsteel Colossus suck? Not really (opposing Jace or Dack Fayden notwithstanding), and that's 1 more mana, and gets countered by Red Elemental Blast and Flusterstorm with ease. Oath of Druids avoids both of those common shenanigans, and is often a turn 1 or turn 2 play, before the opponent has Mana Drain online or has drawn fresh cards. Understandably, it's not as sweet as Oathing into Griselbrand and drawing the motherload of cards, but if Tinker is present to help patch together Key+Vault, then it stands to reason that using Tinker to fetch Blightsteel in the right situation is also worthwhile and a powerful tactic. If you have a ton of Dack Faydens in your metagame Blightsteel might be worth ditching for another Griselbrand, Rune-Scarred Demon, or even Sphinx of the Steel Wind (if your metagame is overrun with URx Delver decks and Dacks), but I'm sticking with it and 1 Griselbrand for the time being. I think the benefits of essentially running 5 Tinkers is worth it. Mana Vault is a debatable inclusion in this deck which I have chosen to forego in this iteration, but if I were playing Thirst for Knowledge I would probably want Mana Vault along for the ride. The synergy with Voltaic Key is nice, and the ability to pump out Gifts and Jaces faster is worthwhile, all while providing another choice for Gifts piles.
It is possible that this deck wants Mana Drain, but I feel like Force of Will and Thoughtseize are necessary, and then anything after that is up for debate. Thoughtseize is important in this deck for being able to strip away not only threats and opposing countermagic, but things like Abrupt Decay that could answer an Oath that you push through. I main have Mental Misstep running alongside in here to make sure Thoughtseize resolves, as well as to shield from Dredge's answers to Leyline and Oath in post-sideboarded games. Misdirection also serves a useful role in shielding your permanents, as well as occasionally stealing an Ancestral Recall.
Some other options worth considering are Dack Fayden, Thirst for Knowledge, Preordains, another Sensei's Divining Top, Mana Vault, another fetchland, and Noxious Revival. It depends on what you consider the "60th card" in the deck. Having at least a couple of ways to filter through extraneous Oaths drawn (not to mention creatures) is a necessity, and at least 3 is standard. I prefer Regrowth over Noxious Revival currently because Regrowth is stronger on its own, and because I hate card disadvantage spells (and the fact that Noxious Revival runs into Misstep), but both of them are worth considering in regards to their applications with Gifts piles. The standard end of turn Gifts for Voltaic Key/Time Vault/Regrowth/Yawgmoth's Will has won me many, many games over the years. Playing multiple Gifts in this deck almost doesn't seem fair.
I'm not sure what the most degenerate Gifts deck is, but hopefully we've introduced enough different variants during out #GiftsWeek to pique your curiosity, and to get the wheels spinning in your head. Thanks for reading, and while you're here, click around and read some of our other great articles and check out our sweet podcasts too!