This past week the 4Seasons tournament organizing group hosted another weekend full of exciting Magic events, in Bologna (Italy). The Vintage tournament was held on Saturday, November 23, and gathered 32 players, which meant 6 rounds of Swiss, followed by a cut to Top 8 playoff.

There was no official coverage in English of the event, so most of this is derived from the 4Seasons Facebook page here, as well as some Twitter posts, and adapted here with our analysis for digestion by English speaking audiences.
Continuing the recent trend of where the Magic Online metagame has been pacing Vintage, the 4Seasons Vintage tournament showcased a Top 8 that was stacked with Paradoxical Outcome variants, accounting for half of the Top 8 finishing decks. The second place deck was Bernardo Brogi's The Perfect Storm, which stands out among a field of combo decks, as it's able to pack 4 discard spells together with 4 Force of Will (as well as various bounce spells). 2019 North American Vintage Champion Joe Brennan made the trip overseas with a handful of Americans, and was one of two BUG decks that also made the elimination rounds. Rounding out the Top 8 was Gabriele Fattorini's White Eldrazi, sporting a full 4 copies of Deafening Silence main deck (another gift from Throne of Eldraine).
The restrictions of Karn, Mystic Forge, Mental Misstep, and now Narset, have greatly shaped the Vintage metagame the past couple of months. The restrictions of Narset and Mental Misstep in particular are really pushing Paradoxical Outcome to the top stratosphere (both in paper Magic events and on Magic Online), so it will be interesting to see how Jeskai, BUG, Pitch Dredge, and the various other potential counterweights in the format respond over the next few months.
Top 8 Decklists
Outcome 4C, by Giovanni Montecchi– 1st Place
The Perfect Storm, by Bernardo Brogi – 2nd Place
Outcome 4C, by David Ioffini – 3rd Place
BUG, by Joe Brennan – 4th Place
Outcome 4C, by Filippo Cervellati – 5th Place
Outcome 4C, by Justin Gennari – 6th Place
BUG, by Riccardo Speranza – 7th Place
Eldrazi White, by Gabriele Fattorini – 8th Place
Tournament Action
Top 8 Competitors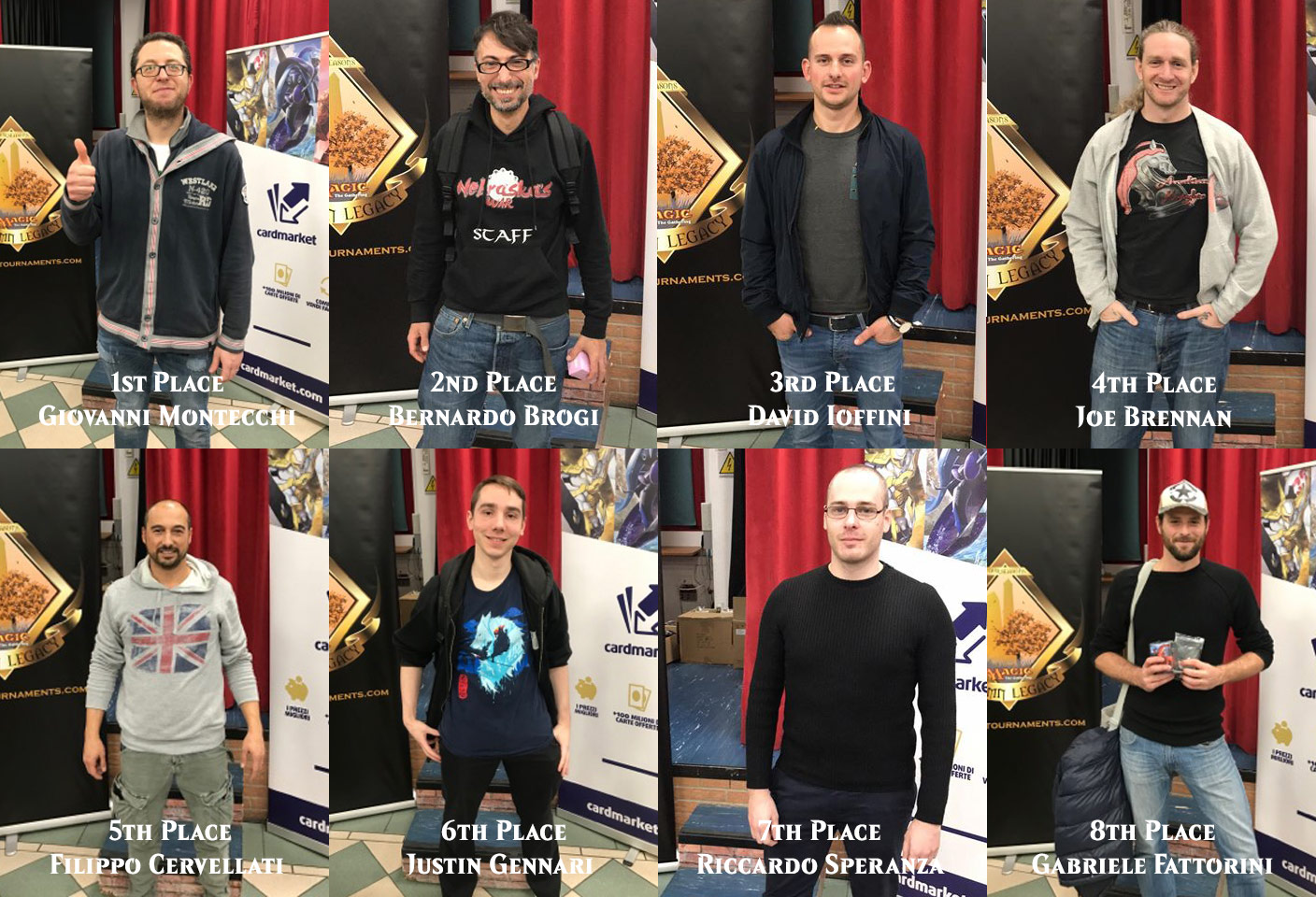 — 4SeasonsTournaments (@4Tournaments) November 23, 2019
Look at that, table 1. @CyrusCGmtg pic.twitter.com/WK2Yojdunt

— Eric Landon (@Ewlandon1) November 23, 2019
Thanks for reading, and we'll catch you next time.