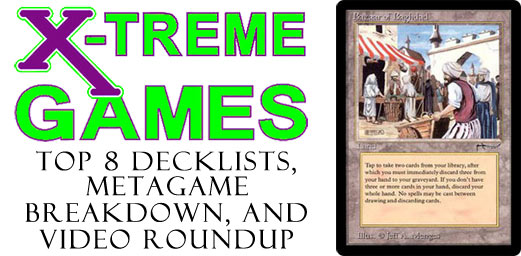 On November 21 2011 at Xtreme Games in Lindenhurst, IL (USA), a Vintage showdown was held. A car full of players from the Ohio chapter of Team Serious drove out, and a number of local players from throughout Wisconsin, Illinois, and Indiana all made the trek, giving us 26 players in all, duking it out for the cash money.

Thanks go out to Xtreme Games owners Eric and Shannon for hosting yet another great Vintage tournament, and continuing to support the community when few others do. Props also go out to Jimmy Lord of the Cats McCarthy for awesome audio-video coverage. Check out the Top 8 results and decklists, a metagame breakdown, and a video roundup below!
Metagame Report
Workshop Variants
1 Null MUD
1 Slash Panther MUD
1 Smokestack MUD
Bazaar Variants
1 Minus Six (Worldgorger combo with transformational Tezzeret-Key Vault Sideboard)
2 Sun Titan Dredge
Straight Aggro Variants
1 RG Beats (Null Rod, Magus of the Moon, Chalice of the Void, etc.)
1 Goblins (with Magus of the Moon)
Oath of Druids Variants
1 Rune Scarred Oath
1 Tidespout Tyrant Oath
Gush Variants
1 Remora Gush Tendrils
1 Cobra Gush Tendrils
1 Snapcaster Dryad Gush (could also be classified as a Snapcaster deck)
1 Doomsday Maniac Gush
Snapcaster Decks
1 Snapcaster or Fiction
1 Snapcaster Confidant Control UB
1 Snapcaster Confidant Control UBR
1 Snapcaster Confidant Control UBG
Other Decks
1 Tezzeret Key Vault
1 Bomberman
1 5C Charbelcher
Landstill Variants
1 UR Firefish/Landstill
1 UBR Confidant Landstill
1 UBR Landstill
1 Artifact Aggro Infect Landstill (w/ Necropede, Chalice, Ravager, Inkmoth Nexus, etc.)
For those keeping score at home, that was 25 unique decks out of 26 players in the room. BOOM.
Top 8 Results
Quarter-Finals
Ben Carp (Rune Scarred Oath) defeats Danny Friedman (Snapcaster or Fiction Control UBR) 2-1
Joel Wood (Snapcaster Confidant Control UBR) defeats Jason Jaco (NULL MUD) 2-1
Travis Heipp (Firefish/Landstill UR) defeats Jimmy McCarthy (Serious Salvagers)
Chris Nighbor (Sun Titan Dredge) defeats James King (Remora Gush)
Semi-Finals
Ben Carp (Rune Scarred Oath) defeats Joel Wood (Snapcaster Confidant Control UBR)
Chris Nighbor (Sun Titan Dredge) defeats Travis Heipp (Firefish/Landstill UR)
Finals
Chris Nighbor (Sun Titan Dredge) defeats Ben Carp (Rune Scarred Oath)
Top 8 Decklists
Chris Nighbor, 1st place
Sun Titan Dredge
Business (46)
4 Bazaar of Baghdad
4 Serum Powder
4 Narcomoeba
4 Stinkweed Imp
2 Golgari Thug
4 Golgari Grave Troll
2 Ichorid
4 Bloodghast
2 Fatestitcher
3 Sun Titan
1 Flame-Kin Zealot
3 Dread Return
4 Bridge from Below
4 Cabal Therapy
1 Ancestral Recall
Mana Sources (14)
1 Black Lotus
1 Lion's Eye Diamond
1 Lotus Petal
1 Mox Sapphire
1 Dakmor Salvage
2 Cephalid Coliseum
4 Undiscovered Paradise
3 City of Brass
Sideboard (15)
4 Chain of Vapor
4 Nature's Claim
2 Darkblast
2 Firestorm
2 Ancient Grudge
1 Elesh Norn, Grand Cenobite
Ben Carp, 2nd place
Rune Scarred Oath
Business (36)
4 Force of Will
2 Mental Misstep
2 Flusterstorm
3 Mana Drain
1 Sensei's Divining Top
3 Preordain
1 Brainstorm
1 Ponder
1 Ancestral Recall
1 Time Walk
2 Jace, the Mind Sculptor
1 Vampiric Tutor
1 Demonic Tutor
1 Yawgmoth's Will
1 Gaea's Blessing
4 Oath of Druids
3 Rune-Scarred Demon
1 Time Vault
1 Voltaic Key
1 Nihil Spellbomb
1 Noxious Revival
Mana Sources (24)
1 Black Lotus
1 Mox Emerald
1 Mox Jet
1 Mox Pearl
1 Mox Ruby
1 Mox Sapphire
1 Mana Crypt
1 Sol Ring
1 Tolarian Academy
4 Forbidden Orchard
4 Misty Rainforest
3 Underground Sea
2 Tropical Island
2 Island
Sideboard (15)
2 Nihil Spellbomb
3 Tormod's Crypt
2 Extirpate
1 Pithing Needle
1 Tinker
1 Blightsteel Colossus
1 Hurkyl's Recall
1 Steel Sabotage
2 Nature's Claim
1 Forest
Joel Wood, 3rd place
Snapcaster Confidant Control UB
Business (36)
4 Force of Will
3 Mental Misstep
2 Flusterstorm
3 Mana Drain
1 Hurkyl's Recall
1 Fire/Ice
3 Snapcaster Mage
4 Dark Confidant
1 Brainstorm
1 Ancestral Recall
1 Time Walk
1 Thirst for Knowledge
2 Jace, the Mind Sculptor
1 Mystical Tutor
1 Vampiric Tutor
1 Demonic Tutor
1 Merchant Scroll
1 Tinker
1 Blightsteel Colossus
1 Yawgmoth's Will
1 Voltaic Key
1 Time Vault
Mana Sources (24)
1 Black Lotus
1 Mox Emerald
1 Mox Jet
1 Mox Pearl
1 Mox Ruby
1 Mox Sapphire
1 Mana Crypt
1 Sol Ring
1 Library of Alexandria
1 Polluted Delta
1 Flooded Strand
2 Scalding Tarn
2 Misty Rainforest
4 Underground Sea
2 Volcanic Island
3 Island
Sideboard (15)
4 Leyline of the Void
2 Yixlid Jailer
1 Tormod's Crypt
4 Energy Flux
2 Red Elemental Blast
1 Lightning Bolt
1 Hurkyl's Recall
Travis Heipp, 4th place
Firefish/Landstill UR
Business (37)
4 Force of Will
2 Misdirection
1 Mindbreak Trap
2 Mental Misstep
2 Flusterstorm
1 Red Elemental Blast
3 Spell Snare
1 Steel Sabotage
1 Brainstorm
1 Ancestral Recall
1 Time Walk
4 Standstill
3 Jace, the Mind Sculptor
1 Grim Lavamancer
2 Ninja of the Deep Hours
1 Thada Adel, Acquisitor
2 Vendilion Clique
2 Crucible of Worlds
3 Null Rod
Mana Sources (24)
1 Black Lotus
1 Mox Ruby
1 Mox Sapphire
1 Strip Mine
4 Wasteland
4 Mishra's Factory
1 Polluted Delta
4 Scalding Tarn
4 Volcanic Island
2 Island
1 Mountain
Sideboard (15)
3 Relic of Progenitus
2 Pithing Needle
3 Energy Flux
1 Red Elemental Blast
3 Pyroclasm
2 Sower of Temptation
1 Steel Sabotage
Jason Jaco, 5th place
NULL MUD
Business (34)
4 Chalice of the Void
4 Null Rod
4 Sphere of Resistance
4 Thorn of Amethyst
1 Trinisphere
3 Tangle Wire
1 Smokestack
4 Phyrexian Metamorph
4 Lodestone Golem
2 Precursor Golem
3 Duplicant
Mana Sources (26)
1 Black Lotus
1 Mox Emerald
1 Mox Jet
1 Mox Pearl
1 Mox Ruby
1 Mox Sapphire
1 Mana Crypt
1 Sol Ring
1 Tolarian Academy
4 Mishra's Workshop
4 Ancient Tomb
1 City of Traitors
1 Strip Mine
4 Wasteland
3 Ghost Quarter
Sideboard (15)
1 Duplicant
3 Steel Hellkite
2 Precursor Golem
4 Leyline of the Void
3 Relic of Progenitus
2 The Tabernacle at Pendrell Vale
Jimmy McCarthy, 6th place
Serious Salvagers
Business (36)
4 Force of Will
1 Misdirection
2 Flusterstorm
4 Mana Drain
1 Hurkyl's Recall
1 Ancestral Recall
1 Brainstorm
1 Time Walk
1 Thirst for Knowledge
2 Jace, the Mind Sculptor
1 Gifts Ungiven
1 Vampiric Tutor
1 Demonic Tutor
1 Merchant Scroll
1 Tinker
1 Blightsteel Colossus
1 Yawgmoth's Will
1 Snapcaster Mage
2 Auriok Salvagers
4 Trinket Mage
1 Pithing Needle
1 Nihil Spellbomb
1 Engineered Explosives
1 Aether Spellbomb
Mana Sources (24)
1 Black Lotus
1 Mox Emerald
1 Mox Jet
1 Mox Pearl
1 Mox Ruby
1 Mox Sapphire
1 Mana Crypt
1 Sol Ring
1 Library of Alexandria
1 Tolarian Academy
4 Flooded Strand
1 Polluted Delta
3 Tundra
2 Underground Sea
2 Island
1 Snow Covered Island
1 Plains
Sideboard (15)
1 Swords to Plowshares
1 Seal of Cleansing
1 Pithing Needle
1 Mindbreak Trap
2 Steel Sabotage
1 Balance
2 Honor the Fallen
1 Nihil Spellbomb
2 Energy Flux
1 Disenchant
2 Yixlid Jailer
Danny Friedman, 7th place
Snapcaster or Fiction Control UBR
Business (36)
4 Force of Will
2 Mental Misstep
2 Flusterstorm
1 Red Elemental Blast
4 Mana Drain
1 Chain of Vapor
1 Rebuild
1 Fire/Ice
3 Snapcaster Mage
1 Sensei's Divining Top
1 Brainstorm
1 Ancestral Recall
1 Time Walk
1 Thirst for Knowledge
3 Fact or Fiction
1 Gifts Ungiven
1 Vampiric Tutor
1 Demonic Tutor
1 Merchant Scroll
1 Tinker
1 Blightsteel Colossus
1 Yawgmoth's Will
1 Voltaic Key
1 Time Vault
Mana Sources (24)
1 Black Lotus
1 Mox Emerald
1 Mox Jet
1 Mox Pearl
1 Mox Ruby
1 Mox Sapphire
1 Mana Crypt
1 Sol Ring
1 Mana Vault
1 Tolarian Academy
4 Scalding Tarn
1 Misty Rainforest
3 Underground Sea
2 Volcanic Island
4 Island
Sideboard (15)
2 Relic of Progenitus
3 Yixlid Jailer
2 Tormod's Crypt
1 Pyroblast
2 Lightning Bolt
3 Ingot Chewer
1 Viashino Heretix
1 Mountain
James King, 8th place
Remora Gush
Business (39)
4 Force of Will
4 Mental Misstep
1 Flusterstorm
2 Mana Drain
1 Mindbreak Trap
1 Hurkyl's Recall
4 Gush
4 Mystic Remora
3 Preordain
1 Brainstorm
1 Ancestral Recall
1 Time Walk
1 Timetwister
2 Jace, the Mind Sculptor
1 Mystical Tutor
1 Vampiric Tutor
1 Demonic Tutor
1 Merchant Scroll
1 Tinker
1 Blightsteel Colossus
1 Yawgmoth's Will
1 Fastbond
1 Tendrils of Agony
Mana Sources (21)
1 Black Lotus
1 Mox Emerald
1 Mox Jet
1 Mox Pearl
1 Mox Ruby
1 Mox Sapphire
1 Mana Crypt
1 Sol Ring
4 Polluted Delta
3 Misty Rainforest
2 Underground Sea
2 Tropical Island
2 Island
Sideboard (15)
4 Leyline of the Void
2 Yixlid Jailer
1 Extirpate
2 Duress
1 Flusterstorm
2 Nature's Claim
3 Hurkyl's Recall
Video Roundup
Team Serious Open 11-21-2011 – Finals – Chris Nighbor (Sun Titan Dredge) vs Ben Carp (Rune Scarred Demon Oath)

Team Serious Open 11-21-2011 – Semi-Finals – Chris Nighbor (Sun Titan Dredge) vs Travis Heipp (UR Firefish/Landstill)

Team Serious Open 11-21-2011 – Quarter-Finals – Ben Carp (Rune Scarred Demon Oath) vs Danny Friedman (Fact or Snapcaster)

Team Serious Open 11-21-2011 – Round 5 Feature Match – Brandon Adams (Maniac Doomsday) vs Joel Wood (Snapcaster Confidant Control UBR)

Team Serious Open 11-21-2011 – Round 4 Feature Match – Geoff Moes (UBR Landstill) vs James King (Remora Gush)

Team Serious Open 11-21-2011 – Round 3 Feature Match – Justin Eveland (Goblins) vs Mike Solymossy (Tyrant Oath)

Team Serious Open 11-21-2011 – Round 2 Feature Match – Jerry Yang (Snapcaster Confidant Control UB) vs Richard Hanning (Snapcaster Confidant Control UBG)

Team Serious Open 11-21-2011 – Round 1 Feature Match – Jason Jaco (NULL MUD) vs Mike Solymossy (Tyrant Oath)
NOTE: Jaco wins match 2-1, but third game won by Jaco not recorded/unseen due to technical issues