"If I have seen further it is by standing on the shoulders of Giants."
-Isaac Newton
Never forget the people that helped you get to where you are today.
I've taken advice and suggestions about Vintage from anyone and everyone since I started playing competitive Vintage seriously in 2007. The insight and knowledge I've gleaned in that time has undoubtedly made me the player I am today.

Don't get me wrong. I'm not saying I'm the best Vintage player in the United States. I'm not even the best Vintage player from the state of Pennsylvania. But for one Saturday with my friends at my side, I felt like I couldn't lose.
I could bore you and list off the names of all the people that have ever helped me. I won't do that. Those people know who they are because every time I do well, it's a win for them, too. My success is their success and vice versa. To you, I say thank you.
"Surround yourself with people who make you happy. People who make you laugh, who help you when you're in need. People who genuinely care. They are the ones worth keeping in your life. Everyone else is just passing through."
-Karl Marx (composer)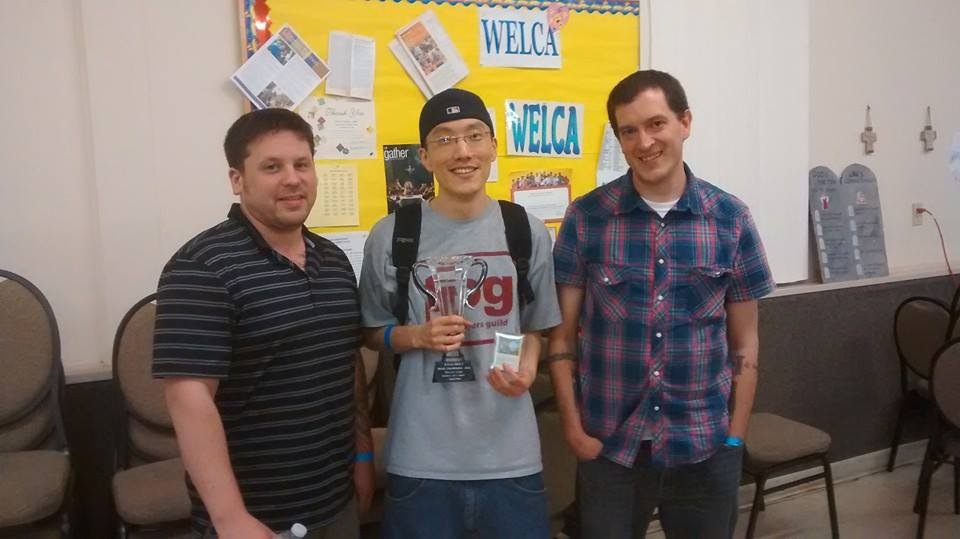 N.Y.S.E. Open II Team Winners
I've borrowed cards to get under the proxy limit. I've borrowed entire decks. I've had friends pay for entry fee or a meal when I didn't have the money. I'm surrounded by people who are more concerned about how I'm doing outside of Magic instead of the standings. I know when they ask, "How are you doing?", they don't mean my win/loss record. I consider myself very blessed to call so many upstanding Vintage players as friends.
People like this can make an 0-X day feel like you won every game. 0-2 drop? That's not in my vocabulary. If you and your opponent have never agreed to mull to zero and play off the top while in the Whip Vine bracket, you're missing out. It's just a game; remember to have some fun.
Round 1 vs. Mike Ruggiero (playing Oath)
I passed during extra turns knowing my Jace, the Mind Sculptor on 13 wouldn't be enough. I needed to win with the five Spirit tokens he had given me. He tried to Nature's Claim his own Mox Emerald while at two life. I had the Abrupt Decay.
1-0, 2-1
This will definitely not be a primer on Oath. I'll leave that to the more experienced, better skilled pilots out there. The last and only other time I played Oath past the Swiss rounds was April of 2011. My Oath targets for that event were Tidespout Tyrant, Eternal Witness, Emrakul, the Aeons Torn, and Iona, Shield of Emeria out of the board. In today's metagame, it would roll over to most decks.
I piloted this list to a 3rd/4th place finish at Blue Bell Games Day 14:
Japanese
Things have changed a little since then.
Three years and a few sets later, Oath seemed like one of the handful of decks that could win a large tournament. Plus, cheating in 7/7 flying lifelinkers with Yawgmoth's Bargain attached sounded like a fun time to me. Beyond updating my Oath targets, though, I wasn't quite sure where to begin. There was a lot of data to sift through to try and find an optimal list, and I wouldn't even know what one looked like if I found it. I figured there was no better place to start than with one of the giants.
Oath,
The difference between his list and the one I ran at the N.Y.S.E. Open II is only four cards. Two of them cosmetic (-1 Misty Rainforest and -1 Polluted Delta for +1 Scalding Tarn and +1 Flooded Strand), and the other two are minor sideboard tweaks (-1 Forest and -1 Nihil Spellbomb for +1 Wasteland and +1 Progenitus). You can see all 92 decklists from the Open here.
I made the decision to play Oath at the N.Y.S.E. Open II only six weeks beforehand even though I owned less than 50% of the deck. It took a good deal of effort, none of it my own, to track down the remaining cards. During the players' meeting, I sleeved up the final five cards of the deck, which I had almost forgot to acquire and received only seconds earlier. Two of those cards were Oath of Druids. Let me repeat that. I almost forgot to include two Oath of Druids in my Oath deck. I'm no expert on Oath.
"I'd rather be lucky than good."
-Lefty Gomez
Round 2 vs. Matt Santos (playing Smokestack Workshops)
There was no counter, sac, tap, fade haiku these games. Swinging with Griselbrand on the other hand…
2-0, 4-1
I'm a Shops player at heart. I had an amazing run with Martello (Forgemasters) in 2012 and early 2013. My confidence was at an all-time high, and playing a deck with four, reusable Tinkers was a blast. When the frequency of my top eights slowed, I began to question not only the deck but myself as well. With my confidence shaken, I tried one version after another of Martello. None of the changes I made seemed to work. It was a struggle winning individual games let alone a match or a whole tournament. I couldn't explain why or how I was losing.
It's what they would call the yips in sports. I didn't suffer from an inexplicable loss of motor skills like Rick Ankiel or Chuck Knoblauch — I wasn't playing 60-card pickup every time I shuffled — but I felt like I completely forgot how to play Magic overnight. Missing obvious plays, chalking up my wins to luck or my opponent getting unlucky, making all kinds of mistakes – you name it, I did it. I was defeated before the match even started. Worst of all, I wasn't enjoying playing this game. I got too caught up with winning for a few months that I forgot why we play this game.
Never lose sight of the big picture. Win, lose, or draw. It shouldn't matter at the end of a day of slinging Vintage cards. We play this game to have fun. Maybe you revel in the competition. Maybe you like the long road trips with friends. Or maybe you enjoy the company of the best community in Magic. If you're like me, you play this game for all these reasons. I just needed a reminder.
"Every strike brings me closer to the next home run."
-Babe Ruth
Round Three vs. Justin Navickas (playing Oath)
I dismissed Jace as an over-costed Brainstorm when it was first spoiled. I couldn't have been more wrong. The card that I once scoffed at carried me to victory.
3-0, 6-2
When I first got into competitive Vintage while attending Penn State University, I was fortunate to be surrounded by good people who instilled those quality values in me early on. Test sessions weren't about honing our craft as much as they were an excuse for friends to hang out until the wee hours of the morning. We were a happy-go-lucky group that focused on the experience, not the result. Any day of Vintage was a good day to us.
My mindset at that time was epitomized at a Waterbury a decade or so ago. I purposely went 0-X after a horrible start in order to get the last-place prize of a foreign pack of Homelands and had more fun doing that than most people who top eight. The excitement of cracking that $3 pack of French Homelands was priceless. Those words have never been uttered before and probably won't ever be said again.
After straying from these principles, I needed to get back to this frame of mind. A wacky homebrew or two was the perfect cure. Playing rogue decks alleviated the pressure I put on myself to win. Rogue meaning unorthodox, not the creature type Rogue; I wasn't that crazy. With no expectations going in, a funny thing happened. I got back to enjoying myself, playing well, and analyzing things clearly.
"The battles that count aren't the ones for gold medals. The struggles within yourself – the invisible battles inside all of us – that's where it's at."
-Jesse Owens
Round 4 vs. Matt Bevenour (playing Merfolk)
I finally won a die roll to start a match and prepared to face TPS. Silvergill Adept?! I tried to contain the shock while I shifted my game plan.
4-0, 8-3
After I got back on track, I refocused my attention toward my goal – make 50 Vintage top eights in tournaments with at least five rounds of Swiss. It was an unusual goal, but it motivated me to succeed. I didn't start playing Vintage with this goal in mind. Like most, I started small. Finish with a winning record and make a top eight in the early years quickly turned into make 10 top eights and make 25 top eights. Going into the N.Y.S.E. Open II, I checked and double-checked my totals. Forty-nine top eights.
Fifty was the most rewarding of them all.
In Magic, like every other aspect of life, it is important to set goals for yourself. Reach those goals, then raise the bar. Learn and improve from every tournament, if not every match. Improvement is constant but gradual. Each small step forward will bring you that much closer to your goals.
"Our plans miscarry because they have no aim. When a man does not know what harbor he is making for, no wind is the right wind."
-Seneca
Round 5 vs. Michael Scheffenacker (playing Metalworker Shops)
Nothing could stop an active Progenitus and Griselbrand except a pesky Mana Crypt roll while at two life. Evens is damage…
5-0, 10-3
You do not need to make the journey to achieve your goals alone. Self-improvement can only take you so far. Your playgroup plays an integral role that is equally important. Raise your standard of play and you will raise the play of those around you. The giants of Vintage I routinely do battle with have certainly elevated my game. In turn, I hope I have improved their game as well. Do not shy away from a chance to play against a high-caliber opponent. Relish the opportunity and learn from it.
"To be the man, you gotta beat the man!"
-Ric Flair
Top 8 Quarterfinals vs. Stephen Menendian (playing RUG Delver)
In game three I was given the window to Show and Tell a Griselbrand into play. A few more things needed to go my way. The outcome hung in the balance until I top decked the polyvalent, blue planeswalker. One match down; two to go.
1-0, 2-1
There are many factors of this amazing game that you cannot control. Don't stress over these petty things. Concentrate your energy on the aspects you can influence. You cannot foresee exactly what decks you'll be facing any given tournament, but you can prepare for every one of them. Some games will be un-winnable no matter how tight you play. Worry about the ones you can win. Forget the game where you lose six Mana Crypt rolls in a row or draw five-consecutive mana sources when you needed business. The good will outweigh the bad in the long run.
"I never think of the future. It comes soon enough."
-Albert Einstein
Top 4 Semifinals vs. Michael Scheffenacker
I turned the tools of Shop pilots against them today. Strip Mine answered Cavern of Souls on Shapeshifter. Griselbrand quickly offset the life gain from Nature's Claim.
2-0, 4-2
Do things on your terms. Learn from experience and make some mistakes. You'll be far better off doing what you believe is right than blindly following convention. Stick to your convictions and don't be afraid to challenge the status quo. The next time you see a decklist you like, I encourage you to test it yourself. Critically analyze individual card choices and make it your own. Skepticism is a wonderful thing.
"I failed my way to success."
-Thomas Edison
Top 8 Finals vs. Keith Seals (playing Metalworker Shops)
My mull to five in game three was not ideal, but it could've been worse. The first two lock pieces were mildly annoying. The third one, however, had legs. I saw my life total decrease in perfect five point increments. Fifteen, ten, five, zero. I could not slay Shops for a fourth time this day.
2-1, 5-4
I shook my opponent's hand in congratulations. My day ended one game short of where I wanted, but I was still immensely happy for an old friend.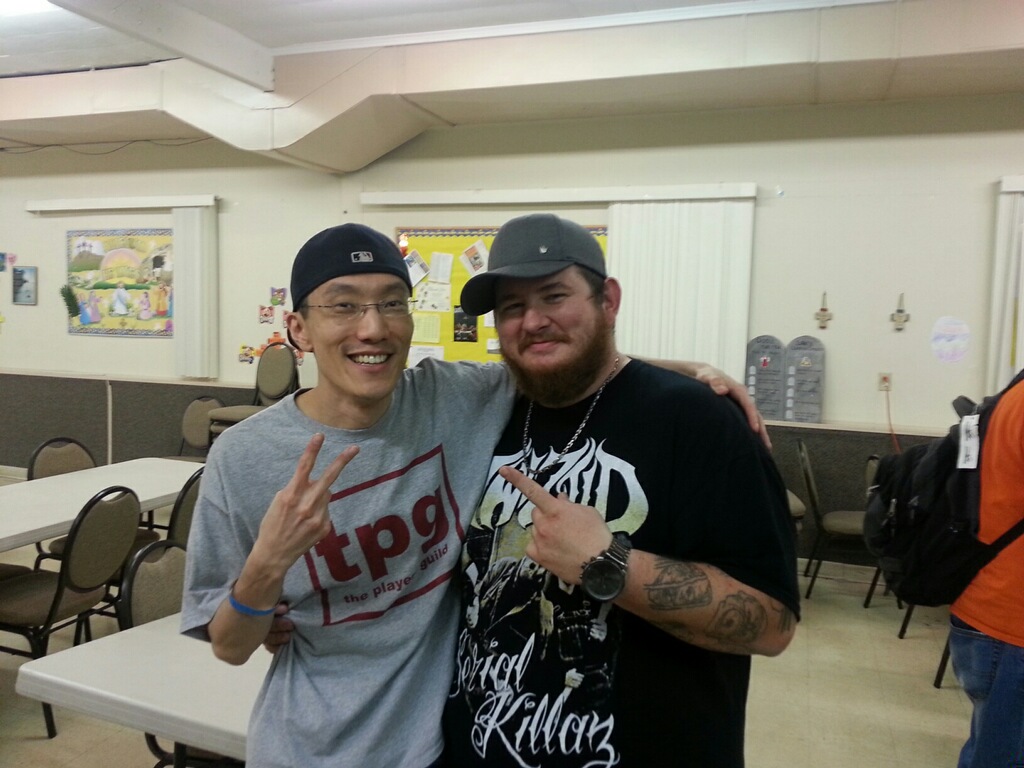 N.Y.S.E. Open II runner-up and winner
The greatest tournament report I've ever read made me a better person. This is not the greatest report in the world. This is just a tribute.