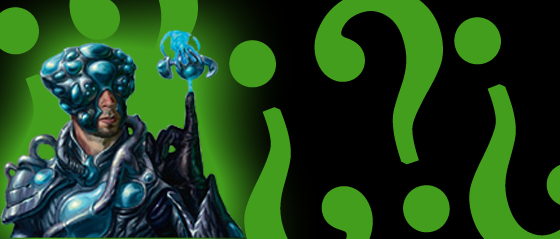 The story starts with the unrestriction of Gush/Frantic Search (20th of September 2010), the DCI granted the vintage community a gift that could not be overlooked. This was actually right on time since 3 weeks later it was the Eternal Weekend. For those who don' t know what it is, I leave you a link here of the coverage done by the EC staff. All this meant that we had to squeeze our brains as much as possible in order to find the correct sinergy for the event. Some days later, Scars of Mirrodin was released with lots of interesting stuff for the King of the formats. After reading it carefully, I found a little jewel, so I started thinking about what it could provide to the vintage format, since its potential is more than obvious: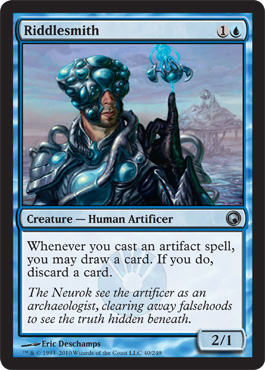 "In a format with so powerful artifacts, most of them staple, this guy must, for sure, have something to say".
At least this was what I thought, so I started to develop a shell to make the most of his special ability, and this is the earliest result of my job:
The
Now, let me explain the main idea, and afterwards I 'll give you an accurate description of the cards choices.
The first thing one should notice about Riddlesmith's ability is that it doesn' t provide card advantage, just a nice cycling effect. Moreover, as it is triggered when you cast an artifact spell, the deck should be built with lots of powerful artifacts. As for the card advantage, I thought of these two engines: Gush + Fastbond and Draw7's (these are cards that let you refill the hand while playing in your turn). Gush will provide you with 4 extra cards (which can be cycled with Riddlesmith if necessary), while being a good engine on its own in order to assemble the Voltaic Key + Time Vault or Brainfreeze-ing your opponent. Regarding the D7, well, they give you 7 new cards, and since more than ¼ of the deck are artifacts, you will end up with at least two new fresh artifacts to cycle on average, along with more draw cards and some tutors. As I stated before, all this cycling isn't pointless but it has a clear goal which is to assemble Key + Vault or to generate enough storm to deck your opponent out with the single Brainfreeze. For all this, I would say this deck is half way between Almost blue and Steel City Vault.
Here are the reasons why I added every single card:
Let me now talk about the evolution of the deck and I'll explain the sideboard afterwards.
The deck was performing quite good for me, so I decided to play it in the Eternal Weekend, but obviously, there were things that still had to be changed from the initial incarnation. After playing against combo/control decks (Drain tendrils and the like…) I saw that they could outrace me very frequently and this made me change the 2x Spell Pierce in the side for 2x Mindbreak Trap extra (Thanks to Alex Delgado for those last minute games before the tournament).
Then, the night before the event I had some revealing chats with my trip-mates (and friends). One of them (Xavier Muntada) asked me why I didn't run Repeal in the deck since it seemed very good, not only for its cantrip nature, but also because it allowed me to replay an artifact and abuse of Riddlesmith once again. However, the most important fact is that it works as a great answer to a Null Rod, what, as you may think, could be very annoying, so I tried to fit some of them and managed to add 2 (and actually, I think this is the right number). Another mate (Guillem Ragull, who became later a finalist of the Eternal Weekend, and Legacy All Stars event) suggested me to add the 3rd Spell Pierce, as having only 2 of them seemed to be a bit random. His argument was that I should maximize the first turn answers to my opponent's threats; and he also mentioned that Wheel of Fortune seemed to be weak for being off color, and the only thing it would do would be weakening my mana base.
The following list was the result, and the one I played in the Eternal Weekend (with a final result of 5-3):
The
I knew that the Eternal Weekend was going to be a test for the deck, more than a tournament where I could compete in, because the deck was in its very early stage of development. So, once back at home, I started to reconsider what happened there and what I should have needed in order to improve the list. I came up with a card I thought of but never tested in the very early stages, beacuse it seemed very random and dangerous: Helm of Awakening. After adding it to the deck and playing it, I have to say that the card really belongs to this deck since its sinergy with Top + Riddlesmith is an auto Game win. Imagine the following situation: Riddlesmith + 2x SDT online, then play Helm of Awakening, spin the Top to draw a crad, then spin the second Top to draw the first one, replay the first Top for no mana, the Riddlesmith ability triggers so you can draw your second Top and discard the card you drew before, now spin the Top you have on table to Draw a card and play the Top you have in your hand; repeat this process until you find the Brainfreeze (or a Tutor), once you find it, start swapping Tops for free (without drawing from Riddlesmith, since it's NOT COMPULSORY!) until you reach the desired Storm Count, play Brainfreeze for 1 Blue mana and win. This process can obviously be perturbated by the cards you draw in the process, I mean, for instance, if you drew an Ancestral Recall and you had mana to spare, play it, because those 3 additional cards may become, by cycling them, a good protection to the Brainfreeze from a Mindbreak trap, if you feel that you need it. The other interesting addition to the deck was the Robot in the sideboard. In the original scheme of the deck (never played but written many times on a sheet of paper), I played a Robot in the main deck as a Tinker target, but I found it had very bad sinergy with the Hurkyl's Recall (played on me) and Rebuild, thus, I decided to cut it. However, having a Robot in the sideboard was too good against certain match ups, so it finally ended up there. Still, I had to decide which robot to play, the 2 final options were: Inkwell Leviathan and Sphinx of Steel Wind. Guillem suggested adding a Leviathan, because any Fish player would keep his Swords to Plowshares inside the deck for the second, or further games, once he had seen the Riddlesmiths. Apart from that, it also helps against a Jace match up. Xavier, on the other hand, voted for the Sphinx, due to its flexibility. I finally decided to run the Sphinx because it is better in a bigger number of games (as you will see in the sideboarding suggestions below: MUD, GAT) and also against Fish it can give you the time you need most of the times.
This is the final list, and the one I played last week in a local tournament (Top 8, undefeated in the Swiss Rounds, losing to GAT in the top 8):
The
Sideboarding guide:
Fish:
+2 Nature's Claim
+1 Forest
+1 Deathmark
+1 Pithing Needle
+1 Sphinx of the Steel Wind
-1 Island
-1 Spell Pierce
-1 Mana Crypt
-1 Riddlesmith
-1 Rebuild
-1 Hurkyl's Recall
Oath:
+3 Nature's Claim
+1 Forest
+1 Deathmark
+1 Extirpate (only if it pack krosan reclamation or is a combo version)
-1 Island
-1 Rebuild
-1 Hurkyl's Recall
-1 Riddlesmith
-1 Mana Crypt
-1 Repeal (only if you side Extirpate in)
Combo or Combo/Control:
-1 Hurkyl's Recall
-1 Riddlesmith
-1 Mana Crypt
Control:
+1 Extirpate
+1 Mindbreak Trap
-2 Repeal
MUD:
+3 Nature's Claim
+1 Forest
+1 Hurkyl' s Recall
+1 Pithing Needle
+1 Sphinx of the Steel Wind
-1 Brainfreeze
-1 Helm of Awakening
-1 Sensei's Divining Top
-1 Mana Crypt
-1 Gush
-1 Timetwister
-1 Riddlesmith
Ichorid:
+2 Nihil Spellbomb
+1 Extirpate
+1 Ravenous Trap
+1 Pithing Needle
-1 Helm of Awakening
-1 Hurkyl's Recall
-1 Rebuild
-2 Force of Will
GAT:
+2 Mindbreak Trap
+1 Sphinx of the Steel Wind
+1 Deathmark
-1 Hurkyl' s Recall
-1 Rebuild
-1 Mana Crypt
-1 Riddlesmith
Greetings,
Iñaki.