Thanks to the excellent work done by Roger Riera (aka gRR!!) we can enjoy, again, of this excellent metagame breakdown and decklists from the July's LCV tournament.
The winner's deck, named Storm City Bond by Rubén González, brings a new ray of light in this metagame filled with MUD/Fish/VaultKey/Oath/Dredge. If you haven't had the chance to see the videos of Rubén playing SCB you can enjoy them at our Eternal Central TV.
1st
The rest of the decklists, metagame breakdown, etc… after the break!



2nd
Top
Top
Top
Top
Top
Top
1st
Metagame Breakdown:
General Information
Players: 50
Average Points per player: 9,2
Unpowered players: 5 (10,0% from total)
Unpowered Average Points per player: 8,6
Budget players: 2 (4,0% from total)
Budget Average Points per player: 10,5
Top8 new cards
Sadistic Sacrament
Deck breakdown and archetype point average
18 Drain decks (36,0% of metagame, 5/8 of Top 8): 10,7
— 6 Tezzeret Control: 11,8; T4, T8
— 5 Drain Tendrils: 11; T4, T8
— 2 Jacerator: 11
— 1 Storm City Bond: 23
— 1 4 Color Control: 10
— 1 Remora Tezzeret: 6
— 1 Tezzeret Control transformer: 6
— 1 TurboTezz: 0
14 Null Rod decks (28,0% of metagame, 1/8 of Top 8): 7,6
— 4 Noble Fish: 9,5; T8
— 2 U/R/g Fish: 11
— 2 Merfolks: 10,5
— 2 Hexmage Depths: 3,5
— 1 U/W Fish: 9
— 1 B/G/W Zoo: 7
— 1 Living Wish Fish: 3
— 1 U/B/W FishNought: 0
6 Workshop decks (12,0% of metagame): 8,0
— 3 MUD: 9
— 2 Aggro MUD: 6
— 1 Transmuter Slaver: 9
4 Oath decks (8,0% of metagame): 13,0
— 4 Oath: 13; F
3 Ichorid decks (6,0% of metagame): 7,3
— 2 Mana Ichorid: 7,5
— 1 Manaless Ichorid: 7
2 Other archetypes playing Force of Will (4,0% of metagame): 6,5
— 2 Steel City Vault: 6,5
2 Vial decks (4,0% of metagame): 3,0
— 2 Wizards: 3
1 Ritual deck (2,0% of metagame, 1/8 del Top 8): 18,0
— 1 The Perfect Storm: 18; T8
Unpowered deck breakdown and archetype point average
2 Merfolks: 10,5
2 Mana Ichorid: 7,5
1 Manaless Ichorid: 7
The following graphs are written in Catalan, but I'll translate the titles 😉
LCV6 #7 – Deck Breakdown. Inner ring – Top8 | Outer ring – Tournament Total
LCV6 #7 – Number of decks per archetype
LCV6 #7 – % from total players per archetype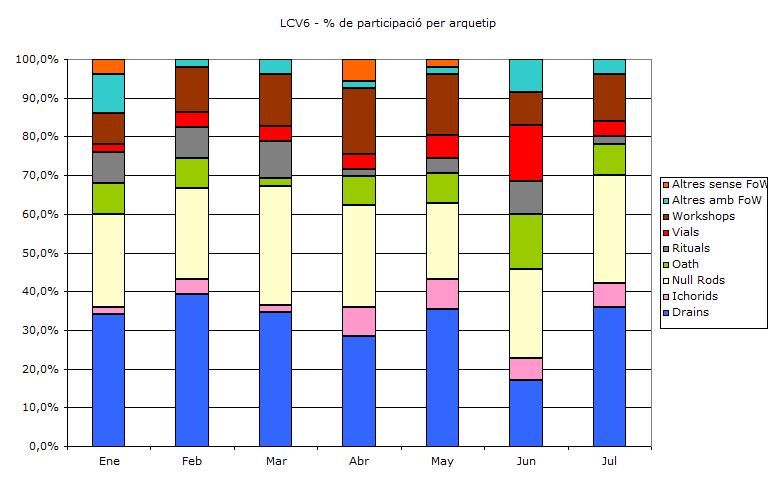 LCV6 #7 – Top8 penetration per archetype
Most played cards
Top 10 lands:
99 Island
84 Wasteland
82 Underground Sea
60 Polluted Delta
55 Flooded Strand
46 Misty Rainforest
46 Volcanic Island
42 Tropical Island
33 Scalding Tarn
29 Tolarian Academy
Top 10 creatures:
58 Dark Confidant
41 Tarmogoyf
23 Qasali Pridemage
20 Lodestone Golem
20 Noble Hierarch
16 Triskelion
15 Sage of Epityr
14 Cursecatcher
14 Ninja of the Deep Hours
13 Vampire Hexmage
Top 10 non-creature spells:
156 Force of Will
73 Mana Drain
59 Spell Pierce
43 Null Rod
40 Mox Sapphire
40 Chalice of the Void
39 Black Lotus
39 Mox Emerald
39 Daze
38 Mox Pearl
Top 10 sideboards:
56 Pithing Needle
40 Relic of Progenitus
38 Nature's Claim
37 Tormod's Crypt
36 Yixlid Jailer
34 Ingot Chewer
26 Hurkyl's Recall
24 Ravenous Trap
20 Leyline of the Void
20 Red Elemental Blast
Top 10 lands played on most decks:
Island on 36
Tolarian Academy on 29
Underground Sea on 28
Polluted Delta on 27
Flooded Strand on 25
Strip Mine on 24
Wasteland on 21
Misty Rainforest on 19
Tropical Island on 19
Volcanic Island on 18
Top 10 creatures played on most decks:
Yixlid Jailer on 18
Dark Confidant on 16
Ingot Chewer on 15
Tarmogoyf on 13
Inkwell Leviathan on 10
Trygon Predator on 8
Sphinx of the Steel Wind on 8
Qasali Pridemage on 7
Terastodon on 7
10 altres creatures on 5
Top 10 non-creature spells played on most decks:
Mox Sapphire on 40
Force of Will on 39
Black Lotus on 39
Mox Emerald on 39
Mox Pearl on 38
Brainstorm on 35
Time Walk on 35
Mox Jet on 34
Ancestral Recall on 33
Mox Ruby on 32
Cards that appear 5 or more times in the Top8 decks:
Force of Will, 32 copies on 8 decks
Island, 18 copies (+1 SB) on 8 decks
Ancestral Recall, 8 copies on 8 decks
Black Lotus, 8 copies on 8 decks
Brainstorm, 8 copies on 8 decks
Mox Emerald, 8 copies on 8 decks
Mox Pearl, 8 copies on 8 decks
Mox Sapphire, 8 copies on 8 decks
Mystical Tutor, 8 copies on 8 decks
Time Walk, 8 copies on 8 decks
Underground Sea, 20 copies on 7 decks
Polluted Delta, 16 copies on 7 decks
Hurkyl's Recall, 8 copies (+4 SB) on 7 decks
Demonic Tutor, 7 copies on 7 decks
Gifts Ungiven, 7 copies on 7 decks
Mana Crypt, 7 copies on 7 decks
Merchant Scroll, 7 copies on 7 decks
Mox Jet, 7 copies on 7 decks
Mox Ruby, 7 copies on 7 decks
Sol Ring, 7 copies on 7 decks
Tolarian Academy, 7 copies on 7 decks
Vampiric Tutor, 7 copies on 7 decks
Yawgmoth's Will, 7 copies on 7 decks
Mana Drain, 22 copies on 6 decks
Flooded Strand, 10 copies on 6 decks
Sensei's Divining Top, 10 copies on 6 decks
Rebuild, 5 copies (+1 SB) on 6 decks
Yixlid Jailer, 0 copies (+13 SB) on 6 decks
Volcanic Island, 11 copies on 5 decks
Fact or Fiction, 5 copies on 5 decks
Massacre, 0 copies (+6 SB) on 5 decks