In today's article we'll look at how my version of Legacy Miracles has evolved since Grand Prix: Paris!

When I prepared for the Legacy GP in Paris, deck selection wasn't a problem at all, as I have chosen Miracles for pretty much every competitive tournament ever since the deck existed. I've tried various stuff throughout the years, such as integrating Show and Tell and Griselbrand to Miracles, or adding Punishing Fire to the deck. I played with Rest in Peace, as well as with numerous Vendilion Cliques and some Venser, Shaper Savants alongside a couple of Karakas, but all of those variants seemed strictly inferior to what I and a group of friends had been building for GP Paris. As a refresher, here is what I took to the Top 8 of GP Paris:
UWR
There are essentially two versions of Miracles which are competitive in the modern metagame. The first is the Joe Lossett version with numerous Cliques, Vensers, and two Karakas, the other one is a Snapcaster Mage-centric build, such as the one displayed above. Now why did I choose to minimize Vendilion Clique and max out on the Snapcasters? Vendilion Clique is a great card, no doubt, which adds a unique hand disrupt ability to the deck, with a nice flying body attached at Instant speed. This excels in the combo matches, as well as in the mirror. But Legacy has more to offer than those two decks, and Snapcaster is good in every matchup where you plan to cast spells, so pretty much every single one. If your game plan consists of casting as many removal spells as possible, Snapcaster can do that, whereas he also effectively doubles your countermagic, while also providing consistency by flashing back Brainstorms and Ponders. We've found that Vendilion Clique is very good, but more often better suited in numbers in the sideboard, so you can bring this card in the matches where you really want to see them.
Another thing that my list (and a couple others from GP Paris) did was run 2 Ponders. This card was essential throughout the whole tournament, enabling me to justify keeping hands without Sensei's Divining Top or Brainstorm (but more on this later).
When comparing my list to the others out there it seemed that I had the least cool tricks. I had no access to hindering opponents with Venser and Karakas, I could not deploy a Rest in Peace on my second turn in game 1, and I couldn't use my Red Elemental Blast on their Counterbalance in the first game. But I didn't need those tricks, as my list was pretty streamlined already, and the new one will be even more streamlined. I chose consistency and more even matchups across the board, rather than advantages in very specific areas of the metagame.
I came into the Grand Prix with no byes, but didn't need them. On Saturday I beat High Tide, Merfolk, Jund, Elves, RUG Delver, Death and Taxes, EsperBlade, UWR Delver, and Reanimator. It was a great day – going 9-0 always feels so good. I was quite happy with my list, especially with the fact that I did not choose to add anything fancy to the deck, as I played against various archetypes throughout the day. I faced literally every angle of the format itself, ranging from Aggro to Tempo and Control to Combo, including various hybrids just like Aggro-Combo and Aggro-Control. I couldn't have prepared better for an open metagame like this.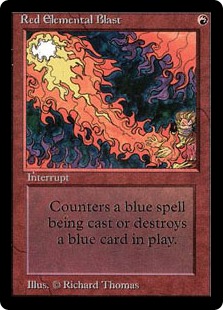 On Day 2 I continued my streak with two fast wins against Jund and Team America (both of whom were also undefeated). In round 12 I played against a deck I literally didn't expect. I played against the eventual finalist Maxime Gilles piloting Miracles. I got decimated pretty fast. In the next round I lost to Paulo Vitor Dama da Rosa, also playing Miracles. Once again I didn't stand much of a chance, locking me into winning the next two rounds to be able to make Top 8. I easily dispatched Sneak Attack and Team America, and then in the Top 8 I beat Jean-Mary Accart with Imperial Painter, only to lose against Maxime Gilles again, leaving me with the 4th place.
So let's break it down. I smashed every single archetype of this format with ease, only to get destroyed by Miracles three times. Why is that? I am not too sure, but there were a few factors that influenced these matches for sure. Paulo Vitor is better at playing Magic than I am, so I am not too surprised that I lost against him. He also had some technology for the mirror, siding in 2 Stoneforge Mystics and a Batterskull, while I had the standard Red Blasts and more counterspells configuration. Maxime on the other hand simply had Red Elemental Blasts in the main deck, and while this didn't really help him win game 1 in our Swiss rounds match, it certainly did its work in the elimination rounds.
While I had chosen to forgo those little extras for an advantage in the mirror, and while this decision helped me to reach the Top 8, it certainly disadvantaged me from winning the whole GP, which should be the one and only goal. Top 8 is great, but winning should be your goal at every stage of any event given. Did I make the right decision? Was my list correctly built?
In retrospect, I think this list is still built correctly for large events like a Grand Prix. While it may be at a slight disadvantage in game 1 to a deck with maindeck Red Elemental Blasts, this is still a risk in a very large field like a Grand Prix where you don't know what you'll face. What if I played against 0 Miracles decks in the Top 8? We might very well be looking at a different champion, and sometimes something as simple as pairings can dictate success, so I still prefer the approach of having a very well-rounded list built to battle everything.
But it would be foolish to think this list was perfect, which is why I immediately sat down to work on a new list. The first thing I did was finally cutting the last Vendilion Clique, alongside Karakas. I had played in 2 Grand Prix with 1 Clique and 1 Karakas, and guess how many times I bounced my own Clique? Once, at GP Strasbourg. It was against EsperBlade, but I already had him locked out with CounterTop and had an active Jace, the Mind Sculptor. Take a guess how many times I bounced anything else with Karakas in those two GPs? Never. This was reason enough to cut it completely, because playing more of them was never an option, as I condemn lists with multiple copies of Clique and Karakas. So I now had two slots at my disposal, even though two slots might not strike you as a deck-altering change, it kind of is. I decided to replace the Clique and Karakas with 2 more copies of Ponder. This change accomplishes many things, so let's take a look at what it actually does to the deck.
Let's quickly touch on the purpose and theory behind cantrips. The strength of cantrips is to create card quality and consistency, by selectively seeing more of what you want, and less of what you don't, while also allowing you to trim some cards you might not want to run as many of. Cantrips can allow you to construct your deck in a more efficient manner, and to provide increased consistency from game to game. By playing more cantrips we can also afford to play slightly fewer mana sources usually, allowing for a steadier stream of gas and threats through a tournament.
Playing fewer mana sources is always a noble goal, as long as you don't hamstring your ability to curve out and cast your spells on time. There is kind of an unwritten rule that enables you to cut a mana source for every 2 additional cantrips you play. With 12 cantrips (4 Brainstorm, 4 Ponder, 4 Sensei's Divining Top) it is certainly possible to shift down to 21 lands here. Previous Miracles lists would sometimes flood on mana without an early active Top, and playing the full complement of Ponders will help to alleviate that.
This superior number of cantrips should also be helping you to draw the right half of the deck in your first game. You might not want to draw your white removal when you are facing a Storm deck, and Force of Will might not be at its best when you fight against Goblins. Drawing the right part of your deck in the pre-boarded games is doubtlessly essential, and the more cantrips you play the more likely it becomes. This is how Delver decks function regularly with so little card advantage.
Additionally, the increased cantrip density can also help you search for both your win conditions and your silver bullets in a more timely manner, especially once you get to manipulate your deck further for games 2 and 3. These changes bring our main deck to the following configuration:
4 Force of Will
2 Spell Pierce
2 Counterspell
3 Counterbalance
4 Sensei's Divining Top
4 Ponder
4 Brainstorm
3 Jace, the Mind Sculptor
4 Swords to Plowshares
4 Terminus
2 Entreat the Angels
3 Snapcaster Mage
4 Flooded Strand
4 Scalding Tarn
2 Arid Mesa
3 Tundra
2 Volcanic Island
4 Island
2 Plains
This list is as streamlined as it can get, and I am under the impression that this is very close to the optimal shape of any Miracle list for this metagame, should the basic Legacy mindset stay the same. So let's move on to sideboard changes.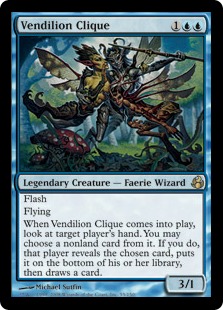 While Vendilion Clique wasn't really pulling its weight in the maindeck, it would be foolish to cut it altogether. Clique is an essential part of the deck when battling against Combo and Control, so you have to play this card somewhere in the deck. I would definitely cut the 3rd Flusterstorm from GP list for a second Vendilion Clique. While Flusterstorm is a great card, it is kind of lackluster against one of the tougher Combo decks out there (Sneak and Show). It's a great counter in any counter war on the stack, while being very good at countering Show and Tell. But due to our high amount of Red Elemental Blasts alongside the couple of Flusterstorms, Sneak Attack has always been the real threat. Which leads to our next point.
Another card that didn't constantly prove necessary was Supreme Verdict. While it is nice to have an uncounterable reset for the battlefield in your deck, it is probably not needed, and was just overkill most of the time. On the other hand, I had felt a small shortage of answers when it came to facing threats like Aether Vial, Sneak Attack, and Liliana of the Veil. Each of those cards is a serious threat to our deck, and even though I was able to trump those at the GP, I would like to have more help there. One overlapping answer to these cards is Pithing Needle, which cheaply answers these threats and more for 1 measly mana. With these small but important changes made our full deck now looks like this:
UWR
I believe this to be as close to the optimum as I can get Miracles to be. It cuts all the edged parts of Miracles in order to maximize consistency, which may decrease the peak of the power this archetype is known for, but adds to a way more important factor in large tournaments, stability in performance.
I took the list above to most recent the Bazaar of Moxen (Annecy, France), where I finished just outside of Top 32 due to tiebreakers with a score of 7-2-1, including two byes which I won the day before where I 5-0'ed (10-1) a trial. My losses came from Miracles and MonoR Painter, which deployed a Koth of the Hammer on T1 on the play against me in game 3 (!). I am not really satisfied with the result, but I wasn't playing as well as I could have, so this mediocre performance shouldn't color your judgment about the strength of this new list. It is even more powerful and consistent than my GP list, so if you are looking for a weapon to take to your next Legacy tournament, I suggest starting here!
Good luck in your battles, and thank you for reading this article. Please let me know your thoughts in the forums, and anywhere else serious Legacy is discussed. 😉