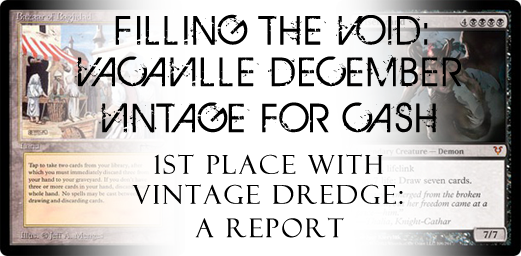 "The one great crusade worthy of an enlightened man is that directed against whatever impoverishes imagination, wonder, sensation, dramatic life, and the appreciation of beauty. Nothing else matters. And not even this really matters in the great void, but it is amusing to play a little in the sun before the blind universe dispassionately pulverizes us again into that primordial nothingness from whence it moulded us for a second's sport." – HP Lovecraft
Vintage for Cash is a tournament series in Northern California organized by Blaine Christiansen and hosted by Olde World Games in Vacaville (CA, USA). So far there have been four events, and this tournament report describes the most recent on November 3rd 2012. I suspected there might be a small turnout for this one since it was only announced a few weeks ahead of time. Blaine wanted to get in one more Vintage event before the holidays. Little did I know there was also a PTQ to siphon away some of the non-Eternal specialists leaving us with only 11 people actually showing up (the previous 2 iterations had 18 and 16). Small does not mean uncompetitive, however. Blaine (Finalist at 2012 Vintage Champs) organized the event, and it was known that Stephen Menendian (former Vintage Champ and all around Vintage heavy-weight) and David Ochoa (returning to Vintage fresh off an amazing Pro Tour performance) would be in attendance, not to mention other good players from the area whose names Vintage enthusiasts across the country might not recognize. Realizing that outplaying my opponents was likely a losing proposition, I decided to play up other aspects of "the game," namely deck selection and metagaming.

"Wisdom is the right use of knowledge. To know is not to be wise. Many men know a great deal, and are all the greater fools for it. There is no fool so great a fool as a knowing fool. But to know how to use knowledge is to have wisdom." -Charles Haddon Spurgeon
I knew there would be strong players on most the major archetypes including Big Blue control and neo-Burning Long. Blaine was back on Shops after some lackluster forays playing Islands. I hesitated to play my normal Big Blue deck (despite the fact that it's pretty damn sexy and at the very least out-Pimps most opponents). Even though there are plenty of blowouts and "Oops, I win" situations in Vintage, those aren't going to get you anywhere unless you can grind out wins with the less glamorous (but much more common) hands. While I have a handle on theoretical good play and like to think that I have extensive knowledge about the current state of the format, I often screw up horribly during actual tournament games, only seeing the "right" plays in retrospect (sometimes only a priority pass later, but that's still too late; don't even get me started on what happened when I tossed a Top back in my list after not playing with it for a while). This time the overall caliber of potential opponents, quite frankly, scared me. My trusty Grixis control list usually does okay, but I never really excel with it, so I weighed other options. The prospect of Dredge seemed like a decent choice since it has previously landed me in the Top 4, and I've already pimped out a big chunk of it (not to mention that fact that it's fun to play). Although I can build just about anything, Shops just isn't enjoyable for me (on either side of the match, much like the way many people feel about Dredge), and I'm too inexperienced with other options (such as Landstill) to make them viable without extensive playtesting that seems in perpetually short supply. The correct choice had to be either just Bobbing w/ Drains (at least I'm experienced with that and could lose in style) or slinging Bazaars and Grave-trolls. I was definitely leaning toward Dredge. However, it has some interesting issues with the expected metagame, specifically the looming specter of Dark Ritual storm combo (featuring Griselbrand and the freshly pardoned Burning Wish). So far their presence was more rumor and speculation than a real menace to Top4/8s everywhere. It was clear that Stephen Menendian would be trying to prove the deck was competitive and at least two others who might be there have a penchant for Storm decks and had been seen playing GriselOath even before Burning Wish was liberated. If the dark mages crawl out of their secret laboratories, they will be some of the only foes capable of consistently racing the Zombie hordes, so I would need to build to handle them as much as possible.
The recent trends for Grave-Trollin' had been favoring slower, more grindy, and disruptive Dredge lists, often forgoing the Dread Return package in favor of maindeck interaction at the expense of speed (e.g. 2012 Vintage Champs Top8 and the winner of Bazaar of Moxen 2012). This type of build is less all in and much more versatile, so I prefer it in general (more fun games overall for me as well as my opponents) though nearly everyone likes the occasional flaming pile of walking corpses, even if they won't admit to it. Unfortunately, this approach tends to lose horribly to combo because it is just not fast enough; even the ideal draw can only realistically kill on Turn 3 at best. I guess Shops have at least been good for oppressing the decks that prey on Dredge, something the MADD (Mothers Against Dredge Decks) crowd should consider as a possible contributing factor to the imaginary Dredge-problem, though in fairness this attitude seems to have diminished noticeably other than an odd forum post here and there.
So the question was, how to tweak Dredge so it can still do it's thing but not just fold to fast combo? My first thought was to include disruption geared specifically to slowing down the combo match up (using Stephen Menendian's recent Burning Wish list as the model target). Many options for both maindeck and sideboard were considered, including Chalice of the Void, several Leylines, Mental Misstep, Unmask, and Gitaxian Probe (to make Cabal Therapy more effective). Chalice was the centerpiece plan to stop artifact mana (and incidentally can be used vs. Tormod's Crypt and generally slowing down random opponents), though it is much less useful when on the draw. Probe and Misstep seemed only marginally useful, though when they work correctly it can be a blowout.
Leyline of Sanctity would probably be just out of the board, but is decent versus Tendrils of Agony kill conditions (though not Empty the Warrens) and stops Oath into Griselbrand as an enabler strategy as well. Leyline also deals with Ravenous Trap, Tormod's Crypt, and Nihil Spellbomb, making it cover a lot of bases, at least in principle. Unmask is versatile disruption that can preemptively answer certain hate cards as well as slow down opposing strategies, but like Chalice it loses some effectiveness on the draw. Leyline of Void, a core Dredge card in my opinion, is noteworthy here also as disruption against Burning Wish into Yawgmoth's Will (and to a lesser extent something like Timetwister or Time Spiral). The fact that it also gives Snapcaster Mage the finger doesn't hurt either.
I only managed to do a bit of actual playtesting, which consisted of a handful of games vs. Blaine playing Smmenen's Burning Long deck. I was set up with Chalice, Unmask, and Leyline of the Void (but no Dread Return package) for these games, sort of quasi-sideboarded for the sake of testing out options. I got thoroughly stomped (though I never did see Chalice). It seemed like I would just have to rely on luck to win die rolls and hit Chalice. Even then it felt iffy because Dredge just couldn't seem to race the fast kills much of the time. Feeling defeated, I considered giving up on Dredge for this event, but a little bit more thought convinced me to just commit and go for it.
The only way to beat storm seemed to be by racing it, but even with disruption that was difficult. Then the answer was whispered in my ear from beyond the grave: the return of Dread Return! The "combo" kill with Flame-Kin Zealot can win as early as turn 2 even with a stripped down Dread Retun package as long as you can get the equivalent of 2 Bazaar activations on turn 2. Sun Titan and Fatestitcher are the obvious ways to do this, so as a starting place I used a smallish combo package seen in a few recent lists (e.g. by Matt Elias):
2 Dread Return
1 Flame-Kin Zealot
1 Sun Titan
1 Fatestitcher
Griselbrand ended up replacing Sun Titan as the reanimation target to facilitate more dredging. While I prefer Titan in a vacuum because he provides more options (landfall triggers in particular), Griselbrand is roughly equivalent in that he does what is needed in most cases (i.e. provides more dredging to enable the Zealot-fueled kill faster). However, he does one thing that Sunny just can't do: be Griselbrand. There are at least 2 different storm variants that use Oath into Griselbrand, so if I can land him first that line of play is off the table for at least a turn (go Legend rule!) and that should be enough to race (or so I reasoned). Street Wraith can also speed up the deck, but I couldn't figure out a way to squeeze any in, though a singleton Wraith over Fatestitcher seemed like a possibility.
Unfortunately, speeding up the deck means cutting maindeck disruption and anti-hate, including losing Mental Misstep (which I normally like if only to see the looks on people's faces when their early Ancestral gets countered after I drop a Bazaar and they expect non-interaction outside of Therapy and zombies). I didn't feel comfortable going all in on the fast kill in Game 1 because some people actually do give Dredge the respect it deserves and thus play a few token hate cards main (e.g. Nihil Spellbomb or Grafdigger's Cage). Some way to interact with hate had to be in the main. Ingot Chewer has been the recent favorite (though decklists with a single Ancient Grudge are also common and not mutually exclusive). However, with many Shop lists trimming Thorn of Amethyst and returning to Sphere of Resistance (if they ever left) and the potential for dangerous enchantments like the newly printed Rest in Peace and Oath of Druids (as a combo enabler), the versatility of Nature's Claim seems better, despite it's vulnerability to Mental Misstep and lack of synergy with Bridge from Below. Leyline of the Void pulls enough weight to stay in (dominates the mirror, protects Bridges, and shuts off Will/Snapcaster) which left me with 3 slots in the maindeck for Claims. At first, this was going to be Chalice of the Void (with the 4th in the side), but Chalice isn't as good on the draw in game ones (and I'm not great at winning die rolls). Chewers still seemed necessary so they went to the side, though I eventually cut down to 3 (but this may very well have been the wrong call). So that meant I had 8 slots filled in the sideboard already (4 Chalice of the Void, 1 Nature's Claim, 3 Ingot Chewer). I knew I wanted 4 Leyline of Sanctity, which just left 3 slots. This choice was difficult. I still wanted to cram in some Petrified Fields, Unmask, and Wispmare (and in magical Christmas land, an extra mana producer like Gemstone Mine, though with Chalice and the Leylines meaning fewer spells to actually cast with mana, this seemed less critical than it used to). Chain of Vapor has gotten worse and worse as hate has gotten cheaper to cast, so that now it is only good against Leyline of the Void or bouncing a tinkered Blightsteel Colossus and a joke against most other things. I cut Chain completely and haven't looked back. There usually aren't too many Wastelands at these events (although with Lotushead and BC around there are always some), so I decided to just ignore them by leaving out Field in favor of 3 Unmask and hope for the best.
"Only the right name gives beings and things their reality. A wrong name makes everything unreal. That's what lies do." – Michael Ende, The Neverending Story
The Nothing, by Adam Telleen
Due to some circumstances unrelated to Magic, I didn't have time to obtain new sleeves before the tournament. I would, or course, prefer to buy sleeves at the venue (to support the shops that actually promote Vintage), but last time they didn't have the sleeves I like (except in clear, which is bad due to my preference for Alpha cards where possible, though that is irrelevant with Dredge, other than my stack of Alpha Scathe Zombies that I use for tokens). My plan was to stop off in Davis on the way, but I ended up running late so I'd just have to use whatever sleeves the shop had available. Luckily, when I arrived Russ (who runs Olde World Games) had a new stock of Dragon Shields (including Pink; there are few things as satisfying as playing Dredge in Pink sleeves!). It was all coming together!
After discreetly sleeving up my real deck (I already had the decklist filled out), I pulled out my UBr Bob/Drain deck and tweaked the sideboard as if I were really playing it while filling out a decklist for it just for fun (and now I have it ready for next time). No reason to let on I was Dredging until the event started (though Blaine knew I was strongly considering it). I also chat with Frankie for a bit about acquiring Russian cards and his quest to complete his Power, including whether I have any extra Unlimited Moxen for sale (nope, I only sling Alpha Moxes and don't have any extras lying around). Eventually all relevant parties arrive and the pairings go up. Hopefully my writeup doesn't deviate too much from reality; it's the best I could piece together and definitely covers the gist of what happened in each match. Please let me know if I've made any errors that you can help me correct or have any pertinent information that I missed.
Round One vs. John Wiley (Dr. Tongue)
John is a fun opponent, and we chat while we play. I've managed to dodge playing against him in the last few Vacaville events somehow, so it's about time we got to play a match. I win the die roll to be on the play and drop Bazaar. He Ponders and drops Mana Crypt while I start dredging. I dig out a single Cabal Therapy, but miss naming Force of Will only to see that he's got Time Vault and Tinker in hand along with Swamp, Brainstorm, Lim Dul's Vault, and Mental Misstep. Unable to find another Therapy (or rather two!) in time, he plays out Vault and Tinkers his Crypt for Key. Not quite the start I had imagined. Oh well, that's how Vintage goes sometimes.
I don't really know what he's on or what hate to expect, but I'm on the play now…
Out:
-2 Dread Return
-1 Griselbrand
-1 Flame-Kin Zealot
-1 Fatestitcher
-4 Leyline of the Void
-1 Ichorid
-1 Bloodghast
In:
+1 Nature's Claim
+3 Ingot Chewer
+4 Chalice of the Void
+3 Unmask
Game 2, I mull to 6 and find Bazaar, Undiscovered Paradise, and Ingot Chewer. He keeps his first 7. I open with Bazaar and pass the turn. John proceeds to play Mox Ruby and Polluted Delta into Underground Sea to drop a Confidant but has no obvious hate (I starting thinking Ravenous Trap at this point). I start Dredging and drop Undiscovered Paradise. His Bob reveals Mental Misstep but doesn't attack (I must have had a turn 2 Ichorid to make a zombie or two), and he then plays Tolarian Academy. I evoke Ingot Chewer to chew his Mox to slow his mana (double duty with Academy!). After missing with a Therapy naming Trap (and landing some Zombies), I see he's got Tinker but also Blightsteel Colossus in hand (phew!) as well as Island, Ponder, and Flusterstorm in hand. Then he Tinkers for Nihil Spellbomb, but it's too little, too late, as he can't stop what I've already got on board.
Back on the draw and I know he's got some creatures…
Out:
-4 Chalice of the Void
In:
+1 Ichorid
+1 Bloodghast
+2 Leyline of the Void
Game 3 is close. He has a turn 1 Tormod's Crypt. I open with Unmask removing Darkblast, but he Brainstorms in response which finds Force of Will (pitching Merchant Scroll). I slow dredge, and he blows the Crypt early to keep me off either Bloodghast or Ichorid, while dropping Time Vault. I continue dredging and manage to land a few zombies, but then I'm hit with a Ravenous Trap after a juicy Bazaar activation in his endstep to stop Narcomoebas from entering play. I have to draw with Bazaar in my upkeep (including an Ingot Chewer), but manage to get dredging again. I miss his Tezzeret, the Seeker with the single available Cabal Therapy. I've got lethal on board in a turn or two, but Tez untapping Time Vault seems bad for me. Not a problem though because he's got no answer for my Chewer on Vault, which wins the game and match. Maybe there is something to the singleton maindeck Ancient Grudge that many Dredge players seem to like.
Games 2-1, Matches 1-0
Round Two vs. Ryan Devine (potato)
Ryan is playing Fish, though apparently he considered playing Dredge, too. He's cheerful and friendly despite my deck choice, which seems to offend some people (though I personally find Workshops to be far less fun to play against). Our discussion reveals that we both play High Tide in Legacy as well. I win the die roll and it's the usual game 1 massacre, though he does drop Thalia and Stony Silence before succumbing to an overwhelming undead hoard (this was mob of the slow lumbering zombies though, I don't think they got the brains until turn 4 or later).
I'm on the draw, expect Grafdigger's Cage/Rest in Peace as hate, and know he's got creatures, so I side like this.
Out:
-2 Dread Return
-1 Griselbrand
-1 Flame-Kin Zealot
-1 Fatestitcher
-1 Leyline of the Void
-1 Ichorid
In:
+1 Nature's Claim
+3 Ingot Chewer
+3 Unmask
In Game 2, I hit Bazaar, Leyline of the Void, Undiscovered Paradise, and Nature's Claim in my opening 7, so we're good to go. He keeps 7 cards and drops Cage. I play out Undiscovered Paradise and attempt to Claim his Cage, but it gets Misstepped. It's times like these that I wish I could have squeeze a few Missteps in. I play out my Bazaar and begin to dig. I find a Chewer, but it get's Forced (pitching Mental Misstep). By this time he has played out some creatures (Dryad Militant? My notes fail me, but I remember exiling some Therapies at some point versus Ryan but it could have been in the semifinals) and started picking at my life total taking me all the way down to 13. I decide to stop dredging and draw to avoid milling all my anti-hate, though my yard is already stocked and ready to go on cue. This pays off as I lucksack into a second Chewer and finally manage to remove the Cage. Knowing when to actually draw cards is important with deck. I get my dredge on, recur some creatures, and he concedes in the face of the zombie hordes. That's the funny thing about Grafdigger's Cage: it doesn't actually stop dredging, so you can set up your endgame before you get rid of it (neither does it stop Bridges if you can manage to get creatures in play and kill them). As a Dredge player, Cage only scares me in multiples or combined with other hate.
Games 4-1, Matches 2-0
Round Three vs. David Ochoa (Webster)
I'm not sure exactly what deck he's on, but from my few glimpses around in previous rounds it looked blue and controllish (such a shock in Vintage). Obviously, this is an intimidating matchup since it's hard to ignore that I can count on 2 hands the number of actual Magic Tournaments I've played in while he is a seasoned Pro player fresh off an impressive ProTour finish. But this is Vintage and I've got a well positioned and metagamed Dredge deck; I try to relax and have fun with it. Game 1, he wins the die roll and mulls to 6, while I find turn zero Leyline of the Void and Bazaar in my opening 7. He plays turn 2 Scavenging Ooze, and I just about have a heart attack (with the proper poker face of course; at least that's what I keep telling myself). He's short on green mana, though he does manage to slow me down by nabbing a couple of Narcomoebas and an Ichorid in response to triggers. I landfall some Bloodghasts and hit Force with a Therapy also seeing Pyroblast, Jace, and Gift's Ungiven. Luckily, he can't quite keep up with the pace of my graveyard filling to stop me from dredging, and I make my land drops to keep the Bloodghasts coming. It came down to his green mana count and my land drops.
I'm on the draw and know he's got creatures (including Snapcasters), so most of the Leylines stay in.
Out:
-2 Dread Return
-1 Griselbrand
-1 Flame-Kin Zealot
-1 Fatestitcher
-1 Leyline of the Void
-1 Bloodghast
In:
+1 Nature's Claim
+3 Ingot Chewer
+3 Unmask
Game 2, we both keep at 6 and drop turn zero Leylines. I manage to Claim his Leyline, but he summons Scavenging Ooze. His Ooze keeps growing as he nabs my dredgers as fast as I can bin them, and I just can't keep up; he's got sufficient green mana this time. Oh well, you can't win them all.
I realize that his graveyard hate probably isn't artifacts and I'm back on the play, so…
Out:
-3 Ingot Chewer
-1 Ichorid
In:
+4 Chalice of the Void
We both keep 7 cards, with his including a Leyline of the Void. I've got mana and a Nature's Claim, so the Leyline doesn't stay on the board very long. I proceed to get my dredge on. He eventually drops Jace but can't keep up with the Zombies, Narcomoebas, and recurring horrors. I make a huge misplay in this game. I had lethal on board after he hardcasts a Leyline, but I Claim it before attacking without thinking. The lifegain lets him live one more turn as he can Fire/Ice and Snapcast it back to take out enough of my dudes to survive. I get lucky though and he can't capitalize on the opening, so I win the next turn. This is exactly the reason I chose Dredge for this one: a major error like that playing a Big Blue deck would have likely meant I lost. Hurray for recognizing the reality of one's own limitations.
Games 6-2, Matches 3-0
Round Four vs. Frankie Mach
I'm the only 3-0 and he's 2-1. I offer the draw, but Frankie has to play it. He plays Grave-Trolls in Legacy, so it's no secret he is well versed in the dark art of Dredge-fu. Game 1, we both keep our initial hands, and things play out in the typical game 1 Dredge manner (i.e. flaming zombies consume brains; these are the runners not those slow meandering ones). This was the only game in the tournament where Fatestitcher showed up in a timely manner and provided the turn 2 kill.
I'm on the draw and familiar with his UBr Confidant/Snapcaster deck, at least in general, since I've seen him play versus Dredge in tournaments before. Frankie is a scary opponent for Dredging because he knows the deck and plays varied hate, including Spellbomb and Trap, so…
Out:
-2 Dread Return
-1 Griselbrand
-1 Flame-Kin Zealot
-1 Fatestitcher
-1 Leyline of the Void
-1 Ichorid
-1 Bloodghast
In:
+1 Nature's Claim
+3 Ingot Chewer
+3 Leyline of Sanctity
+2 Unmask
Game 2, I mull to 6 to find a hand with Bazaar, City of Brass, and Nature's Claim. He starts with land into Grafdigger's Cage. My Unmask (removing Stinkweed) is too late for the hate, but nabs Jace and verifies there is currently no Ravenous Trap. I lay City and Claim his Cage. He doesn't do anything worth writing down, and I lay Bazaar to get my Dredge on.
A couple turns later, I make a horrible misplay that probably cost me the game. I have a feeling that he's got Ravenous Trap in hand at this point and there is a Therapy in my graveyard. Normally, activating Bazaar in upkeep is a good play because you can respond to Ichorid triggers to feed them and be sure of dumping a dredger before the draw step if dredgers are limiting. This time though there were plenty of dredgers in the graveyard and no need to find food for Ichorid, but I activate Bazaar anyway due to sheer Force of habit (needs more Will apparently). While I'm resolving the dredges, I hit a Narcomoeba, but Frankie responds to the trigger with Ravenous Trap. If I hadn't Bazaar'd during my upkeep, I would have hit the Narcomoeba dredging during my draw step instead. He could have still Trapped me to stop the Therapy, but then I would have had Bazaar untapped to dump a dredger and keep going the next turn. This was an unneeded slow down and eventually he Surgically Extracts the remaining Narcomoebas with a trigger on the stack. I just run out of gas and end up decking myself.
Although he is playing Cage, I'm pretty sure he doesn't run the whole play in favor of other 1or 2-ofs like Ravenous Trap, and I'm back on the play.
Out:
-2 Ingot Chewer
-1 Leyline of the Void
In:
+3 Chalice of the Void
Game 3, I mull to 6 on the play with a Bazaar, Dredger, Nature's Claim (but no mana) keep, while he goes all the way down to 4. I lead with Unmask (removing Ichorid) to see his 4 card opener of Sol Ring, Voltaic Key, Force of Will, Polluted Delta. I take Key figuring that it makes a random Vault/Key win way less likely, while he's got no blue card for Force anyway and nothing really to cast with the mana (and top decks like Demonic Tutor no longer get Vault for the win). In retrospect this was a misplay, and I should have taken Sol Ring instead. He topdecks Tinker (and can play it using Sol Ring) getting Cage. Then he lands another one naturally. I've got the Claim (and eventually find another), but fail to draw/Bazaar into mana for many many turns. Eventually he has enough time to find Demonic Tutor for Yawgmoth's Will to replay Key and Tinker finding Time Vault. This is one of those games that makes me again consider trying to squeeze a singleton Gemstone Mine into the 75 (I even picked up a Russian copy for this very reason, but just couldn't find room). I'm not supposed to lose to a 4 card hand with no hate, but I made another mistake that cost me the match. Another learning experience.
Games 7-4, Matches 3-1
I'm still top seed going into Top 4 though and thus get to be on the play in Game 1 the rest of the day. This newish rule may have a more significant impact on Vintage Top 8s and Top 4s than it does in other formats (especially when any matches involve Workshops), but that's a discussion for another time. Top 4 is Me, Ochoa, Frankie, and Ryan. Hmm…all my previous opponents from Round 2 on. Looks like some deja-vu in the elimination rounds.
Semifinals vs. Ryan Devine
His fish deck still isn't quite prepared for Dredge, so this match is basically a repeat of the previous one. Ryan is a good sport about it (and still finished in the money). I hope to play against him again in the future (with a non-Dredge deck). He and his girlfriend started digging into some sushi as soon as we finished. I wish I could get my wife to come to Magic tournaments with me.
I have very few notes from Game 1, but there is a video that may show some of it here. I keep a 7 card hand with Bazaar and Leyline while he mulls to 5 looking for something (probably Cage or Dryad Militant) since it is now common knowledge that I'm on Dredge. I must have cast a couple of Therapies. The first (naming Rest in Peace, I think, because I don't know if he has it main) sees Thalia, Mindcensor, Wasteland, Tundra, and Mental Misstep. The next one gets Misstepped (by paying the mana). He Wastelands my Bazaar #1, but I've got a second to keep the party going. He turns a Bloodghast into a farmer, but still can't stop the turn 3 angry flaming zombie kill.
From our previous match, I know he's got Cage, Rest in Peace, and Dryad Militant but not much else against me.
Out:
-1 Dread Return
-1 Flame-Kin Zealot
-1 Griselbrand
-1 Fatestitcher
-1 Bloodghast
-1 Ichorid
In:
+1 Nature's Claim
+3 Ingot Chewer
+2 Unmask
Game 2, He mulls to 5 again on the play, while my opening 7 is one of those lovely Bazaar plus mana plus anti-hate card hands (also known as the nuts). He drops a turn 1 Cage. I drop City of Brass and attempt to Claim it, but he's got Mental Misstep (paying the 2 life). On my next turn, his Cage gets Chewed. Bazaar hits the battlefield and I get my dredge on. After some Therapy sessions, he gives up Thalia and Sword of Fire and Ice, while I acquire an army of the undead to put him out of his misery (and on to his sushi).
Games 9-4, Matches 4-1
While Frankie and David Ochoa are finishing up their match, Steve Menendian asks if I want to play for fun. I'm happy to oblige as I have never played against him before (dodged him last tournament by playing poorly) and specifically tweaked my 75 to prepare for his neo-Long Burning Oath deck. Unfortunately, we only get in one un-sideboarded game (and he won the die roll). Sigh. He plays turn 1 Windfall (but I mulled to 4 or 5, I think, to find Bazaar). I end up with no Bazaar, though I do manage a bit of dredging off my discards before I have to start drawing. I'm never really in this game and Steve takes a while to play some complicated chain of spells. My attention wanders to the other semifinal match until he plays a Wheel of Fortune and I have to participate again. I dredge a couple of times with what I've got in the yard, but run out of gas and draw 3-4 cards. Steve does some other stuff (Demonic Consulation, Mind's Desire, Yawgmoth's Will…you know, Vintage) but ends up passing the turn with a storm count of "lots" and an Oath in play. I still don't have Bazaar or dredgers in the yard, so he Oaths up a Griselbargain that eventually leads to a lethal Tendrils that I can't interact with, though the semifinal match I was waiting on finished before Steve was even done going off. Not exactly one of the most interesting games of Vintage. At least I got a break to rest my brain before the finals. In retrospect, I should have suggested we play sideboarded since that would have been much more interesting. Maybe if he's up for it some other time…
Finals vs. David Ochoa
Ochoa considered the prize totals for first, second, and a split. I mention that I'm happy to split if he wants to (but I would have insisted we play it out for glory just to get in more Vintage action). After a short time, he decides we're playing for all the marbles. Does he just want retribution for his defeat in our earlier match? I don't care. I just like playing Vintage (especially with real cards).
There is video of all three games below, so I'll keep this brief. However, let me just preface this by saying that the finals match was a little lacking as far as Vintage matches go. All the games were one-sided blowouts with little interaction and should not be considered typical (except maybe Game 1 for decks that don't respect Dredge, though this only partially applies to Ochoa's deck since he had 2 Scavenging Ooze main and just lacked typical Vintage "oops, I win"-conditions).
Finals Game 1

In game 1, I'm on the play with a turn zero Leyline of the Void. He says he doesn't know what kind of hand to keep, so I try to be helpful by suggesting one with Ooze and green mana. He decides not to listen to me and keeps his 7. I throw out Leyline, then Bazaar, to which he replies with land, Mox Emerald, Ancestral; normally a nice opener. Unfortunately, it does nothing to stop Ichorids and Bloodghasts having a recursion party which forces him into some serious Therapy. After that he's down a Misstep, Jace, and Mana Drain, which opens the door for Dread Return and an angry undead mob consuming ProTour brains on turn 3. Tasty!
I'm not sure why I sided in the Chewers, but I sided like this for game 2:
Out:
-2 Dread Return
-1 Flame-Kin Zealot
-1 Griselbrand
-1 Fatestitcher
-1 Leyline of the Void
In:
+1 Nature's Claim
+2 Ingot Chewer
+3 Unmask
Finals Game 2

I had been drawing pretty well all day, so I was due for a mull into oblivion, which I cheerfully accepted in game 2. After Powdering from 7 cards, mulling to 6, Powdering from 6, then mulling all the way down to 2 cards, I'm sick of shuffling and keep double Leyline of the Void. He's got a full grip, but I've still got twice as many turn zero Leylines as he does (I hope they were the Russian ones, but I can't remember for sure). Not a great game by any stretch, but I decide not to concede to see what his deck can do (or at least as much as he has to show me to win) and end up with a couple of Bazaars eventually. However, I never manage to dig into the mana to cast anything useful before Jace starts the fateseal game to help keep me off mana. He ends up with 2 or 3 Leylines in play, ultimates Jace, and beats me to death with a Scavenging Ooze just in time to prevent me from decking.
Back on the play and it's all down to this last game.
Out:
-2 Ingot Chewer
-1 Leyline of the Void
-1 Bloodghast
-1 Ichorid
In:
+1 Unmask
+4 Chalice of the Void
Finals Game 3

Game 3 is another mess of a game (but in the other direction). My opening 7 has Bazaar and plenty of NothingTM (i.e. a big empty Void that is: Chalice and Leyline of, in German and Russian respectively), so I keep. Ochoa begins taking mulligans. His face starts looking more and more sour each time despite his attempted poker face, so when he's on 4 or 5 cards I say "doesn't look like you've got the stone cold nuts" as he stares at his hand intently to which he replied after a long pause, "you wouldn't know if I did." His continued mulling to 3 told me that I was right, so it didn't matter (though his decklist confirms it, at least at this particular tournament, as the "stone cold nuts" aka "oops, I win"-conditions did not appear in his deck at all). I drop a whole lot of NothingTM, along with a Bazaar. He's never really in it as a couple of Ichorids slap him around and summon their zombie friends to join the party. Not exactly the way one really wants to end an event (with opponent mulling to oblivion, I mean, nothing wrong with horror movie beatdown), but the envelope full of cash that Russ hands me afterward makes up for it, at least a little bit. And I guess I did technically just beat a Pro player twice, even if the second match was pretty stupid and shouldn't count.
Games 11-5, Matches 5-1
I pick up a couple of Deathrite Shamans to complete my playset with some of the winnings since I have a feeling I'll want them eventually, then head home.
"To make no mistakes is not in the power of man; but from their errors and mistakes the wise and good learn wisdom for the future."
-Plutarch
It didn't really set in right away that I had actually won, partially because I tried to not consider the possibility of actually taking down the whole thing as I was playing to avoid stressing myself into making even more mistakes than normal. I play better with a healthy disinterest in the outcome. Too much emotional investment and it gets harder to identify my mistakes so that I can learn from them (see if you can find where I miss the Narcomoeba trigger in the videos; it's okay because I didn't like the language it was in and didn't need it anyway, or at least that's my excuse). In fact, the more I analyzed my performance, the more depressed I became about how poorly I play (or at least how huge my mistakes are when I do make them). At least Grave-Trolling makes me smile…
This build of Dredge has a lot to offer, though I never managed to get out Leyline of Sanctity or Griselbrand at all, so it's hard to judge their effectiveness. The Storm and Workshop matchups definitely need more testing. Hopefully, this report has been worth your time, and illustrates some of the thought process that goes into building and metagaming Dredge (and if you think I'm doing it wrong, please let me know so I can improve!). My goal for writing this up is to help people understand that Dredge does interact with opponents that respect it which leads to interesting and thought provoking games/situations. There is quite a bit of play and potential for customization in Dredge, something it usually does not get credit for in the Vintage community at large. It can be metagamed and adjusted for quirks in play style a surprising amount. I personally have a pretty sizable pile of cards for Vintage Dredge that are definitely playable but don't happen to be in the deck at the moment (something to discuss in another article perhaps). Even though I chose Dredge because it is sometimes more forgiving against unprepared players, don't think that it is easy to play, at least in games 2 and 3. Subtle mistakes cost me a match (and I just got lucky and dodged bullets with my other missteps, proving once again it is important to know thyself). Hopefully others can learn from my errors and become better players for it (it's still not clear if that will work for me, but I'm trying).
Thanks for reading, and until next time,
Adam Telleen