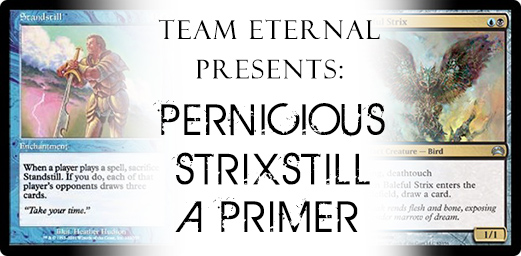 Editor's Note: Team Eternal is one of the frontrunners of the Landstill archetype (both BUG and WUB) in the Netherlands, and is composed of Michèl Theissen and Jeroen van Beeck, among others. Since 2011 this duo has been working on the archetype full time and has given the deck a chance to shine in Europe. In this article, some of the deck's card choices and tactics are presented and discussed.
Introduction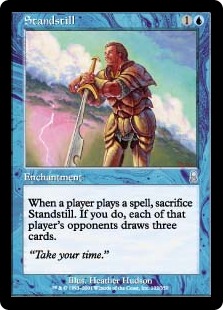 The archetype known as Landstill, in all its variants, predates the birth of the Legacy format, and can easily traced back to the Mana Drain-fueled powerhouses that exixted in Type 1.5 (Classic Restricted), before the modern Legacy format was created. Many versions of said archetype can be found on the Legacy boards of the well-known forums. While the deck is well known and extremely powerful, it does not see the light of day as much as we believe it should. If your goal in a game of Legacy is to a) play with the best draw spell in the format (i.e. Standstill), b) get rewarded for high level play, and c) provide your opponent with many, many turns of being frustrated to the point of conceding, then Landstill is the deck for you.
Evolution of the Deck
The first time we heard of the deck (in this case BUG Landstill) was when it resurged to the spotlights, back in 2011 after Grand Prix Providence. Paulo Vitor Dama Da Rosa and Conley Woods took the deck to a Top 8 finish. The deck had become very powerful due to the inclusion of Mental Misstep. Being able to Misstep or Force of Will the first play of your opponent and then drop a Standstill was typically too much to handle for most decks in that format.
BUG Landstill, by Paulo Vitor Dama Da Rosa, March 11 2011
This is the decklist we fell in love with. After weeks of playtesting the deck against a variety of popular decks such as StoneBlade, RUG, and combo variants, we decided on a deck and took this to the first local tournament with the deck: the Grand Prix Trial in Hasselt, Belgium on the September 17 2011. Jeroen would go on to Top 8 the tournament with BUG Landstill, and this solidified our deck choice for the coming Grand Prix in Amsterdam later that year (October 22-23).
Three days later Mental Misstep landed on the Banned list in Legacy! While this was not entirely unexpected, this meant that the deck took a major hit from the banning of Misstep. Looking back on archived discussions, many believed that the resurgence of the Landstill archetype was short lived and that the deck was no longer viable in a Mental Misstep-less environment. We disagreed with this sentiment and immediately went back to the drawing board to come up with a new list for the pending Grand Prix. When Grand Prix: Amsterdam finally arrived, we were ready to do battle with this:
DeedStill, by Jeroen van Beeck, October 22 2011
Jeroen took the deck to a 6-2-1 finish, barely missing out on Day Two (Michel couldn't attend the GP). So while the deck took a major hit in the banning of Mental Misstep, it proved to still be a viable and powerful deck. After the Grand Prix we managed high finishes in more local tournaments. The deck kept evolving slightly from tournament to tournament, varying from maindecked Sensei's Divining Top (with Counterbalance in the sideboard), to builds with more removal in the face of creature-heavy environments. After a while we decided that we needed to diversify to different decks to see what else was out there. However, DeedStill never truly left our thoughts and we kept developing the deck in the background.
The Birth of Pernicious StrixStill
Fast forward to June of 2012, and with the release of the limited edition Planechase 2012 decks came Baleful Strix. When the set was first spoiled, this innocuous little flyer did not draw our attention. However, in early August 2012 Michèl posted a new list for DeedStill which contained the new artifact flyer. This initial list already looked very nice, but needed some more tuning. After some discussion on card choices during our weekly team meeting, we both decide to run this deck during our next tournament in Rotterdam.
Pernicious StrixStill, by Jeroen van Beeck and Michèl Theissen, August 18 2012
The result was quite unexpected: we both made Top 8 with a 4-1-1 and 4-2 finish. Michèl made the Top 4, but we both lost to the same player playing RUG Delver. Apparently we did something wrong in the sideboard, as we lost without hope to his multiple Stifle + Wasteland draw empowered by Life from the Loam. In the wake of this experience we adapted our list with this in mind by adding 4 Surgical Extractions to the sideboard. This drastically improved our matchup against RUG Delver, as extracting Wasteland and Stifle stops their land-hate from really affecting you. This sideboard plan also provided some splash damage towards beating combo even better, and still provided protection against the decks where Leyline of the Void was called to battle. Sideboarding in Surgicals to stop most combo from ever happening is now possible (Thoughtseize + Surgical is a real thing). From that point we then ended up Top 4-ing some smaller tournaments as well as regular x-1 or x-2 finishes. The deck never disappointed.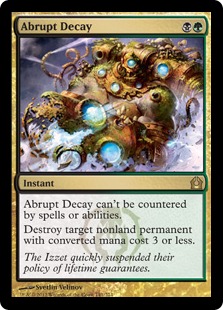 With the printing of Return to Ravnica came Deathrite Shaman and Abrupt Decay, and with those tools came the resurgence of BUG variants of all forms in Legacy. Most players seem to have chosen to run the more aggro or aggro-control oriented BUG lists with Tarmogoyfs and Dark Confidants.
For BUG Landstill this meant three things: 1) Abrupt Decay is insane and had to be included into the deck, 2) Deathrite Shaman forced some minor changes in the deck's card choices, and 3) the deck became that much more powerful, as Abrupt Decay is now seen everywhere and does not efficiently deal with any card in our current build, besides the one-of Liliana of the Veil. Thus we adapted our list to the new cards and ran with it.
Our most recent endeavour with the deck was a small tournament (~25 players) in the Outpost in Ghent, Belgium, where we played the following list:
Pernicious StrixStill 2013, by Jeroen van Beeck and Michèl Theissen, January 2013
This time we both did well, but only one would make it to Top 8, as we were paired in the final round of Swiss.
Card Selection
Whether or not you are convinced that Landstill is the deck for you just yet, let's go over some details about the card choices, starting with the obvious candidates.
Standstill – the backbone of the deck, Standstill is quite simply the best draw spell in Legacy. Sometimes this is ran as a 3-of, but there are so many internal synergies with the card in this deck that it is preferred as a 4-of.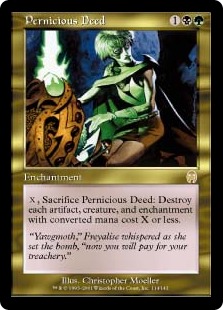 Pernicious Deed – the power of Deed is the main reason for the deck's existence in the BUG colors. Deed destroys nearly all relevant things (absent something like Emrakul or Griselbrand), while keeping the board clean and keeping your Jace or Factories in play. Just be sure not to activate Deed on the same turn you have activated your own manlands.
Force of Will – while many blue decks have been trimming this card or moving it to the sideboard, it's a mistake with a deck like Landstill because you want to have numerous options in your hand to protect yourself and keep the board clean, so that Standstill can get into play on an empty board as soon as possible to start drawing you cards.
Brainstorm – the best and most efficient cantrip and card selection in the game, maximum Brainstorms are a must have, especially with all of your fetchlands.
Mishra's Factory – the best manland in the game, Factory is relevant both on offense and defense, and is more efficient than all of the other manlands that have seen print since.
Jace, the Mind Sculptor – your secondary win condition, card advantage machine, and creature bouncer, Jace does it all.
Counterspell – almost always seen as a 2 or 3-of these days, Counterspell is the Swiss Army knife to answer unresolved threats on the stack, and does not discriminate among card types like Spell Pierce or Spell Snare.
Here are some less obvious choices related to Team Eternal's vision of the BUG Landstill deck.
Spell Pierce – many times, Counterspell is too slow to be effective on turn 1, or turn 2 on the draw. Spell Snare could fill this slot, but Spell Pierce answers more of the relevant threats you want to counter, while also providing early protection against opposing discard like Thoughtseize, Inquisition of Kozilek, or Hymn to Tourach, and another counter-measure for powerful opposing threats like Show and Tell or Jace.
Baleful Strix – a much debated card amongst the Landstill community, Strix provides an efficient answer to most attackers, and replaces itself with the draw effect. It's almost always a two-for-one, and is blue (meaning it can be pitched to Force of Will if need be).
Snapcaster Mage – while Snapcaster has found a home in many blue decks in Legacy, it's inclusion in Landstill variants is less than a sure thing because of the mana needed to make it worthwhile. While it can always rebuy a Brainstorm or Counterspell, post-board is where it really shines, rebuying things like Surgical Extraction, Thoughtseize, and Flusterstorm.
Vendilion Clique – one of the best creatures in Legacy period, Clique provides disruption and a reasonable clock. It is also one of the best anti-Jace measures available.
Abrupt Decay – the latest addition and best catch-all answer to the commonly played threats in Legacy, Decay is weak to some permanents like Jace (or Emrakul), but that's about it.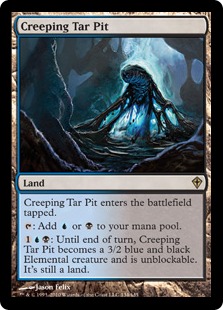 Creeping Tar Pit – an unblockable manland that also provides your two most important colors in the deck, Tar Pit is also very strong in its ability to deal with opposing planeswalkers, making the mid to late game unenviable for any opponent who is trying to win with their own Jace or Elspeth.
Wasteland – with the incorporation of Abrupt Decay into BUG decks, Wasteland has had to take a back seat to making your colored mana consistently, and the number has been trimmed from 4 down to 2. While it used to be a proactive card to buy tempo in old Landstill decks, Wasteland is now used more tactically to protect your valuable manlands and planeswalkers.
Liliana of the Veil – this is a flexible slot in the current build, and Liliana provides a flexible answer to creatures after a Deed has cleared the board. The symmetrical discard mode is not always practical, but more often than not this is made up for by all of the extra card draw in the deck which allows you to break parity. In conjunction with Life from the Loam this is even better.
Life from the Loam – we always want this in the deck, but lately with the abundance of Deathrite Shamans seeing play, it has been moved to the sideboard.
Innocent Blood – one of the best 1 mana removal spells, and arguable the best in BUG colors, Innocent Blood isn't in the current version of the deck due to a heavier creature component, but this card is very efficient and always one to keep in mind depending on how you build your version of Landstill.
Darkblast – another amazing removal spell in the BUG colors, this is another tool to have in your arsenal when the metagame is soft to it. Right now Deathrite's prevalence has also weakened this card, but when decks like Maverick and Goblins surge in popularity from time to time, this card really shines.
Worm Harvest – an all-star back in the day, this has taken a seat on the sidelines for the time being, because with so many mana denial decks in vogue at the moment, it's too expensive to reliably cast when you need it.
There are many other options for constructing your BUG Landstill deck, but right now these are the most relevant and powerful ones. Thank you for reading our primer on the Pernicious StrixStill deck, and be on the lookout for future articles as well.
– Michèl Theissen and Jeroen van Beeck