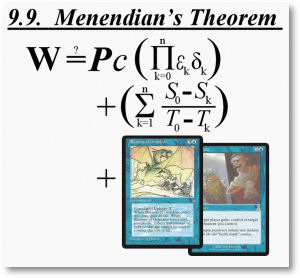 One of the few Vintage writers and also probably one of the best Eternal writers, Magic guru Stephen Menendian, and his column "So Many Insane Plays" are moving from the well known Star City Games website to the new and very interesting Quiet Speculation.com.
The good news is that to replace Menendian's column StarCityGames are bringing in both Brian Demars and Andy Probasco, both excellent players and well respected for their Vintage and Legacy theory and results among the Eternal Magic community (especially on TMD).
We encourage all of you to keep the track of these excellent writers at Quiet Speculation, as they promise really high-quality articles there. After the break there's an excerpt and link to Steve's first article on Quiet Speculation.
Author's Welcome:
I want to welcome all of my readers to Quiet Speculation, the new home of my column, "So Many Insane Plays." After over 8 years with Starcitygames.com, where I was their longest running weekly Premium columnist, I am thrilled to join the team here at Quiet Speculation, including my teammate and friend Doug Linn. How often will I be writing? I will be publishing on a schedule similar to the one I used to write before I joined SCG Premium. Instead of a weekly column, I'm aiming for an article every three weeks /once a month, but I promise you the absolute best Vintage articles anywhere! This schedule will give me the time to produce the most incredible content for you, the reader. I want to get back to the fundamentals: writing detailed primers, hot deck tech, and skill-building articles. My articles will be more detailed, more comprehensive, and more insightful than ever. My goal for my columns from here on out is that they are must read. Until then, here is a free Scars of MIrrodin set review!
Enjoy!
So Many Insane Plays – Scars of Mirrodin Ultimate Vintage Set Review with Complete Vintage Checklist