Returning home from Eternal Weekend was a dispiriting experience this year, as far as Vintage is concerned. We enjoyed the largest crowds ever for both Vintage Champs and Legacy Champs – at a special, non-convention event, no less – while Vintage had languished in a slow decline on Magic Online, the platform for which it has the most promise, unconstrained by the Reserved List or paper card supply.

The debut of Vintage on Magic Online began with so much potential, but a series of missteps, decisions by management, and problems that go far beyond Vintage, ensured that the format never fully flowered, let alone realized its full potential on that platform. In July 2015, the managers of MTGO announced the introduction of play points to replace tickets as prizes in daily events, and changes to the daily event structure. Whether valid or not, these changes were perceived as part of a negative trend of declining support for Vintage on the platform. Vintage regulars started selling out of MTGO, and I felt that unless something was done, it could fall into a death spiral. Vintage requires a critical mass of players, and each person that sold their collection would lead to more loss.
I have long been invested in the future of Vintage on MTGO, and was an early adopter of the format on that platform. Over time, I observed trends, noted patterns, and accumulated notes on how I felt that the platform could be improved for Vintage players and the Vintage experience in particular. Somewhere, I have a long list of ideas and suggestions for MTGO.
But upon returning home from Eternal Weekend, I felt that it was time to speak up, and present at least some of my ideas. It just seemed wrong that Vintage could be enjoying long overdue success, in spite of its many structural limitations (the Reserved List preeminent among them) in paper Magic, but slowly failing on MTGO.
I enlisted Rich Shay, and asked if he wanted to co-author an open letter on suggestions for improving the Vintage experience on MTGO. Rich quickly agreed. We began by outlining things we'd like to see happen, and those that we agreed upon, or at least did not object to, we included in our letter. We circulated our drafts to folks like LSV for feedback, because although we might offer insight into the experience and mindset of the Vintage community, we might also have blind spots that other experienced MTGO players would not.
At the core of our concerns, Rich and I wanted to see more and larger Vintage events on MTGO. Chief in my mind was the experience of the Vintage Holiday Open, a hugely successful holiday tournament from late 2014 that garnered over 100 players, in a qualification-only event. I just couldn't understand why that type of event hadn't been replicated. In my mind, an event like that could be held at least once a quarter – a large-scale, prize-heavy event that could bring together Vintage players globally was part of the original allure of Vintage on MTGO.
When Vintage was introduced on MTGO, there were basically two event types offered besides casual play and 2-person queues. You could enroll in smaller daily events or larger "premier" events that were scheduled only on Friday, Saturday, and Sunday evenings. These events almost never fired, for a variety of reasons. I did, however, successfully organize the firing of at least one premier event, but only by aggressively promoting the event online and organizing interest and enthusiasm on a pre-specified date.
When Wizards eventually cut back on daily events – with a recognition that less events meant that the remaining events would be more likely to "fire" – I realized that the same logic should have applied to premier events. What Vintage needed was a monthly premier event offering, and I believed it would always fire.
After publishing our letter on September 15, MTGO manager Lee Sharpe announced, less than a month later, a monthly MTGO Holiday Power Nine Challenge. I was unable to attend the first event, in which over 110 players participated. But the second one was held just after Thanksgiving, and I couldn't wait to play.
In preparing for this event, the two decks that I most expected to see were Brian Kelly's heterodox Mentor deck and Matthew Murray's Mentor deck from the recent Eternal Extravaganza 3.
Mentor UWG, by Brian Kelly – 2nd Place EE3
Brian and Matt split the event, so Brian's placement was technically 1st/2nd. I mention that because Brian has been on an absolute tear in Vintage. Not only did he win the Vintage Championship, but he's tapped into deck building ideas so unorthodox that they can only be marveled at as genius. You'll notice, for example, that Brian has Sylvan Library centrally featured here. Brian also ran Sylvan in his Vintage Championship Oath list, but he has two in this decklist. What Brian's realized is that Sylvan is difficult to counter (it can't be stopped by most countermagic currently played, such as Mental Misstep, Pyroblast, Flusterstorm, etc.), is often unlikely to be countered, and, in the control mirror, can be greedily used to draw many cards. Having played in a local tournament recently, and a lot online leading up to the P9 Challenge, I observed a good deal of Brian Kelly technology at work, and expected it in huge numbers.
Matthew Murray's deck also exemplifies trends I expected to see in Mentor decks.
Mentor UWR, by Matthew Murray – 1st Place EE3
In many respects, this shell is very similar to the Mentor deck that I played in the Vintage Super League Season 2. The key innovation in the decklist above, and one for which Matthew was an early adopter, is Jace, Vryn's Prodigy. As I acknowledged in our latest podcast set review report card, "baby Jace" was a natural and perfect fit into this archetype post-Dig restriction. Vryn copies and replays Gush and the restricted Delve draw spells as good as anything. It's just an insane card, and Matthew, being one of the first to realize it in other archetypes, fully exploits it here.
With huge numbers of Mentor decks, I expected the rest of the P9 Challenge field to be represented in much smaller quantities, with a bit of Workshops, Dredge, and Oath.
At the end of the tournament, MTGO allows you to go back and watch any previous match. I opened the MTGO program and enjoyed this view: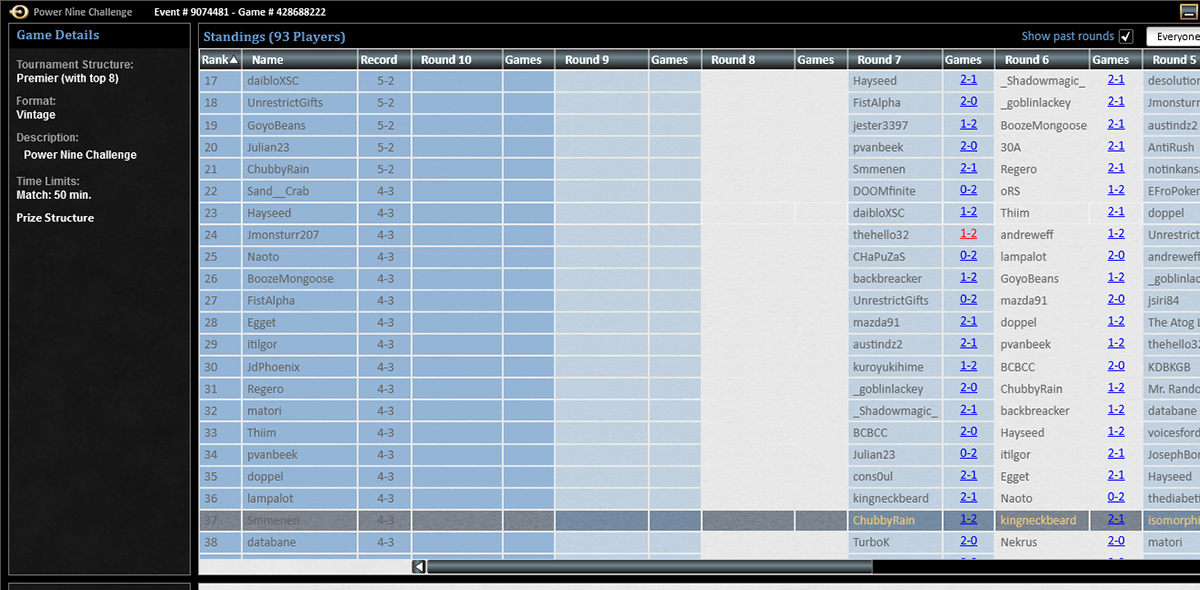 I decided it would be worthwhile to see if I could account for a full metagame breakdown. I could watch every match (before they are quickly taken down by MTGO) and try to better understand how the tournament unfolded.
When I wrote a weekly column for StarCityGames.com, SCG would send me the stack of decklists from their events, and I'd do complete metagame analysis (see the second half of this article, for example). In fact, Wizards of the Coast once sent me a ginormous shipment of all 2000+ of the GP Madrid decklists, for which I did the same thing, a backbreaking project that felt like it nearly killed me.
I realized that no one else would probably watch the matches and try to classify the metagame, so I should try. Of course, the difference is that with the SCG Opens and GP Madrid, I had all of the decklists. Here, I could only watch the matches that played out. There were a handful of decks that never won a game, and for whom I could only observe a handful of cards, so I noted them as "unknown." There were also a few decks for which, having seen more than a handful of cards, I could only make an educated guess as to their classification. So this is my best accounting of what unfolded, but with imperfect information.
First, I will present a summary of the archetypes, then I will present their placement in the field by actual finish and by average, and I will offer any notes or comments that may help illuminate the data.
November 2015 MTGO Vintage P9 Challenge Metagame
With 93 players in the field, here is the metagame breakdown as best as I could tell:
17 Mentor (URW, UWG, UWB, UWBG, Remora)
9 TPS (most including Dark Petition)
9 Dredge (1 Pitch Counter version)
9 BUG
8 Workshops (Hangarback Aggro, Ravager Chamber Aggro, Stax, Forgemasters, and Depths)
5 Delver (including UR, URW, URB)
5 PyroGush
5 Oath (4 Griselbrand, 1 Kelly Salvagers style)
3 Doomsday
3 Grixis Control
2 TezzCast
2 Merfolk
2 HateBears
2 "Every City" Vault
2 Belcher
1 Thirst Control
1 Gush TPS
1 DepthStill
1 Blue Moon
1 Erayo Combo
1 Goblins
1 Painter
3 Unknown/Other
Total: 93 decks
Before discussing their performance and placement, let me add a few notes to these archetypes. First and foremost, the overwhelmingly most popular strategy involved Monastery Mentor, but this conceals a good deal of diversity. Without decklists I was not able to determine or assess their exact configuration, but this includes UWR Mentor, UWBG Mentor decks, UWG Mentor decks, and perhaps even more. It does not, however, include decks that may have featured 1-2 Mentors while playing, for example, TPS or something else, like the Erayo deck I will discuss in a bit. The vast majority of these Mentor decks, however, appeared to be UWR Mentor decks, similar to one of the two varietals discussed in the previous section.
Second, there were not nearly as many Workshop decks as I expected. For the past few years, Workshop-based strategies have consistently composed 20% or more of almost every major Vintage metagame. Witness the effect of the restriction of Chalice of the Void. Workshops have fallen to just under 10% of this field. Even this belies some unusual variety. Three of those eight decks appeared to be the highly unusual and unorthodox "Workshop Depths" deck popularized by Thiim:
Workshop Depths, by Thiim – 5th Place MTGO Vintage Challenge
The rest of the Workshop decks were also diverse. At least one was Smokestack Workshop (piloted by Hiromichi Itou, a former Vintage Champion, who ended up in 16th place). Others played Forgemaster Workshops, like Montolio, and others played more Hangerback Aggro Workshop styles. I think Andy Probasco (UnrestrictGifts) played a variant altogether different (the older Genesis Chamber-laden Ravager Aggro Workshop).
Third, there were many more BUG and TPS decks than I anticipated. BUG, TPS, and Dredge were each tied with 9 representatives a piece. The BUG decks were pretty familiar: they had Wastelands, Deathrite Shamans, Abrupt Decays, and countermagic. Most of them, as far as I could tell, also had Dark Confidant.
The TPS decks almost all had Dark Petition, as far as I could tell. There was also a Gush TPS deck that I classified separately because it was built more around the GushBond engine. TPS was a big breakout archetype in this tournament, and apparently has been reflected in global performance.
There has been a noted and dramatic decline in both Delver strategies and Pyromancer strategies, as well as greater differentiation among them. As best I could tell, the most popular form of Pyromancer decks splashed black for Cabal Therapy.
An oddball deck worth mentioning is Shawn Anthony's (aka desolutionist) Erayo combo deck, which you can see from a previous daily here.
Erayo Combo, by Shawn Anthony
With blistering fast acceleration, this deck is designed to combat other Mentor decks with plenty of powerful tools. It's reminiscent of the "Every City Vault" decks.
November 2015 MTGO Vintage P9 Challenge Performance and Results
The Top 16 decklists, standings, and Top 8 playoff chart can all be viewed here:
But here is the placement in final standings of each archetype and their average finish by calculation for decks with more than three appearances (rounded to nearest whole):
Mentor (2, 5, 12, 31, 34, 37, 42, 44, 59, 67, 68, 74, 77, 80, 82, 88, 89); Average place: 52
TPS (1, 13, 29, 30, 39, 48, 54, 75, 78); Average place: 41
Dredge (11, 22, 24, 32, 38, 46, 50, 91, 93); Average place: 45
BUG (20, 25, 27, 36, 49, 64, 70, 76, 83); Average place: 50
Workshops (9, 15, 16, 18, 19, 33, 35, 65); Average place: 26
PyroGush URx (28, 40, 43, 57, 60); Average place: 46
Delver (47, 51, 55, 66, 72); Average place: 58
Oath (26, 73, 79, 90, 92); Average place: 72
A complete list of final standing names and archetypes is provided in the appendix below.
It makes sense that the decks with larger portions of the field would bend more towards the average, although TPS did better than average, on the whole. For the strategies with more than 3 appearances in the field, the best performing in terms of average placement is Workshops. This conceals the fact, however, that none of them made the Top 8 playoff rounds. For decks with smaller representation, Merfolk and Doomsday seemed to perform exceptionally well.
What does this mean for the metagame going forward? It's hard to tell. I think it's clear that TPS is on the rise, having won this event (albeit in supremely capable hands), and whether it will continue to perform well is an open question. People finally seemed to have realized how vulnerable this metagame is to Defense Grid, and the power of Gitaxian Probe + Cabal Therapy is increasing, given the restriction of Chalice (and the effect its absence has had on the ensuing metagame shift).
I think there is room for Workshops to work their way back into the metagame more fully, but perhaps a return to the more variegated styles we've seen in the past. Mentor is clearly one of the top dogs, but there are so many interesting variants to contend with, it's not clear which direction to go.
One thing is for sure: I'm eager to see what comes next.
Until next time,
Stephen Menendian
Appendix - MTGO P9Challenge Results
| Place | Player Name | Deck Name |
| --- | --- | --- |
| 1 | Efro Poker | TPS |
| 2 | Atoglord | Mentor UWR |
| 3 | Dalecooper | Merfolk |
| 4 | ors | Doomsday |
| 5 | isomorphic | Mentor UWR |
| 6 | mossdog trainee | Doomsday |
| 7 | kdbkgb | Painter |
| 8 | jester | Gush TPS |
| 9 | montolio | Workshop Forgemasters |
| 10 | thehello32 | TezzCast |
| 11 | DOOMfinite | Dredge |
| 12 | andreweff | Mentor UWR |
| 13 | backbreaker | TPS |
| 14 | CHaPuZaS | TezzCast |
| 15 | kuryukihimie | Workshop |
| 16 | jsiri84 | Workshop Stax |
| 17 | diabolicxcs | Doomsday |
| 18 | Unrestrict Gifts | Workshop Ravager Chamber Aggro |
| 19 | GoyoBeats | Workshop |
| 20 | Julian | BUG |
| 21 | Chubby Rain | Blue Moon |
| 22 | Sand Crab | Dredge |
| 23 | Hayseed | DepthStill |
| 24 | jmonsturr | Dredge |
| 25 | Naoto | BUG |
| 26 | BoozeMongoose | Oath (Griselbrand) |
| 27 | FistAlpha | BUG |
| 28 | Egget | PyroGush URB |
| 29 | Itilgor | TPS |
| 30 | JDPhonix | TPS |
| 31 | rogero | Mentor (Remora) |
| 32 | matori | Dredge |
| 33 | Thiim | Workshop Depths |
| 34 | pvanbeek | Mentor UWB |
| 35 | dopple | Workshop Depths |
| 36 | lampalot | BUG |
| 37 | smmenen | Mentor UWBG |
| 38 | databane | Dredge |
| 39 | matsumi | TPS |
| 40 | austindtz | PyroGush URB |
| 41 | niffwan | Grixis Control |
| 42 | goblinlackey | Mentor UWG |
| 43 | 30A | PyroGush |
| 44 | mazda91 | Mentor UWBG |
| 45 | shadowmagic | Goblins |
| 46 | kingneckbeard | Dredge (Pitch) |
| 47 | consul | Delver UR |
| 48 | bcbcc | TPS |
| 49 | turbok | BUG |
| 50 | vizzidrex | Dredge |
| 51 | voicesfordaze | Delver URW |
| 52 | m0x | Belcher |
| 53 | Onkel | Every City Vault |
| 54 | GreenieWeenie | TPS |
| 55 | stsung | Delver |
| 56 | antirush | HateBears |
| 57 | thediabetical | PyroGush URB |
| 58 | desolutionist | Erayo Combo |
| 59 | sodoyouwearacape | Mentor UWR |
| 60 | notinkansasanymore | PyroGush |
| 61 | Nekrus | Merfolk |
| 62 | Mr random | Unknown/Other |
| 63 | Joseph Bono | Grixis Control |
| 64 | Lithinized | BUG |
| 65 | goat314 | Workshop |
| 66 | jcardshark | Delver |
| 67 | Coopes | Mentor UWR |
| 68 | OlleR | Mentor UWR |
| 69 | Somedude127 | Grixis Control |
| 70 | benbw | BUG |
| 71 | TonyMontana | Every City Vault |
| 72 | pubert | Delver |
| 73 | Alexandrino | Oath (Griselbrand) |
| 74 | TomM | Mentor UWR |
| 75 | beyondstupid | TPS |
| 76 | Nealon | BUG |
| 77 | Phizzle | Mentor UWR |
| 78 | Kahl1701 | TPS |
| 79 | airfarmer | Oath (Griselbrand) |
| 80 | RedArmada | Mentor UWR |
| 81 | Rabid Treant | Belcher |
| 82 | Lejay | Mentor UWR |
| 83 | Butakov | BUG |
| 84 | rizer | HateBears |
| 85 | Milward | Thirst Control |
| 86 | Moil29 | Unknown/Other |
| 87 | Tempch | Unknown/Other |
| 88 | echecetmat35 | Mentor UWR |
| 89 | DaDawson | Mentor UWR |
| 90 | Backfjard | Oath (Griselbrand) |
| 91 | Luminux | Dredge |
| 92 | emacs | Oath (Kelly Salvagers) |
| 93 | ACG88 | Dredge |