For episode 27, Geoff Moes (@ThallidTosser on Twitter), Nat Moes (@GrandpaBelcher), Josh Chapple (@joshchapple), and Sam Krohlow (@sillysam71) whine about Workshops in Vintage, and then get down to business talking about where to eat at GP Columbus and Eternal Weekend.


Podcast (seriousvintage): Download (Duration: 59:16 — 27.2MB)
Subscribe: Apple Podcasts | Google Podcasts | Spotify | TuneIn | RSS | More
Here's the timestamped table of contents for your listening ease and enjoyment:
00:28 – Gushing in My Pants
10:55 – Columbus is a Many-Splendored Thing
58:30 – Outro
Total runtime – 0:59:13
Whither Workshops
Because we're still a Vintage Magic: The Gathering podcast, we open with a few thoughts about the Vintage metagame. The recent restrictions of Chalice of the Void and Lodestone Golem seem so far to have done more harm than good, as the environment has tilted heavily towards blue. In the most recent MTGO Power 9 Challenge, 27 out of 60 players played Gush, and only four played Workshops. We think that's kind of a problem.
However, we hope that things can still adjust as Shops pilots find their place again in the world. Mishra's Workshop is too good to be this bad.
The Point of the Podcast
Obviously the big upcoming event for us is Eternal Weekend, but we'll get to that in a second.
June 10, 11, and 12 is Grand Prix Columbus. The main event is Legacy, and players get a neat Stoneforge Mystic promo, but there's also Vintage scheduled all three days:
– Friday, June 10 at 3 p.m. $25 entry for 5 rounds with points payout
– Saturday, June 11 at 11 a.m. $25 entry for 5 rounds with points payout
– Sunday, June 12 at noon. Vintage Challenge! $30 entry with Swiss rounds based on attendance and points payout
Eternal Weekend is moving from Philadelphia to Columbus and will be October 27–30. Be there! Vintage is on Friday (which is kind of awkward) and Legacy is on Saturday, with the finals for both at non-conflicting times on Sunday. You should come; you'll have a great time. There's hot Eternal MTG action and more all four days.
Columbus Tips
This should prove to be a big year for Eternal MTG in Ohio as we have a Legacy Grand Prix coming up the second weekend in June and Eternal Weekend the last weekend in October. As a resident of Columbus for the last six years (and another three years from 2005 to 2008), I'll admit I'm excited. I think Columbus is a great town and am excited that other people will get to experience it. Let me be the first to welcome you and say, "Have fun!"
Keep in mind for both events that they start on weekdays, and Columbus is a commuter city. That means employees will be driving into and around the downtown area, making morning traffic slow and competing for parking. There should be parking at Convention Center area hotels and nearby garages, but make sure you leave enough time to negotiate traffic and finding a space if you need to get to a morning event.
Also note that the Columbus Clippers are home all weekend for the GP, so there will be fans in and around the stadium in the Arena District. That shouldn't affect the Convention Center too much, but expect some heavier traffic and parking. Clippers games are a lot of fun if you're done with your day early and want to just hang out, eat stadium food, and watch some baseball. Tickets are usually available at the gate and are affordable.
The Saturday of Eternal Weekend is an Ohio State football home game. All of the bars will have extra people that night since Columbus loves its Buckeyes, so you might have a long wait anywhere that serves alcohol and has TVs.
Dining Out Ohio Style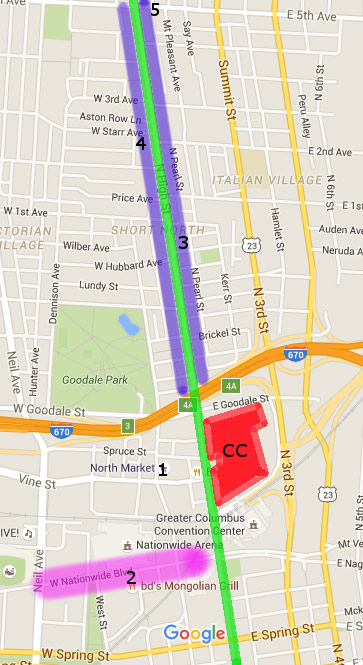 We mention a lot of restaurants in the podcast, so I made a map that I think breaks down the most important ones. The Google Map I used starts around the Convention Center and then shows what's an easy walk. The marked areas on this map should be relatively safe for visitors, but protect yourself anyway. Don't take cards anywhere you don't need to and be aware of your surroundings.
Greater Columbus Convention Center (red highlight, labeled CC) – This is where the Magic happens. Note that if you do map the Convention Center, it will actually center on the smaller southern part of the building across Convention Center Drive via skywalk. Every big event I've been to there has been in the much larger northern section.
High Street (north-south green highlight) – High Street runs the length of Columbus straight down the middle. From the Convention Center, going north on High Street will take you immediately to the Short North, then to the Ohio State Campus, then beyond to Clintonville and Worthington. Most of the Short North is within a half-hour walk. Going south from the Convention Center will take you to the Arena District then the City Center with the Ohio Statehouse and then beyond to German Village. Walking from the Convention Center to any of the German Village locations we talked about would probably be about an hour, but it's an easy 10 minute drive.
Arena District (east-west purple highlight) – The Arena District runs east from High Street along Nationwide Boulevard, past Nationwide Arena (home of Columbus Blue Jackets hockey and monster trucks) to Huntington Park (home of Columbus Clippers baseball). Most of the restaurants are chain restaurants and sports bar type things, but they'll be good and are all nearby. Since the Clippers are home throughout GP Columbus, that area might be busy.
Short North (north-south blue highlight along High Street) – The Short North is a dining, shopping, and entertainment mecca that runs along High Street. It starts immediately across Goodale Avenue north of the Convention Center and runs up to around 5th Avenue. As mentioned, it's probably a half-hour walk from Goodale to 5th.
North Market (#1) – North Market should be your go-to place for quick, light meals during the day. Similar to Philadelphia's Reading Terminal Market, they have many different food vendors, so there's something for everyone, from Vietnamese and Indian to Polish and German. There's also a Jeni's Ice Cream stand. We mention a few of our favorite booths in the podcast. (Also, directly south of the Market, across the street, there's a parking garage; that's the one we use.)
Rodizio Grill (#2) – If you like meat-sweats, Rodizio Grill is going to be the go-to Brazilian steakhouse for these events. It's within walking distance. None of us had been there, but "Brazilian steakhouse" was one of our most requested venues. The other option is going to be Texas de Brazil at Easton, which will be a 20 minute car ride from the Convention Center.
Melt Bar & Grilled (#3) – Home of delicious, deluxe grilled cheese, Melt is going to be our consensus recommended dinner experience. It's a 10 minute walk north of the Convention Center. There you will find cheesey goodness, beer, and a 25% discount if you have a Melt tattoo. Piles of cheese and carbs are hard to miss. There's a second Melt at Easton too.
Northstar Cafe (#4) – This was our recommended breakfast place, but they also have a lunch and dinner menu. Northstar has local, organic food and is regularly quite tasty. As mentioned, they're on the pricy side for what you get (eggs and a biscuit, for example), but the food is top notch. You can also get alcohol for breakfast. Right across the street is White Castle, which is worth the experience if you've never been. (A Crave Case of 30 sliders and a Donato's pepperoni pizza, also in the Short North, was the recommended Columbus Meal, easily shared by four people.)
Brother's Drake Meadery & Bar (#5) – The Meadery (actually at the corner of 5th and Courtland avenues) is at the farther north end of the Short North, about a half-hour walk from the Convention Center. Mead is an interesting experience if you've never had it, and walking up there will take you by much of what the Short North has to offer. Turn right at Condado's Tacos, or stop in for some Condado's Tacos.
Everything else we're just going to sort of list because you can use Google. Definitely check your favorite restaurant review site in advance and pick some places out.
Near the Convention Center (5 minutes walk)
Barley's Brewing Company (American/pub)
Bareburger (burgers)
Kooma Sushi
R Bar
Gallerie Bar & Bistro
Double Comfort
Martini Modern Italian
Char Bar
Short North (20 minutes walk)
Hyde Park Prime Steakhouse
Stack City Burger Bar
Marcella's (Italian)
The Pearl (steak and seafood)
Brassica (Greek Chipotle)
Mac's Cafe (American/pub)
Level Dining Lounge
Jeni's Splendid Ice Creams
Bakersfield Short North (tacos)
The Pint House (American/pub)
Melt Bar & Grilled
Whit's Frozen Custard
Basil (Thai)
UDF (a convenience store with an ice-cream fountain)
Donato's Pizza
Northstar Cafe
White Castle
Condado Tacos
Arena District (10 minutes walk)
Rodizio Grill
Chipotle
Buca di Beppo (Italian)
Bd's Mongolian Grill
Gordon Biersch (American/pub)
German Village (45+ minute walk, 10 minute drive)
Thurman Cafe (burgers)
Easy Street Cafe (Greek/pub)
Harvest/Curio (pizza)
Schmidt's Sausage Haus (German)
The Old Mohawk (German/American)
Barcelona (Spanish tapas)
Katzinger's Delicatessen
Elsewhere
Dirty Frank's (hotdogs)
Los Guachos (listed by the Food Network as Top 5 Tacos in America)
101 Beer Kitchen (American/pub)
Drinking
Middle West Spirits
Watershed Distillery
Elevator Brewing Company
Land Grant (near Strongwater restaurant, also good)
Brother's Drake Meadery
16-Bit (drinks and free arcade games)
Kingmakers (drinks and board games)
Other Areas and Activities
If you want to escape the Convention Center and downtown areas. We also mentioned Cameron Mitchell as Columbus's big-name restaurateur. Many of his restaurants will be elsewhere by car in one of these areas.
Grandview – 15 minutes by car, lots of restaurants and bars.
Bethel Road – 20 minutes by car, good for various Asian restaurants of all kinds, also Los Guachos
Easton – 20 minutes by car, shopping area with lots of chain restaurants and other options (second Melt location, second Northstar)
Polaris – 20 minutes by car, shopping area with lots of chain restaurants and different options
Conclusion
Thanks for listening! We're excited that Columbus is going to host a lot of new faces for some fun Vintage and Legacy Magic. Truly, you won't be disappointed by the options here. We mentioned a lot but didn't even come close to talking about all of them. We'll look forward to any questions or comments here or on Twitter. You can also email us at seriousvintagepodcast@gmail.com. And when you do get to Columbus, stop by and say, "Hey!"