Due to the current Vintage metagame, that bores me to oblivion, I'm currently testing new stuff in order to find a balance between the fun and the win rate. If I'd play for winning I'd probably play Dredge. If I wouldn't care about the fun then I'd probably play MUD. But since I'm somewhere in between those 2, I feel the need to do something!
You've seen me trying to design new stuff such as the Jacerator deck. A deck that, despite the fact that it isn't played a lot, has achieved excellent results at mid/large tournaments around Europe. Jacerator is good because of the current metagame. Playing 4 Tarmogoyf maindeck plus a bunch of Nature's Claim, Jace, the Mind Sculptor or  Trygon Predator makes this deck a true "metagame deck". Current Vintage metagame is so stuck that everywhere you go you'll find the exact same decks. That's what makes Jacerator good! Anyways, I'm not here to speak about Jacerator!
So, today I'm going to try to explain why Polymorph might be good in Vintage.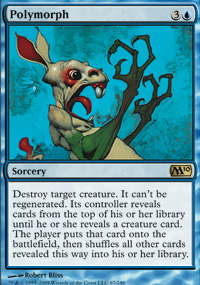 I'm sure you had to read Polymorph carefully to remember/learn what it does. Ok, here there's the deal:
You play Khalni Garden to put a 0/1 plant token into play and then Polymorph it into a Emrakul, the Aeons Torn.
It's a 2 card combo and one of them can't be countered (except from Stifle/Trickbind). Isn't this broken? Ok, the combo doesn't win you the game now, but it will probably do the turn after. Aren't there any better ways to put Emrakul into play? Sure! Oath of Druids probably works better, but it's definitely not that funny!
I have to admit I've invented nothing new at all. This Polymorph/Khalni Garden/Emrakul combo is being used currently in standard, and it's having some success indeed. That's probably why I thought: "If it works well in Standard, why not to try it in Vintage?". And there we go, I bought myself a playset of Khalni Gardens and 3 Polymorphs and started to play with them.
Since I'm a huge fan of control decks, I wanted to give this Polymorph deck that kind of attitude. But, How can I actually win with it and not being smashed before with other cheaper or even more powerful 2 card combos, lock pieces, evil creatures or deadly storms? Very simple: Let's try to disrupt my opponents before I start casting anything good. If I harass my opponent during early game by countering their first spells and damaging their mana base, I might be in the right position to successfully start casting my own bombs.
Let me show you the list I'm currently running so you have an idea of what's going on here:
Vintage
The deck runs a total of 24 mana sources 19 lands + 5 artifacts. This mana base is actually quite cool and solid against Fish/MUD. Khalni Garden, the worst card in the deck, is actually a 2×1 permanents VS MUD and it might actually be useful to chumblock some Tarmagoyf and therefore gain an extra turn.
So, from the list I present, the elements of disruption are:
1. To slow his mana base
2. To counter his early spells
Ancient Grudge has proven to be such an excellent board controller. You can either destroy a couple of jewelry pieces or it can save your day by destroying a Time Vault/Voltaic Key. Ancient Grudge combined with Wasteland/Strip Mine proved me the best disruption package I could find. The fact that I only run 5 artifacts makes the deck incredibly solid against Null Rods or an early Chalice of the Void. Did you notice that Chalice @0 and Chalice @1 aren't that effective against this deck?
Chalice at 0 hits 4 cards –  6.66% of the deck
Chalice at 1 hits 10 cards – 16.66% of the deck
Chalice at 2 hits 11 cards – 18.33% of the deck
Most MUD players will usually play the Chalice @1 as it's lot more effective against many decks, and specially those running Nature's Claim.
Most "Solution" decks are very effective at disrupting your opponent, but they have difficulties at finishing the game. Let's take a look at the deck César Fernández used to Top8 in the MTG BARATO tournament:
Solution.
His win conditions are:
Non of those win conditions are specially "fast", except from the Barbarian Ring + Zuran Orb + Crucible of the Worlds + Fastbond combo. So, you are very vulnerable at the mid/late game to the mighty and stupid Vault/Key combo.
On the other hand, Polymorph into Emrakul is fast and effective. On the first swing you'll probably clean the table and seal the game. Not to mention on games 2 and 3, Polymorph into Iona, Shield of Emeria.
Other uses of Polymorph:
I love this card because it's actually surprisingly good. Did you know that you can kill your opponents Sphinx of the Steel Wind with a Polymorph? Polymorph says "Destroy target creature" and then the controller of that creature reveals cards until he shows a creature and puts it into play. What if he's not playing any other creature (just like César's Solution deck)? Or maybe you can Polymorph a Tarmagoyf into a Noble Hierarch.
Or, have you thought How good Polymorph is against Oath? You don't need your Khalni Gardens to get creatures, your opponent is giving you free 1/1 spirits!
Opponent: Forbidden Orchard + Mox Pearl + Oath of Druids
Me: Volcanic Island + Black Lotus + Polymorph my 1/1 spirit token into a Emrakul!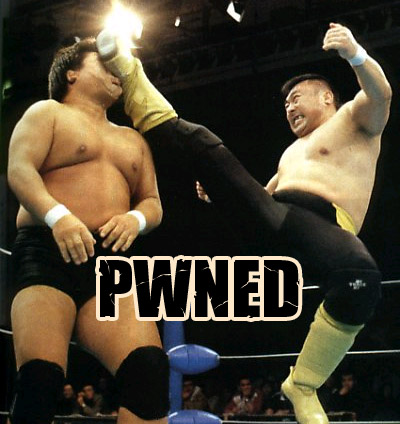 A bit more complicated but Polymorph could also be effective against Dredge. Your 0/1 plants will love to block zombies in order to exile those annoying Bridge from Below. And we we happen to actually cast Polymorph into an Emrakul, then we might even win game 1! How good is that? It sucks, I know!.
On my last playtesting session, I took the deck with me and played a loooot of games. These are the results obtained with the deck so far:
9 – 1 against Repeal Tendrils
7 – 2 against Jace Control
2 – 4 against TPS
1 – 1 against Trygon/Jace/Bob Control
Everyone was incredibly surprised by the good results my plants got. Was it luck? Were my opponents bad players? Maybe I was lucky, who knows, but my opponents are excellent players with a long history of Vintage matches and Top8's at the LCV tournaments. I mean, you don't win 9 to 1 vs Repeal Tendrils if the deck isn't good, right? What made the deck win 17 games and lose only 4 against control? I like to think of:
Surprise factor.
The ability of the deck to disrupt the early game and win fast.
Against TPS it was a little bit harder and I could only win those games that my opponent hadn't explosive hands. If I managed to waste one of his lands and Pierce one of his early spells, then my chances of winning that game would increase notably.
I've started a forum topic about Polymorph Control in our forums for further discussion. I'd love to hear your opinions and suggestions. So far, my concerns about the deck are:
Adding the 3rd Wasteland
Swaping Mana Drain #4 for Spell Pierce #4
What to add to the sideboard to improve the combo matchup.
Will definitely keep testing the deck, and who knows, might even try it in a tournament!
Thanks for reading!