The third annual Eternal Central Old School tournament at Eternal Weekend is in the books, with some familiar faces, and a lot of newcomers as well. Players traveled from New Zealand, Spain, Canada, and all over the USA to do battle in the ancient ways. With over 100+ players pre-registered, between last minute withdrawls and no-shows, we had 86 players come out to do battle, making this the largest (yet) Old School 93-94 event held anywhere to date.

The tournament was held at Gordon Biersch Brewery, in downtown Columbus (Ohio, USA), with free entry. Many thanks go to their friendly staff for continuously keeping cold craft beers coming, even though they grew flustered as we sprawled beyond our assigned areas. Prizes included a commemorative Dust to Dust for each player for their opponent's to sign, with a 'payout' of other prizes to the Top 16, including Alpha and Beta cards ranging from a well-loved Jayemdae Tome for first (special thank you to Hunter Prendergast for his generous donation), a Beta Braingeyser for second, and other goodies, stretching to Alpha Islands for 9th-16th place. All of these prizes were signed by all 86 players participating, and while we didn't get a good picture of the total prize pool this year, you can no doubt find some of them floating around on social media.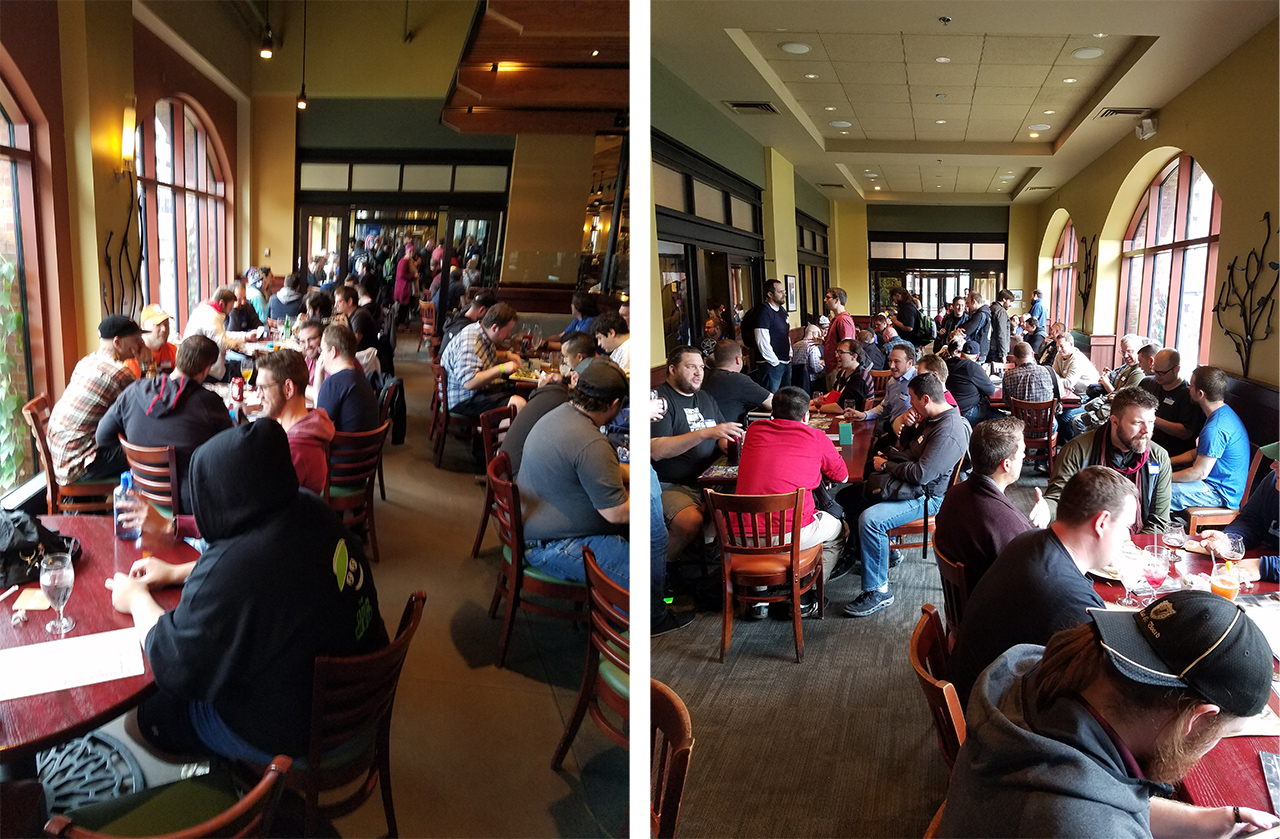 In a change from previous years for time and fun considerations, before the event was announced we decided on a Straight Swiss + 1 event, rather than Swiss + Top 8 playoff. Swiss + 1 was how many of the original Magic tournaments were run (or single elimination), and with 80-120 people that would normally be 7 rounds, plus 1, equals 8 total rounds. Tiebreakers matter, as does playing out your rounds to try to keep winning points. This was also to keep the tournament flowing and not be around until super late. As is our policy at all events, we want the maximum number of rounds and matches played, and because of this, do not allow draws. If a match would otherwise be a draw after time is called (plus 5 turns), the match immediately goes to Sudden Death Chaos Orb flipping to determine a winner. It seemed like most people finished on time in the normal 50 minute rounds, with a few matches per round going to Sudden Death to determine a winner. The pairings and standings for each round can be found on our live coverage page from the event here.
As can be expected in a larger field, there were many variants of The Deck and UR Control. RUG Tempo was also a popular choice, and one more notable trend was the wider proliferation and mutation of Black/White, Black/Green, and Black/Green/White decks finally. They have a number of tools and disruption pieces to grind out many games, along with tons of removal. Some of the more unique decks in the field were Matt DeMinico's Fork Combo deck (utilizing multiple Forks and Fastbonds), Kevin Cron's GW Living Plane deck (leveraging multiple synergies with Living Plane, Tabernacle, Winter Orb, and Drop of Honey), Phil Hillman's UBR Control deck, Greg Kraigher's Mono Brown UrzaTron (using 4 Workshops and 4 of each UrzaTron land), Mattew Deering's RB ConTroll, and Shann Chaudhry's 5C Birdman deck.
There were also a number of combo decks, like Power Artifact Combo (of a few different stripes), Underworld Dreams Combo, the aforementioned Fork Combo, RW TaxEdge, etc. A new feature of this year's tournament are prizes for the two most creative decks. The winner of the most creative deck for 2016 goes to Mike Lupo's Coinflip Red deck, featuring 15 coinflip cards main deck, and he wins a Diamond Valley signed by all players. The runner up for most creative deck of the 2016 tournament goes to Dan Rech's RGW deck, highlighting the awesome power of Jacque le Vert, and Dan walks away with an Illusionary Mask signed by all players.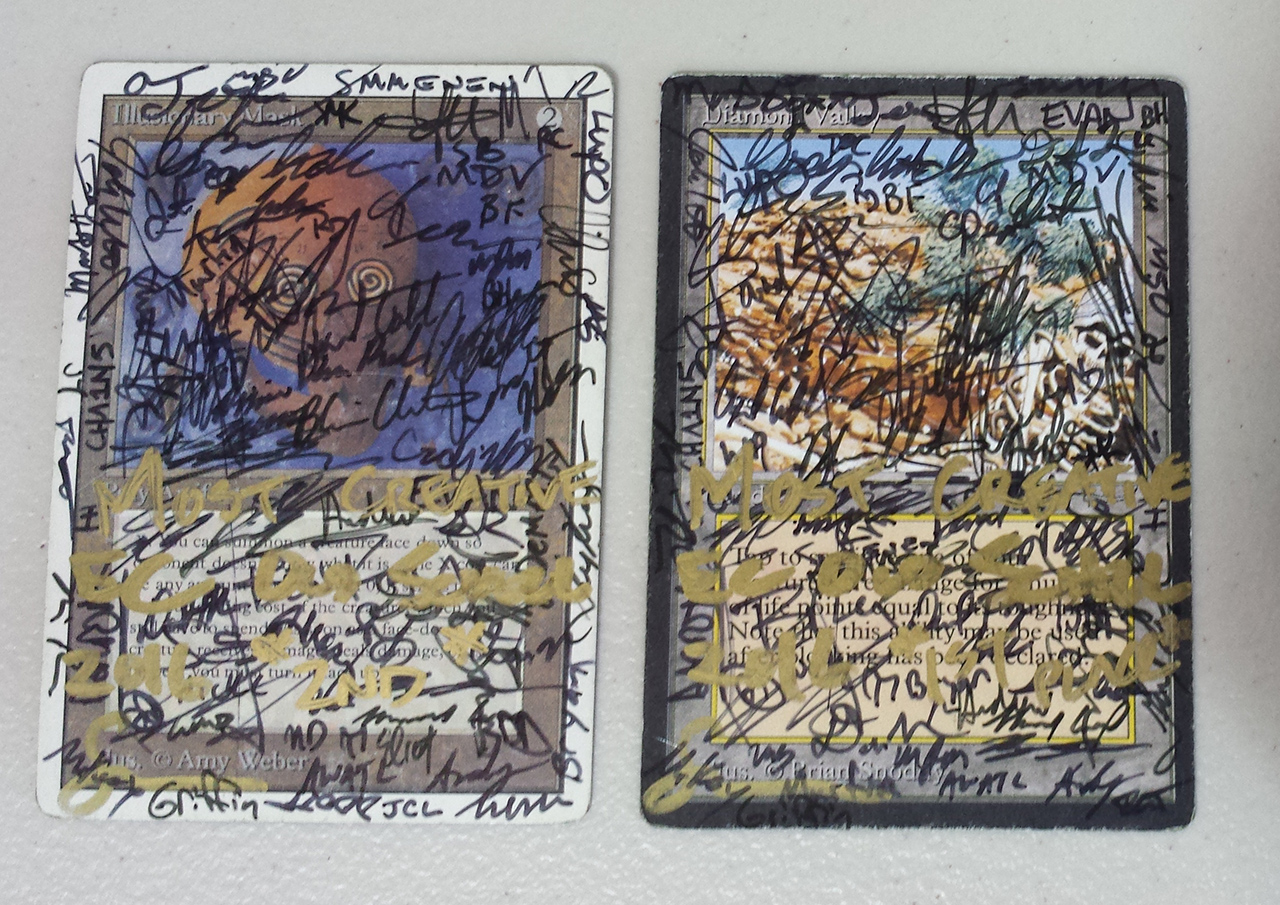 Final Standings
Rank, Name, Points
1 Humphreys, Daniel 21 61.9792 70.0000 58.4398
2 Menendian, Steve 21 60.4167 68.1818 55.5260
3 Cummings, Nick 21 58.8542 71.4286 56.0380
4 Slack, Matt 18 68.7500 73.6842 61.8014
5 Anand, Jeff 18 60.9375 60.0000 59.1868
6 Lentz, Jared 18 60.9375 60.0000 59.0860
7 Kraigher, Greg 18 60.7887 68.4211 56.8562
8 Cano, Jame 18 60.4167 68.4211 57.3307
9 Moreno, Dario 18 59.8958 68.4211 54.0343
10 Grudzina, John 18 57.0833 66.6667 54.2783
11 O'Brien, Sean 18 56.7708 60.8696 54.0625
12 Buehler, Randy 18 53.2738 59.0909 53.6945
13 Winzer, Craig 15 66.5179 52.3810 59.7593
14 Tork, James 15 63.0208 52.3810 59.1932
15 Cobb, Axel 15 60.9375 61.1111 55.5232
16 Young, Matt 15 60.0446 60.0000 54.9926
FOR FINAL COMPLETE STANDINGS CLICK HERE
ALL Decks, Alphabetically, by Last Name
Luke Ailanjian – BG Berserk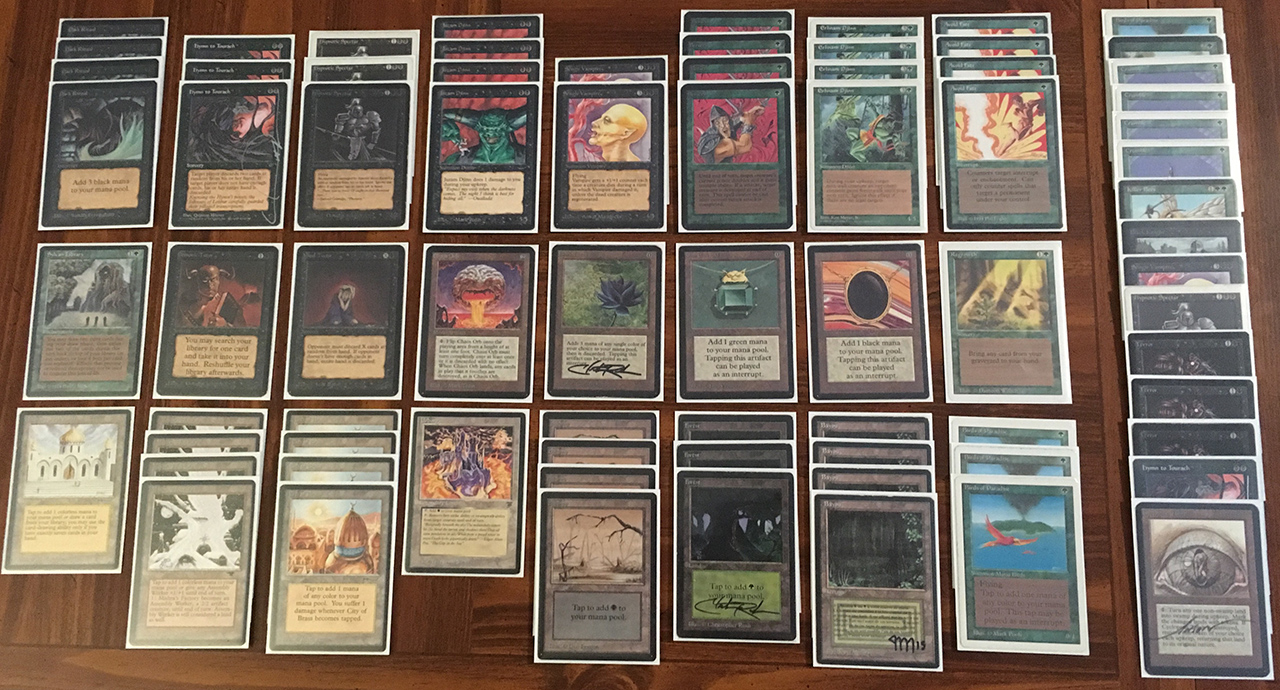 Jeff Anand – The Deck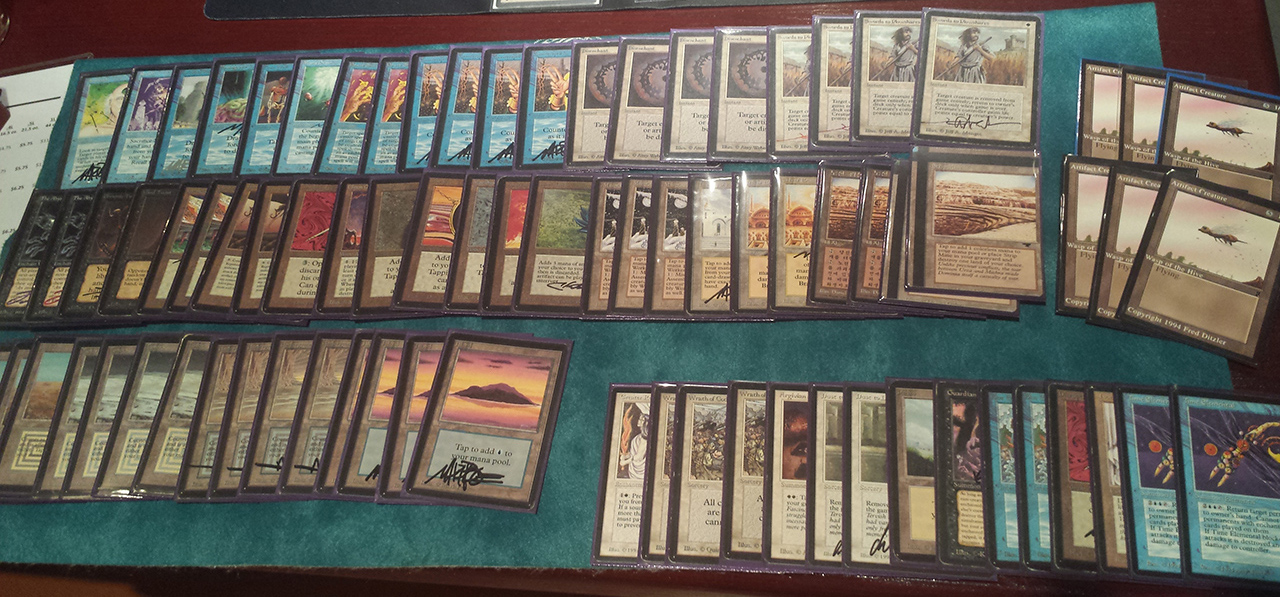 David Ata – The Deck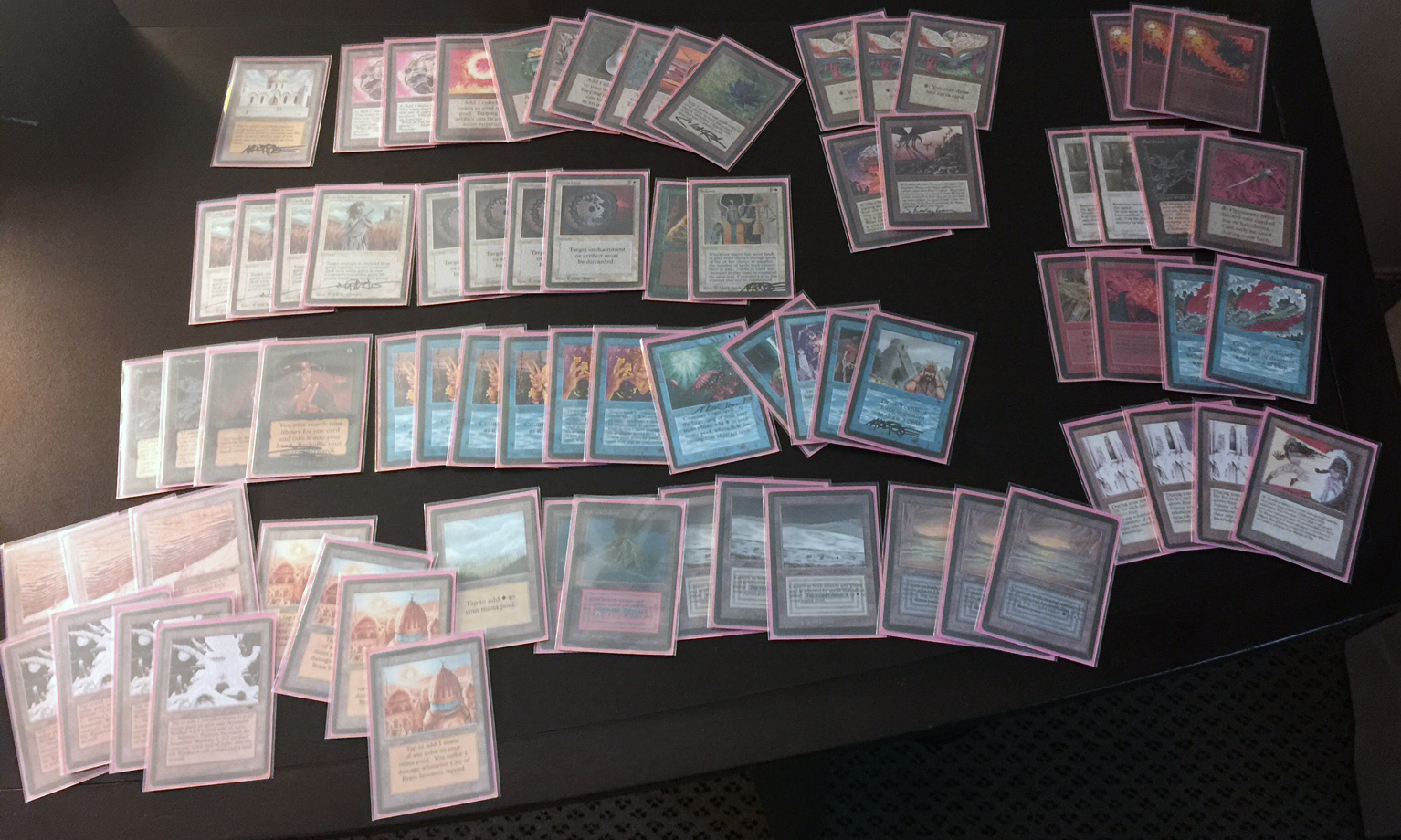 Scott Bradley – BRWU Aggro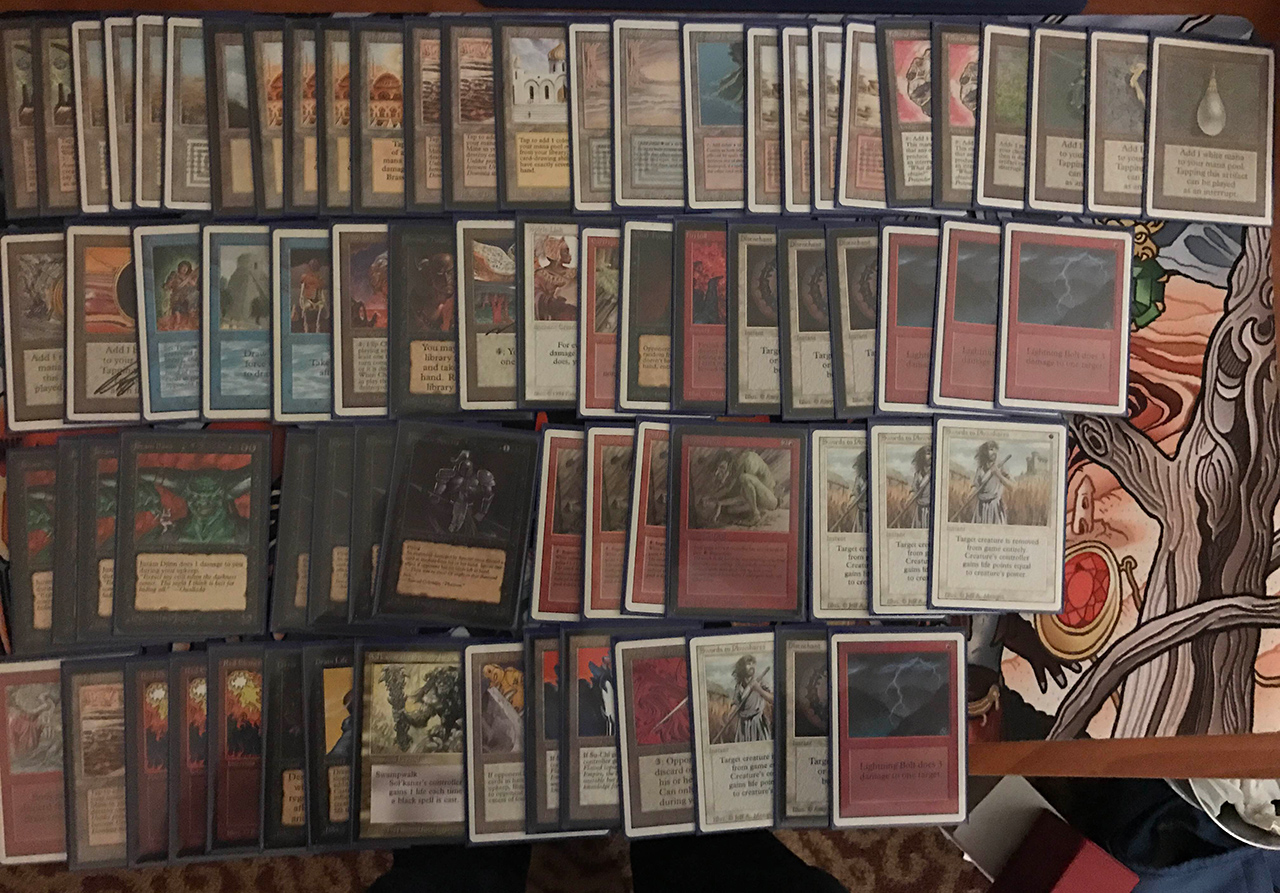 Gene Brumby – The Deck

Jonathan Brummer – UR Control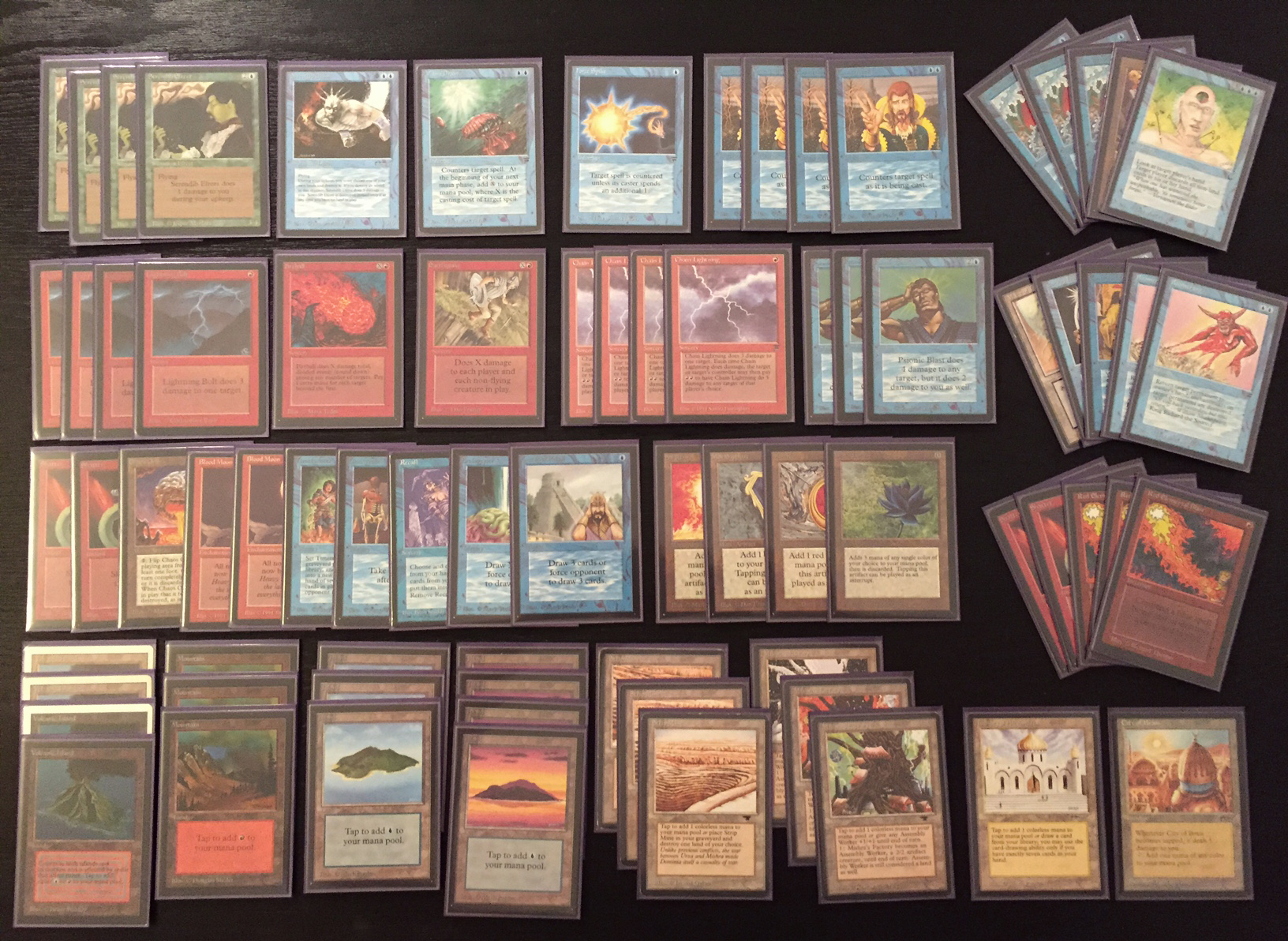 Randy Buehler – The Deck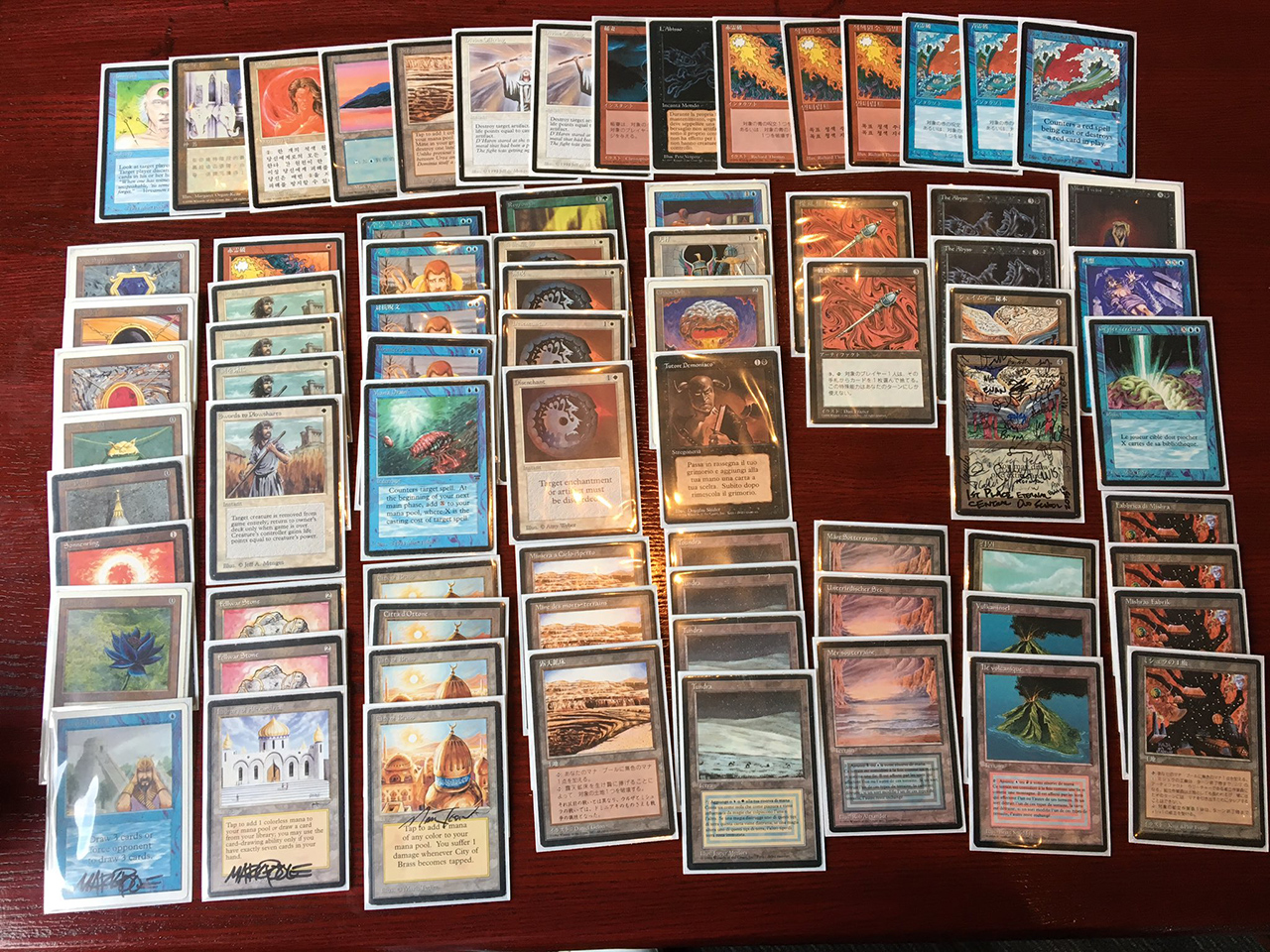 Michael Butzen – UW Control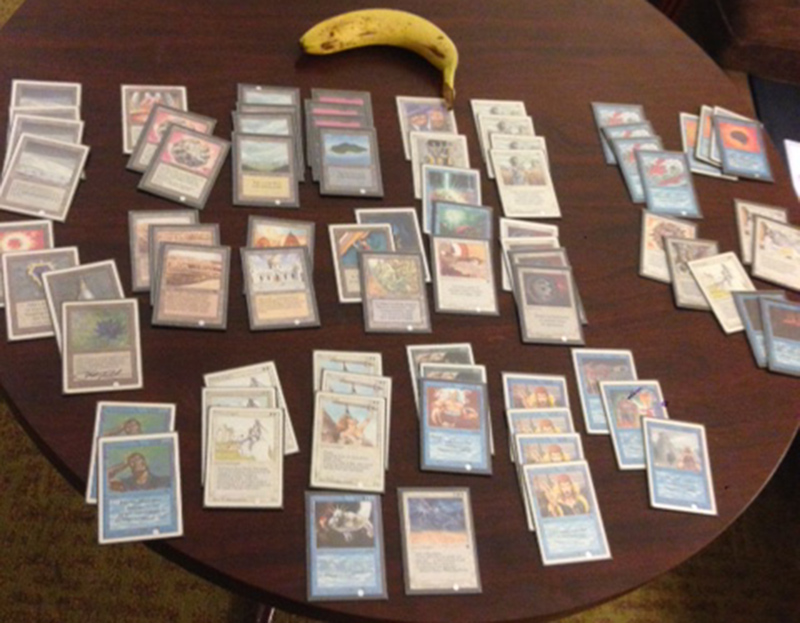 Paul Callis – Stasis (not pictured: P9, Tundras, Howling Mines)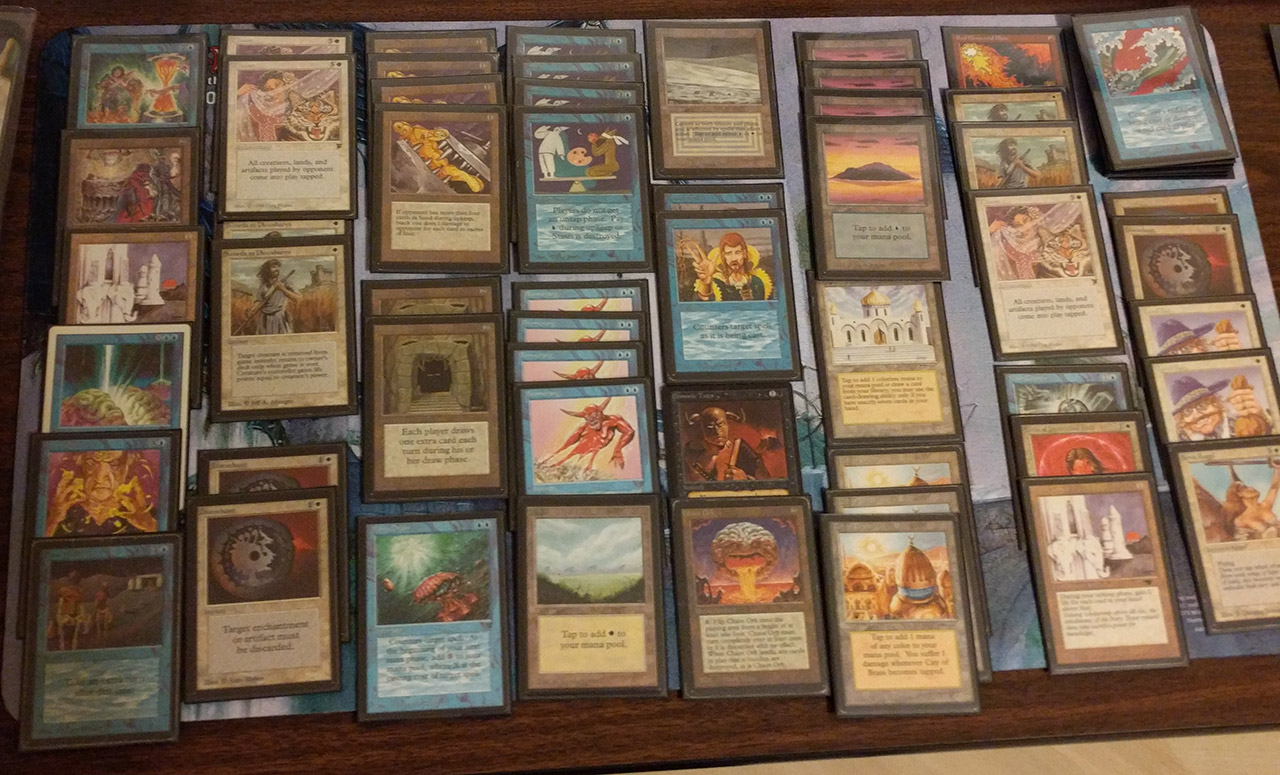 Jaime Cano – UBR CounterTroll Disco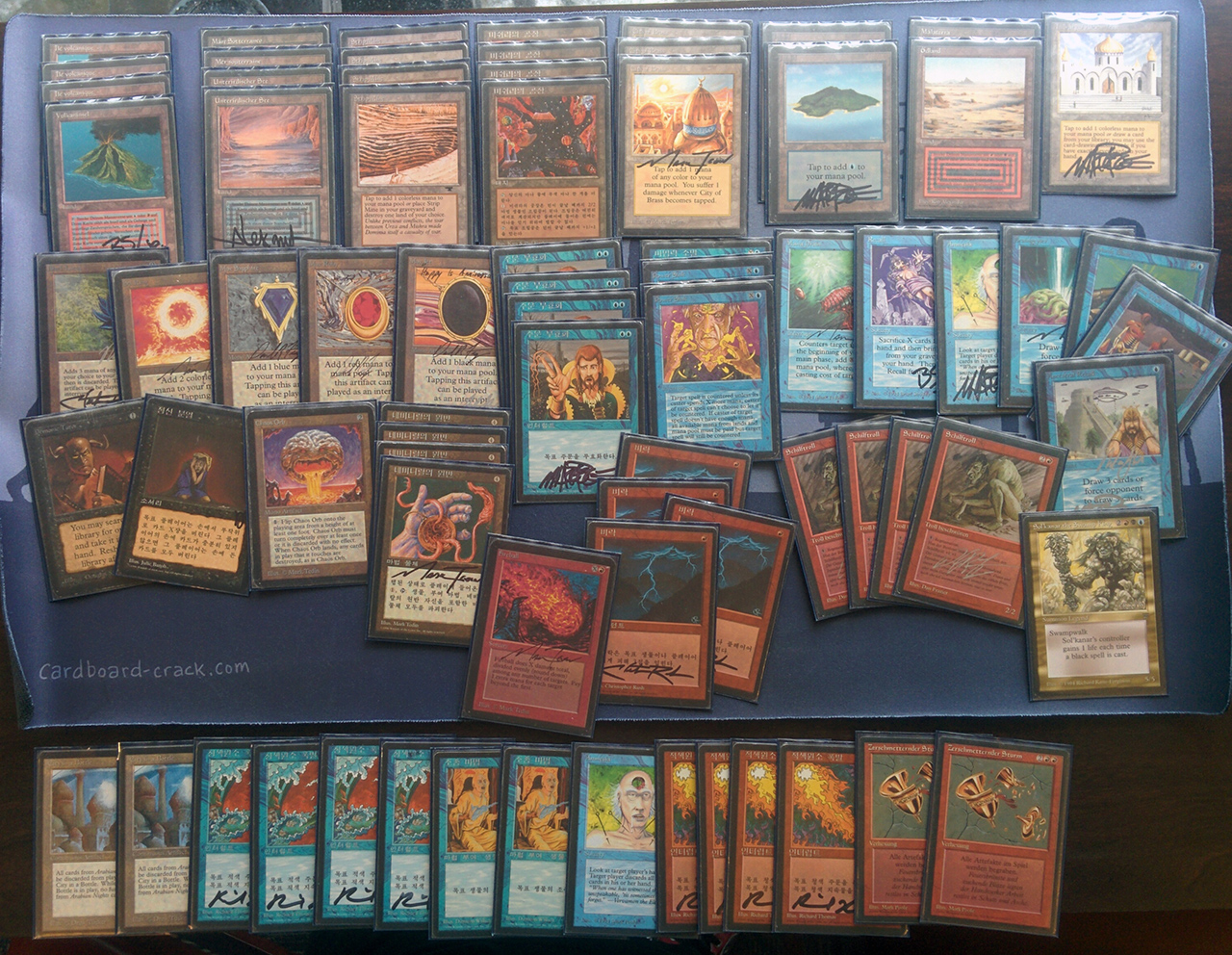 Roland Chang – UB Aggro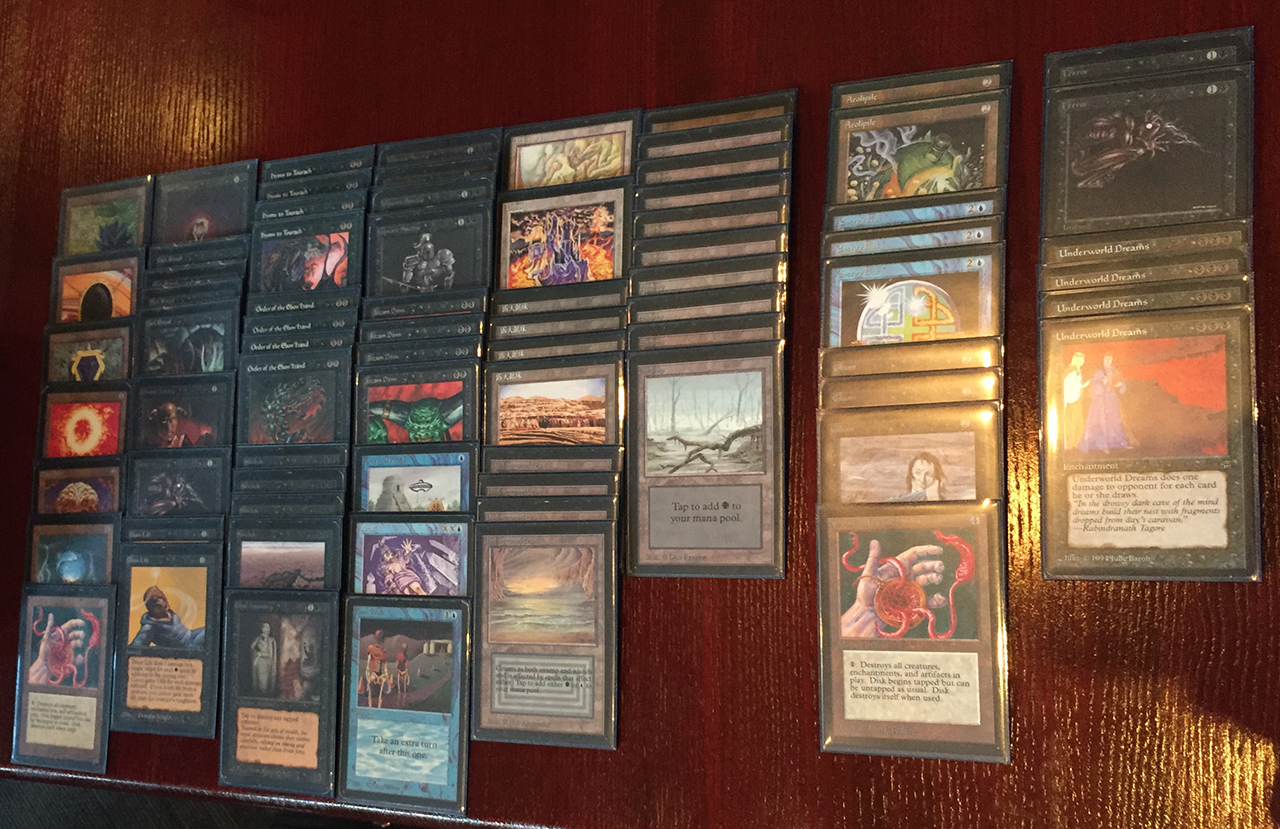 Shann Chaudhry – 5C Birdman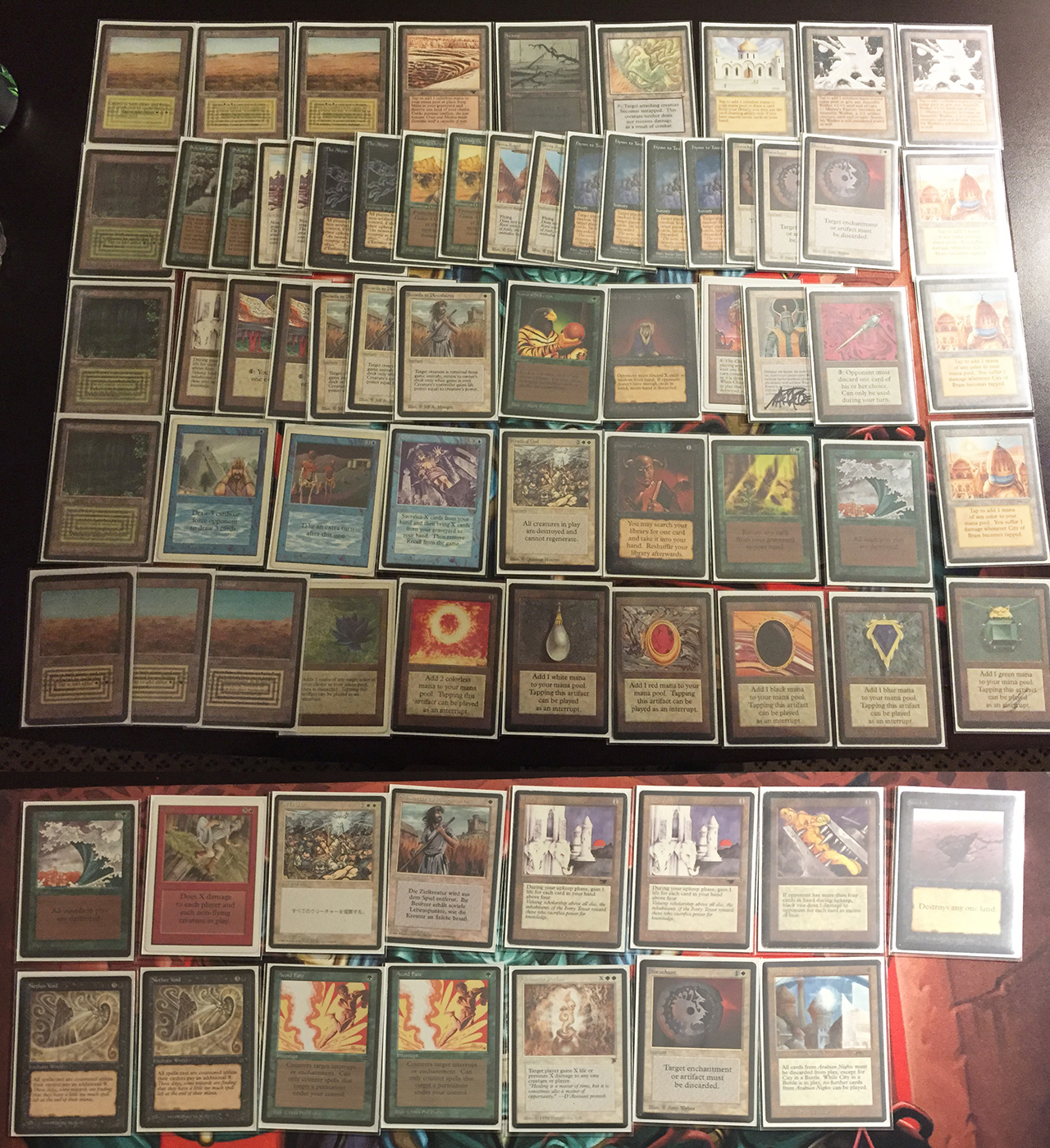 Blaine Christiansen – Deep Blue Worksop Control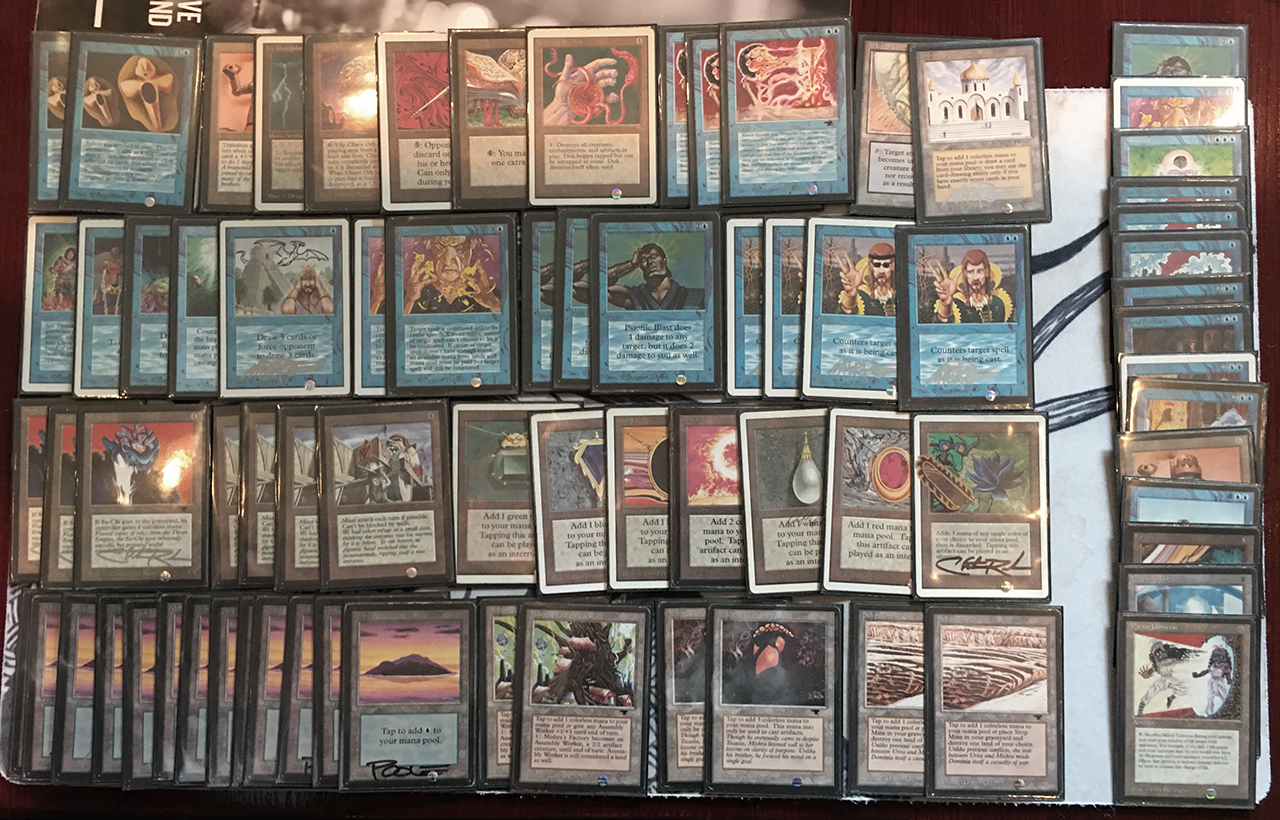 Axel Cobb – Mono Black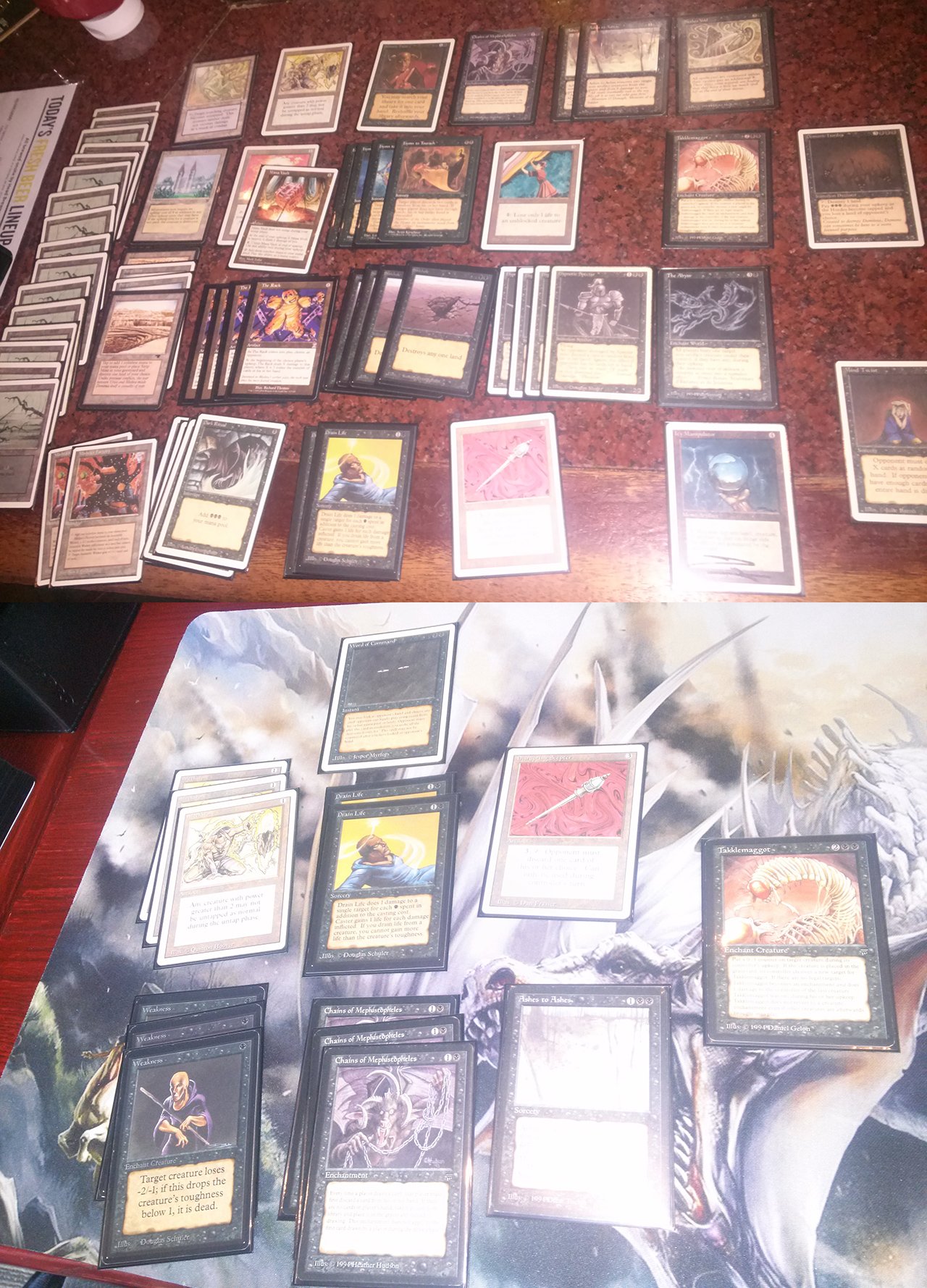 Kevin Cron – GW Living Plane Combo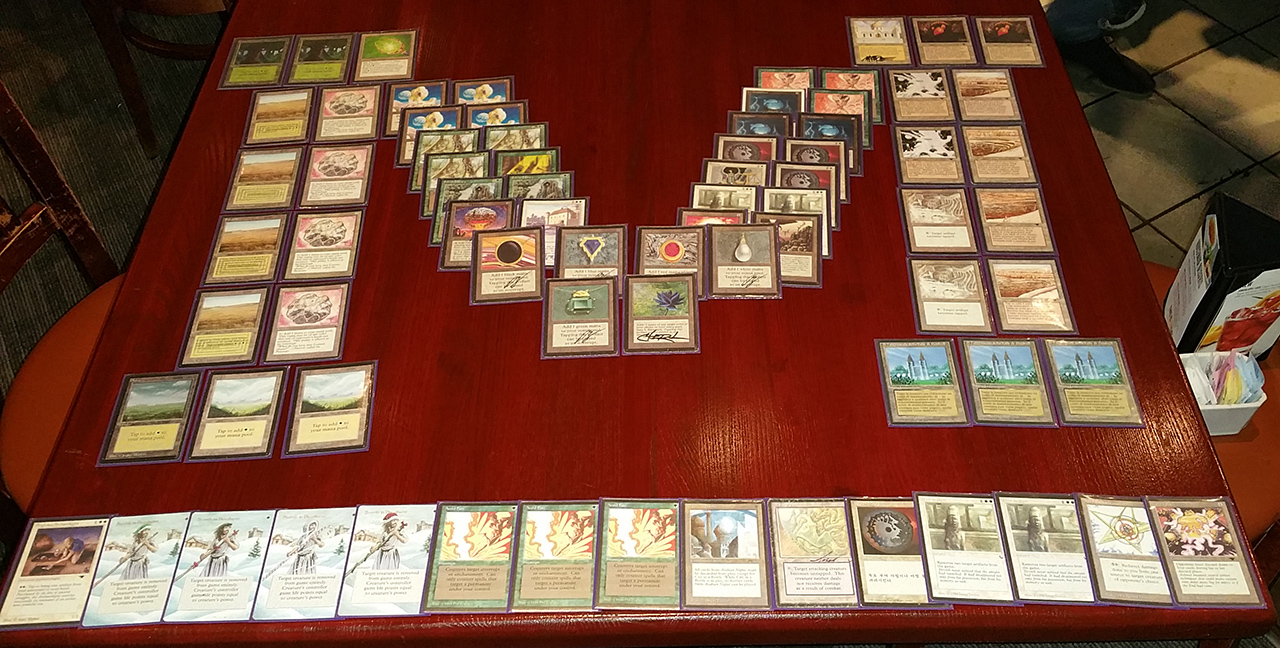 Nick Cummings – UR Control


Bryan Daniels – Mono Red Artifacts
Business (33)
3 Atog
4 Su-Chi
3 Juggernaut
2 Tetravus
1 Shivan Dragon
4 Black Vise
1 Chaos Orb
4 Lightning Bolt
3 Fireball
1 Earthquake
2 Fork
1 Shatter
3 Blood Moon
1 Wheel of Fortune
Mana Sources (29)
1 Mox Ruby
1 Sol Ring
4 Mana Vault
2 Fellwar Stone
4 Strip Mine
4 Mishra's Factory
13 Mountain
Sideboard (15)
4 Red Elemental Blast
3 Flash Fire
2 Shivan Dragon
2 Earthquake
2 Nevinyrral's Disk
1 Fireball
1 Shatter
Eliot Davidoff – 4C Zoo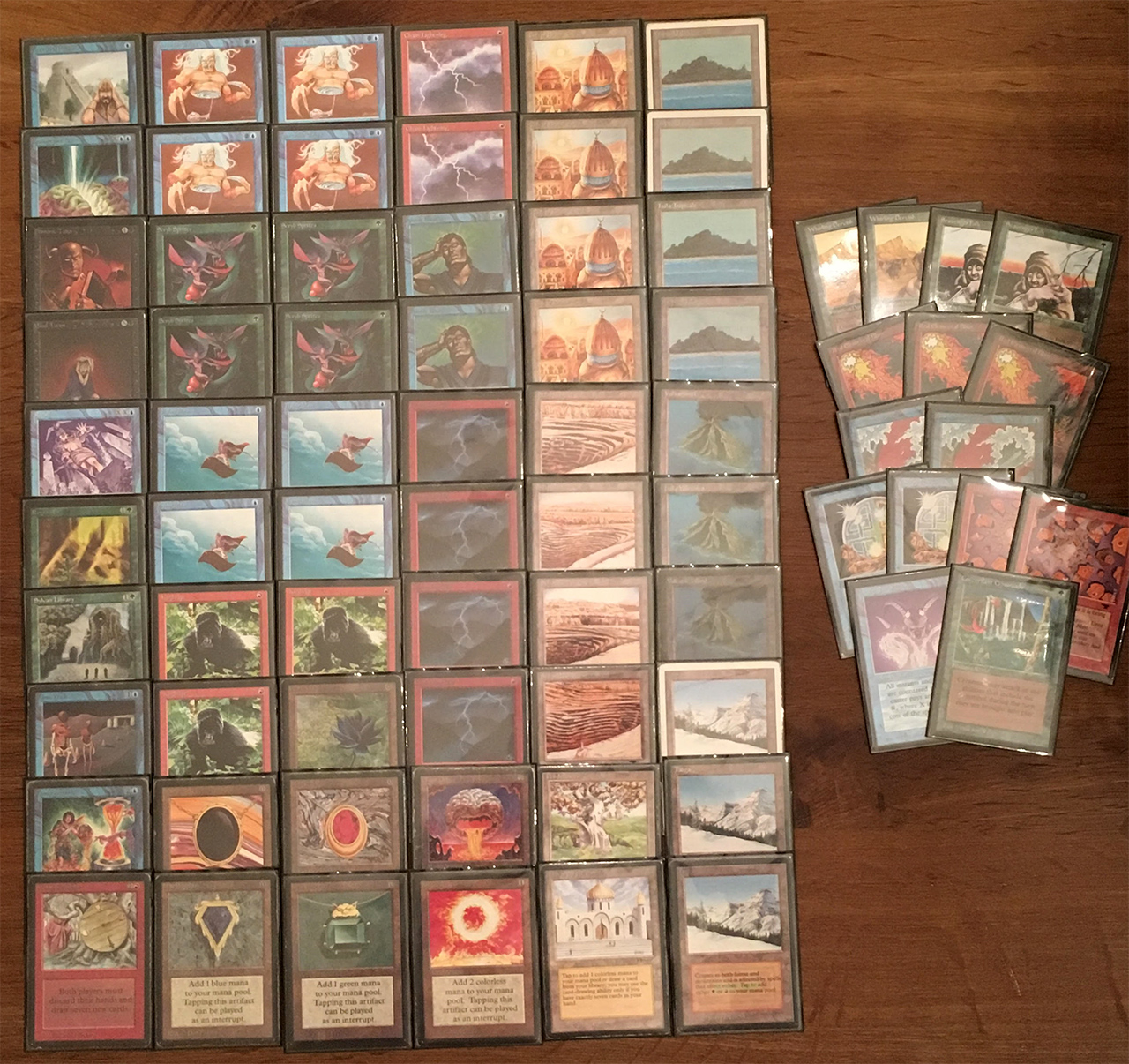 Matthew Deering – RB ConTroll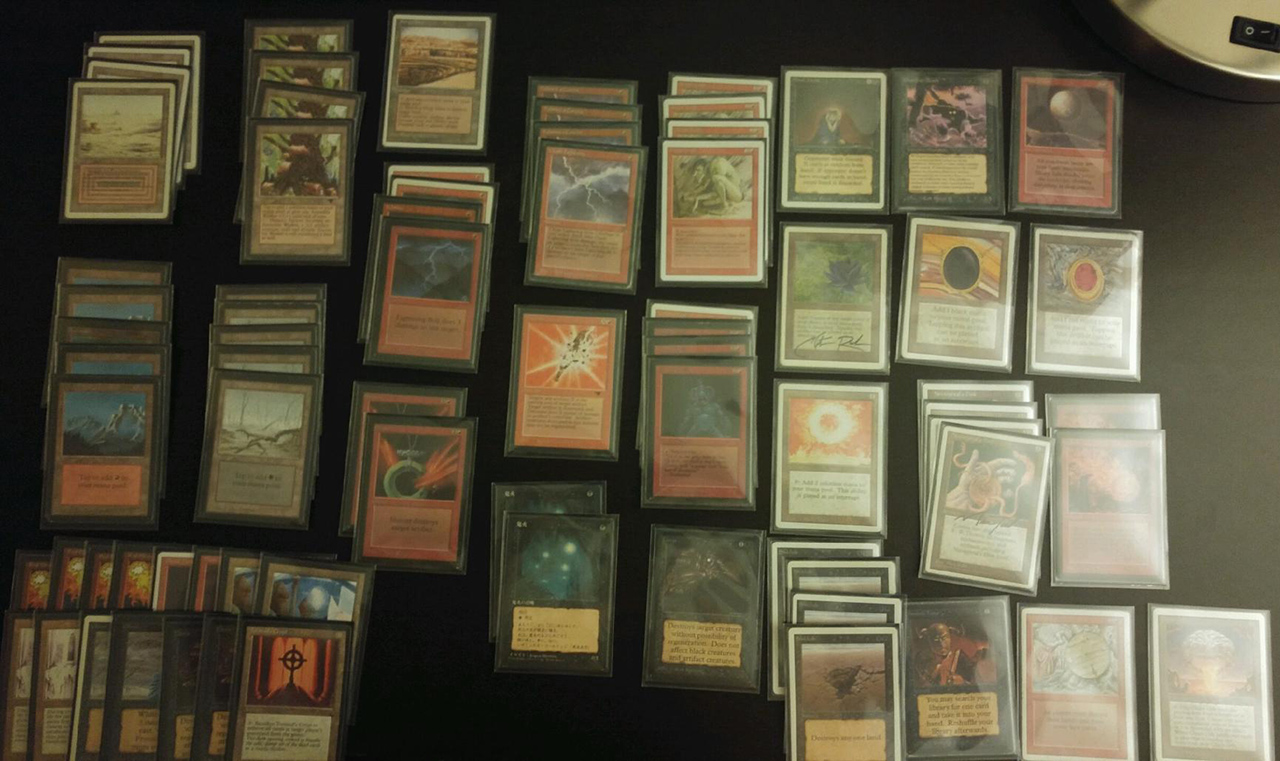 Ryan DeMarco – UR Control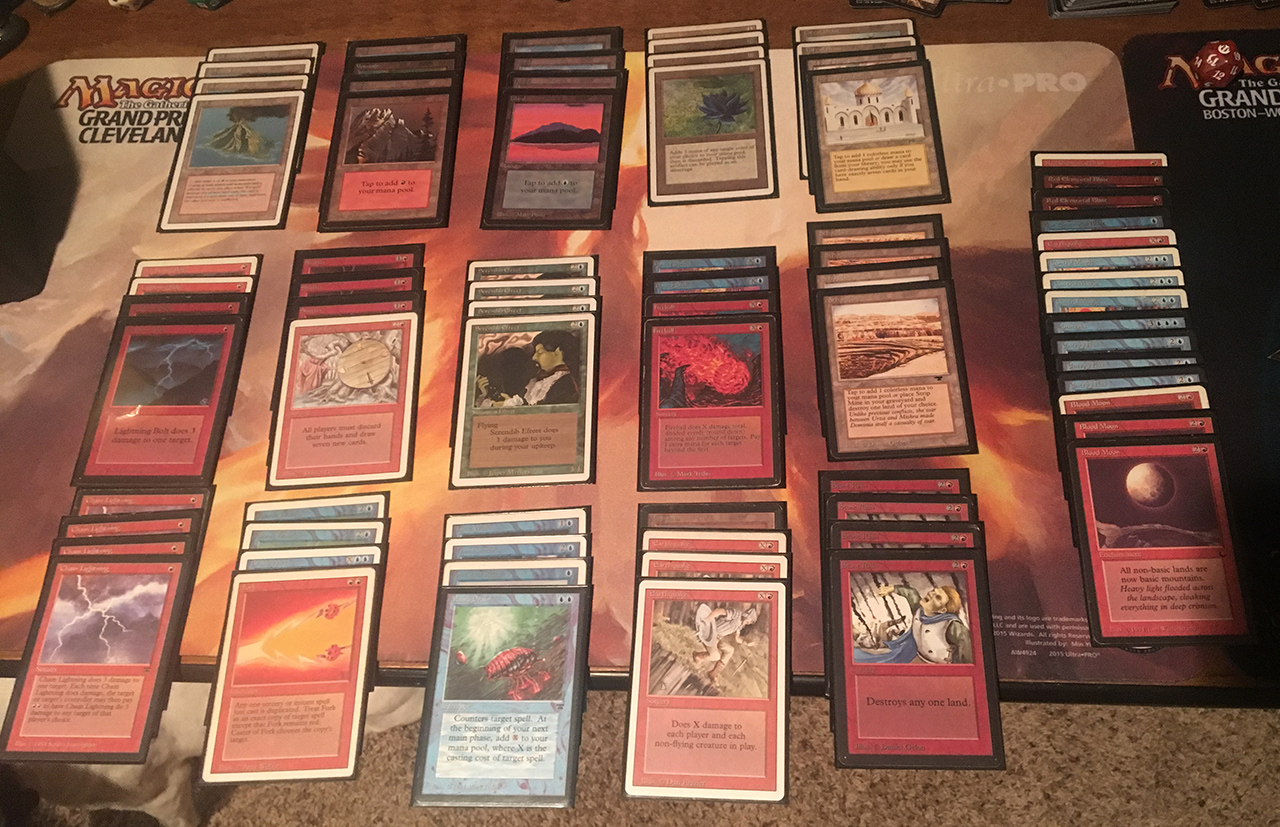 Brian DeMars – The Deck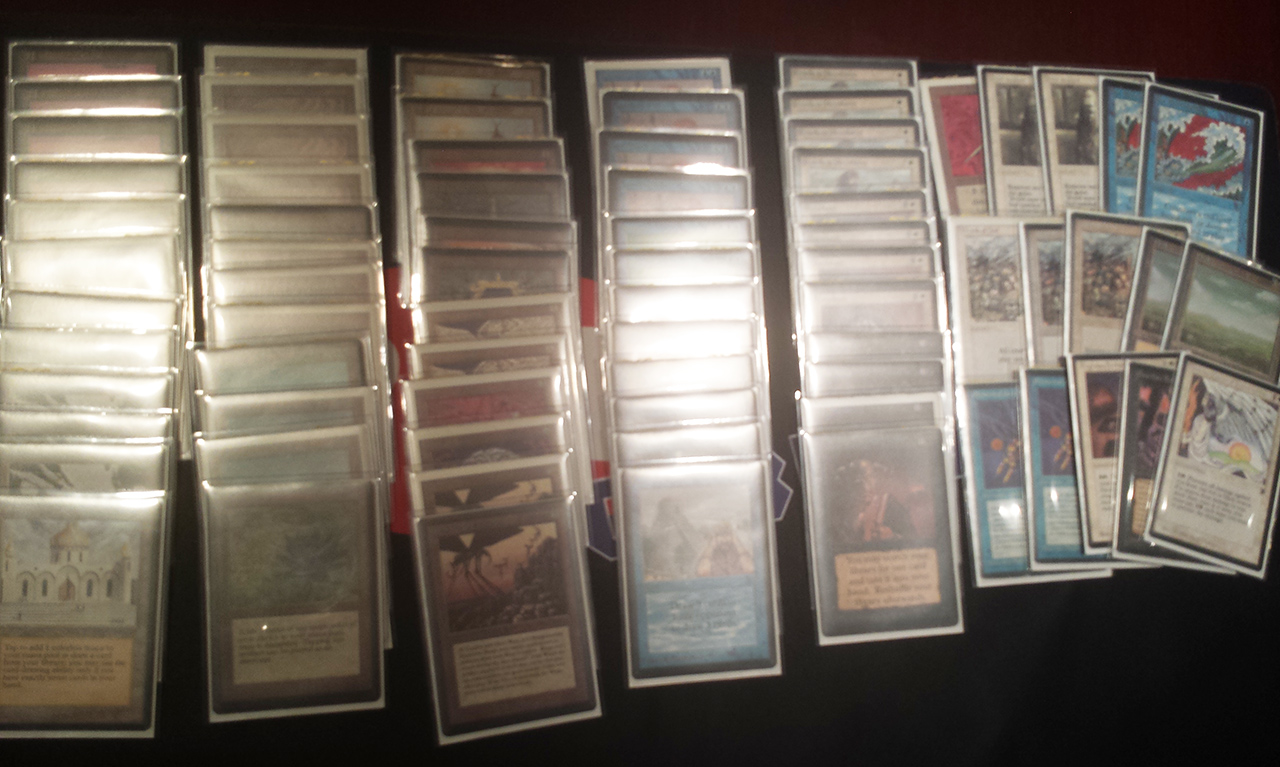 Matt DeMinico – Fork Combo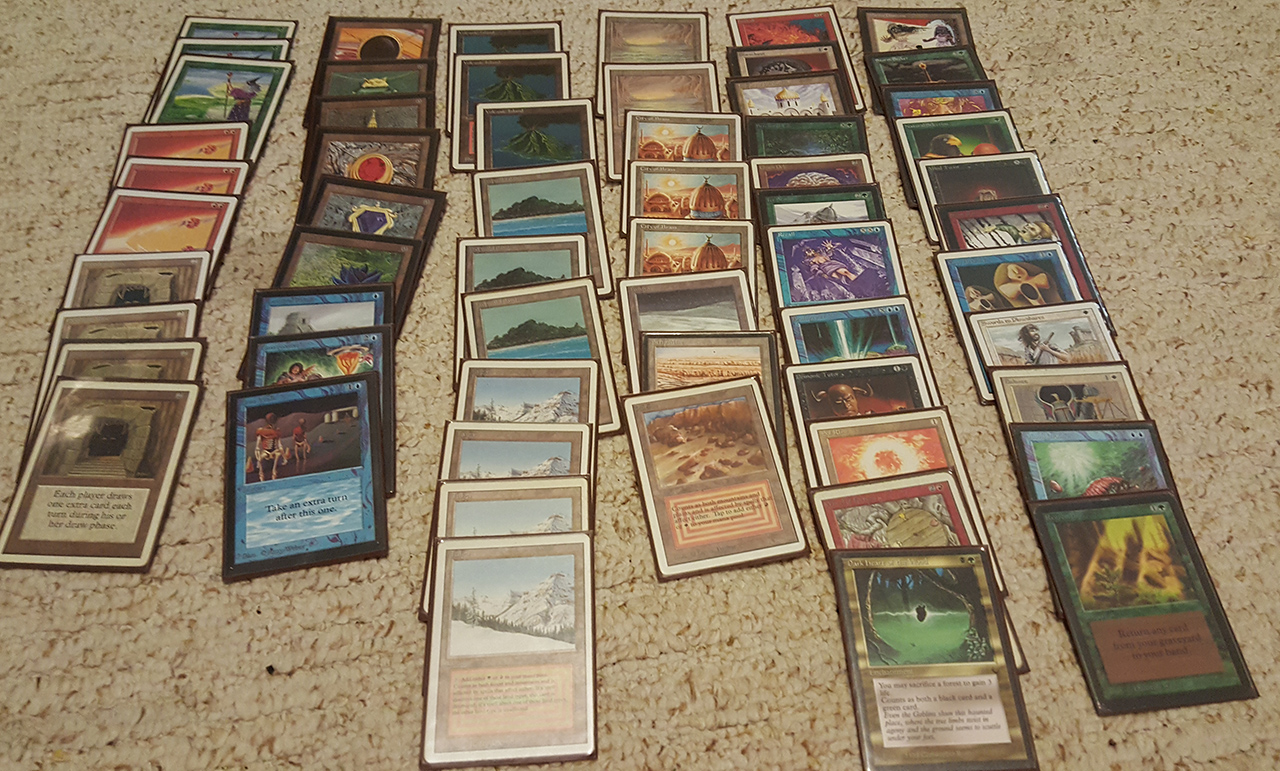 Dominic Dotterrer – 5C DorkAGeddon

Scott Ferguson – RGW Zoo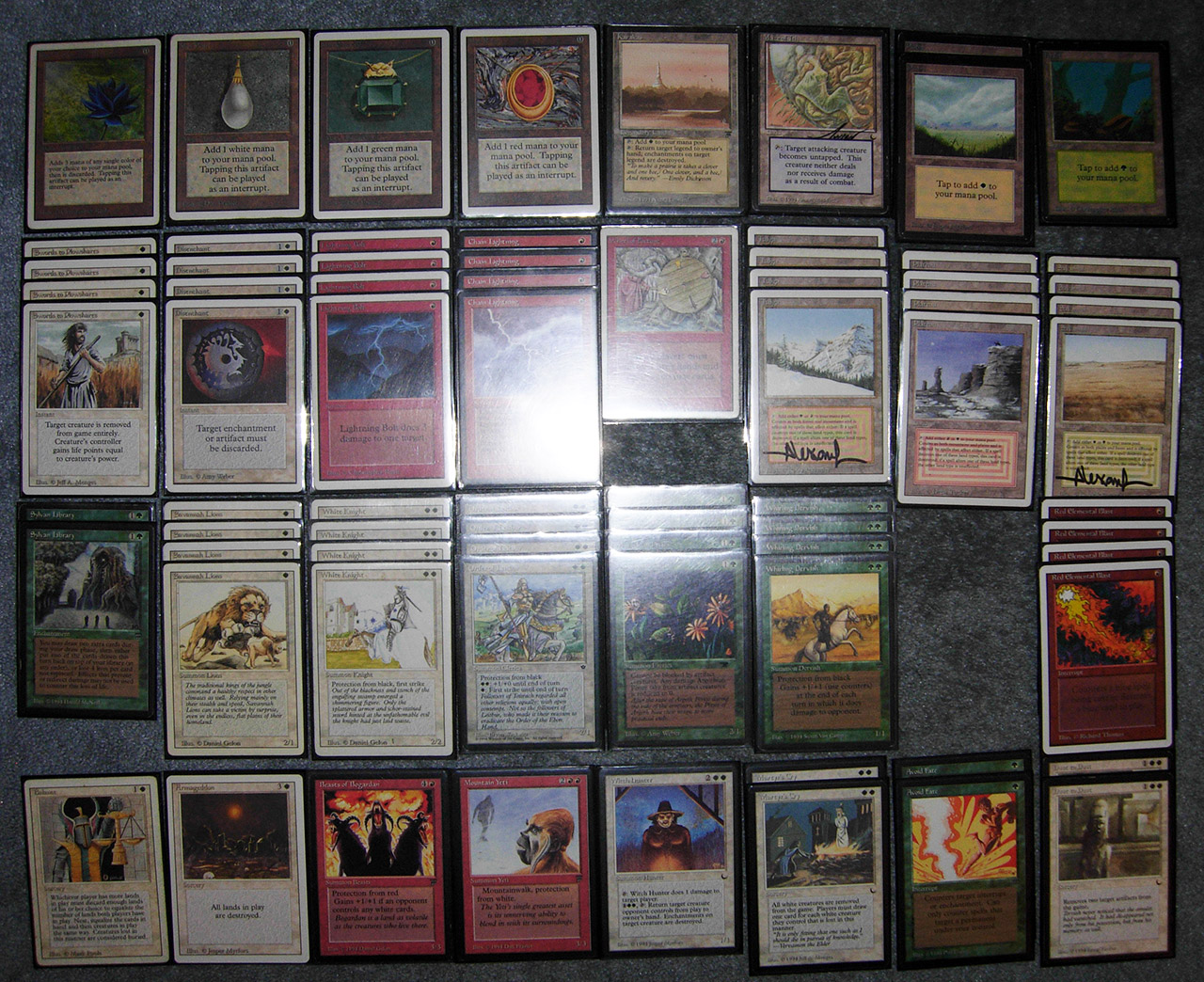 Brian Fisher – Patriot Aggro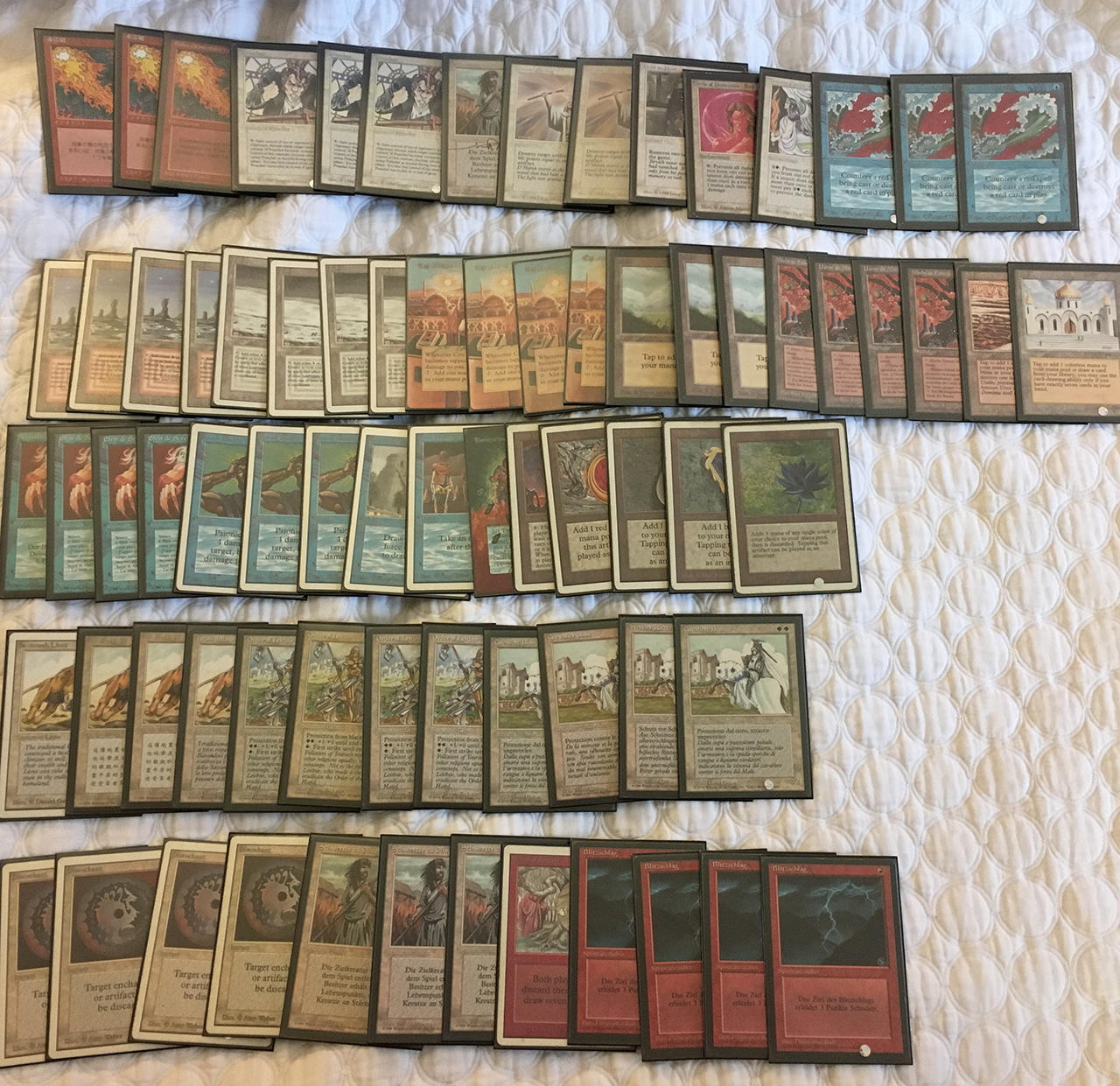 David Fleischmann-Rose – Mono Blue Tempo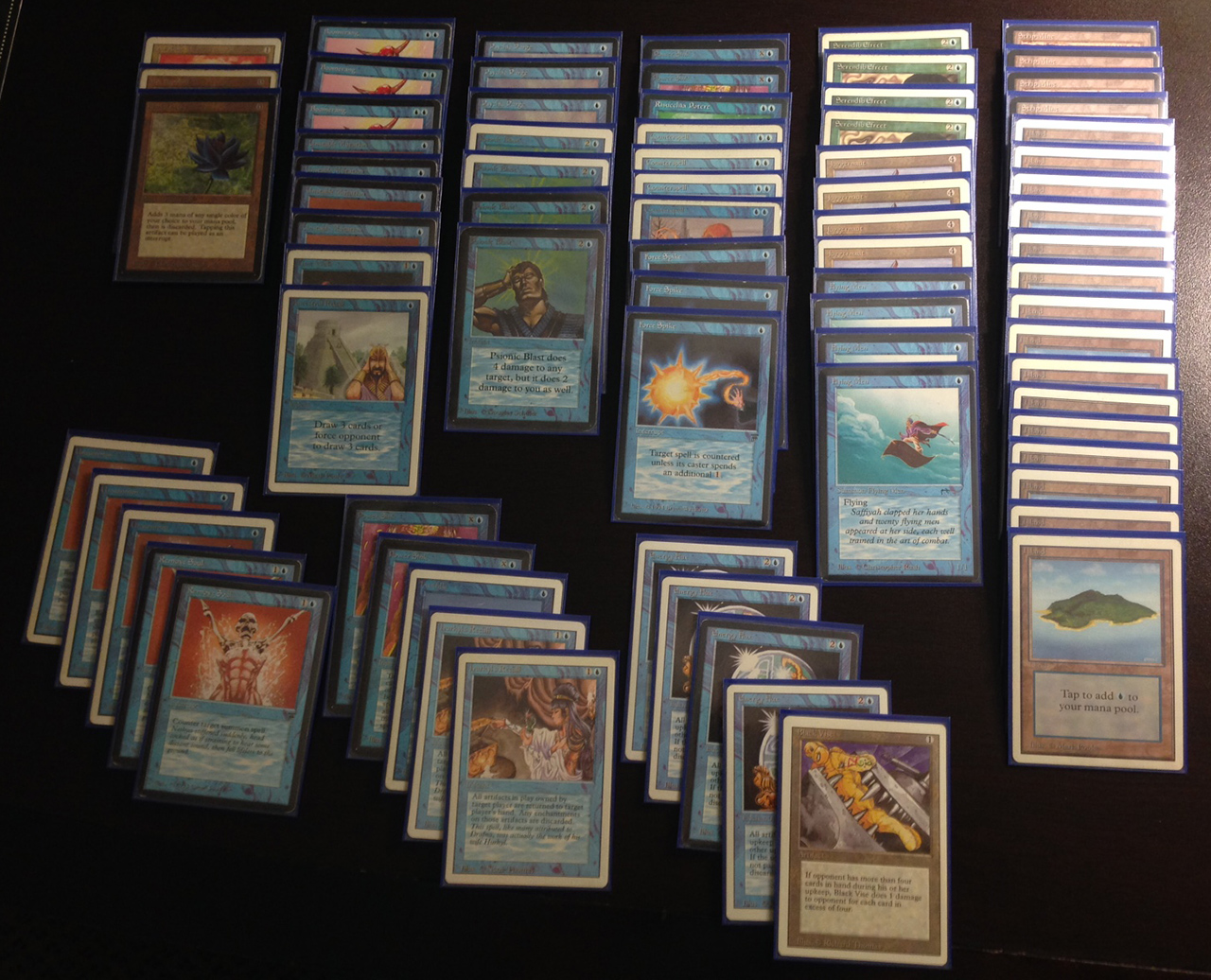 Andrew Frank – UR Control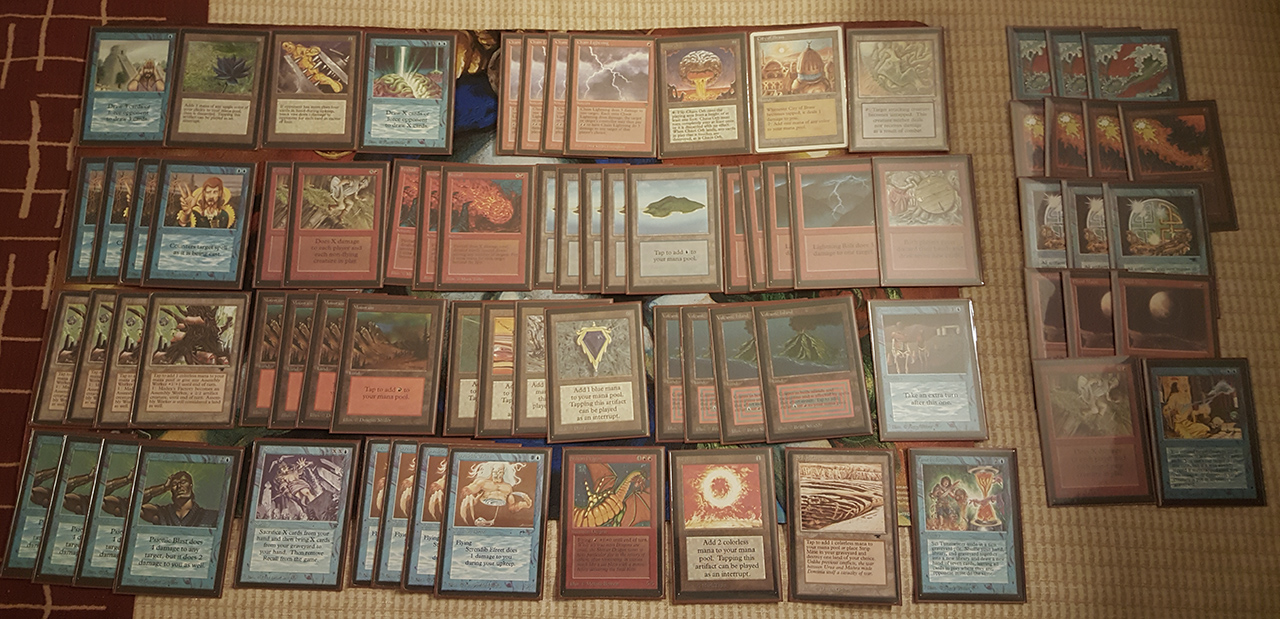 Bryan Freres – UR Control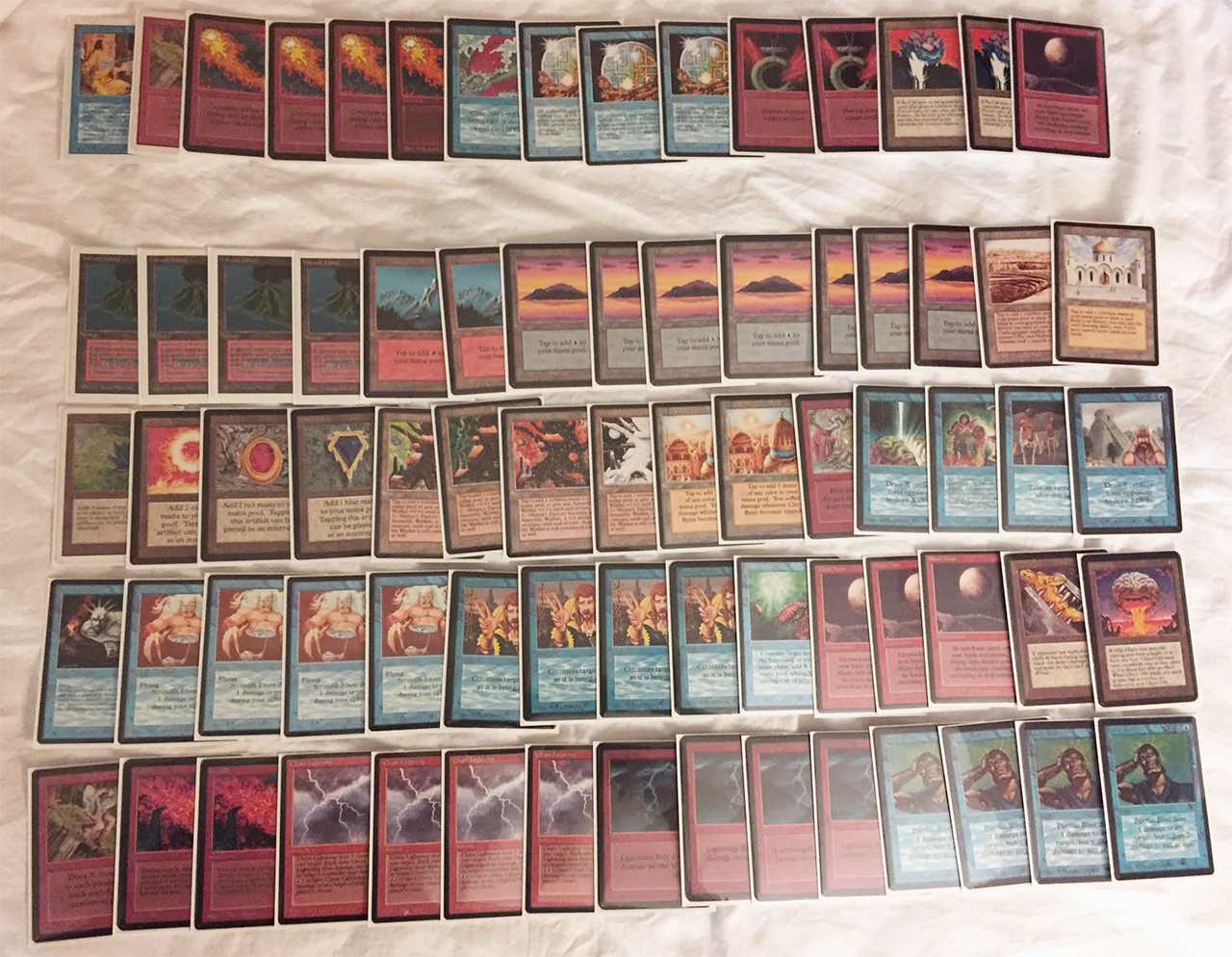 Danny Friedman – 5C Copy Millstone Control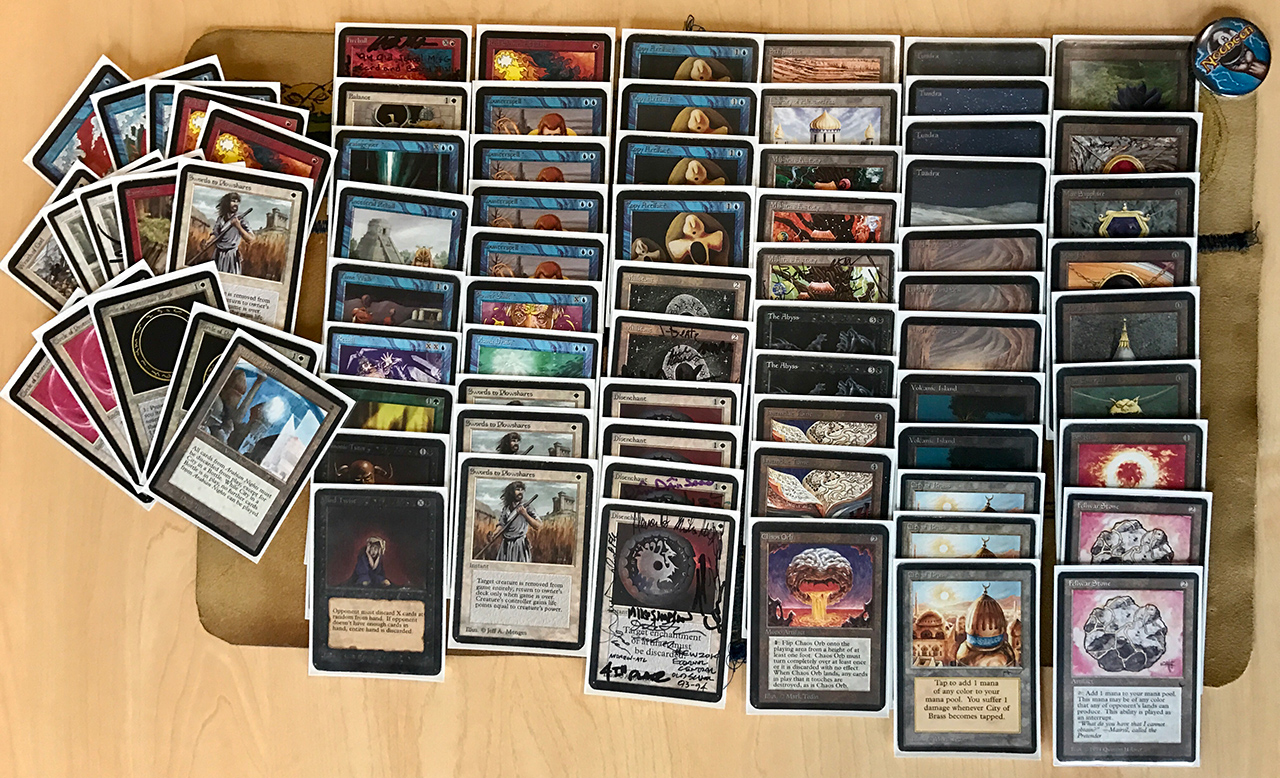 Mike Griffin – Power Artifact Combo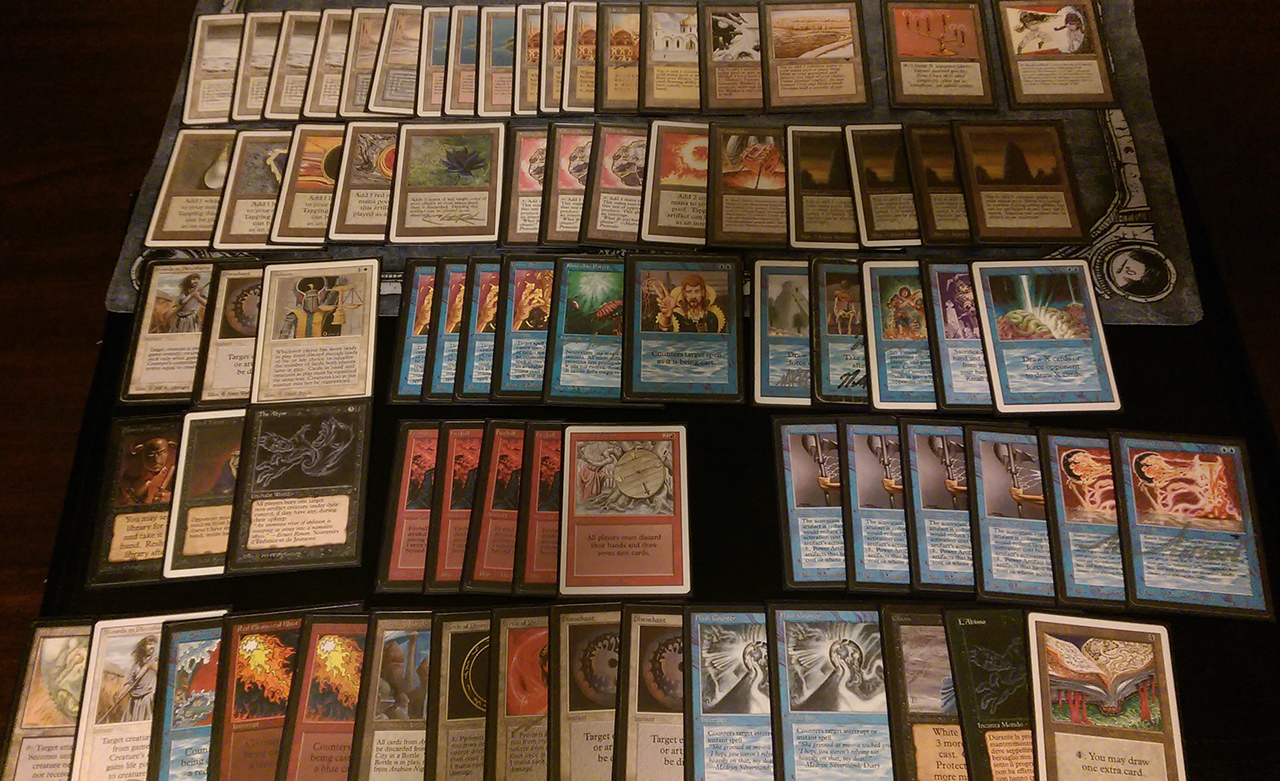 John Grudzina – The Deck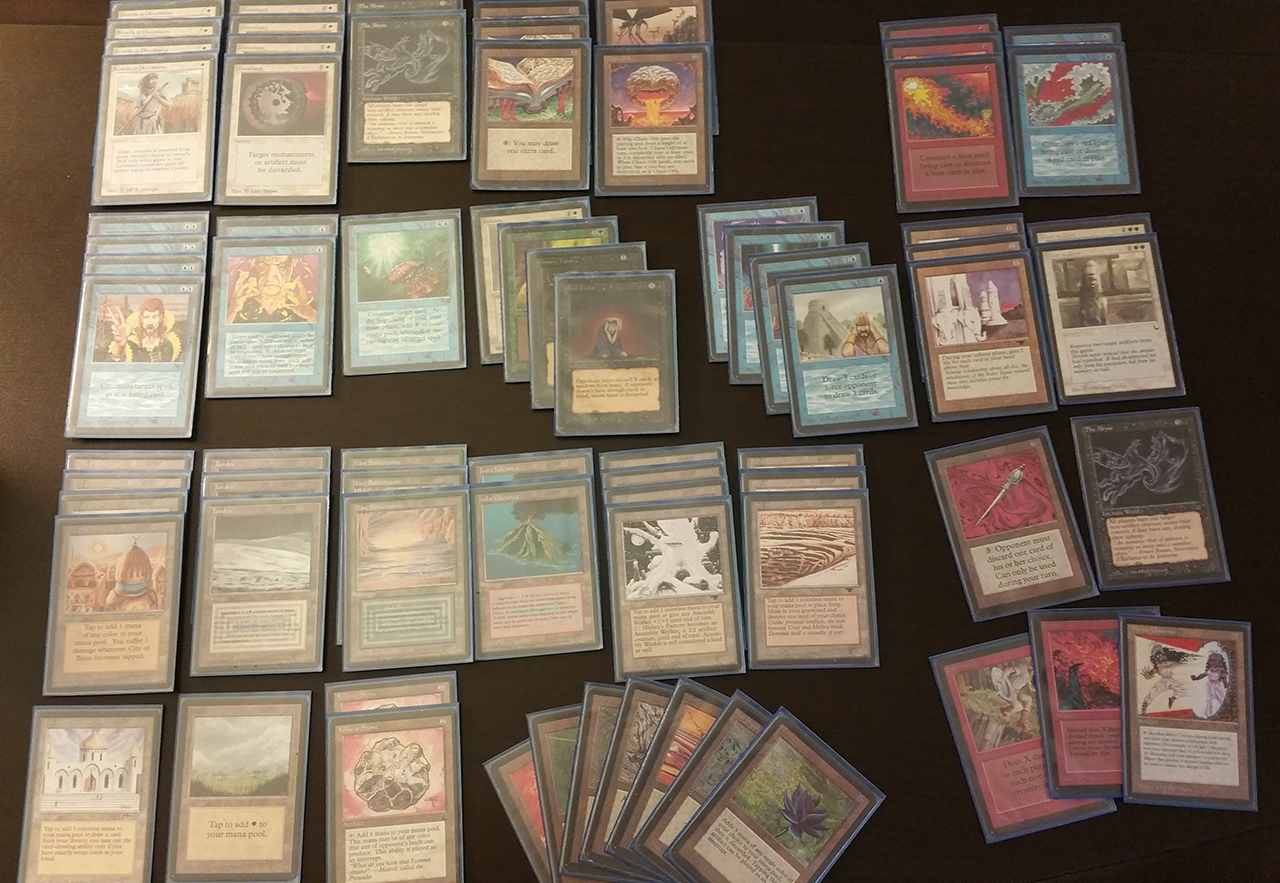 William Herdman – Mono Blue Power Artifact Combo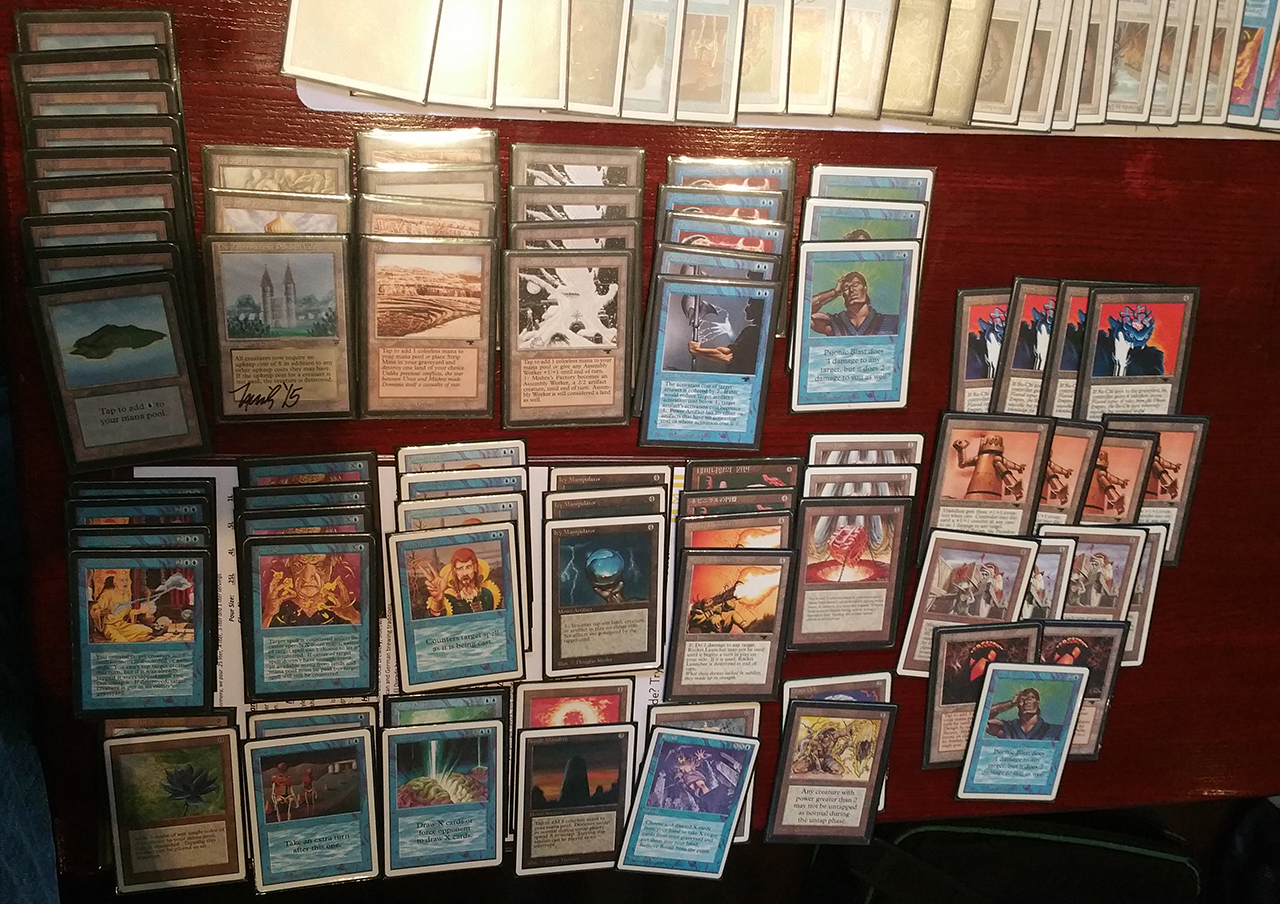 Phil Hillman – UBR Control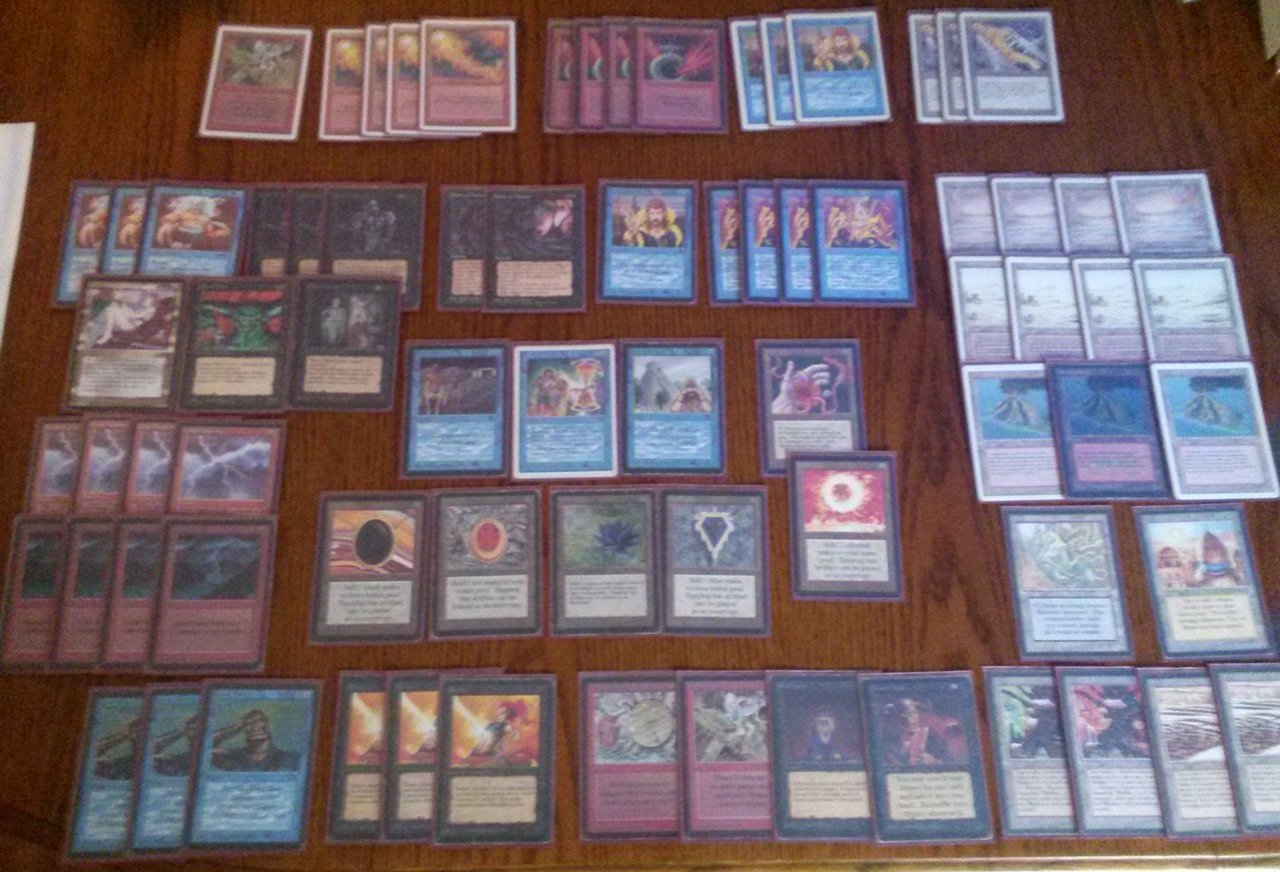 Joseph Horen – RUG Tempo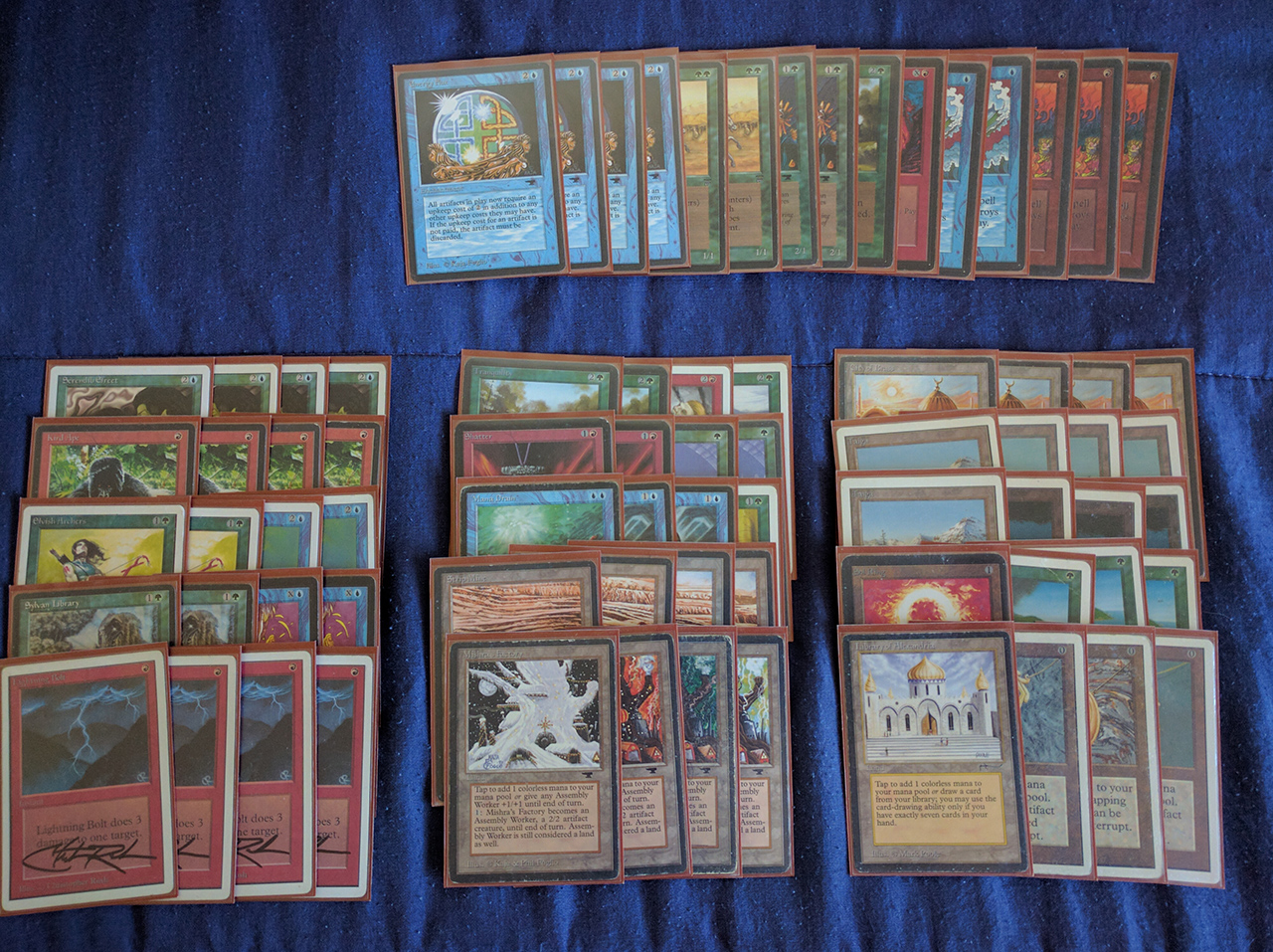 Daniel Humphreys – White Weenie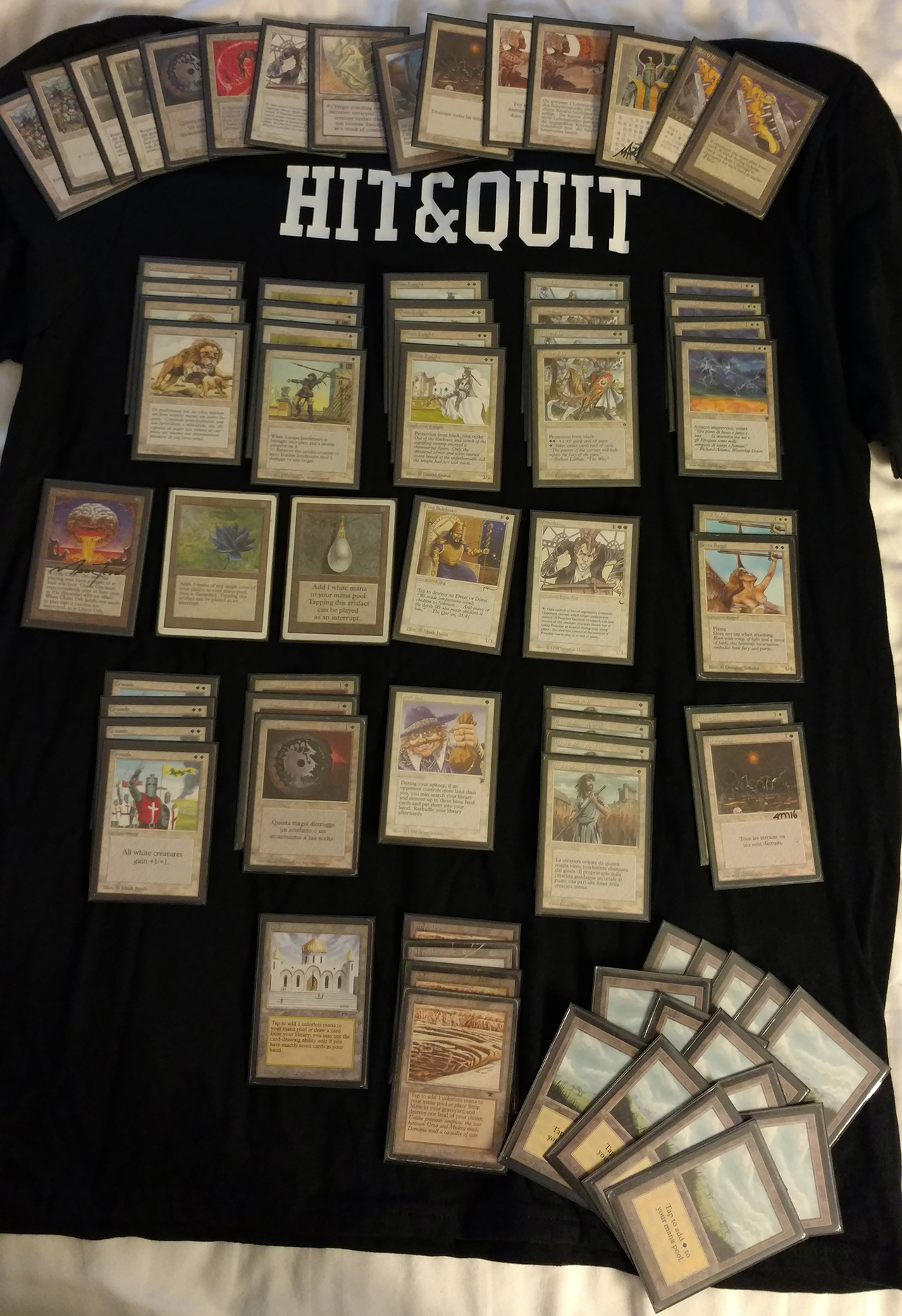 Mark Jenkins – 5C Copy Millstone Control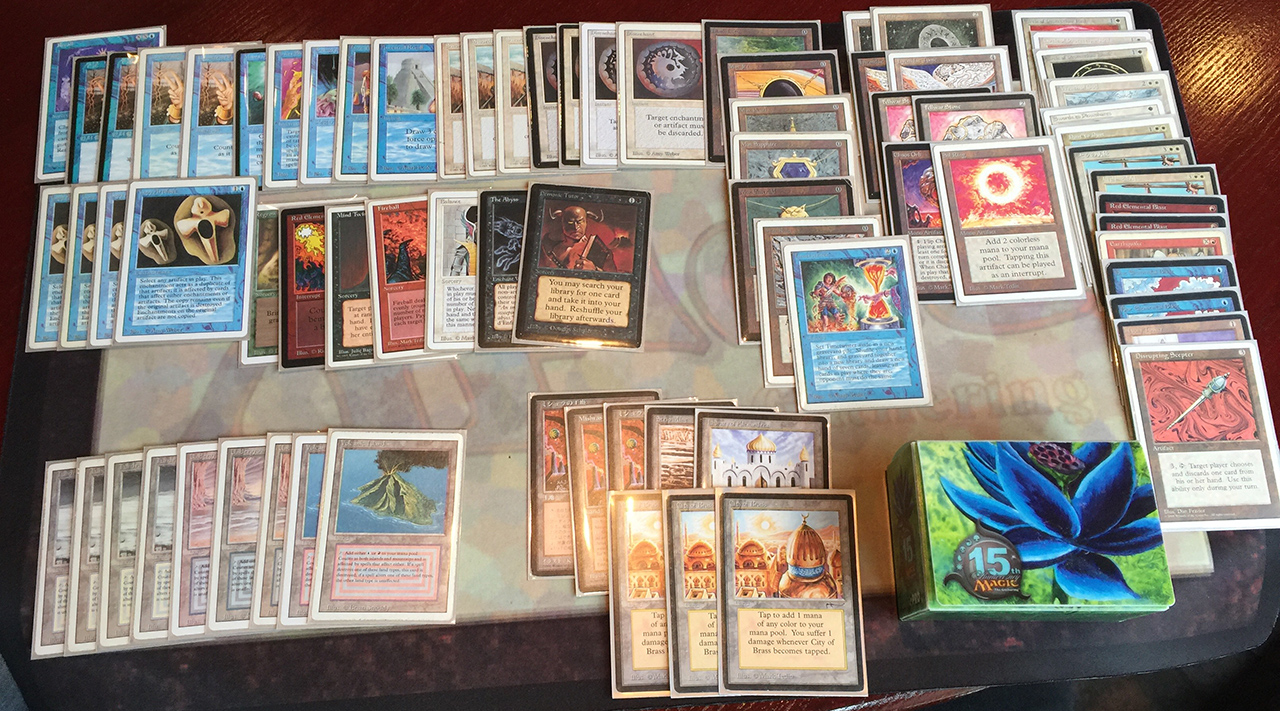 Matthew Junker – Deck Photo Missing/Pending
Michael Kiesel – BW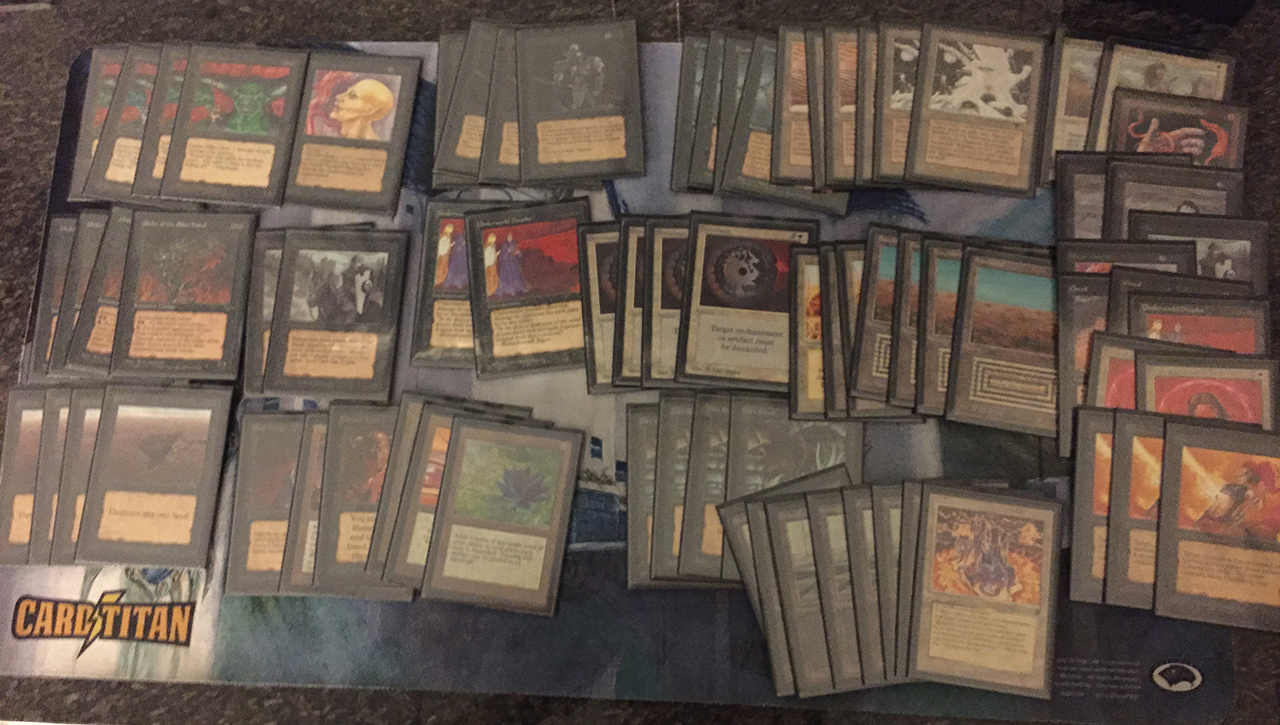 Kirsin Koch – BWG (aka "The Real Aga Galneer")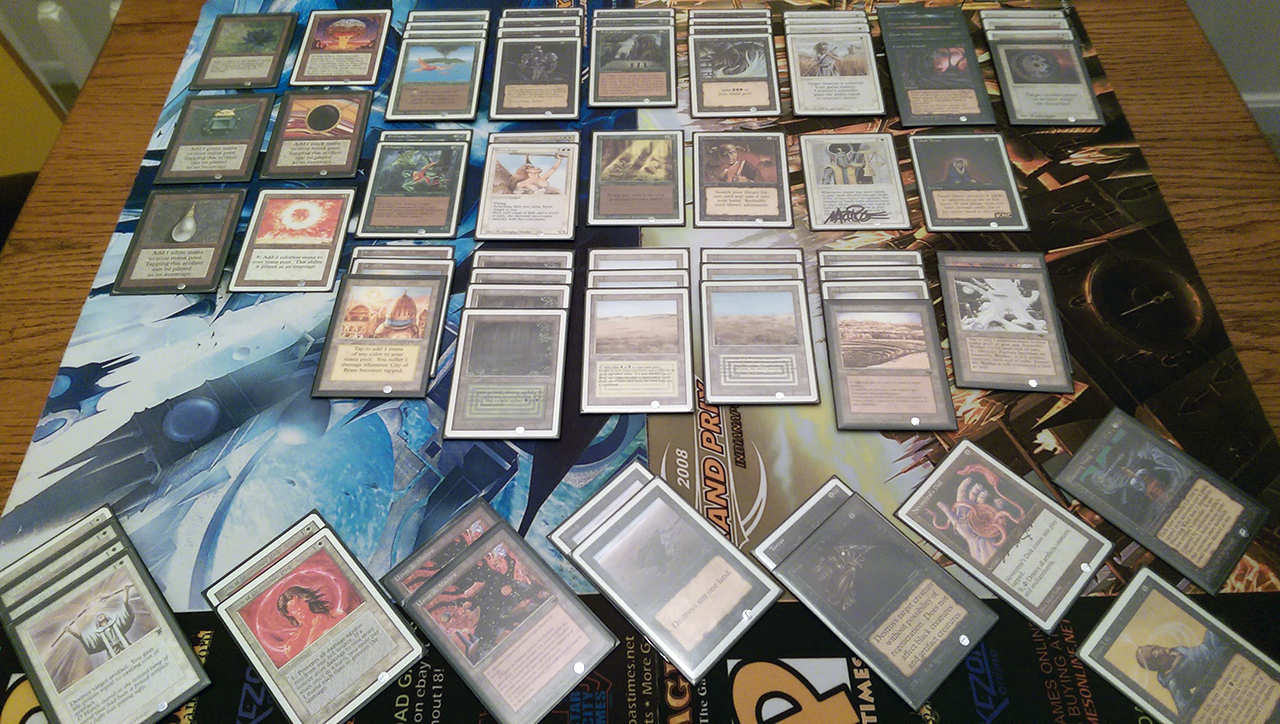 Mike Kochis – Mono Black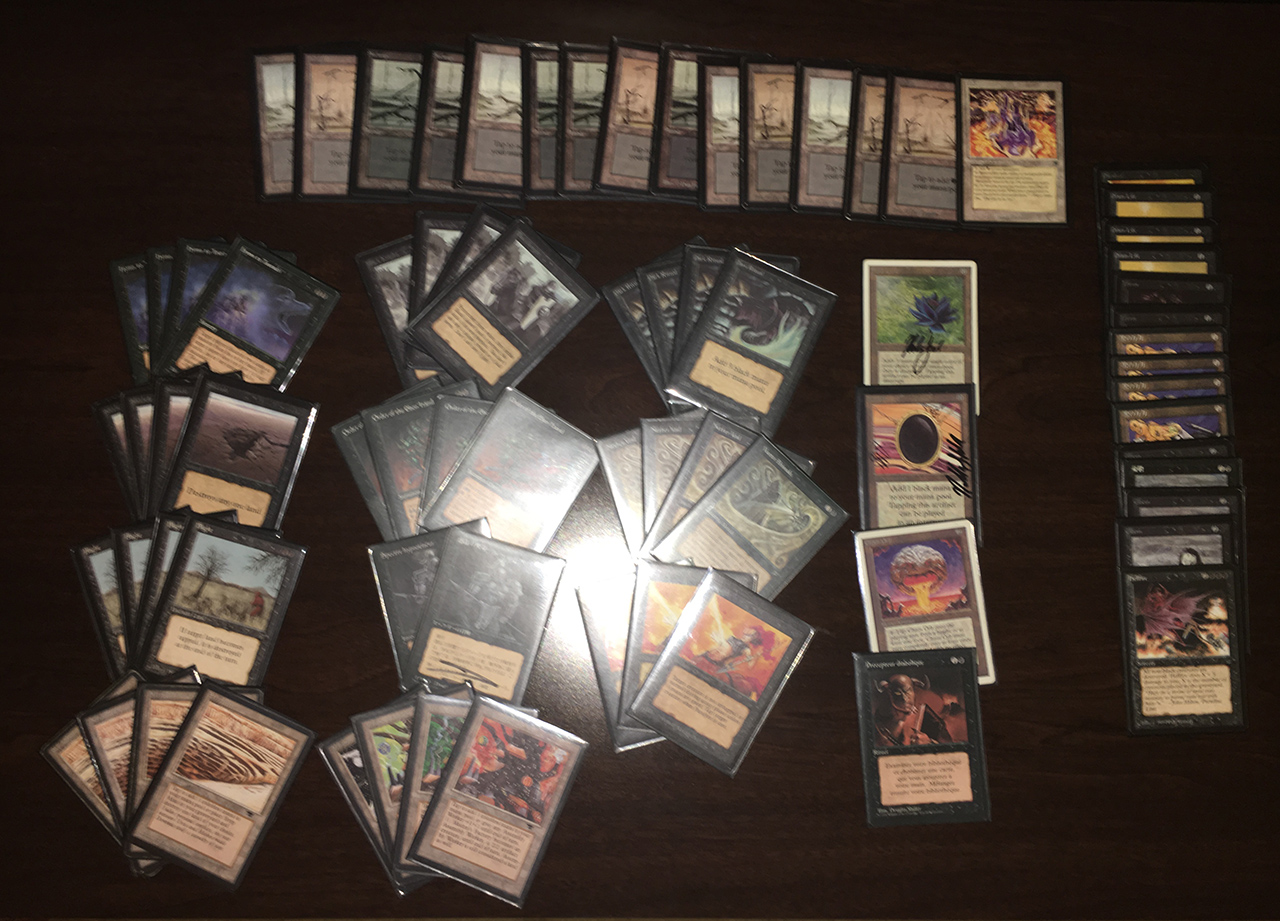 Greg Kraigher – Mono Brown UrzaTron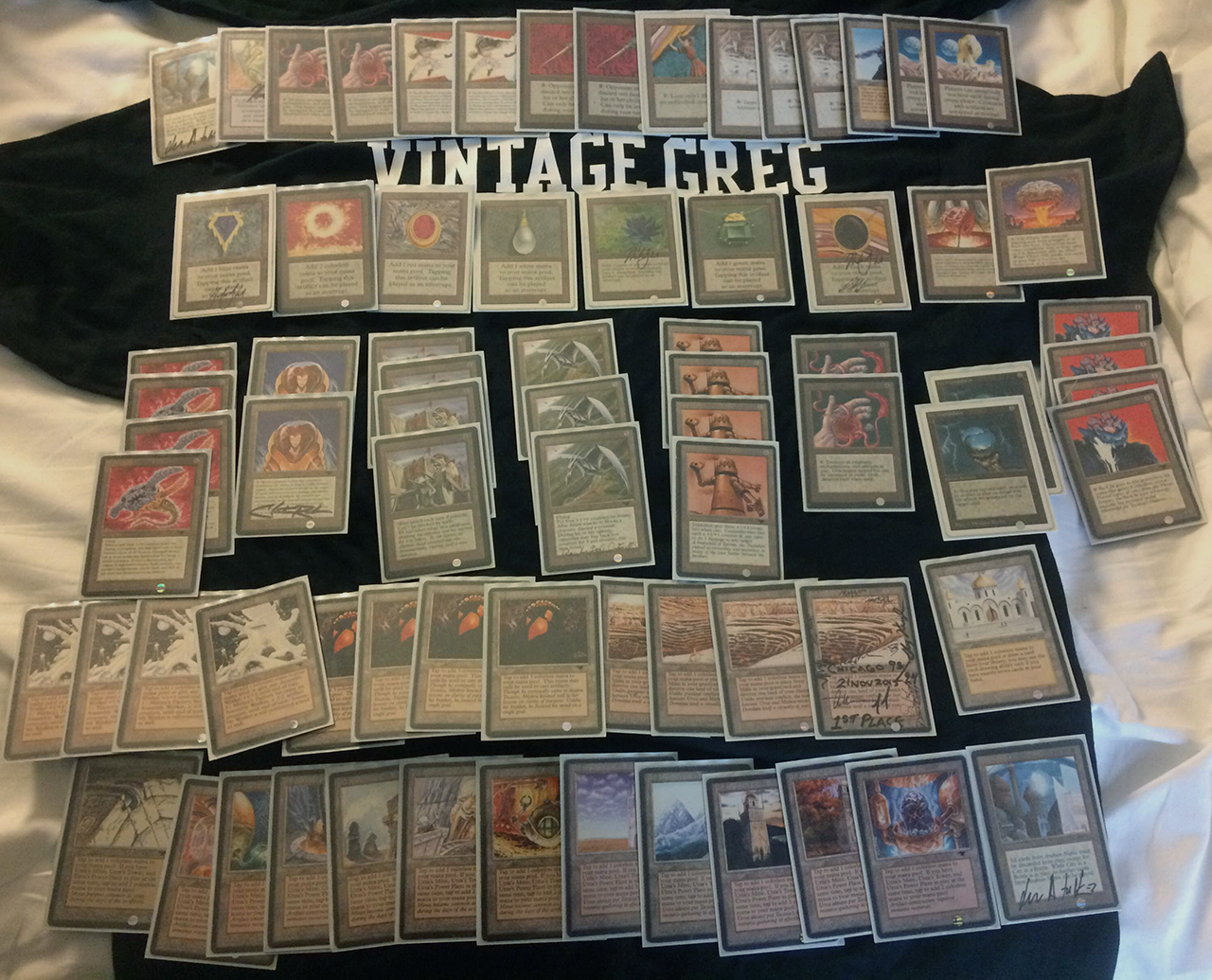 Christopher Langston – Mono Blue Power Artifact Combo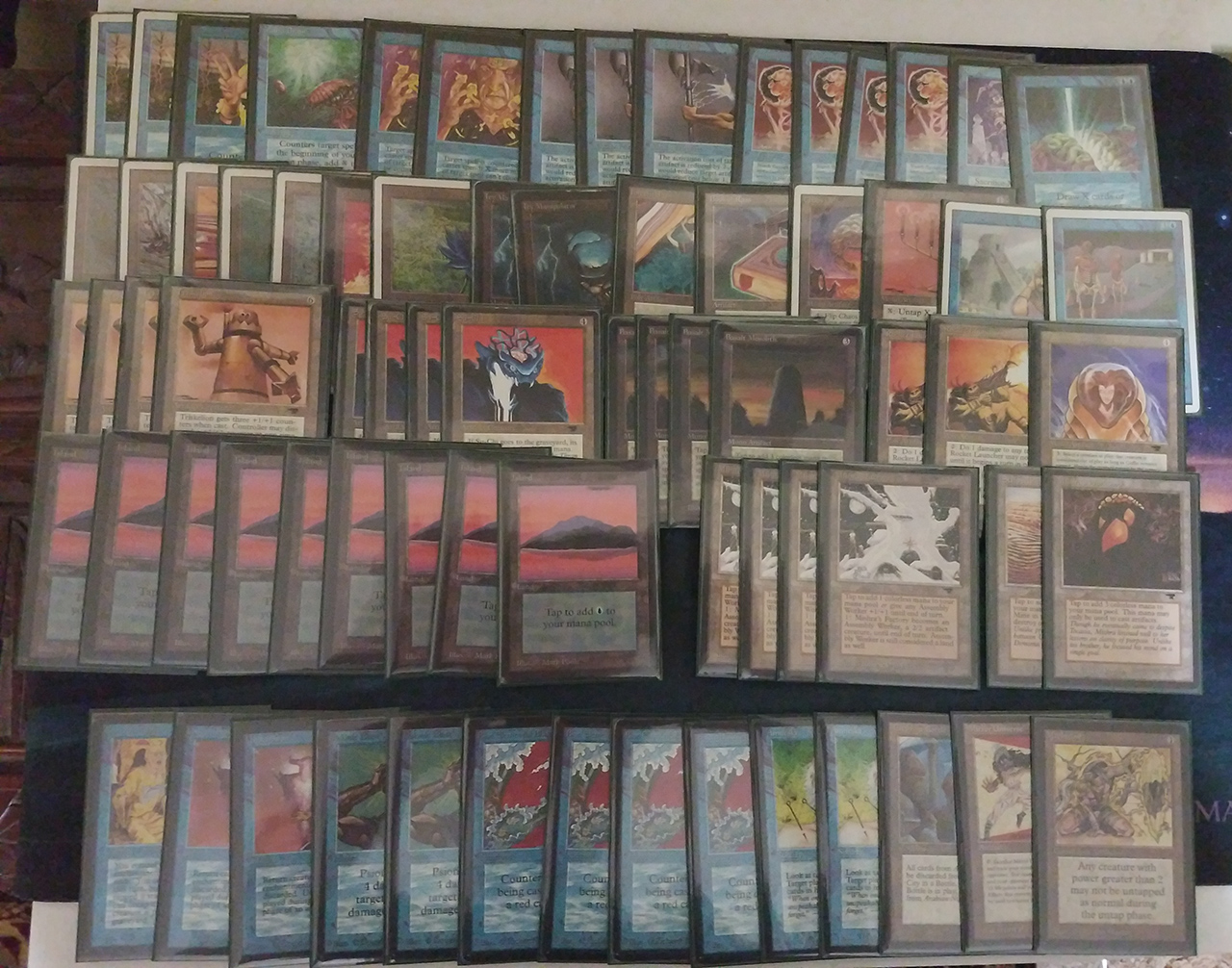 Jared Lentz – Mono Black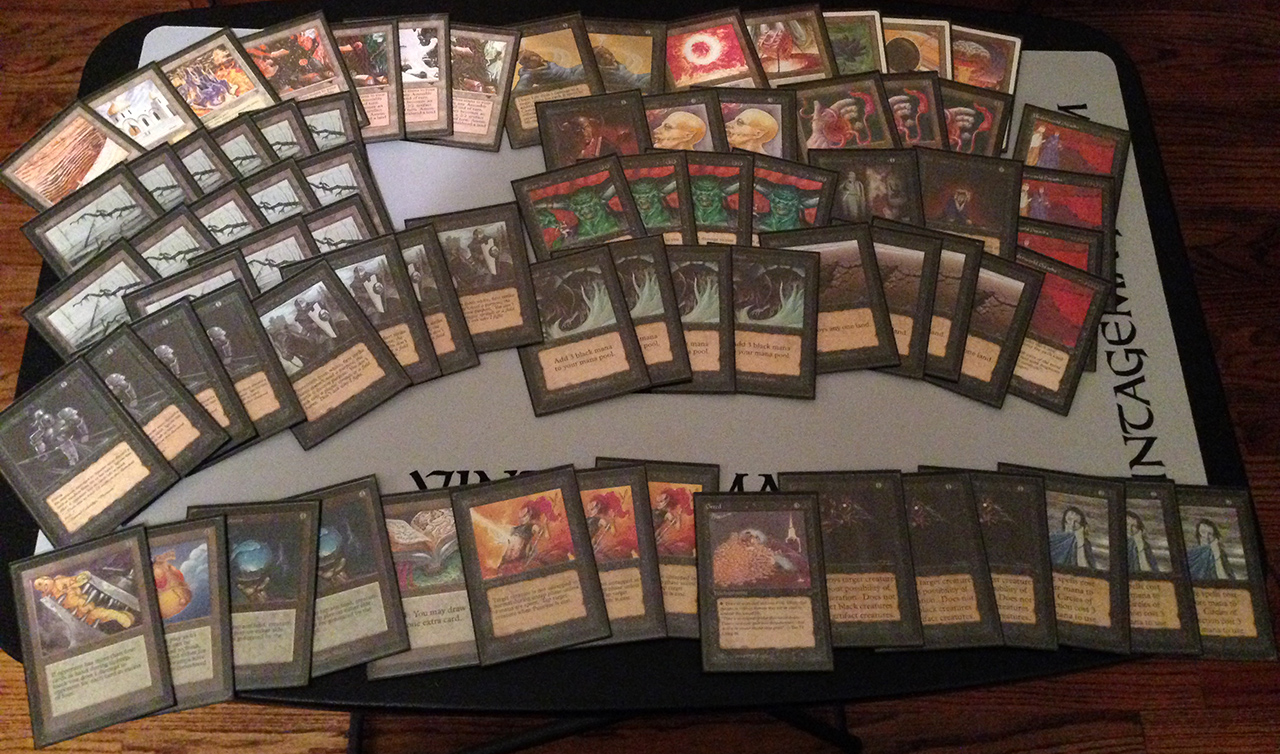 Mike Lupo – Coinflip Red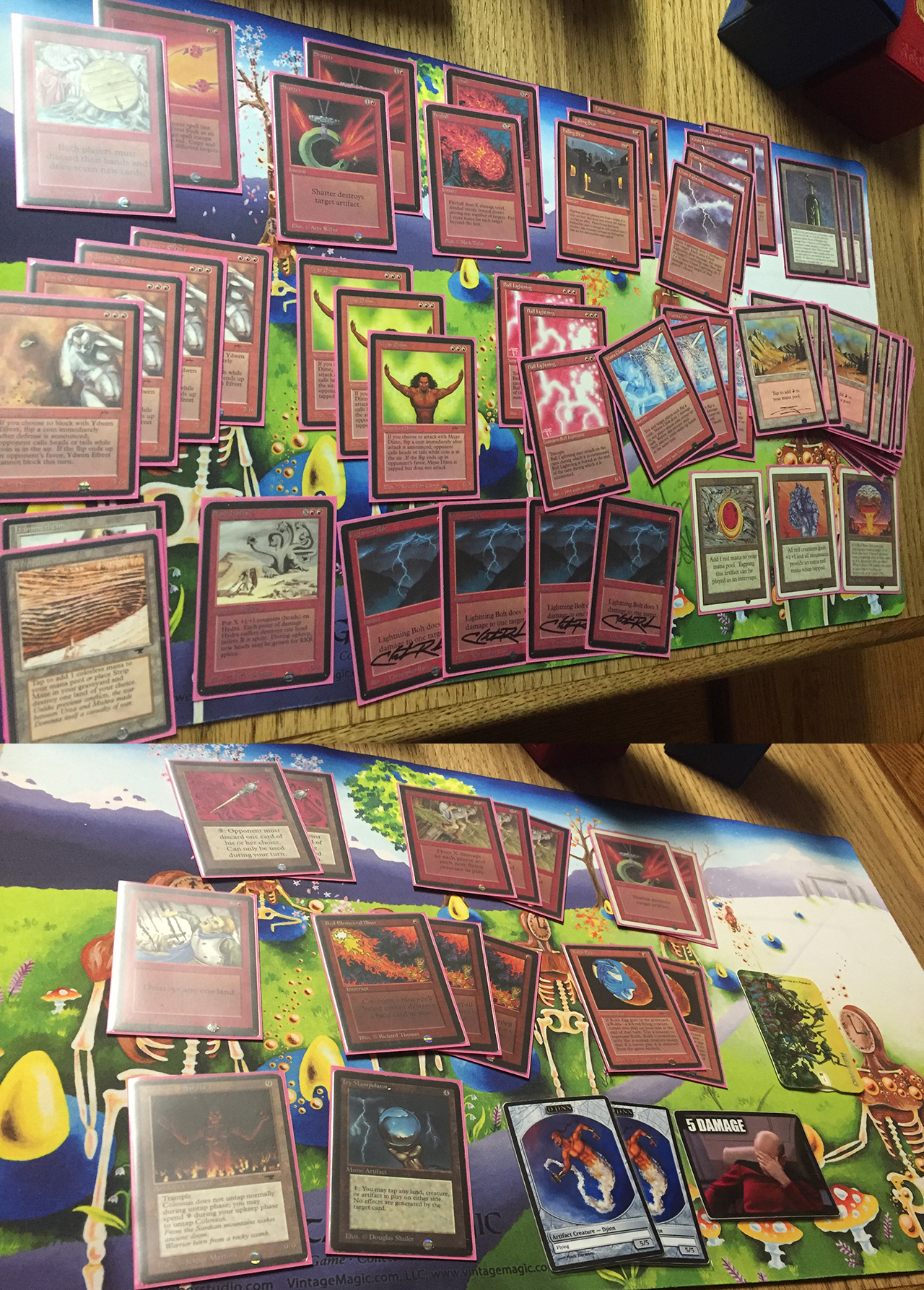 Robert Matthews – White Weenie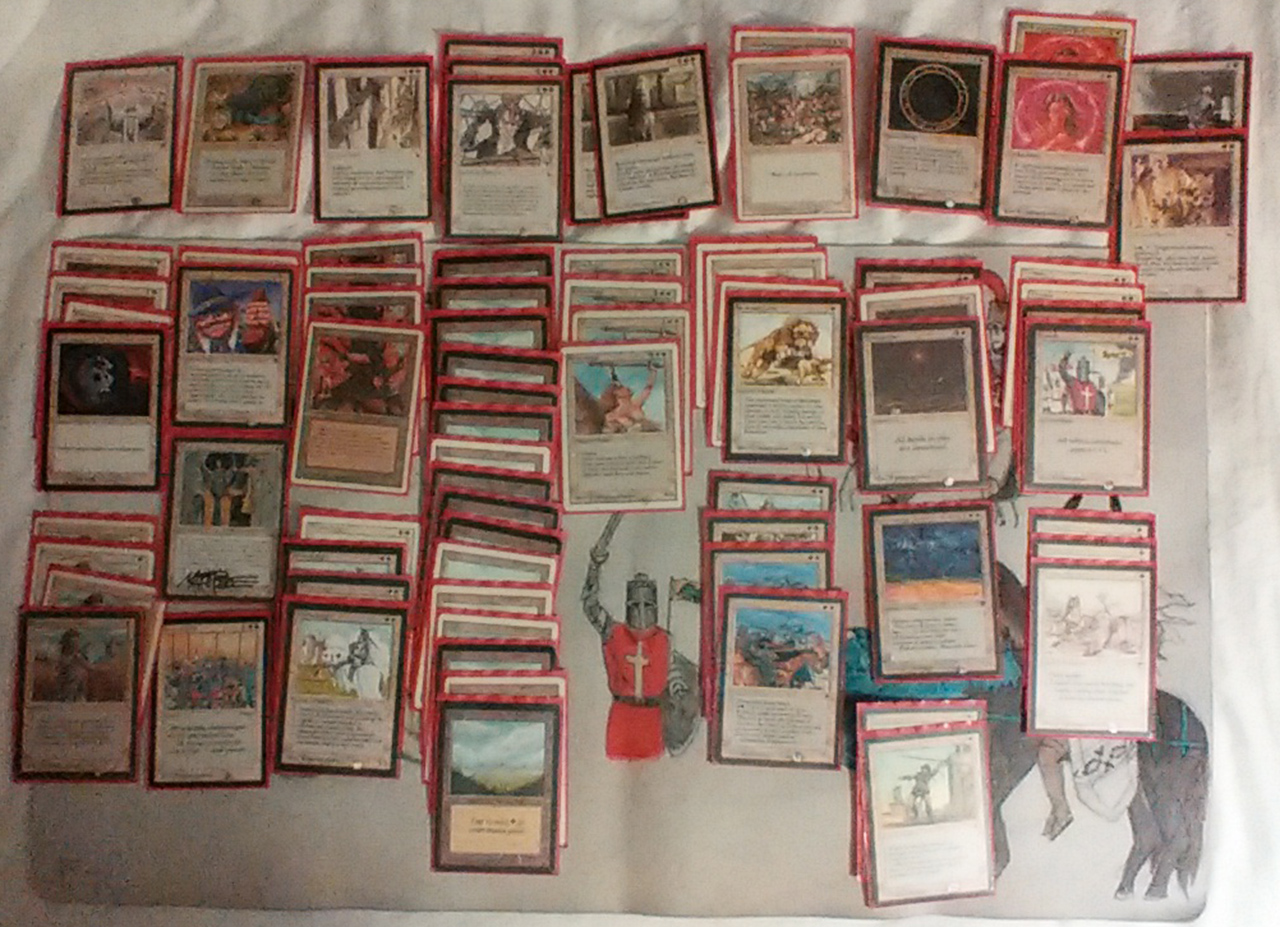 Andrew McLennan – RG Aggro

Steve Menendian – UR Control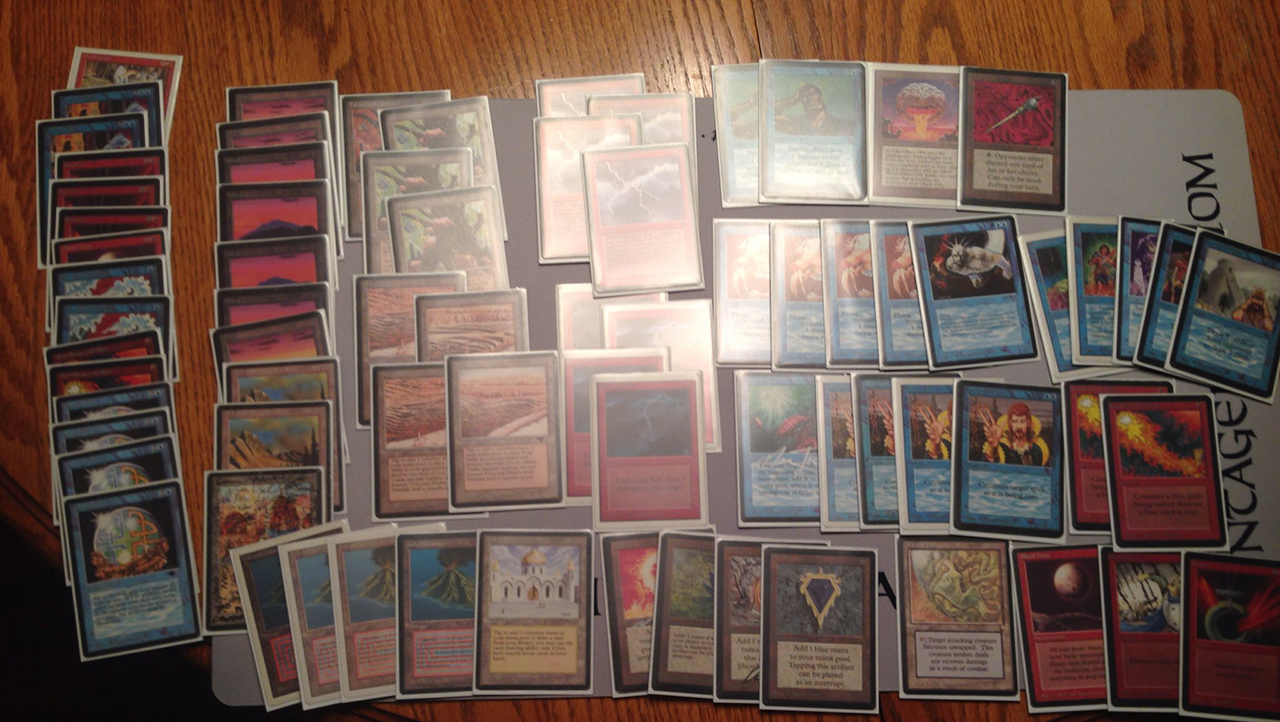 Dan Miller – Greedy Tower UWB Control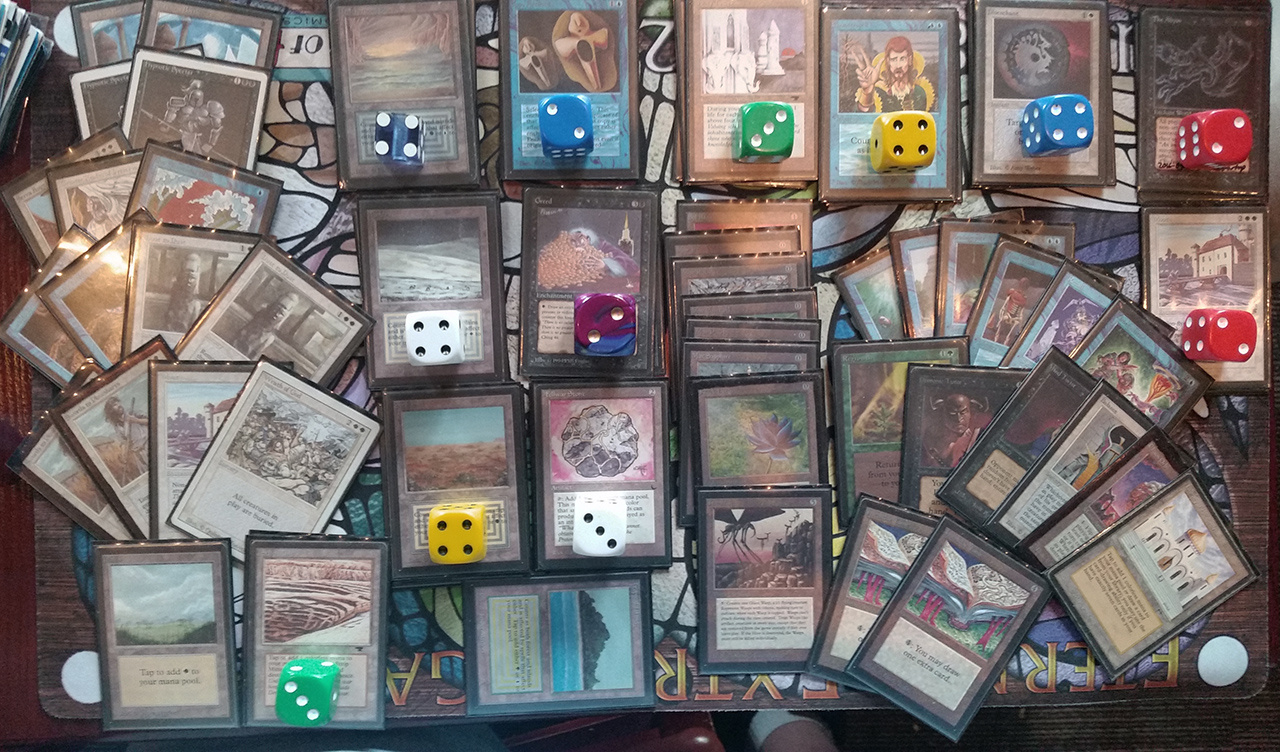 Greg Mitchell – The Deck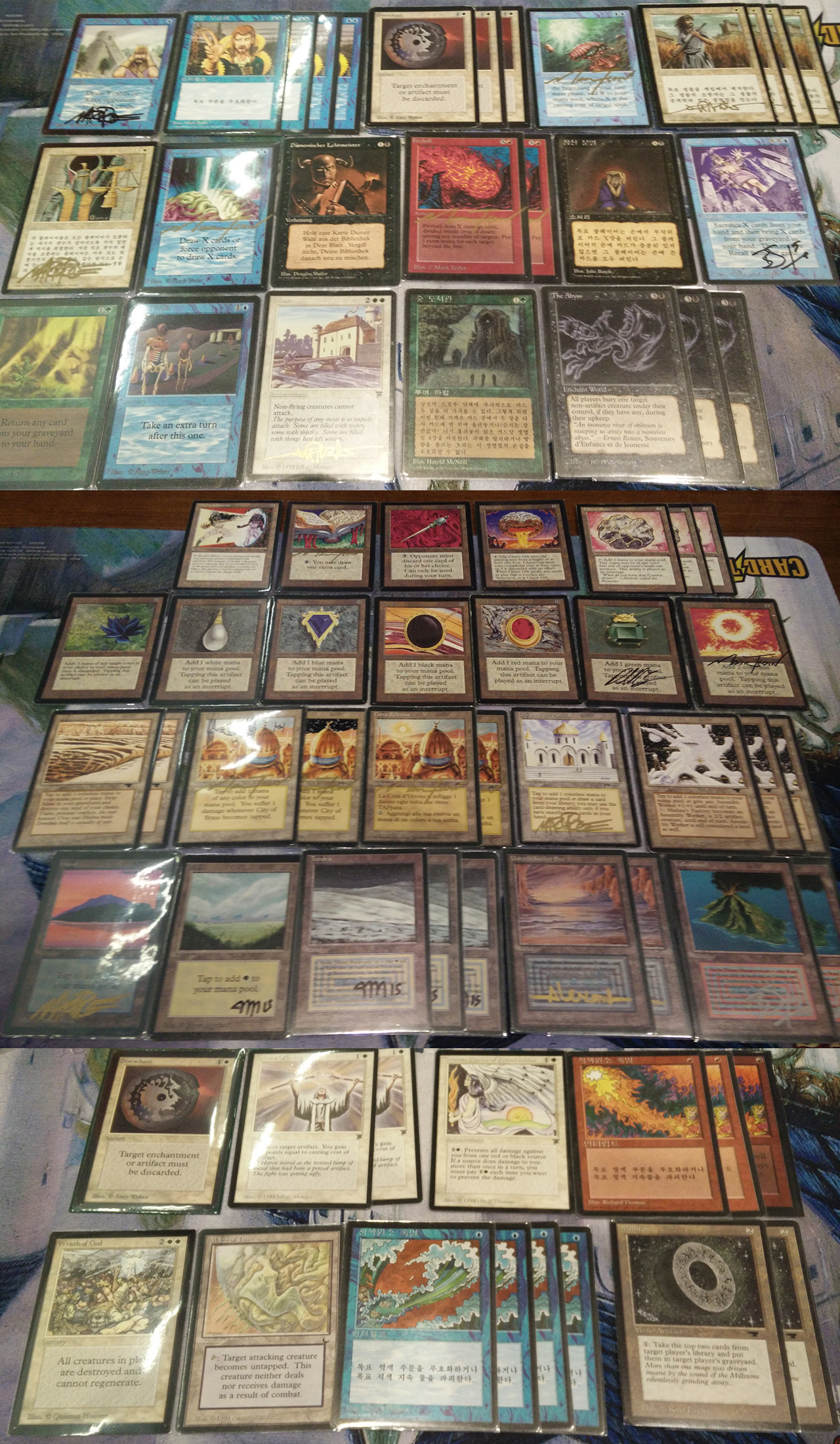 Marland Moore – UW Control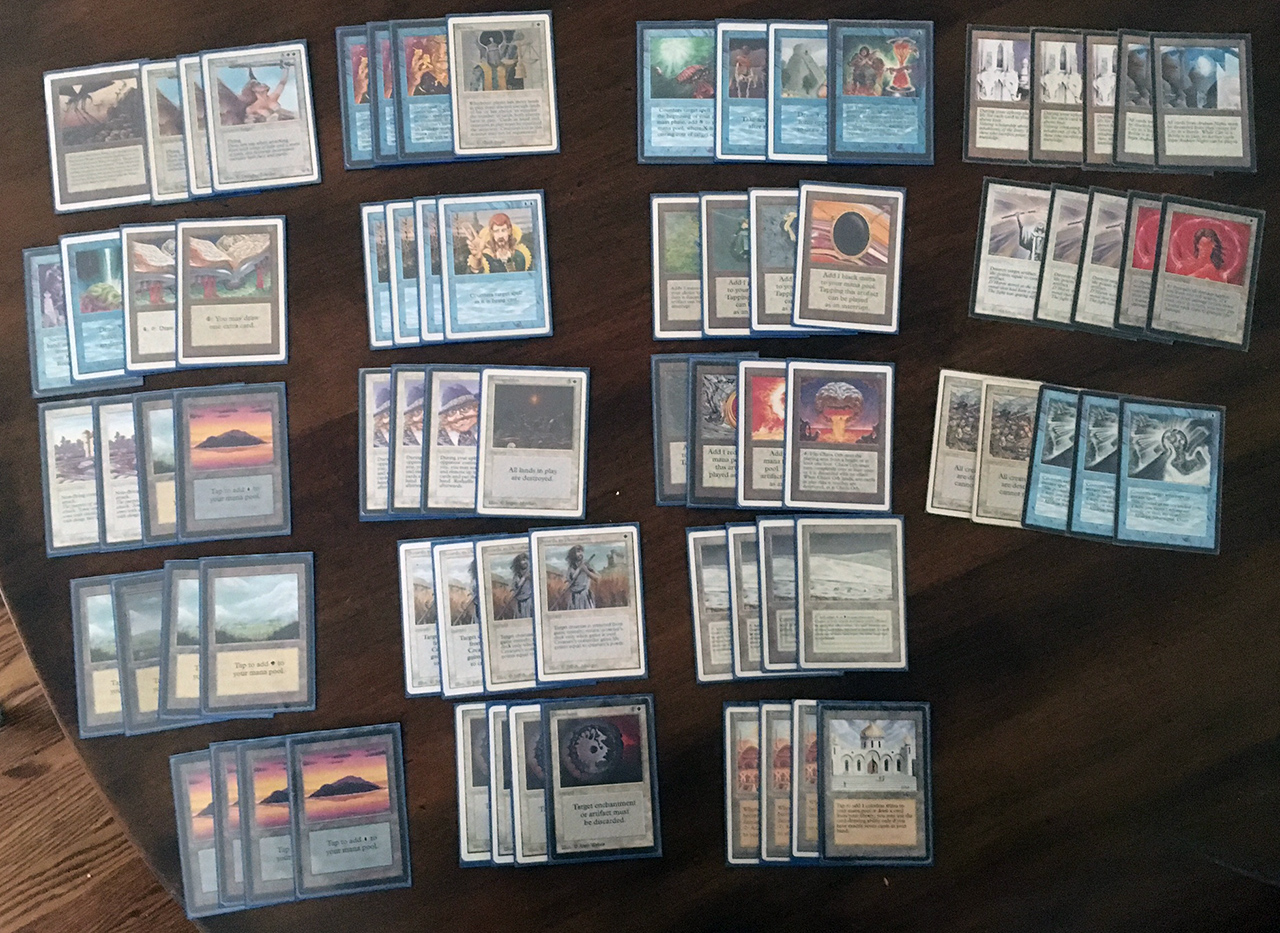 Dario Moreno – UB Workshop Control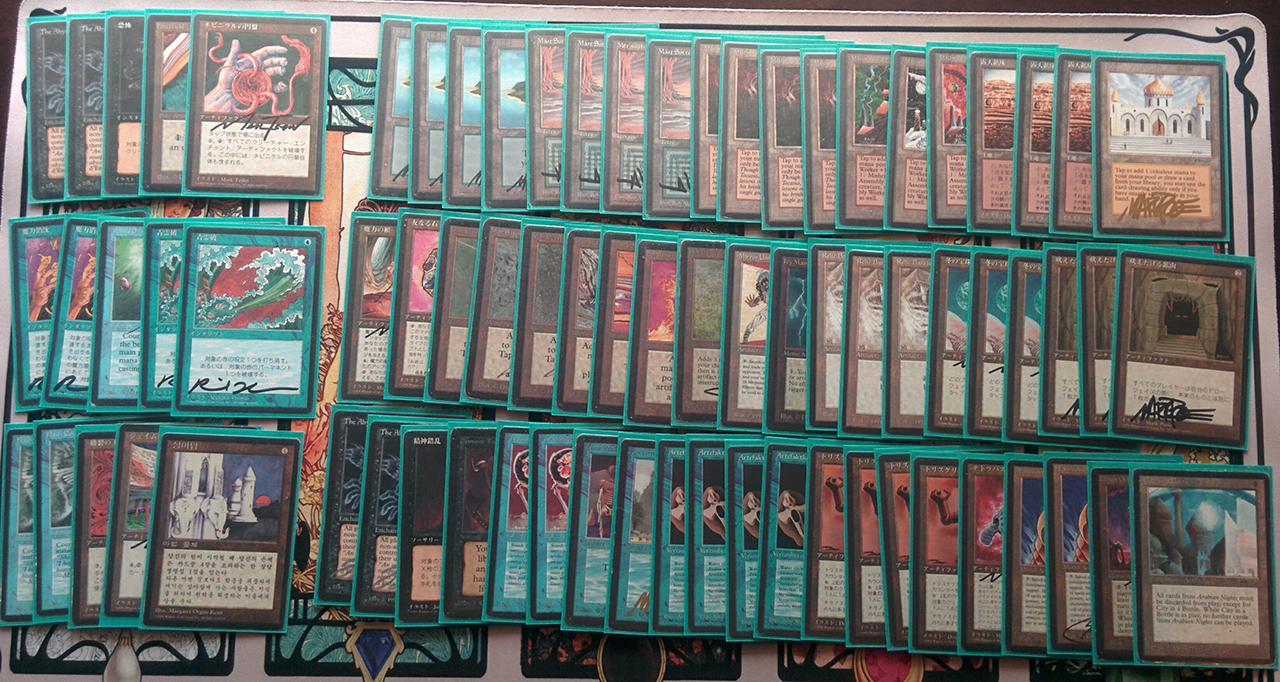 Chris Moyer – Underworld Dreams Combo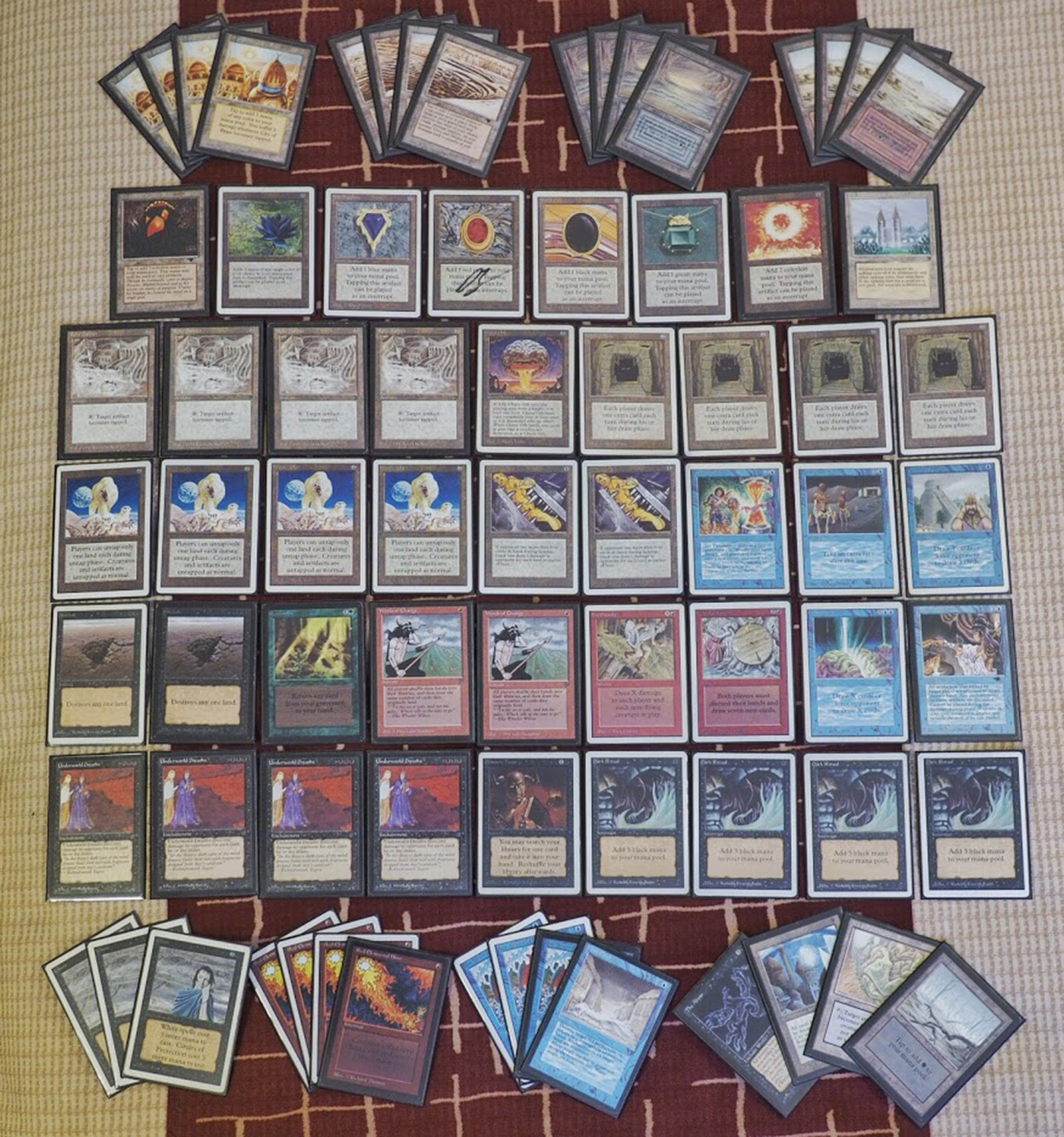 Matthew Mullins – UWB Workshop Aggro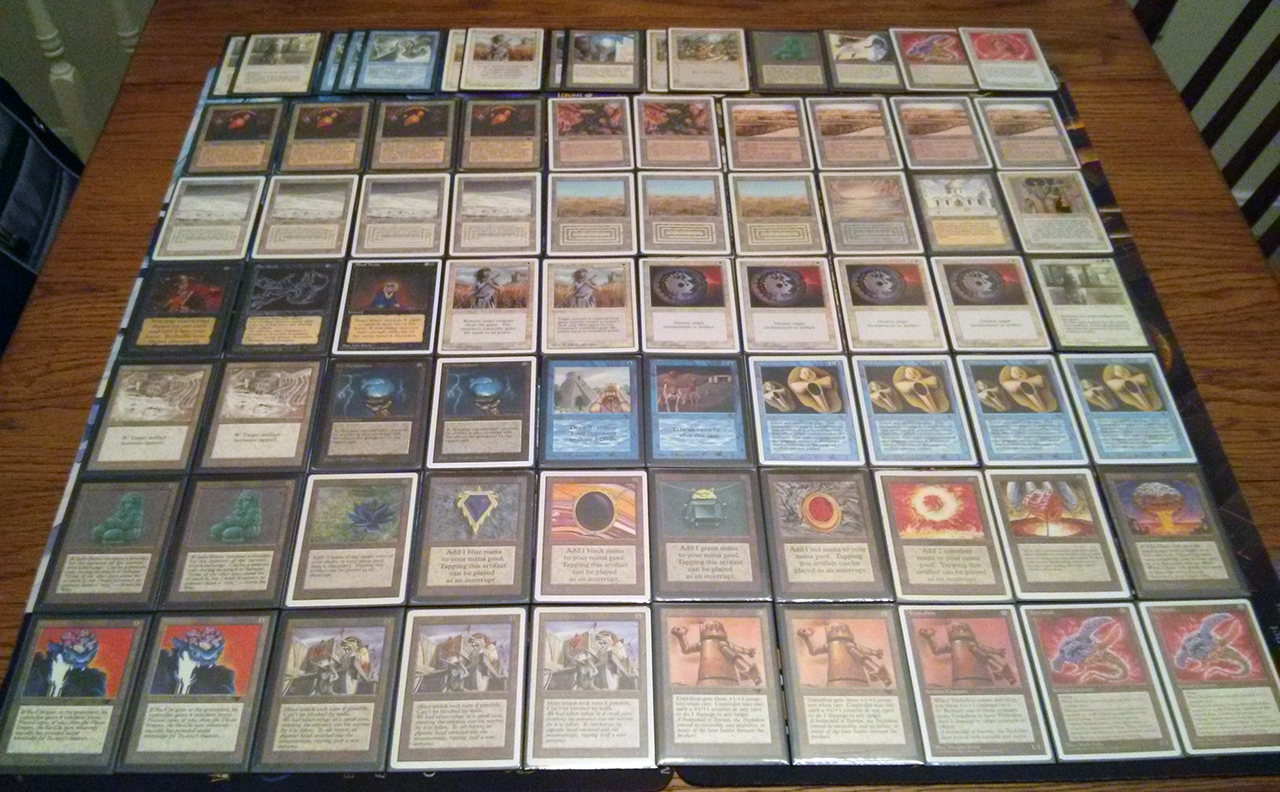 Ben Murfin – RGW Zoo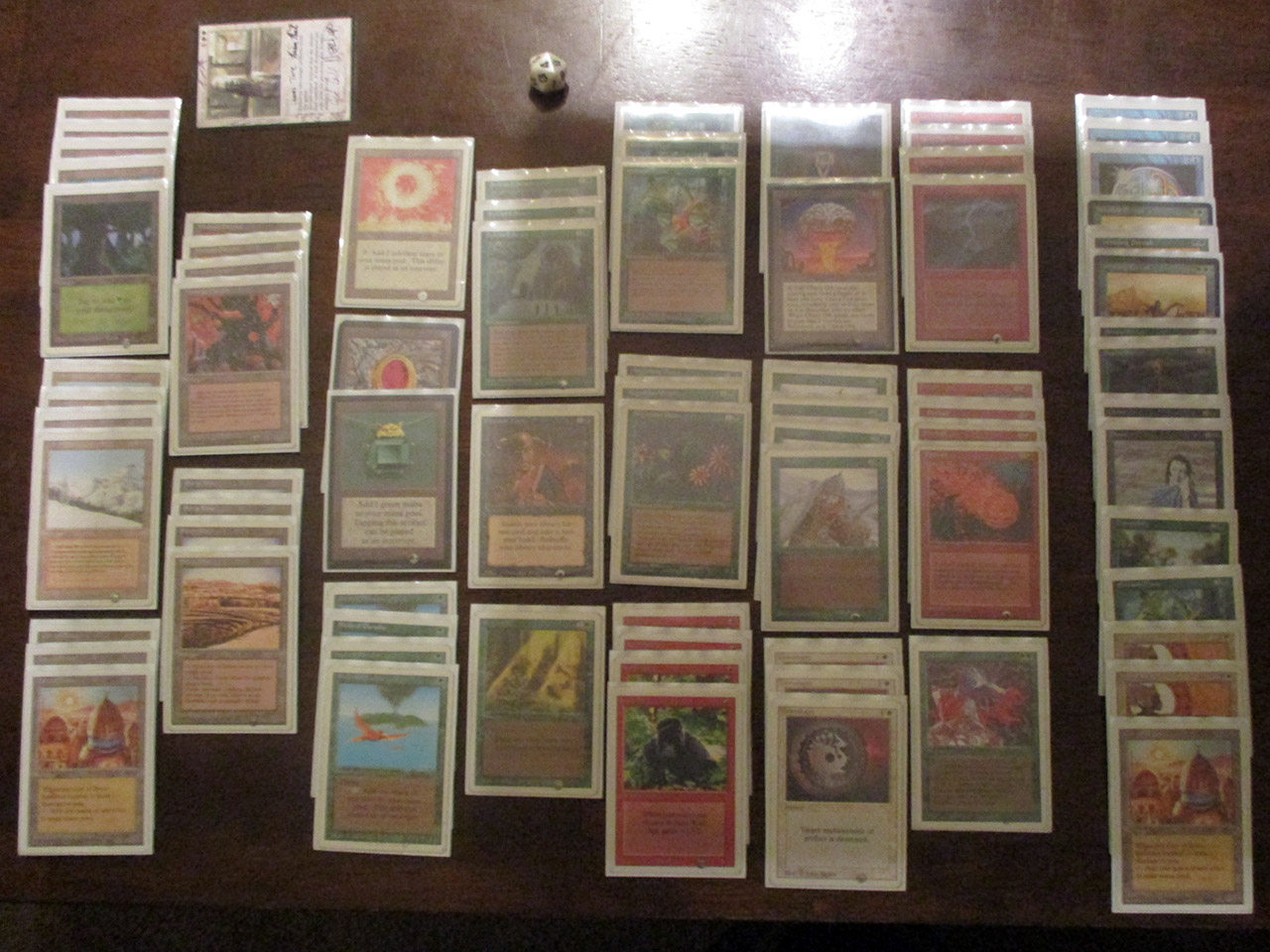 Evan Nyquist – ShieldsUp aka Guardian Beast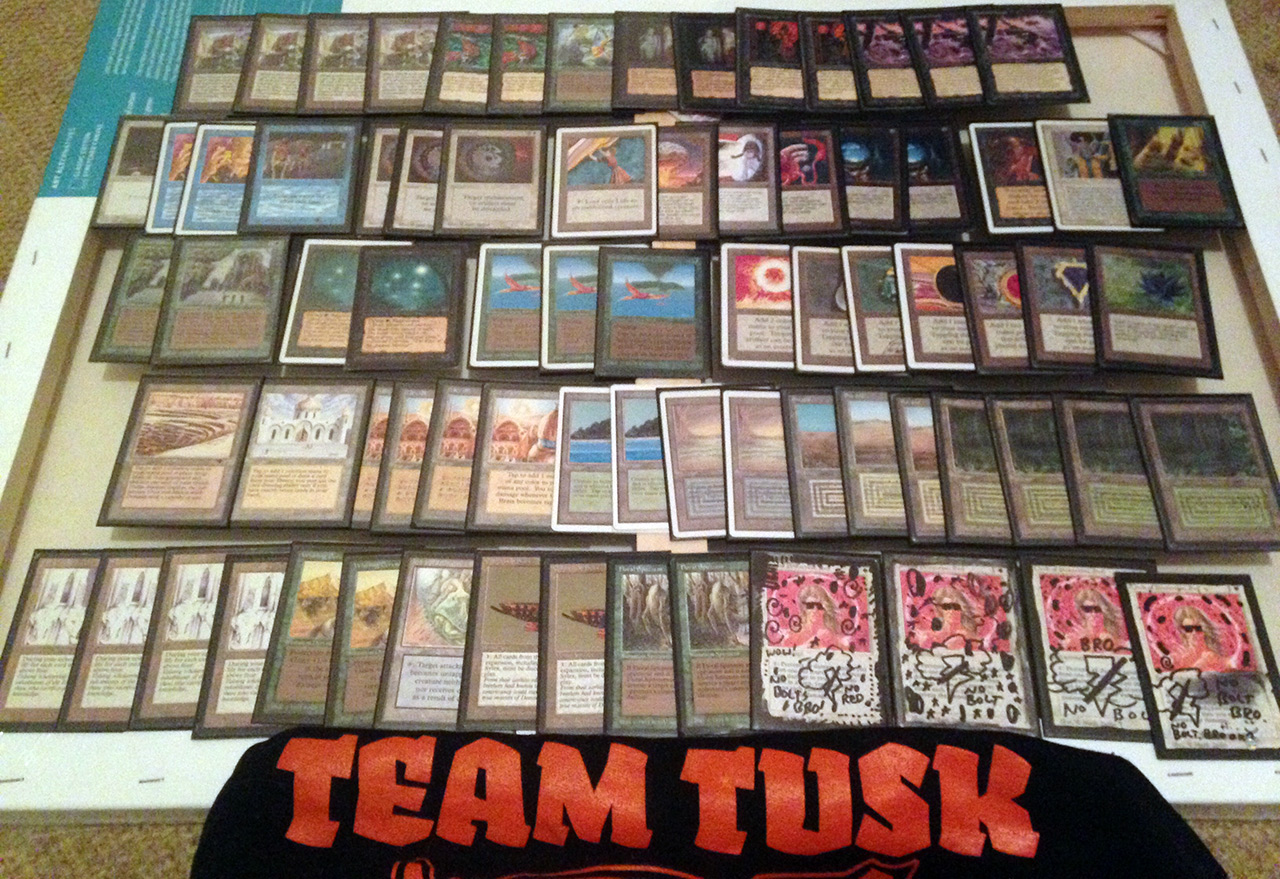 Sean O'Brien – BG Nether Void

Will Parshall – RUG Tempo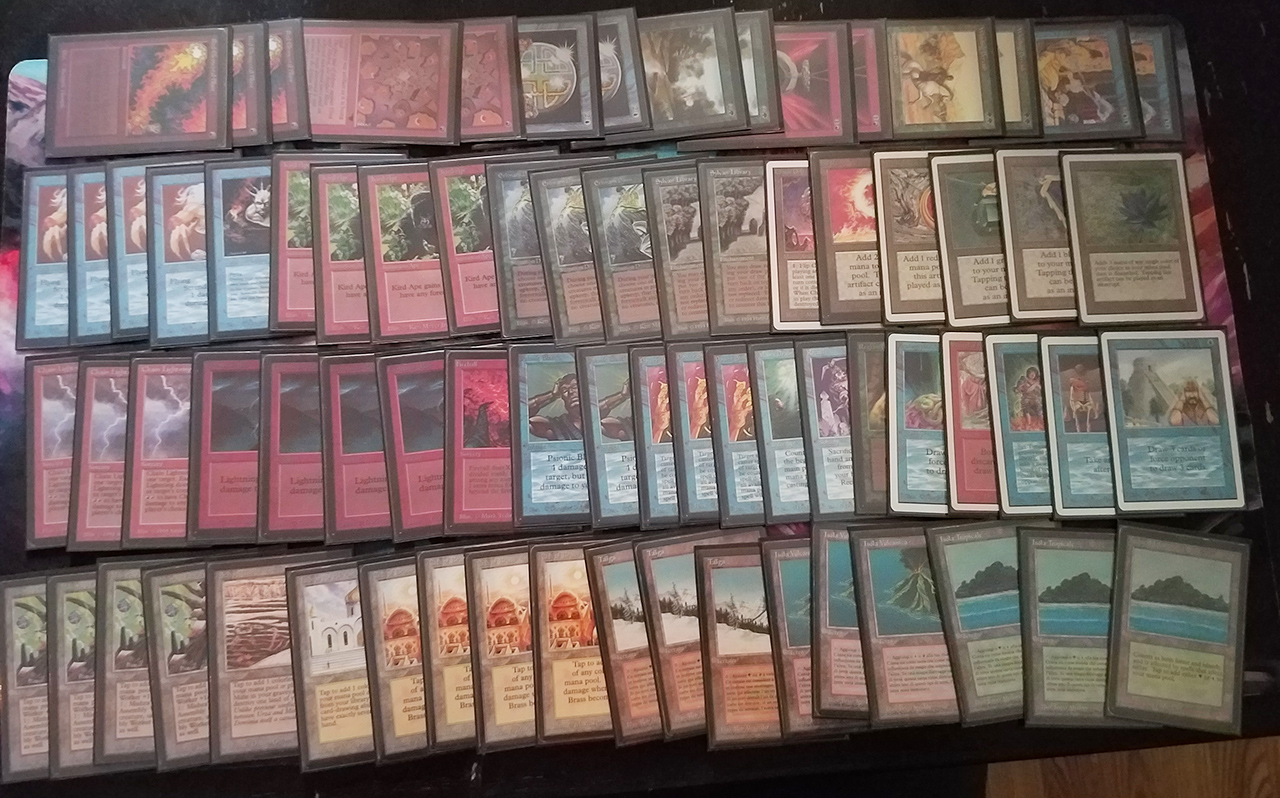 Chris Pepin – BW Abyss Control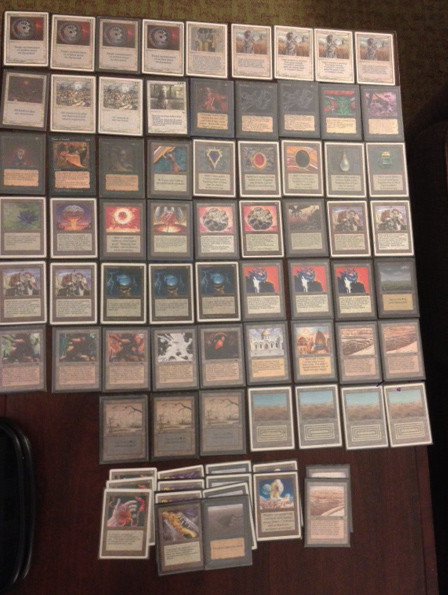 Ben Perry – UR Control


Brian Plattenburg – The Deck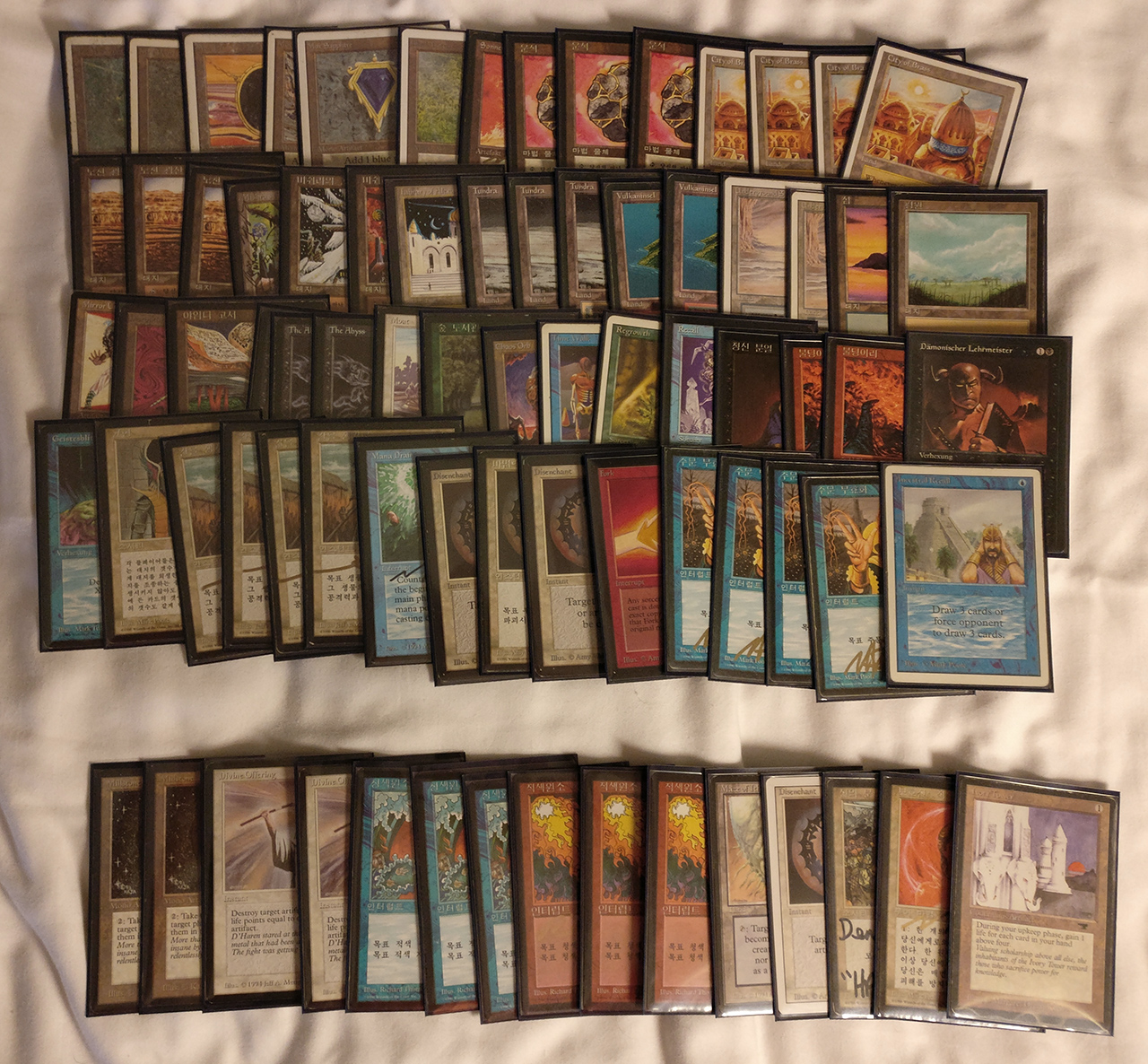 Nate Ponce – UB Discard Control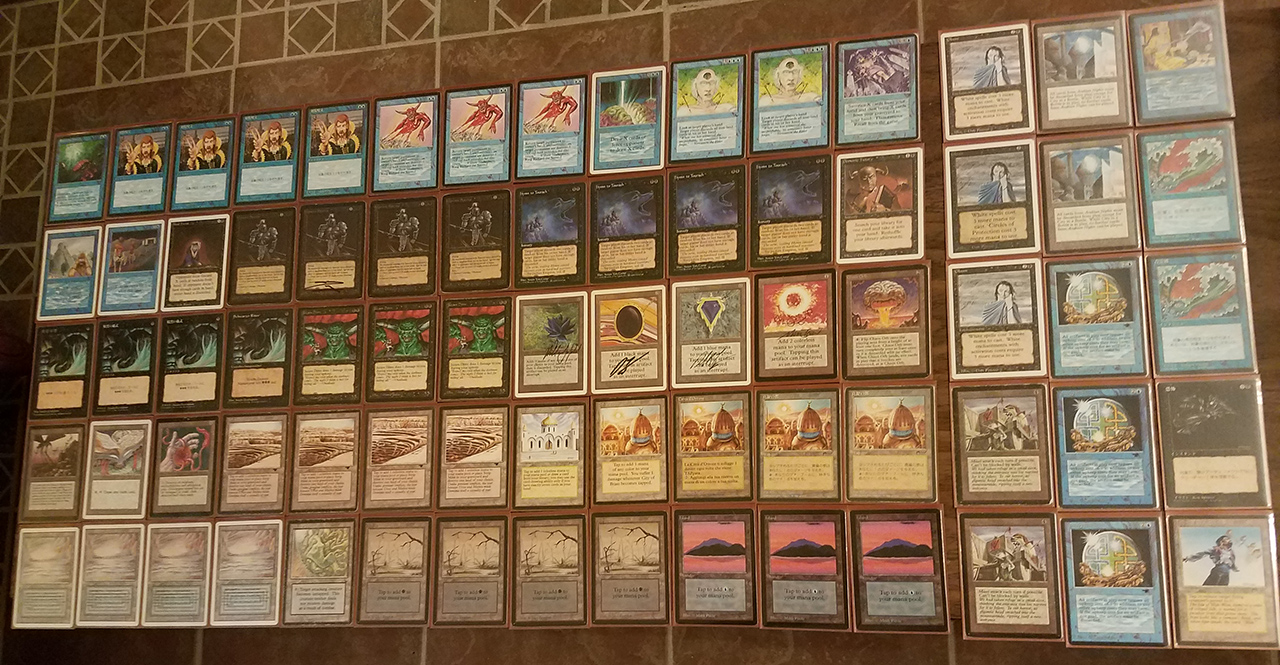 Hunter Prendergast – GW ErhnamGeddon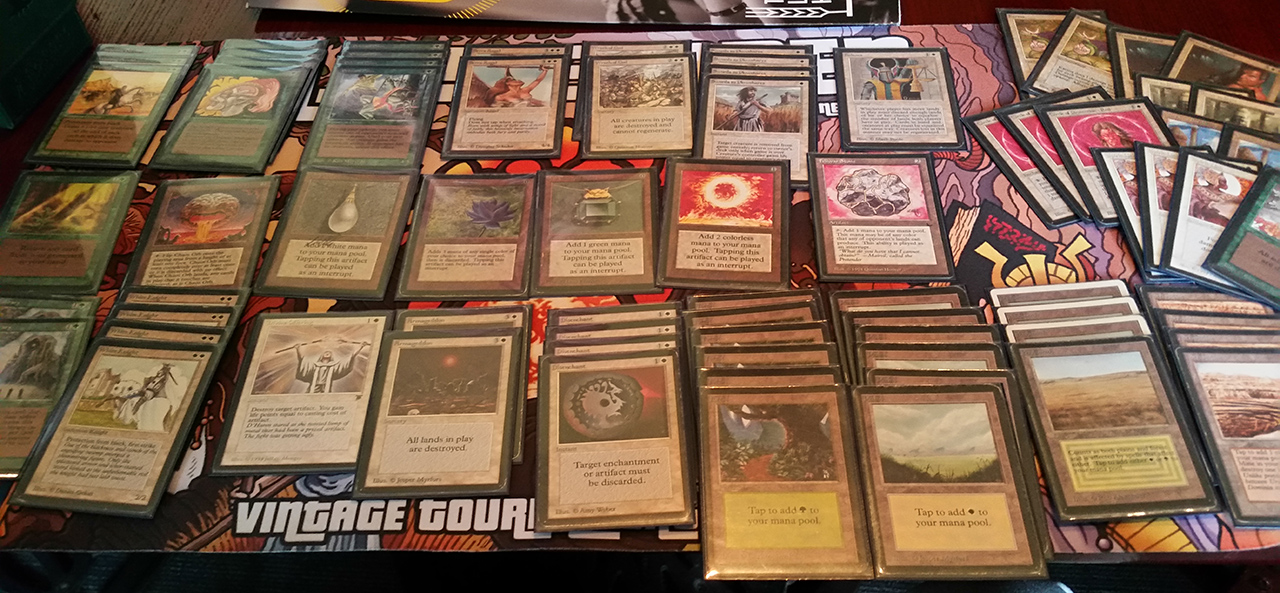 Mith Rao – The Deck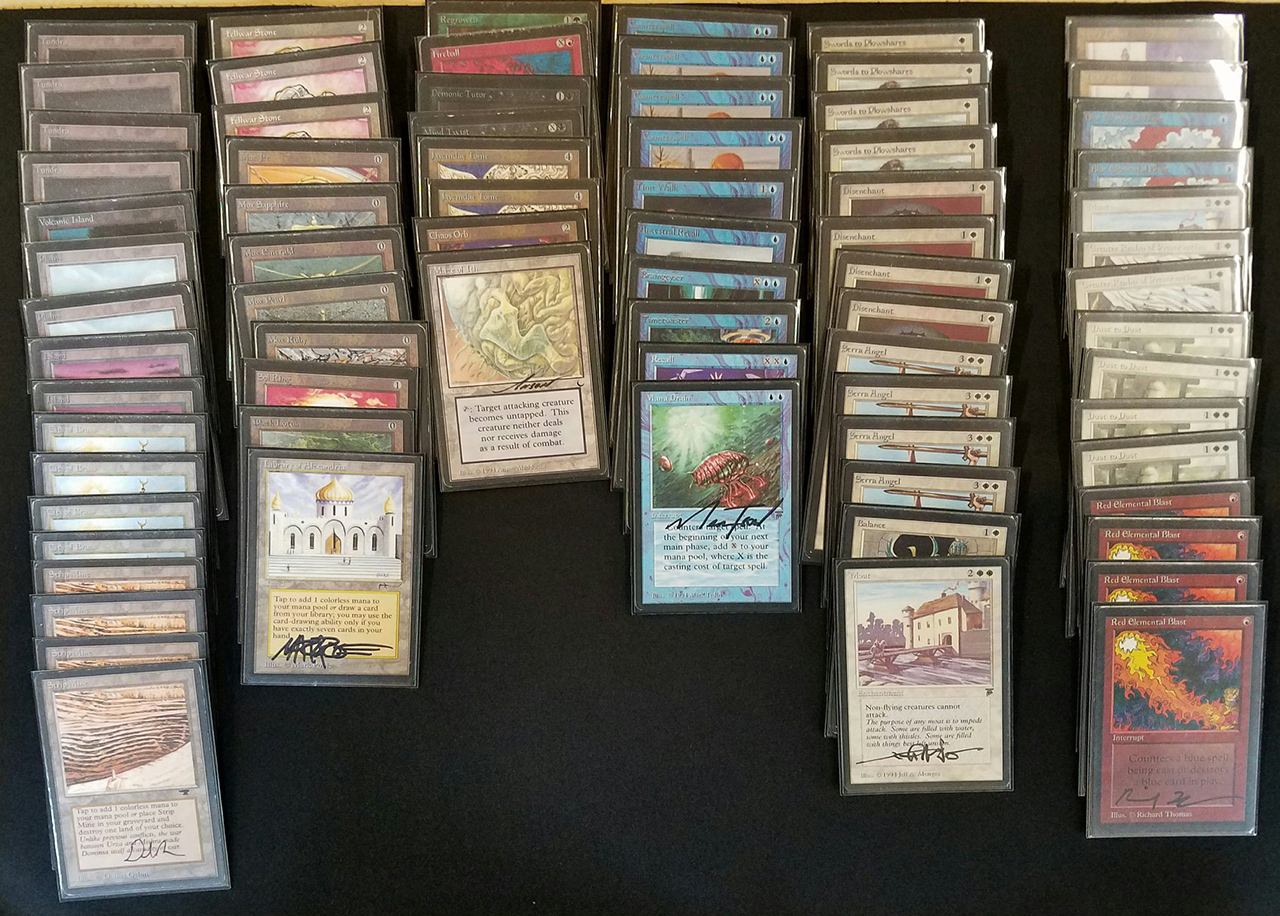 Nicholas Rausch – UR Workshop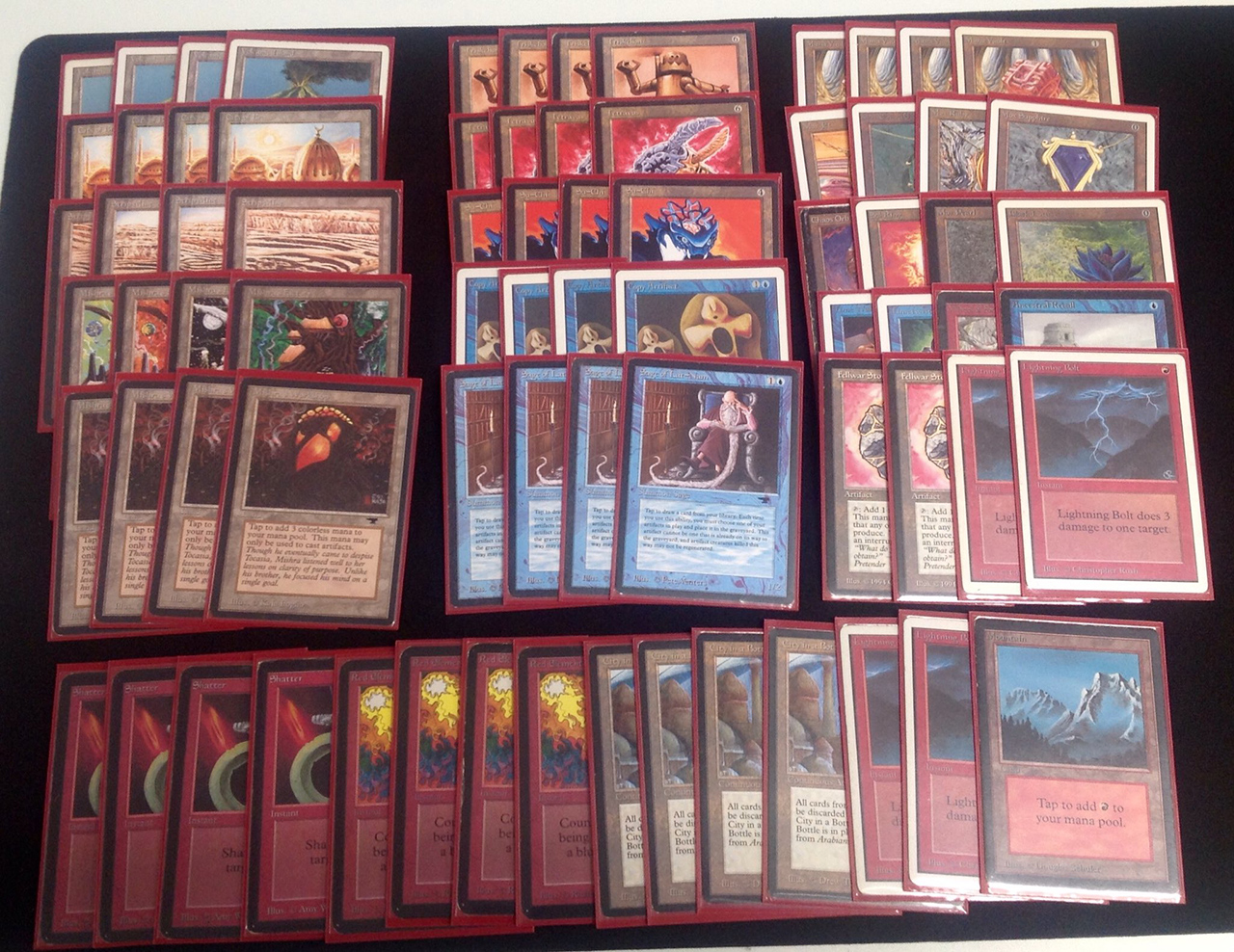 Dan Rech – RGW Jacques le Vert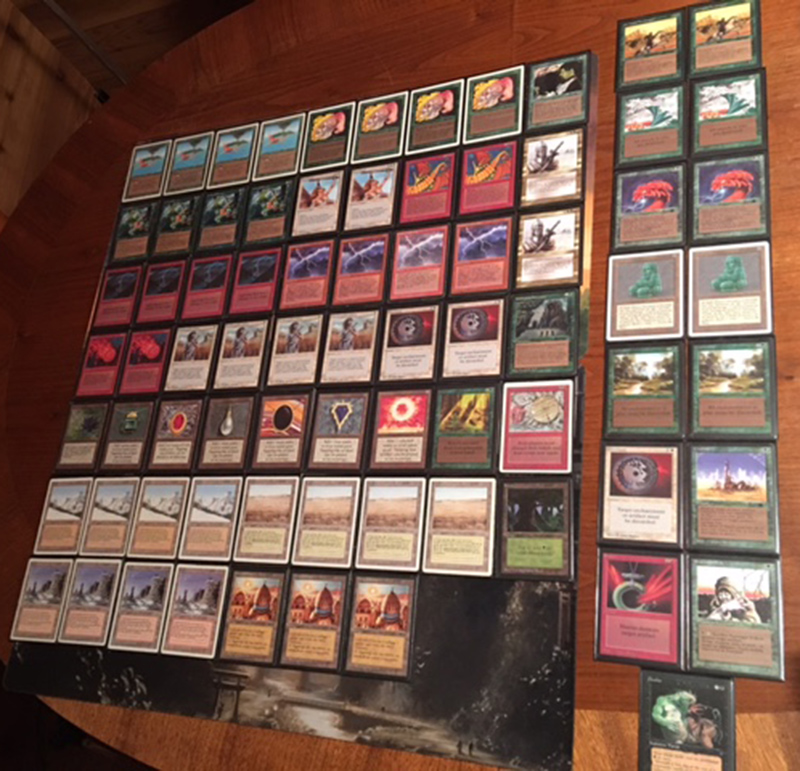 Charles Rolko – RUG Power Artifact Combo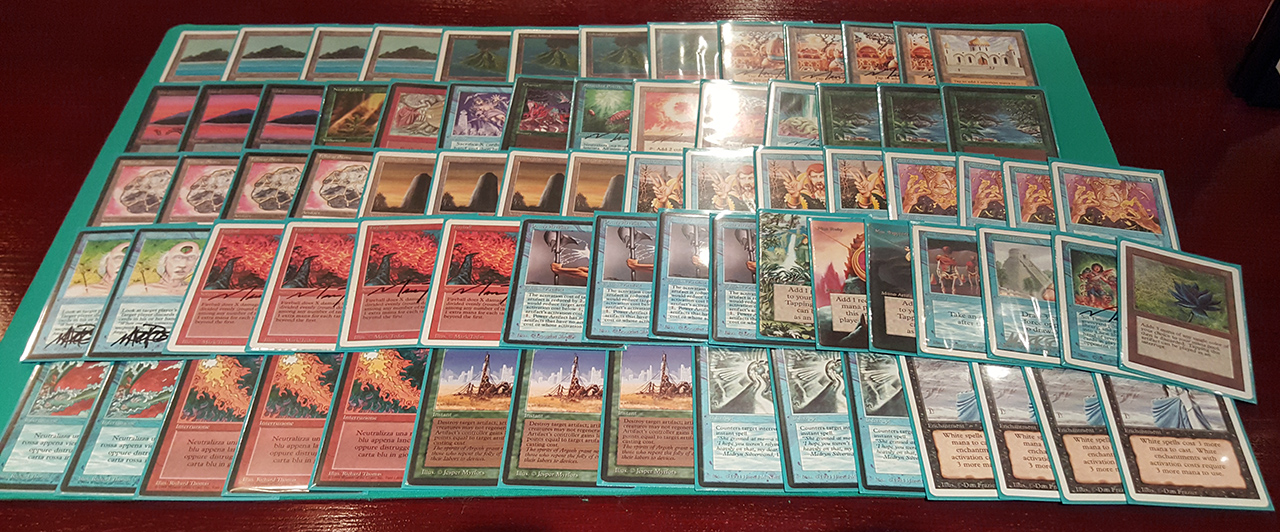 Stephen Rosenthal – RUG Tempo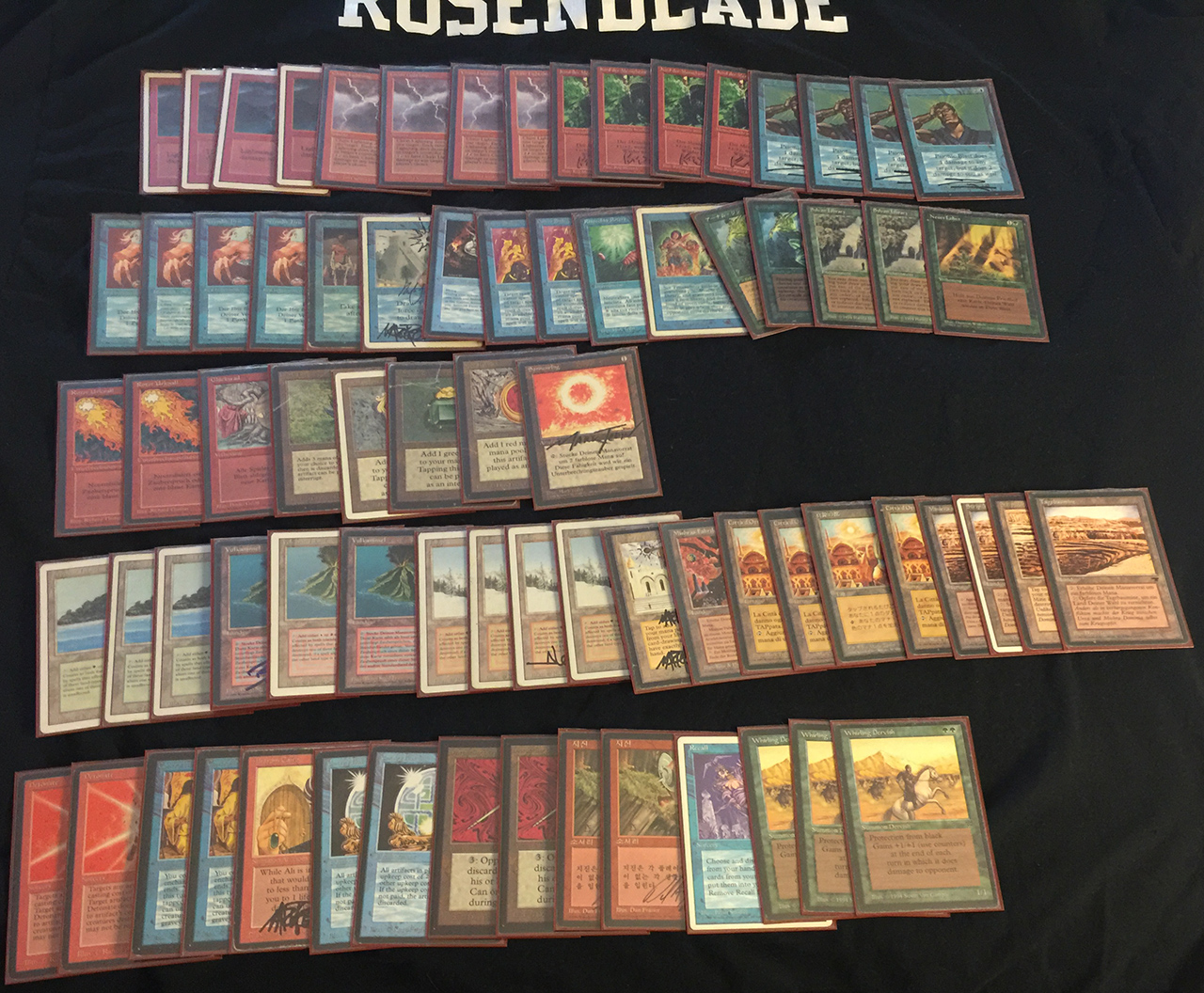 Ryan Sauve – RUG Tempo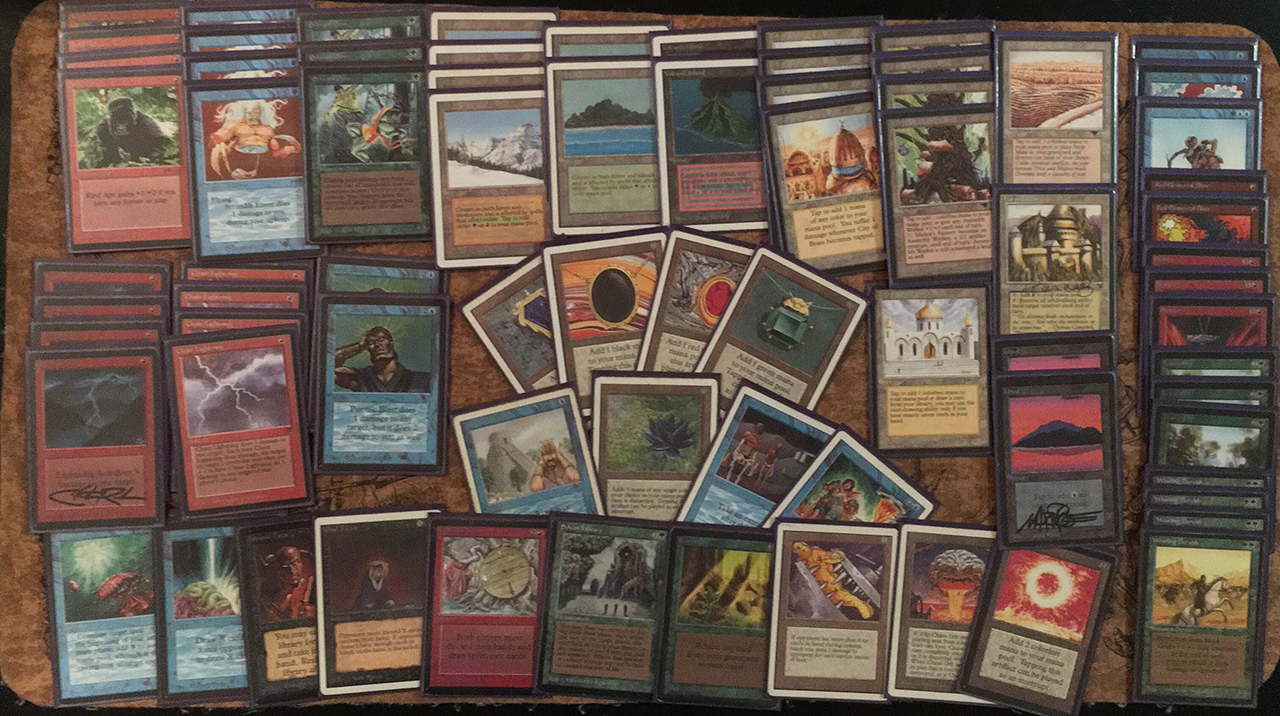 Shane Semmens – Dreamweaver Control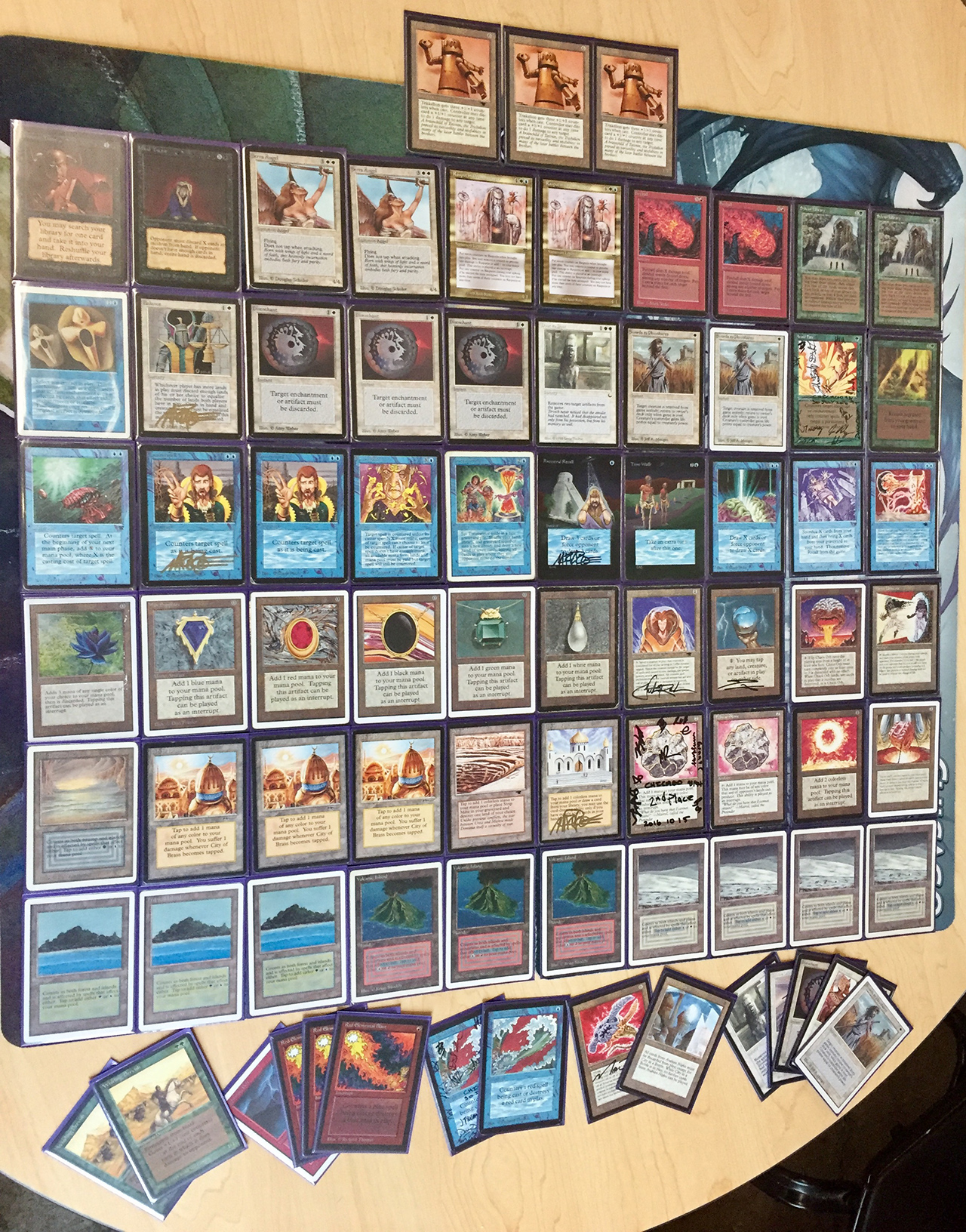 Matt Slack – The Deck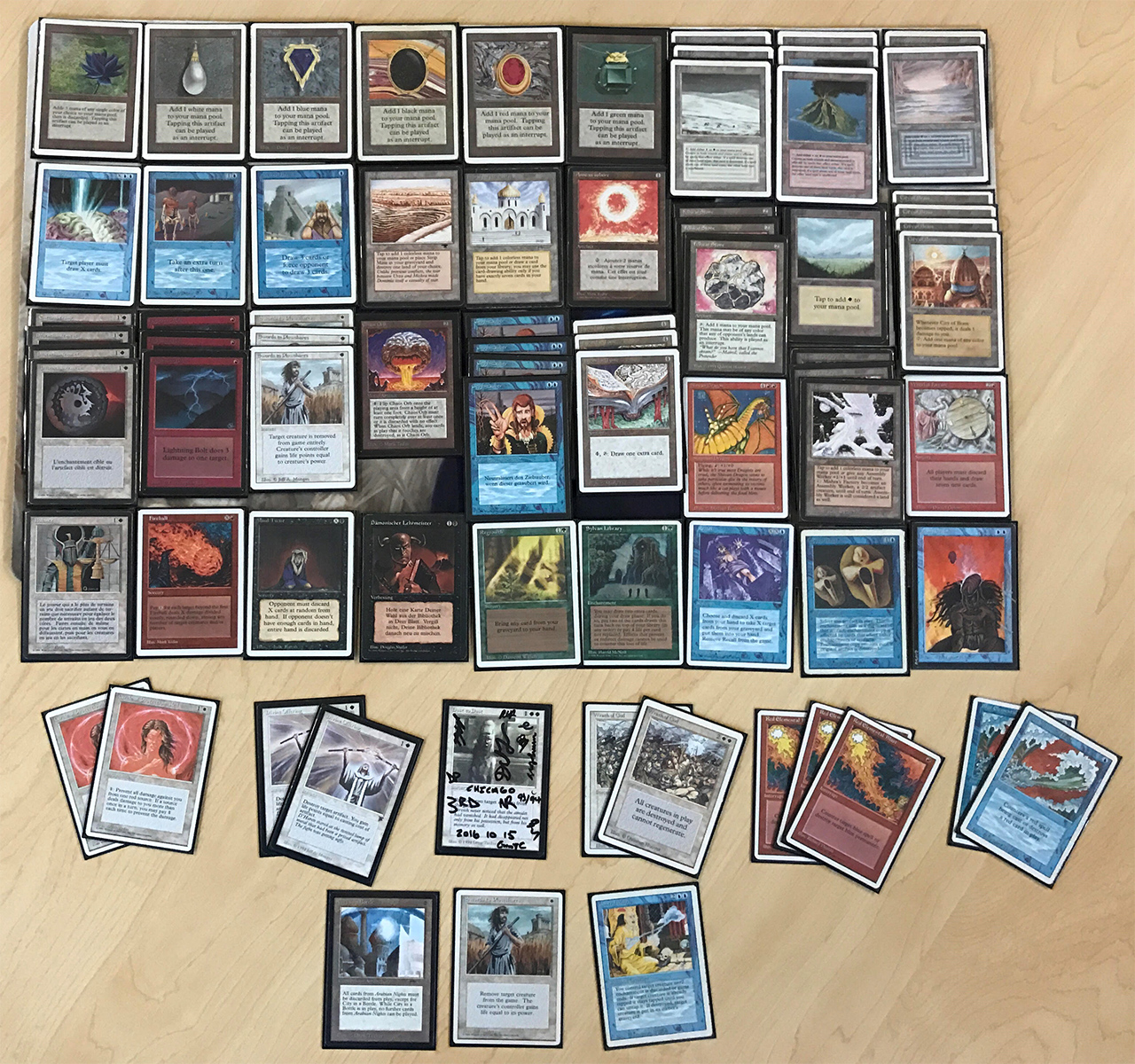 Joaquin Solis – RUG Tempo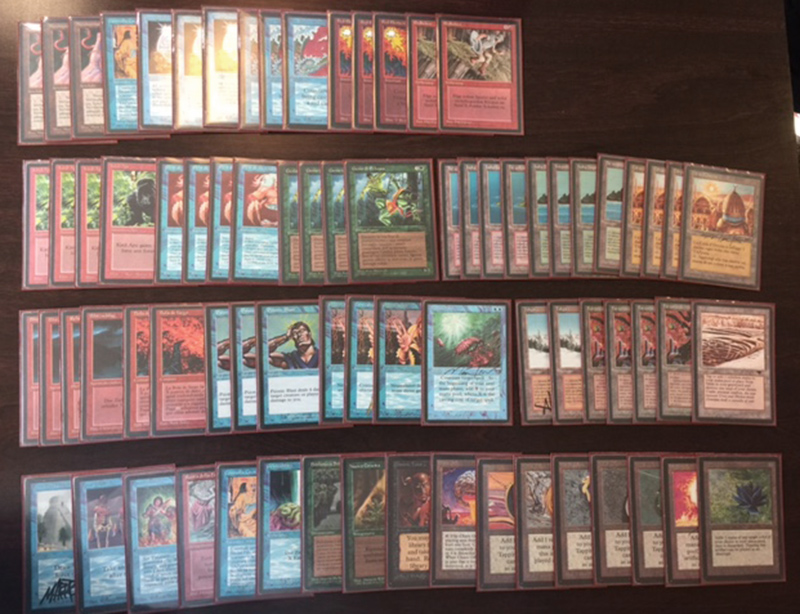 Andy Swaffar – The Deck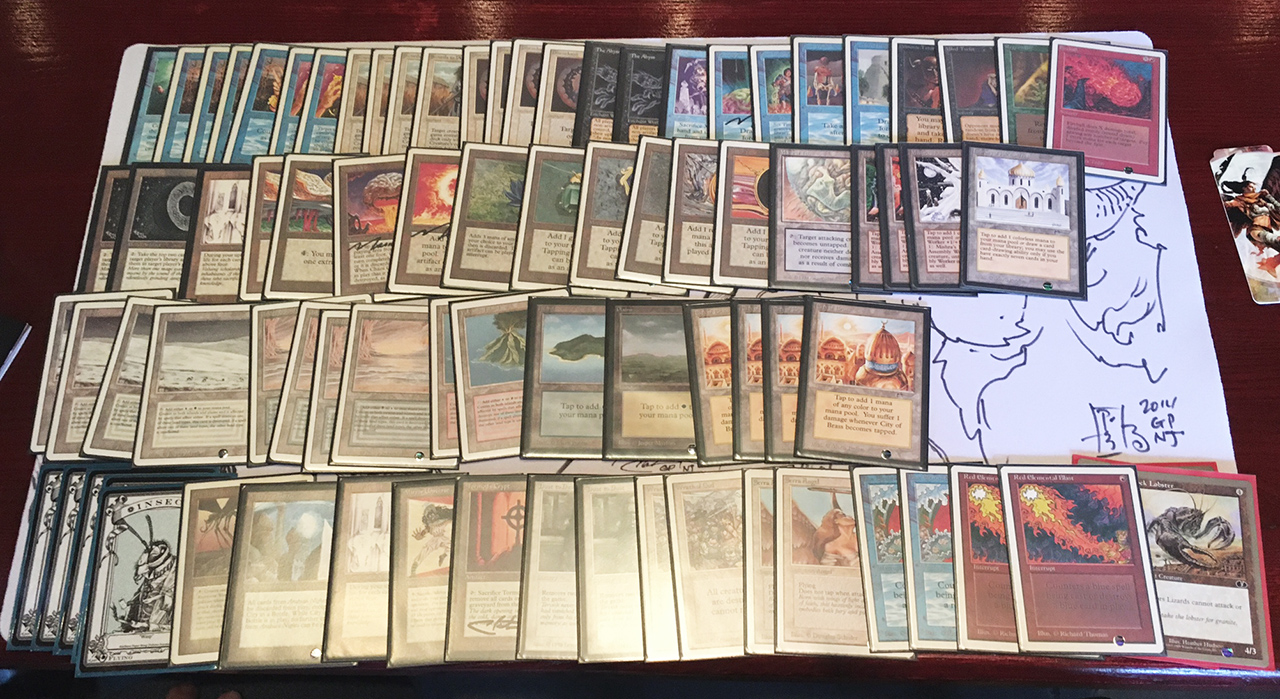 David Szatkowski – Underworld Dreams Combo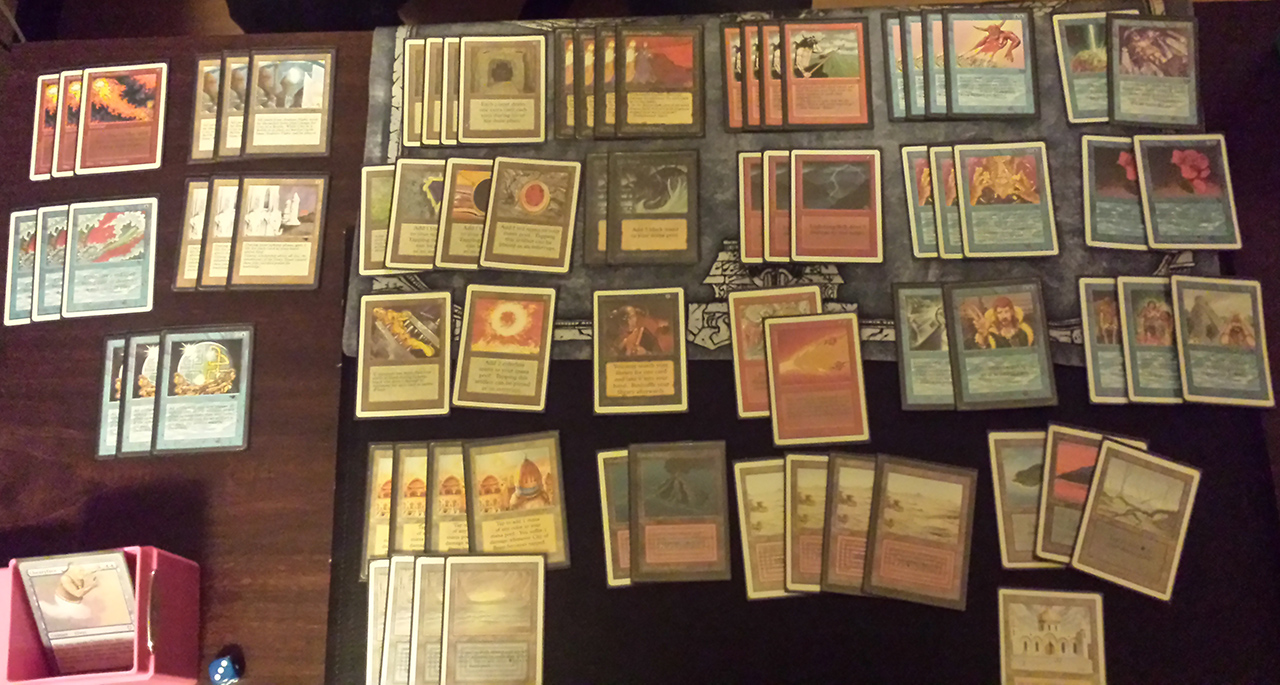 Chad Teuscher – The Deck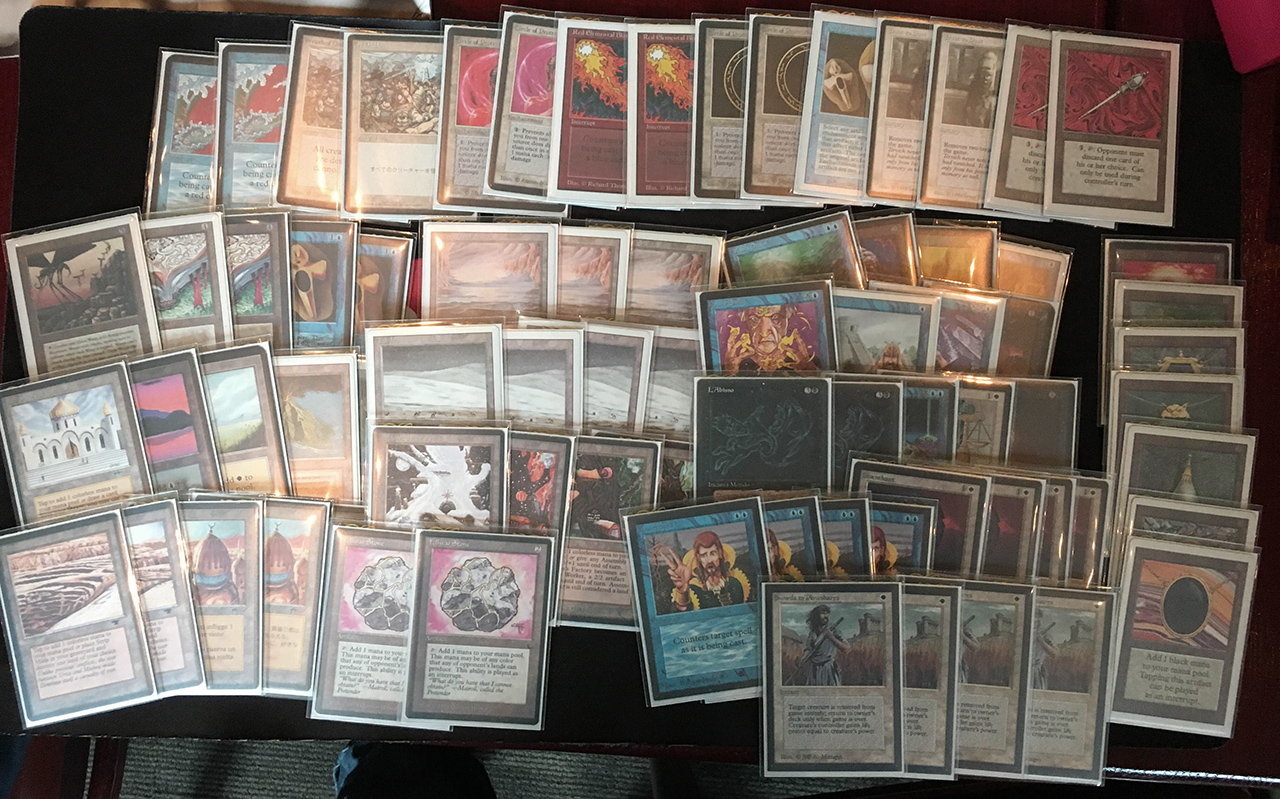 Jeremy Toma-Cooper – Mono Black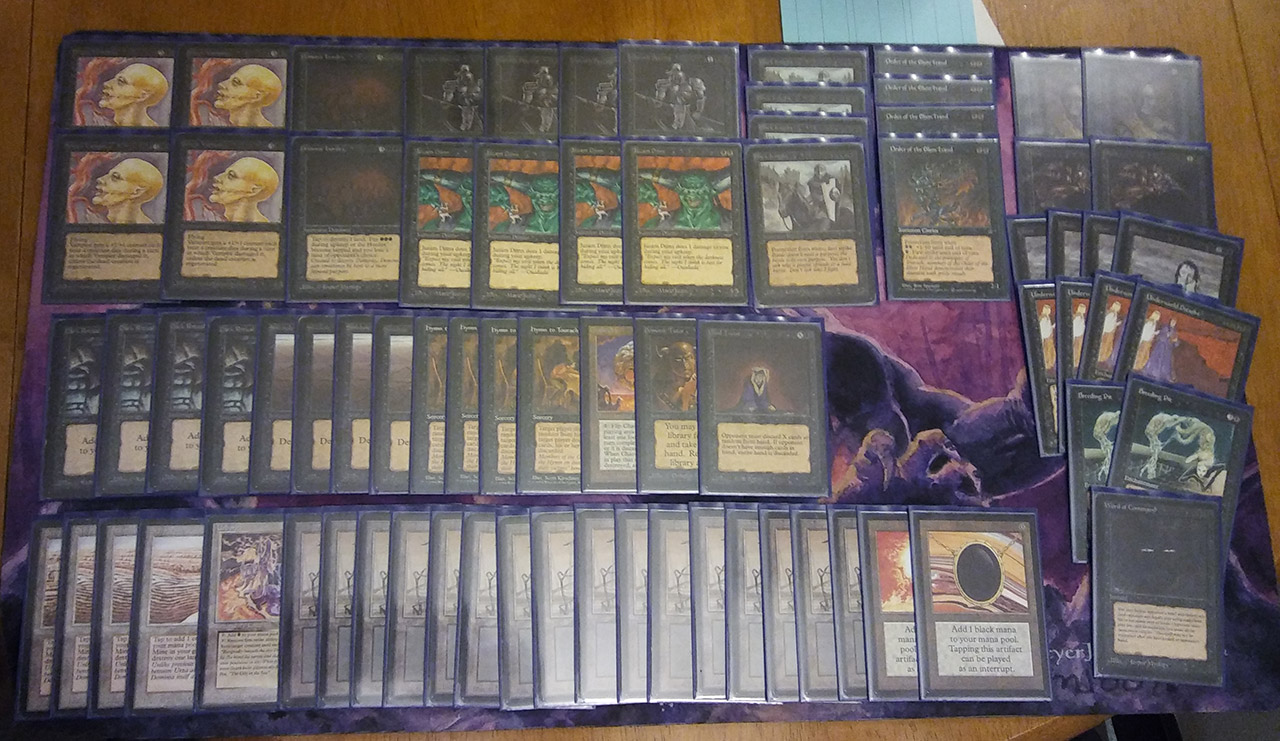 Mike Tompkins – RG Berserk Aggro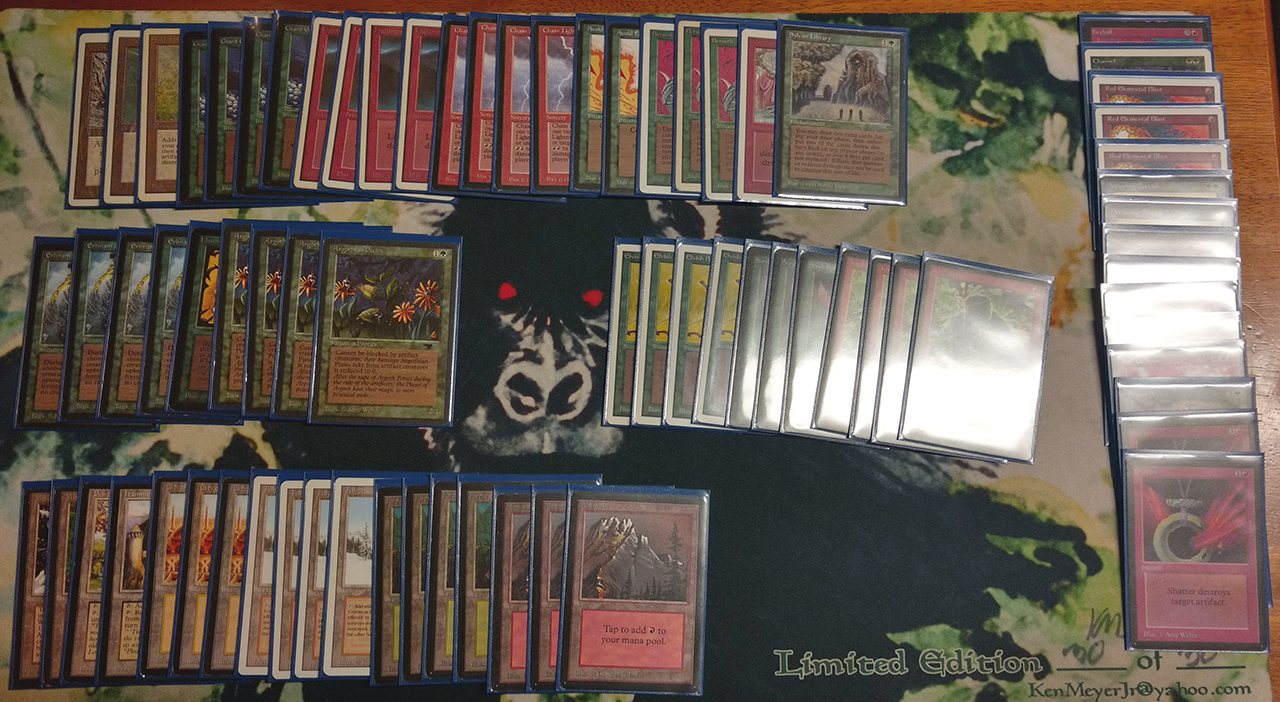 James Tork – BW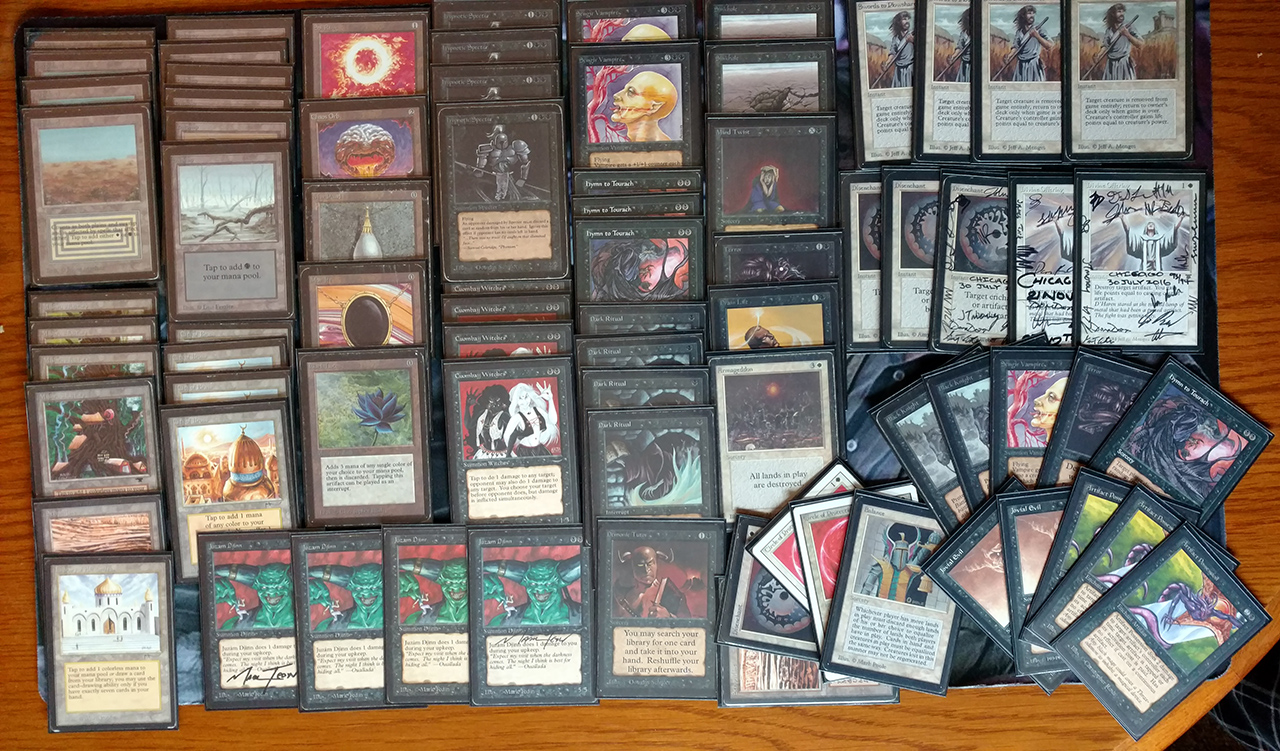 Mike VanDyke – The Deck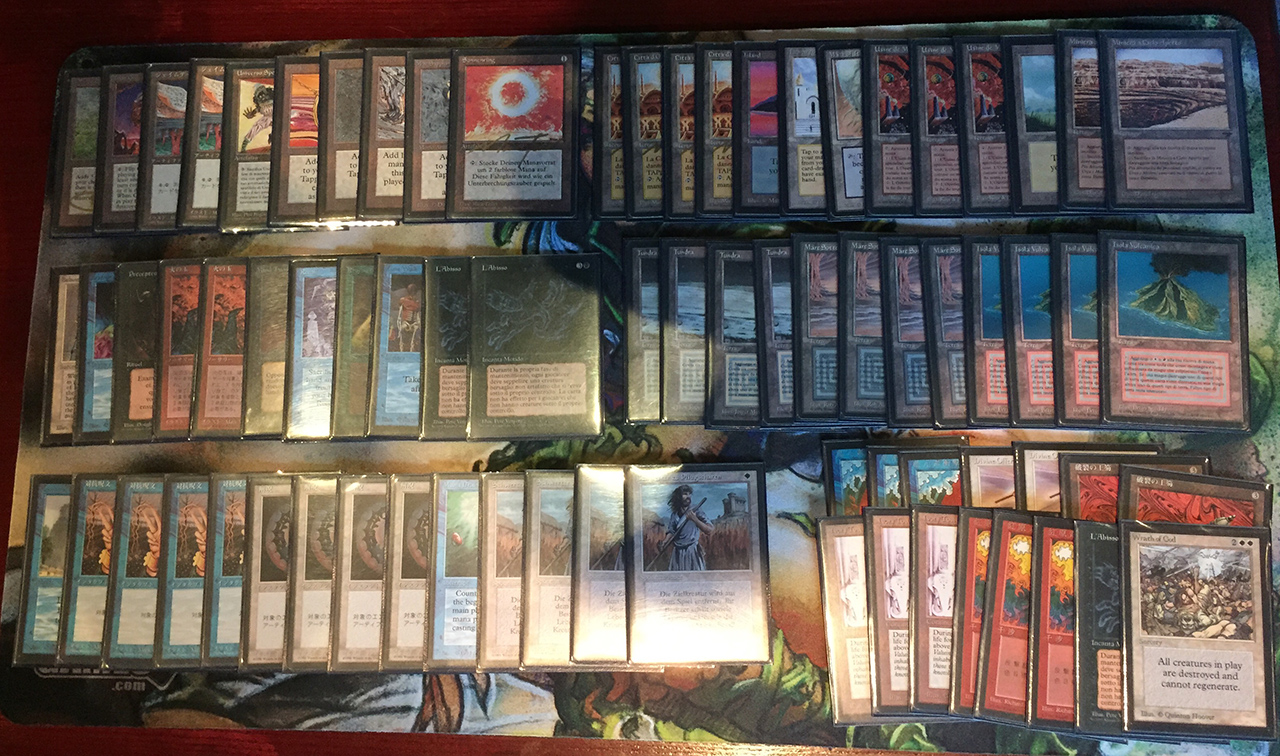 John White – RG Aggro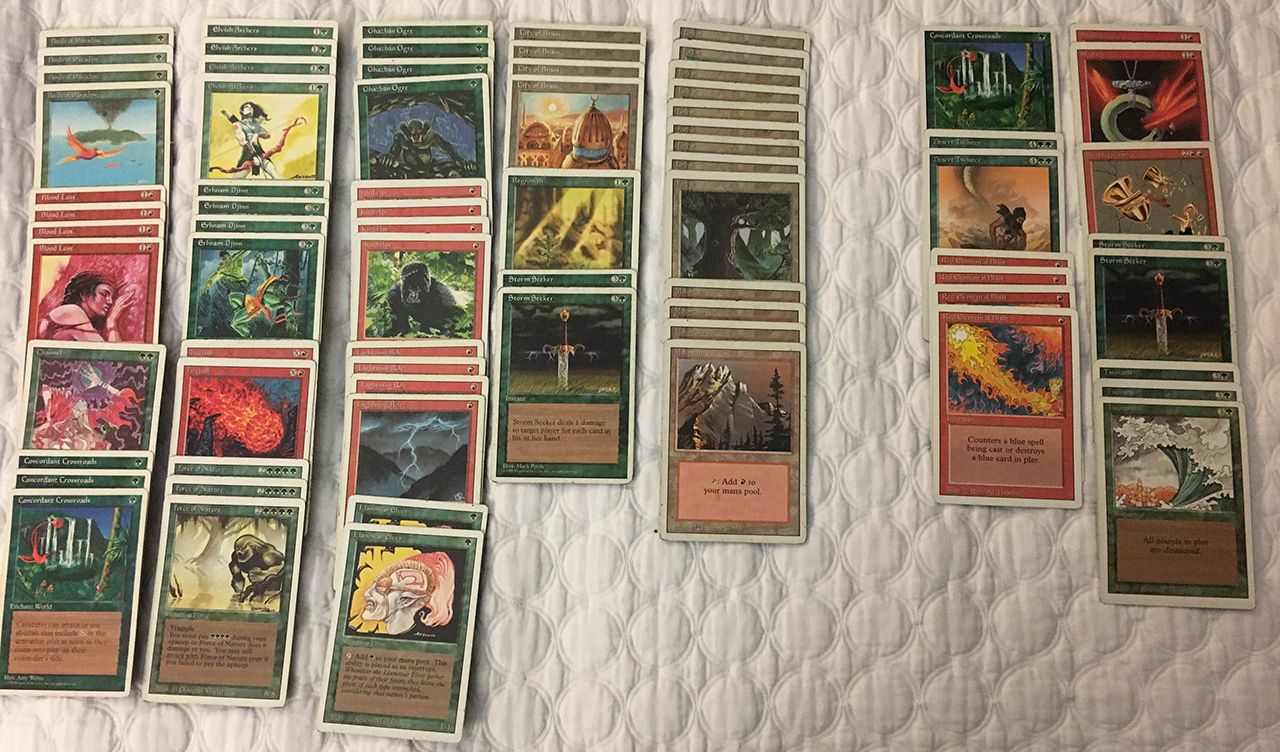 Tim Winter – RW TaxEdge Combo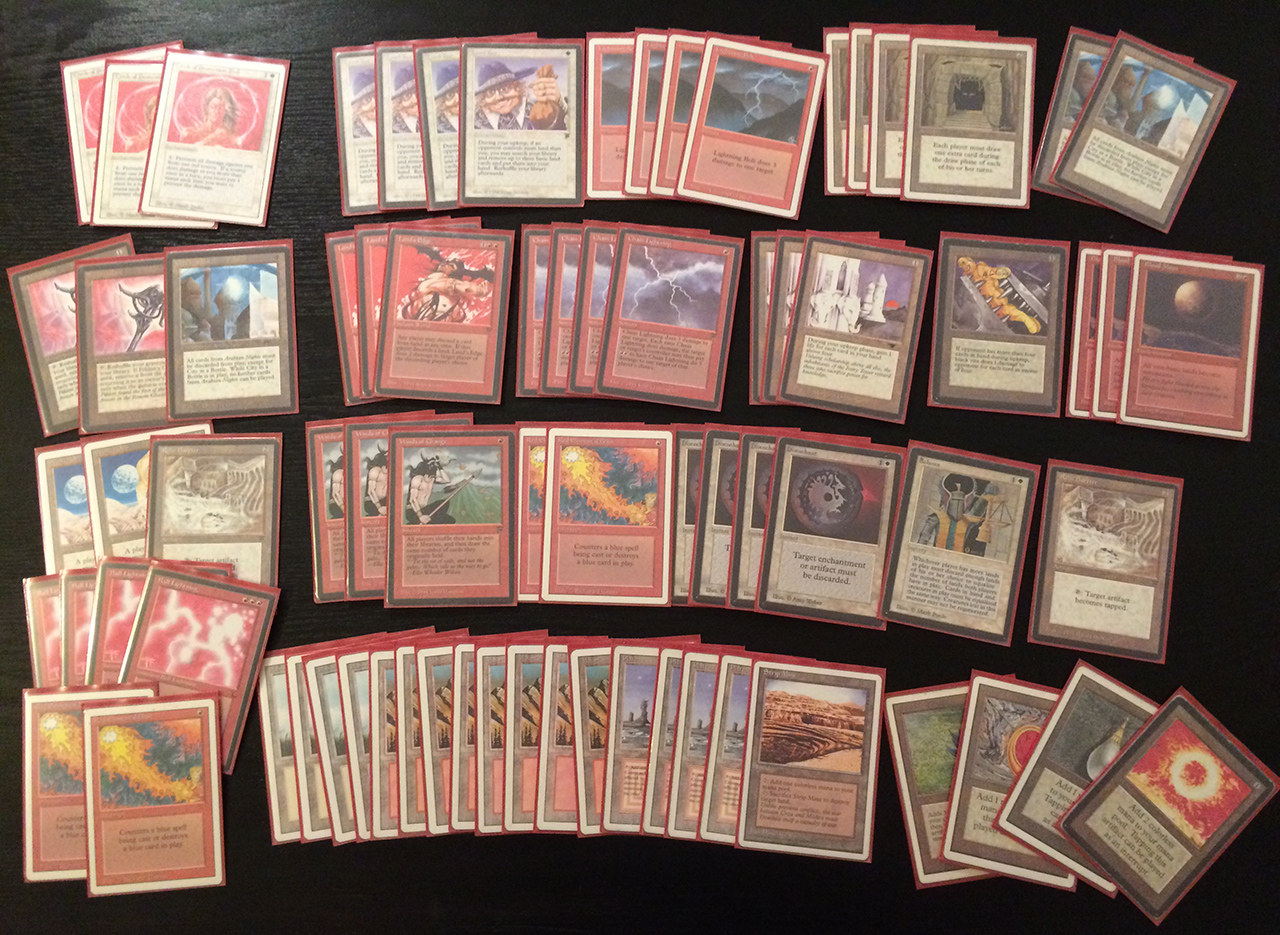 Craig Winzer – RG Berserk Aggro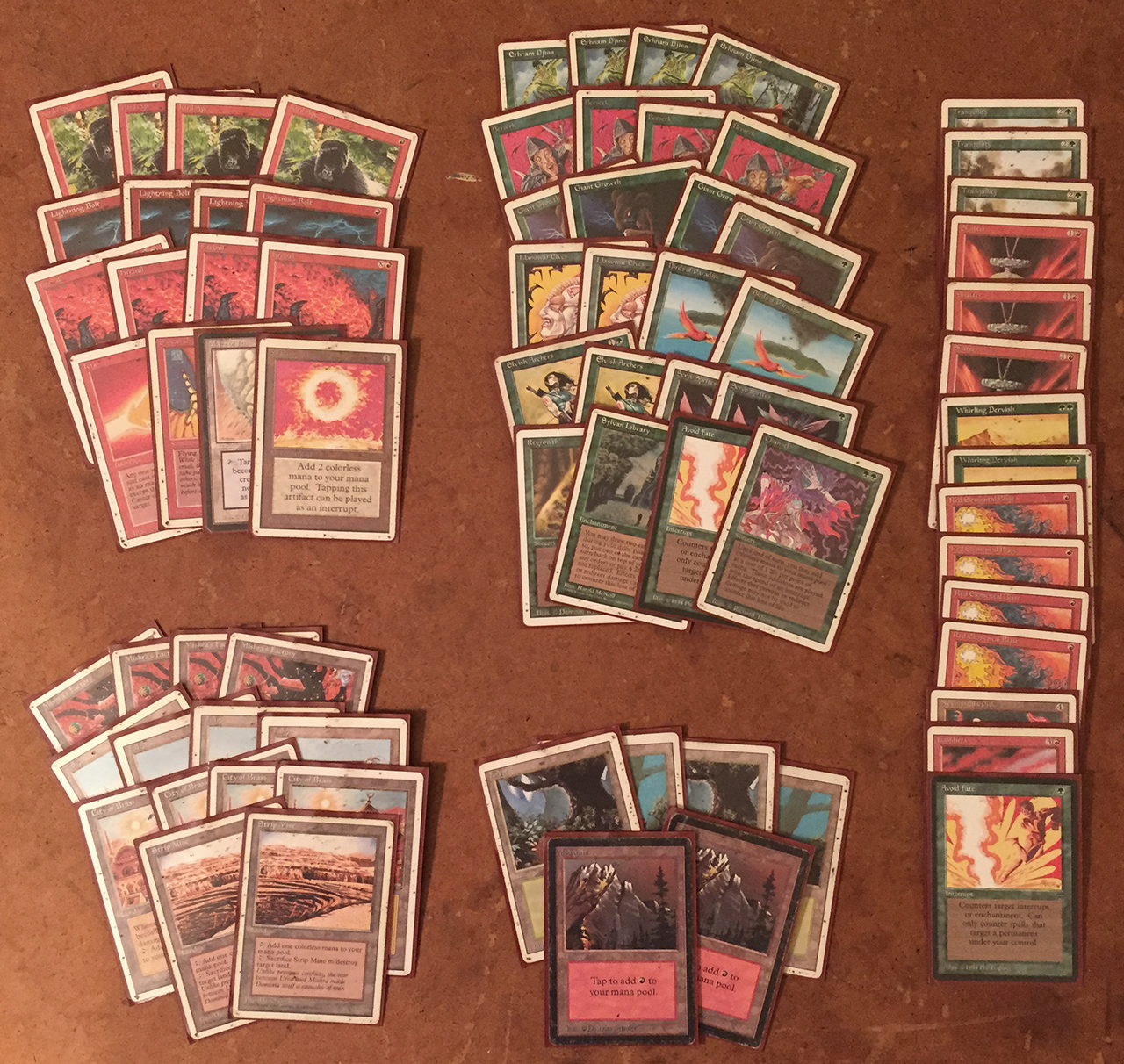 Randal Witherell – Mono Red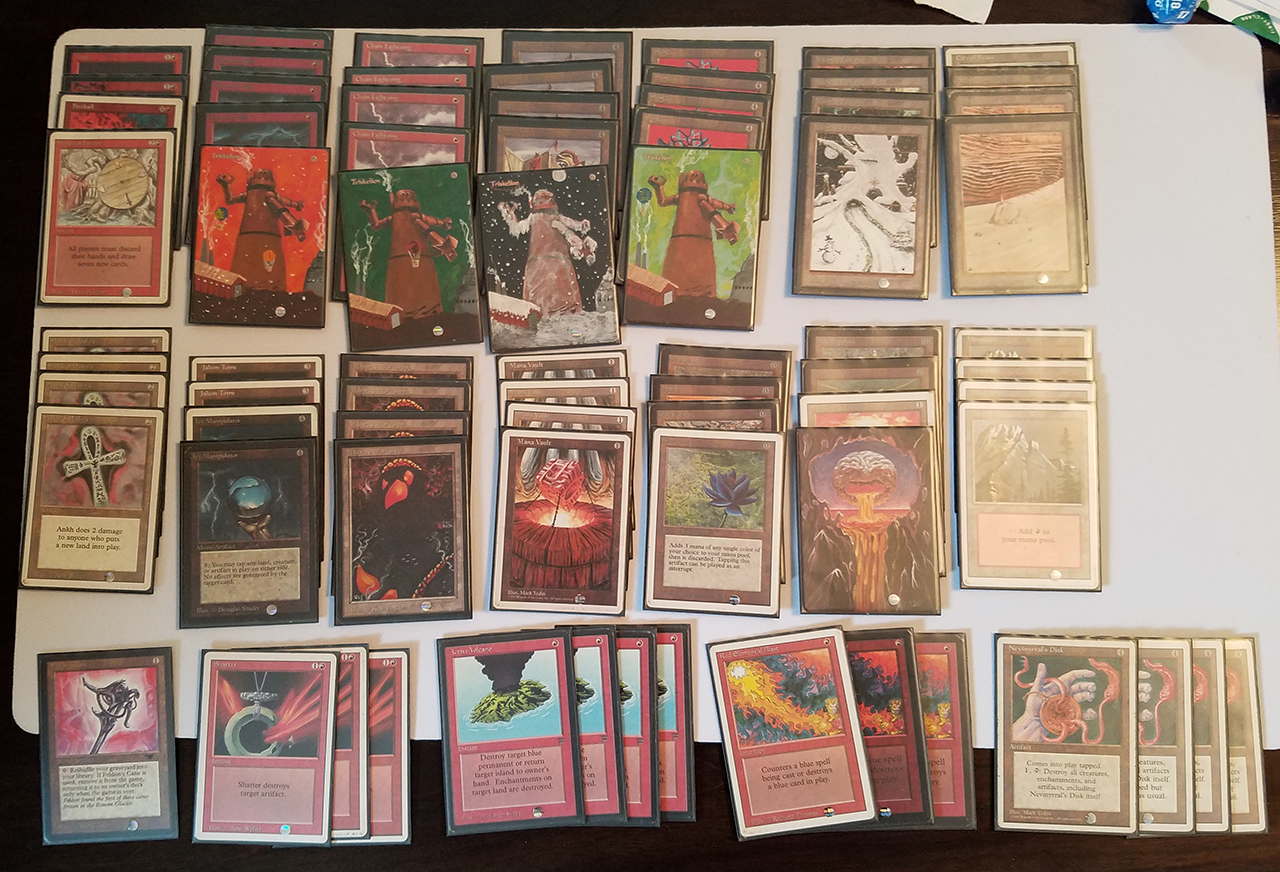 Elton Wong – UR Eel Control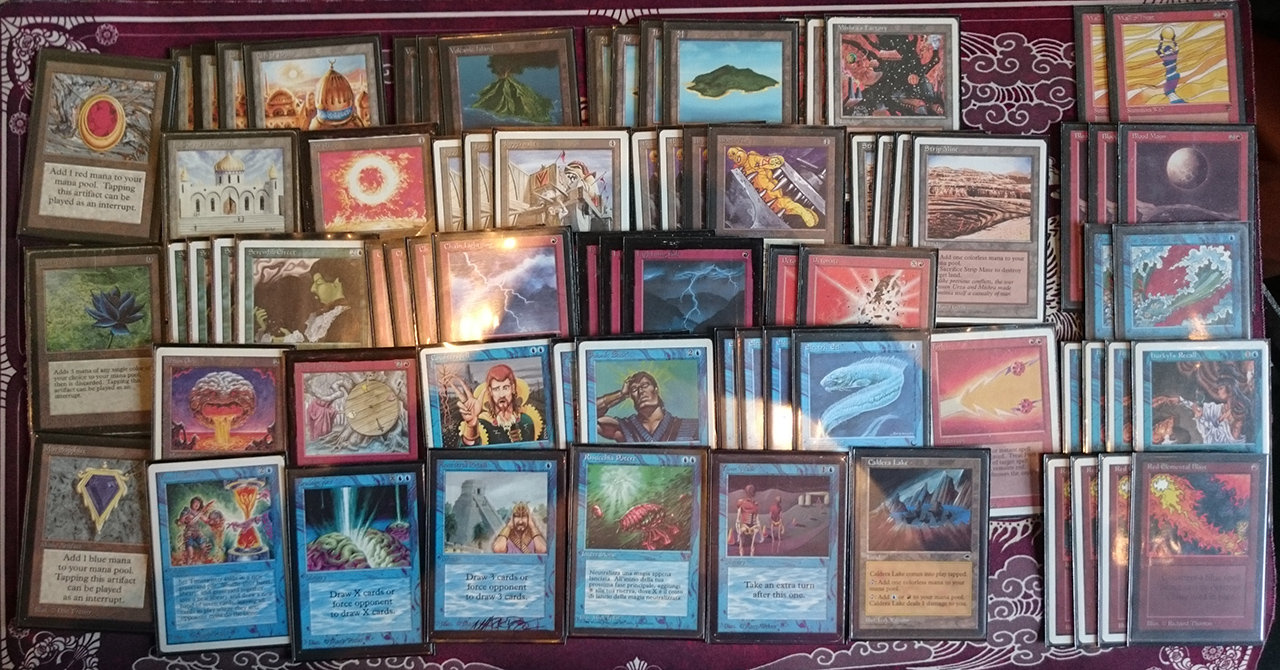 Andrew Wright – RG Berserk Aggro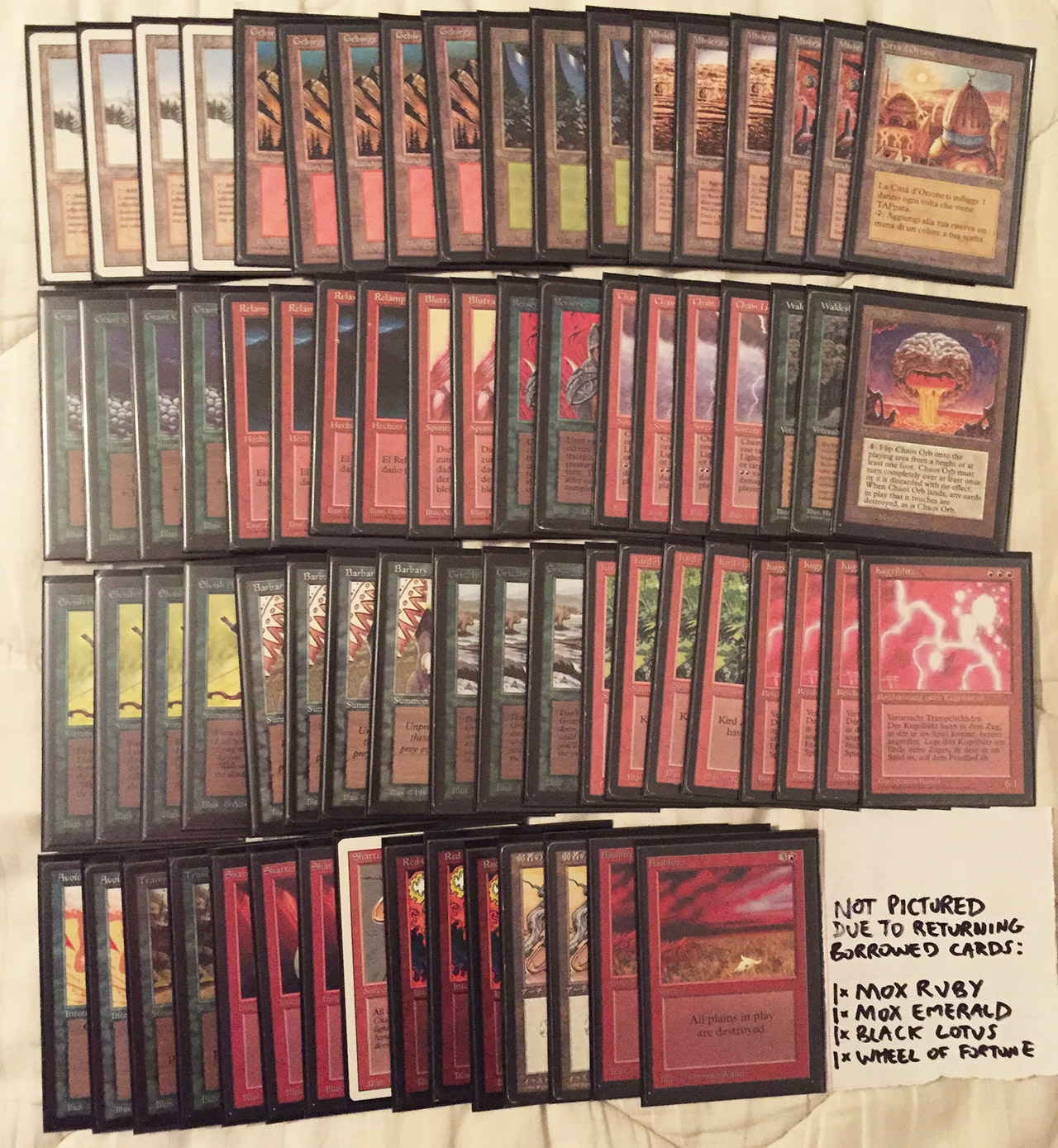 Matt Young – UR Control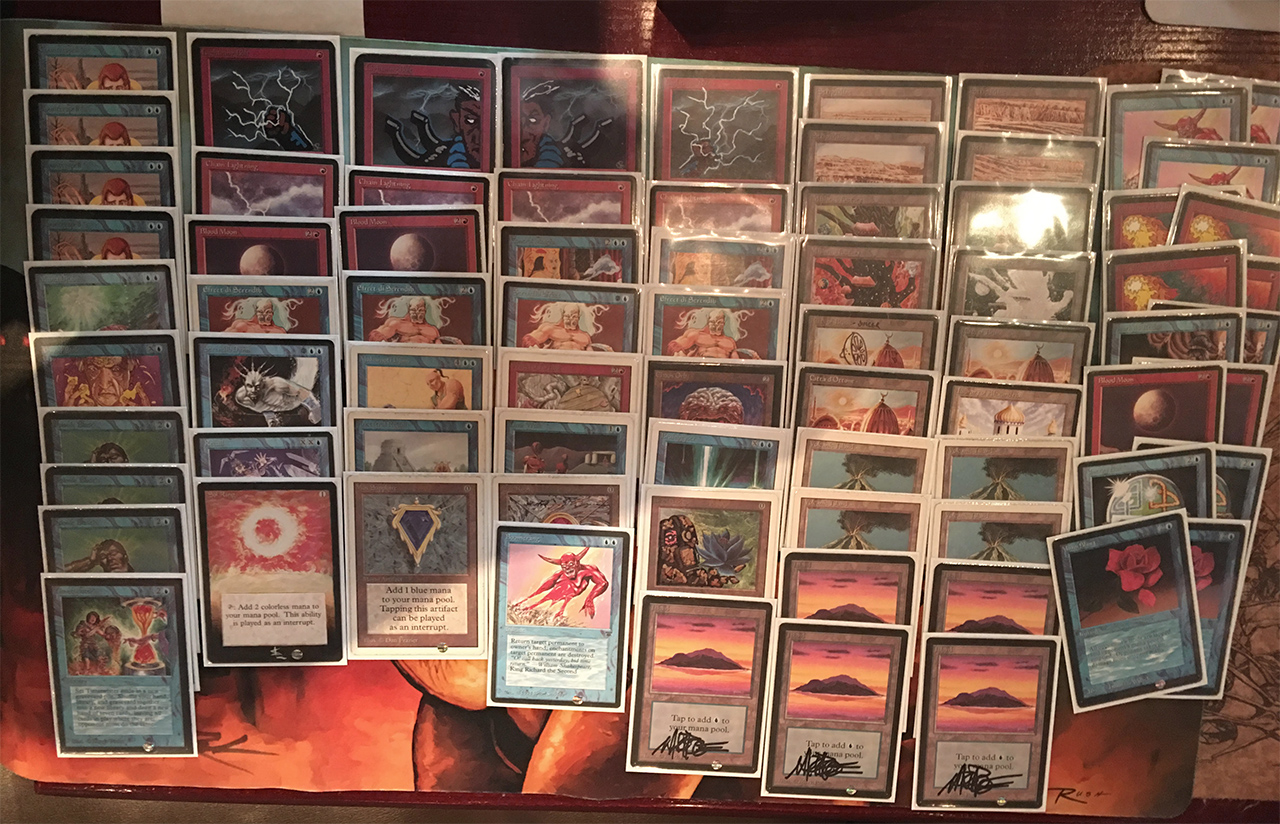 Social Media Roundup and Closing Words
The hashtag for social media for the event was #ECOldSchool2016, which you can use to find more on Twitter, Instagram, etc. Thank you to everybody who came out to play. If you are interested in buying any of the physical books we had on site, please head over to our online store here. We plan on being back again next year, probably with more changes and experimentation to make these events better and better. Thank you again to Hunter Prendergast and Sean O'Brien for their contributions to the prize pool this year. For any corrections, comments, follow up, or to donate any cards as prizes for next year, please email eternal.central@gmail.com.
Tournament Action
The winner for Hardest Drinker (who received a custom playmat) also went to the tournament winner, Daniel Humphreys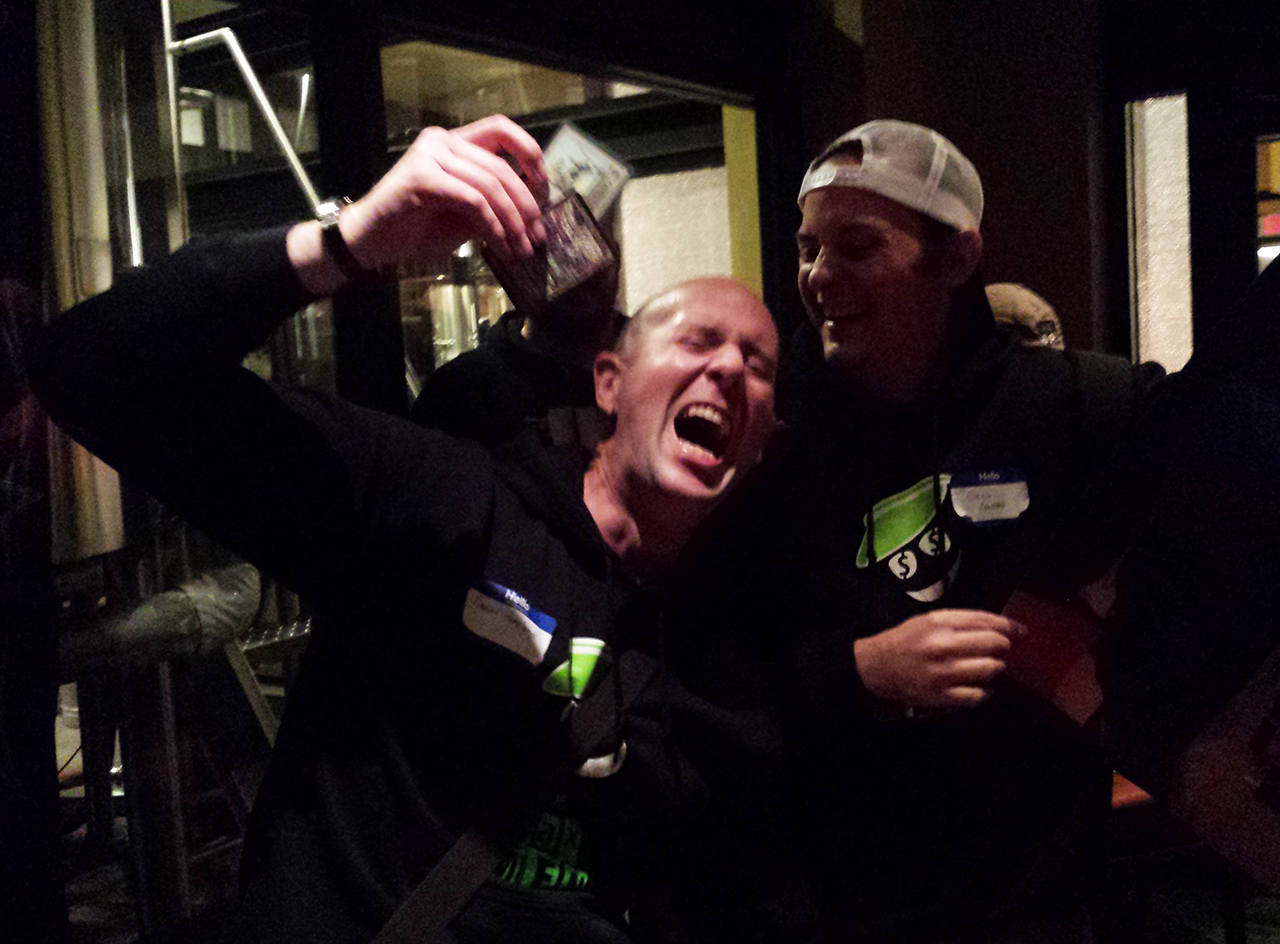 Prize for Hardest Drinker, in honor of 2015's Hardest Drinker, Richard Lessman (courtesy of Sean O'Brien)

Round 2 Action, Fleischmann-Rose vs. DeMars (middle match) and Wong vs. Lentz (far match)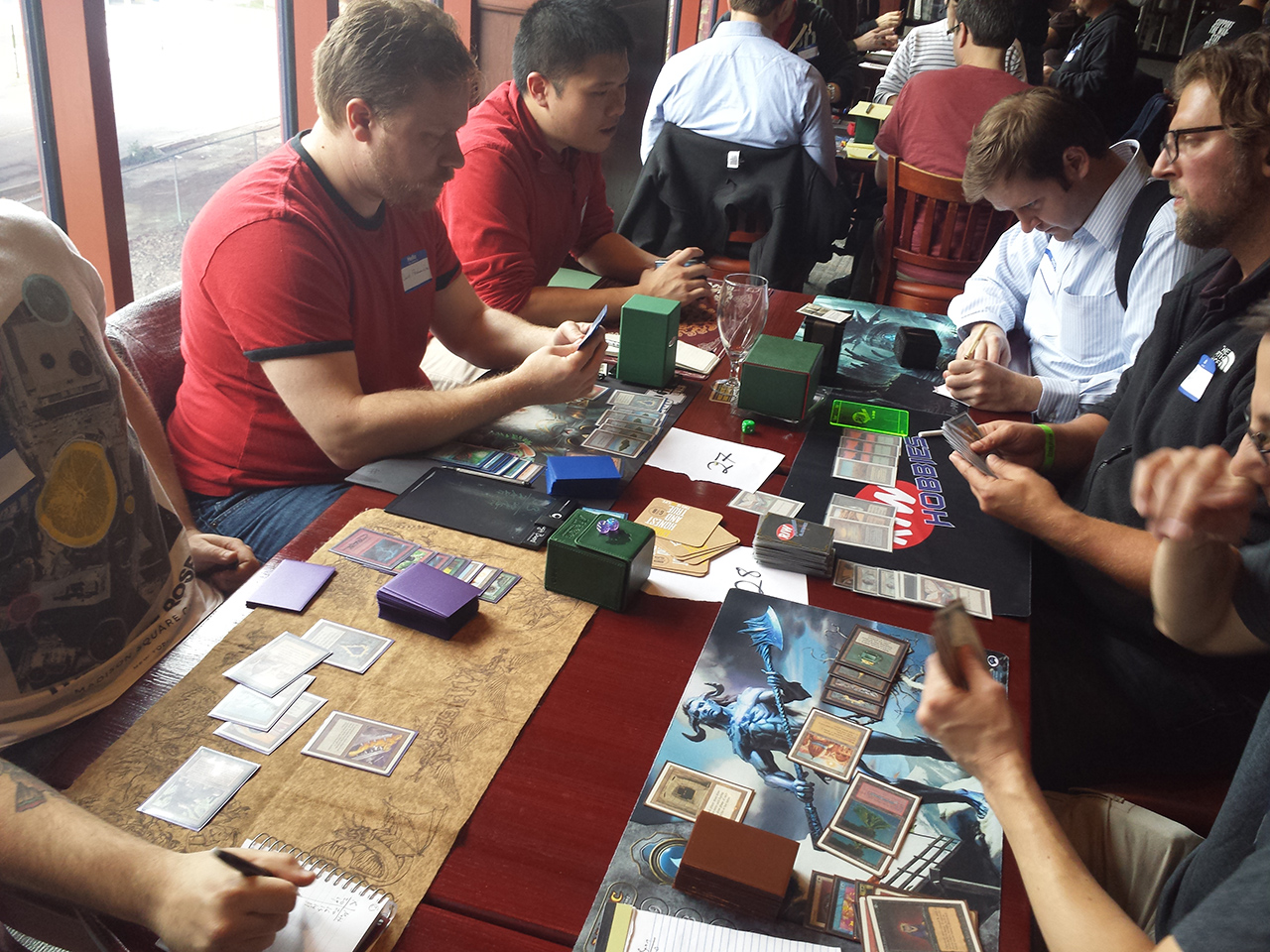 Round 2 Action, Parshall vs. Ferguson (near match), Humphreys vs. Moreno (middle)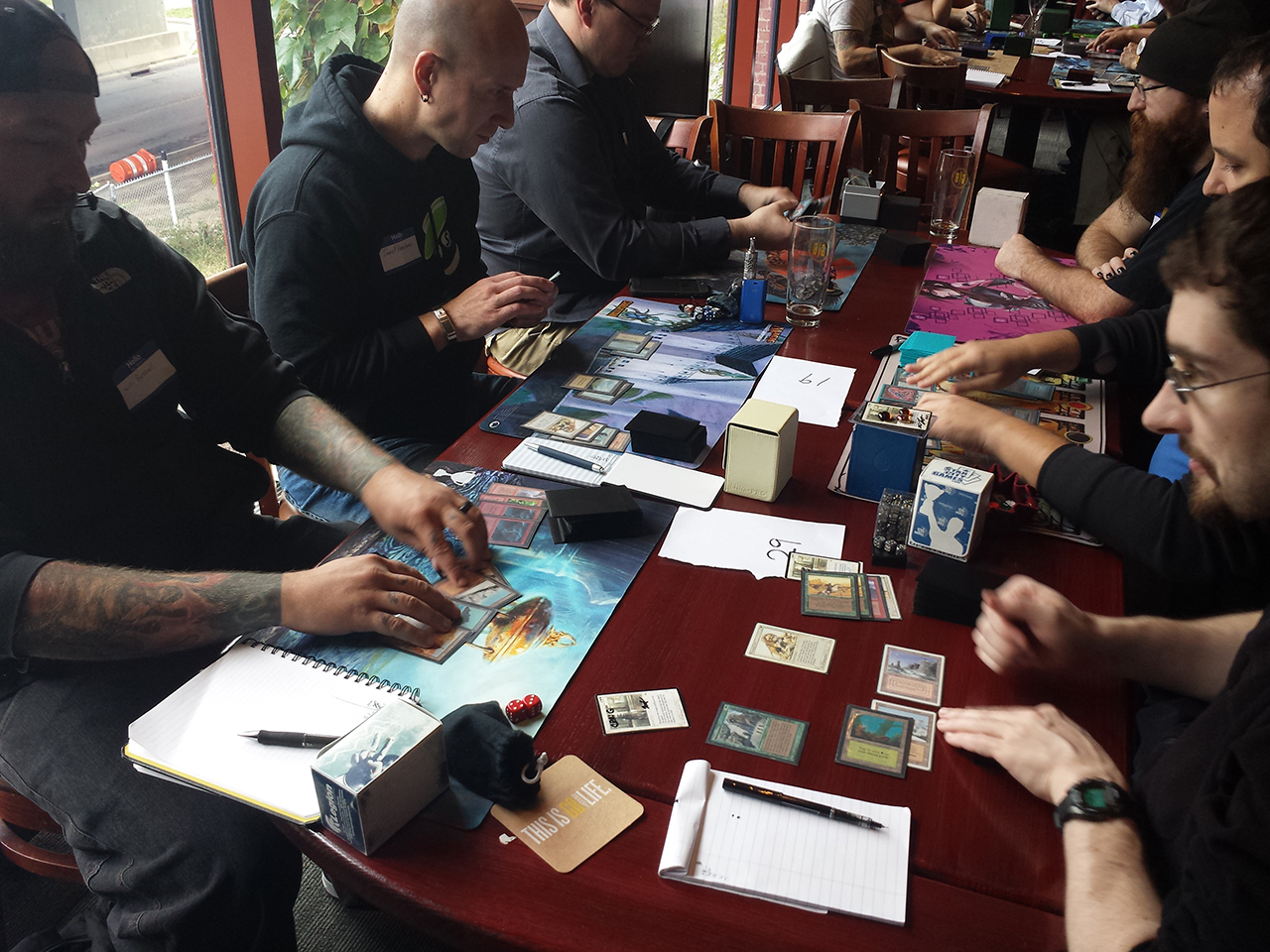 Old School cross table playing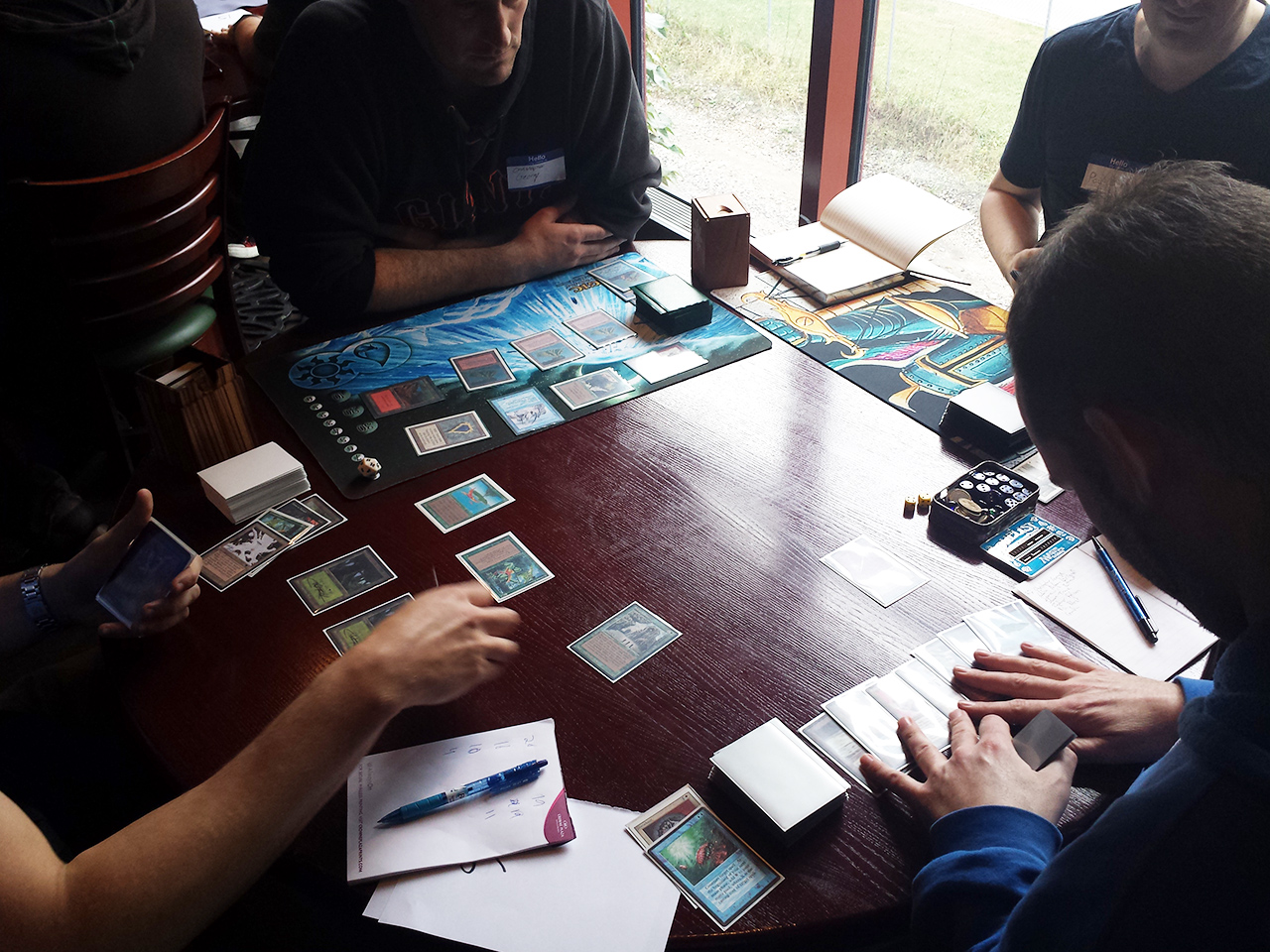 Rolko's RUG Power Artifact vs. Shaman Perry's UR Control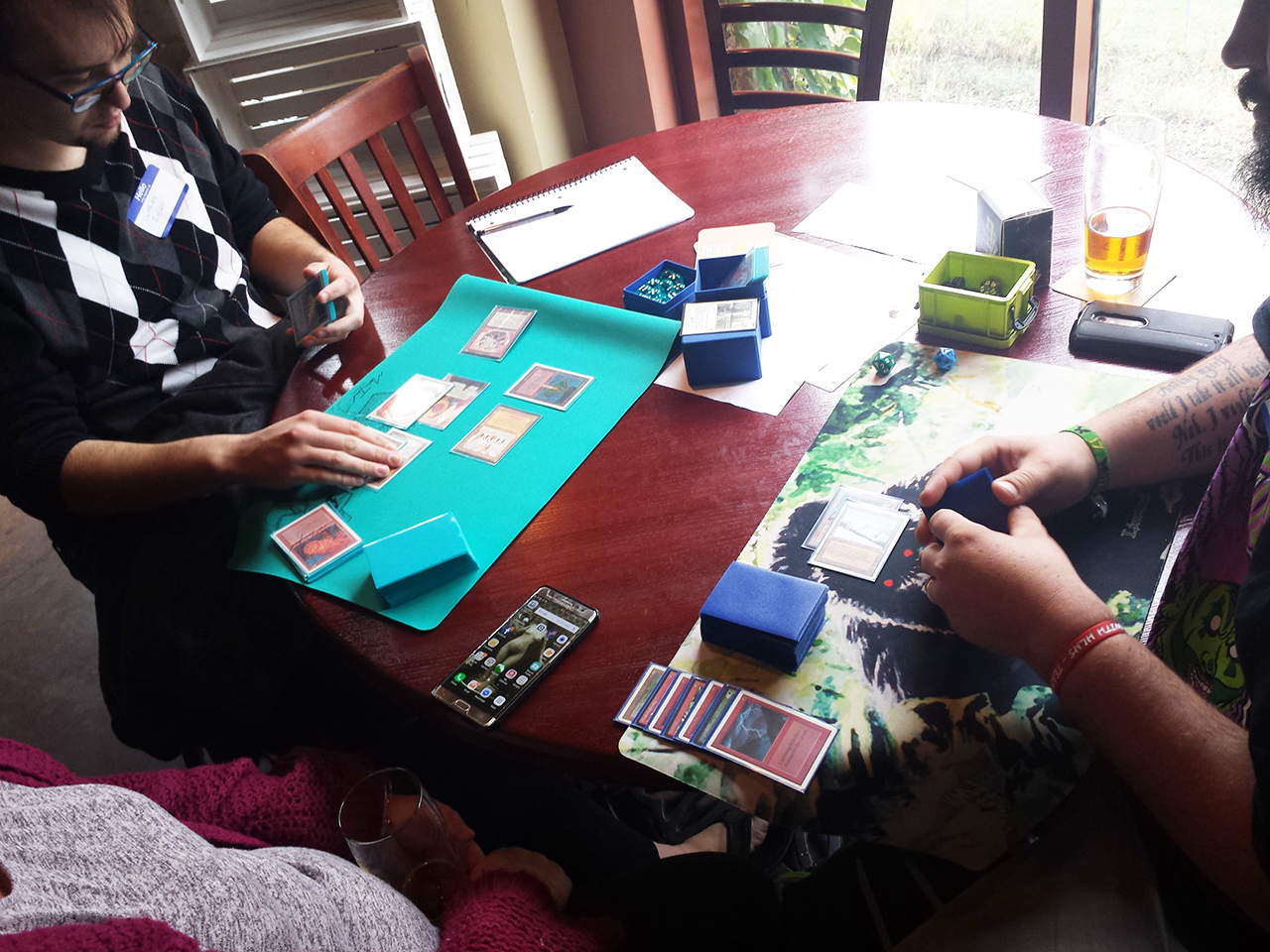 RUG on RUG, sleeves touching and deciding a Chaos Orb flip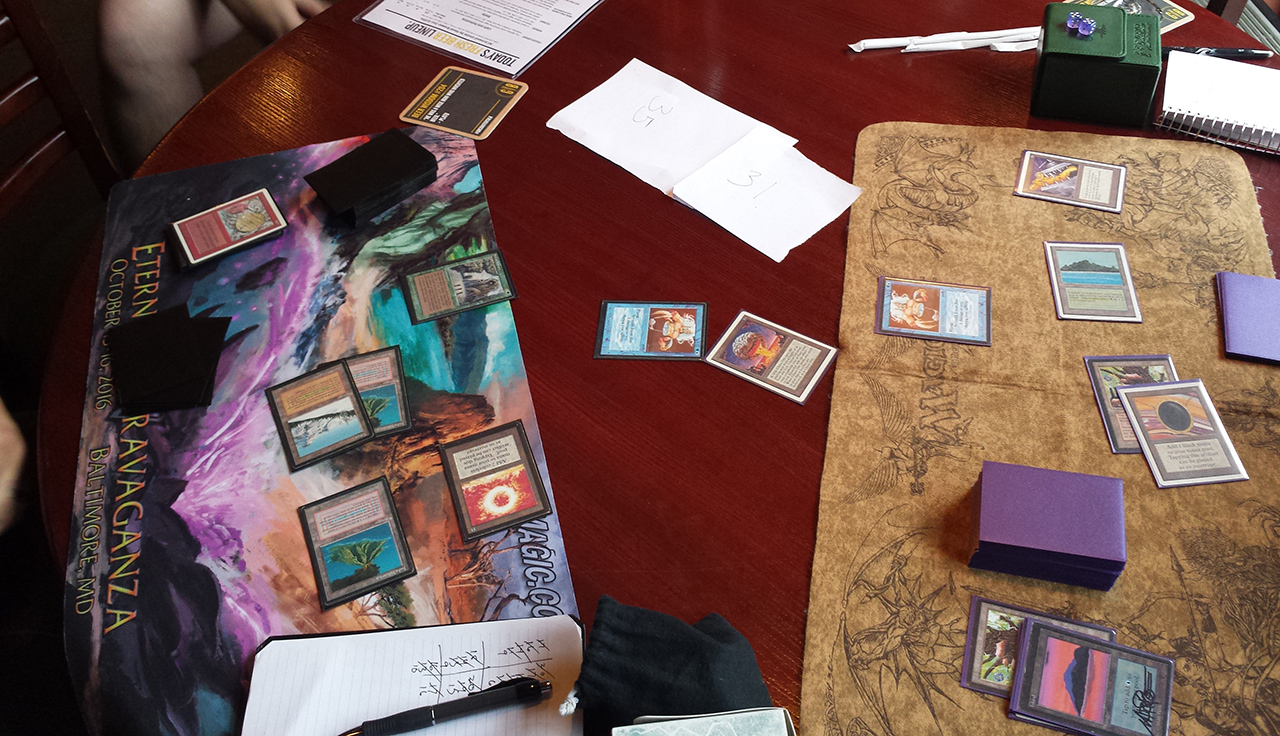 One of many The Deck mirror matches on the day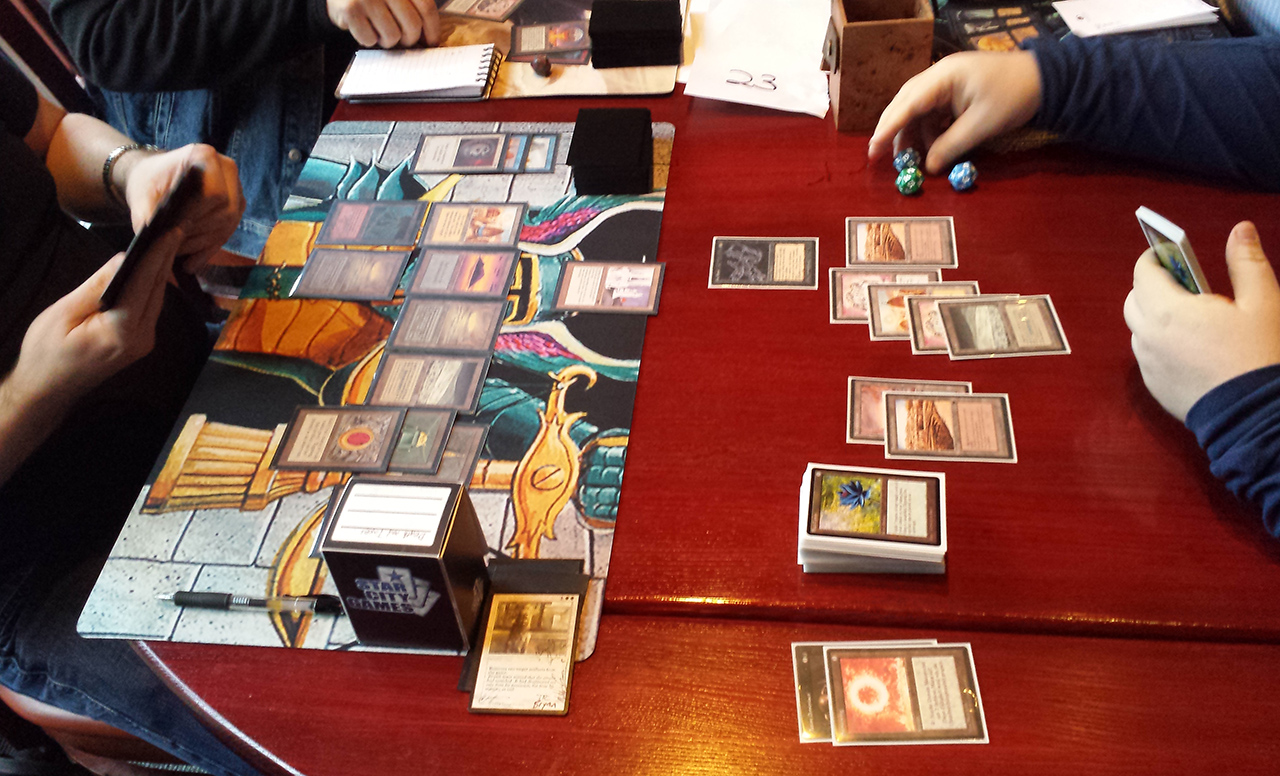 Round 5, Swaffar's The Deck vs. Rech's RGW Jacque le Vert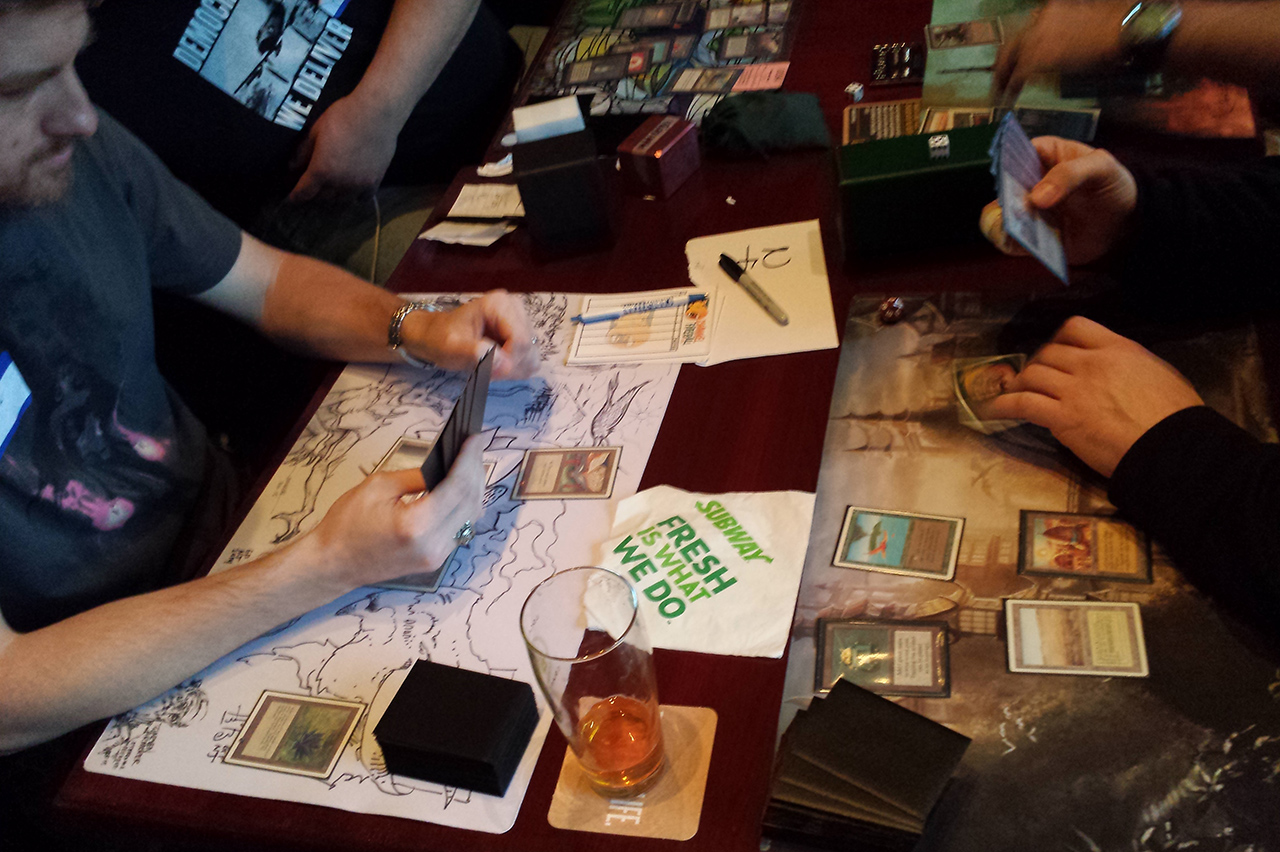 Raush's UR Workshop vs. Dotterrer's 5C DorkAGeddon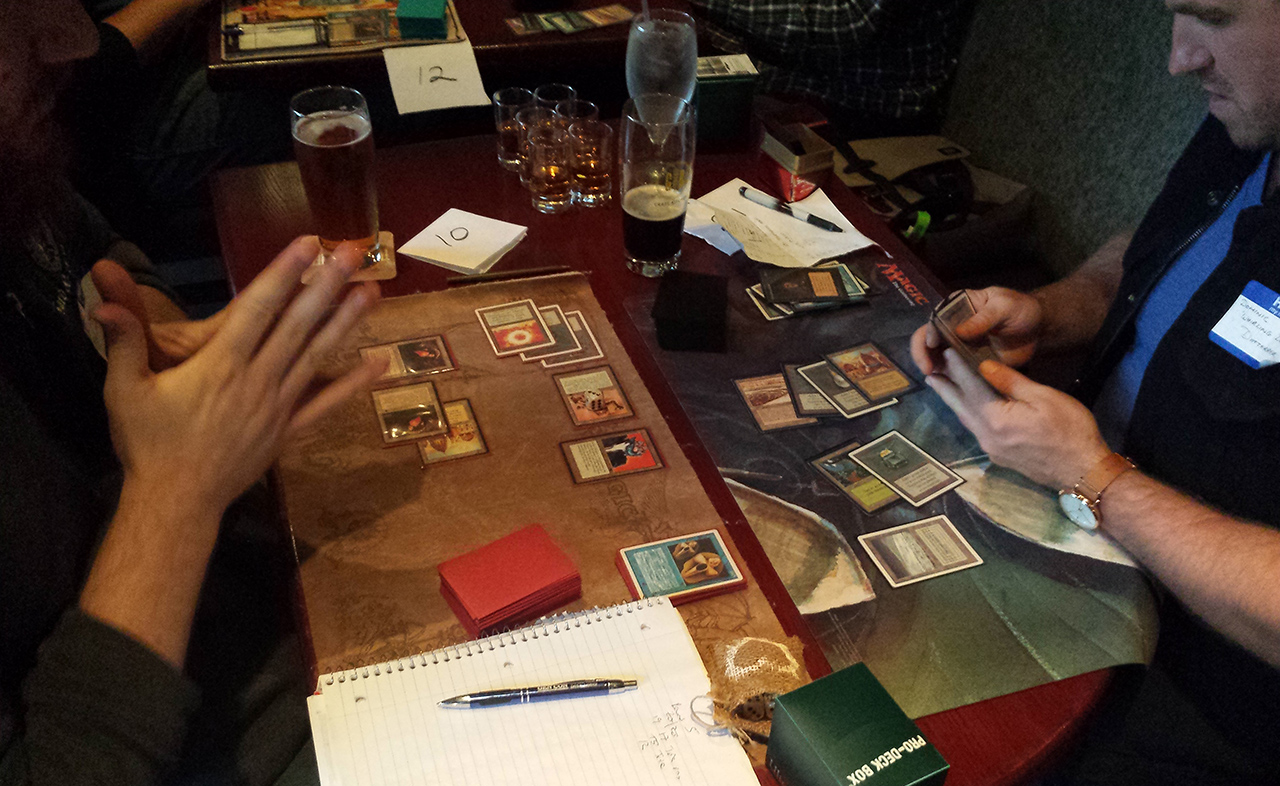 RUG Tempo mirror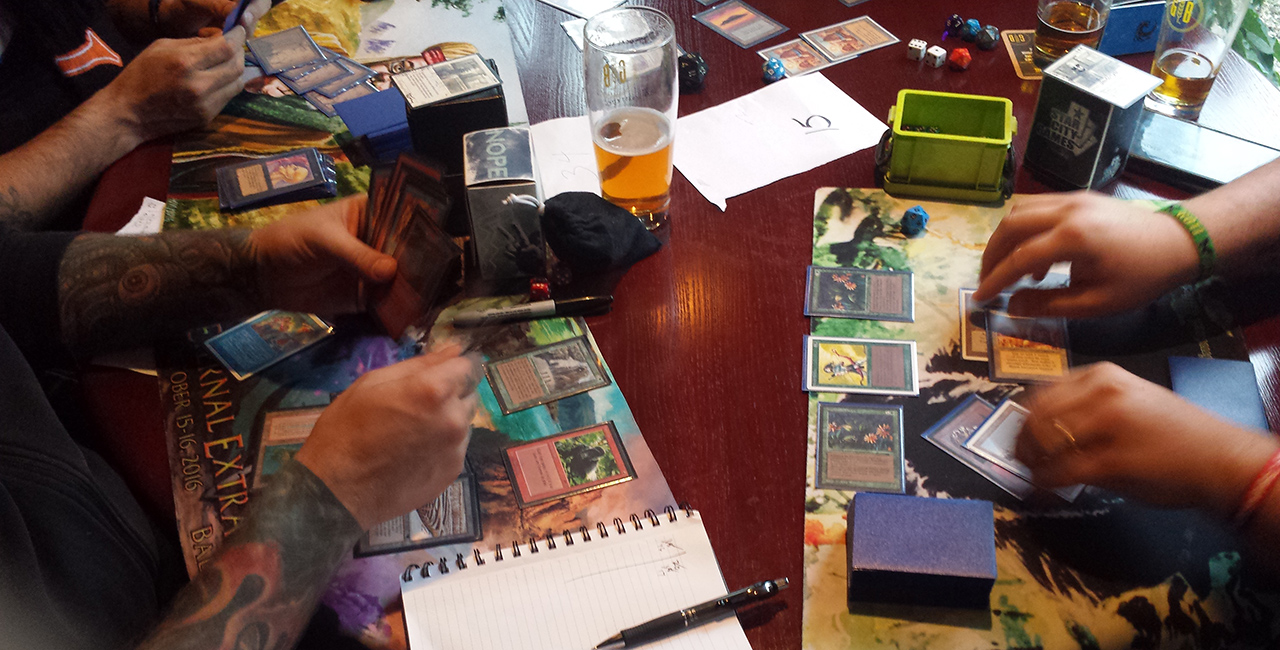 TO Jaco playing a pickup game, gets sick hand Amnesia'd away by Ponce's UB Control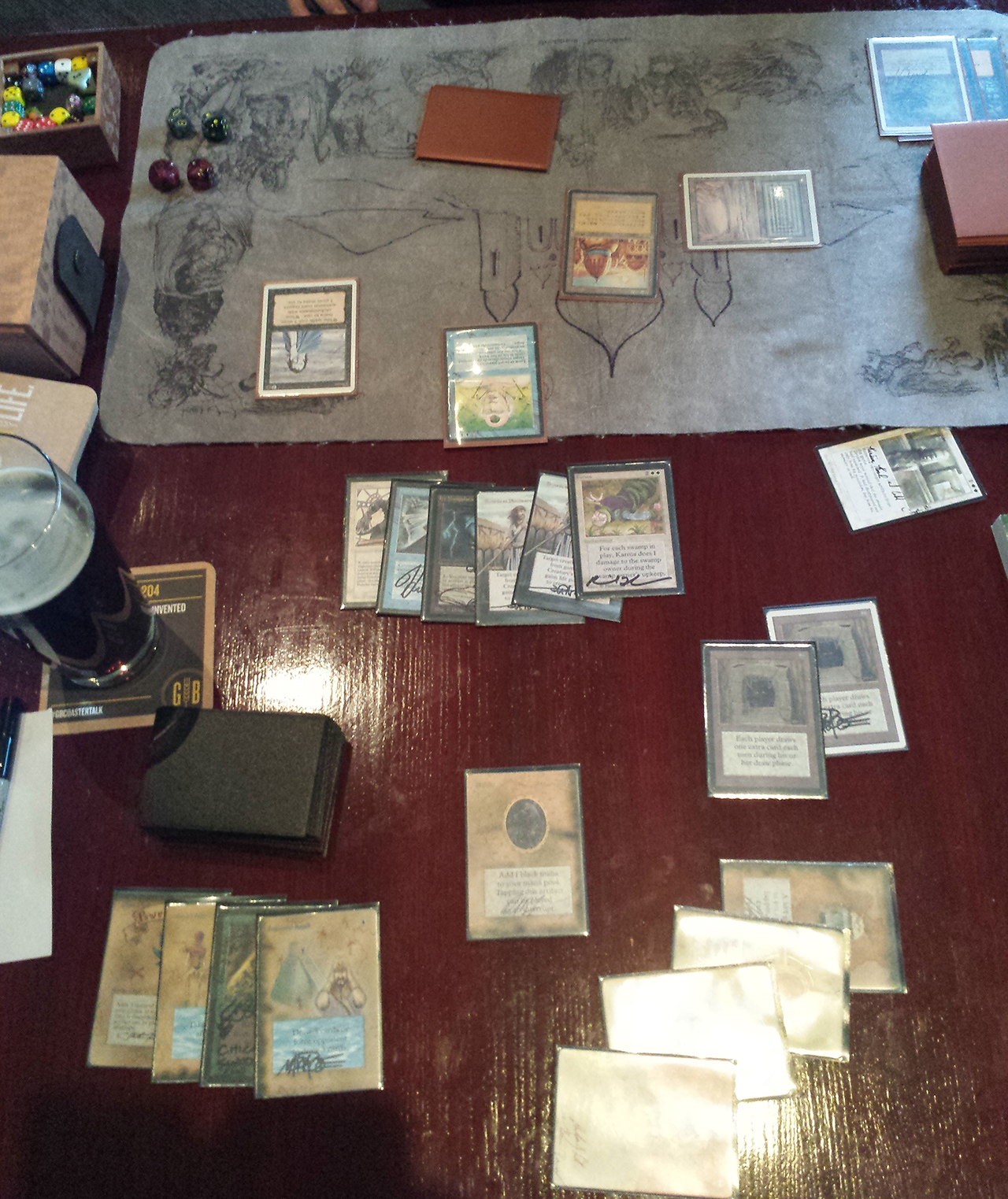 DeMinico executes Time Walk + Fork + Fork, at 1 life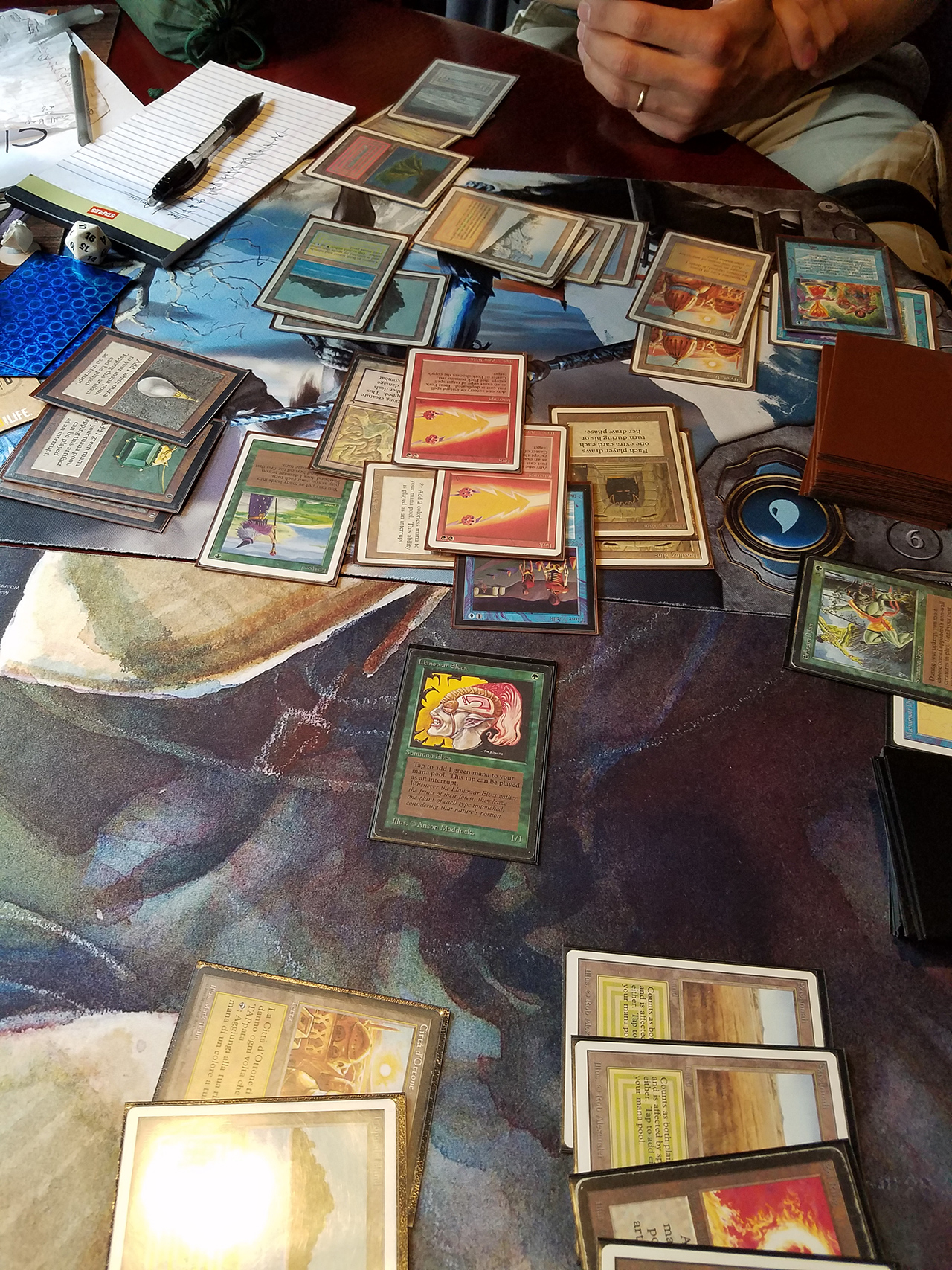 When Electric Eels and Walls of Heat Attack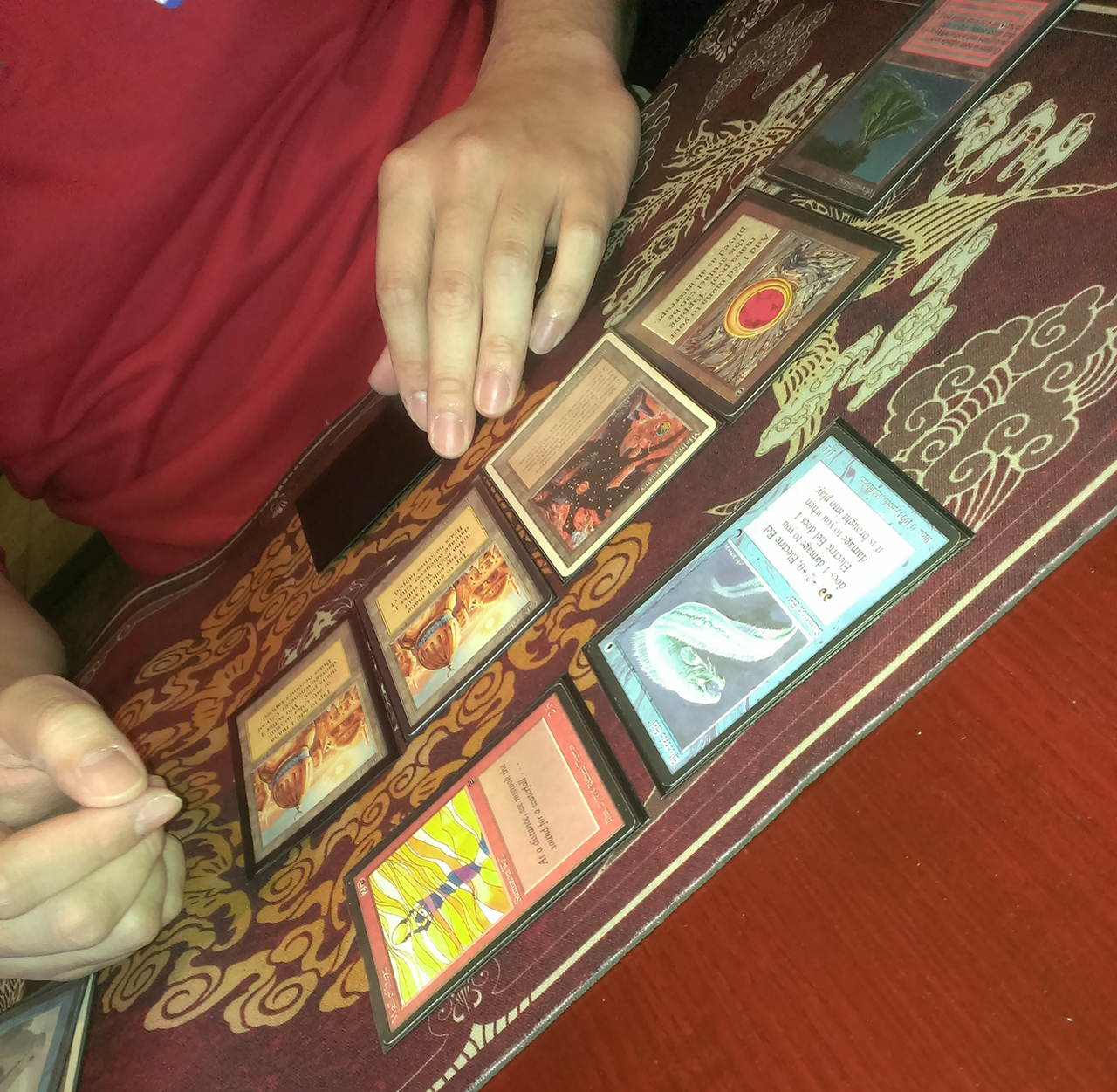 The O'Brien School of Opening With Black Lotus and Nether Void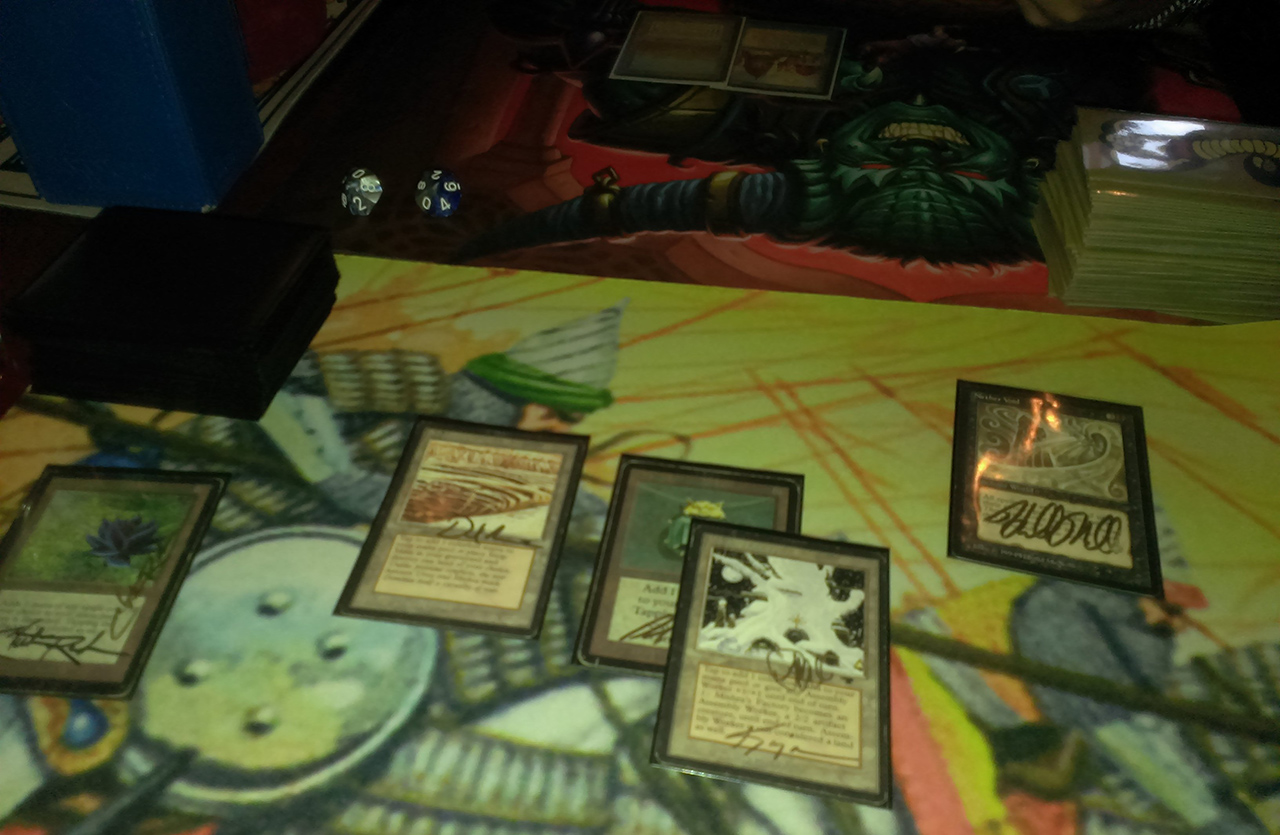 The O'Brien School of Combating Unrestricted Ivory Tower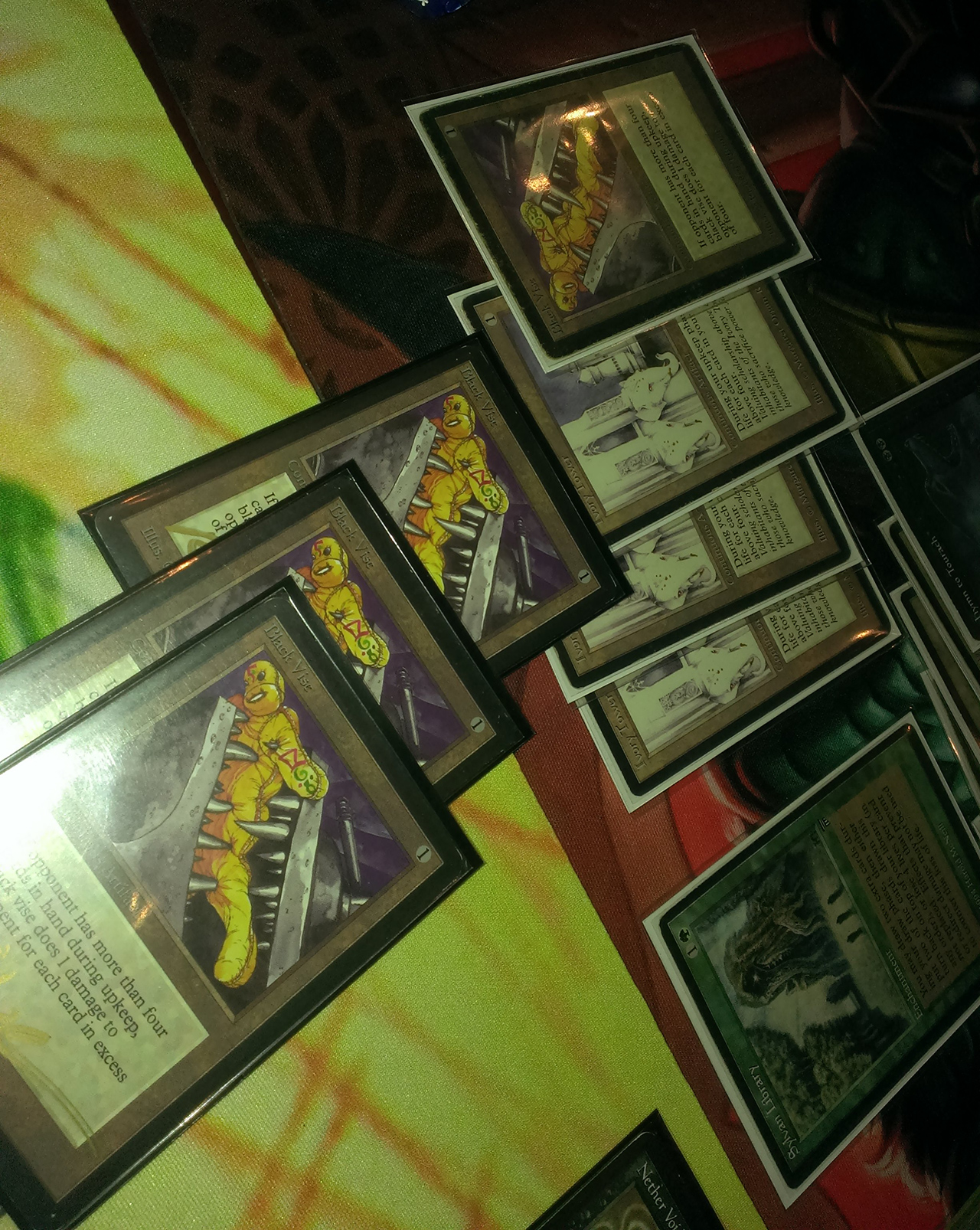 Chaos Orb Sudden Death Flipping, Chaudry vs. Shaman Ben