In continuing with our rollout of #GiftsWeek here on Eternal Central, I wanted to share with you a deck that has been drifting under the radar for the past year or so, and has only been strengthened with the recent unrestriction of Gifts Ungiven. A deck that can attack from numerous angles, and a deck that is no doubt the most fun I've had playing Vintage in years. That deck is Gifts Rector Omniscience.

Rewind to early 2013. After being beaten by an innovative deckbuilder in the Midwest named Richard with a dedicated Vintage Omniscience deck, I immediately decided to make by own version of the deck, and started tuning it. Out went mediocre cards like Perilous Research and Diabolic Intent and others, and in went other broken cards like Yawgmoth's Bargain, Jace, the Mind Sculptor, and Griselbrand, as well as Cabal Therapy for more disruption and synergy with Rector. In went Ancient Tombs because of the acceleration they provide for nearly every bomb in the deck, as well as for playing through multiple Sphere-effects against Workshops. After Top 4'ing a local tournament or two I shared the deck with teammates, and while I went to work on TurboTezz, my teammates Mith and Ryan Seeley (Valorale) soon picked up the deck, and would each take it to the grand NYSE stage, where they would narrowly fall outside of the Top 8 with the deck in 2013 and 2014, respectively.
Here's one version of the deck I was playing at some point in 2013:

Rector Omniscience 20132Q, by Jaco
As I wrote to teammates back then:
"Gifts Ungiven is the second most powerful card in the deck behind Flash (and my second most Merchant Scrolled for card here)…"

As a singleton, Gifts was extremely potent, and now with access to 4 copies of Gifts this powerful combo deck becomes turbo-charged, and even more deadly. Ancient Tombs and the abundance of artifact mana help propel your game-breaking spells out quickly, all while you protect your plan with Force of Will, Cabal Therapy, Thoughtseize, and often cards like Flusterstorm and Mental Misstep. Defense Grid out of the sideboard is a brutal play against the decks relying on Red Elemental Blasts and Flusterstorms to stop you. Once it was announced that Gifts was unrestricted I immediately tuned up the old deck, and here is the latest version:
Gifts Rector Omniscience 20151Q, by Jaco
You can season the deck to your tastes with things like Ponder, Preordains, Gitaxian Probes, Mystical Tutor, Dig Through Time, Timetwister, Noxious Revival, Snapcaster Mage, more fast mana, and all types of sideboard options. This is just the version I have been having success with lately. The power of Academy Rector fetching up Omniscience or Bargain is fantastic, but you are not overly dependent on the graveyard for anything, as the Show and Tell angle is just as fast and explosive, allowing you to reliably put cards like Blightsteel Colossus or Omniscience (normally dead draws) directly in to play.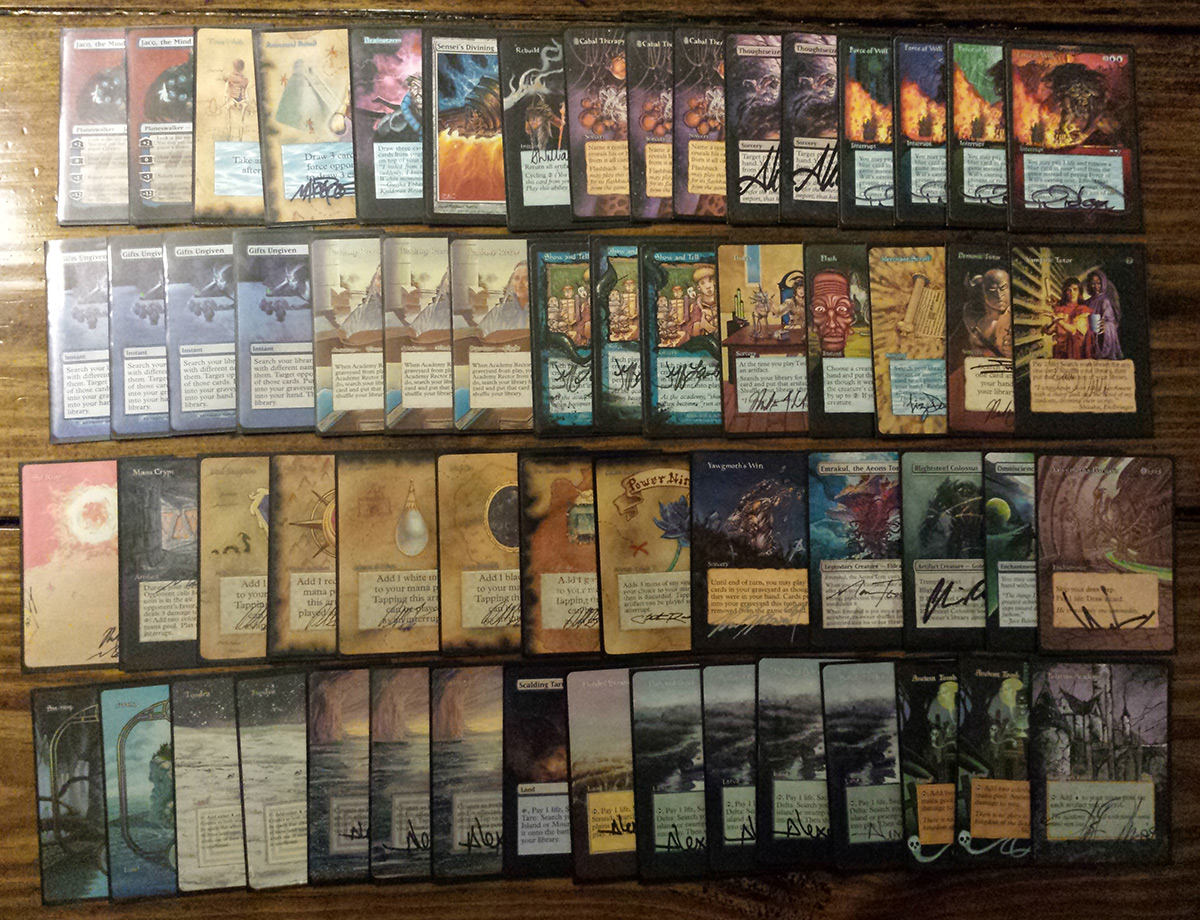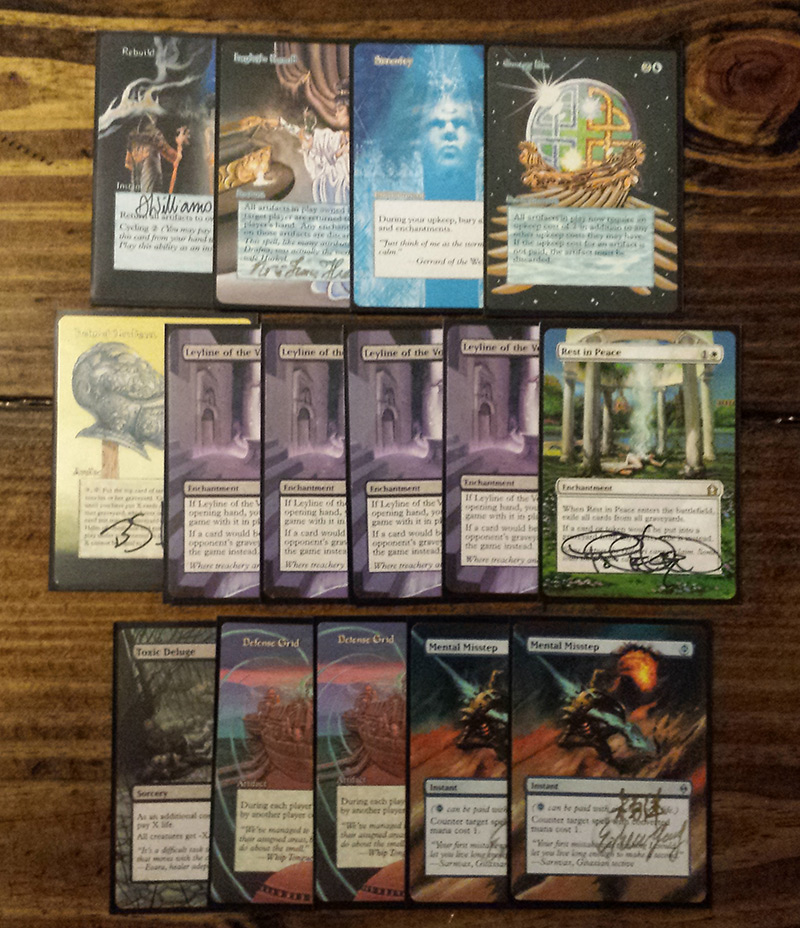 Gifts Ungiven is powerful at basically any time of the game in this deck. In the very early turns you can use it as a bait spell, or use it to grab any combination of card draw, tutors, mana sources, disruption, or combo pieces (depending on your hand and the game state). If you have Omniscience on the battlefield, you can Gifts for something disgusting like another Gifts, Demonic Tutor, Time Walk, and Emrakul, the Aeons Torn. The opponent can basically never give you Emrakul, because you can just hard cast it (using Omniscience) and use the 'take another turn' trigger and end the game. And they can't really give you Demonic Tutor either (because you can just Tutor up Emrakul). So when your opponent doesn't give you Emrakul it will go to the graveyard, and the 'shuffle your graveyard into your deck' trigger will let you just keep repeatedly casting the new Gifts for more cards until you've drawn whatever you feel is enough to kill the opponent. It is truly a thing of beauty.
The lines of play in this are unlike most other decks in Vintage, and this is one of the reasons it is so fun to play. I have been having a blast, and suspect you will too if you give it a bit of practice, and mold it to fit your style. Good luck with whatever direction you take your Gifts deck in. We'll have more cool decks here on EC the rest of the #GiftsWeek, so stay tuned for a new one each day!