The past few years have seen explosive growth in GenCon's attendance numbers, and this year broke yet more records with and over 60,000 unique visitors coming through the "turnstyles" over the four days. GenCon 2018 also raised over $50,000 for its charity partners, another GenCon record.

The 51st anniversary of GenCon has been a blast, and here are some of the best (non-Magic: The Gathering) games we saw and played this year. "Best" is entirely subjective, but these are games that we thought had tons of replayability, and could appeal to a variety of gamers, from beginners to hard-core old schoolers. Our team has different preferences and favorites, so our favorites below will simply be listed in alphabetical order.
Anchors Aweigh!, by ABACUSSPIELLE/Z-Man Games MSRP $40
This pirated-themed and fast-paced game supports 2-4 players collecting goods each round, and converting them to coins in a treasure chest. After two rounds the game is over, and whoever has the most treasure wins, so it's pretty easy for youngsters and light gamers to pick up, yet has enough replayability and depth of strategy to attract board gaming enthusiasts.
Coimbra, by eggertspiele/Plan B Games MSRP $TBD
Set in the bustling city of Coimbra, Portugal, this game incorporates dice rolling as well as drafting (allowing for some randomness) as you seek favor and influence amongst the citizens, monasteries, and other special interests in the 16th century.
Eschaton, by Archon Games MSRP $60
Mixing area control and deck building, this cataclysm-themed game is another nice hybrid that feels like it has a lot more depth of strategy than a relatively simple deck builder like Dominion, or a simple area control game like Risk. The graphics are nice, and the manufacturing quality seems to match, and the manufacturer has offered a few different limited edition components and accessories so far (wood burned pieces, for example). By balancing the importance of all of the different mechanics, and offering different routes to victory, this seemed to have a ton of replayability, and ones definitely one of our favorite games of the weekend.
Neom, by Lookout/ beizer games MSRP $50-60
Balancing resource drafting with city building, this is a futuristic and innovative take on traditional city building games. The heavy duty cardboard pieces are easily readable, and felt like they would stand up to a lot of long term play. This game was pretty easily digestible, even for lighter gamers, and would be good as a party game, supporting up to 5 players.
Race to the New Found Land, by Hans im Glück/Z-Man Games MSRP $50
This hybrid area control and worker placement game is set to a colonial theme, in which you control a fleet trying to discover and colonize new lands. With enough moving parts that change from game to game, this maintains solid replayability (partly through randomization of the pieces/lands that are discoverable), but players can still wrap up a game in 1-2 hours, depending on experience, and isn't too heavy for even casual gamers.
Warsaw: City of Ruins, by Granna & North Star Games MSRP TBD
Originally developed as the game Capital, this is a reskinned and newly released game by North Star Games for US release in 2018. Set in the capital of Poland, this city builder focuses on Warsaw's development over time, and the six rounds of this game are set to mirror that development over six centuries. Players control their own district, and utilize resource management, drafting, and tile placement to develop their district in each round. North Star did not have an estimated MSRP yet for the game, but the quality of the boxed set felt great in hand, and seems like a good value at anything around $50 or under.
Best of Show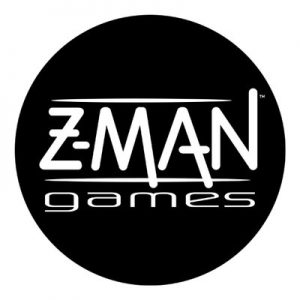 Retailers and manufacturers across the board stepped up both their products and booth layouts for GenCon 2018, and even with record breaking attendance, most vendors were able to consistently provide timely demos throughout the day, without many long lines (with a few notable exceptions).
For the second year in a row, Z-Man Games offered a diverse array of standout products at varied price points, and had a great team of help demonstrating these throughout the weekend. The quality of manufacturing on their games is consistently high, and they trend towards lower price points for what is offered, constantly delivering value, and once again a number of them landed on our best/favorite games of the show. Z-Man games are once again awarded our Best of Show for 2018!