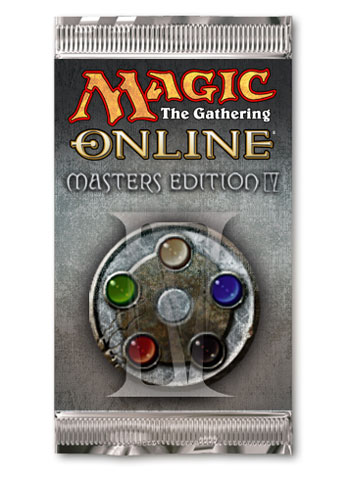 Last week, Patrick Chapin wrote on Twitter:
Library of Alexandria is not being placed on Online Classic Restricted List (when other ME4 cards are). Is this a hint as to next B/R list?
That rumor was spread world wide and actually a lot of people started to think about how Library of Alexandria would impact Legacy and Vintage online. People on mtgthesource.com seem mixed about the possibility of LOA entering the Legacy format. Patrick Chapin's rumor was actually true, as today we've seen the official changes to the MTGO Banned and Restricted lists, and Library is unrestricted in MTGO Classic. When it comes to changes to the B/R lists we always hope they come for good, so we'll see if these little online hints then in turn have any bearing on the the paper formats. So far these are the new changes to the online lists:
Classic MTGO: Fastbond, Mana Vault, Time Vault, Trinisphere and Wheel of Fortune are Restricted.
Legacy MTGO: Fastbond, Library of Alexandria, Mana Vault, Mishra's Workshop, Time Vault and Wheel of Fortune are Banned.
(The ME4 release also affects other MTGO formats like 100 Card Singleton, Tribal, Prismatic, etc.)
For those of you who aren't familiar with Magic Online, you should know that the Masters Editions are sets that reprint old staples for the online formats Classic (Vintage) and Legacy.  You can find the full spoiler of the cards to be released with ME4 right after the break:
Alaborn Musketeer
Alaborn Trooper
Angelic Voices
Argivian Bsmith
Armageddon
Balance
Blaze of Glory
Champion Lancer
Conversion
Divine Offering
Dust to Dust
Eye for an Eye
Harsh Justice
Healing Salve
Island Sanctuary
Just Fate
Kismet
Leeches
Martyr's Cry
Martyrs of Korlis
Osai Vultures
Personal Incarnation
Righteous Charge
Savannah Lions
Serra Angel
Serra Aviary
Serra Bestiary
Spotted Griffin
Steam Catapult
Swords to Plowshares
Temple Acolyte
Veteran Bodyguard
White Knight
Wild Aesthir
Wild Griffin
Acid Rain
Air Elemental
Animate Artifact
U Elemental Blast
Braingeyser
Cloud Dragon
Cloud Spirit
Control Magic
Copy Artifact
Counterspell
Drain Power
Drowned
Energy Flux
False Summoning
Giant Tortoise
In the Eye of Chaos
Mahamoti Djinn
Mystic Decree
Owl Familiar
Phantasmal Forces
Phantasmal Terrain
Power Artifact
Prodigal Sorcerer
Reconstruction
Sea Serpent
Serendib Djinn
Sleight of Hand
Soldevi Machinist
Stasis
Symbol of Unsummoning
Talas Researcher
Theft of Dreams
Thing from the Deep
Transmute Artifact
Water Elemental
B Knight
Cyclopean Mummy
Dakmor Plague
Dark Ritual
Deathgrip
Demonic Hordes
Demonic Tutor
Dread Reaper
Dread Wight
Ebon Dragon
Foul Spirit
Gate to Phyrexia
Gloom
Gravebind
Guardian Beast
Hasran Ogress
Howl from Beyond
Junún Efreet
Lich
Lim-Dûl's Cohort
Minion of Tevesh Szat
Overwhelming Forces
Prowling Nightstalker
Rain of Daggers
Scavenging Ghoul
Sengir Vampire
Sinkhole
Soul Shred
Terror
Warp Artifact
Weakness
Wicked Pact
Word of Command
Xenic Poltergeist
Zombie Master
Aladdin
Ali from Cairo
Artifact Blast
Atog
Bird Maiden
Detonate
Devastation
Fire Imp
Fire Tempest
Fireball
Fork
Goblin Bully
Goblin Cavaliers
Goblin Caves
Goblin Firestarter
Goblin General
Goblin Shrine
Goblin Warrens
Gorilla War Cry
Last Chance
Lava Flow
Mijae Djinn
Ogre Taskmaster
Orcish Mechanics
Primitive Justice
R Elemental Blast
Roc of Kher Ridges
Rock Hydra
Rockslide Ambush
Sedge Troll
Shivan Dragon
Smoke
Thunder Dragon
Two-Headed Giant of Foriys
Wheel of Fortune
Alluring Scent
Argothian Pixies
Argothian Treefolk
Bee Sting
Channel
Citanul Druid
Crumble
Cyclone
Deathcoil Wurm
Drop of Honey
Elite Cat Warrior
Fastbond
Fog
Force of Nature
Gaea's Avenger
Giant Growth
Instill Energy
Ironhoof Ox
Kudzu
Lifeforce
Living Lands
Radjan Spirit
Regrowth
Sandstorm
Scarwood Bandits
Scavenger Folk
Southern Elephant
Squall
Sylvan Tutor
Titania's Song
Tsunami
War Mammoth
Whiptail Wurm
Wild Ox
Wood Elemental
Aesthir Glider
Al-abara's Carpet
Alchor's Tomb
Amulet of Kroog
Armageddon Clock
Ashnod's Altar
Badlands
Basalt Monolith
Bayou
Book of Rass
Bottle of Suleiman
Brass Man
Bronze Horse
Candelabra of Tawnos
Celestial Sword
City of Brass
Clay Statue
Clockwork Avian
Clockwork Gnomes
Clockwork Swarm
Colossus of Sardia
Coral Helm
Cyclopean Tomb
Diabolic Machine
Dragon Engine
Ebony Horse1
Ebony Rhino
Elephant Graveyard
Floodwater Dam
Flying Carpet
Gauntlet of Might
Glasses of Urza
Grapeshot Catapult
Horn of Deafening
Ice Cauldron
Icy Manipulator
Jade Monolith
Juggernaut
Kormus Bell
Library of Alexandria
Library of Leng
Living Wall
Mana Matrix
Mana Vault
Maze of Ith
Mightstone
Mishra's Workshop
Naked Singularity
Oasis
Obelisk of Undoing
Obsianus Golem
Onulet
Pentagram of the Ages
Planar Gate
Plateau
Primal Clay
Rakalite
Ring of Renewal
Savannah
Scarecrow
Scrubland
Shapeshifter
Sol Ring
Soldevi Golem
Staff of Zegon
Strip Mine
Tablet of Epityr
Taiga
Tawnos's Wand
Tawnos's Weaponry
Tetravus
Time Vault
Triassic Egg
Tropical Island
Tundra
Underground Sea
Urza's Chalice
Urza's Mine
Urza's Miter
Urza's Power Plant
Urza's Tower
Vibrating Sphere
Volcanic Island
Weakstone
Yotian Soldier