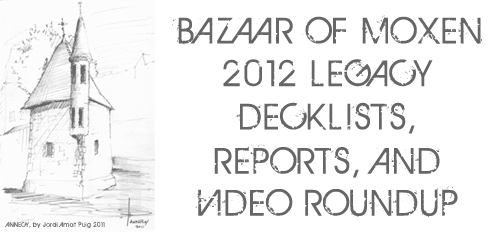 With the Bazaar of Moxen 2012 Legacy tournament in the books, we are happy to report that it was the largest privately sponsored Legacy tournament to have ever taken place to date, with an awesome 724 players in attendance (breaking last year's record of 633). This year the Top 4 decided to split the prizes, and your Top 4 as as follows: Nicolas Crepelle (Sneak and Show), Marc Duran (GW Maverick), Cyrill Terroy (Tempo RUG Zoo), and Simon Rouzé (RUG Delver).
Terroy Cyril of Paris, France won the Golden BoM 2012 Award, awarded to the player with the highest finish in both the Vintage and Legacy main events. Terroy piloted Tempo Zoo to a Top 4 finish in the main Legacy event, and played Dredge to a 15th place showing in the main Vintage event, netting him a playset of Underground Sea's altered by the fabulous Sandreline.
The coverage teams from WatchDaMatch, Mana Infinito, and BoM were working hard all weekend to document Eternal's biggest International weekend, and our many thanks go out to them, for without their hard work the information below would not be available. Below you will find the Bazaar of Moxen 2012 Legacy Top 8 decklists, videos from the coverage, as well as various BoM Legacy tournament reports from around the web, as well as some bonus decklists and information from other competitors who finished outside the Top 8. Check it all out after the jump!