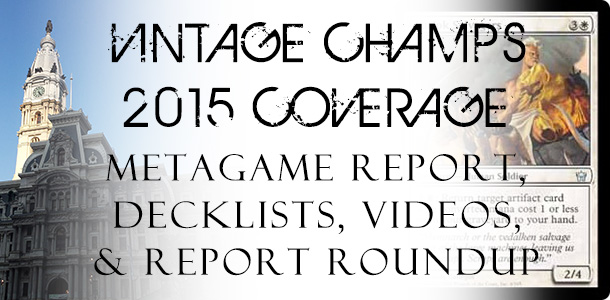 Vintage Champs 2015 is in the books, and with record-breaking attendance, cannot be considered anything other than a smashing success. Huge props go out to Nick Coss, Card Titan, and all associated employess and consultants who organized and ran the largest Vintage event ever held (and who also graciously provided us access to all of the standings and decklists below). Vintage Champs attendance has been climbing steadily the past few years, with both renewed interest from older players, as well as slowly expanding the player base to newer/younger players.
483 were registered for Vintage Champs 2015, and although there were 20+ no-shows (mainly people who slept in or just registered to get the sweet Tolarian Academy playmat), that number combined with the byes from Legacy Champs Top 8 playoff the same morning, meant 10 rounds of Swiss, followed by a Top 8 playoff.
Below we have compiled the Top 128 decklists (with more appearing on this page as time allows), a full metagame report of all decks/archetypes played and in what quantities, as well as some statistics for analysis (we will add more as time permits, or as requests/suggestions roll in). Videos and a tournament report roundup (with links to players' tournament reports from the event, as they surface) can be found at the bottom.
(Note: this page will be constantly updated as we add more decklists, round up more tournament reports, and as more videos are uploaded to YouTube by the tournament organizer. Last updated 10/4/2015)