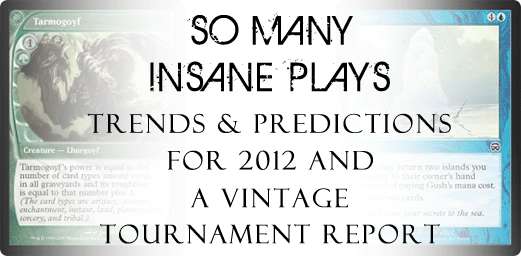 (Editor's Note: This former Downloadable Product has now been made free to all customers. Enjoy!)
Welcome Vintage addict, and happy holidays. In this article, I will present my final tournament report of the year, in which I narrowly missed Top 8 on account of a few critical play errors. I took more detailed post-match notes than in recent tournaments, so I may delve more deeply into game states. This kind of analysis is among the most pedagogically helpful for Vintage readers, and will hopefully be entertaining as well. But perhaps just as important is my analysis of the trends of the format and my predictions for 2012.
Readers note: If you are reading a hard copy of this article, have a pen or pencil available. I recommend that you print out a copy of this article to get the most out it. Throughout this article I'm going to ask you to examine lines of play, commit to one of several options, and then analyze them.