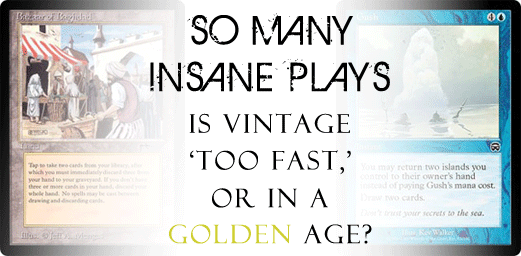 Brian DeMars recently penned an article titled 'Is Vintage Too Fast?' While the article is framed as a question, it doesn't take a psychic to guess at the author's answer. Brian forcefully argues that Vintage is too fast, and that the DCI should restrict Bazaar of Baghdad and Gush to slow it down.
Although Brian's article is well written (from a rhetorical and literary perspective), and entertaining, ultimately his argument is poorly conceived, badly reasoned, and, most importantly, factually wrong.
It's the former attributes that give it the patina of credibility and the superficial appearance of insight, when the opposite is true. As Matt Elias observed on TheManaDrain, 'I have no doubt that your heart is in the right place, but [your article] is consistently incorrect.'
Not only is Vintage arguably slower than it has been in years, the format is more amazingly diverse, rich and deep, with more design options than ever and a rapidly evolving metagame. Far from being too fast, available tournament data suggests that this is arguably the best Vintage metagame ever. By creating a false impression of the format, Brian misleads his readers into believing that the format requires drastic, irresponsible changes to solve non-existent problems. In fact, Brian's restriction proposals would make Vintage a significantly less diverse and dynamic format.
Not only is Brian's conclusion wrong on the facts (as I will demonstrate later in this article), his reasoning is flawed. Brian's argument is based on three main points. Only one of these points supports his conclusion that the format is faster. The other two legs of his argument not only fail to support his argument regarding the speed of the format or his policy recommendations, but are factually wrong and misleading.