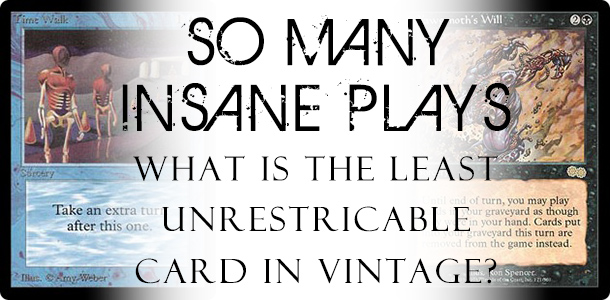 This month may herald some exciting changes to the Vintage Restricted List. In recent years, the DCI has typically made adjustments to the Vintage Banned and Restricted List mid-year, perhaps with an eye towards the Vintage Championship at GenCon. For each of the last five years, changes to the Vintage Restricted list have been announced, and all of the announced changes to the Vintage occurred in June or September.
Debates over the Restricted List generally follow the same narrative in two forms: a particular card is too dominant, and statistical evidence or player discontent is proffered in support; alternatively, a particular card can be safely unrestricted, because players want it and the unrestriction would have a modest statistical impact on the format given what we know about the metagame. Last week I co-wrote an article arguing that Fact or Fiction should be unrestricted along those lines. In both cases, the argument centers on whether a card would be statistically healthy for the format and the degree of player support for or against a particular change.
But what if we flipped the question? What if, instead of asking "what is the most unrestrictable card in Vintage?," we flip the script, and ask "What is the LEAST unrestrictable card in Vintage?" Why ask this? If we can answer this question, we will be forced to conceptualize and formulate a clearer understanding of the Vintage Restricted list and the purposes it serves. We may uncover hidden or obscured criteria for restriction or unrestriction. And, this process may help answer the original question regarding what the most unrestrictable cards in Vintage may be. This is likely because, in most cases, a person answering this question will likely begin by working backward.